Disney's Animal Kingdom Lodge is a deluxe Walt Disney World resort inspired by traditional African savanna lodges. The resort is brilliantly themed with the adjacent Animal Kingdom theme park. Learn about the savanna view rooms, top-notch restaurants and resort amenities and activities in this Disney Animal Kingdom Lodge review.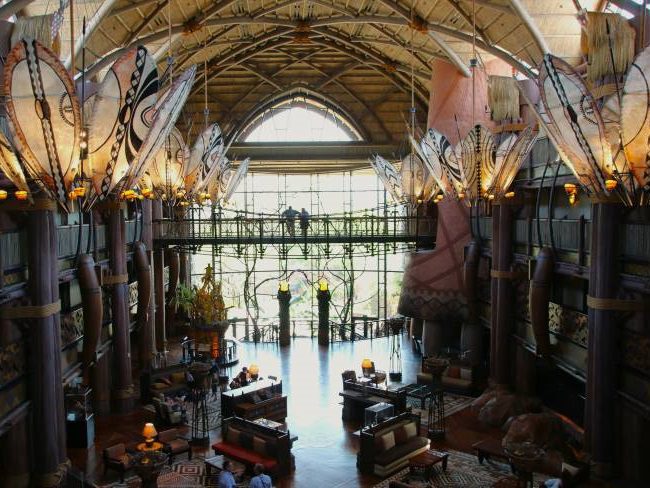 Animal Kingdom Lodge Lobby
At Disney's Animal Kingdom Lodge, you'll find family-friendly facilities, outstanding cultural activities and animal programs, and rooms overlooking three savannas that are home to over 200 animals and birds. We stayed at the Animal Kingdom Lodge Disney World during our family trip to Orlando and thoroughly enjoyed the unique experience.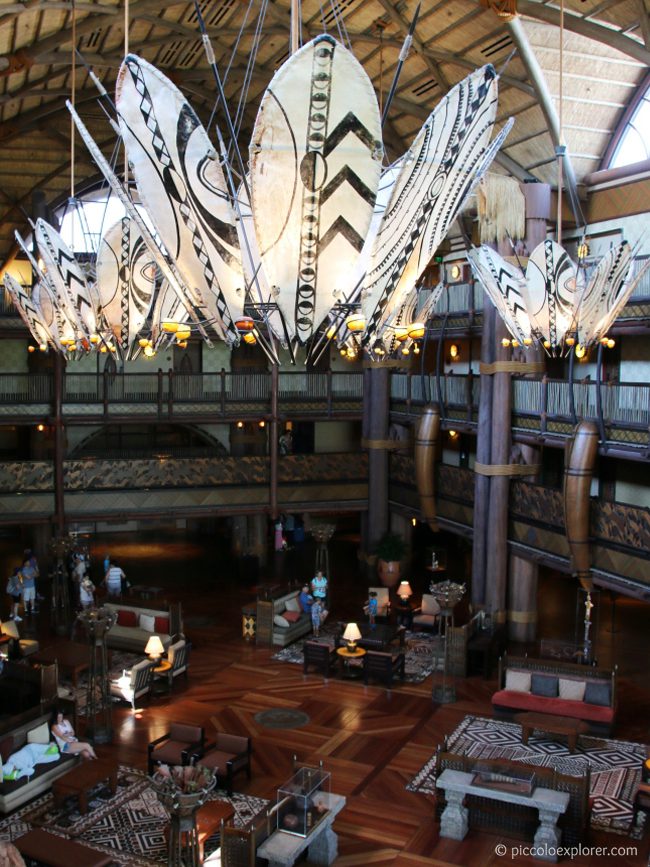 Related: Family Trip to Orlando, Florida
Being Disney, the attention to detail is amazing throughout the Animal Kingdom Lodge. The resort's magnificent lobby has been designed to capture the look of an African savanna lodge.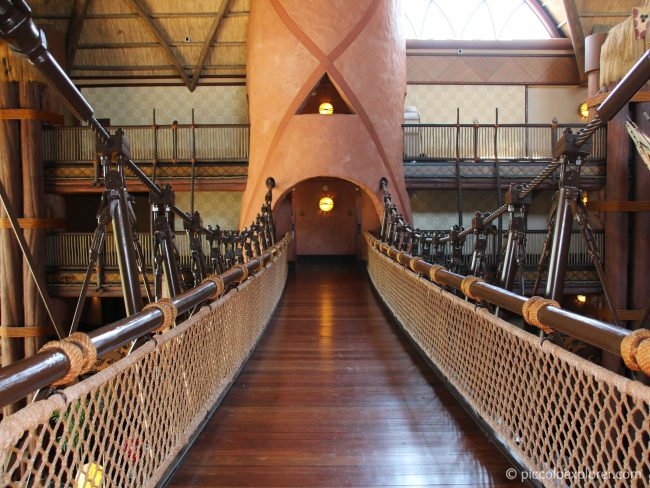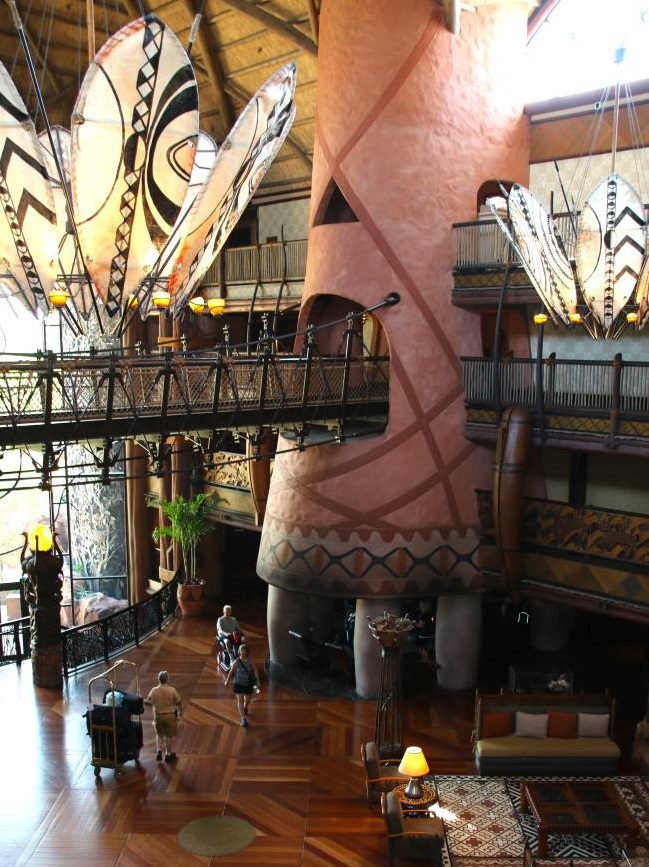 The Animal Kingdom Lodge has one of the largest collections of African art in the United States, with traditional decor, tapestries and artwork displayed throughout the resort.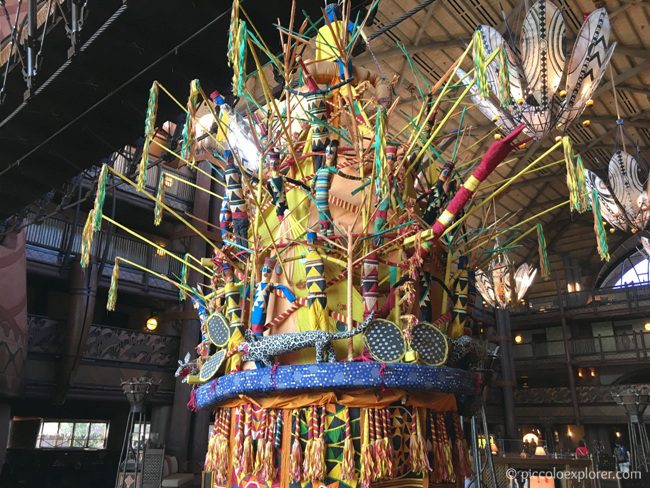 Animal Kingdom Lodge Savannas
The Animal Kingdom Lodge is one of Disney's deluxe resorts at Walt Disney World. The six-story resort is arranged in a horseshoe design, topped with thatch rooftops and surrounded by three expansive savannas across a 33 acre wildlife preserve.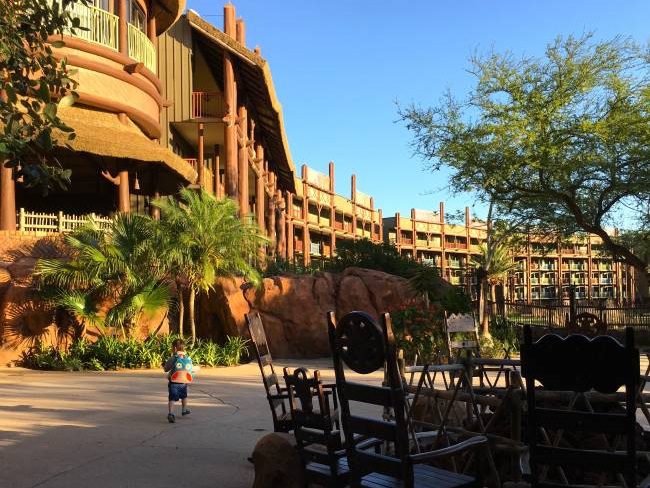 Public areas and the savannah view rooms at Animal Kingdom Lodge overlook the savannas where over 30 African species graze and roam about. More on the savanna view rooms in the next part of the Disney Animal Kingdom Lodge review.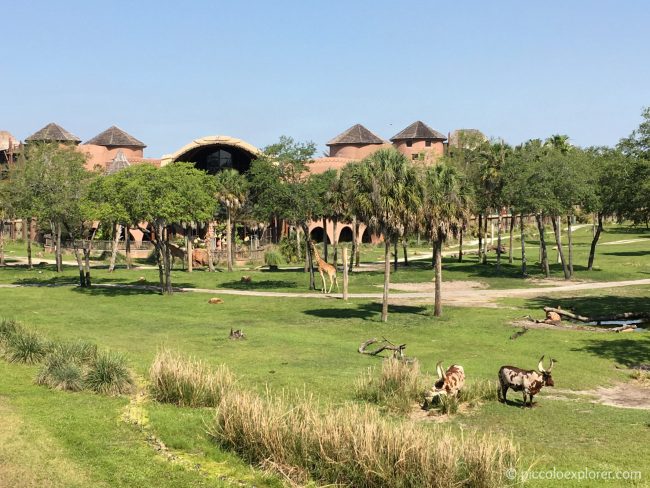 Savanna View Rooms at Animal Kingdom Lodge
Around half of the rooms at Jambo House and Kidani Village at Animal Kingdom Lodge overlook the three expansive savannas surrounding the resort that are home to hundreds of animals. In these photos, you can have an idea of the amazing savannah room views at Jambo House.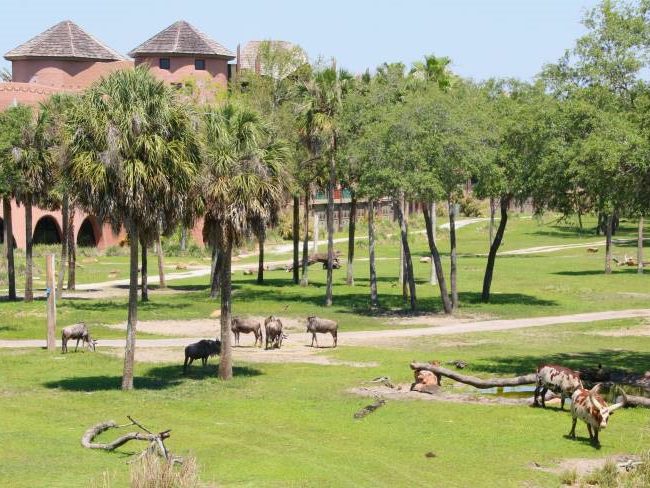 It is worth booking an Animal Kingdom Lodge Savanna View Room at Jambo House or Kidani Village for the unique opportunity to watch the animals from your balcony. During our stay, we would see giraffes, zebras, cattle, gazelles, cranes and more from our window. Each Savanna View Room has a guidebook to help with identifying the animals and birds.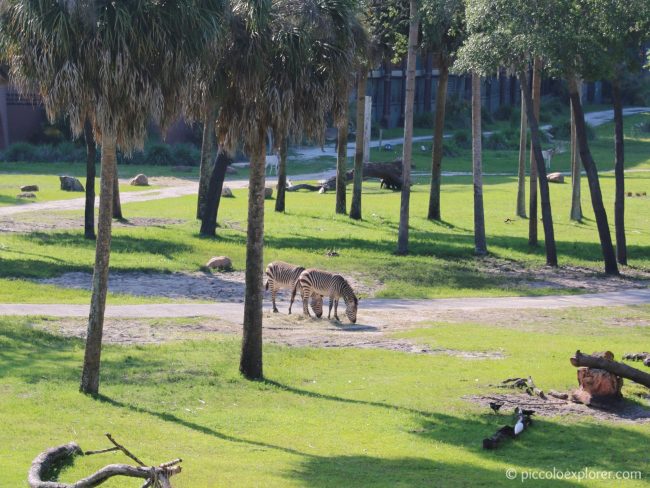 We stayed in a standard Savanna View Room, which is 344 square feet, with two queen beds. Other options at the Animal Kingdom Lodge are to have one king size bed, or one queen size bed and a bunk bed.
Check Disney's Animal Kingdom Lodge room rates and latest reviews at Tripadvisor.com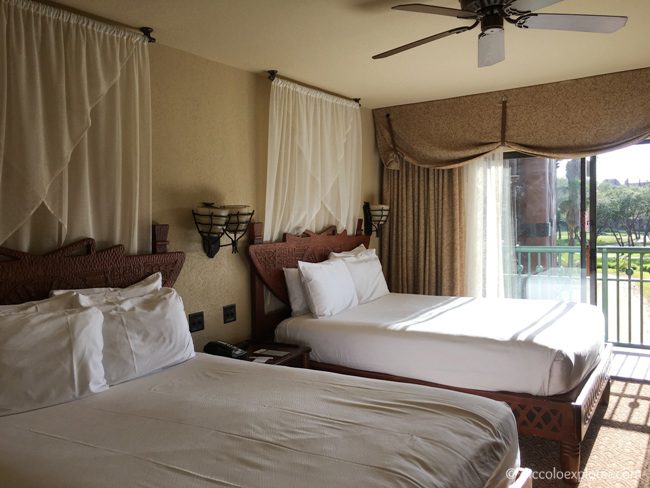 The Savanna View Room also included a small table with chairs, a flat screen TV, a dresser with three drawers, a small refrigerator, coffee machine and a wardrobe with an iron, ironing board and small safe.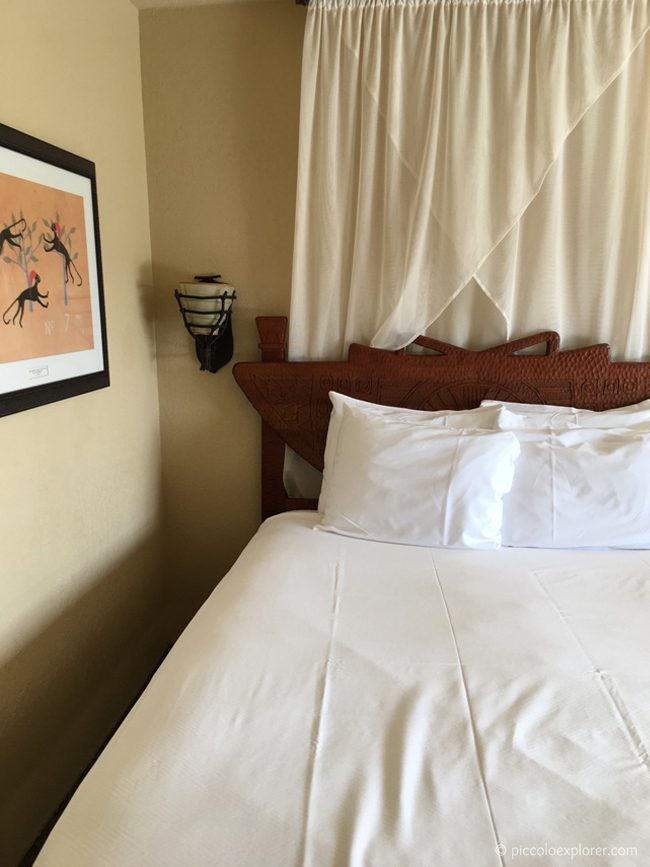 The bathroom has a split design, with the vanity and two sinks outside the small room that consists of a toilet and shower with a bathtub. Complimentary Disney toiletries (shampoo, lotion and shower gel) were provided, but only enough for one person.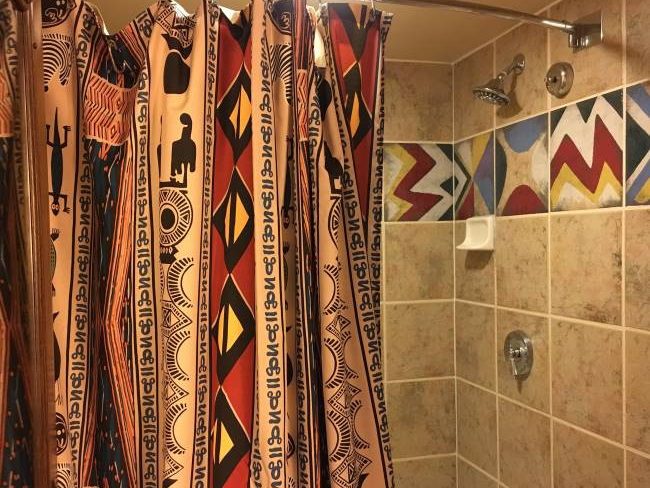 Check Disney's Animal Kingdom room rates and latest reviews at Tripadvisor.com
Overall, the standard Savanna View Room was a comfortable size for the three of us and we enjoyed our stay, especially the great view watching the animals from our balcony.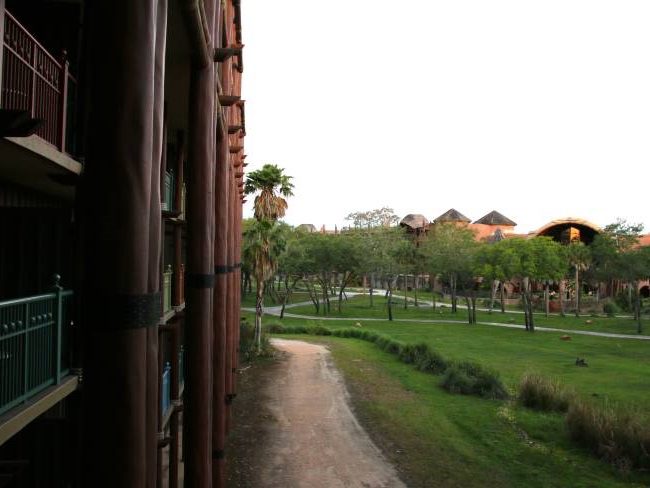 Disney Resort Benefits
There are more than 25 resorts at Walt Disney World that cater to all budgets, from value to moderate to deluxe, all offering the following benefits for staying on-site.
Check the most up-to-date list of Disney resort benefits on the Walt Disney World Disney Resorts Collection page.
Early Theme Park entry 30 minutes before opening (more details)
Guests staying at a Disney Resort hotel have the option to purchase MagicBands at special pre-arrival prices up to 6 days before arrival.
Complimentary bus, boat and monorail services throughout Walt Disney World Resort
Complimentary parking at Disney theme parks, Disney water parks and the Disney Springs area
Delivery of purchases, from the Disney theme parks or Disney Springs, to your hotel gift shop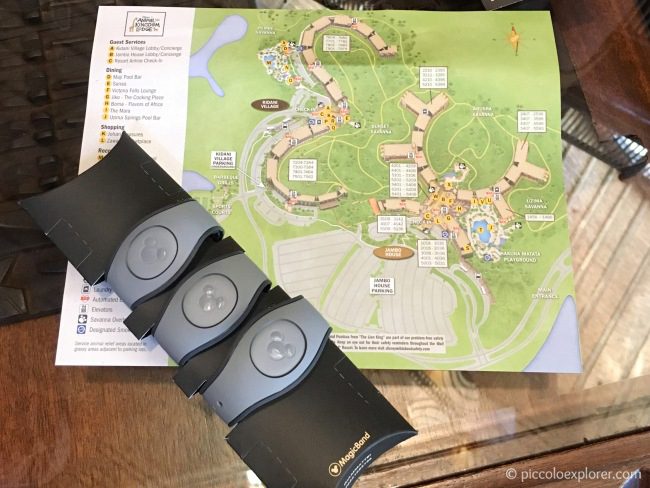 The Magic Bands are worn as a bracelet and are used to unlock your hotel room, enter theme parks, charge food and merchandise purchases and connect Disney PhotoPass images to your Disney account. At the time of our stay at the Animal Kingdom Lodge, the Magic Bands were complimentary, however this has since changed and Magic Bands are no longer provided complimentary to Disney Resort hotel guests.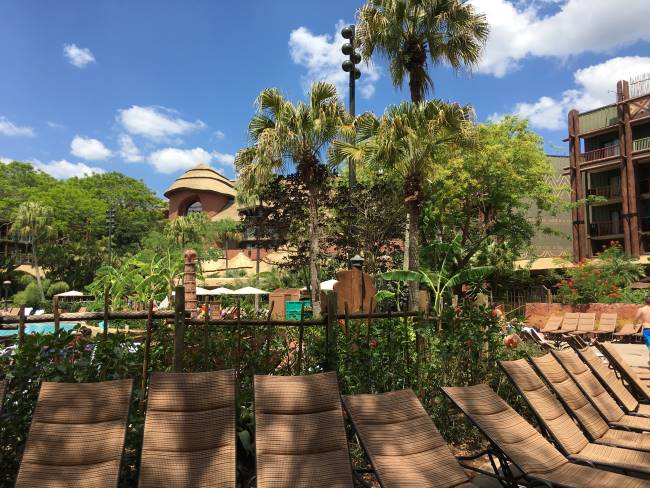 Guests staying at a Disney Resort hotel that reside in the United States and Canada have the option to purchase their MagicBands up to 10 days prior to arrival. The Magic Bands can be personalised with different themes, favourite Disney characters and your name. Magic Bands can also be purchased when you arrive. While I found the Magic Bands handy to have throughout the trip especially at the parks, you do not need to buy them for your Walt Disney World visit or
Family-Friendly Facilities
The Animal Kingdom Lodge has two areas: Jambo House, the original resort and main section, and Kidani Village, a Disney Vacation Club resort. Resort guests can use the facilities, i.e swimming pools and fitness centers, throughout both areas and a shuttle van goes back and forth between the two every 8 minutes. In this part of the Disney Animal Kingdom Lodge Review, I will show the top-notch family-friendly facilities at the Animal Kingdom Lodge.
Uzima Springs Pool, Jambo House

At the center of Jambo House's recreational area is its main swimming pool, featuring a zero-depth entry point, a 67-foot-long waterslide and nearby beach bar. A small wading pool, perfect for toddlers, is located in an enclosed area to the side, near the restrooms and showers.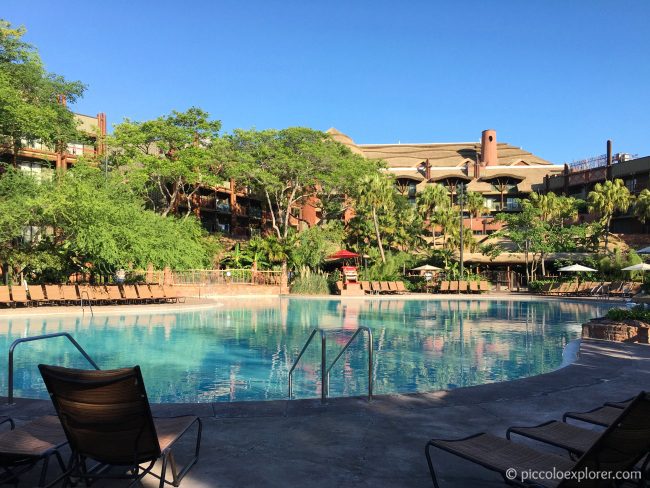 Swimming Pool and Water Playground, Kidani Village
The Samawati Springs Pool and Uwanja Camp water playground at Kidani Village is great swimming pool and water play area for young children. The swimming pool features zero-depth-entry and two waterslides – a small one and a 128-foot one.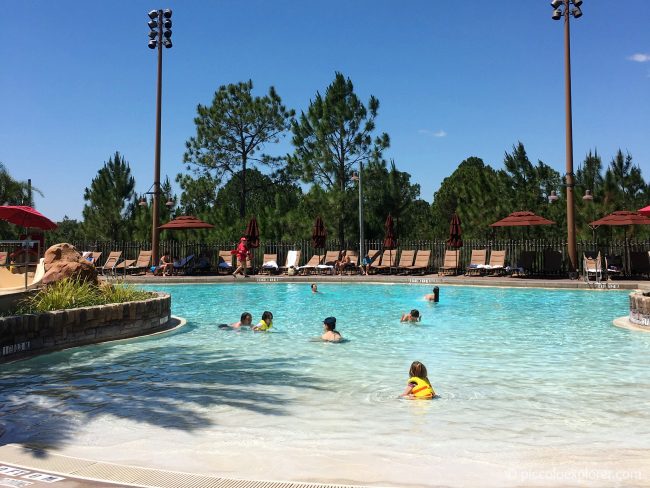 Uwanja Camp consists of three zones for children of all ages. Base Camp has a water slide, water cannons and sloshing buckets.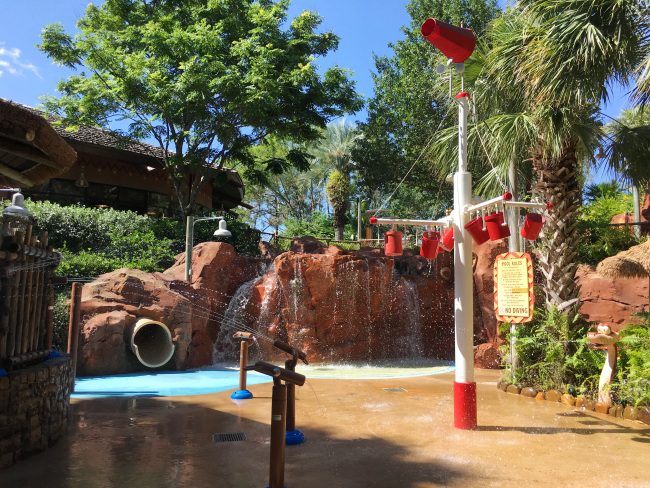 At Departure Zone, water shoots from all directions, leaking from the water tower and spraying from the flowers.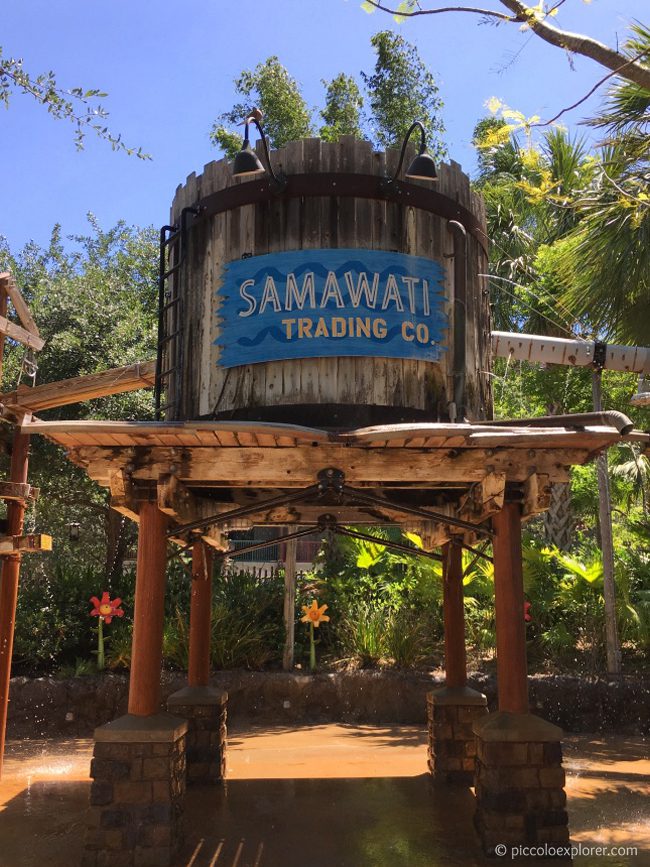 And Observation Station is designed for children 4 and under, with a shallow wading pool, bubbling geysers and a play area. It all makes for a great little water park at the Animal Kingdom Lodge resort that Little T loved!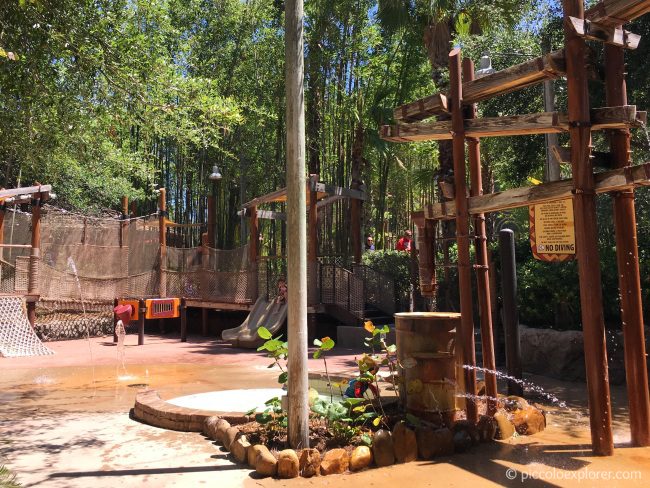 Hakuna Matata Playground, Jambo House

Back at Jambo House, children will also love the Hakuna Matata playground that overlooks the flamingo pond and savanna.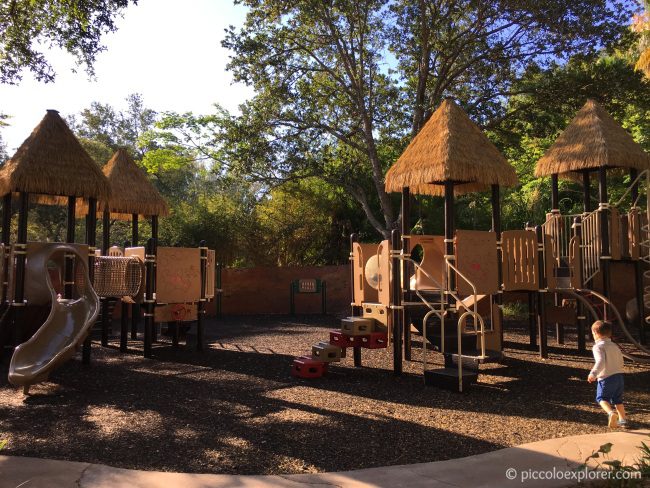 Pumbaa's Fun and Games Arcade, Jambo House

The arcade is open from 7am and full of classic arcade games and popular video games. You can use your credit card to receive an arcade card and purchase play points, which start from $1.00 for 50 play points.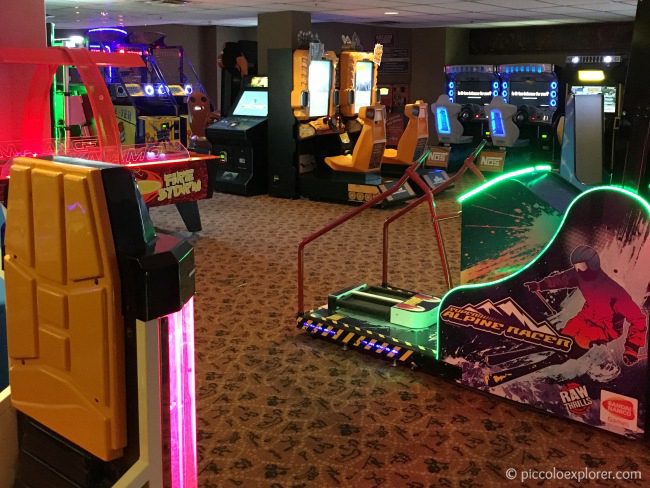 Zahanati Massage and Fitness Center, Jambo House

Disney's Animal Kingdom Lodge resort has a fitness center which, though small, has all the basic equipment – cardio machines, some free weights and weight machines – to get a good workout during your stay. There's a spa that offers a range of massages and facials.
Laundry Room
There are a few laundry rooms around the resort that are efficient and easy to use. You select a washer and/or dryer then pay $3 per each load using your credit or debit card (not the Magic Band or cash).
Award-Winning Restaurants
The Animal Kingdom Lodge offers several dining options, from award-winning, African fine dining to quick service restaurants serving class American favorites. In this part of the Disney Animal Kingdom Lodge Review, I'll share our highlights of dining at the Animal Kingdom Lodge restaurants, which were the breakfast buffet at Boma and the African cooking with Indian flavors at Sanaa.
Boma – Flavors of Africa
Boma – Flavors of Africa at the Animal Kingdom Lodge offers family-friendly buffets with a great selection of food from over 50 African countries along with typical American classics. Here's a look at what was served at the breakfast buffet during our visit;
Selection of muffins, scones and banana bread, along with bagels, breads and croissants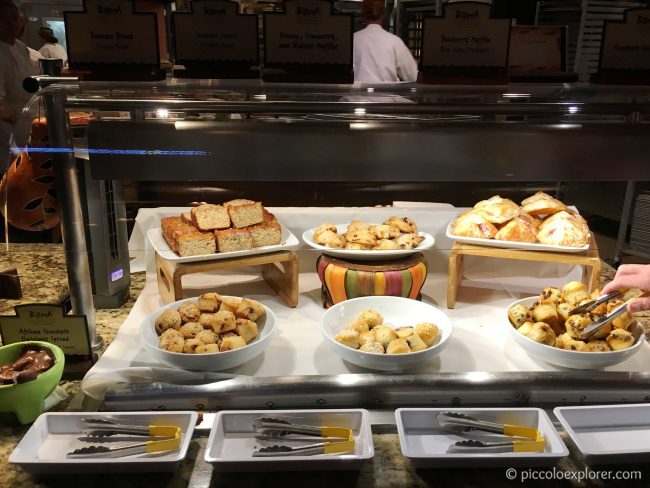 Bread pudding and sticky buns with caramel sauce and pecans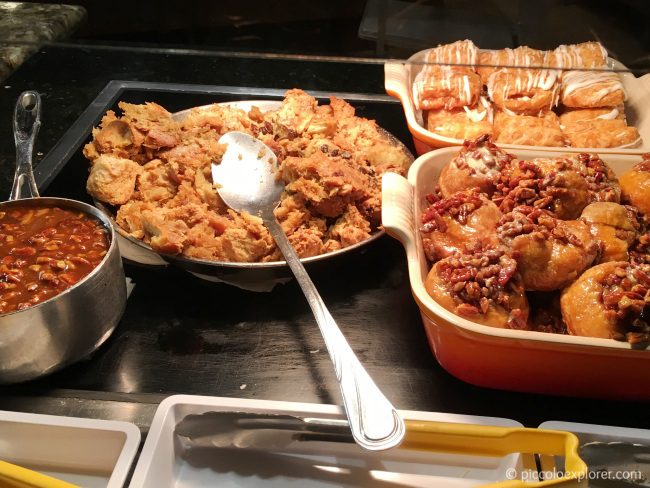 The classic Mickey – and Simba – waffles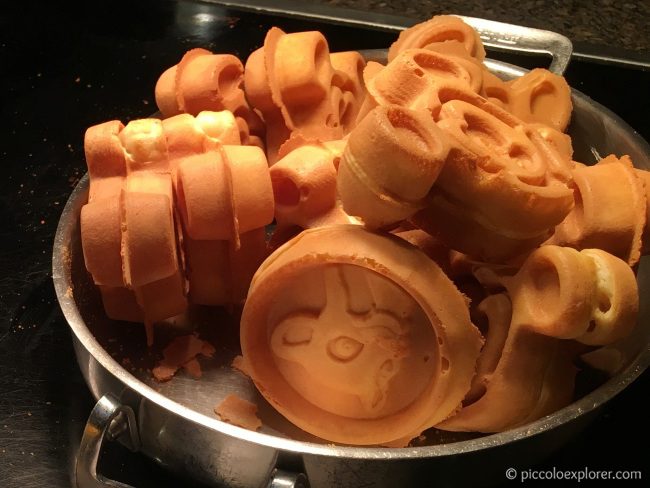 Chocolate chip pancakes and plenty of syrup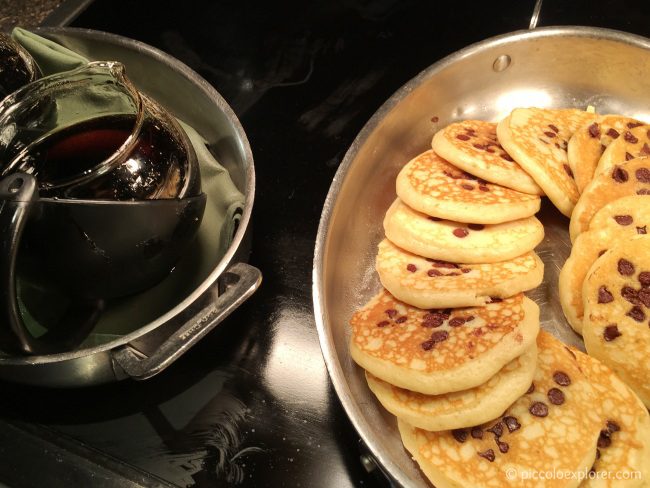 Selection of cold cuts and cheese, smoked salmon, capers, egg whites, egg yolks and a tray of sliced vegetables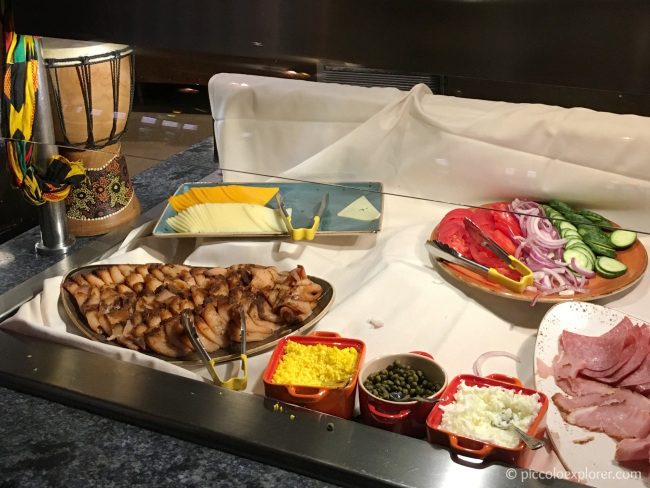 West African plantains (my favourite), roasted potatoes, pork sausages and bacon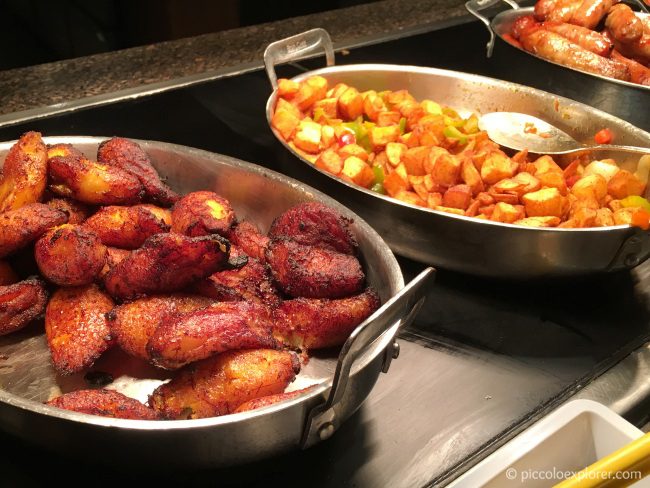 Scrambled eggs and biscuits with gravy, in addition to a create your own omelette station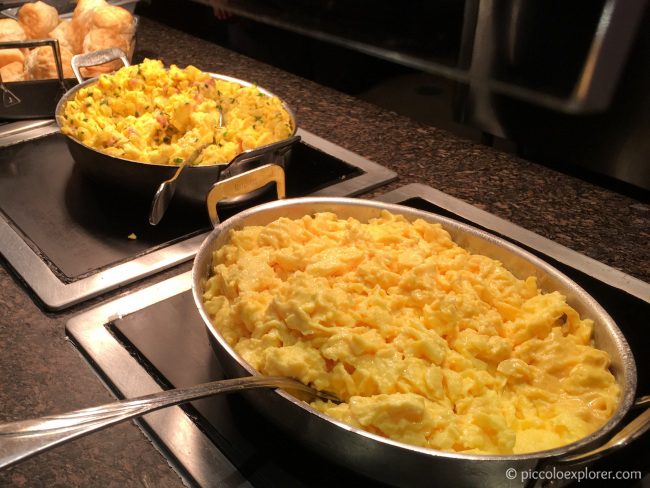 Carving station with meats spit-roasted over a blazing wood fire: roasted turkey breast or ham, with African-spiced corned beef hash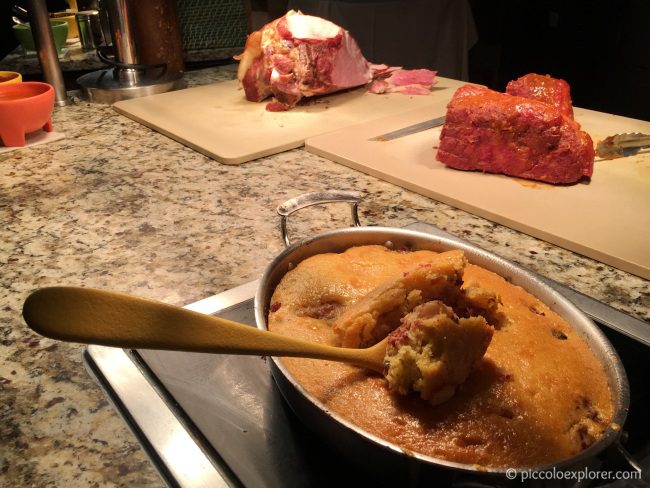 Side dishes such as grilled tomatoes and asparagus, pap (similar to grits) and chakalaka, a tomato stew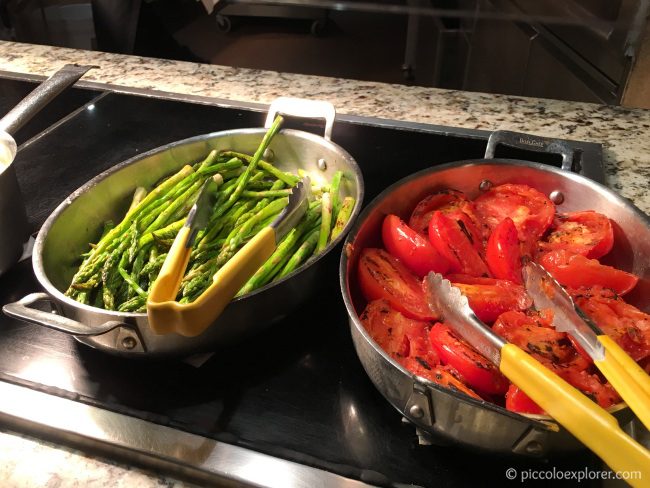 Sanaa Restaurant
We ate very well at Sanaa at Animal Kingdom Lodge, which is described as an East African-inspired eatery serving African cooking with Indian flavors. The Indian-style bread service came highly recommended – it comes with 9 accompaniments that include mango chutney, roasted red pepper hummus, spicy jalapeno-lime pickle and red chile sambal.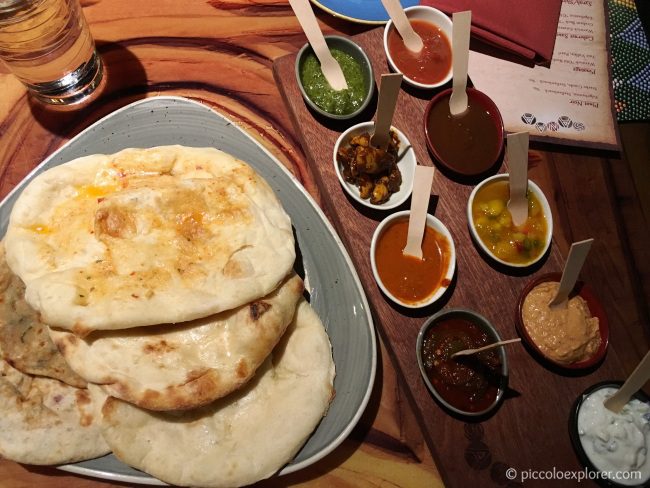 The kid's menu at the Sanaa Restaurant has a good selection. For Little T, we ordered the butter chicken (which was delicious) with green beans and rice.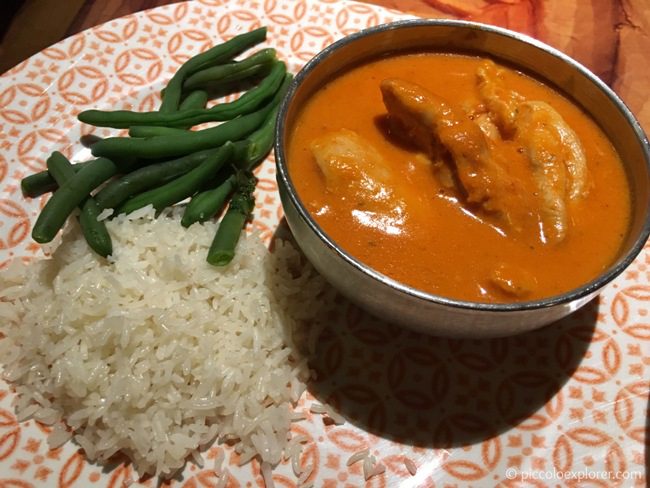 I ordered the Berbere braised lamb shank, which was served with hominy mash, scented greens and tandoor vegetables.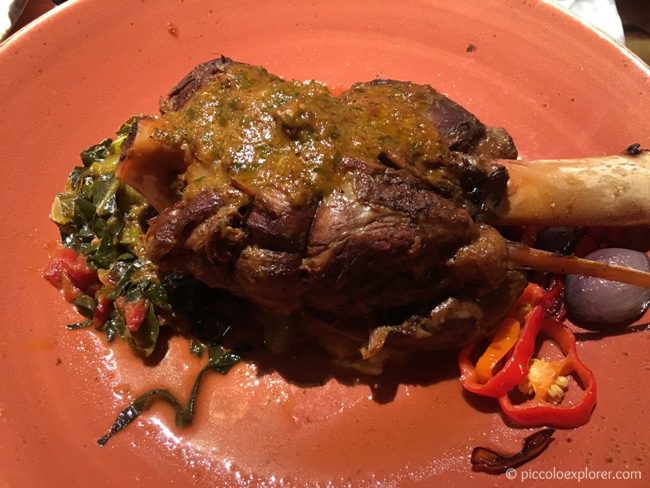 Mr. G enjoyed the Braaivleis – South African Braai sample plate which consisted of a trio of grilled meats – lamb and pork – with seasonal vegetables.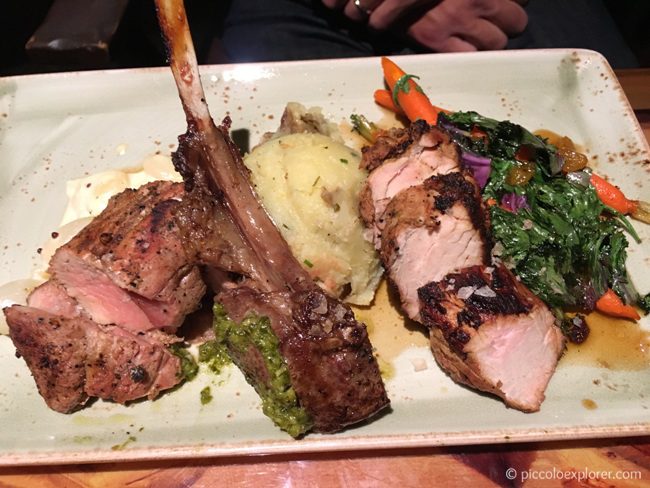 Little T's meal came with a dessert, and he chose the chocolate brownie, which was served on a plate with colored icing and a paintbrush – a nice touch!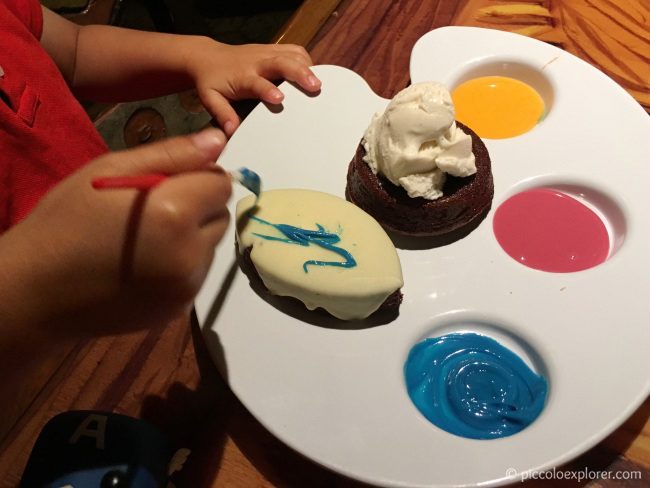 Animal and Cultural Programs
During our pre-Covid stay at the Animal Kingdom Lodge, I was impressed with the resort's calendar of activities, which included African culture immersion, poolside games, wine tasting, cookie decorating, music sessions and animal programs. The cultural ambassadors and animal experts were all very informative, friendly and did a fantastic job engaging the guests in each activity.
In this part of the Animal Kingdom Lodge review, I will share our experience participating in several of the resort's activities that were available at the time. We took part in three activities: helping to prepare food for the savanna birds, learning about the feeding strategies of pelicans and flamingos, and playing musical instruments and participating in the evening "Primal Parade".
Animal Enrichment Activity
The Animal Enrichment activity we participated in involves helping animal experts as they prepare and present interactive objects to the animals and birds on the savanna.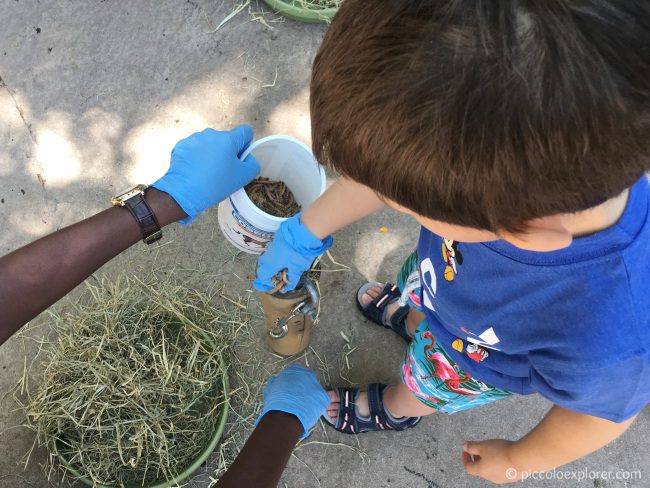 Little T helped the experts prepare a stimulating way for the savanna birds, such as cranes, to catch their food. The children were given trays and bamboo sticks with holes to fill with hay then mealworms. We then watched as an animal expert brought the bamboo sticks and trays into the savanna for the birds to peck at and catch the worms.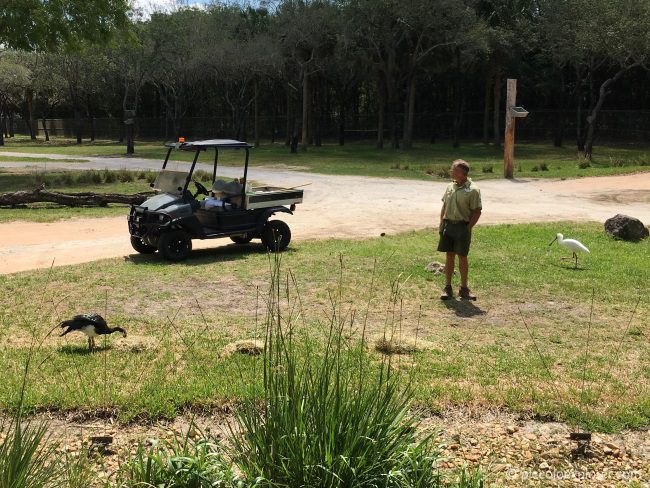 Flamingo Activity
Every morning, by the flamingo pond, the animal experts demonstrate the feeding strategies of pelicans and flamingos in a fun, educational activity. Here, the children use combs to represent flamingos that feed by filtering shrimp from the water, while pelicans are represented with pouches to demonstrate how they dip their large beaks into the water to scoop out fish.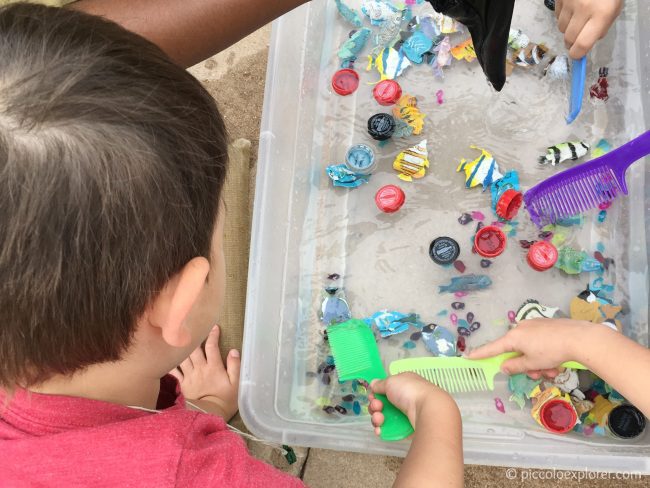 Part of the activity also educated about the importance of protecting the environment, and how birds are endangered by pollution when rubbish ends up in the waterways and is accidentally eaten.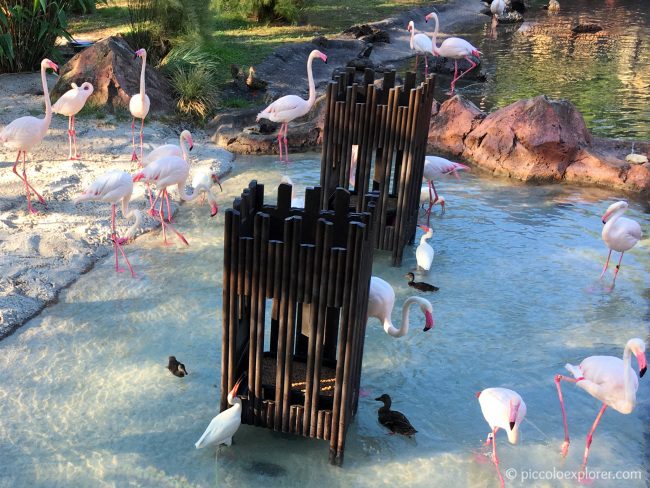 I hope you enjoyed reading this Disney Animal Kingdom Lodge review and found this helpful in planning your own holiday at Walt Disney World. I would recommend the Animal Kingdom Lodge for a unique Disney World resort experience with family-friendly facilities, great restaurants and an excellent activity program with fantastic cultural ambassadors.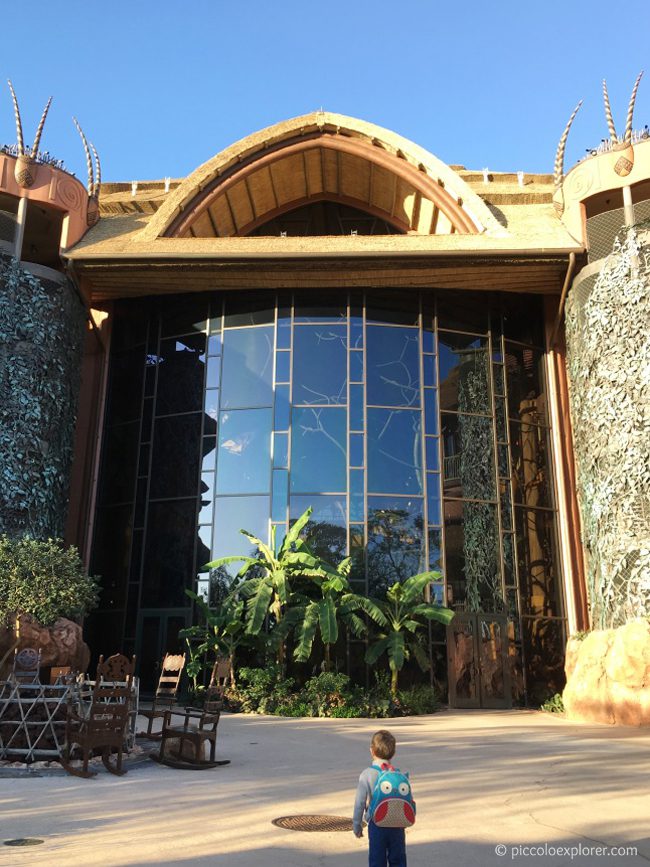 We enjoyed our stay at the Animal Kingdom Lodge and miss those views watching the giraffes and zebras from the balcony!
Disney's Animal Kingdom Lodge Address
Address: Walt Disney World Resort, 2901 Osceola Parkway, Orlando, FL 32821
Telephone: +1 (407) 938-3000
Website: https://www.disneyworld.co.uk/resorts/animal-kingdom-lodge/
This post was updated on 10 May 2022 with current information. Disclosure: This post contains affiliate links. If you click through and make a purchase, I may receive a commission (at no additional cost to you). Thanks for your support in this way.
PIN FOR LATER – Disney Animal Kingdom Lodge Resort Review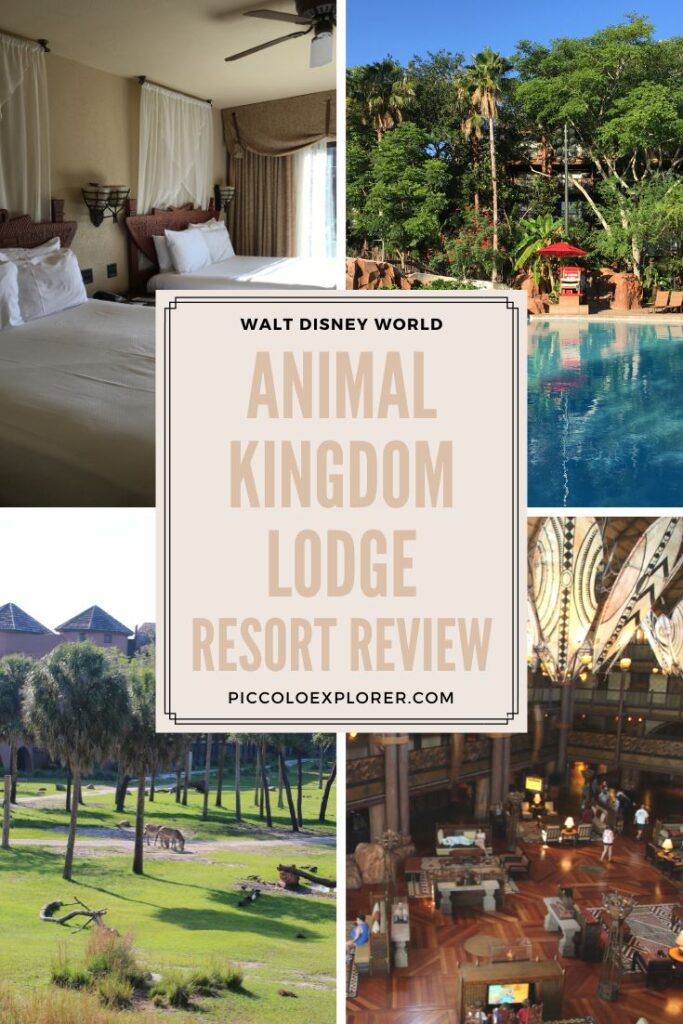 Save
Save
Save
Save
Save