Sedona is an Arizona desert town surrounded by majestic, multi-hued stone formations, steep canyon walls and pine forests. There are many outdoor adventures and places to explore for families visiting Red Rock country, and in this post, I'll share our top things to do in Sedona with kids.

Sedona is an ideal destination for hiking, excursions and other outdoor adventures year round. The weather is generally mild in Sedona throughout the year, with spring and fall being ideal seasons for enjoying the outdoors with temperatures between the mid-60s and low 80s. Spring tends to be the peak season for tourism in Sedona, when the beautiful landscape is in full bloom. During the summer, the average temperature in Sedona is around the low 90s and most days do not get hotter than 100 degrees.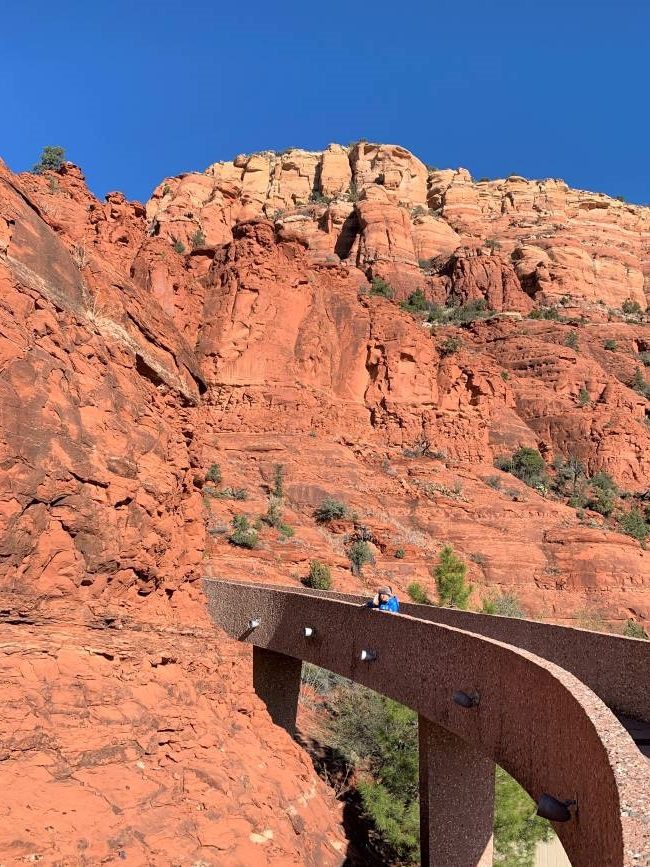 Our most recent family trip to Sedona was in winter which is typically low season, however, it was still fairly busy with tourists like us visiting between Christmas Day and New Year's Eve. In late December, temperatures were a crisp low 60s with sunny skies during the day and then were near freezing in the evenings. In the photo below, you can see a dusting of snow atop some of the rock formations, and only half an hour drive north of Sedona, Oak Creek Canyon was a beautiful sight to see covered in snow.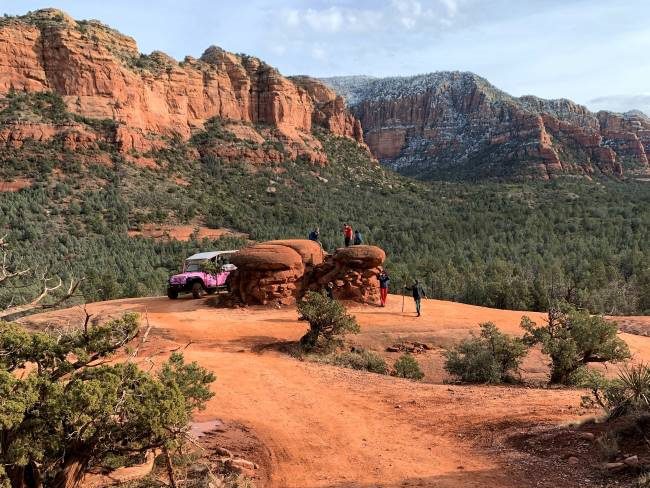 The landscape around Sedona is spectacular and there are plenty of family-friendly hikes, excursions and other outdoor adventures to enjoy in the area. During our three day stay in Sedona, we went hiking in Bell Rock Pathway and Courthouse Loop, took in the stunning panoramic views from Airport Mesa, went on the Pink Jeep Tours off-road tour along the Broken Arrow trail and explored the wonderful eclectic shops and local art galleries.
Hiking in Sedona with Kids
There are many trails around Sedona that are easy to moderate for hiking with kids. Top kid-friendly hikes for stunning views include Bell Rock Trail, Red Rock Crossing, Airport Mesa and Boynton Canyon. I would recommend bringing a baby carrier or a child carrier backpack, depending on age and weight, if you are hiking with children 3 years and under. The hiking trails we went on were relatively flat and well maintained, although in winter keep an eye out for areas of slippery, squelchy mud.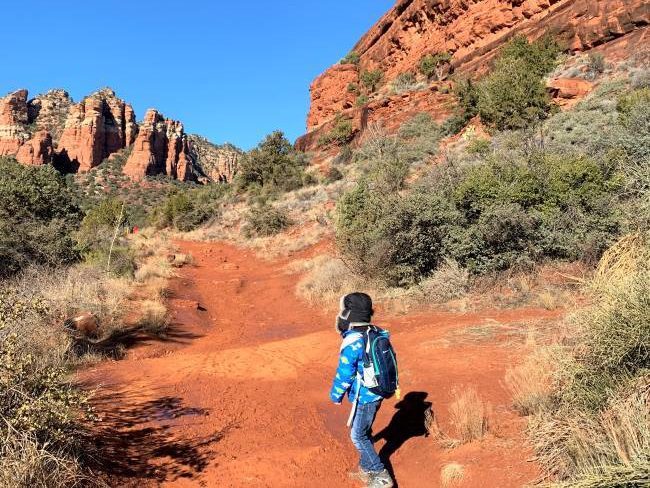 Bell Rock Pathway
Bell Rock is one of the most well-known red rock formations in the greater Sedona area, located just off the Red Rock Scenic Byway (Arizona State Route 179) near the village of Oak Creek. The area around Bell Rock is popular for hiking and even cycling, with multiple trailheads nearby with trail options to suit all abilities. Popular family-friendly hikes at Bell Rock include the Bell Rock Loop Trail (1 to 1.5 mile depending on route) and Courthouse Butte Trail (4 mile). Click image below to see a full-size map of hiking trails near Bell Rock.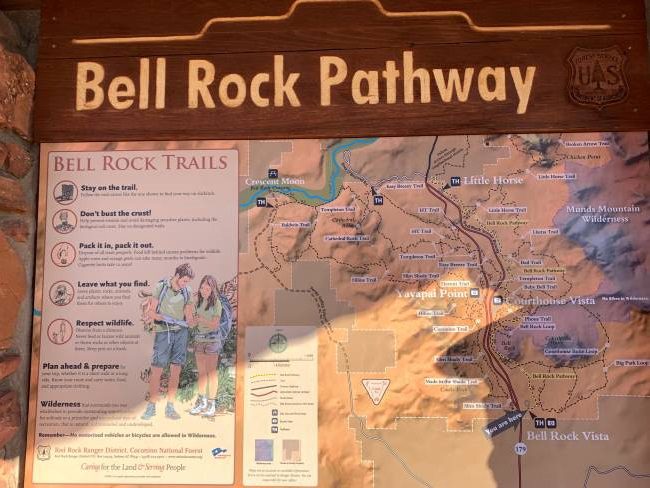 Do aim to arrive at Bell Rock by mid- to late morning even if you are visiting during low season. Daily, weekly and annual passes for Red Rock Country parking lots can be purchased in town at the Visitor's Center [331 Forest Road, Sedona 86336], at local vendors or at the pay stations at the parking lot entrances. Daily passes cost $5, weekly passes cost $15 and annual passes cost $20 and can be used to park at 19 specific day-use sites – view the complete list and where passes are sold on the Red Rock Pass webpage.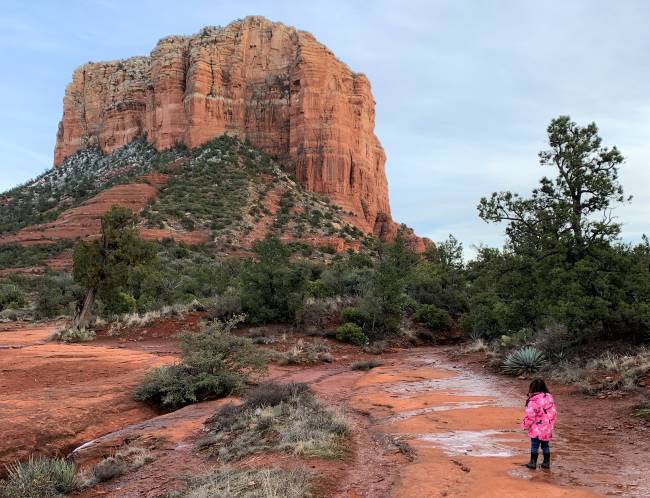 Bell Rock is renown for being one of Sedona's vortexes that emanates positive, healing energy just before sunset. For this reason, many people will visit Bell Rock before sunset and follow the moderate, heavily trafficked Bell Rock Trail (approx 1 to 1.5 mile hike depending on route) that goes around the base of this spectacular rock and up to the summit. Climbing part of the way up Bell Rock and taking in the incredible view was one of the top Sedona experiences for Little T and Mr G on this trip.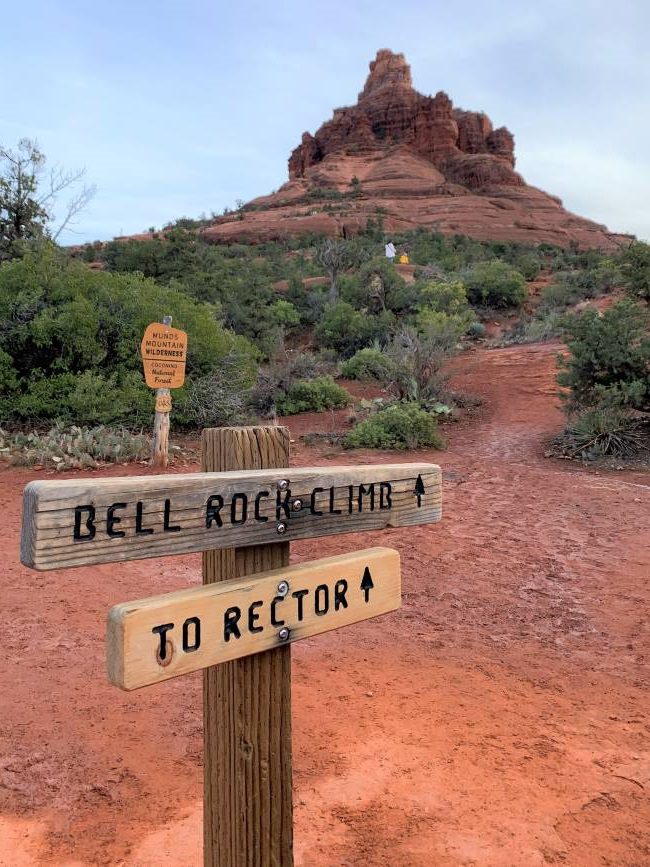 Airport Mesa
Another renowned Sedona vortex is Airport Mesa, and two popular ways to experience this stunning place are to take in the panoramic views from the Sedona Airport Scenic Lookout or go on the Airport Loop Trail for a longer hike around Table Top Mountain and the Sedona Airport.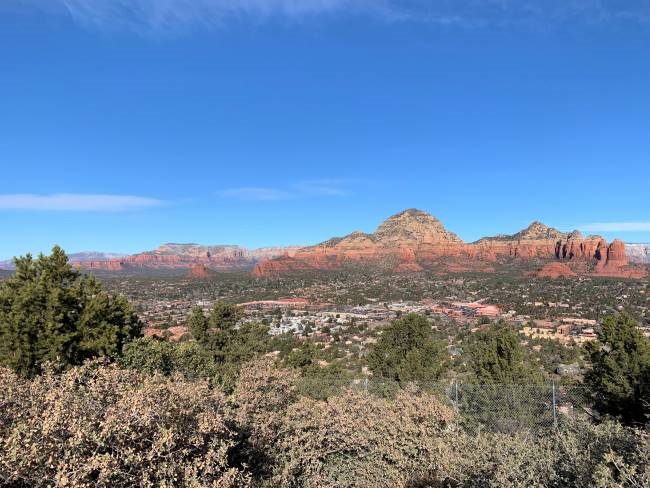 The Sedona Airport Scenic Lookout overlooks western Sedona and offers panoramic views of the surrounding red rock formations, including Capitol Butte and Coffee Pot Rock. These views are stunning especially at sunset as the colours of the rocks change with the setting sun. If you are short on time, this is an easy lookout point located right across from a large parking lot that costs $3 for parking (no time limit).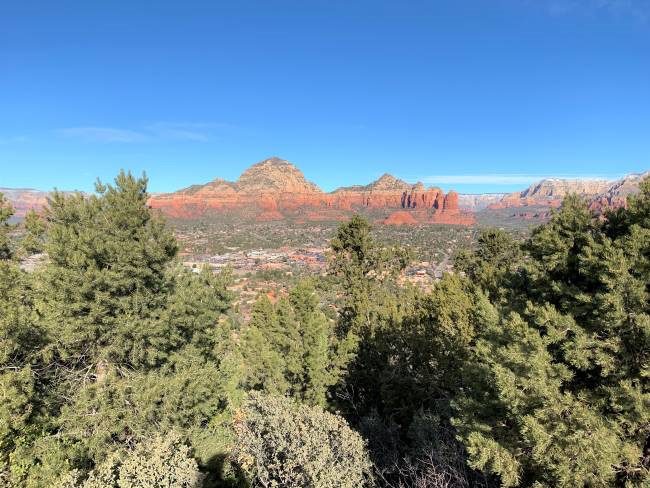 Pink Jeep Tour
One of the highlights of our Sedona trip was going on a off-road excursion with Pink Jeep Tours along the Broken Arrow trail, which was the first trail that they were going on when Pink Jeep Tours launched in Sedona in 1960 and also where several famous westerns were filmed. The Pink Jeep tour is one of the Sedona's top attractions and a fun way to explore the red rock terrain and take in the stunning views.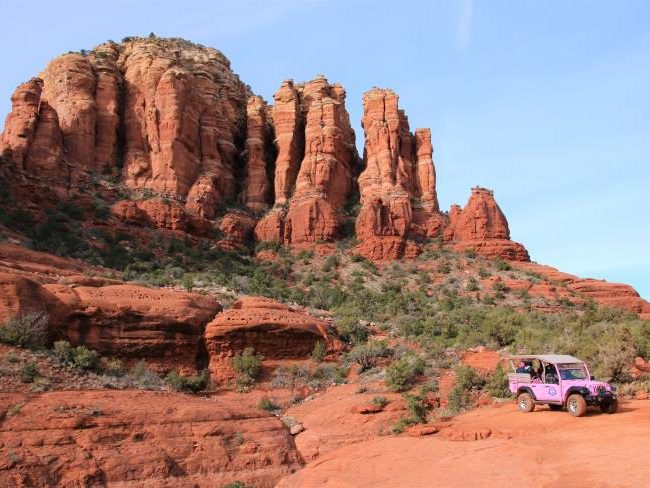 I would recommend calling Pink Jeep Tours if you are interested, for advice on choosing the right tour for your family. The rep at Pink Jeep Tours was very helpful when we called, taking the time to go through what to expect on the ride and arranging a car seat for our 2.5 year old which was set up when we got there. Pink Jeep Tours provide the car seats for 18 months to 4 years old or booster seats when required.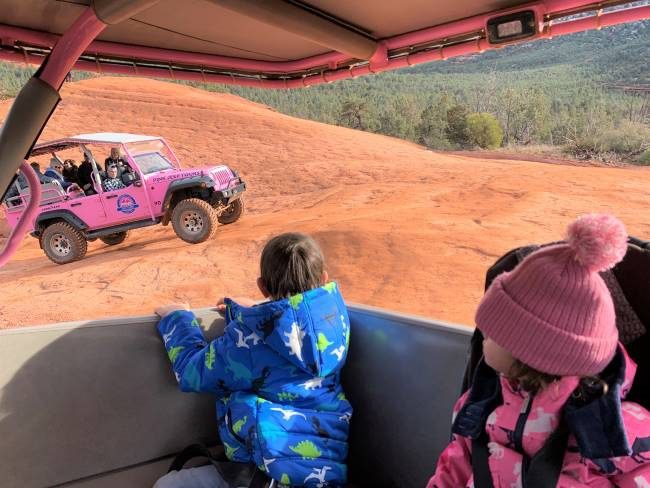 The Broken Arrow trail is their most popular tour and a fun, bumpy ride through the remote areas of the Cococnino National Forest, with the Jeep Wrangler crawling over rough terrain and going up and down 45 degree rock faces.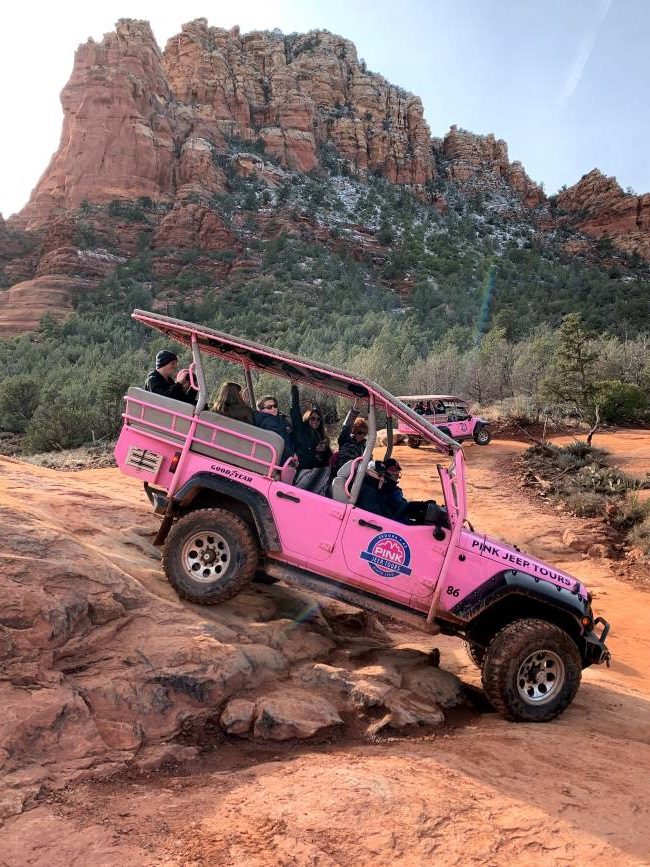 There were short stops along Broken Arrow trail for us to walk around and take in the surroundings, including at the majestic Submarine Rock and Chicken Point. The panoramic views were incredible from Submarine Rock, which is a huge formation (shown below) shaped like a nuclear submarine.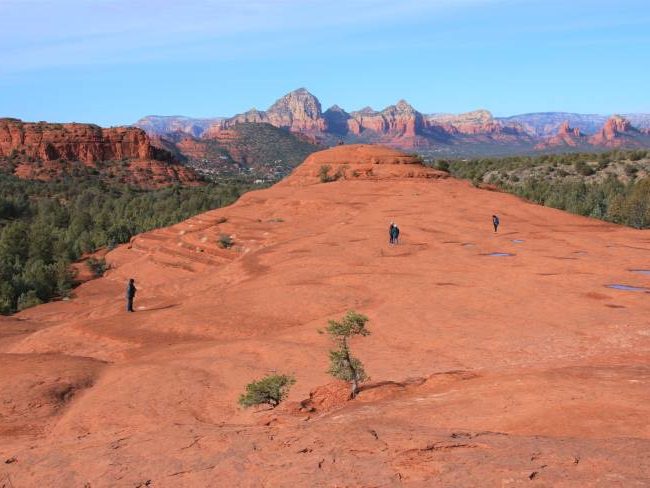 Chapel of the Holy Cross
One of the top things to do in Sedona is to visit the stunning Chapel of the Holy Cross, which was designed by sculptor Marguerite Brunswig Staude (a student of architect Frank Lloyd Wright) in the 1950s. The chapel was built into 250-foot-high, twin-pinnacled buttes overlooking Verde Valley and the main stained-glass window is held together by a giant cross.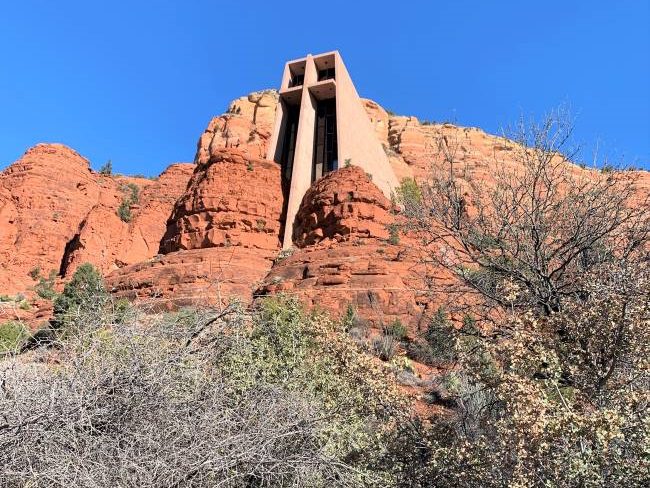 The Chapel of Holy Cross is truly a sight to behold and a magnificent combination of natural beauty, human artistry and architecture. You'll find it just off the Red Rock Scenic Byway, located between Sedona and Oak Creek village. There is limited parking at the chapel; we parked at the bottom and walked up the hill.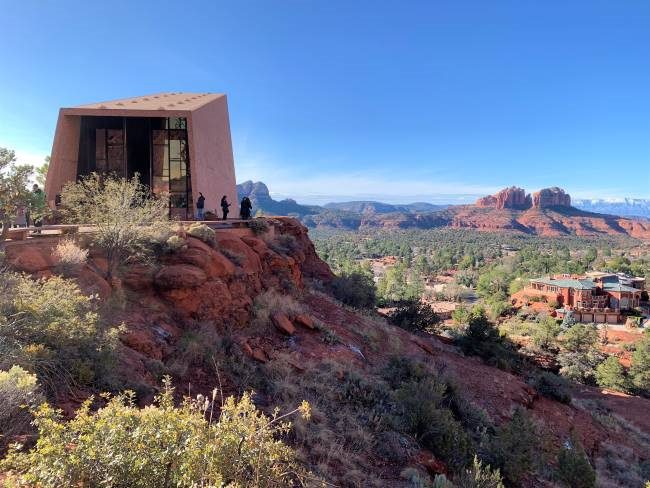 Shopping in Sedona with Kids
For decades, Sedona has also been well known for its vibrant arts community that draws inspiration from the mesmerizing red rock landscape. There are shops and art galleries to discover a variety of local fine art in uptown Sedona, the Sedona Arts Center and the Tlaquepaque Arts & Crafts Village. We also enjoyed making a stop at the quirky Son Silver West Gallery along the Red Rock Scenic Byway, which is a treasure trove of Southwestern art and home decor and eclectic gifts.
Tlaquepaque Arts & Crafts Village
The Tlaquepaque Arts & Crafts Village is one of the top places to shop in Sedona. Tlaquepaque means the "best of everything" and this outdoor market has been authentically fashioned after a traditional Mexican village and features art galleries, craft shops and decorative arches.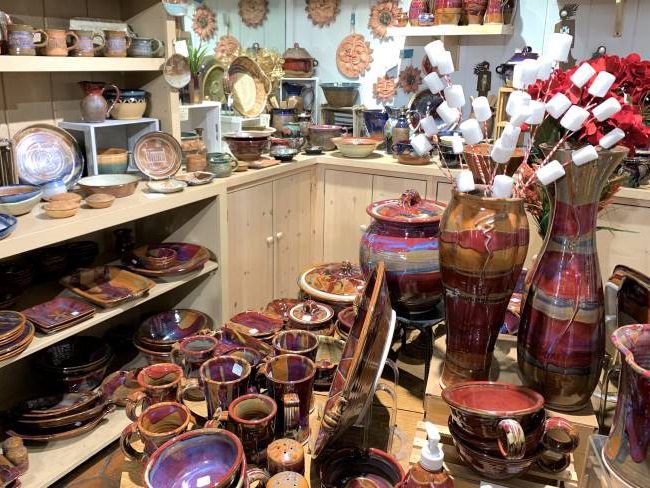 If you're looking for a place to relax and enjoy a warm drink, stop by the Chai Spot in the Tlaquepaque Arts & Crafts Village that serves homemade chai in a relaxing lounge setting.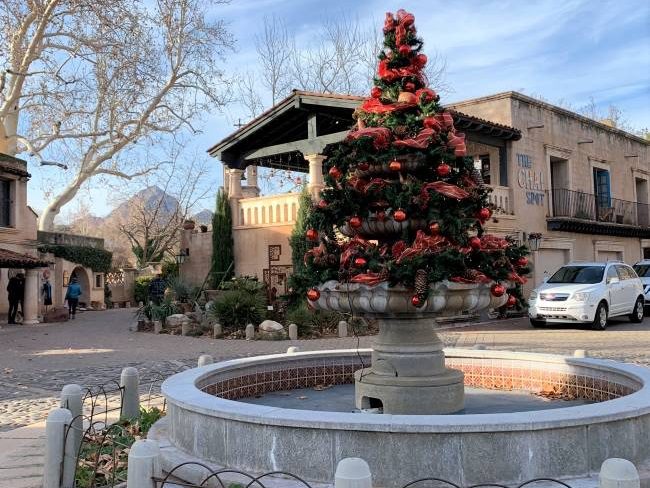 Son Silver West Gallery
Driving along the Arizona State Route 179, you can't miss the Son Silver West Gallery with its huge dinosaur sculpture and bright vintage signs. The Son Silver West Gallery is a pleasure to stop by and explore its treasure trove of Southwestern art and home décor, vintage signs, pottery and ceramic items and eclectic gifts.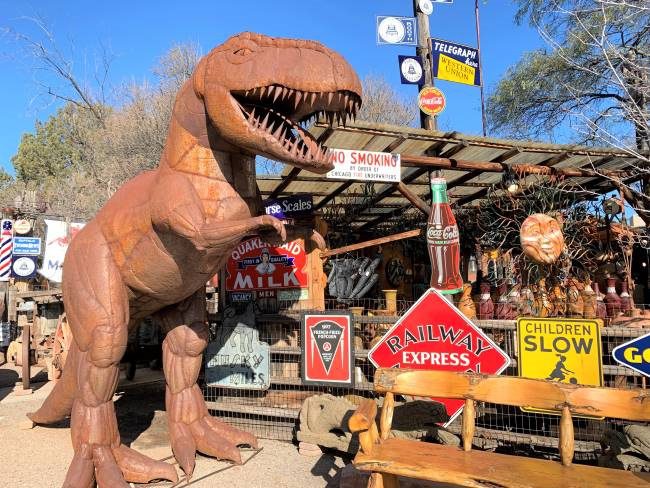 This is a great place to shop for souvenirs. We purchased a colourful gecko for Little T's bedroom wall, a lovely children's book, The Three Little Javelinas (a javelina is a peccary commonly found in Arizona) and a Christmas ornament painted with the red rock landscape for our collection.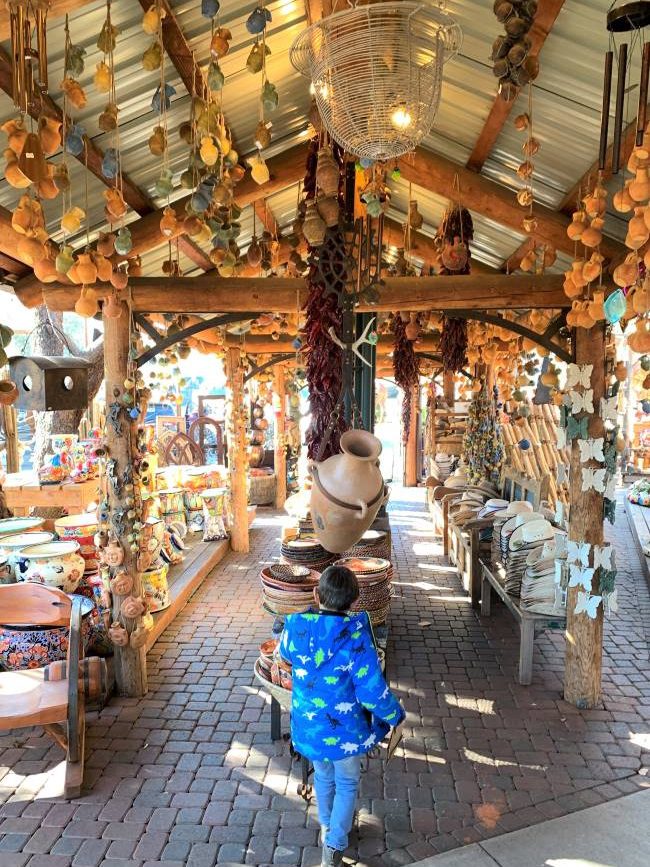 Looking for groceries and basic essentials? You'll find several stores to shop for groceries and other supplies in West Sedona;
Safeway Supermarket – 2300 AZ-89A, Sedona, AZ 86336
Whole Foods Market – 1420 W State Rte 89A, Sedona, AZ 86336
CVS Pharmacy – 20 Airport Rd, Sedona, AZ 86336
Walgreens Pharmacy – 1995 AZ-89A, Sedona, AZ 86336
Family-Friendly Sedona Restaurants
My top recommendation for dining out in Sedona would be to book restaurants well in advance. There are plenty of top-notch restaurants in Sedona, many of which offering splendid views of the red rock landscape. In this part of the Sedona with Kids guide, I'll share the great family-friendly restaurants we dined out at on our trip. I'd also recommend having a look at Elote Café, an award-winning Mexican restaurant which was at the top of my list but was unfortunately closed while we were there.
Creekside American Bistro | Website
The Creekside American Bistro is a family-friendly casual restaurant near uptown Sedona that overlooks Oak Creek. It's a great place to eat for families, serving up seasonal cuisine made with locally sourced ingredients. There are options for seating indoors or outdoors on one of their covered decks that offer stunning Red Rock views.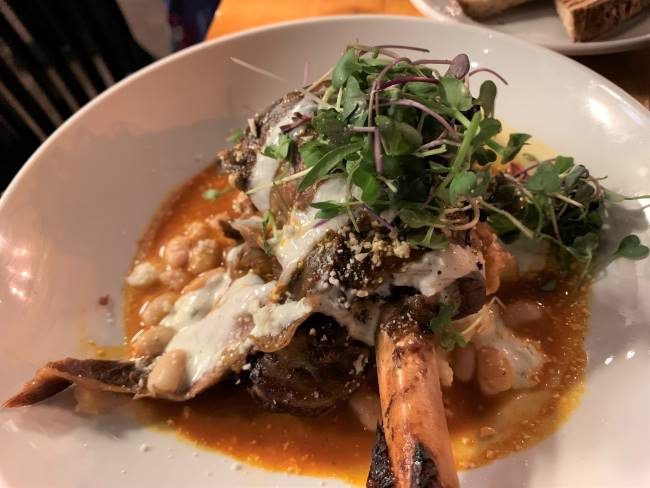 We had dinner there so couldn't make the most of the views and setting, but I can vouch for the delicious food and accommodating service.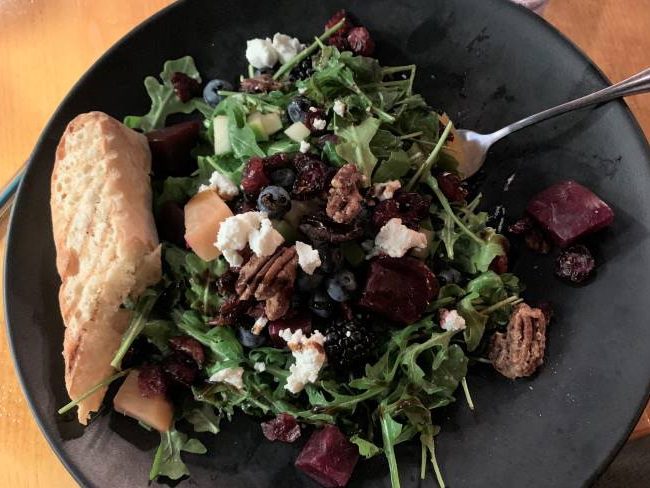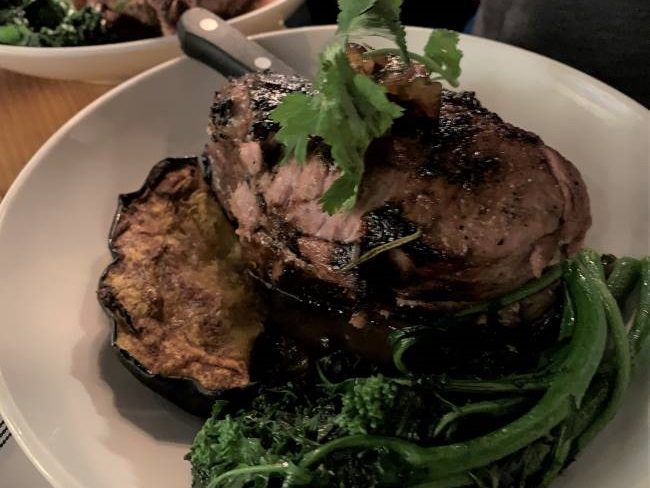 The Hudson Restaurant Sedona | Website
Another great Sedona restaurant with a view, the Hudson Restaurant is an American eatery serving lunch and dinner with a great menu and amazing views of the Red Rock landscape.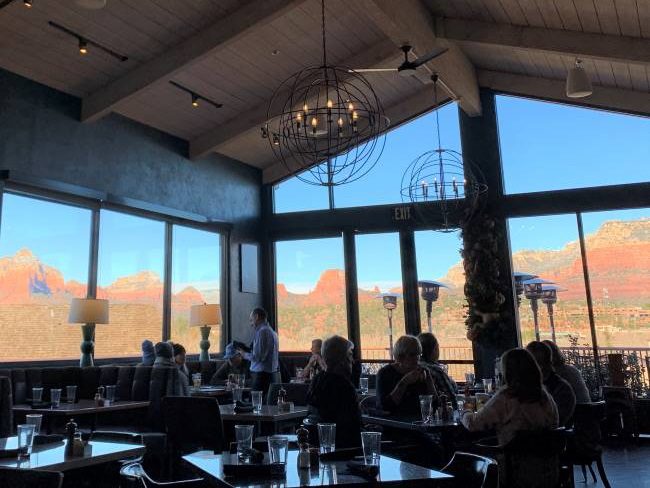 We ate well at the Hudson Restaurant. Mr G ordered the steak with seasonal vegetables and mashed potatoes.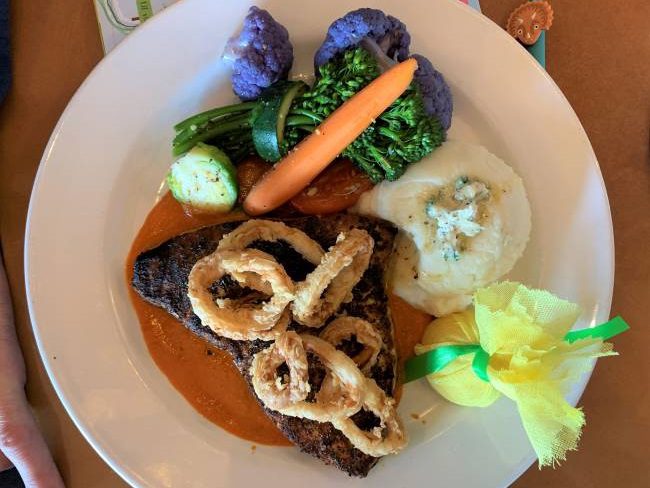 And I had the braised pork tacos which were delicious and heaped with toppings.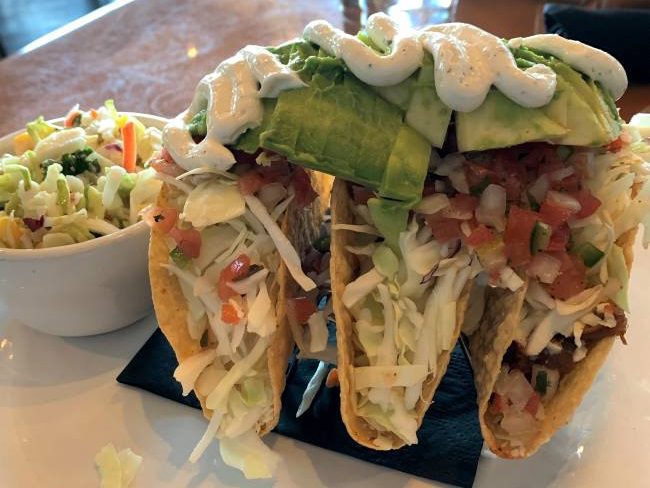 The kids ordered the chicken tenders and cheeseburger from the Hudson Restaurant kid's menu.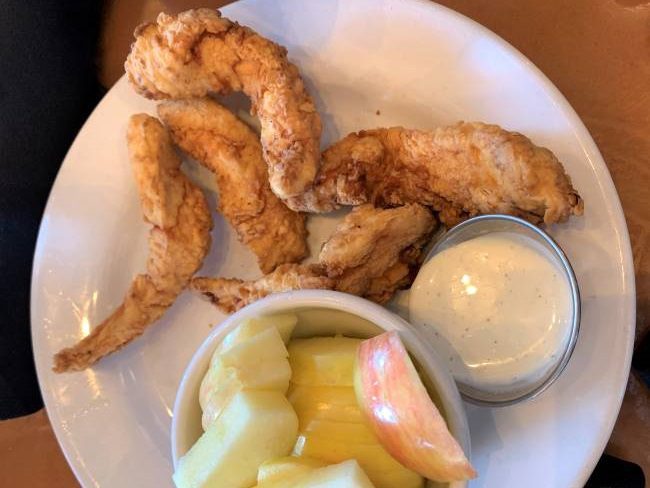 Overall top-notch food and fantastic views at Hudson Restaurant which is also conveniently located close to uptown Sedona.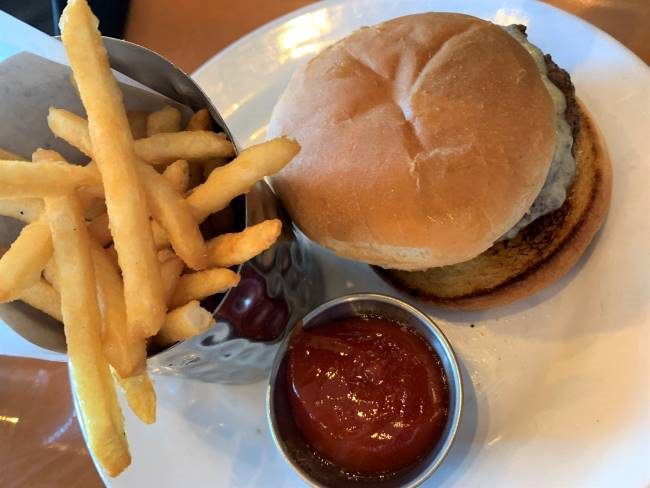 Hotels in Sedona with Kids
Hilton Sedona Resort at Bell Rock
During our visit to Sedona, we stayed at the Hilton Sedona Resort at Bell Rock which is a great place to stay in Sedona with kids. The Hilton Sedona Resort is conveniently located a short distance from Bell Rock and all the outdoor activities and hiking adventures nearby.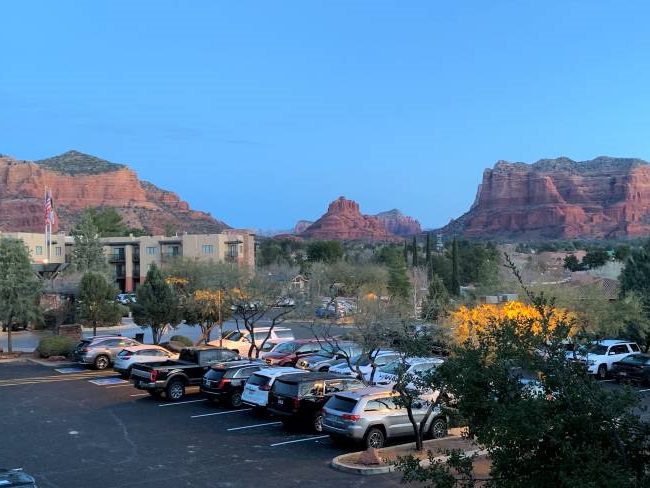 We stayed in a king suite which was spacious and comfortable for our family of four. The king suites are 548 sq. ft and include a separate living area with a full sofa sleeper. We didn't have a view but there are options for a Red Rock view. The Hilton Bell Rock also had outdoor games and swimming pools, including this great one for children.
Check room rates and availability for the Hilton Sedona Resort at Bell Rock on Tripadvisor.com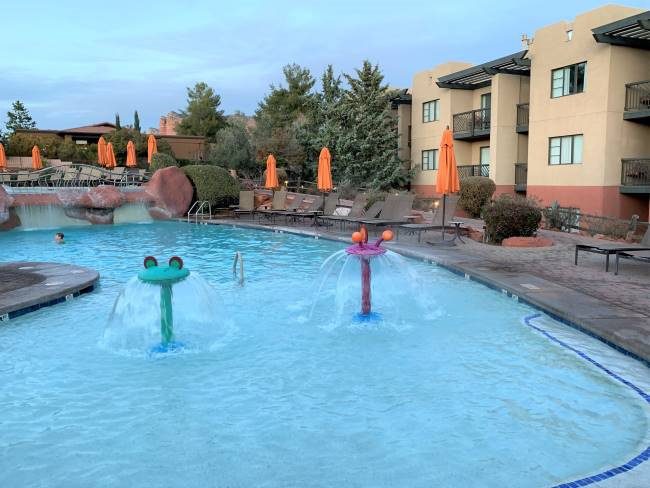 Our favourite part of staying at the Hilton Sedona Resort was roasting marshmallows at the fire pits in the outdoor seating area. We bought a s'mores kit at the restaurant and enjoyed an evening after dinner relaxing by the fire.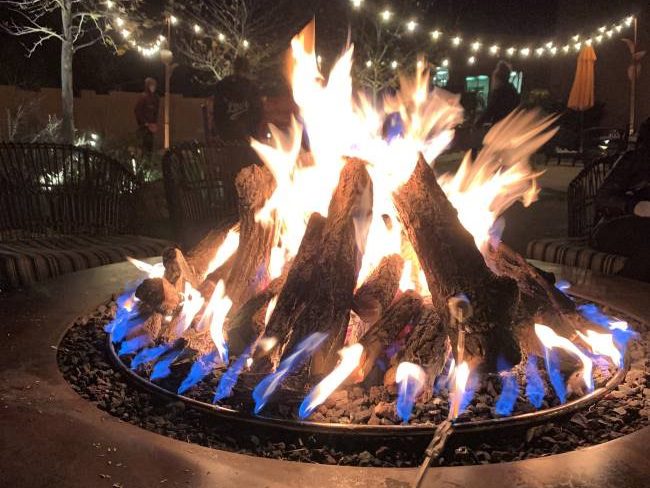 Check room rates and availability for the Hilton Sedona Resort at Bell Rock on Tripadvisor.com
Getting to Sedona
The closest international airport to Sedona is Phoenix Sky Harbor Airport (PHX), which is 2 hours south, and there are daily flights from London Heathrow to Phoenix with British Airways. Sedona is about a 2 hour drive from the Grand Canyon South Rim and is a popular stop for road trips to US National Parks or other parts of Arizona. After we visited Sedona, we drove about 4.5 hours north to Las Vegas which is where we stayed for a few days before returning to London via Las Vegas McCarran International Airport.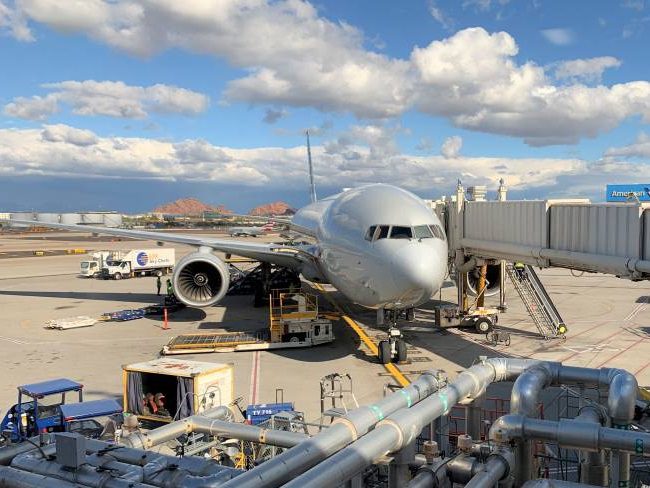 I hope you found these tips for visiting Sedona with kids helpful! Do let me know if you have any questions about visiting Sedona or if you have other recommendations of things to do and places to visit in Sedona with Kids. 
Disclosure: This post contains affiliate links, so if you do click through and make a purchase I may receive a small amount at no extra cost to you. Thanks for your support!
Pin for Later – Things to do in Sedona with Kids