Character meals at Walt Disney World parks or resorts are a great way for your family to meet several Disney characters. One of the three Disney character meals we booked during our family holiday in Orlando was the 'Ohana Character Breakfast at Disney's Polynesian Village Resort.
The Ohana Best Friends Breakfast features Lilo and Stitch, along with friends such as Mickey and Pluto. In this post, I'll be sharing our experience at 'Ohana and what to expect at the Best Friends Character Breakfast.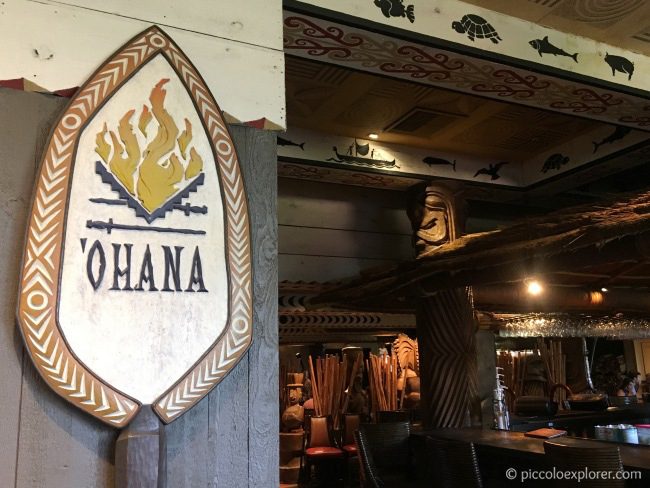 'Ohana Restaurant Reservation
The 'Ohana Character Breakfast came highly recommended for its lively atmosphere and opportunity to meet Lilo, Stitch, Mickey and friends. Disney's Polynesian Village Resort is a deluxe Disney resort at Walt Disney World Resort Orlando. All guests, whether you're staying on or off property, can book a table at the Disney resort restaurants.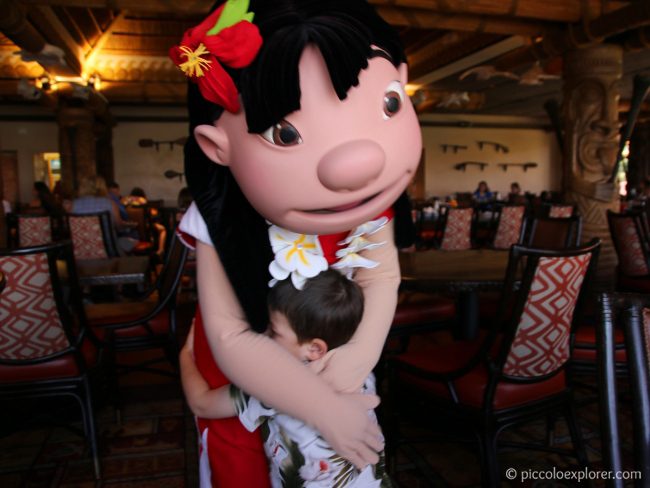 I managed to make a dining reservation for the Ohana Character Breakfast at the beginning of our family trip to Orlando, however I would recommend making a booking well ahead of your visit. You can book Walt Disney World dining reservations up to 60 days in advance using the My Disney Experience app or the Walt Disney World Dining website which are both straightforward and easy to use.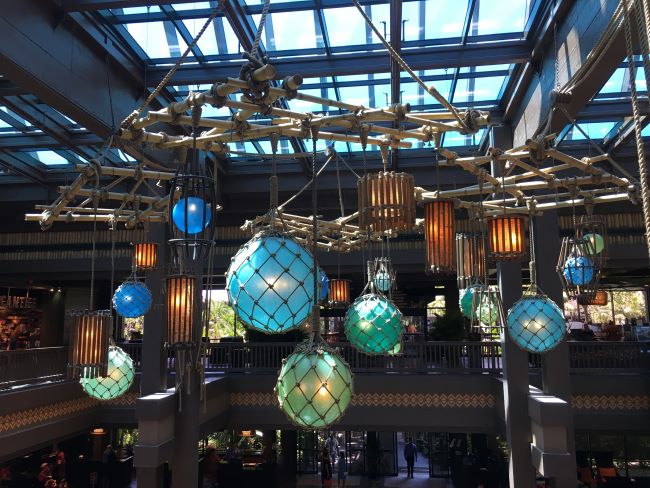 When making the dining reservation, you will be asked for your telephone number and credit card. Phone numbers must be 10 digits, so to book with your UK mobile number, select GB +44 and remove the first '0' from your phone number. You can cancel or amend your dining reservation up to 24 hours before.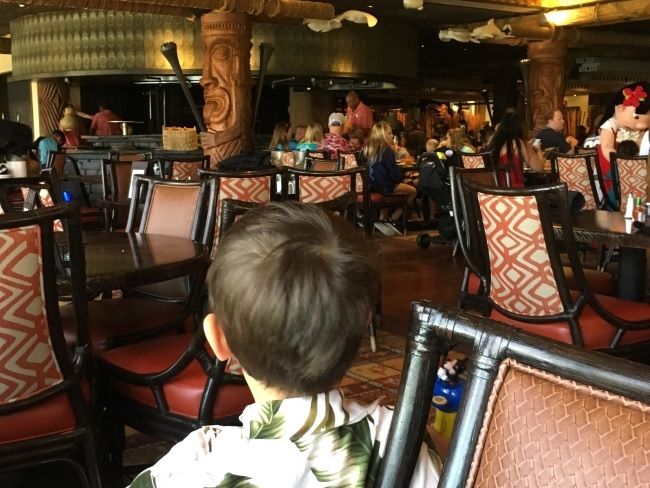 Related: Review: Disney Character Meal at Crystal Palace, Magic Kingdom
When we arrived at the 'Ohana for our reservation, we were given a buzzer to hold onto during the wait for our table. 'Ohana is located on the floor overlooking the Polynesian Village resort lobby, where you'll also find a couple of merchandise shops and the Kona Café. We browsed the shops and Mr. G and I had a delicious Kona coffee at the café during the wait.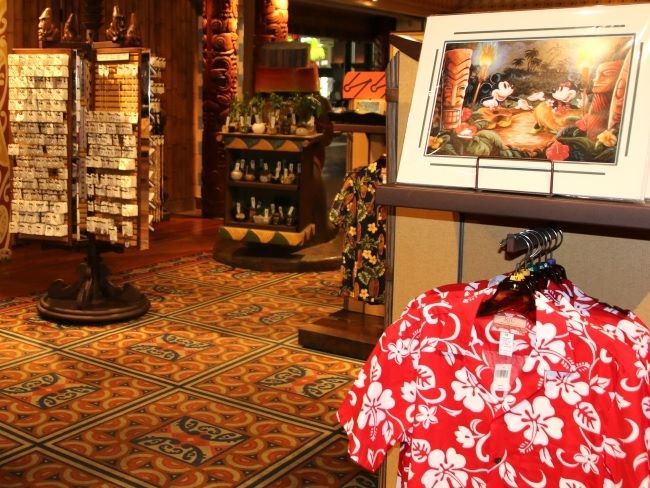 'Ohana Family Style Breakfast
The Ohana Character Breakfast costs $45 per adult and $29 per child (ages 3 to 9), plus tax and gratuity. View the full Ohana menu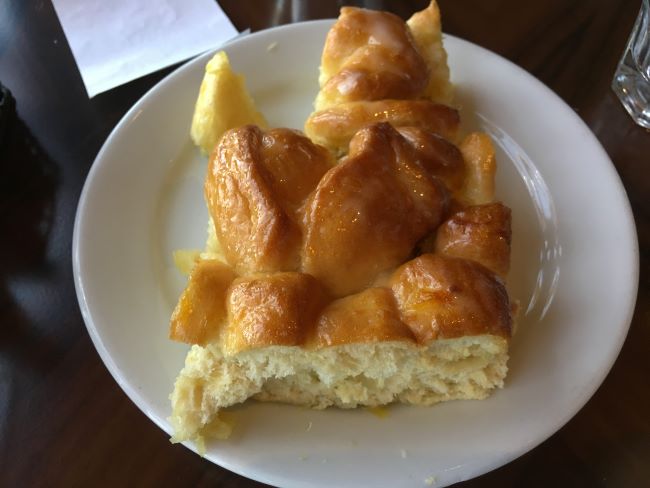 We were first served freshly made pineapple-coconut breakfast bread, a plate of fresh fruit, and Ohana's popular POG fruit juice. The POG juice is a blend of passion fruit juice, orange juice and guava nectar.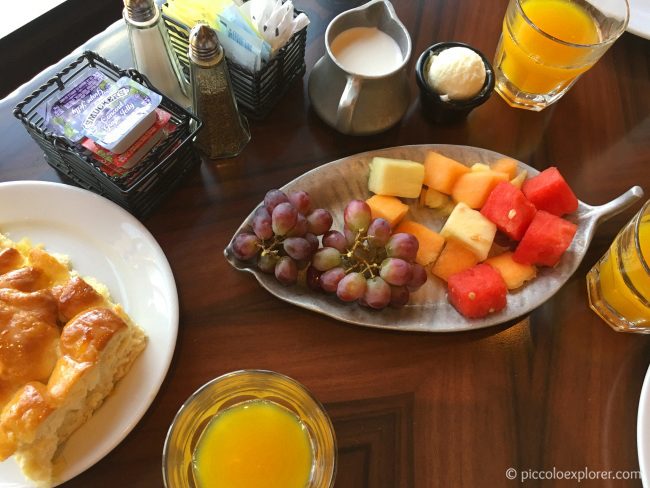 Breakfast was served in a big pan: Mickey-shaped waffles, bacon, pork sausage links, biscuits and scrambled eggs to share family style. It is a good value in that you can keep having the items topped up and served to your table.
Note: There are allergy-friendly and plant-based 'Ohana breakfast options available. Guests must speak to a cast member about their allergy-friendly request.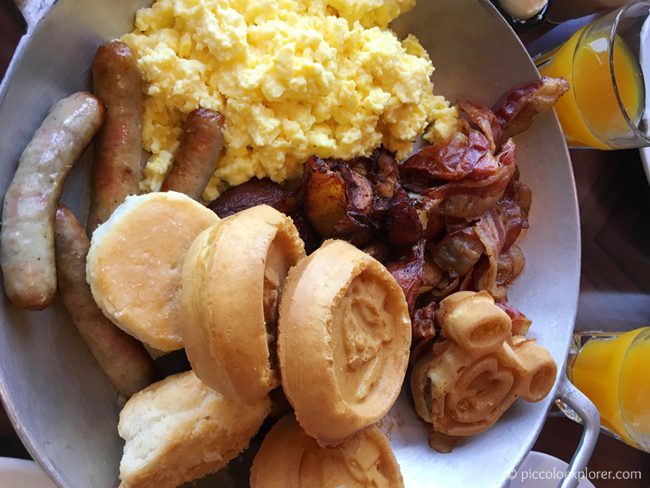 Our waiter was very accommodating when Mr. G asked to have something other than what was offered on the platter. He brought over a pan, the same huge size as the one above, full of egg whites, and also continued to check in to see if we wanted anything topped up.
Character Breakfast with Lilo and Stitch
As for the character experience at 'Ohana, the characters were wonderful at engaging with 3 1/2 year old Little T. Each character took the time to sign autographs and take plenty of photos with us. Our table was a bit tucked away from everyone else, but the restaurant manager checked in regularly and made sure had our chance to meet each character.
Tip: Bring an autograph book or other memorabilia for the characters to sign. There are some that you can also add photos and other mementos to that make a wonderful souvenir. You can find customizable autograph books on Etsy or, of course, purchase ones at the resorts or parks, with prices ranging from $8 to $20.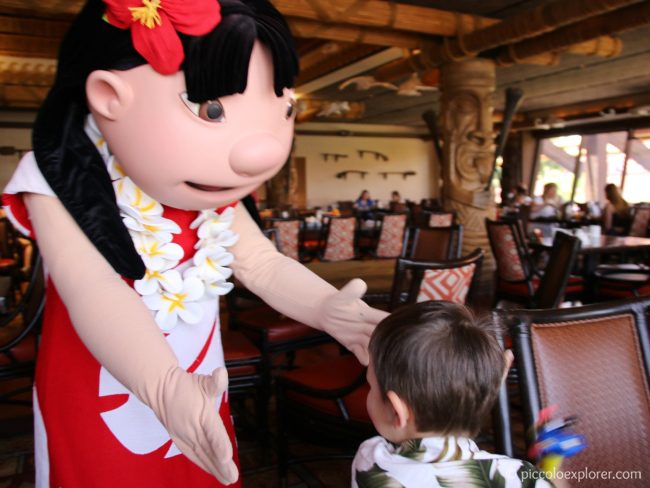 Little T absolutely loved seeing the characters and asking for their autographs. He actually didn't really eat until the very end, because he was mesmerized watching the characters moving around the room.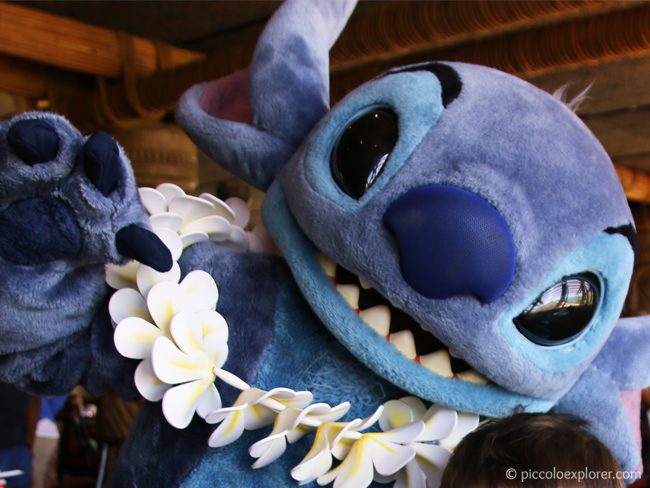 Pluto and Stitch were particularly friendly and lively to watch. Lilo was very sweet and kept waving at us every time she passed by.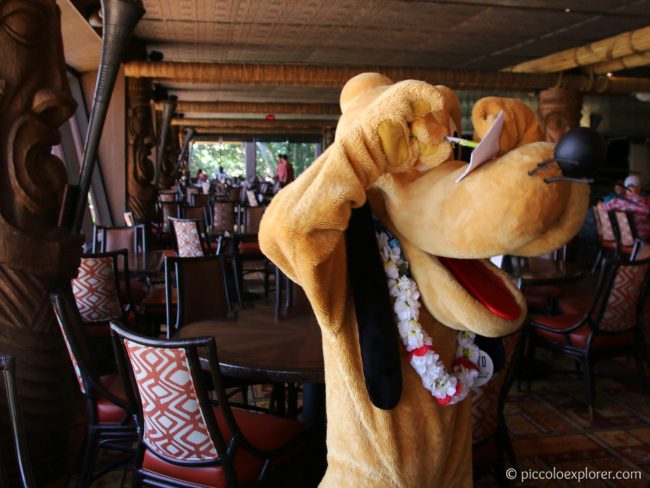 Related: Review: Disney Character Meal at Cape May Cafe, The Beach Club Resort
The highlight of the 'Ohana Character Breakfast for us was meeting Mickey Mouse. Little T had been waiting weeks for that moment. He had just purchased a small handheld fan that had Mickey riding a plane and loved showing it to Mickey, who made the motions that it was him riding the airplane and had Little T cracking up!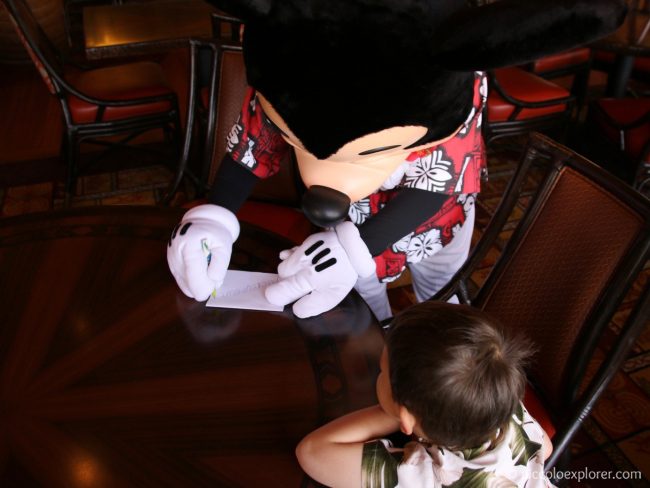 At one point, there is a parade around 'Ohana restaurant with the characters and kids shaking maracas and dancing. It goes by very quickly but it is fun having that extra moment interacting with the characters.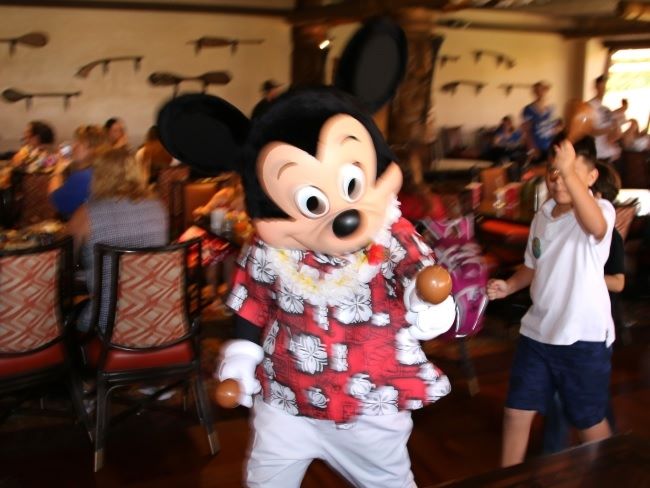 Disney's Polynesian Village Resort
I would highly recommend making time to explore a bit of the resort itself before or after your meal. Located by the Magic Kingdom park, the Polynesian Village Resort is connected to the park with the monorail, so we had our first monorail spotting while there.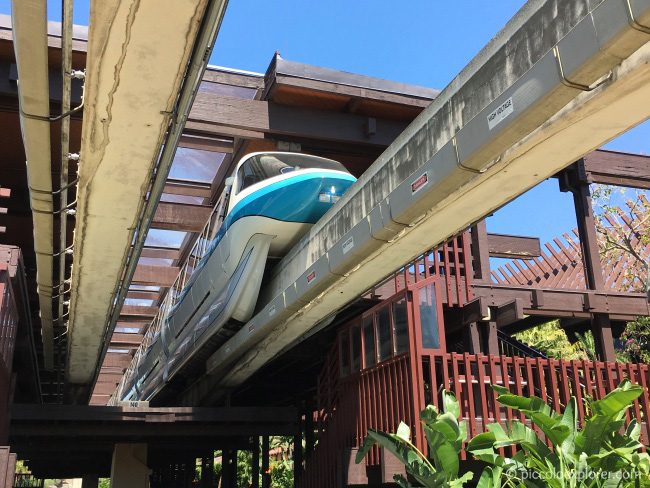 Related: Planning a Family Holiday in Orlando Florida
The Polynesian Village Resort is decorated beautifully, with Hawaiian design elements, fountains and tropical plants. There's a fun swimming pool (for resort guests only) and a beach on the lake, which is open to non-resort guests.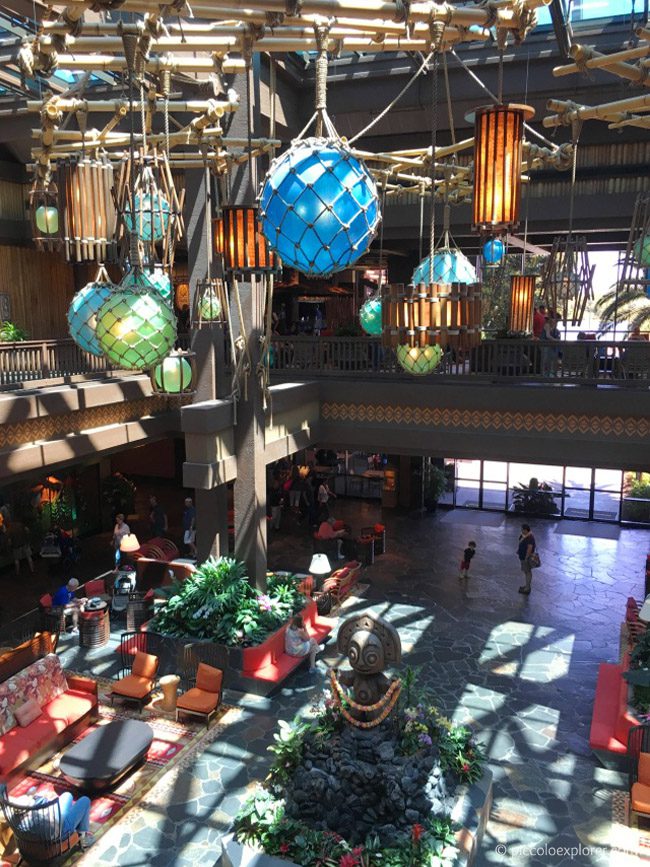 The resort beach is a good spot to relax in the evening and watch a night show on the lake right before watching the fireworks display at Magic Kingdom in the distance. You can ask the concierge for current fireworks times. Below is a view of the lake and part of the resort from 'Ohana restaurant.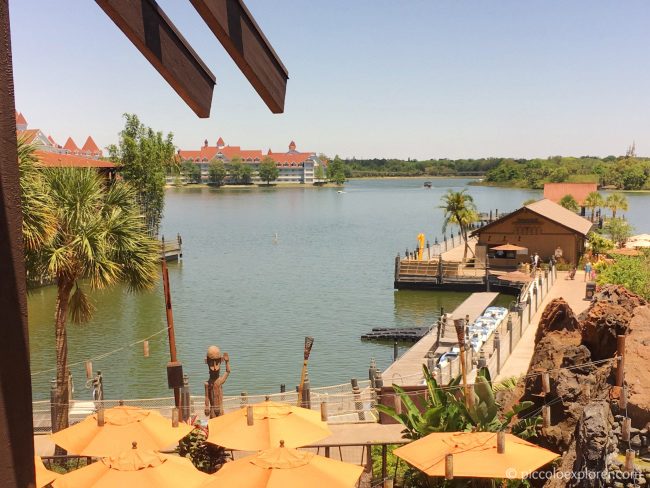 There's a quick service stand, Pineapple Lanai, right outside the lobby (on the way to the pool area) where you can pick up the famous Dole Whip soft serve or pineapple float. Aside from the Polynesian Village Resort, the only other place at Walt Disney World where you can pick up this scrumptious treat is at the Aloha Isle at Magic Kingdom.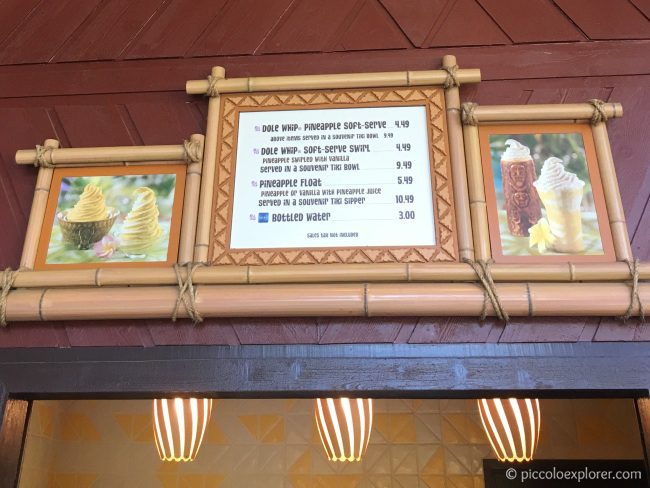 Related: Visiting Magic Kingdom with a Preschooler
There was no wait at all when I visited the Pineapple Lanai, so it was a great opportunity to give the Dole Whip a try – and it is absolutely delicious!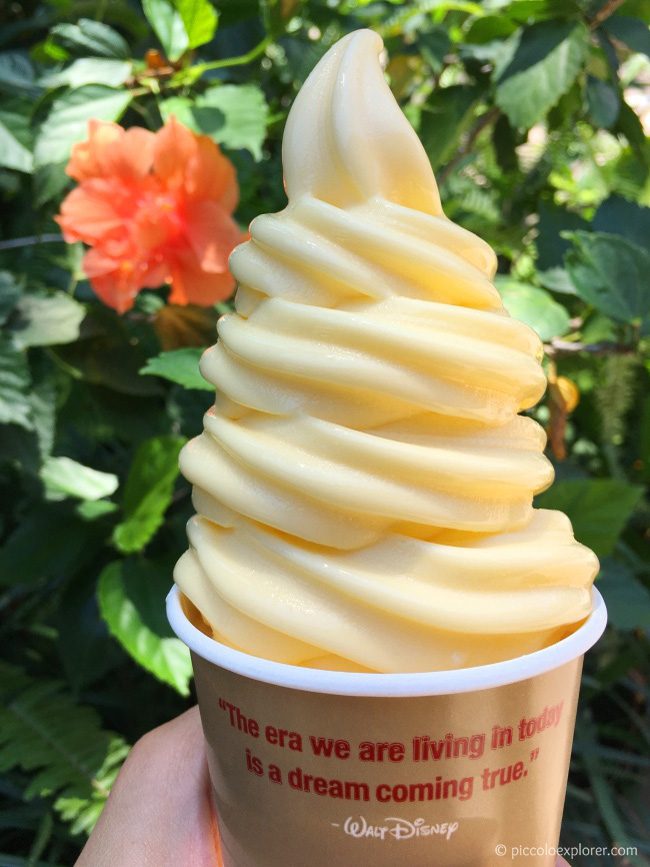 Ohana Best Friends Character Breakfast
Address: Disney's Polynesian Village Resort, 1600 Seven Seas Drive, Orlando, FL 32830, USA
While we were disappointed with the long wait to be seated despite having a reservation, the service at the Ohana Character Breakfast was very good and the restaurant manager and our waiter frequently checked in on us. The breakfast food was fairly average, to be honest, and we would have preferred more variety.
Overall, the Ohana Character Breakfast was a fun experience and Little T absolutely loved meeting Lilo, Stitch, Pluto and Mickey. We had plenty of time for interaction and photos with each of the characters, who were all so lovely and friendly. Meeting Mickey was one of our top things to do for our toddler on this family holiday in Orlando, and it was a highlight of our trip to meet him at the Ohana character breakfast.
https://disneyworld.disney.go.com/en_GB/dining/polynesian-resort/ohana/
Orlando with Kids
I hope you have found this post helpful for planning your own family holiday in Orlando. Read on for more details on visiting the Orlando theme parks, booking Walt Disney World character meals and a resort review for Disney's Animal Kingdom Lodge;
Hotel Review: Disney's Animal Kingdom Lodge
Visiting Magic Kingdom with a Preschooler
Universal's Islands of Adventure with a Preschooler
Visiting EPCOT Walt Disney World with a Preschooler
Day Trip to Clearwater Beach, Florida
Review: Disney Character Meal at Crystal Palace, Magic Kingdom
Review: Disney Character Meal at Cape May Cafe, The Beach Club Resort

More Disney Parks Inspiration
Read on for more inspiration on planning a Disney trip with our tips and reviews for visiting Disneyland Paris;
Best Restaurants in Disneyland Paris
Guide to Disneyland Paris Attractions
Hotel New York – The Art of Marvel Disneyland Paris Review
Disney Newport Bay Club Disneyland Paris Hotel Review
Disneyland Paris Trip Report 2022
Disneyland Paris Trip Report 2021
This post was updated on 5 October 2023 with latest information on booking the Ohana Best Friends character breakfast at Disney's Polynesian Village Resort, Walt Disney World Orlando.
PIN FOR LATER – Ohana Character Breakfast at Disney's Polynesian Resort