One of the highlights of our city break in Prague was staying at the highly recommended Four Seasons Hotel Prague, which is locayed a short walk away from the Old Town Square and Charles Bridge. The Four Seasons Prague is not only a lovely hotel with a prime location on the Vltava River, but also a family friendly and accommodating place to stay. In this Four Seasons Prague hotel review, I'll share our experience staying at the hotel for a city break in Prague and the extra touches that made our stay with a toddler more comfortable and special.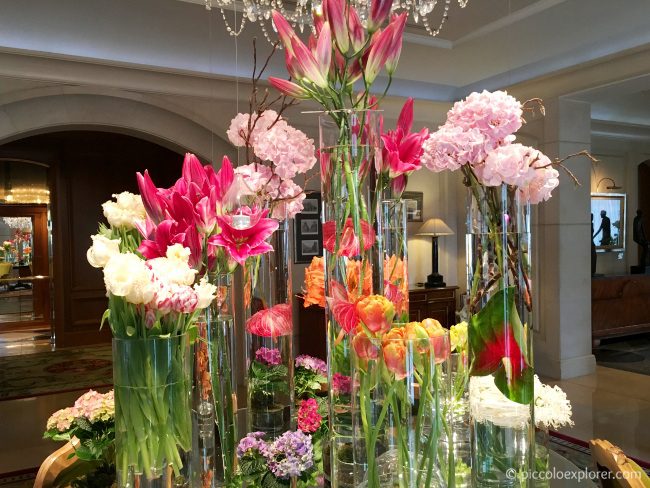 Room Reservation
The best room rate we found at the time was through the Four Seasons website. We booked a Modern Room for a two night stay. A week before our arrival, we received an email from the reservations desk with a form to fill out ahead of our upcoming stay. Details requested included flight details to book airport transfer (approximately £65) and any personal preferences, such as floor location (near or far from elevator, low or high) and complimentary newspaper.
Check room rates and book on Tripadvisor.com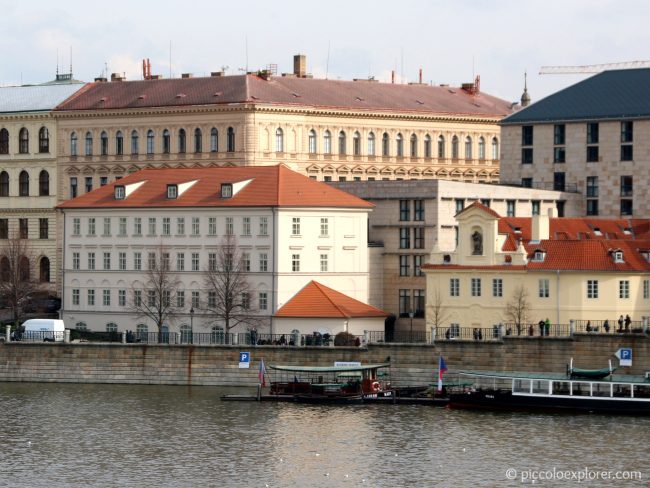 There was also a section to provide our personal details for Express Check-in, fields to book a table at the hotel's restaurant CottoCrudo or treatments at the health club. It was very helpful for making these arrangements in advance. I also appreciated being asked to select a variety of interests – museums, opera, city tours, music concerts – to receive details from the Concierge on what was happening in Prague during our stay.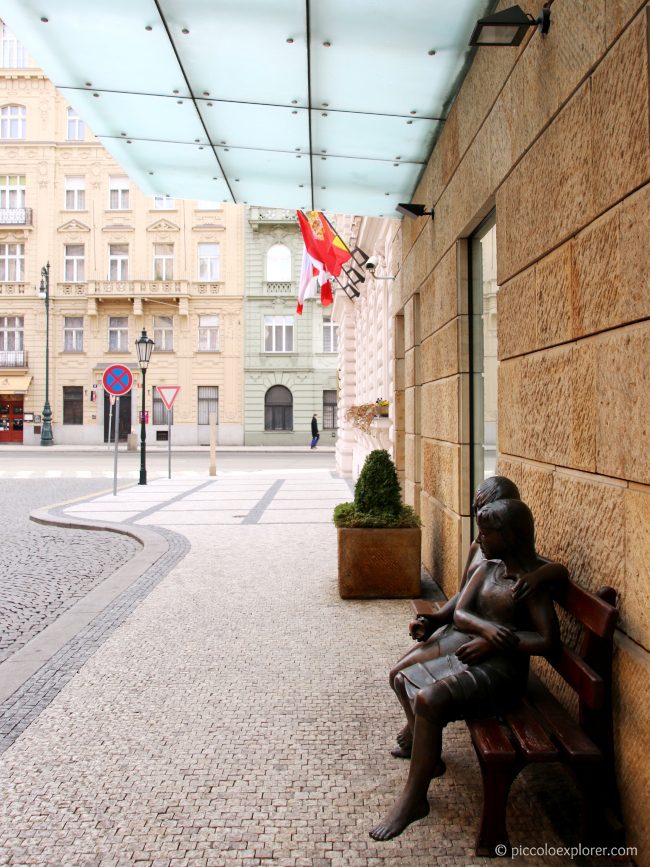 Four Seasons Prague Lobby
Read on for more details about the interior and room in this part of the Four Seasons Prague hotel review. The lobby of the Four Seasons Prague is splendid, from the magnificent chandeliers to the stunning flowers in the main lobby and the reception area.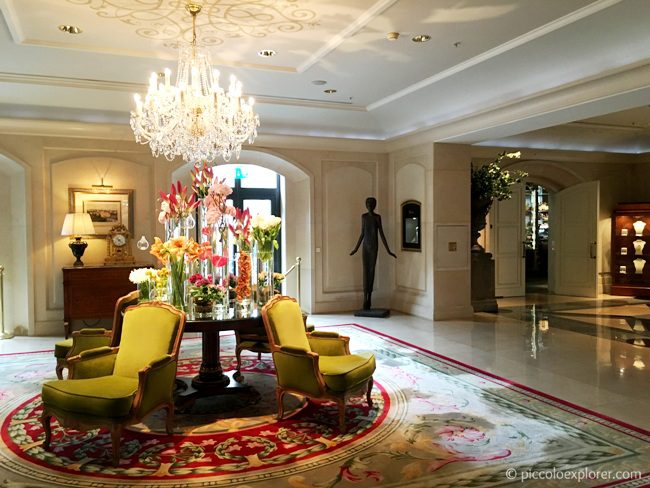 CottoCrudo is on your right as you arrive, shown with the open door above. For the best view of Prague Castle from this level, you would need to go through the CottoCrudo restaurant to access the patio.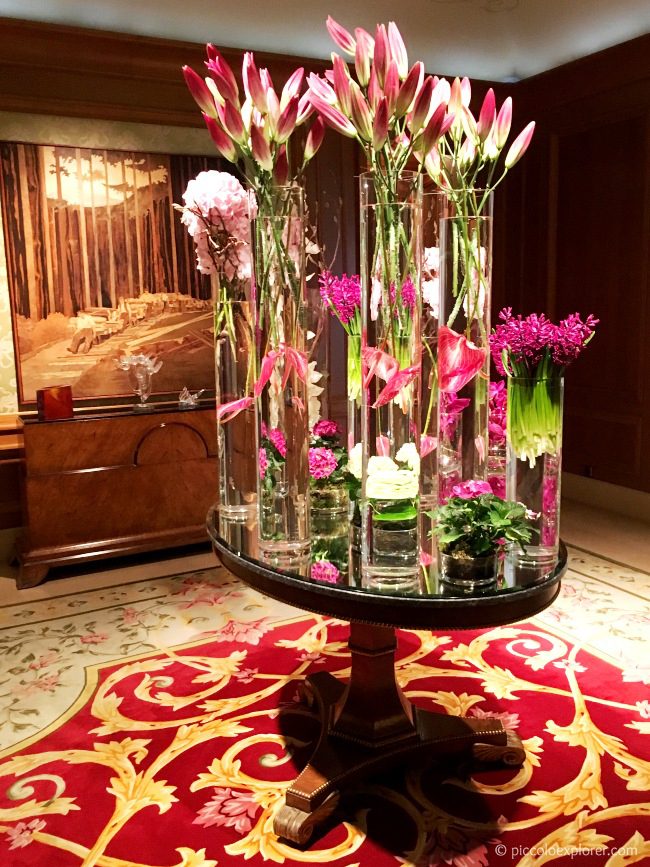 Past the main flower display in the lobby is a seating area with sofas and armchairs.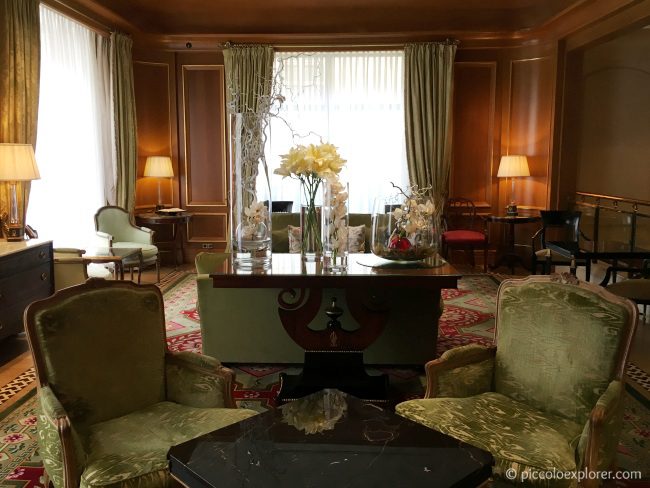 Four Seasons Modern Room
We booked a non-smoking Modern Room with a king-size bed. The room was comfortable and spacious enough (355 sq ft) and beautifully decorated.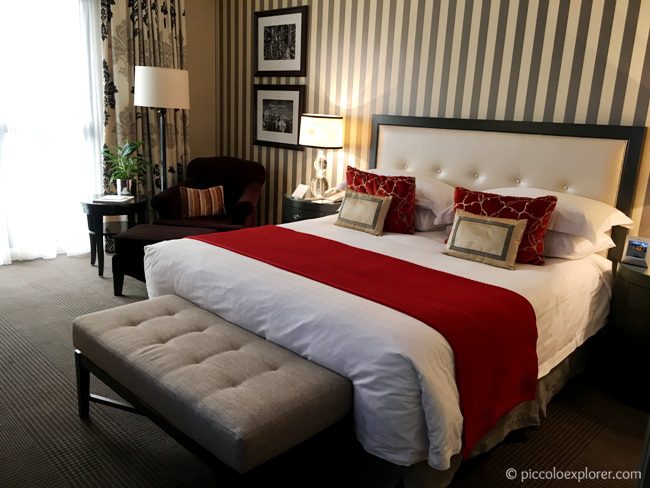 The Modern Rooms don't have a particularly interesting view, but there are several other options for rooms with views of the surrounding city streets. The Premier River Room options offer splendid personal views of the Vltava River and Prague Castle.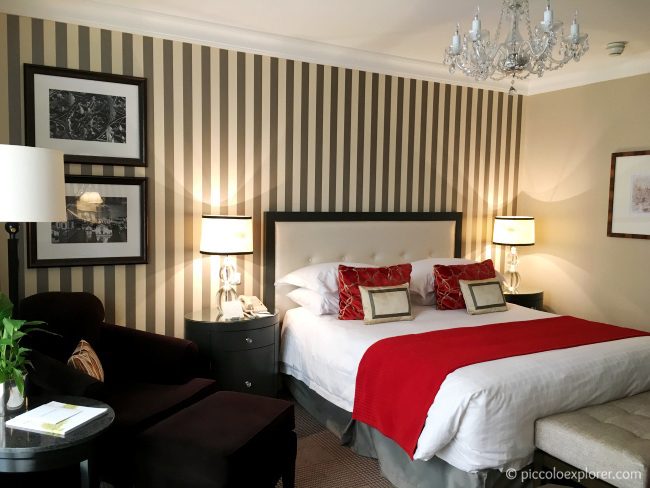 You can also request a crib or a rollaway bed if required ahead of your trip, in the email form I mentioned above, or at the reception desk when you check-in.
Check room rates and book on Tripadvisor.com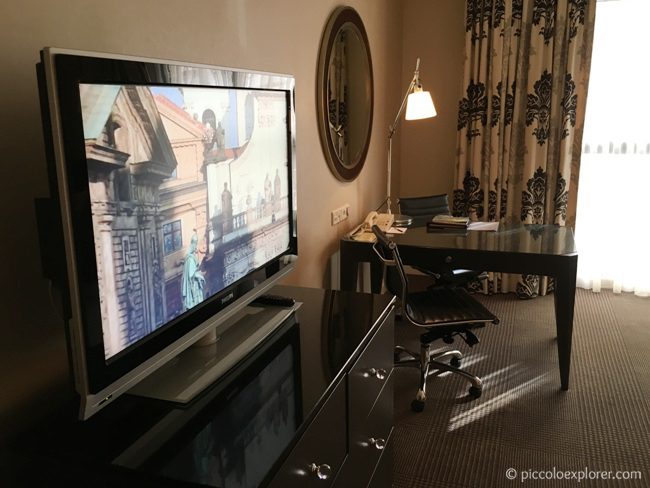 The mini-bar area with an espresso machine on the counter and the refrigerator in the cabinet below.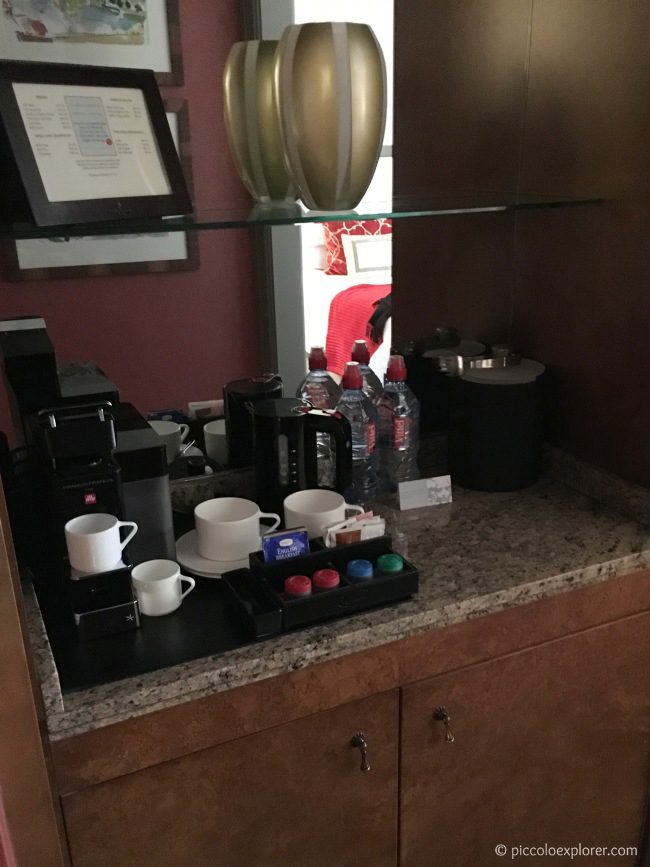 One of the lovely family friendly touches during our stay was discovering a gingerbread biscuit ready to be iced after returning from dinner the first evening. The gingerbread horse was arranged on a plate with different coloured icing on the desk and several more biscuit treats.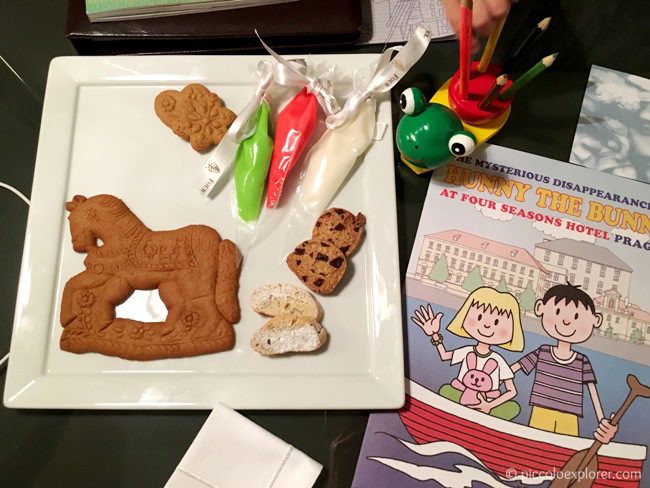 Next to the plate was a bedtime story, a local children's tale, and a colouring book with pencils.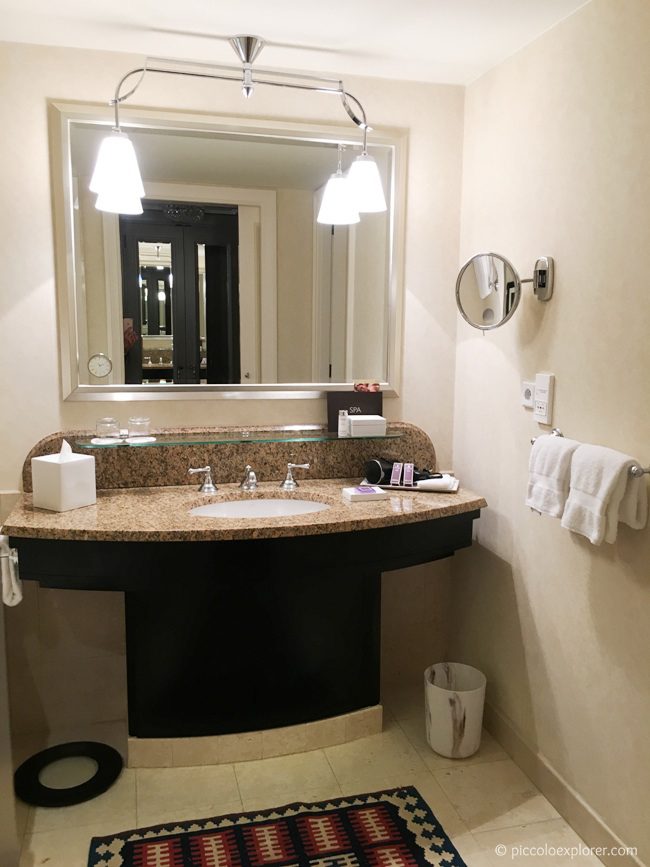 The marble bathroom had a single vanity, a glass shower, a good-sized bathtub and a toilet in a separate room to the side.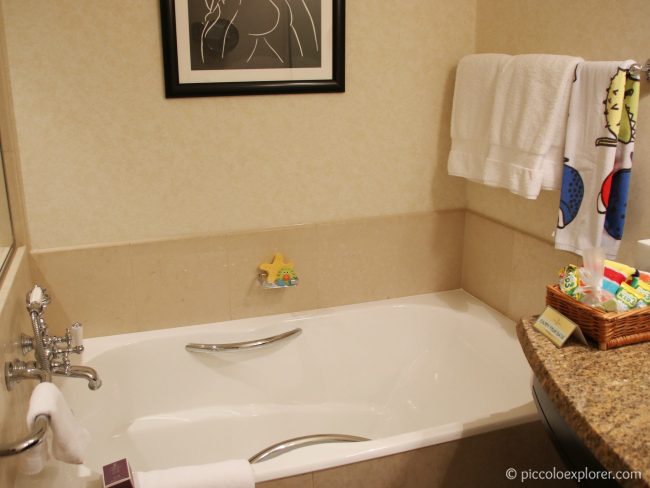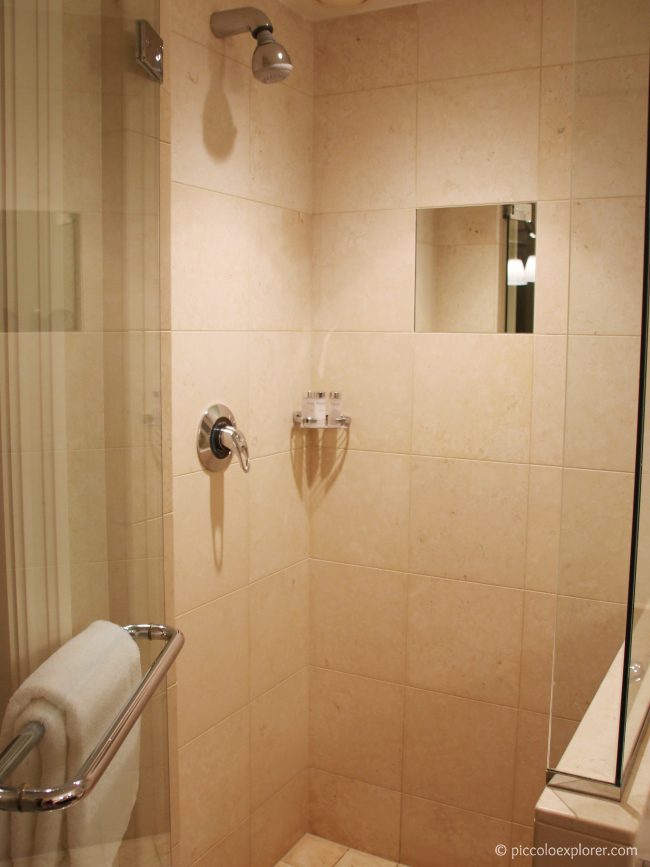 Another family friendly touch were the children's amenities left for Little T, including toiletries for sensitive skin, a bath towel and rinse cup. Packed in a basket were colourful wash cloths, a bath sponge and bath toy.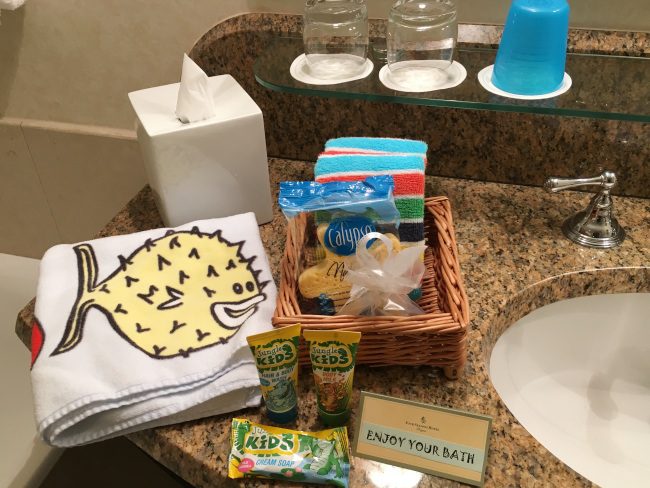 Also in the bathroom was a step for the sink and kid-sized robe and slippers. It all truly made bath time a fun and special experience for Little T.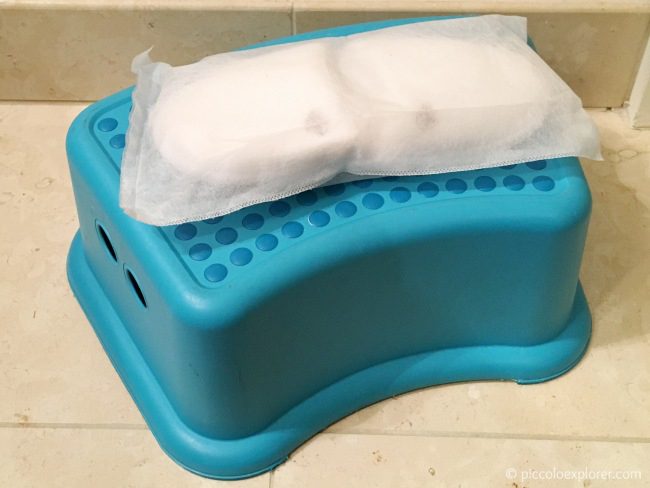 Check room rates and book on Tripadvisor.com
CottoCrudo Restaurant
We had a buffet breakfast at the hotel's Italian restaurant, CottoCrudo, on Sunday morning. In addition to cold cuts, cheese, salad and fruit options, there was a selection of hot food in the buffet not shown: sausages, scrambled eggs, potatoes, bacon.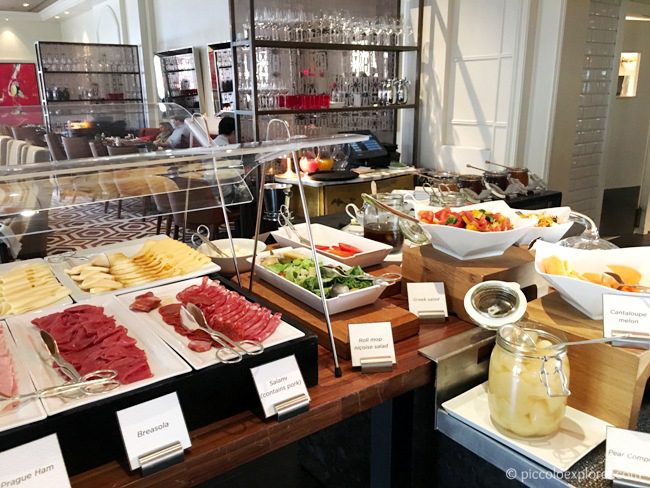 A children's menu was available, although we preferred to choose items from the buffet to put together a plate for Little T.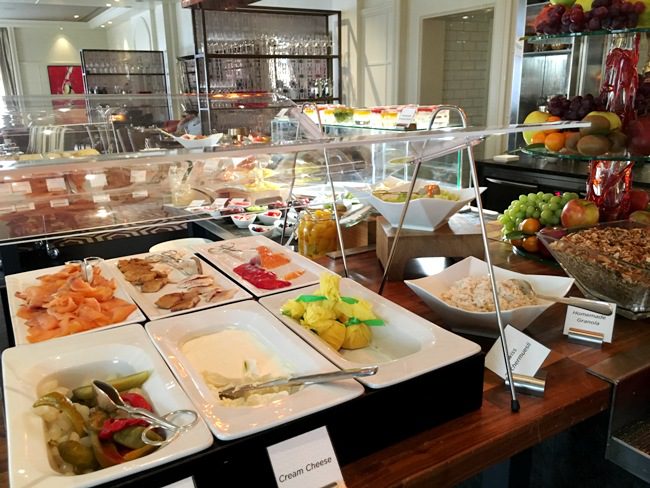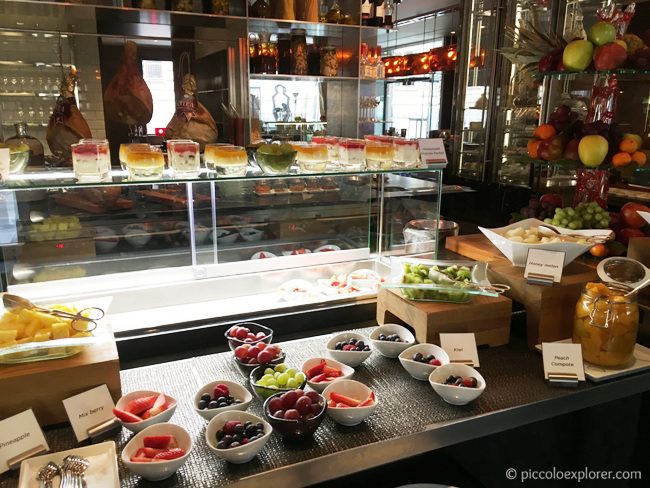 The Czech doughnuts and poppy seed cake were both scrumptious!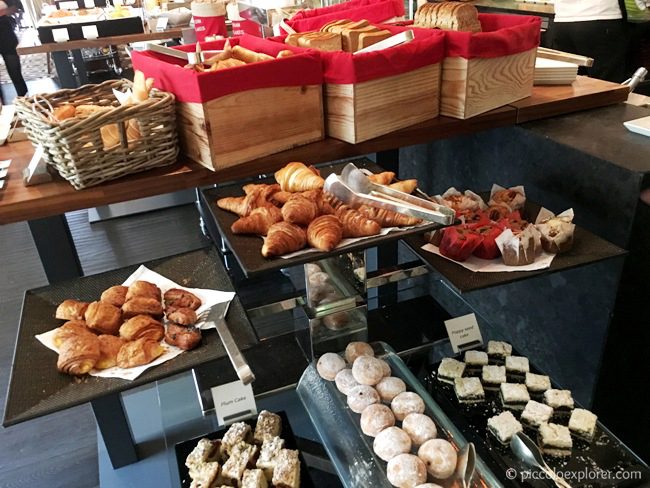 Before making our way to the airport, we had one last glass of champagne on the CottoCrudo patio that overlooks the river and Prague Castle. A great way to end a wonderful city break!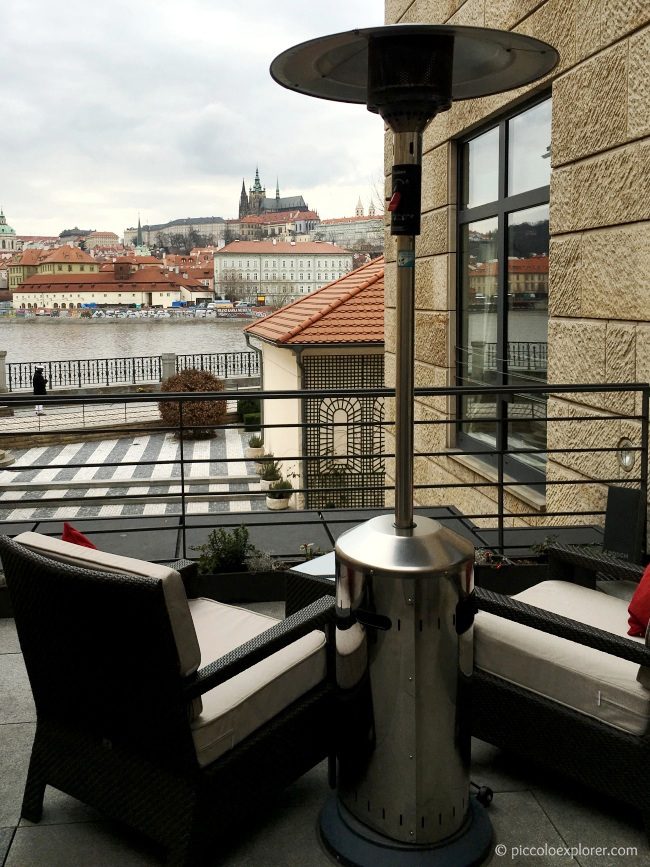 I hope you have found this Four Seasons Prague hotel review helpful for planning your own city break in Prague. From the moment we set foot in the hotel, it wasn't difficult to see why so many people had recommended the Four Seasons Hotel Prague to us.
Related: Family City Break in Prague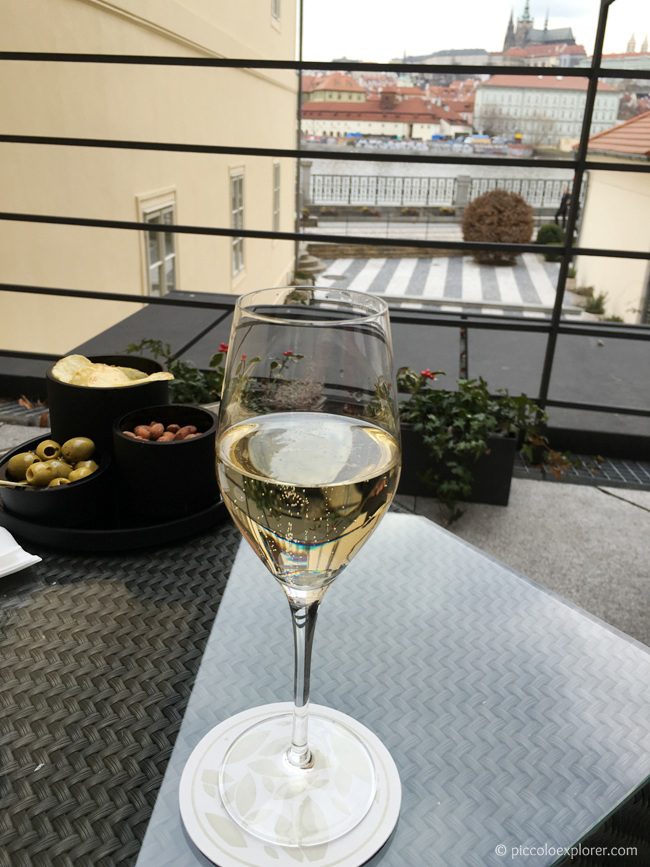 The Four Seasons Prague is a beautiful hotel with a great central location overlooking the river. The hotel was perfect for a weekend city break like the two night stay we enjoyed. The family friendly touches in particular made our stay even more enjoyable and comfortable.
Four Seasons Prague Hotel Address
Address: Veleslavinova 2a/1098, Prague 1, Czech Republic
Telephone: +420 221 427 000
Website: http://www.fourseasons.com/prague
Good to Know
Four Seasons Prague Hotel charges no additional fee for children 18 years of age and younger occupying the same guest room as their parents or guardians (space permitting). Special rates may be available if your family requires two rooms.
There is a health spa offering massage and hand and foot treatments, with separate locker facilities for men and women that include a relaxing sauna. Also located within the health spa, during our stay, was a small gym with basic exercise equipment.
Complimentary overnight shoeshine is available and I highly recommend it. We both left our shoes out for this service and even my suede ankle boots came back looking brand new.
The Concierge were always very helpful, especially with recommending restaurants during our stay.
There's a small grocery across the road where you can purchase milk, bottled water, snacks and fruit.
Family-Friendly Hotel Reviews
Read on for more family travel inspiration in our reviews on family-friendly hotels and resorts in destinations around the world;
Hotel New York – The Art of Marvel Disneyland Paris Review
Disney Newport Bay Club Disneyland Paris Hotel Review
Disney's Animal Kingdom Lodge Resort Review
Padma Resort Legian Bali Hotel Review
Makati Shangri-La Manila Hotel Review
Moana Surfrider Waikiki Hawaii Hotel Review
This Four Seasons Prague review post was updated on 17 January 2023 with latest information and current contact details. Disclosure: This post contains affiliate links, so if you do click through and make a purchase I may receive a small amount at no extra cost to you. Thanks for your support!
PIN FOR LATER