During our holiday in Orlando this past May, we had a fun-packed day at Universal's Islands of Adventure, one of the three theme parks that make up Universal Orlando Resort, along with the original Universal Studios and the brand new Volcano Bay water park. The overall theme of the Universal's Islands of Adventure park is to embark on an adventurous journey, which begins with entering a port from where you set off to explore the seven uniquely themed islands set around a lake. In this post, I'll be sharing our experience visiting Universal's Islands of Adventure with 3 1/2 year old Little T.
The seven themed islands at the park are Marvel Super Hero Island, Toon Lagoon, Skull Island, Jurassic Park, The Wizarding World of Harry Potter (Hogsmeade), The Lost Continent and Seuss Landing. Each island features cutting-edge thrill rides, shows and attractions that make Islands of Adventure one of the best theme parks in Orlando.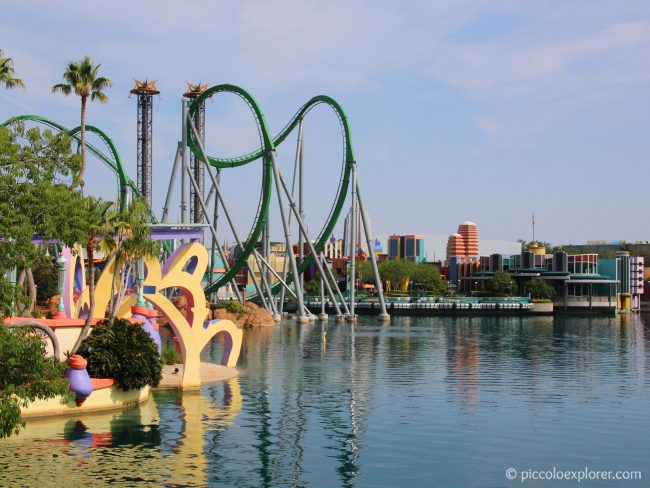 Purchasing Park Tickets
We only had one day for a Universal Orlando Resort park, and the main reason for why we chose to visit Islands of Adventure was because Little T is a big fan of Spider-Man! I was also interested in visiting the Wizarding World of Harry Potter and Seuss Landing, which turned out to be the perfect place for preschoolers.
I purchased our tickets in advance through Undercover Tourist, where I also bought our Magic Kingdom tickets. The price of the 1 Day Base Ticket (admission to one park – either Universal Studios or Islands of Adventure), was the same as buying the tickets at the park gate or on the Universal Studios website, however, it's also worth checking out their many discounts if you plan on visiting over 2 or more days.
Tip: The Wizarding World of Harry Potter is divided between Universal Studios (which has Diagon Alley) and Islands of Adventure (Hogsmeade Village). You can travel between the two, either using the Hogwarts Express or by foot, only if you have a Park-to-Park ticket.
After making my purchase online, I received a confirmation email with a link to download and print in advance our e-tickets, with barcodes that were scanned once we were at the theme park gates. Quick and easy!
Port of Entry
Once through the turnstiles, we headed straight to rent a stroller at the service center. At each of the theme parks, it was definitely worth getting a stroller – there's a lot of ground to cover! Stroller rental prices range from $14.99/day for a regular small one to $27.99/day for a large kiddie car.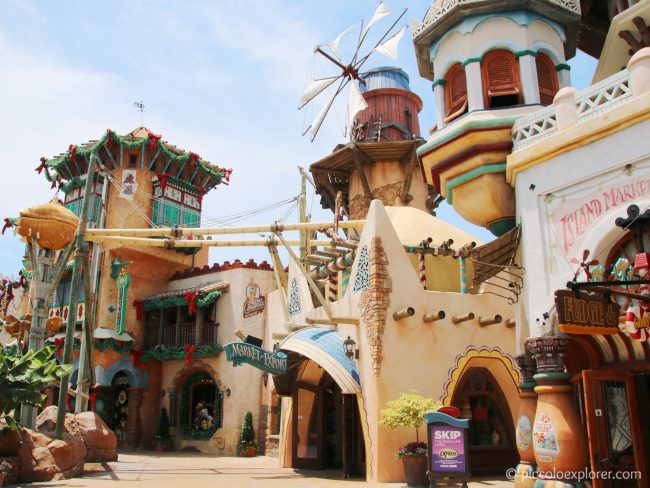 There are cafés, restaurants and shops at the Port of Entry, and it's where you set off to explore the other islands – with Marvel Super Hero Island to your left, and Seuss Landing to your right.
For our day at Islands of Adventure, we went in a circle around the park, starting with Marvel Super Hero Island before continuing to Jurassic Park, The Wizarding World of Harry Potter and Seuss Landing.
Marvel Super Hero Island
Meeting Spider-Man was our #1 priority, so we started with a photo opportunity at one of the shops there. Spider-Man chatted with Little T for a while and signed his autograph book before they posed in front of the green screen for professional photos. We have since framed Little T's signed photo with Spider-Man for his room. This encounter with Spider-Man was truly a trip highlight!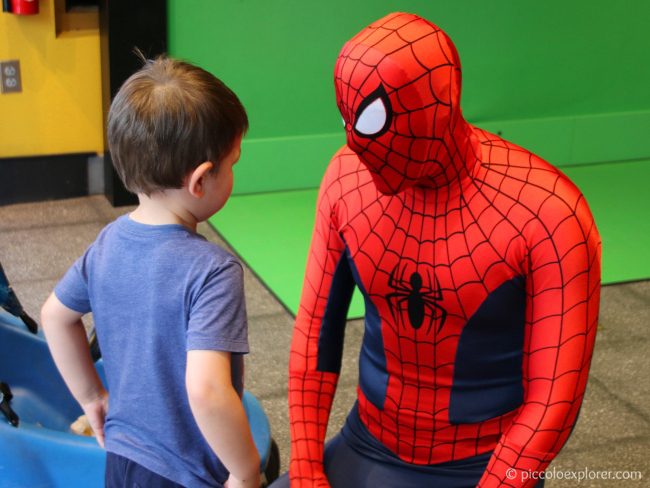 Tip: We found out that the other superheros, including Captain America, make their appearances every hour on the hour, and since we just missed the latest time, we decided to come back the hour before closing (6pm). We ended up missing them because the last time that day was 5pm, so make sure to double check the appearance times for your visit!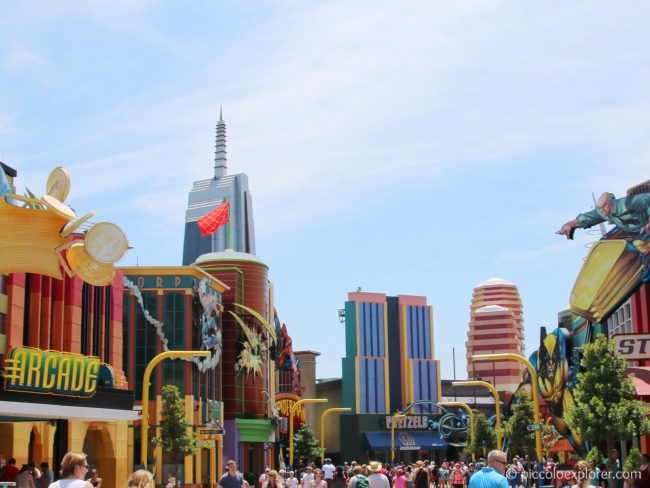 Toon Lagoon
We passed through Toon Lagoon on the way to Jurassic Park and I loved seeing many of the comics featured that I used to read when I was younger. While we didn't have time to stop this time, the "Me Ship, The Olive" interactive play area was on my list and sounds fantastic for children of all ages, with passageways, slides, climbing nets, water cannons and more. Hopefully we'll check it out next time!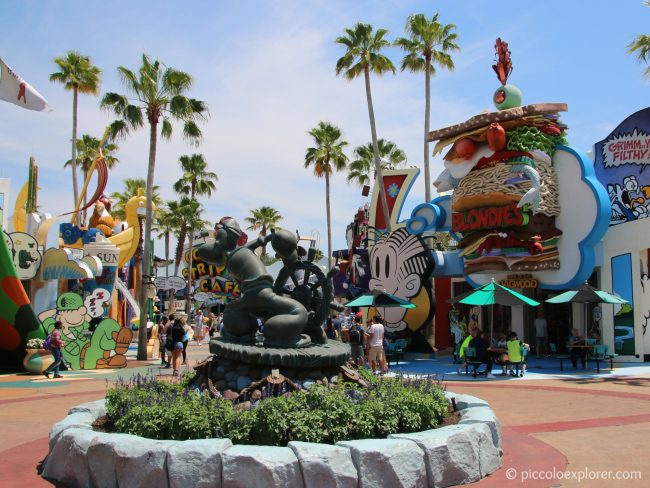 Jurassic Park
Our next stop was Jurassic Park, where we headed first to the Camp Jurassic playground. Little T enjoyed the water play areas and making his way around the rope bridges. In the photo below, you can see the Pteranondon Flyers (left), which is a kid-friendly, slow moving air glider ride.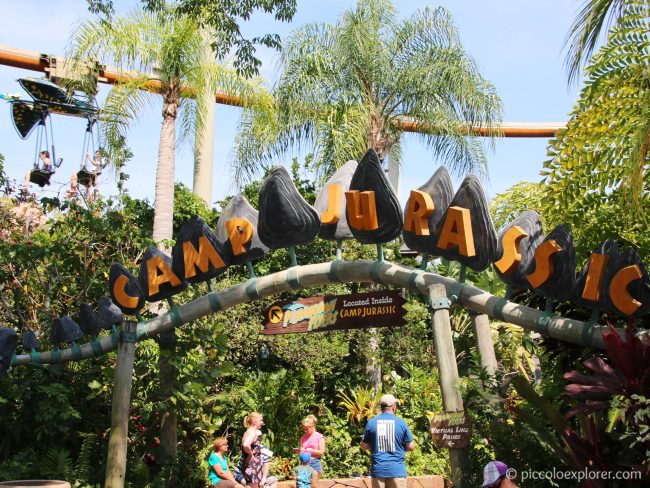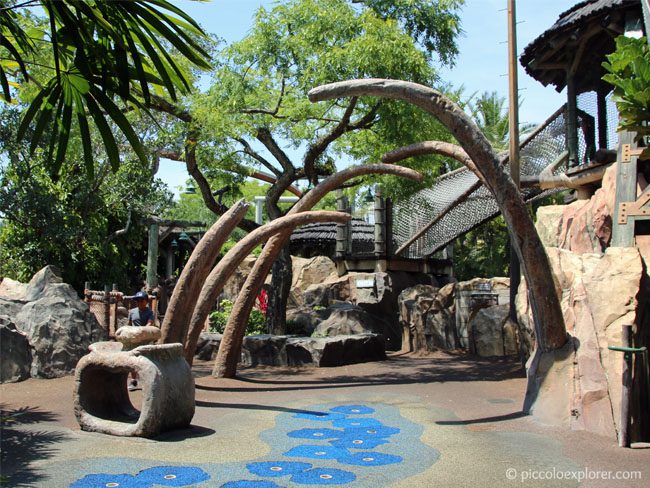 We also visited the Discovery Center, which has plenty of hands-on, interesting activities and exhibits, such as a rock wall with a scanner to search for fossils. And a dinosaur egg nursery where you insert eggs into a scanner to see what type of baby dinosaur is inside.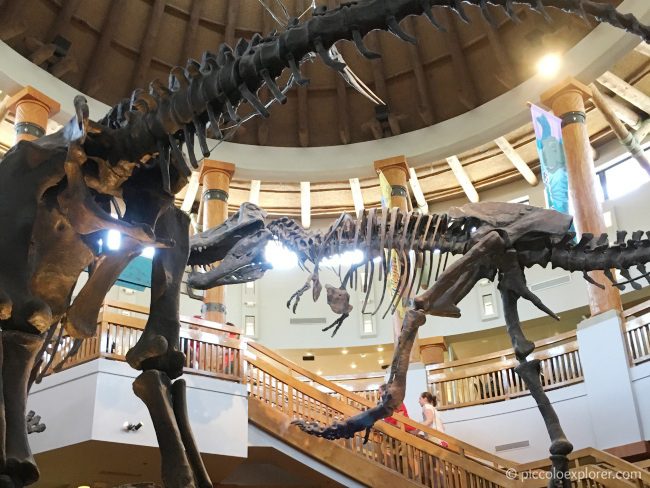 There's also a laboratory where you can watch a baby velociraptor hatch – and plenty of dinosaur fossils and teeth to have a closer looker at.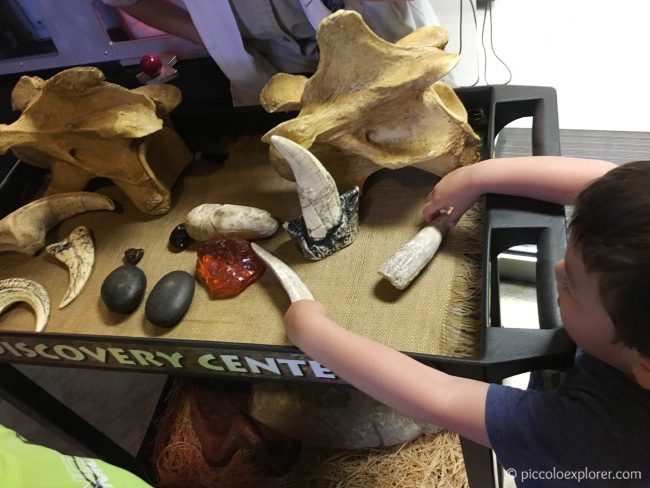 The Wizarding World of Harry Potter
I'm a huge Harry Potter fan and was very excited to visit the Wizarding World of Harry Potter! At Universal's Islands of Adventure, you can explore Hogsmeade Village and go on the following thrill rides: Dragon Challenge, Flight of the Hippogriff, and Harry Potter and the Forbidden Journey, which is at Hogwarts Castle.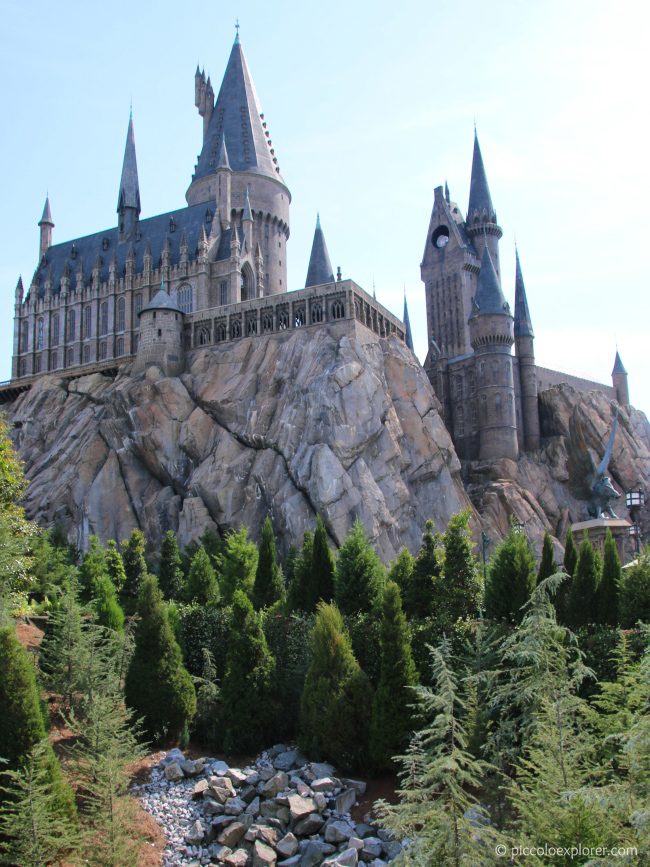 I was six months pregnant when we visited, and since none of the rides were safe for expectant mothers, we spent our time exploring the village. The attention to detail throughout Hogsmeade Village is fantastic! You truly feel like you've just stepped into a Harry Potter book.
Tip: Check the Rider Safety (i.e. for expectant mothers) and Ride Height Requirement sections on the Universal Orlando website to find out which rides your family can go on during your visit.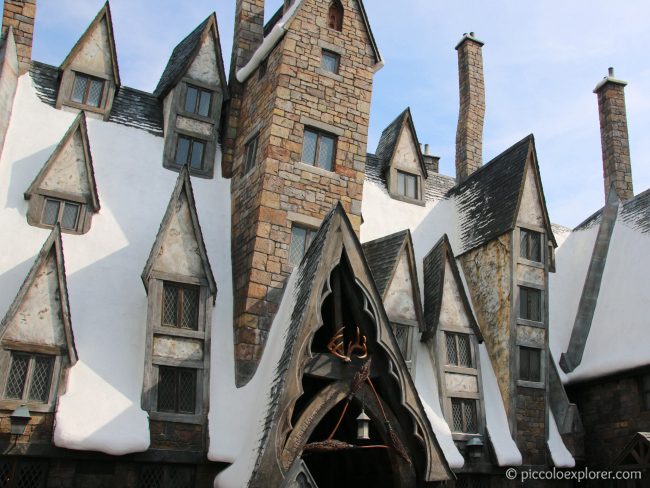 I purchased an interactive wand at Ollivanders for us to practice magic around the village. There are several regular and interactive wands to choose from: by characters (i.e. Harry, Hermoine, Voldemort) or by type of wood, such as holly, birch and oak. You can also narrow it down by telling the shopkeeper your birthday, since they can make a suggestion based on the Celtic wood calendar that assigns different types of wood to sections of the calendar.
Tip: You can have a look at the selection of interactive wands through The Universal Store. Shipping rates for international customers start at $30, so I wouldn't recommend buying a wand (which costs $50) to be delivered outside of the U.S., but for U.S. residents, it's helpful having that option to buy the wand ahead of the park visit.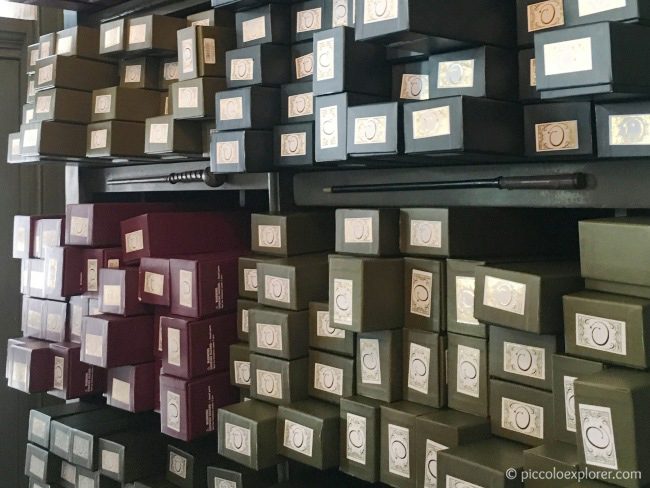 The wand comes with a map, showing where you can practice magic around Hogsmeade Village and Diagon Alley. There are also markings on the floor in front of each spot, demonstrating how to cast the spell for a special surprise. It does take some practice to get it to work, and we also had a couple windows that just weren't working properly, so do make sure to ask someone for help if you're having issues.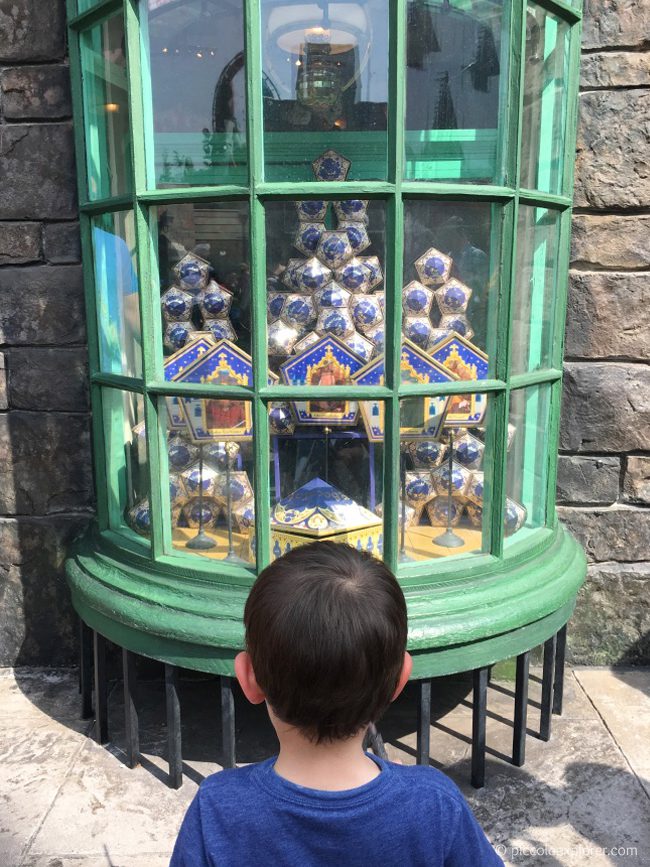 Little T was thrilled when we were finally able to get this spell to work, and the box opened to reveal a chocolate frog!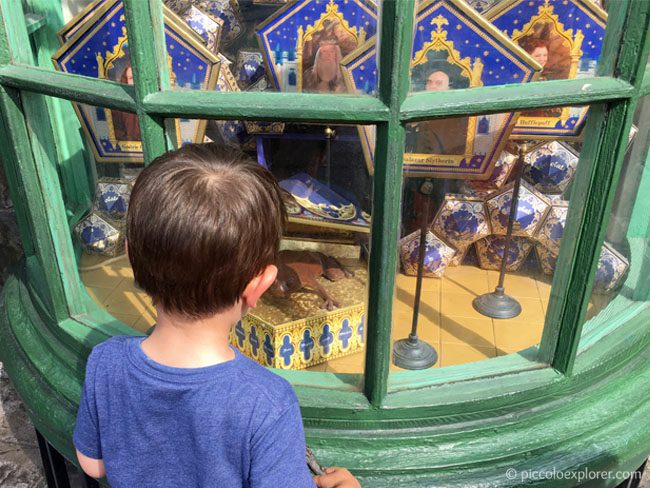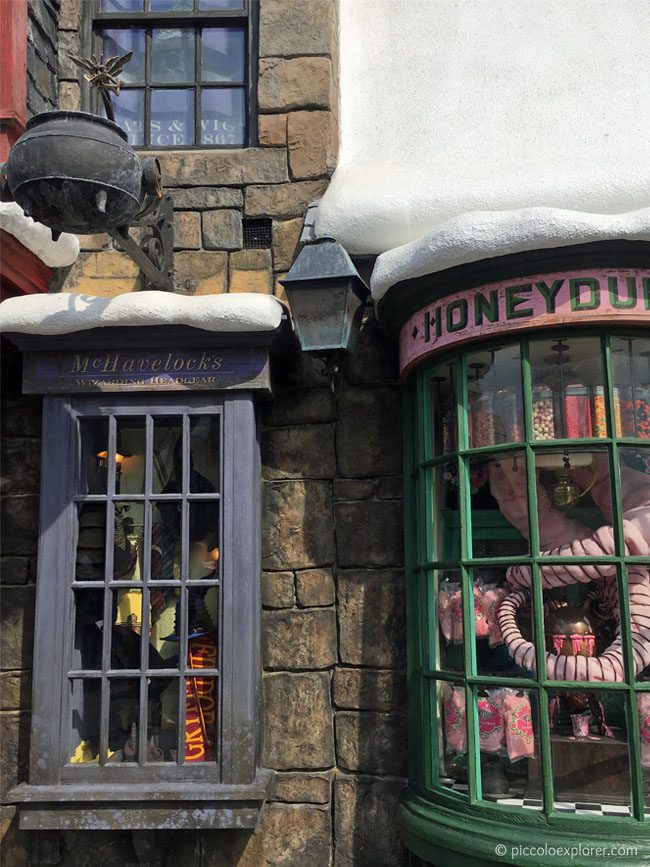 You can take the Hogwarts Express from Hogsmeade Village to Diagon Valley – but, again, only if you have the Park-to-Park ticket to enter Universal Studios. I'd love to take the train next time we visit!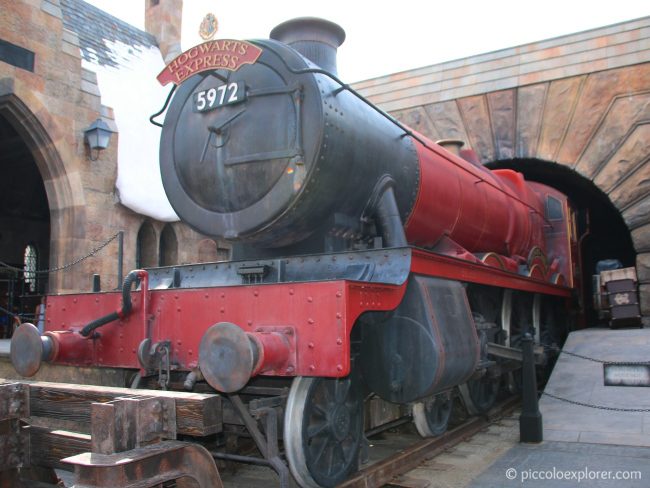 And just in case you were wondering about the crowds! They were pretty manageable during our visit, on a Thursday in early May. The Wizarding World of Harry Potter was the busiest island – sometimes there was a line to try casting a spell on a window. It was well worth the visit – and I look forward to going back again for the rides!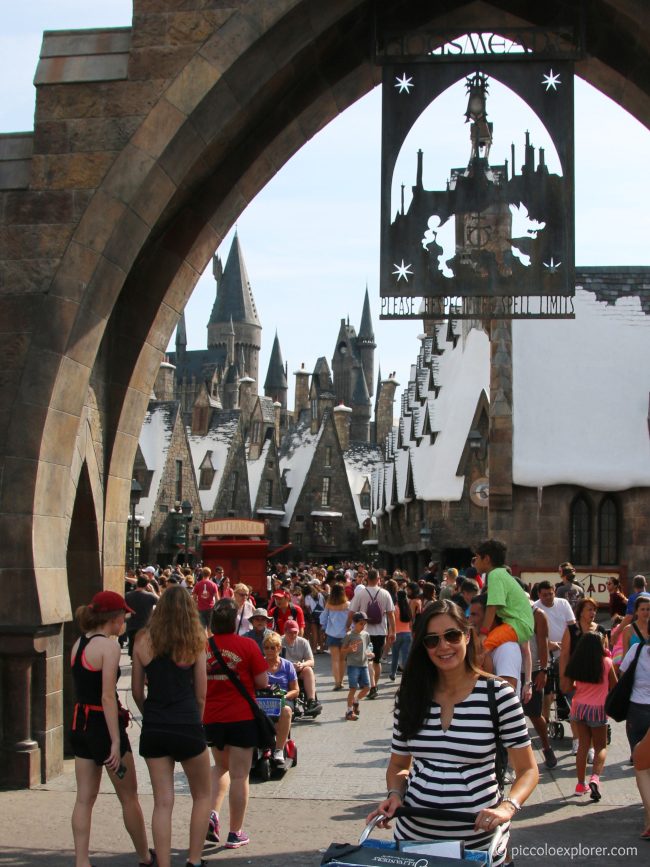 Seuss Landing
Our final stop was Seuss Landing, which is just perfect for young children and Dr. Seuss fans of all ages. I absolutely loved the whimsical, colorful theming and designs at this area. Nothing is straight at Seuss Landing – even the palm trees are bent, actually due to a hurricane and they were brought in to be planted at the park!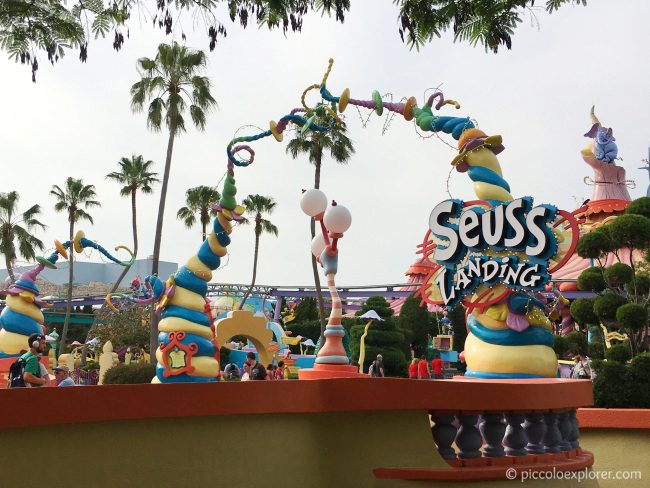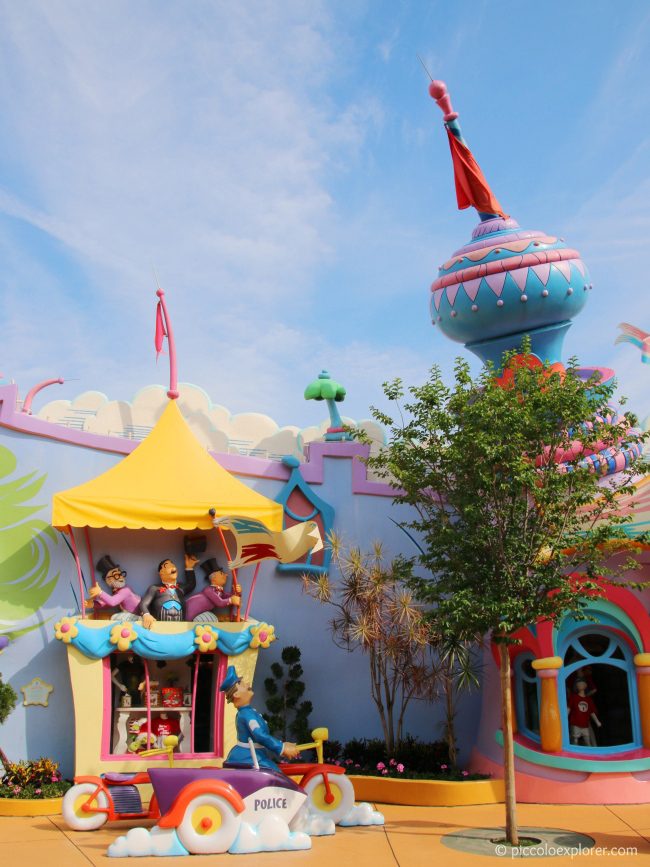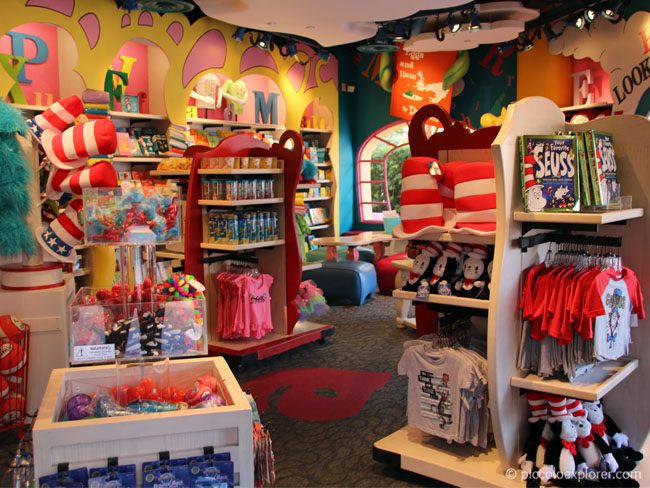 Little T and Mr. G went on the High in the Sky Seuss Trolley Train Ride and then I joined them on the Caro-seuss-el.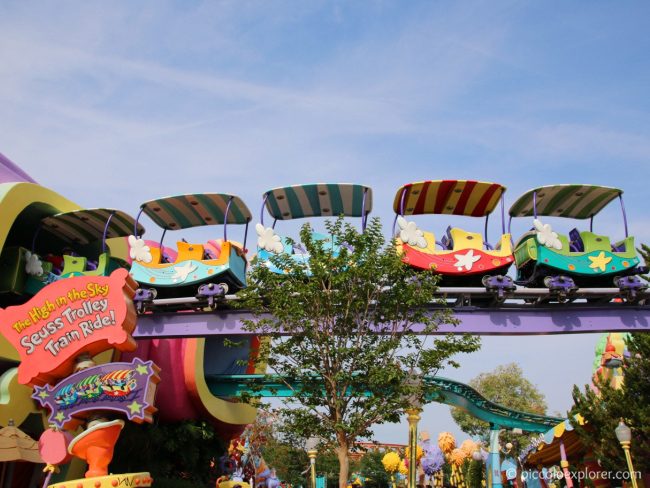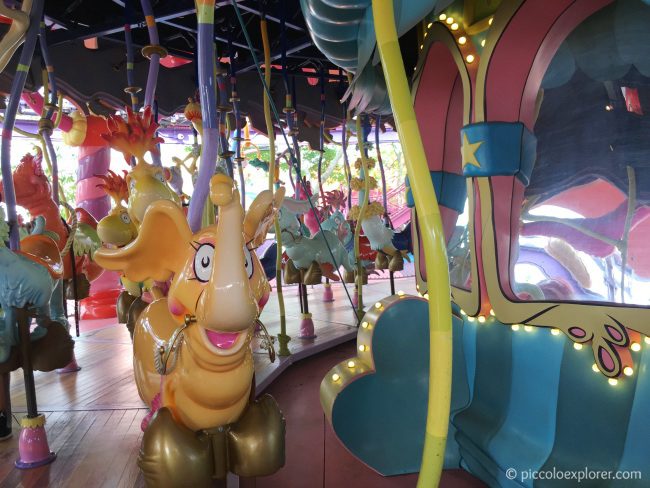 The highlight was the 'If I Ran the Zoo' interactive play area. The water play area was excellent for Little T to cool down after a hot day around the park!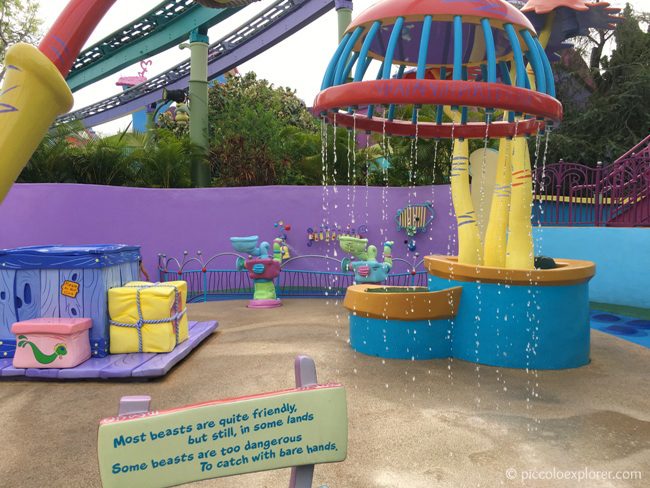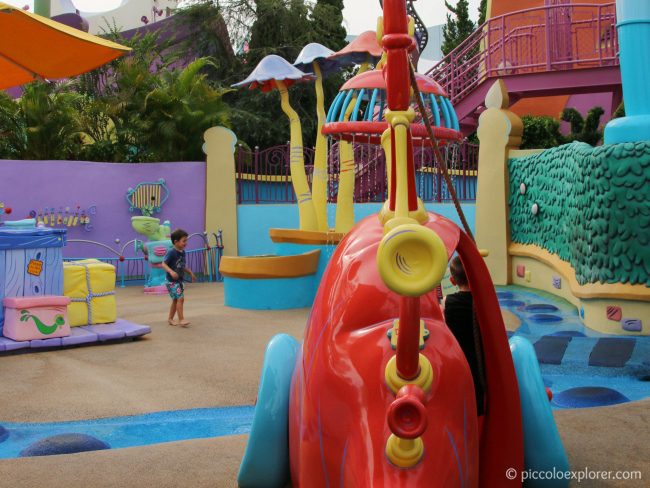 It was soon time for us to go, and heading back to the exit, I stopped by the Christmas shop for a couple of ornament souvenirs for our collection.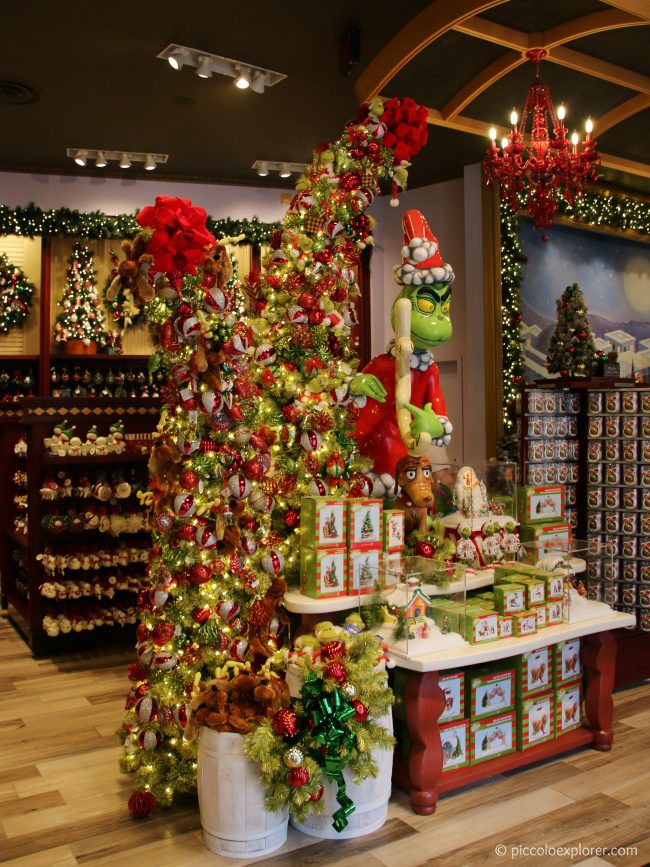 Overall Impression
We had a fantastic day at Universal's Islands of Adventure! While the theme park is known mostly for its thrill rides, there are excellent interactive play areas, character encounters and slower rides for young children on most islands. It really was a fun-packed day and we were constantly on the move! Visiting with a preschooler, it worked best for us to focus on meeting Spider-Man at Marvel Super Hero Island, visiting Jurassic Park, practicing magic at the Wizarding World of Harry Potter and enjoying the great rides and play areas for young children at Seuss Landing.
I'd recommend visiting the Universal Orlando website (US one), or downloading the Universal Orlando app, then choosing "Things to Do" for suggestions of rides and attractions based on your requirements. Under Ride Types, for example, you can select "Kid Friendly", or under Interests, you can choose to see "Fun for Little Ones". This feature on the app was very helpful for planning our day and you can continue to access the app, which also has the park map and wait times for rides, at the park with free Wi-Fi.
Pin for Later