There are several character meals you can book for your visit to Walt Disney World, and in this post, I'll be sharing our experience at the popular Crystal Palace Restaurant Character Meal with Pooh and Friends at Magic Kingdom. Crystal Palace Restaurant is located on Main Street, U.S.A, and the Disney character meal experience was a great way for us to meet the characters while we enjoyed the lunch buffet. Read more about our experience in this Crystal Palace Character meal review.
2021 Update: Due to Covid-19 restrictions, Character Dining is currently not available at Crystal Palace Magic Kingdom. The buffet experience will return on 12 September 2021.
Crystal Palace Disney World Reservations
Breakfast reservations at Crystal Palace start as early as 08:05am, so booking breakfast there is also a great way to get into Magic Kingdom early. You can book Walt Disney World dining reservations up to 60 days in advance using the My Disney Experience app or the Walt Disney World Dining website which are straightforward and easy to use. You will be asked for your telephone number and credit card, and you can cancel or amend your dining reservation up to 24 hours before.
Tip for UK guests: When booking your dining reservation through My Disney Experience, phone numbers must be 10 digits, so to enter your UK number, drop the first '0'.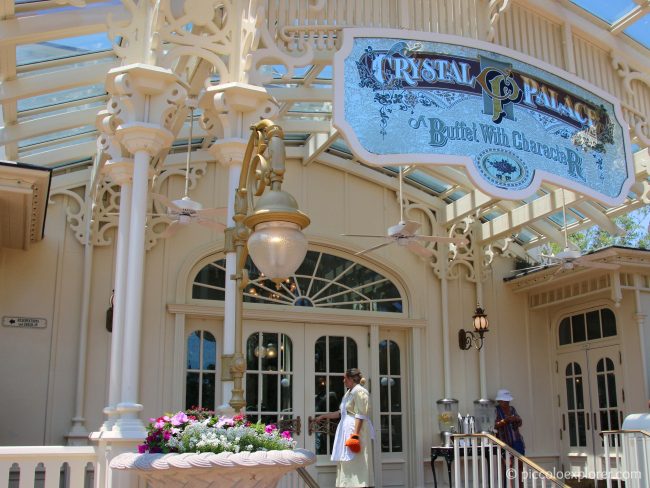 I made the booking for the Crystal Palace about a month in advance via the My Disney Experience app, originally for lunch at 1pm. Little T was unwell the day before we originally had planned to go to Magic Kingdom, so I logged in to modify our booking and managed to reschedule for the following day at 12pm. I was lucky to find a time available the next day at such short notice, otherwise I would have had to cancel the booking altogether.
Make a dining reservation or see the menu at the Crystal Palace Magic Kingdom on the Walt Disney World website
Crystal Palace Lunch with Pooh and Friends
The design of Crystal Palace was inspired by Victorian greenhouses of the late 1800s and features topiaries, tropical palms and lots of natural light. Locations that are thought to have influenced the design of the Crystal Palace include the San Francisco Conservatory of Flowers and, a favourite of this blog, Kew Gardens in London.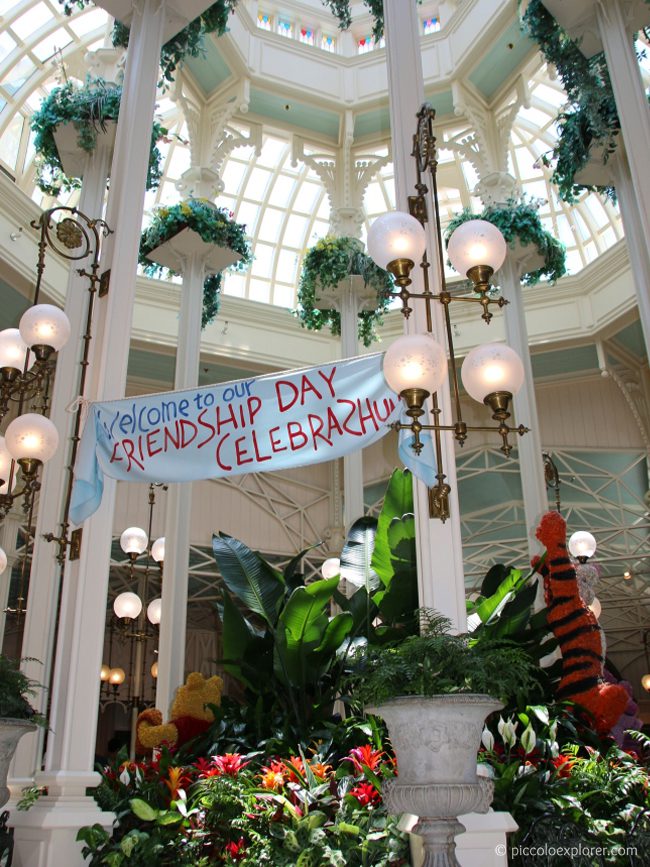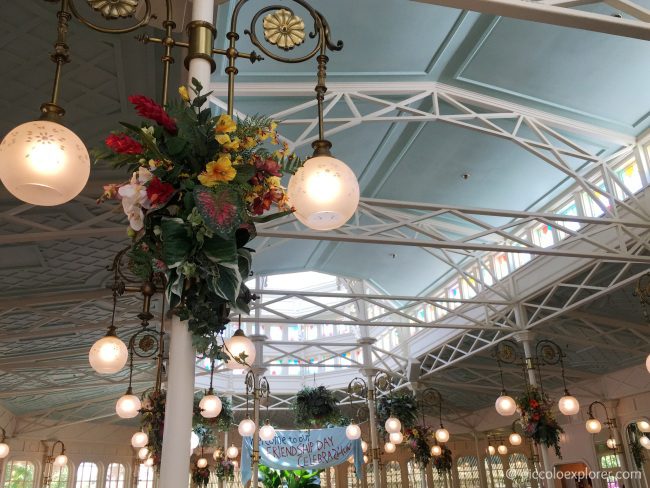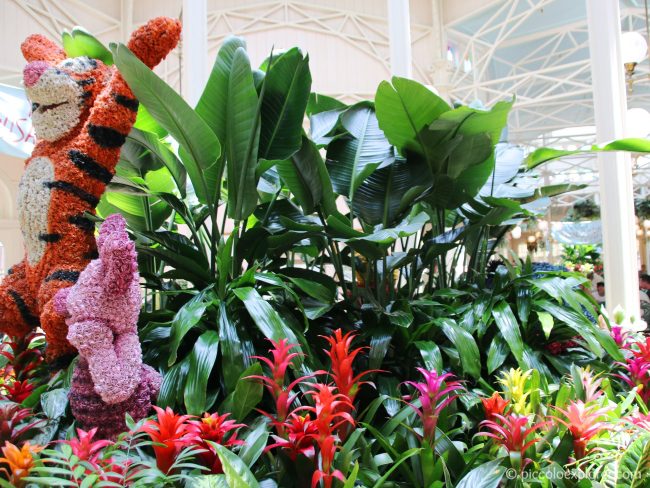 Crystal Palace Disney Characters
Little T – and I! – loved having the chance to meet Pooh, Tigger, Piglet and Eeyore and watch them make their way around the restaurant. Who could resist hugging these big cuddly animals? It turned out to be a wonderful Disney character experience for our pre-schooler. I would highly recommend the Crystal Palace Disney Character Lunch for families with young children especially.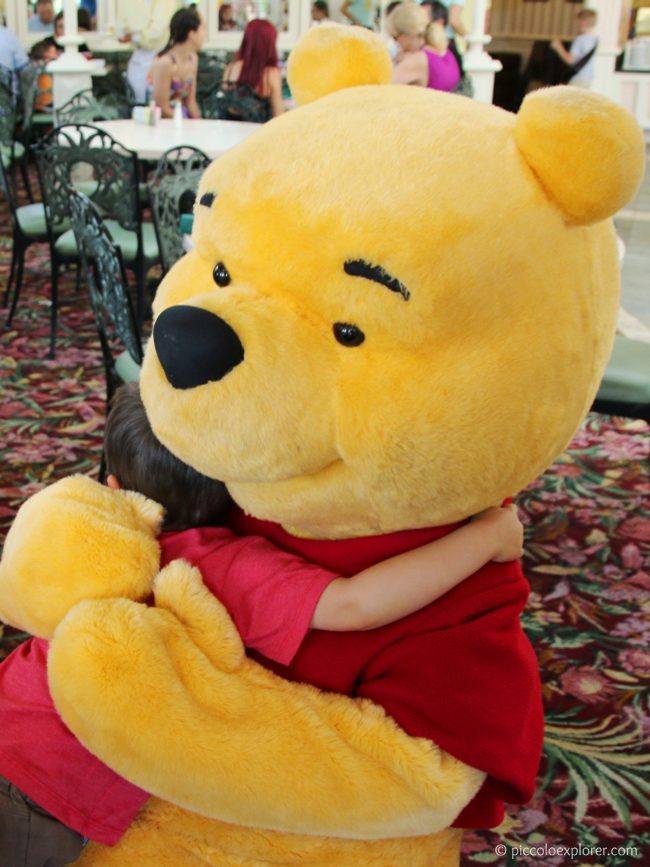 Piglet was the first of the Crystal Palace characters for us to meet. I think Little T was taken off guard at first since we had just sat down to eat, but he soon warmed up to Piglet and was laughing as the character gently poked his nose and rubbed his tummy. We then took some photos with Piglet before Little T asked for an autograph. It was a sweet moment and a great start to our first Disney character meal experience at Walt Disney World!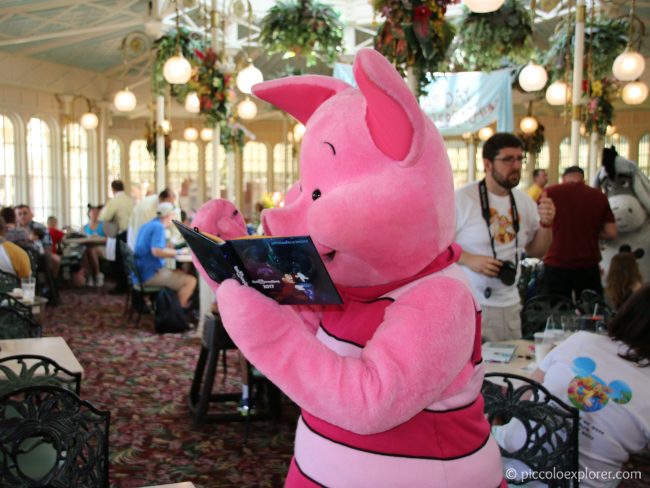 The next character for us to meet was Tigger – again lovely to have photos taken with and Little T loved interacting with him and sneaking a peek as Tigger signed the autograph book.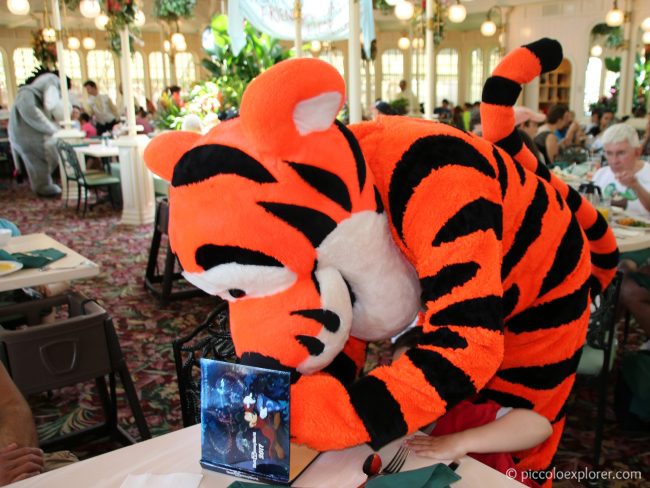 Little T was thrilled to meet Winnie the Pooh – it was so sweet to see him giving Pooh a great big hug! Our photos from Crystal Palace Magic Kingdom are some of our favourite photos from our Walt Disney World trip.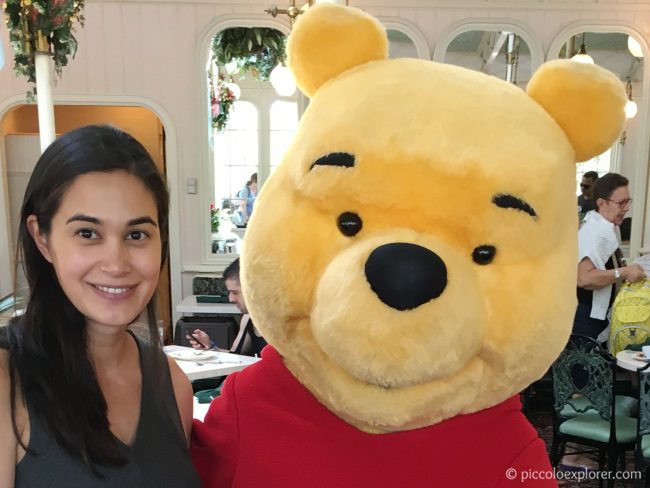 It is best to go through your server or the manager about meeting the characters, which is what we did for seeing Eeyore. We were done with our meal and ready to start exploring the park, but Eeyore was still at the complete opposite side of the restaurant. We let the manager know and she arranged for Eeyore to come meet with us as soon as he could.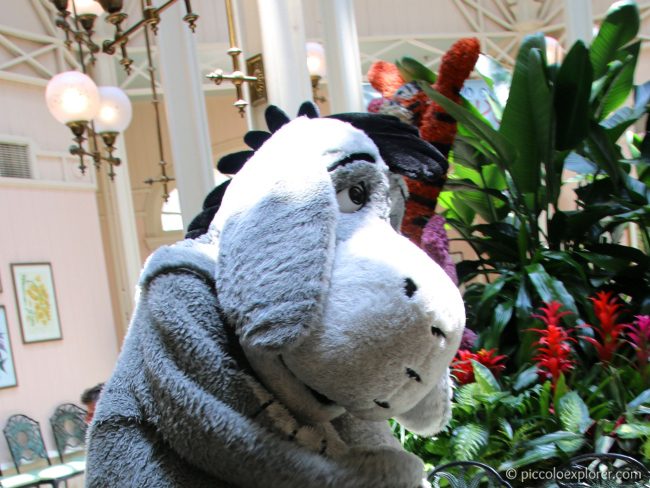 Crystal Palace Lunch Buffet
2021 update: The buffet experience at Crystal Palace Magic Kingdom will return on 12 September 2021.
In this part of the Crystal Palace character meal review, I will share more about the Crystal Palace lunch buffet selection which exceeded our expectations. It was a good spread that had pretty much something for everyone, starting with a selection of salads…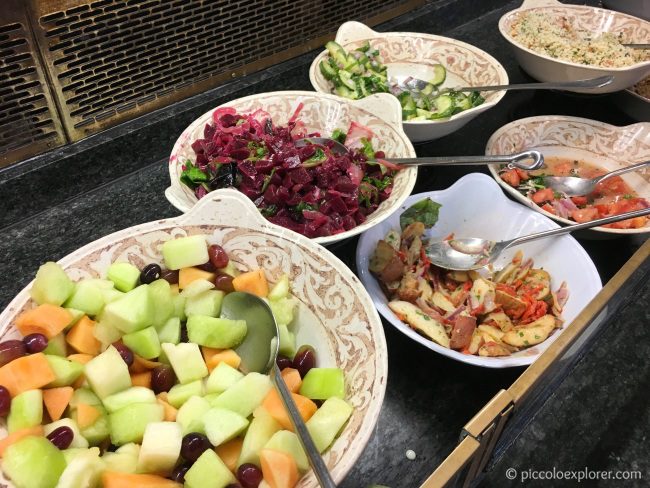 And a children's buffet with chicken nuggets, macaroni and cheese, corn and peas and chicken drumsticks.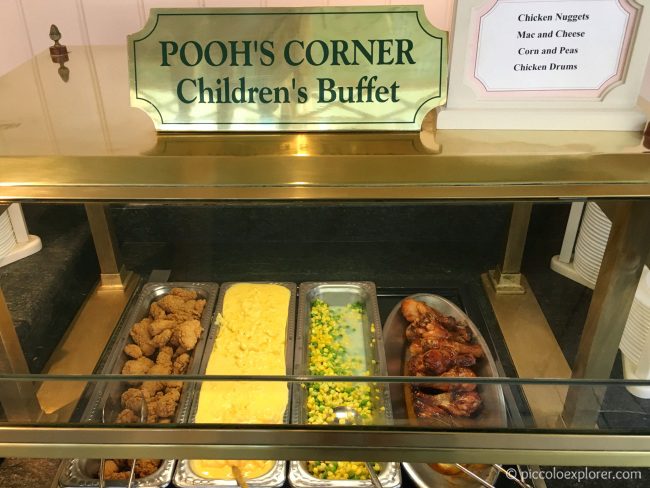 There were a variety of side dishes on the Crystal Palace Disney World menu, including mashed potatoes, steamed broccoli, fire-roasted corn spoon bread, steamed rice and sautéed green beans.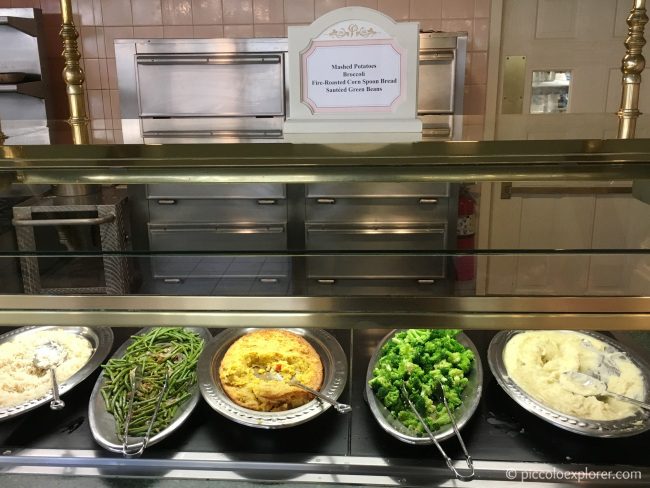 Along with ham and pineapple, oven-roasted chicken, honey glazed carrots and collards and ham.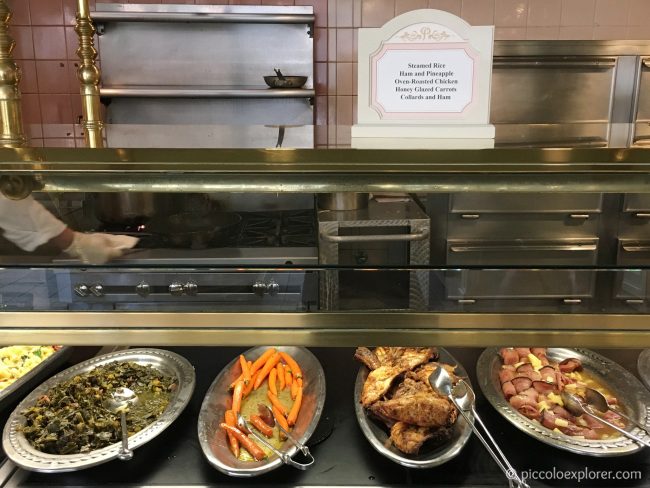 Mr. G liked the fish options – honey soy-glazed salmon and herb-crusted tilapia. There was also jambalaya, cheese perogies and artichoke cream pasta.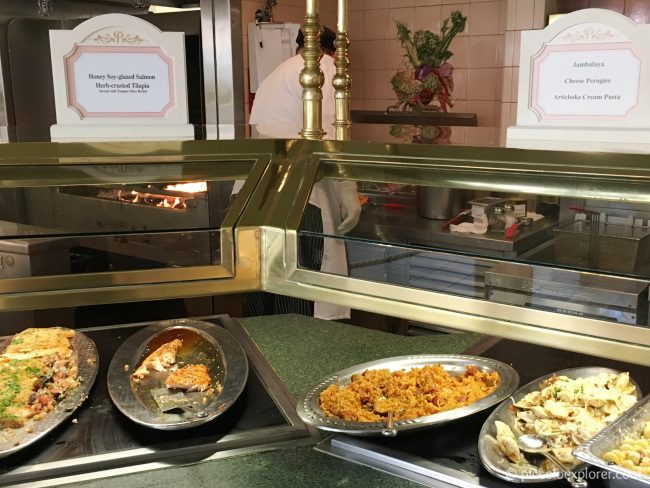 The roasted carved meats were grilled flank steak and roasted turkey. I had a delicious plate of roast turkey with gravy and cranberries.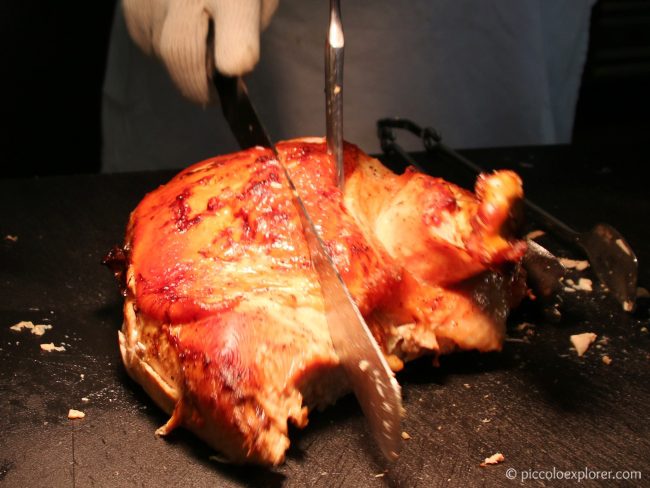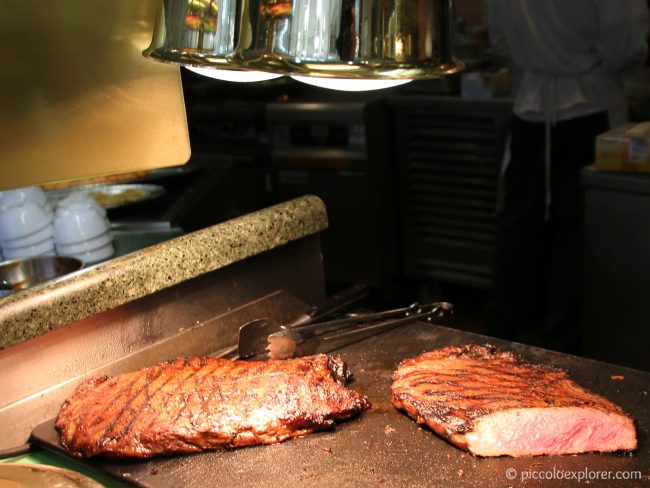 The dessert selection at Crystal Palace was very tempting, with S'mores tarts, raspberry tarts, banana cream pie, chocolate chip cookies, honey pots, sugar cookie and spiced cannoli. Also not shown here, the selection continued at another counter with toffee molten brownie bites and warm caramel apple tartlets.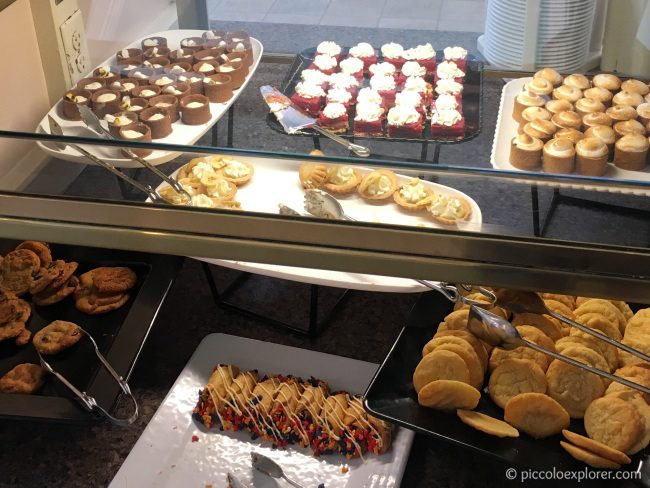 Make a dining reservation or see the most recent Crystal Palace Magic Kingdom menu on the Walt Disney World website
Character Meal Customer Service
The customer service at the Crystal Palace character meal was excellent throughout our experience. We checked in at the restaurant's front desk and only had about a ten minute wait until we were seated. Our server was kind and helpful, regularly checking in on us about our drinks, our experience with the characters and anything else we might need. The manager was also helpful and prompt in arranging for us to meet with Eeyore when it was possible.
Crystal Palace at Magic Kingdom
The Crystal Palace character dining experience was my favourite out of the three character meals we booked during our Walt Disney World vacation. Our 3 1/2 year old pre-schooler absolutely loved meeting Tigger, Pooh, Piglet and Eeyore. I would highly recommend this restaurant to everyone, and especially families with young children as it's a fun experience and a great way to meet the characters. There was a good selection of food at the lunch buffet, the service was great and the restaurant itself has a good atmosphere and is beautifully decorated.
Crystal Palace Disney Phone Number
All guests may now make dining reservations online up to 60 days in advance. The easiest way to make or change a reservation for Crystal Palace Magic Kingdom is through using the My Disney Experience app or the Walt Disney World Dining website.
Walt Disney World Dining Reservations phone number for UK-based guests is 0800 16 90 748 and (407) 939-3463 for US-based guests.
https://www.disneyworld.co.uk/dining/magic-kingdom/crystal-palace/
Disclosure: This post contains affiliate links, so if you do click through and make a purchase I may receive a small amount at no extra cost to you. Thanks for your support!
Pin for Later – Crystal Palace Character Meal Review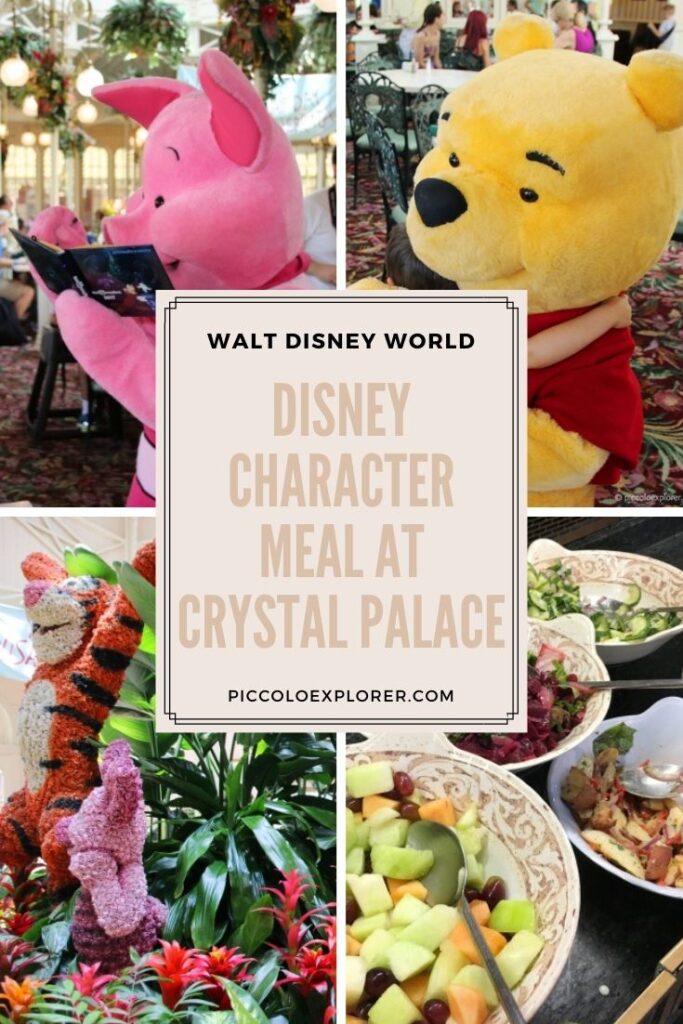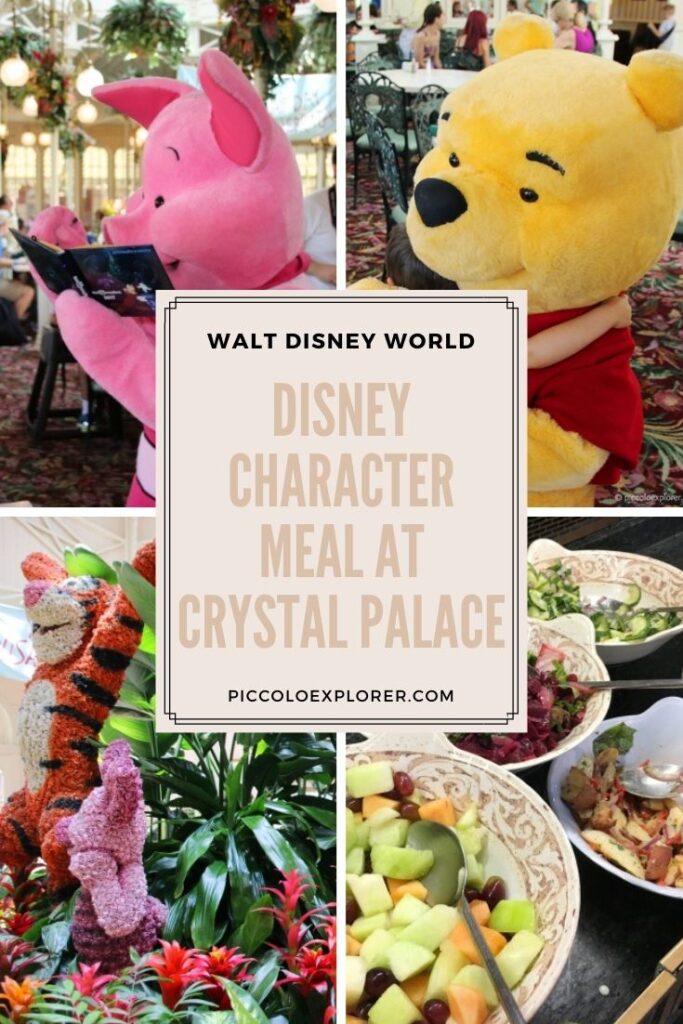 Save
Save
Save
Save
Save
Save
Save
Save
Save
Save
Save
Save