San Diego has so much to offer as a family holiday destination, with mild weather year-round, beautiful beaches, hiking trails and many museums and attractions. In this guide, I will share our favourite things to do in San Diego with kids.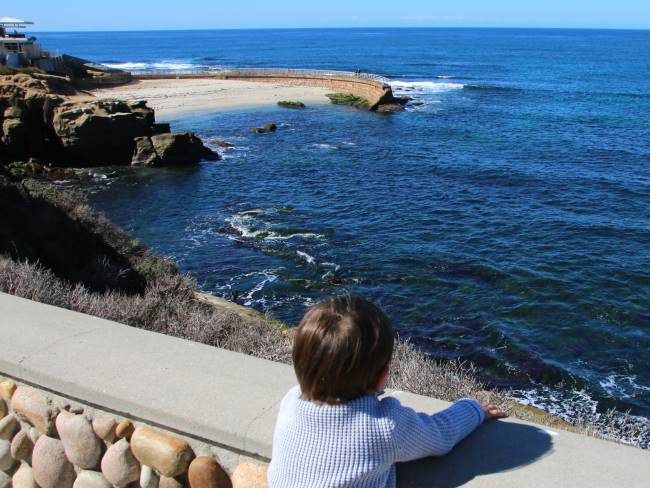 Top Things to Do in San Diego with Kids
There is a lot to discover when visiting San Diego with kids. Some highlights from our previous family trips to San Diego include learning about local marine life at the Birch Aquarium, getting involved with creative art installations and workshops at the New Children's Museum and seeing the seals and sea lions at La Jolla.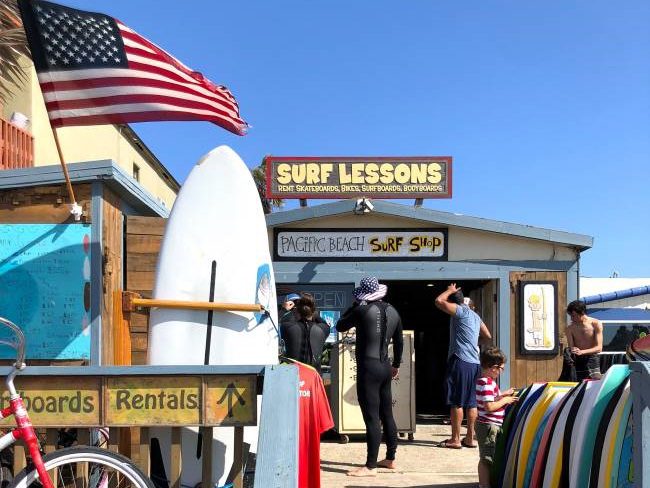 San Diego is truly a wonderful place to visit, with so much to see and do for families. I hope you find some inspiration in this guide for planning your own family holiday to San Diego!
Best Family Beaches in San Diego
With 70 miles of coastline and mild weather year round, San Diego is a top destination for family beach holidays. There are plenty of incredible beaches to choose from, and in this guide I have narrowed down our favourite beaches in San Diego with kids.
La Jolla Shores

La Jolla Shores offers a wide variety of water sports for families. Popular activities include surfing, kayaking and snorkelling. There are shops, restaurants and beach rentals a short walk away on Avenida De La Playa. On our last trip, we rented bodyboards, a surfboard and wetsuits from La Jolla Surf Systems.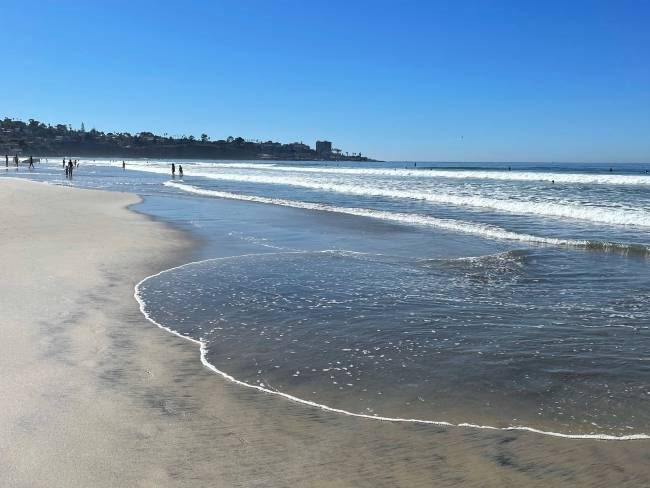 Looking for a surf class for kids in La Jolla? I can highly recommend Surf Diva Surf School, based on Avenida De La Playa. Surf Diva run kids' camps year round for all young surfers ages 5 to 17. Surf Diva also offer private and family surf & SUP lessons.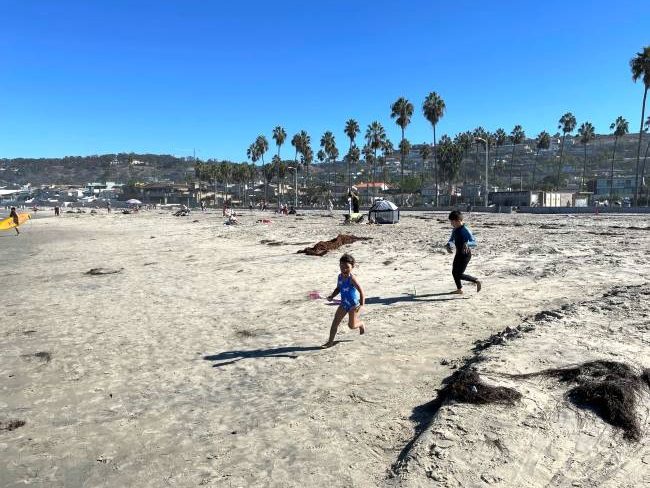 Just behind La Jolla Shores is a wide boardwalk and a large grassy park called Kellogg Park. Kellogg Park has several picnic tables, a playground for young children and plenty of space to run around.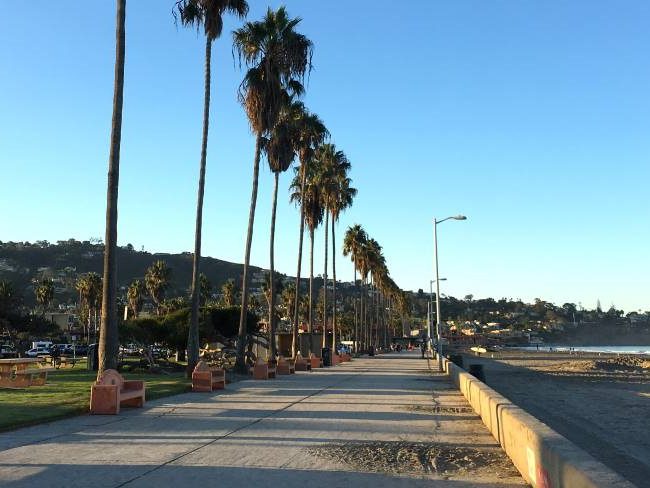 There is a free parking lot at La Jolla Shores and free street parking along some nearby residential streets. Do check signs for time limits and restrictions. Beach facilities include restrooms and showers next to the parking lot.
Mission Beach
Mission Beach is a wide, expansive beach and an excellent spot for recreational sports. This is the closest beach to the hotels, resorts and inns of Mission Valley. There's a large free parking lot that fills up quickly during busy times like weekends or holidays, but it's fairly easy to find parking during the weekday mornings.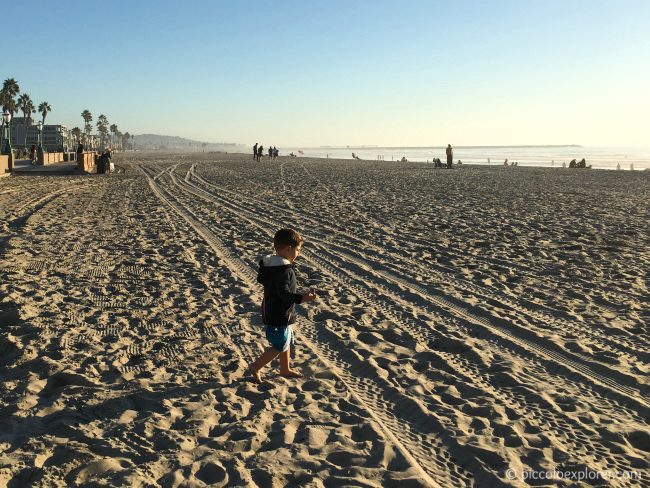 Mission Beach has an oceanfront boardwalk lined with restaurants and shops, a nearby grassy area with playgrounds at Mission Bay Park and a historic amusement park, Belmont Park.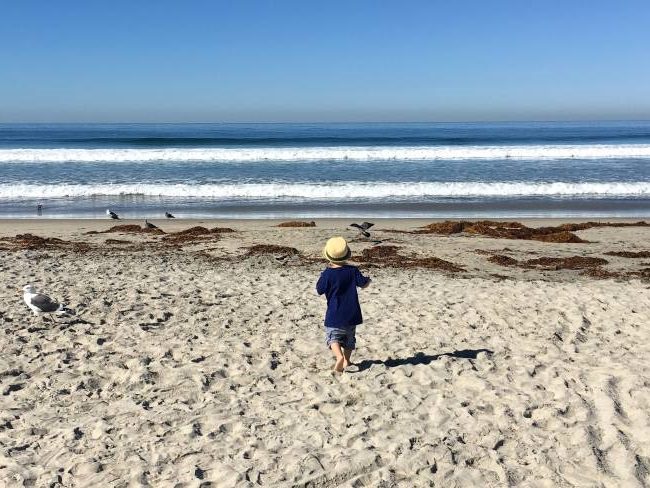 The Mission, our favourite restaurant for brunch in San Diego is a short walk from Mission Beach.
Related: Kid Friendly Restaurants in San Diego
Coronado Central Beach
The huge Coronado Central Beach runs along Ocean Boulevard and starts in front of the historic Hotel del Coronado. The waters are quiet off Coronado Island, making it an ideal beach to visit in San Diego with young kids.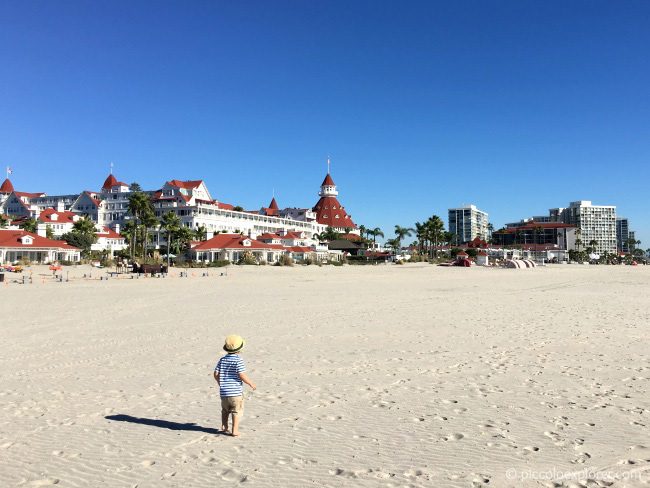 This is a wonderful spot to relax with kids after exploring the charming Coronado.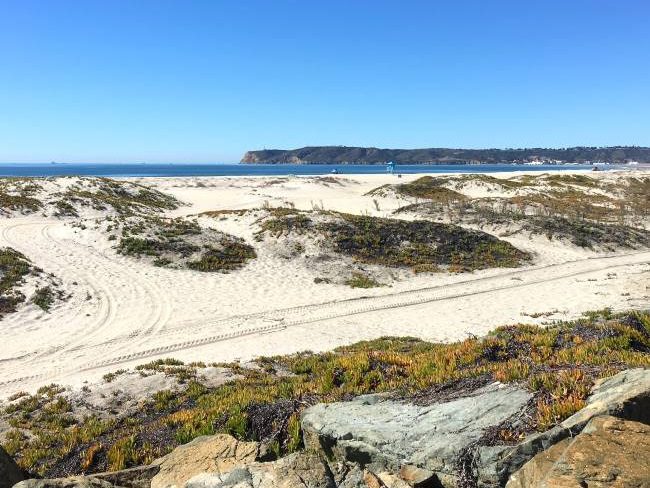 Best Museums in San Diego for Kids
U.S.S. Midway Museum
The USS Midway Museum is a great place for a family day out in San Diego. Located in Downtown San Diego at Navy Pier, the USS Midway was one of America's longest serving aircraft carriers (1945 to 1992). It is now a maritime museum dedicated to carriers and naval aviation, offering a fascinating look into what it's like to live and work on a carrier.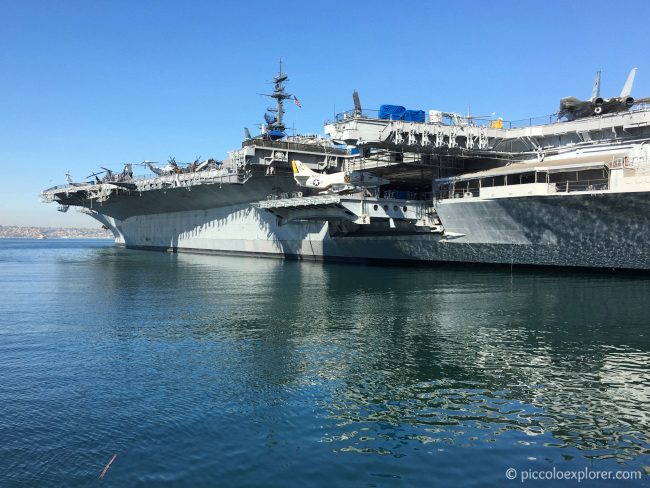 There are over 60 areas to explore, including the sleeping quarters, engine room, radio room, galley and war room. The carrier also houses a wide array of aircraft, several of which visitors can climb into or sit in the cockpit for a great hands-on experience.
Read more: The USS Midway Museum San Diego with Kids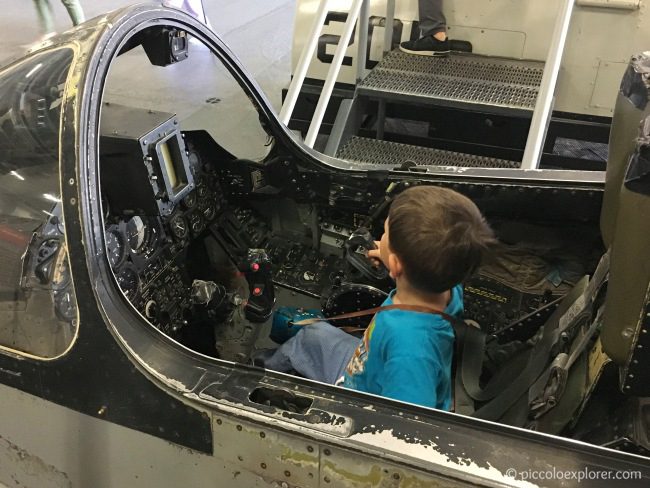 The USS Midway Museum San Diego is an interactive, family friendly museum and a fantastic value especially if you're visiting with young ones as children 5 and under enter free.
New Children's Museum
The New Children's Museum in Downtown San Diego is a brilliant museum for children of all ages. There are plenty of activities for kids at this museum, including painting a truck, creating clay sculptures and climbing around in a treehouse.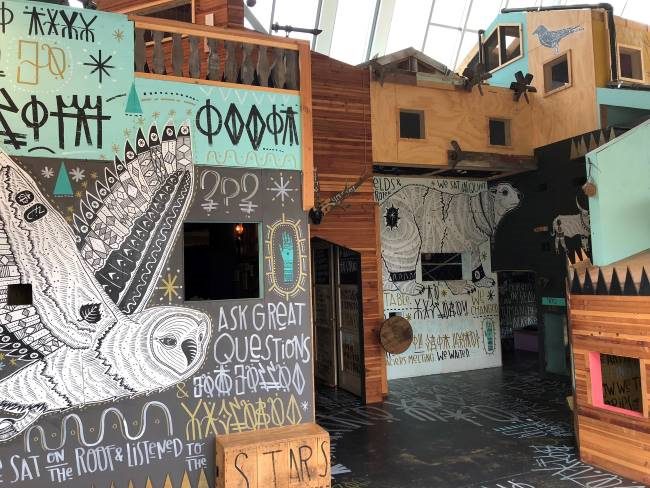 Read more: The New Children's Museum Downtown San Diego
The New Children's Museum offers immersive art activities and interactive art installations that are updated regularly, along with a calendar of programs and workshops that include a toddler programs. It's an excellent museum and one of the top things to do in San Diego with young children.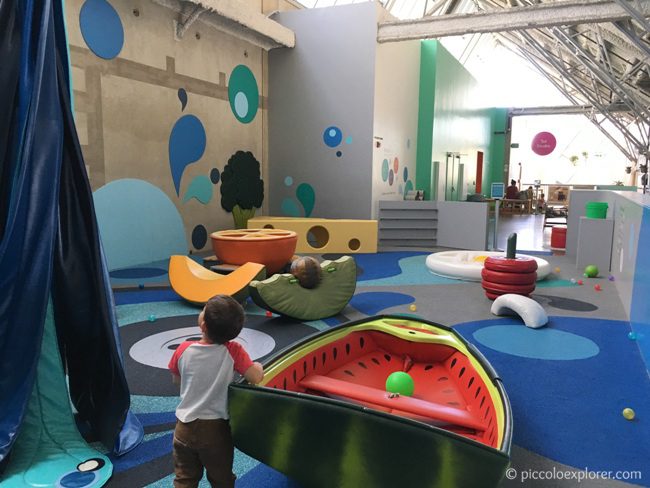 San Diego Natural History Museum
Explore the natural history and biodiversity of Southern California and Baja California at the San Diego Natural History Museum (the Nat). Located in the heart of Balboa Park, the Nat has interactive, family-friendly exhibitions across five floors covering a period of 75 million years, from the time of the dinosaurs to present day.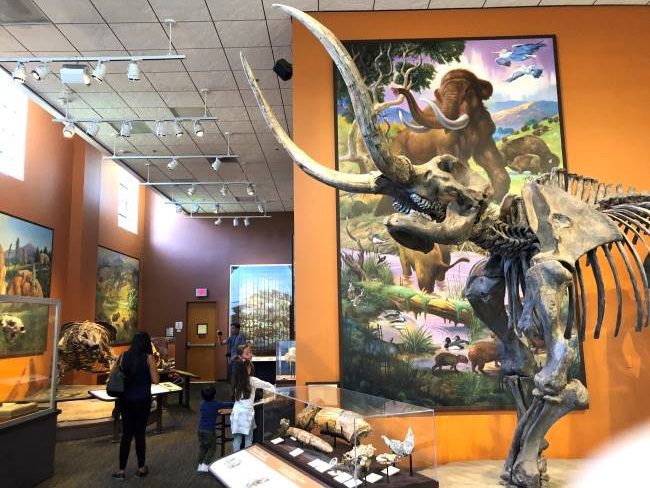 Fleet Science Center
One of the top museums for kids in San Diego, the Fleet Science Center is a science museum and planetarium located in Balboa Park across the courtyard from the Natural History Museum. Children will enjoy exploring the more than 100 interactive, fascinating exhibits and becoming immersed in an IMAX film adventure that shows the wonders of the planet and beyond.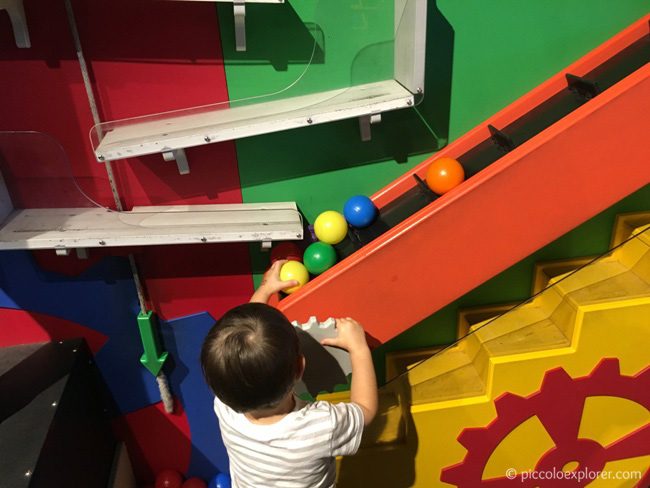 One of the highlights for toddlers and pre-schoolers visiting the Fleet Science Center is Kid City. This play space is designed for kids 5 and under to discover chutes, tracks and moving objects and explore the working world.
Top San Diego Attractions with Kids
Balboa Park
There's a lot to see and do at Balboa Park, with museums, several arts venues, events and the San Diego Zoo.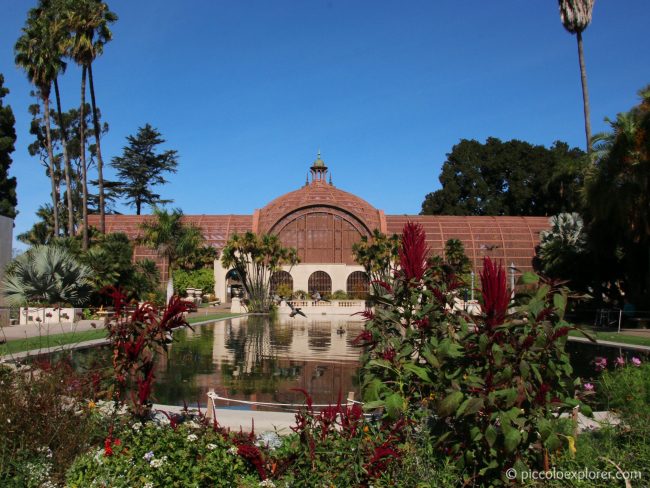 One of the world's largest wood lath structures, the famous Balboa Park Botanical Building is the only known conservatory made with no glass. It was built for the First World's Fair: the 1915 Panama-California Exposition. The beautiful scene with the lily pond in the foreground is one of the most photographed in San Diego.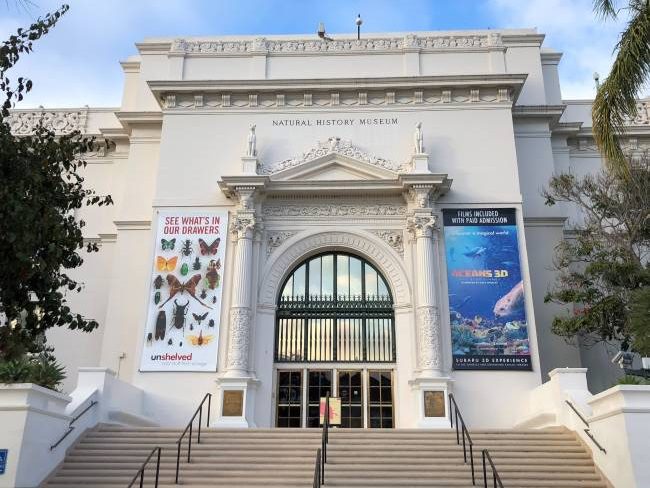 The 15 major museums at Balboa Park cover art and photography, science, air and space, autos and motorcycles, sports, local history, anthropology and natural history. The top Balboa Park museums for kids are the Fleet Science Center, the Natural History Museum, the San Diego Model Railroad Museum and the San Diego Air & Space Museum.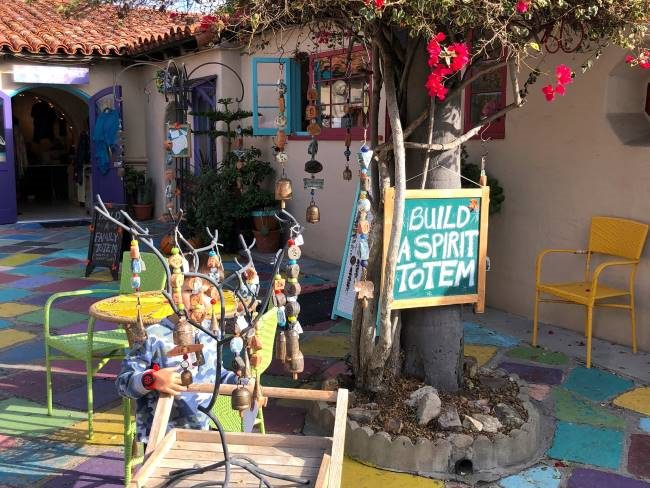 The vibrant Spanish Village Art Center is free to visit and offers a look into the working studios of over 200 local artists. Watch daily demonstrations and visit the onsite glass blowing facility. Our son enjoyed the experience of making his own spirit totem at Studio 39.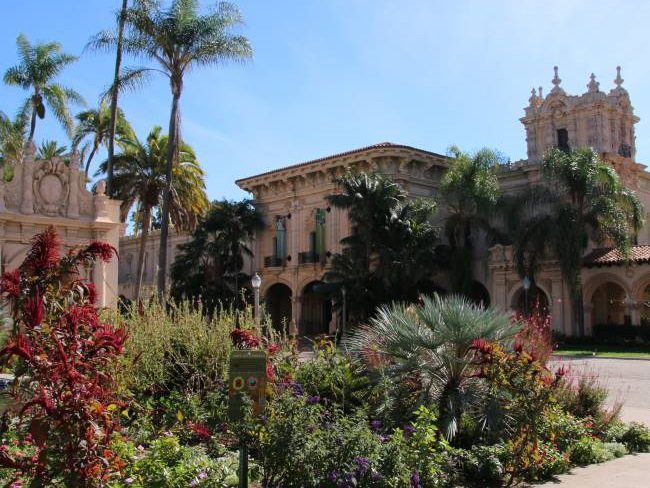 There are surrey bike rentals to explore the beautiful park grounds by bike. Balboa Park also runs special events, family activities and free musical performances year round. Have a look at the Balboa Park Events Calendar for the latest list of upcoming events.
San Diego Zoo
One of the top days out in San Diego with kids is visiting the world-famous San Diego Zoo. Located in Balboa Park, the San Diego Zoo is a 100-acre wildlife park and home to over 12,000 rare and endangered animals representing more than 650 species and subspecies.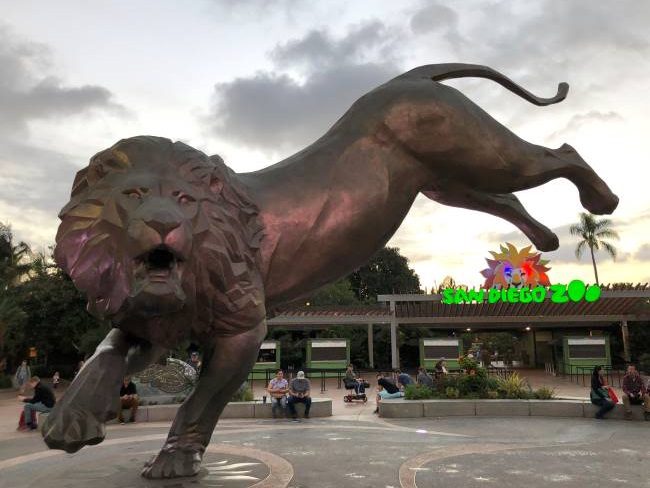 We recommend starting off your day out at the San Diego Zoo with the 35 minute guided bus tour that gives a great overview of the zoo and where each area is located. The top exhibits to see at San Diego Zoo include the Gorilla Forest, Polar Bears in the Northern Frontier, Koalas in the Outback, Scripp's Aviary and the 2.5 acre Elephant Odyssey habitat.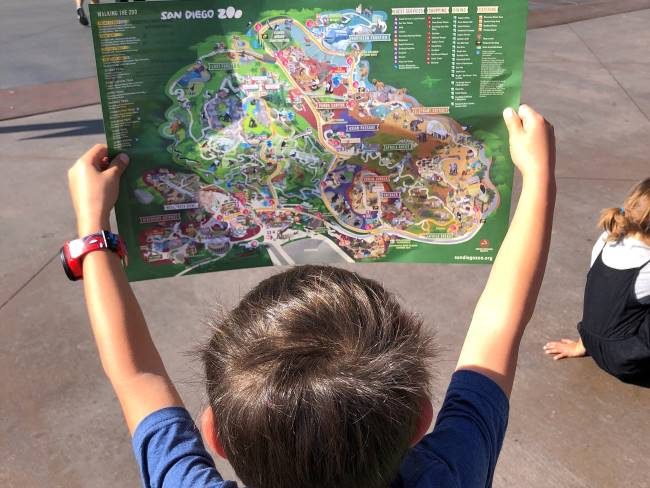 We also enjoyed taking the Aerial Tram for a birds-eye view of the Zoo and Balboa Park.
Old Town San Diego
Old Town San Diego, the location of the first European settlement in California, is a popular destination commemorating the early days of San Diego. The Old Town State Historic Park includes many historic buildings from the period 1820 to 1870.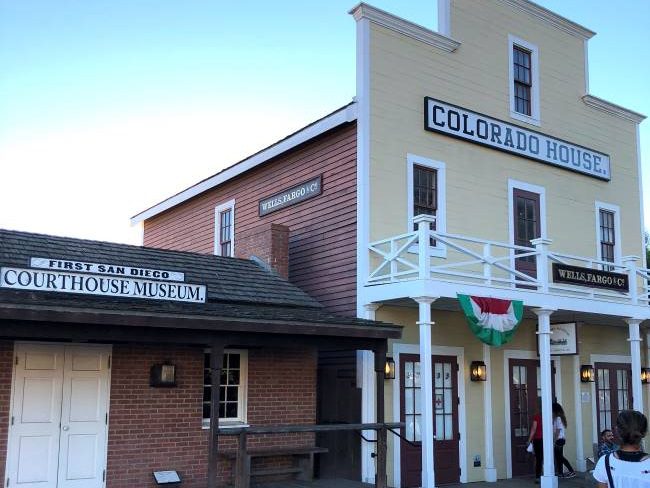 Old Town is also famous for its shops and restaurants. There are over 30 restaurants in Old Town, including some of the best Mexican restaurants in San Diego. Our favourites are Casa Guadalajara, Cafe Coyote and the Old Town Cafe and Cantina, where you can also watch tortillas being made from scratch.
Related: Family Friendly Restaurants in San Diego
Tafoya & Son Pottery is a unique shop in Old Town San Diego with a wonderful selection of homeware, ceramic goods and jewellery. We also enjoy visiting Toby's Candle & Soap Shop in Old Town to dip our own candles as a souvenir.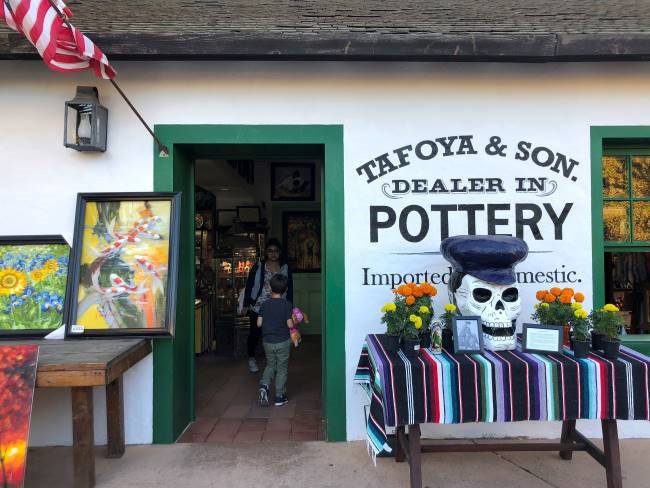 Every year, Old Town San Diego holds one of the largest Dia de los Muertos celebrations outside of Mexico. There are live performances at the Fiesta de los Reyes Marketplace, over 40 altars of remembrance, face painting and a candlelit procession.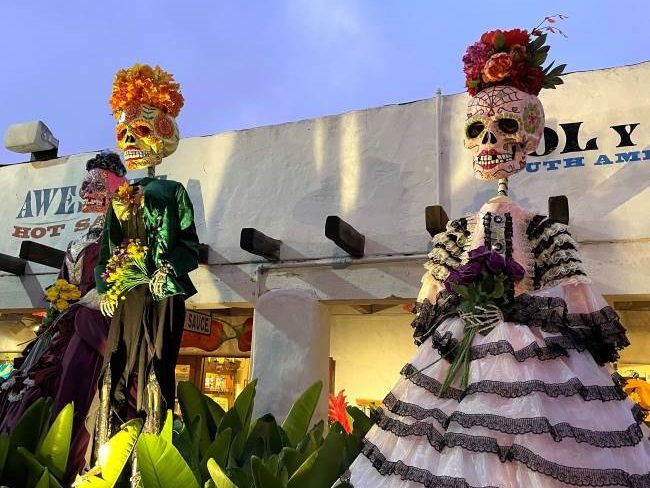 Birch Aquarium
Birch Aquarium at Scripps is a fantastic place to visit in La Jolla with kids. There are several hands-on displays for children, including an outdoor tide-pool with stunning ocean views.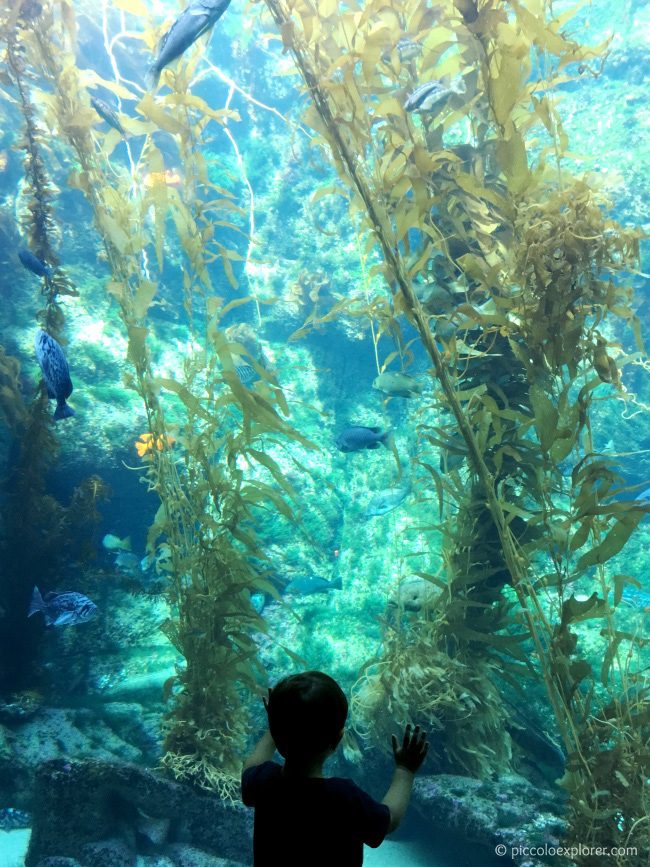 Read more: Birch Aquarium La Jolla CA with Kids
The two-story, 70,000 gallon kelp forest tank at Birch Aquarium houses a wide array of local marine life, including giant sea bass, leopard sharks, eels and garibaldi damselfish. The tank is completely open on top so it's illuminated 100% by sunlight.
San Diego Zoo Safari Park
The San Diego Safari Park is the San Diego Zoo's sister park in Escondido, North County San Diego, approximately 35 minutes by car from the San Diego Zoo. The Safari Park is an 1,800-acre wildlife park with more than 3,600 animals representing over 300 species. The expansive free-range enclosure at the Safari Park is home to herds of giraffes, rhinos, antelope, zebras, and buffalo.

Highlights of visiting the San Diego Safari Park include seeing a platypus (the Safari Park care for the only two platypuses that are outside of Australia), taking the 25 minute Africa tram around the savanna habitats and visiting the goats and deer at the Petting Kraal.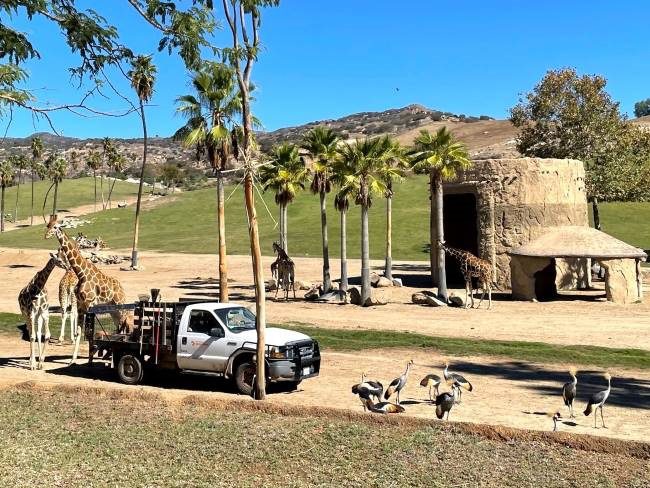 Belmont Park
Belmont Park at Mission Beach is renown for its restored Giant Dipper roller-coaster that was originally built in 1925. The amusement park also has several other rides, bumper cars, miniature golf and an arcade.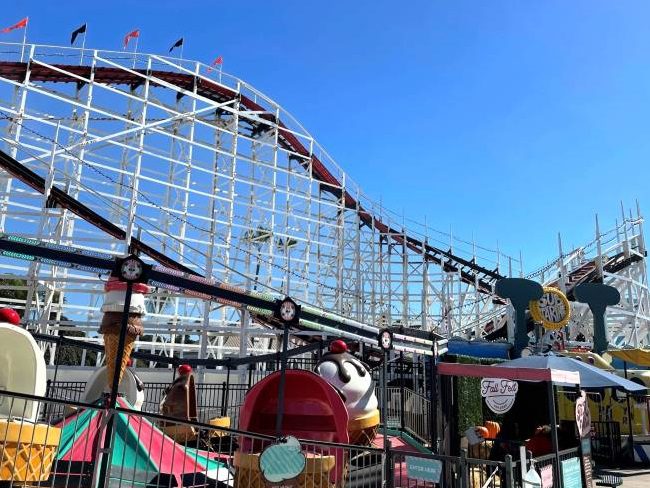 Explore Coronado Island
Beautiful Coronado Island, across the bay from Downtown, is a wonderful place to plan a day out with kids in San Diego. The drive across the San Diego-Coronado Bridge offers stunning views of the San Diego skyline. From Ferry Landing Marketplace, you can watch the ferry boats and huge Navy ships pass by.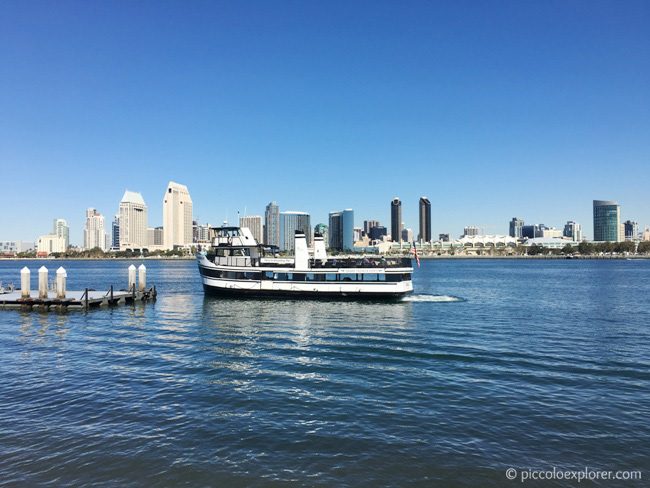 Top things to do on Coronado Island are exploring the shops and restaurants on Orange Avenue, touring the famous Hotel del Coronado, cycling along the coastline and spending the day at one of the beautiful sandy beaches.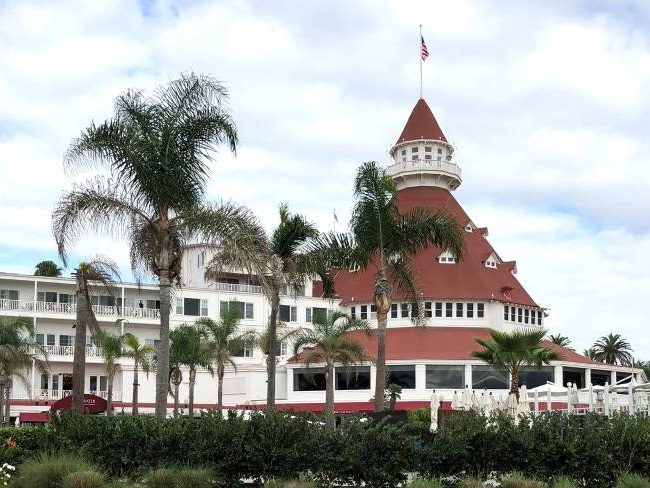 Outdoor Activities with Kids in San Diego
Hiking at Cabrillo National Monument
One of the top places to hike in San Diego is Cabrillo National Monument, a scenic National Park at the southern tip of the Point Loma peninsula. The scenery and views from the cliffs are amazing – on a clear day you can see as far as Mexico!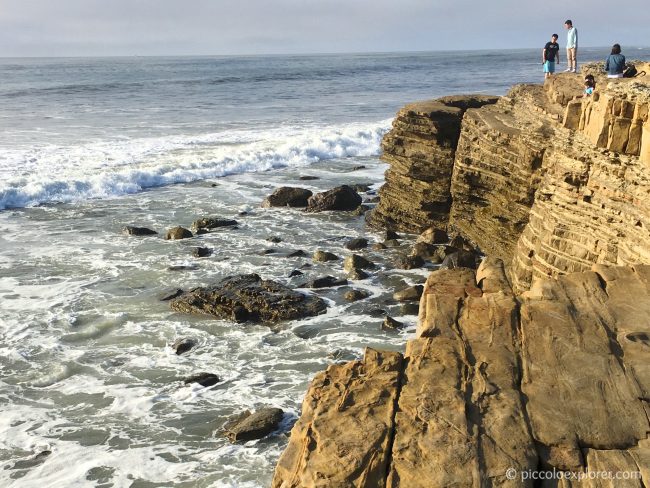 If you are visiting in autumn or winter, Cabrillo National Monument is also one of the best places in San Diego for tide-pooling. There are opportunities from mid-November through winter for exploring the tide pools.
Family Bike Rides along the Boardwalks
There's a long boardwalk from Mission Beach to Pacific Beach which is perfect for a family bike ride. We always rent our bicycles from Boardwalk Beach Rides in Pacific Beach. Boardwalk Beach Rides have a wide selection of bicycles to hire, including tandem bicycles, kids' bikes and beach cruisers. They also hire out helmets and child bike seats.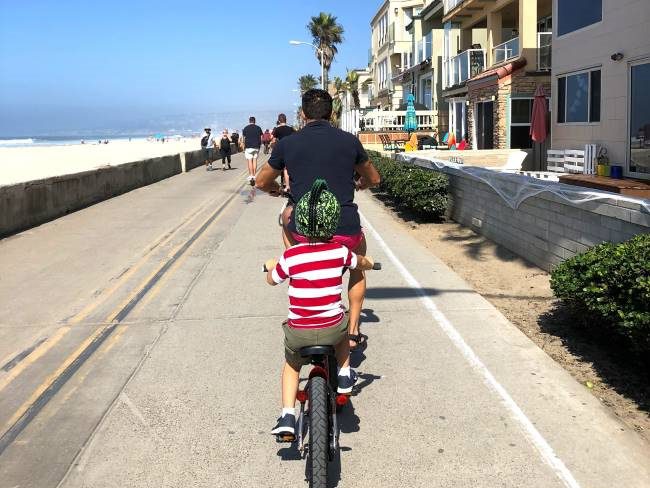 Wildlife Spotting in La Jolla
The Pacific Ocean views are gorgeous along the Coast Boulevard in La Jolla. The bird and wildlife spotting is spectacular here for seals, sea lions, pelicans and other birds. Seals and sea lions can usually been seen on Children's Pool Beach, lounging on the large rocks or on La Jolla Cove.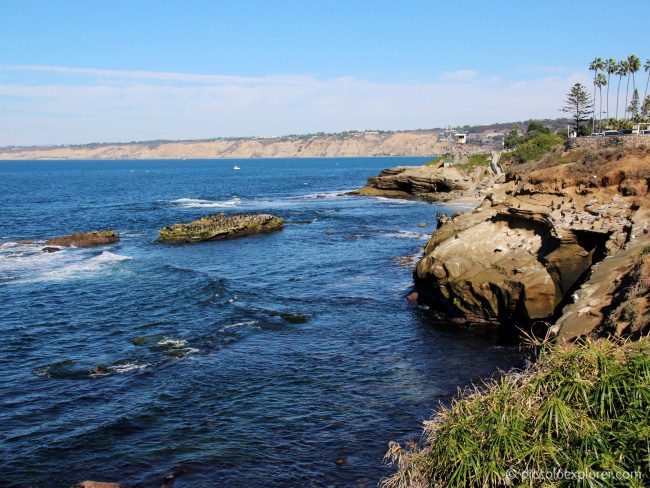 A sea wall was put up at the Children's Pool Beach in the 1930s, to create a protected swimming area for families. In recent years, the area has filled up with sand and become a resting spot for harbor seals and sea lions.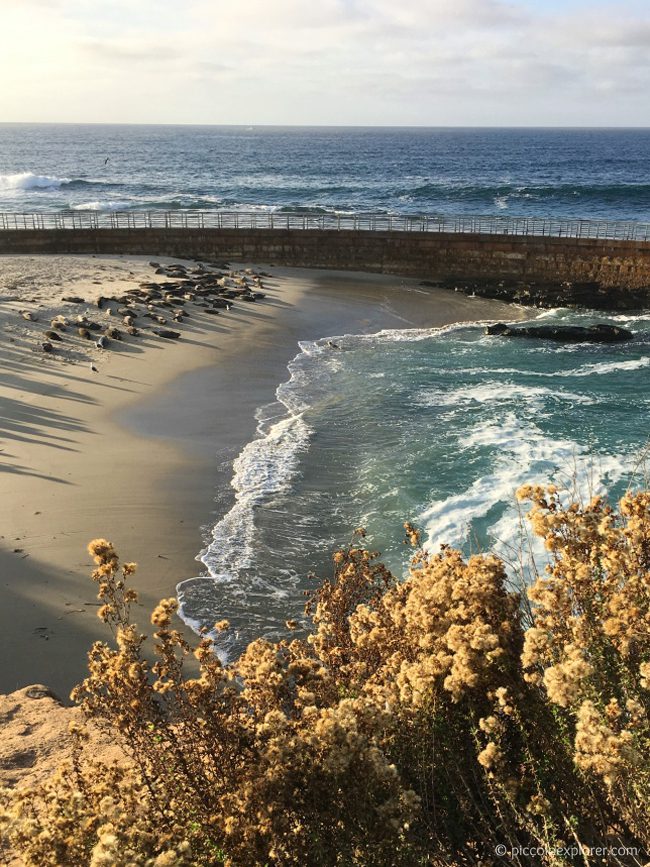 Children's Pool Beach is closed to public access between mid-December to mid-May, when the seals give birth and wean their young. Visitors can go down to the beach and stand at a distance (behind a rope) to watch the seals.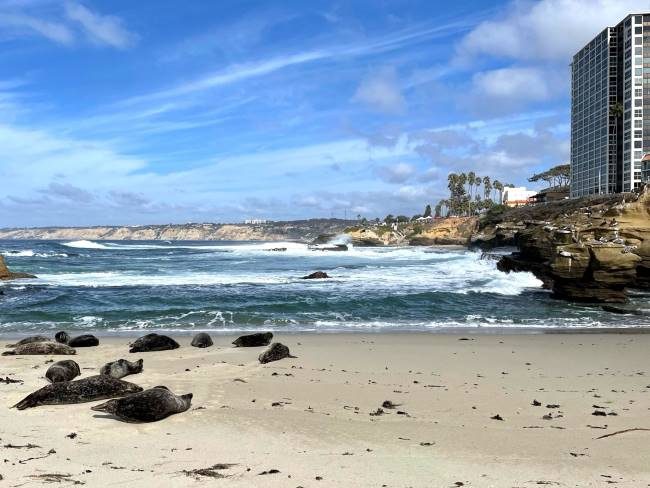 Top Playgrounds in San Diego
Waterfront Park Playground
Address: 1400-1496 Pacific Hwy, San Diego, CA 92101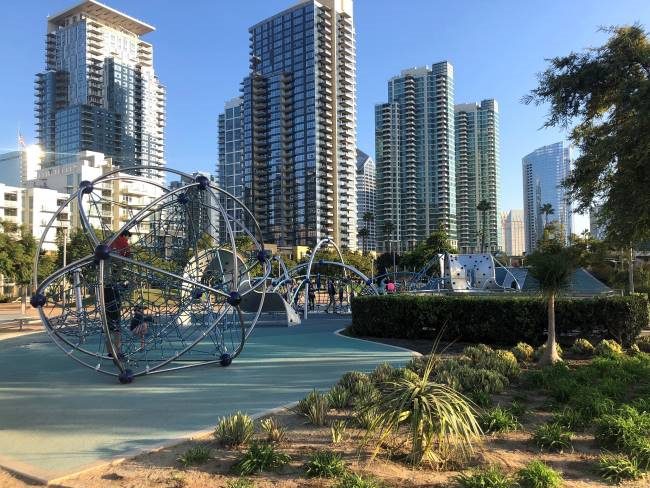 Waterfront Park playground is one of the top playgrounds in Downtown San Diego, with great views of San Diego Bay. There are unique climbing structures, slides and a play area for little ones.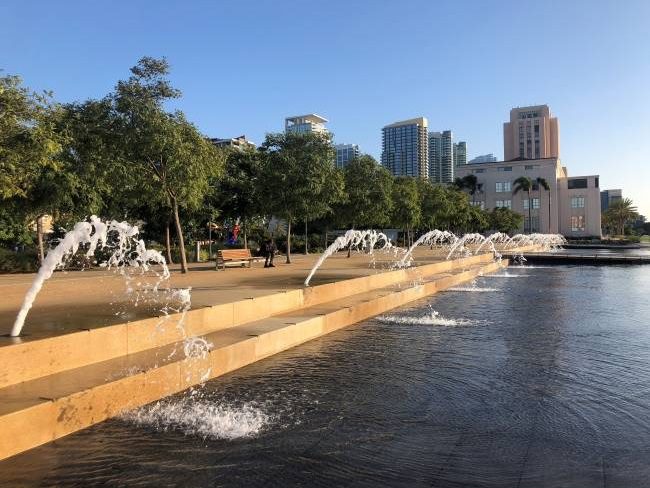 Waterfront Park is a popular spot in the summer months for its wading pools and splash fountains. Facilities: public toilets, snack bar. There is nearby street parking and pay lots.
Tecolate Shores Playground
Address: 1900 E Mission Bay Dr, San Diego, CA 92109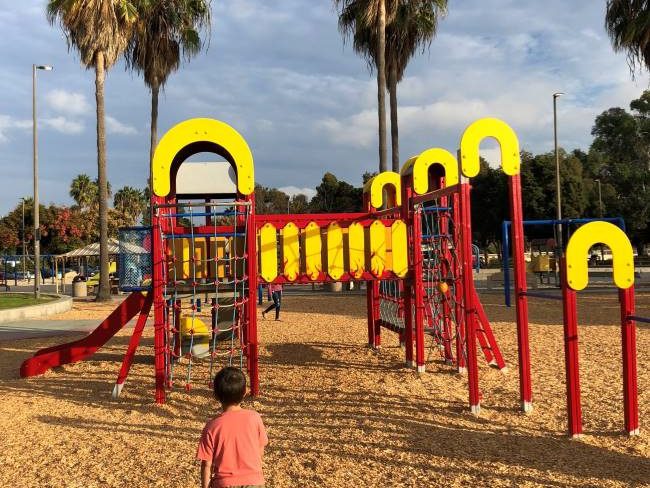 Tecolote Shores Park is on the east side of Mission Bay in San Diego. The park has large open grass fields surrounding two sandy pits with climbing frames, swings and other play equipment. Facilities: free parking, public toilets, beach rinse-off shower
Kellogg Park Playground
Address: 8277 Camino Del Oro, La Jolla, CA 92037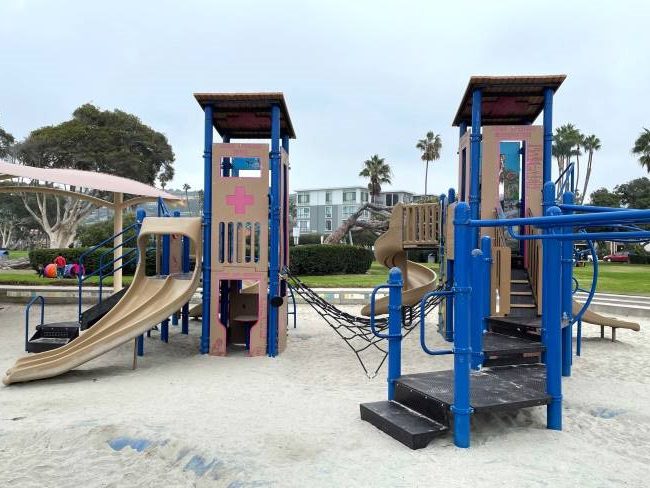 Kellogg Park Playground is a small beachside playground at La Jolla Shores. Facilities: free parking, public toilets and rinse-off shower
Fanuel Street Playground
Address: 4000 Fanuel St, San Diego, CA 92109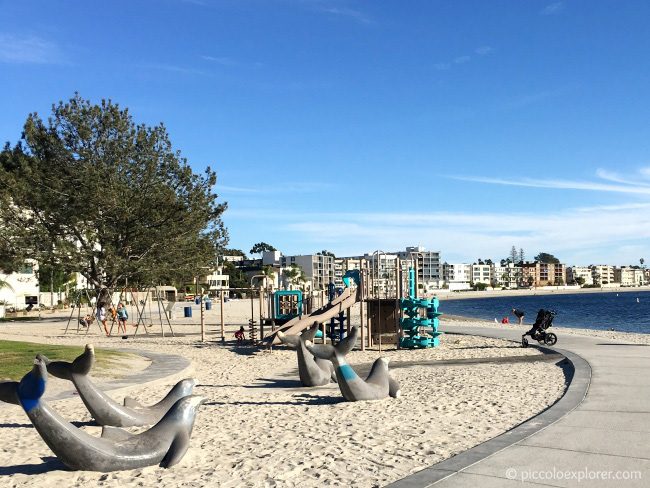 Fanuel Street playground is a small beachside playground on Mission Bay. Fanuel Street Park is a large grass park perfect for picnics or playing sports. The calm waters at Mission Bay are ideal for young swimmers. Facilities: free parking, public toilets 
Things to Do in San Diego with Kids Map
I am pinning our top family activities in San Diego in my "Things to Do in San Diego with Kids" Google Map Guide. For a direct link to the map to bookmark, click here. To explore the map, click on the door sign with an arrow just before the map title.
San Diego with Kids Guide
I hope you have found this guide for top things to do in San Diego with kids helpful!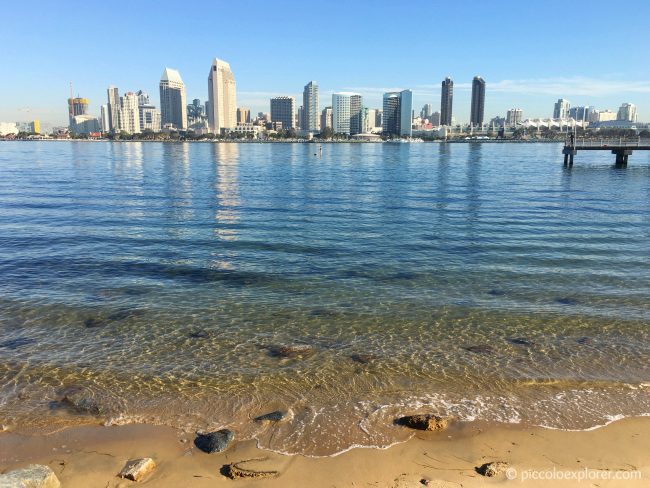 San Diego is a great family destination offering plenty to see and do year round. Read on for more tips and reviews for planning a family trip to San Diego, California;
Birch Aquarium La Jolla with kids
Family Friendly San Diego Restaurants
The New Children's Museum San Diego
USS Midway Museum San Diego with Kids
This post was updated on 7 August 2023 with up to date visitor information and a San Diego with Kids Google Map.
Pin for Later – Things to do in San Diego with Kids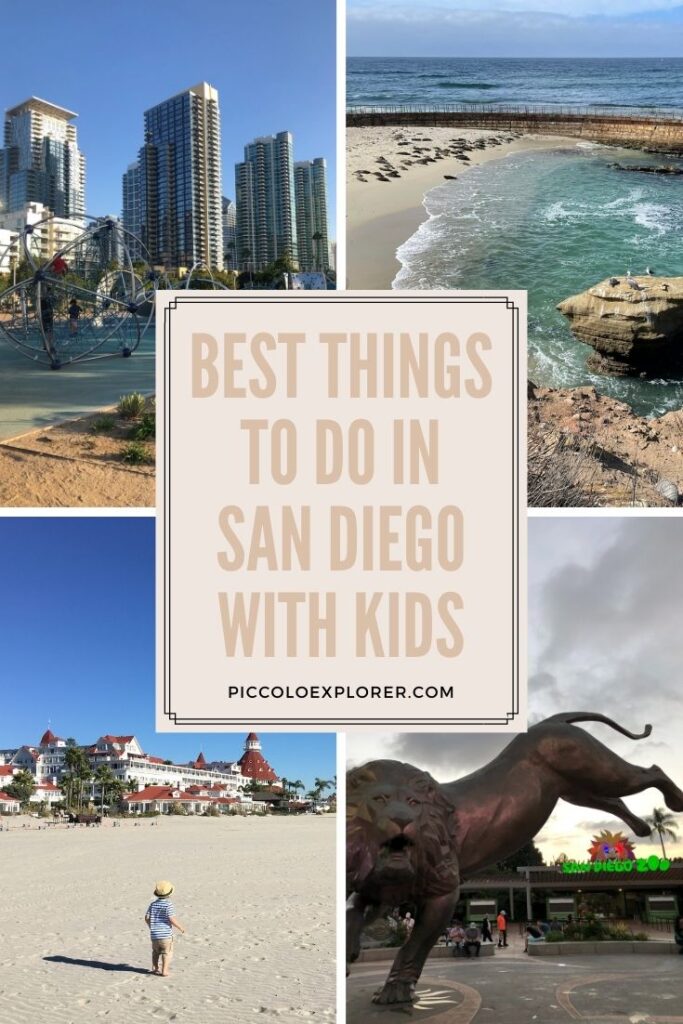 Save