After three years of undergoing renovation works, Disney Hotel New York at Disneyland Paris reopened in summer 2021 with a new look, a new theme and a new name: Disney Hotel New York – The Art of Marvel. We are all big Marvel fans, especially Little T, and we were excited to stay for the weekend at this hotel during our summer visit to Disneyland Paris. Find out more about our experience and what to expect from this much anticipated hotel reopening in our Hotel New York Art of Marvel Disneyland Paris review.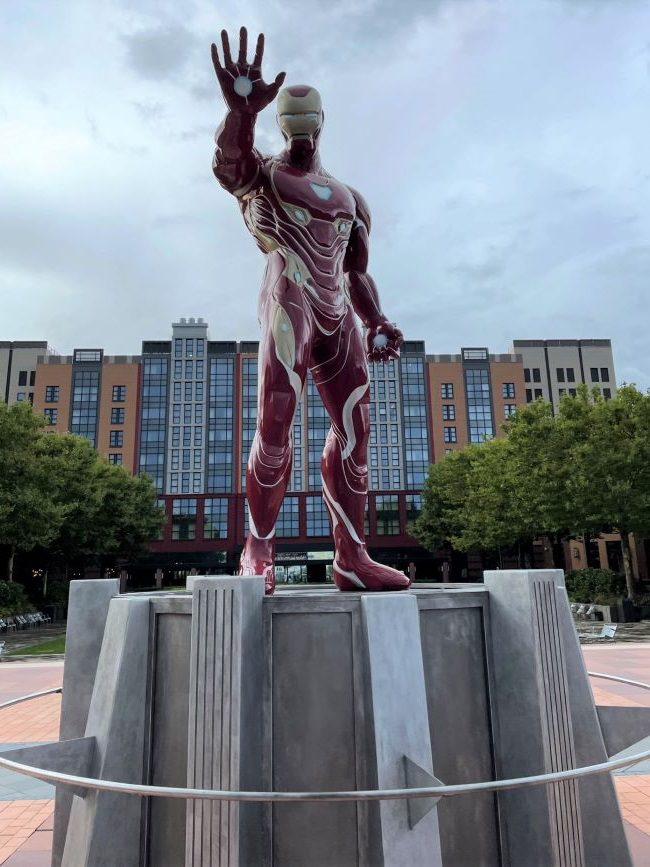 This post contains affiliate links. If you click through and make a purchase, I may receive a commission (at no additional cost to you). Thanks for your support in this way.
Disney Hotels & Resorts at Disneyland Paris
There are seven Disney hotels at Disneyland Paris, six of which are currently open (updated January 2023). Since the Disneyland Hotel is closed for renovation until 2024, the Hotel New York – Art of Marvel is currently the closest hotel to Disneyland Paris, conveniently located next to Disney Village and a 10 minute walk to the park gates.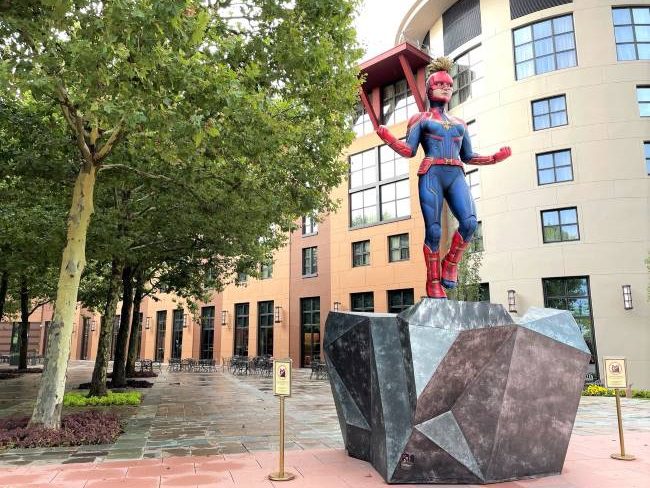 The list of Disney Hotels that are currently open and their distance from the Disneyland Paris entrance, are;
The following Disneyland Paris Disney Hotel is currently closed;
Disneyland Hotel [5 star] – undergoing renovations, reopening in 2024. Located right at entrance of the main Disneyland Park.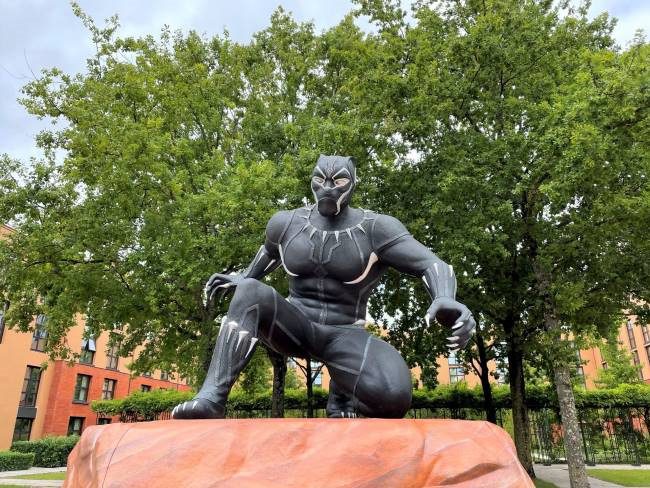 For our first visit to Disneyland Paris, we stayed across Lake Disney at Disney Newport Bay Club. Read more about the hotel and our experience staying in a Compass Club room in our Newport Bay Club Disneyland Paris hotel review post.
Hotel + Park Ticket Reservation
Tip: Use the Disneyland Paris price estimate calendar to help plan your trip and compare the costs of staying at a Disneyland Paris hotel or resort during different times of the year.
We booked a two night stay at the Hotel New York Disneyland Paris direct on the Disneyland Paris GB website which included three days Disney Parks access. Note that if you collect Avios, you can earn at least 3 Avios per £1 spent by booking with Disneyland Paris through the British Airways shopping portal (make sure to read the T&C).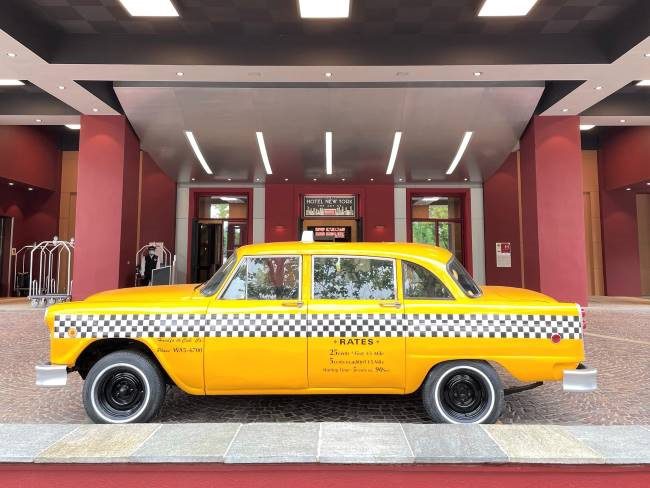 The Walt Disney Travel Company handles the Disneyland Paris bookings for UK-based customers. Customer service for the Walt Disney Travel Company is based in the United States. I found the agents very helpful for planning our visit to Disneyland Paris, especially with what to expect visiting not long after the parks had reopened and were still under Covid-19 restrictions.
The Walt Disney Travel Company cannot help with restaurant reservations (those are done through the Disneyland Paris mobile app or by calling the Disneyland Paris Dining Reservations Team) or specific queries about the hotel since they are not based locally.
Related: Best Restaurants in Disneyland Paris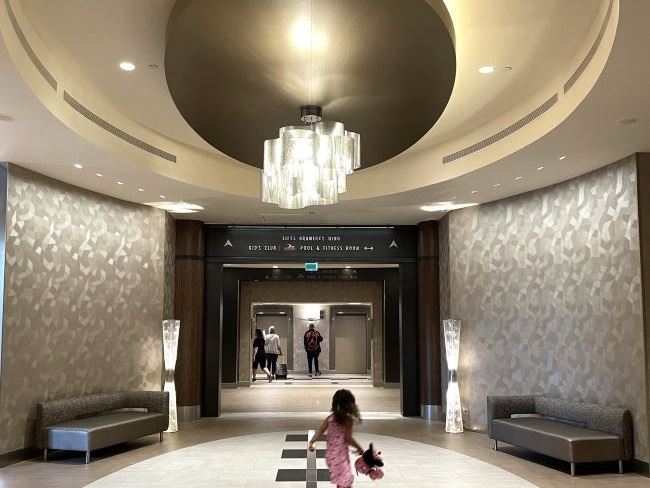 What are the benefits of staying at a Disney hotel at Disneyland Paris?
When you book a Hotel + Tickets package at a Disney hotel, you'll have unlimited access to both Disneyland Park and Walt Disney Studios Park every day of your visit. Other benefits include;
Free Parking: free self parking at the hotel and at the park entrances (a saving of €30 per vehicle a day)
Extra Magic Hours: enter the Disneyland Paris Parks before the official opening time
Free Shuttle: shuttle rides between the Parks and the Disney Hotels (excluding Disney Davy Crockett Ranch)
Selfie Spots: opportunities to take selfies with Disney, Pixar, Marvel or Star Wars Characters in the lobby of your hotel
Disney Express: if traveling by train, arrange to receive your hotel check-in documents and Park tickets in advance and your luggage will be transferred from the station to your hotel.
Free Shopping Delivery: purchases made in Disney Village can be delivered directly to your Disney Hotel
Booking Guarantee: change or cancel your booking with full refund anytime up to 7 days before your arrival date (check terms, this excludes insurance and some transport fees)
Restaurant Bookings: make Disneyland Paris dining reservations up to 12 months ahead of your visit (instead of 2 months)
We made our booking when the Disneyland Paris Hotel New York had a special launch offer for guests to receive an exclusive MARVEL print by world-renowned artist Matt Ferguson and to enjoy a complimentary non-alcoholic beverage. The MARVEL print is a wonderful souvenir from our stay and the kids made use of the beverage voucher trying the non-alcoholic fruity drink at the new Skyline Bar. More photos further down in the Hotel New York Art of Marvel review.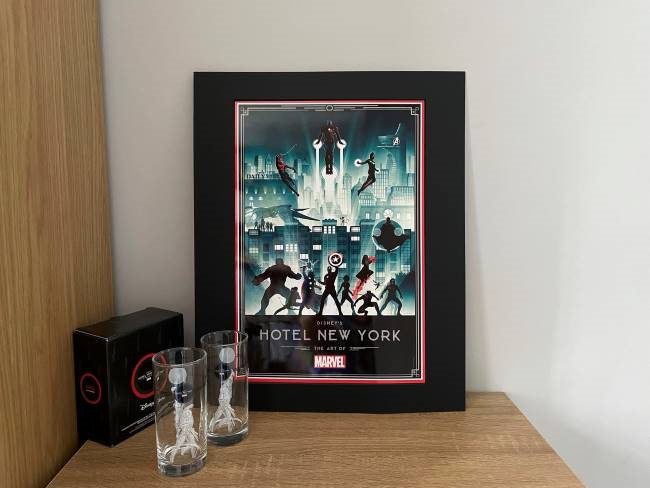 The Lobby
Each of the Disney hotels at Disneyland Paris depict a region of the United States, and as is the case with Disney hotels at all parks, the theming design and details are brilliant and well thought out. The Hotel New York – Art of Marvel pays homage to New York, and all things Marvel, with a sleek, metropolitan design, top-notch restaurants and bars, and the world's largest collection of Marvel artwork.
Completely renovated as of Summer 2021, the Hotel New York – Art of Marvel has 471 Superior Rooms, 65 Empire State Club rooms, and 25 Suites dedicated to Spider-Man, the Avengers, and other Marvel heroes.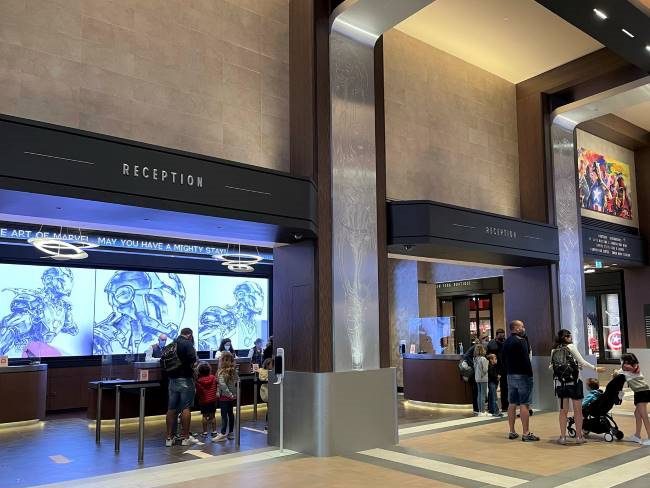 The hotel lobby features backlit comic panels, Captain America shields and three full-size Iron Man costumes, along with several of the more than 350 stunning original Marvel artwork, by 110 international artists, that are on display around the hotel.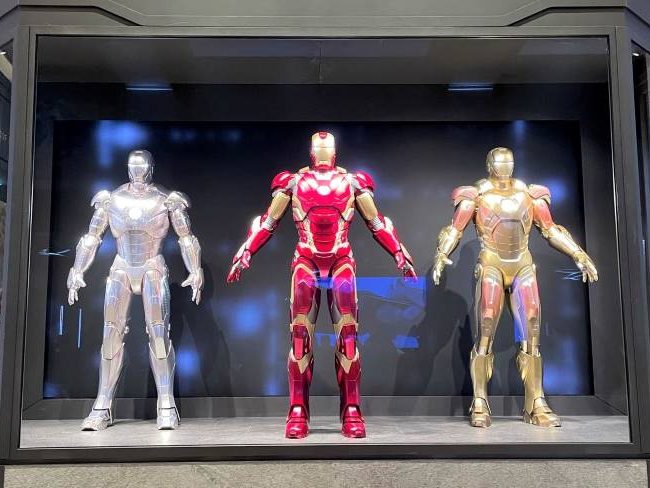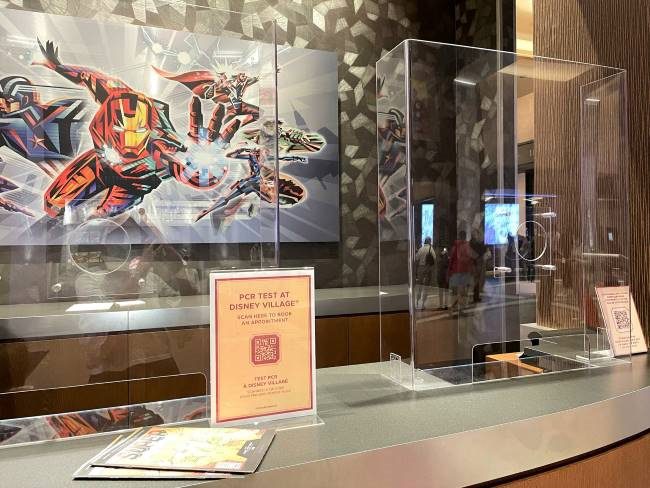 The New York Boutique in the Hotel New York – Art of Marvel lobby has a variety of mainly Marvel merchandise, however the boutique is small and we didn't find anything particularly unique to buy, besides expensive art prints.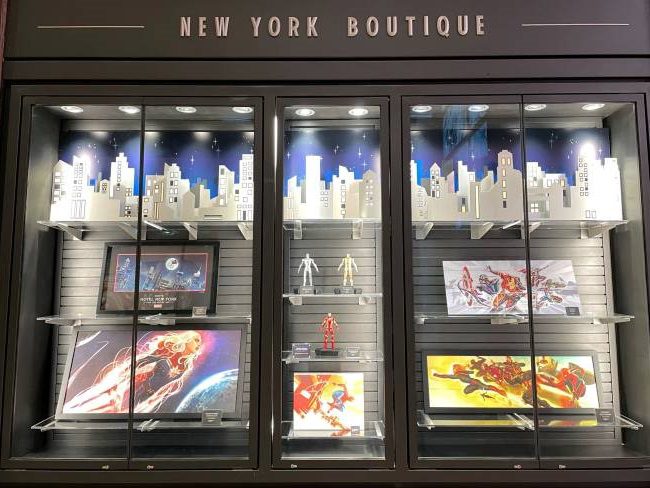 Hopefully down the road, more affordable souvenirs and merchandise exclusive to Disneyland Paris and Disney Hotel New York – Art of Marvel will be available to purchase at the New York Boutique.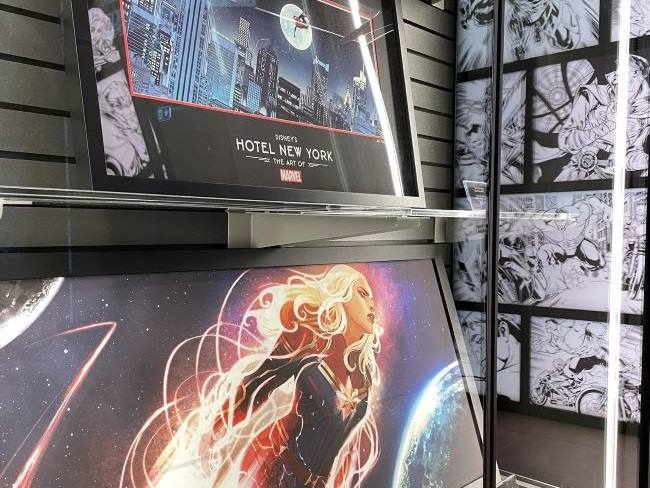 Empire State Club Reception
The Hotel New York – The Art of Marvel Empire State Club guests have an easy check-in process at a private reception desk with a seating area for your group. The private reception desk is usually a helpful perk, especially when the main reception desk has a long queue and check-in for us was quick and seamless.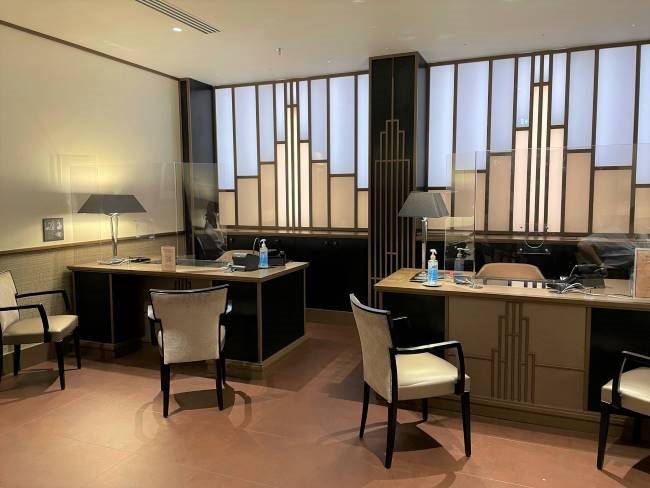 For the rest of our stay, however, the Empire State Club reception desk was busy, understaffed and difficult to reach by phone, which might also have just been a teething issue since the hotel reopening.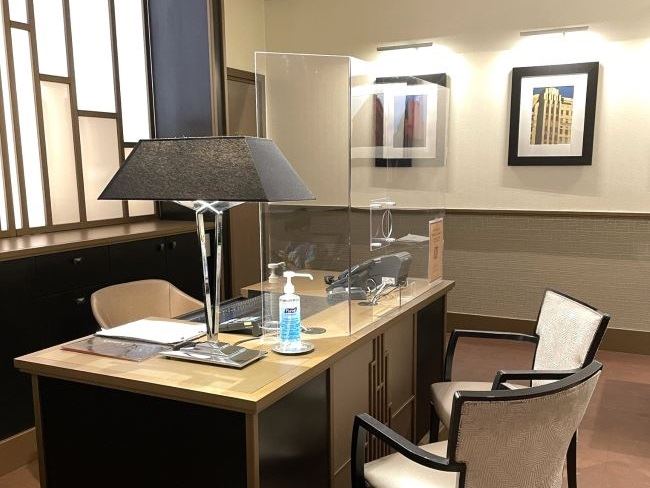 Empire State Club Room
In the next part of this Hotel New York Art of Marvel review, I will go over the several types of rooms and suites available to choose from when booking a stay at Disney Hotel New York – The Art of Marvel.
Standard room amenities across all rooms and suites include: luggage service, hair dryer, free WiFi access, air conditioning, telephone, safety deposit box, ironing board and iron, Disney and international TV channels. You can request a free baby cot, which are limited to 1 per room and subject to availability. Kettles are also available upon request.
Superior Rooms are the standard room offering with several options that include booking with 2 double beds or 1 large double bed and 1 sofa bed. Some Superior Rooms offer a garden view or garden terrace.
Check Disney Hotel New York – The Art of Marvel room rates and availability at DisneylandParis.com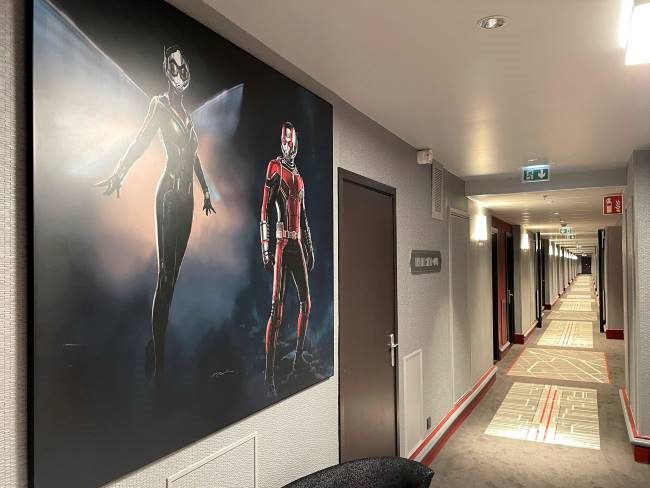 Empire State Club Rooms and Suites include all the Superior Room amenities, plus branded bathrobes and slippers and additional Club level benefits which are mainly the private reception desk and access to the Club lounge for complimentary breakfast, beverages and afternoon snacks.
The Empire State Club rooms and suites at the Disney Hotel New York – The Art of Marvel also offer options for a view overlooking Lake Disney as well as more spacious accommodations, including 25 Suites dedicated to Spider-Man, the Avengers, and other Marvel heroes.
Check Disney Hotel New York – The Art of Marvel room rates and availability at DisneylandParis.com 
We stayed in an Empire State Club room with two double beds. The room had a sleek and modern design, with vibrant Marvel prints on the wall and an ultra-HDTV hiding in a wall mirror.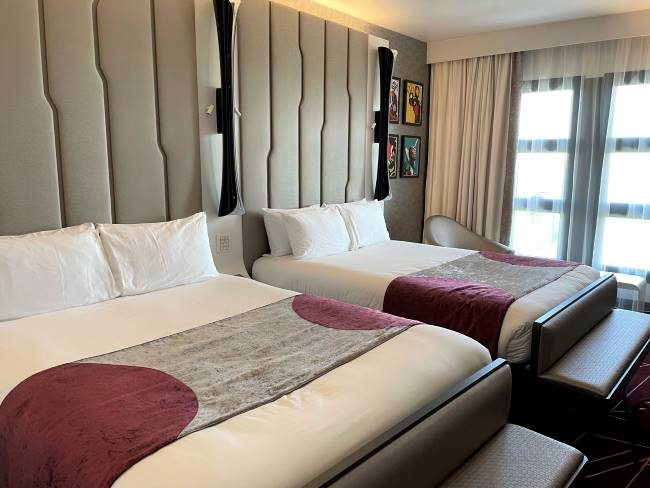 While the Empire State Club room was fairly comfortable for our family of four, it was small with hardly any floor space and honestly not worth the premium price.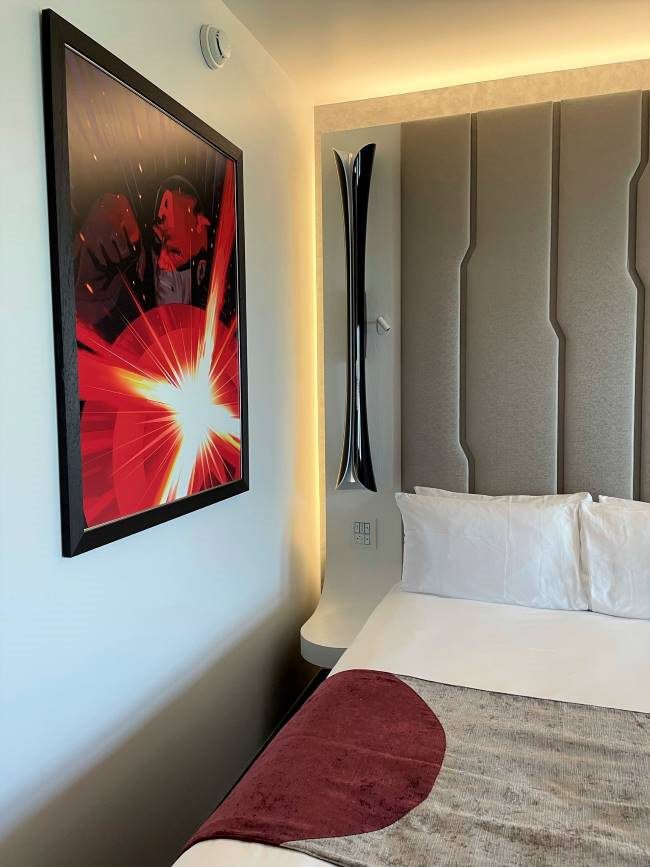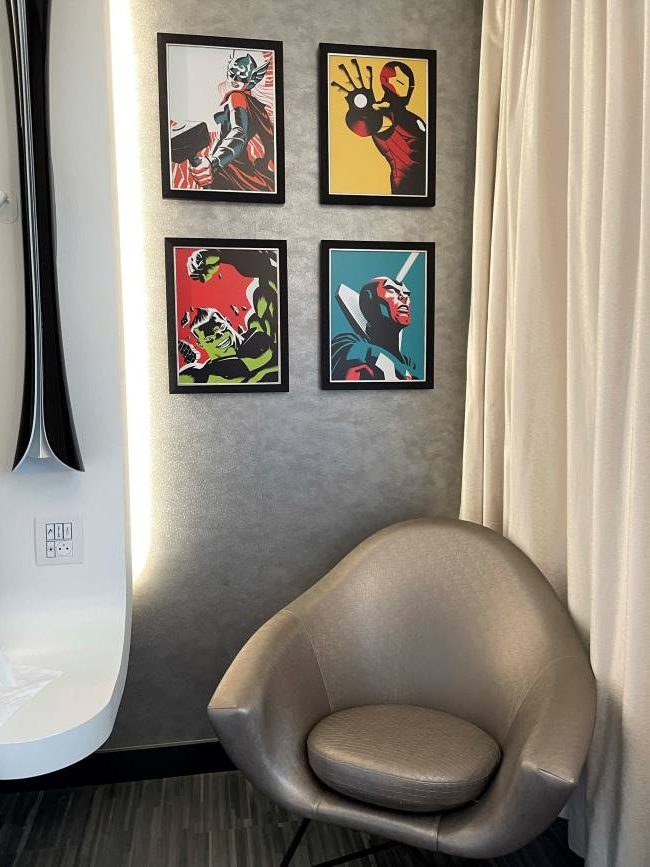 The bathroom had a basic contemporary design, with the toilet in a separate area with a sliding door that didn't close properly.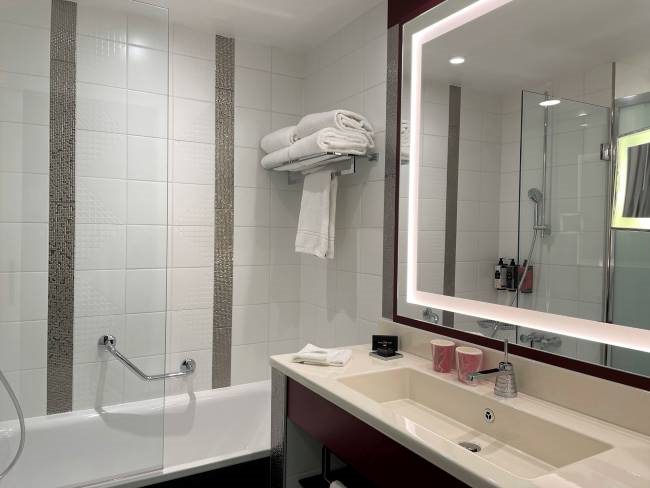 There were bottles of shampoo, conditioner and body wash attached to the wall in the shower, along with Hotel New York – The Art of Marvel branded soap, small toiletry packs and plastic-wrapped paper cups at the sink.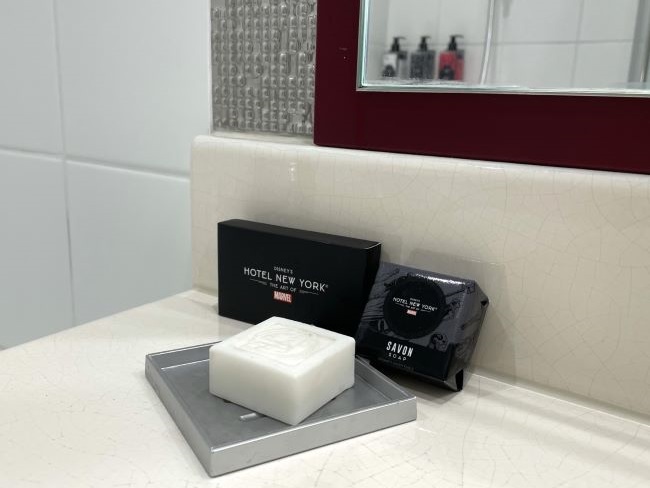 The child-size bathrobes and slippers for our two kids were a great touch.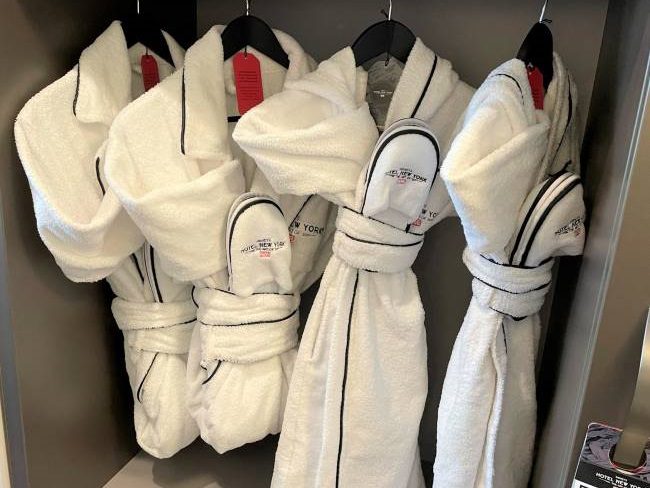 The room view from the standard Empire State Club room view is far from exciting. We spent most of the days and evenings during our stay at Disneyland Paris so to be honest it wasn't worth it for us to upgrade to a lake view room, but it is something to consider for a longer stay.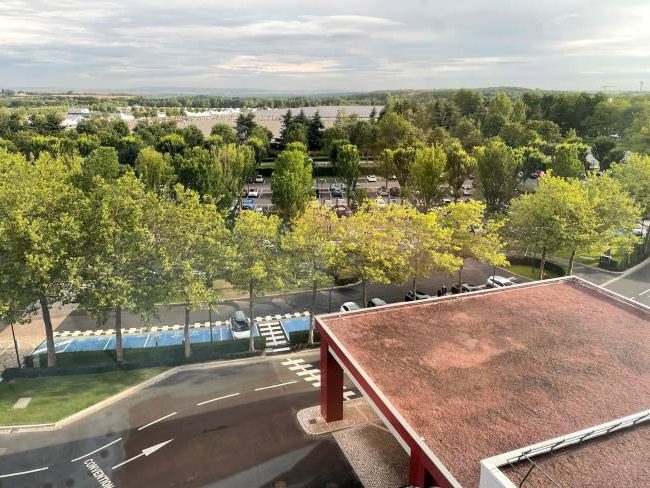 Empire State Club Lounge
Breakfast, drinks and afternoon snacks in the Disney Hotel New York – Art of Marvel Empire State Club lounge are included in the rate. Breakfast is open from 7am to 11am and Empire State Club guests can also stop by the Club lounge to enjoy a variety of sweet and savoury snacks from 4pm to 5.30pm.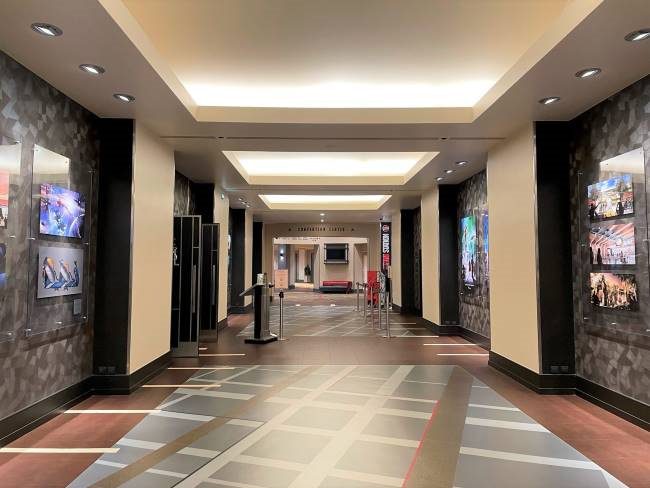 Breakfast at the Empire State Club Lounge is a buffet style set up, while at the time of our visit it was table service.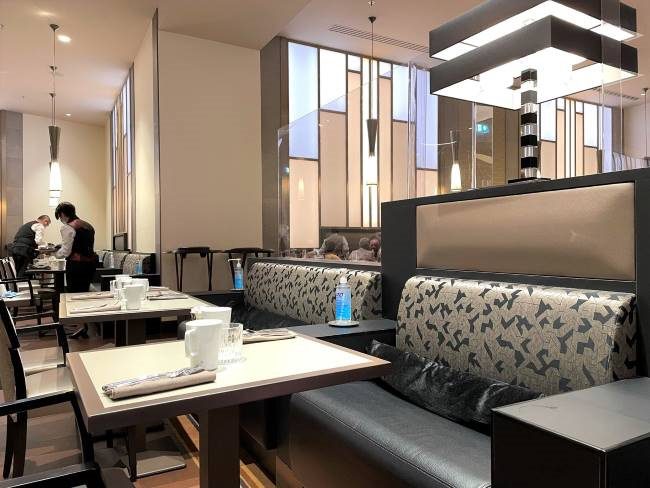 There are a variety of hot and cold dishes available, including pancakes, waffles shaped like Captain America shields, scrambled eggs and bacon, pastries and continental breakfast items.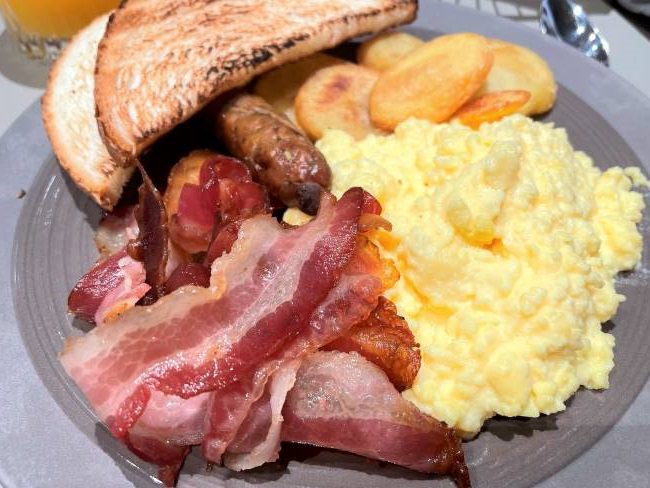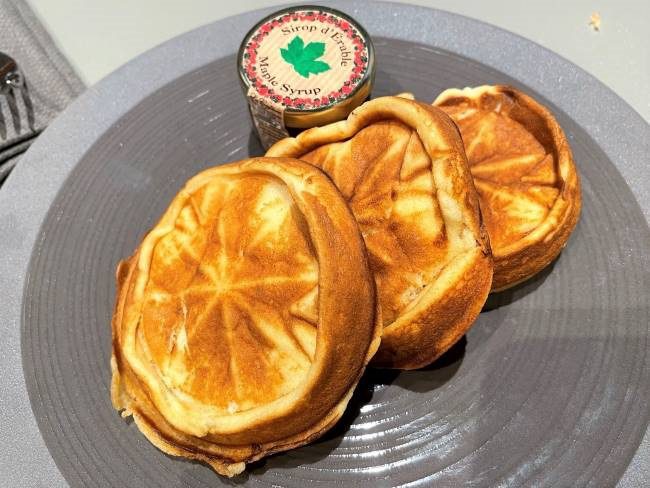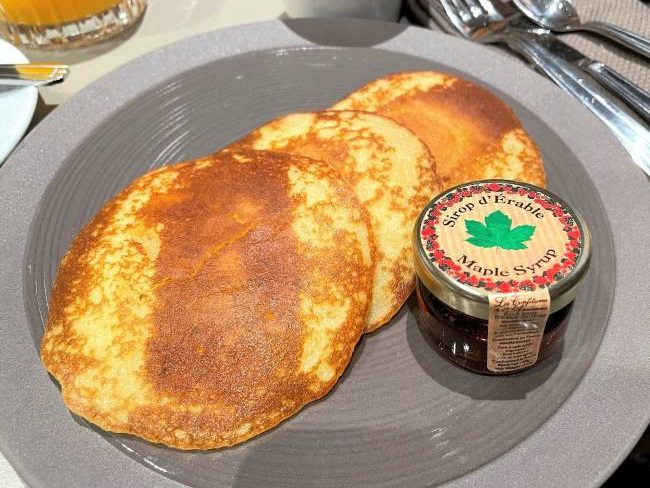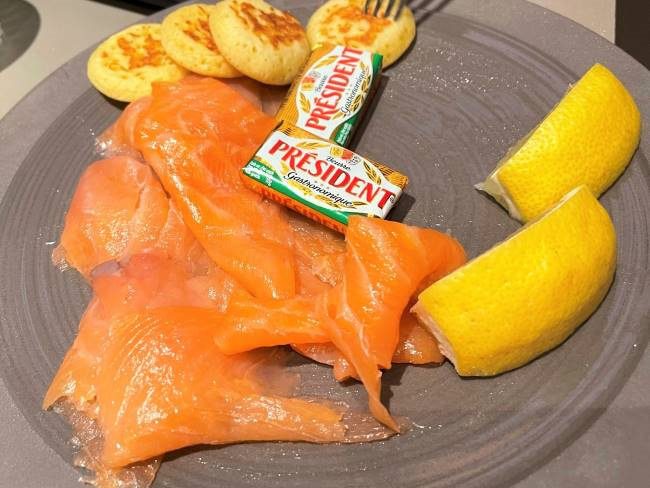 We did miss the buffet style set up and food stations to make special requests, but the service was great both times we visited the Empire State Club lounge for breakfast. The kitchen also accommodated additional requests, such as a dish of plain egg whites.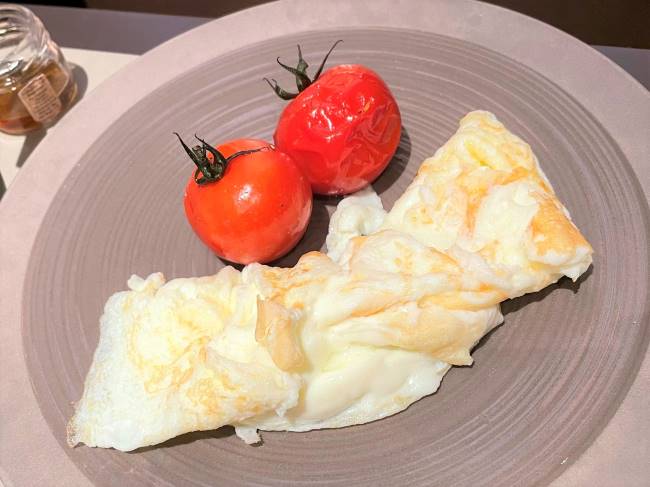 In this next part of the Disney Hotel New York – Art of Marvel review, I will go over our experience dining at the hotel. There are two restaurants, a café/bar lounge and a bar at the Hotel New York – Art of Marvel: the Manhattan Restaurant, Downtown Restaurant, Bleeker Street Lounge and the Skyline Bar.
I don't have photos of the Manhattan Restaurant, which is the more upscale option for dinner offering an à la carte menu of Italian cuisine.
Downtown Restaurant
I can highly recommend booking dinner at the Downtown Restaurant. The food is outstanding at this all-you-can-eat buffet restaurant which is priced at €45 for adults and €25 for children. The Downtown Restaurant is open from 1800 to 2300 for dinner. View the menu
You can also book breakfast at the Downtown Restaurant and the offering is similar to what I've shown above from the Empire State Club lounge.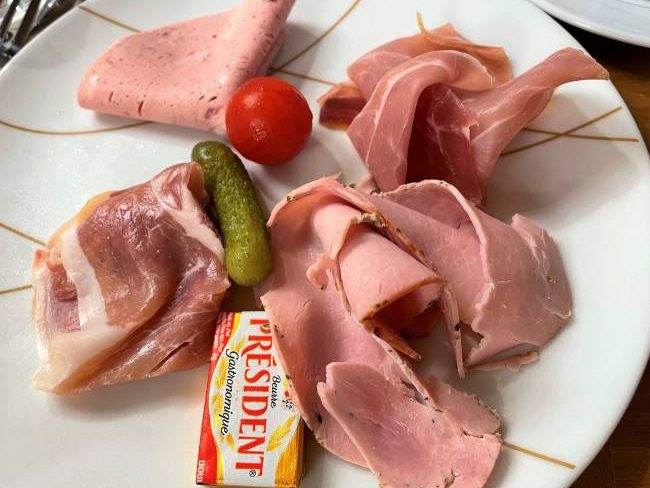 The Downtown Restaurant is a casual restaurant and features an Art Deco, canteen style design. The menu takes you on a culinary tour celebrating the international cuisine of New York, with a variety of Asian, Mediterranean and American dishes.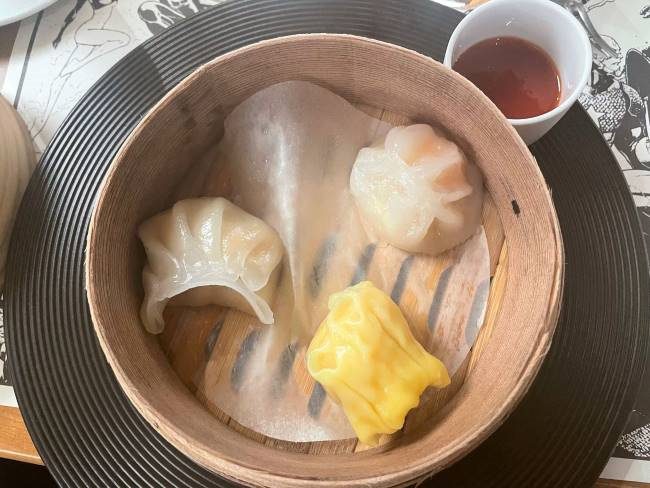 Our favourite dishes at the Downtown Restaurant were the Roast Duck, Hoisin Sauce and Vegetable and Coriander Stir-fry…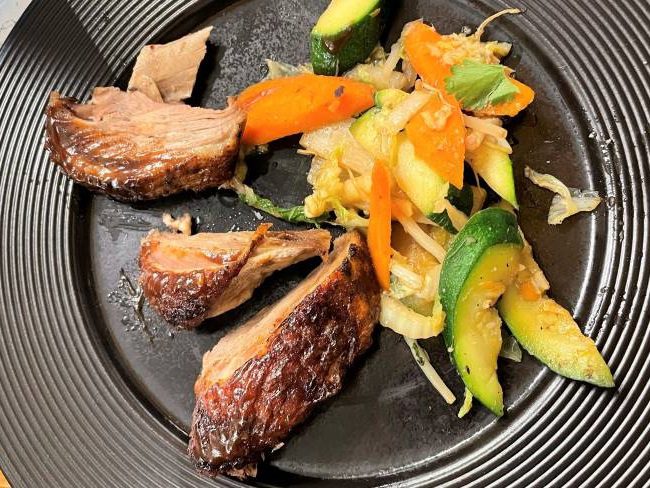 and the Beef Brisket with Smoked Pepper, Roast Potatoes and Green Beans. Both were excellent dishes and we ended up ordering seconds!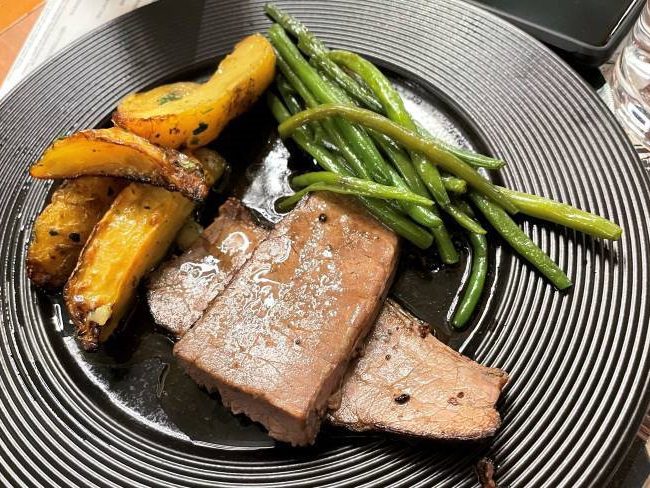 The kids ordered the cheeseburgers.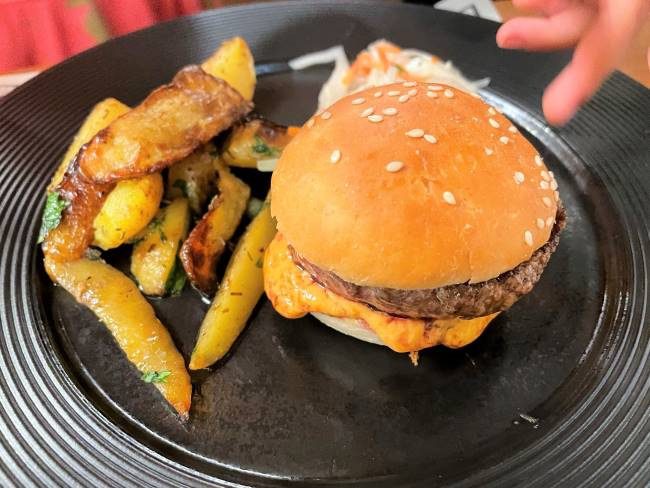 I also had the Sweet and Sour Pork which was outstanding.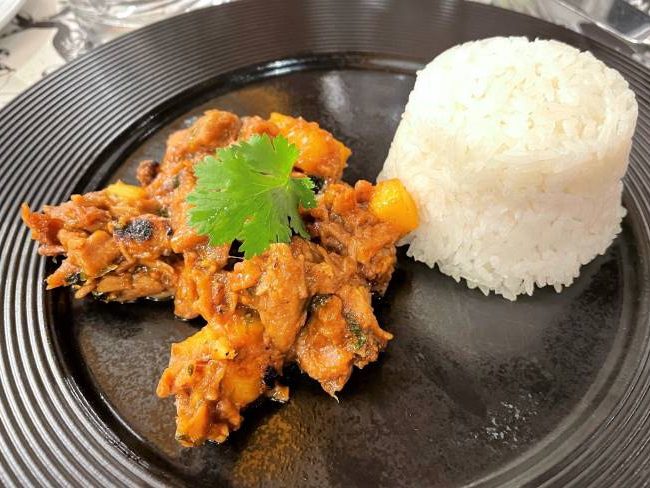 And one of the highlights was the American dessert plate which had New York Cheesecake, Carrot Cake, Chocolate Babka and Baby Groot Chocolate Mousse. Overall an excellent dinner at Downtown Restaurant and one to definitely book well in advance for your next visit to Disneyland Paris!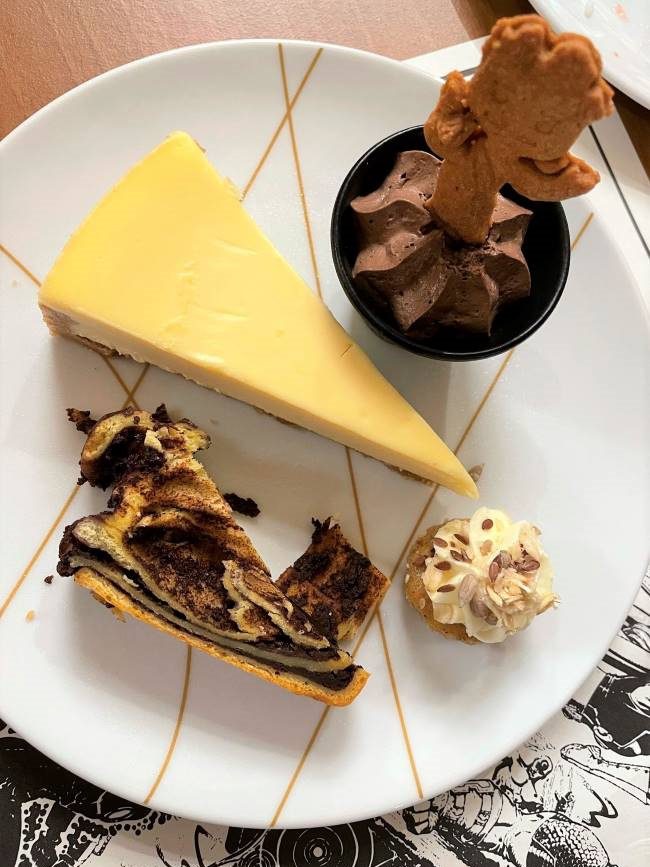 Read on for more inspiration for places to eat in the Best Restaurants in Disneyland Paris post.
Skyline Bar
The Skyline Bar is open from 1700 to 0100 and offers a menu of martinis, cosmopolitans and original cocktails. We enjoyed keeping an eye out for Iron Man zipping past on the screen!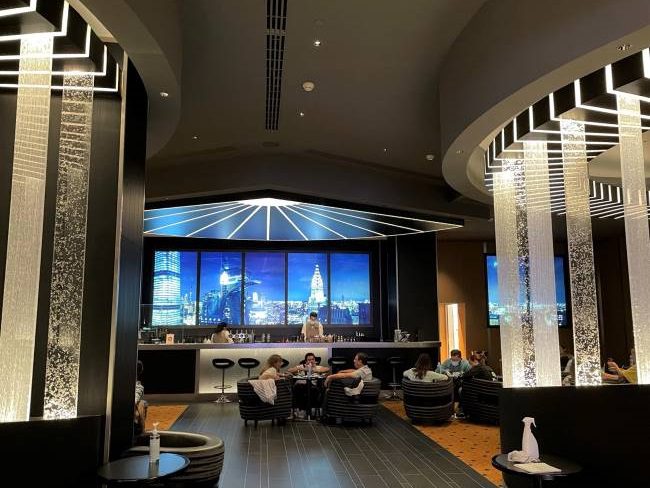 I ordered the Cosmic vodka cocktail which was way too sweet and not what I had in mind – next time I'd go with a classic martini like Mr. G!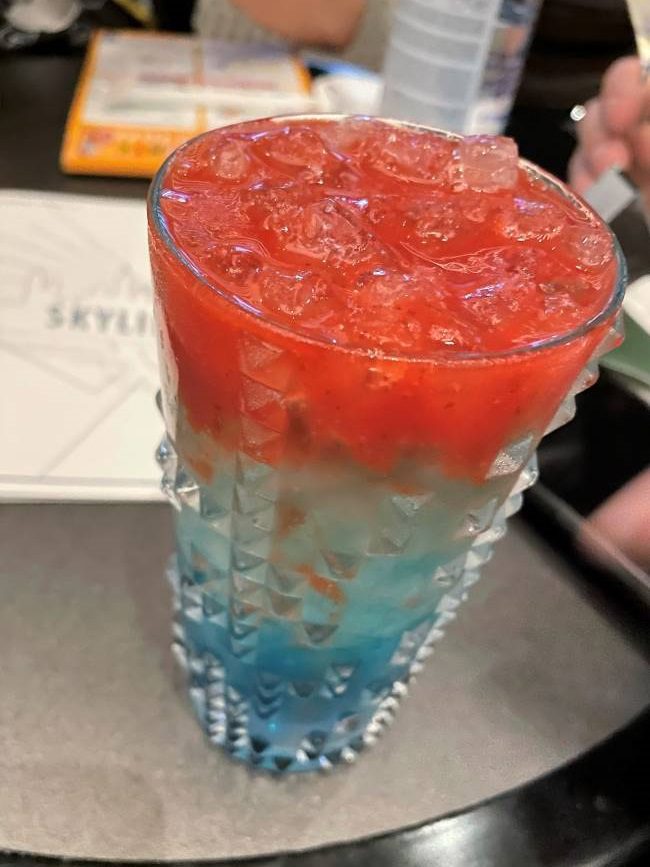 We each received a voucher for a complimentary non-alcoholic drink during our stay. There are three non-alcoholic drinks on the menu at the Skyline Bar, and the kids used their vouchers for the Orange Fusion Reactor, a tropical fruit drink.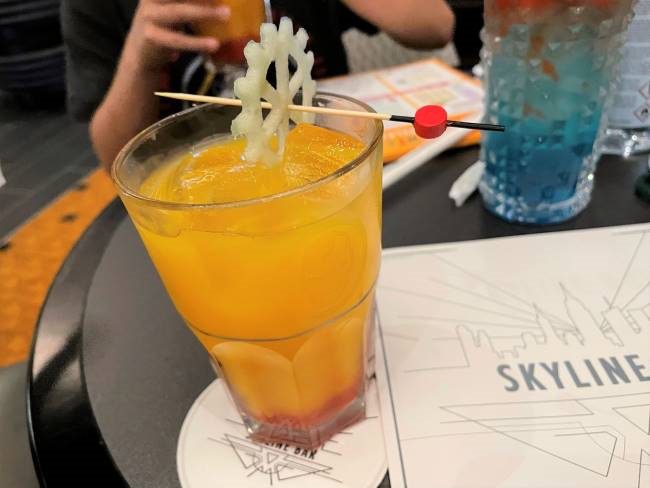 Bleecker Street Lounge
The Bleecker Street Lounge at the Marvel hotel is open from 1100 to 1800 and offers craft beers, organic wines, soft drinks and coffees. It's a relaxing lounge facing Lake Disney.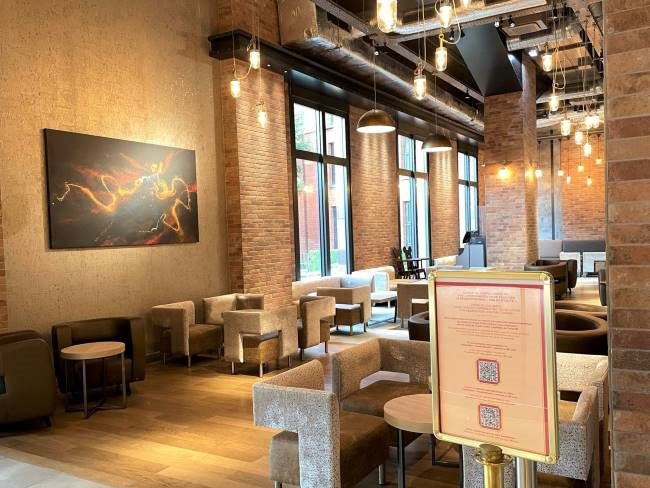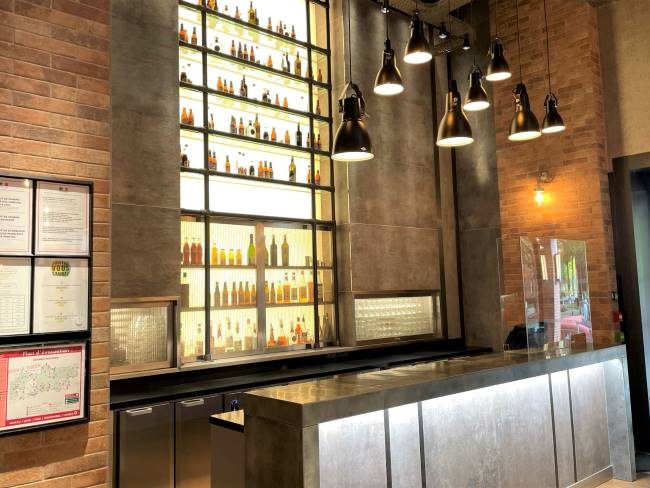 Marvel SuperHero Station
One of the highlights of staying at Disney Hotel New York – Art of Marvel is the fantastic Marvel SuperHero Station, which consists of several Avengers-themed backdrops and props to take photos. It's open from 0800 to 2200 and I'd recommend coming by later on in the evening – we were there at 8pm and had the place to ourselves!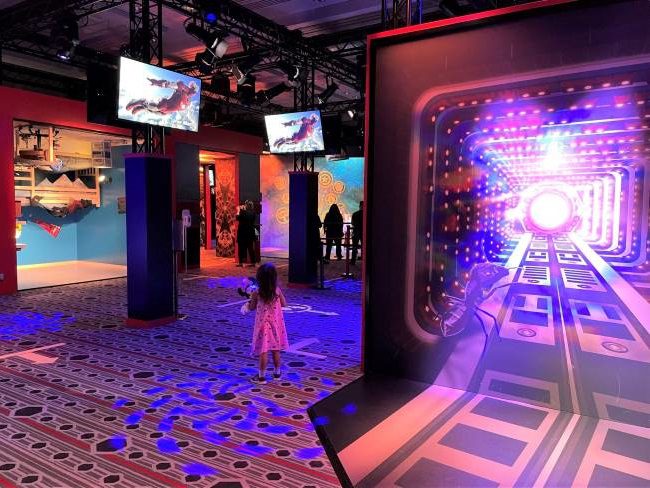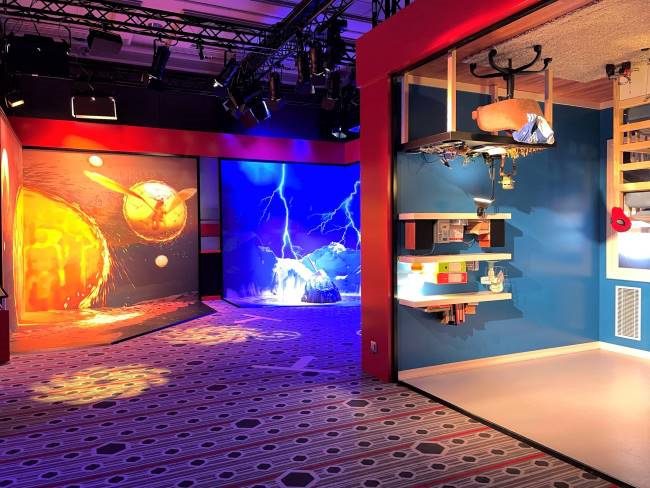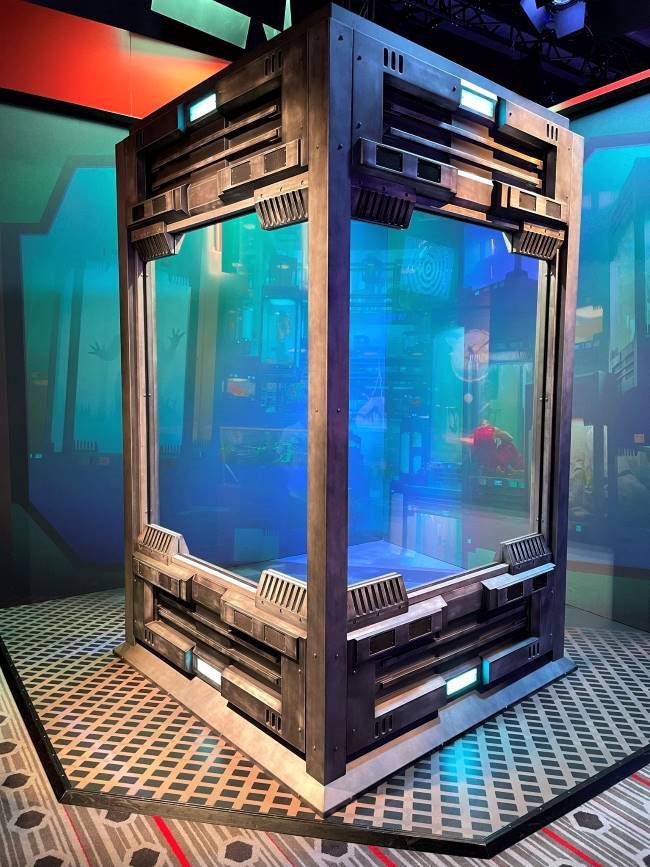 Spider-Man Selfie Spot
Hotel guests can book a Selfie Spot with Spider-Man, which are usually in the morning. The kids loved this experience and were star-struck to meet Spider-Man.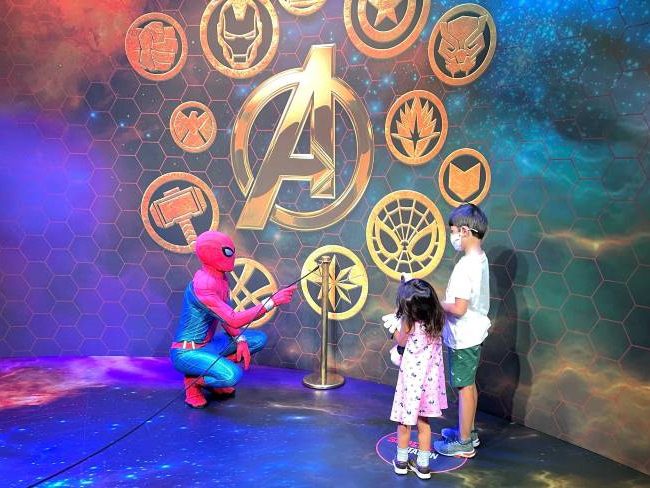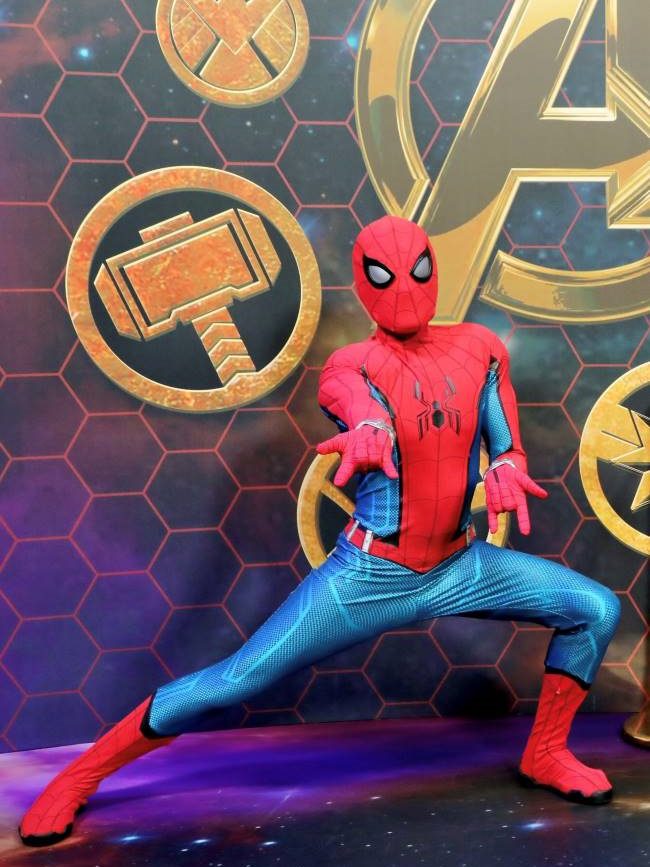 Marvel Design Studio
There wasn't a Kids Club open at the Disney Hotel New York – Art of Marvel when we visited, but we could stop by the Marvel Design Studio which I found an underwhelming experience.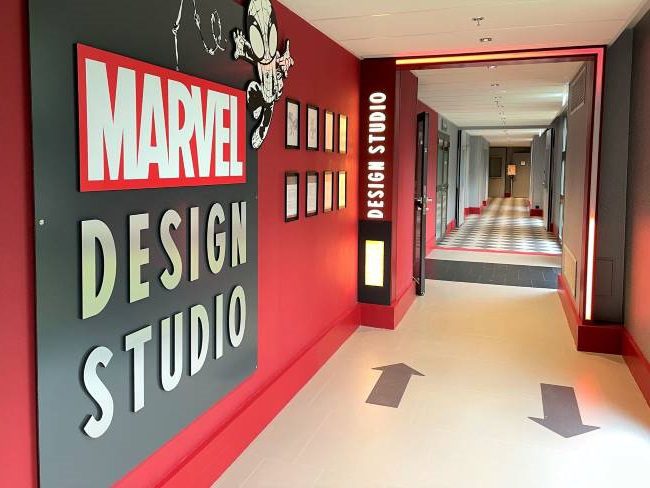 It is described as a place where children can learn to become a Marvel artist. I thought they would be running workshops or activities, but it is essentially a room with iPads that can be used to access games and YouTube tutorials. There is also a TV where kids can watch Marvel cartoons.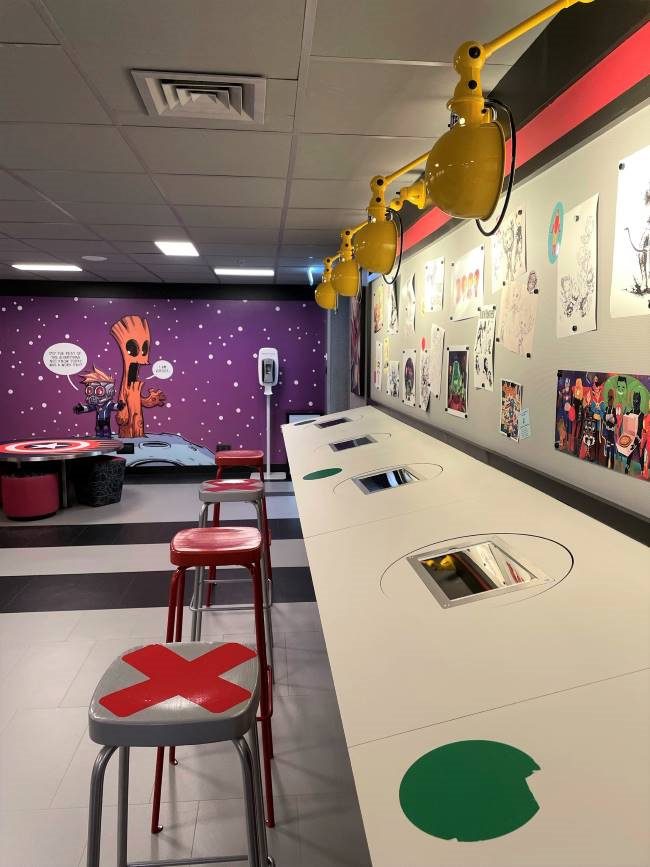 I think the Marvel Design Studio has a lot of potential and hopefully it was just the Covid-19 restrictions at the time holding them back from making it a more interactive and engaging space!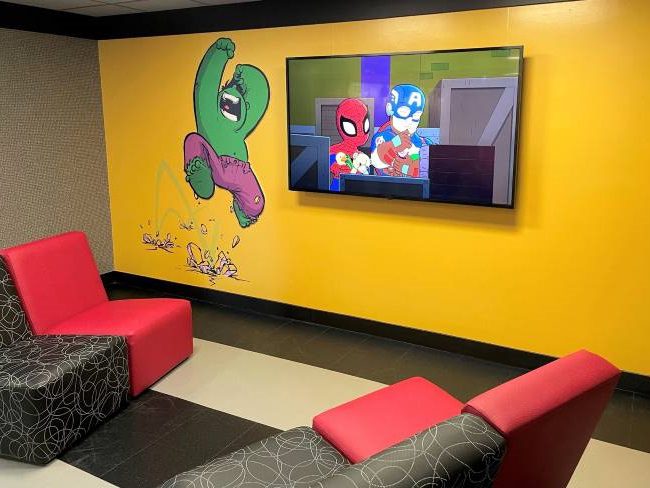 Hotel Amenities
The hotel features indoor and outdoor heated swimming pools, a kid's pool and hot tub,  sauna and steam bath, a full-service 24/7 fitness centre and an outdoor Hero Training zone. We didn't have a chance to see the swimming pools or outdoor training zone, but Mr. G did make use of the indoor fitness centre which he had to himself in the mornings.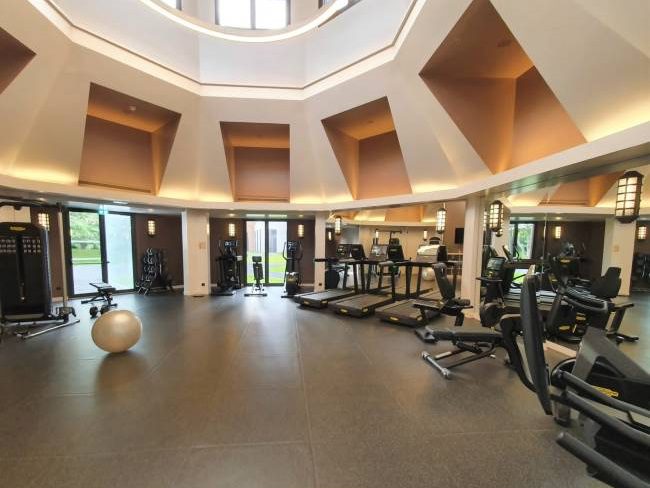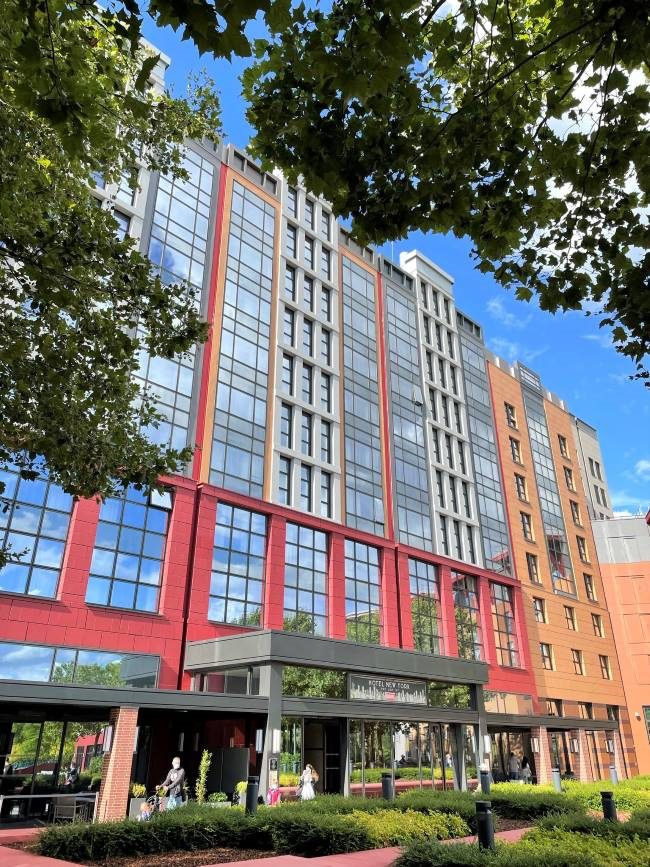 Hotel New York – Art of Marvel Disneyland Paris Review
I hope you found this Disney Hotel New York Art of Marvel review helpful! We were excited to stay at the newly renovated Disney Hotel New York – Art of Marvel during our visit to Disneyland Paris. In addition to the convenient location only 10 minutes from the Disneyland Paris gates, the highlights for us were the Marvel SuperHero Station, the Selfie Spot with Spider-Man and the excellent food at the Downtown restaurant.
We enjoyed our experience exploring the Marvel hotel, however, the Empire State Club room was disappointing considering the price and we felt that service was lacking at times during our stay which again might be teething issues due to the recent reopening.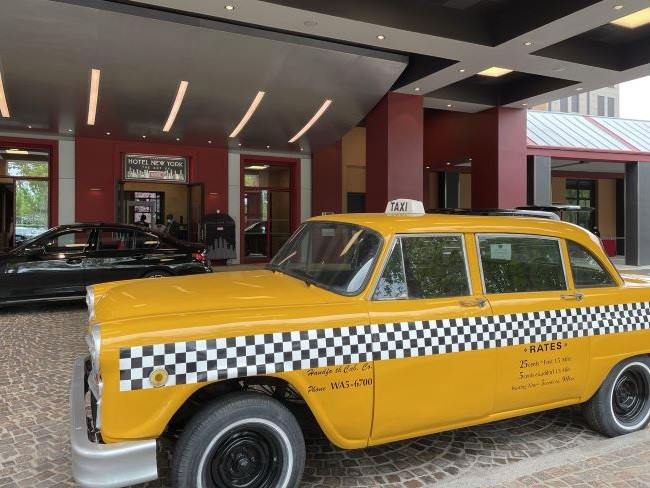 Hotel New York – The Art of Marvel Address
Av. René Goscinny, 77700 Chessy, France
Tel. 08448 008 898
https://www.disneylandparis.com/en-gb/hotels/disneys-hotel-new-york
Disneyland Paris Trip Planning
Read on for more tips and inspiration to help plan your next family trip to Disneyland Paris;
Best Restaurants in Disneyland Paris
Guide to Disneyland Paris Attractions
Hotel Review: Disney Newport Bay Club
Disneyland Paris Trip Report 2022
Disneyland Paris Trip Report 2021
Family-Friendly Hotel Reviews
Read on for more family travel inspiration in our reviews on family-friendly hotels and resorts in destinations around the world;
Disney Newport Bay Club Disneyland Paris Hotel Review
Disney's Animal Kingdom Lodge Resort Review
Padma Resort Legian Bali Hotel Review
Four Seasons Prague Hotel Review
Makati Shangri-La Manila Hotel Review
Moana Surfrider Waikiki Hawaii Hotel Review
This post was updated on 17 January 2023 with latest Disney Hotel news, updated hotel benefits and additional photos of Disney Hotel New York – The Art of Marvel.
PIN FOR LATER – Disney Hotel New York Art of Marvel Review