Earlier this month, we took a memorable trip to Orlando, Florida where we visited Magic Kingdom, Epcot and Universal's Islands of Adventure – and plenty in between! It was wonderful to see Little T enjoying his first Disney experience and it also exceeded our expectations to the point that we're already speaking about our next visit as a family of four.
I'll be sharing reviews on our resort hotel and the attractions, along with our experience visiting the theme parks with a preschooler and plenty of tips for planning a family holiday in Orlando. In this post, I'm starting off with the highlights of our Orlando vacation [May 2017] – the resort, attractions and restaurants.
Where We Stayed
Located next to the Animal Kingdom park, what sets the Animal Kingdom Lodge apart from Disney's other deluxe resorts, is its stunning African-inspired architecture, cultural activities and animal programs throughout the day, and rooms overlooking a savanna with over 200 animals and birds. There are three notable restaurants on-site: Boma for a great breakfast buffet and Sanaa and Jiko for fine dining.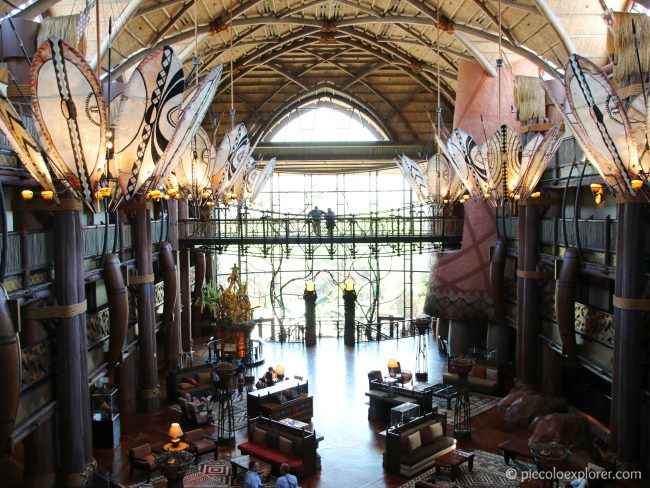 From our balcony, we could spot giraffes, zebras, cattle, gazelles, cranes and more roaming about the grounds. We stayed in the main section, Jambo House, and our room was comfortable with two queen beds.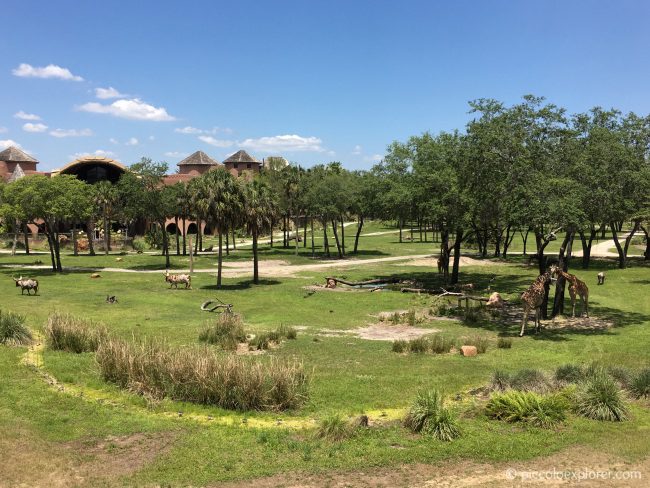 While Jambo House has a large swimming pool, for younger children, it's worth visiting Kidani Village next door for the water play area, zero-entry swimming pool with water slides, and a playground with water cannons and tipping buckets of water.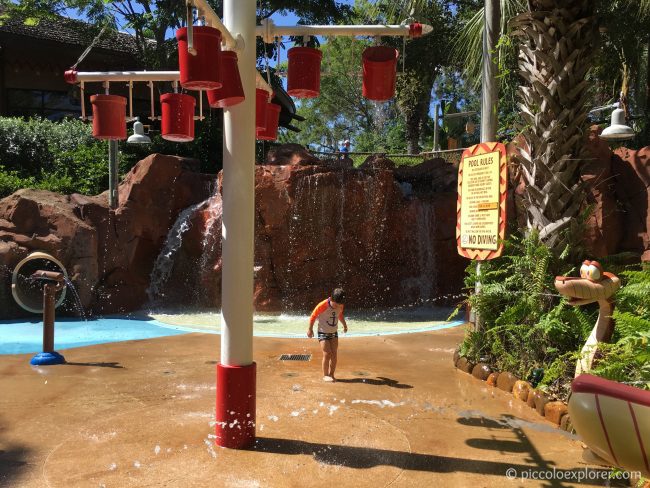 Read on for more details and photos in my Hotel Review: Animal Kingdom Lodge, Orlando post.
Disney's Animal Kingdom Lodge, Walt Disney World Resort, 2901 Osceola Parkway, Orlando, FL 32821
https://disneyworld.disney.go.com/resorts/animal-kingdom-lodge/
What We Did
The classic Disney World park was our top choice for visiting with 3 1/2 year old Little T. After a character lunch with Pooh & Friends at Crystal Palace (which I'd highly recommend), we set out to explore FantasyLand, AdventureLand and FrontierLand.
Tip: Visit midweek to avoid the crowds – Tuesday and Wednesday are the quietest days of the week to visit the theme parks.
The rides that worked best for us, visiting with a preschooler and with me being pregnant, were the gentle boat rides. We went on Under the Sea – Journey of the Little Mermaid, It's a Small World, Pirates of the Caribbean and the Jungle Cruise.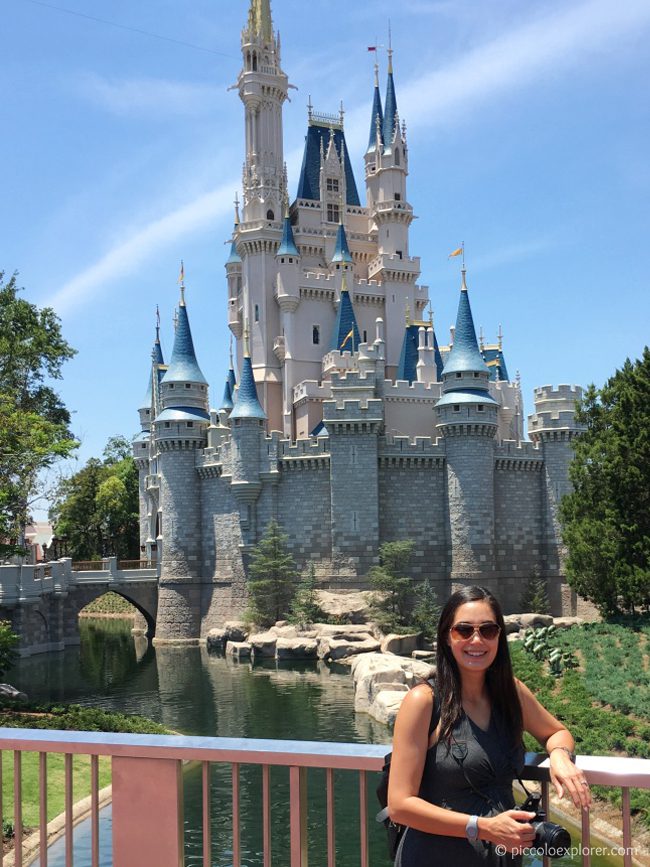 Little T and Mr. G also went on the Mad Tea Party spinning teacups ride, which you're allowed on while pregnant but you're advised against spinning the cups which is part of the fun, so I sat that one out (trust me, I didn't mind!)
The two also went on Splash Mountain, which was possibly Little T's favorite experience at Magic Kingdom! He still speaks about it and even re-enacts the ride with his stuffed toys.
During our trip, Little T loved the opportunities at parks or restaurants to meet his favorite characters. While at Magic Kingdom, we stopped by Pete's Silly Sideshow at the Storybook Circus to meet Donald Duck and Goofy.
You can read more about our experience in my post – Visiting Magic Kingdom with a Preschooler.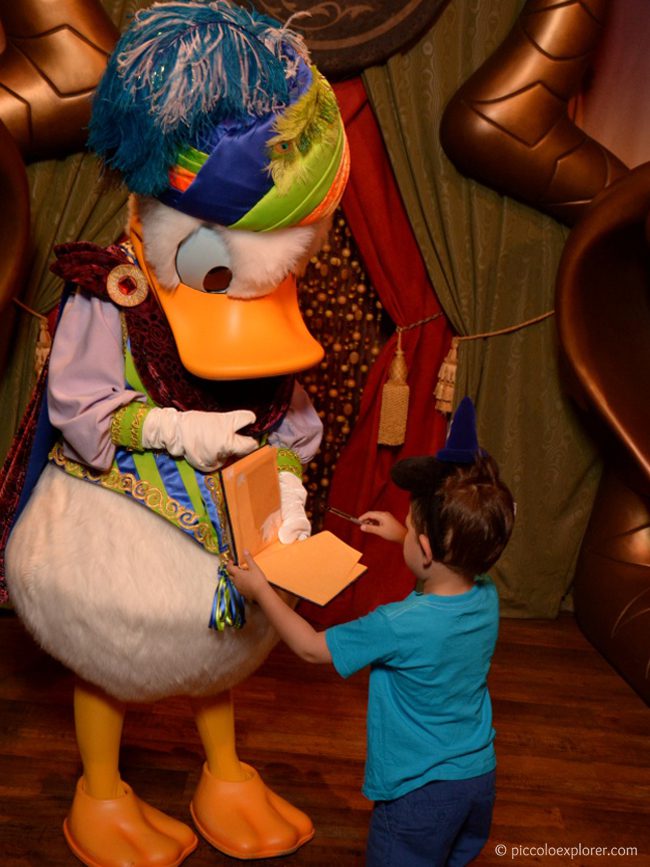 Character Meal at Crystal Palace, Magic Kingdom
Our day at Magic Kingdom started off with meeting Pooh and Friends at Crystal Palace, a beautiful restaurant just around the corner from Main Street. You can book breakfast as early as 08:05am, so it's a great way to get into the park early and kick off the day at Magic Kingdom.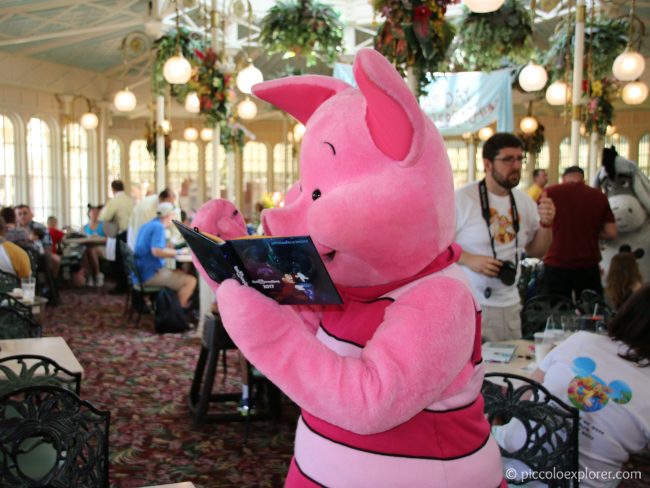 The character lunch at Crystal Palace was a fantastic experience and my favorite out of the three character meals we booked. The buffet spread was very good, the service was great and Little T loved having the chance to meet Pooh, Tigger, Piglet and Eeyore. You can read more about our experience in my Lunch at Crystal Palace with Pooh and Friends review.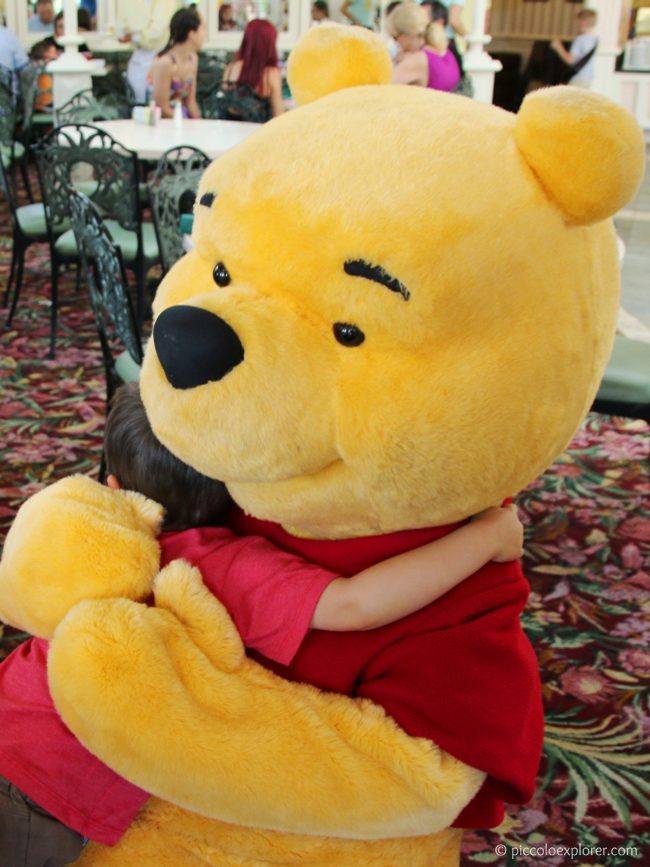 I'd highly recommend at least one evening at the parks to experience the nighttime shows, dining out and fireworks – and to explore or go on rides when it's cooler out. We spent our last evening in Orlando at Epcot, where there's a great selection of restaurants in the World Showcase and a brilliant fireworks display. During May, Epcot was also beautifully decorated with topiaries and gardens for its annual International Flower & Garden Festival.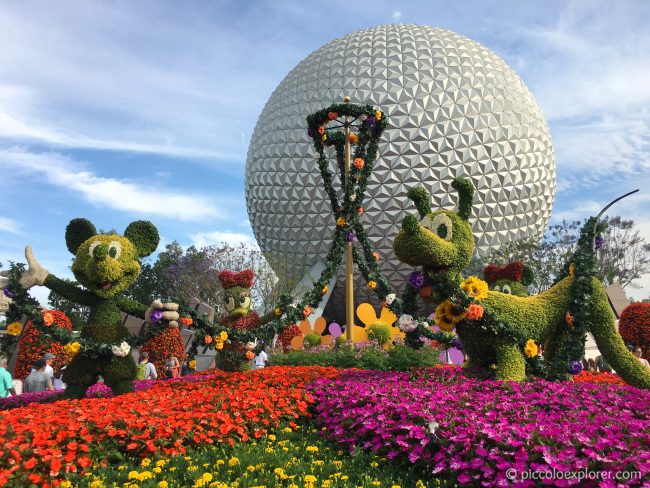 We arrived in the late afternoon and first stopped at the Character Spot for photos with Mickey, Goofy and Minnie.
Tip: Link your park admission tickets to your My Disney Experience account so you can start booking FastPass+ reservations 30 days in advance (60 days if you're staying at a Walt Disney World resort). FastPass+ is free to use, and you can book up to 3 reservations per person per day for park rides, character spots and other experiences. Definitely worth it!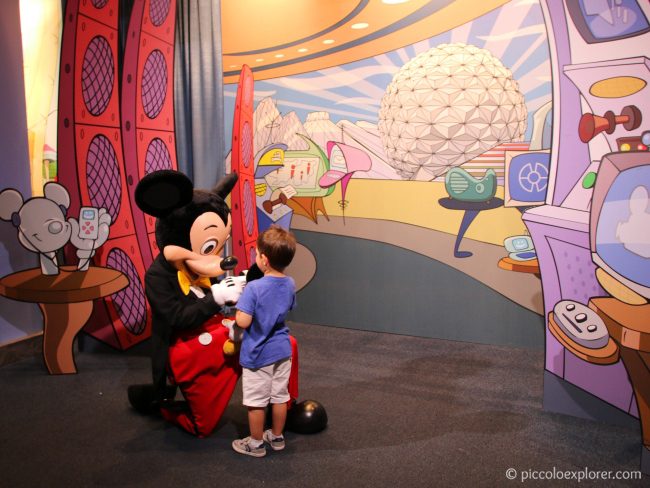 Afterwards, we went on the Spaceship Earth ride within Epcot's iconic sphere, which takes you through mankind's technological advances over the centuries. We spent the rest of the evening at the World Showcase, watching the fireworks before dinner at the San Angel Inn in the "Mexico" area.
You can read more about our experience in my post – Visiting Epcot with a Preschooler.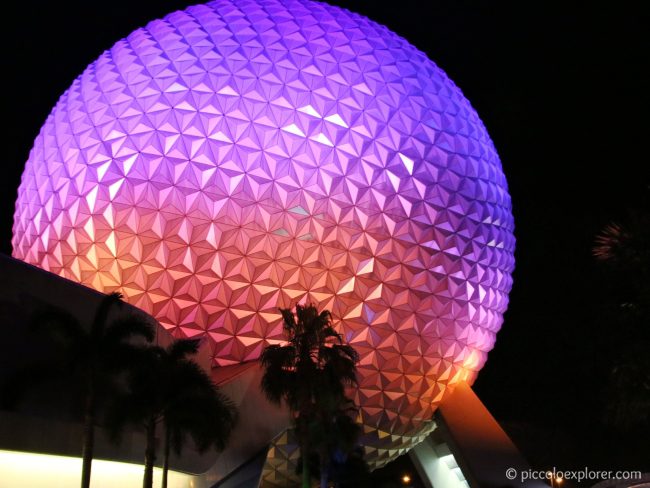 Character Breakfast at Cape May Cafe, Beach Club Resort

At this character meal, we met Minnie Mouse, Goofy and Donald Duck all decked out in their swimwear at the lovely Beach Club Resort. I managed to book this breakfast only a few days in advance and I'm glad I did – the food was pretty good and we enjoyed the experience.
Little T participated in a parade, pretending to swim with Goofy, and he enjoyed watching the characters from our table and of course meeting them and getting autographs whenever they stopped by our table.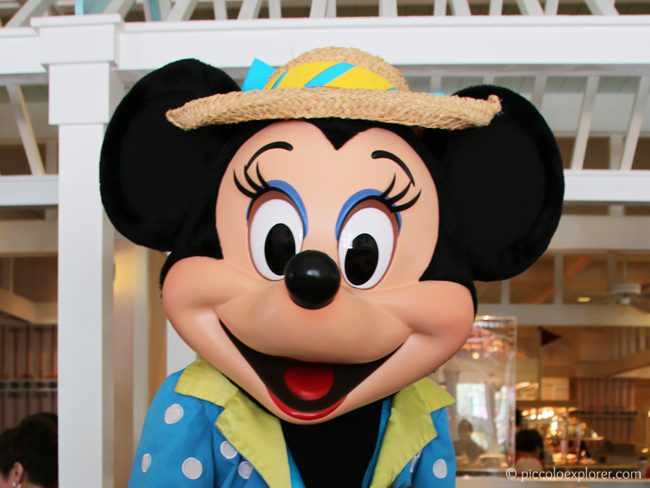 You can read more about our experience in my review – Cape May Café Breakfast with Minnie & Friends
Character Breakfast at 'Ohana, Polynesian Village Resort

Out of all the character meals, I was pretty disappointed with our experience at the 'Ohana at the Polynesian Village Resort. We waited an hour to be seated, despite having a reservation and the restaurant being half empty, and to be honest we found the food disappointing and preferred the variety at other restaurants' buffets.
That said, it was our first opportunity to see the Disney characters and Little T was over the moon to meet Mickey Mouse, Pluto, Lilo and Stitch.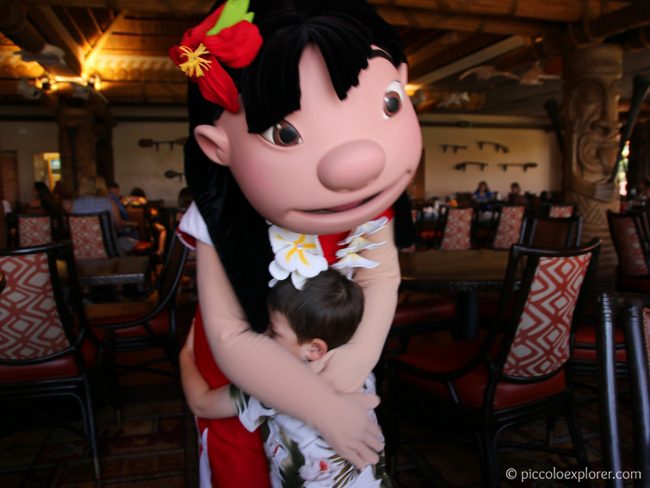 You can read more about our experience in my post: 'Ohana Character Breakfast with Mickey and Friends.
We had a packed day at this park visiting Marvel Super Hero Island, Jurassic Park, The Wizarding World of Harry Potter (Hogsmeade Village) and Seuss Landing. We started off with meeting Spider-Man, definitely a trip highlight for Little T!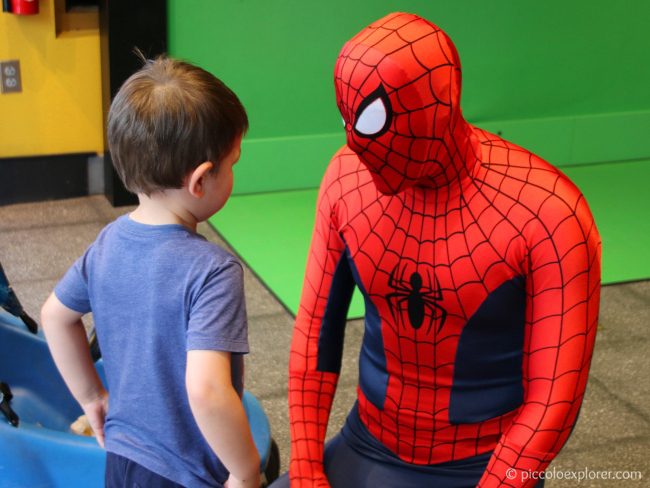 At Jurassic Park, we spent some time at the Camp Jurassic playground and the Discovery Center, which was also fun and interesting to visit!
We continued to the Wizarding World of Harry Potter and I purchased an interactive wand for us to practice magic on some of the shop windows. It was a fun experience casting spells around the village for a special surprise!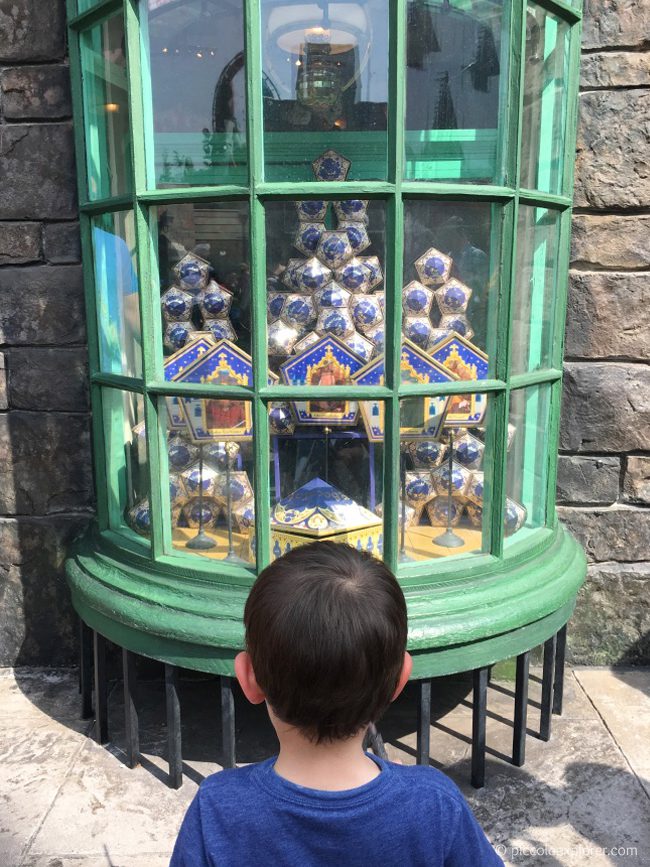 And finally we ended the day at Seuss Landing which is just perfect for young children and Dr. Seuss fans of all ages. Little T and Mr. G went on the High in the Sky Seuss Trolley Train Ride and then we all went on the Caro-seuss-el together, before bringing Little T to the fantastic If I Ran the Zoo interactive play area.
You can read more about our experience in my post – Our Visit to Universal's Islands of Adventure.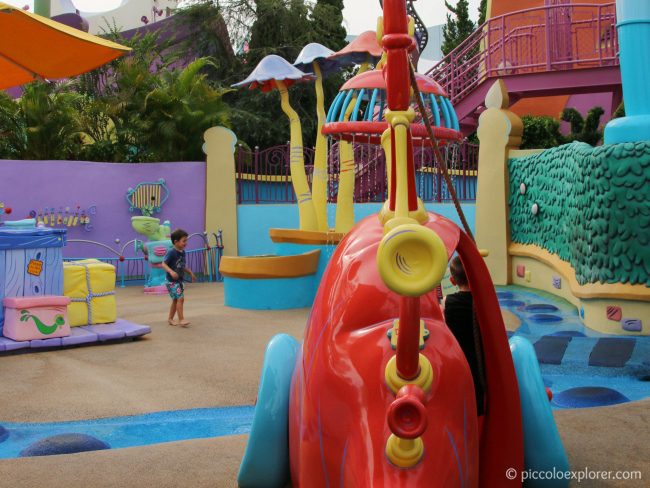 Located on the Gulf of Mexico and Florida's west coast, Clearwater is an easy drive from Orlando – about 1 hour and 45 minutes. We made a day trip out there to enjoy some time at its gorgeous white sand beaches. Our first stop was near Pier 60 – after being by the water, we rented a surrey bike, which had a space for Little T to sit up front, and rode along the boardwalk.
We ended our day having dinner at the lively beachfront Frenchy's Rockaway Grill – excellent food there and great spot to watch the beautiful sunset. Definitely worth visiting for some beach time and a break from the theme parks – it turned out to be one of the highlights of our trip!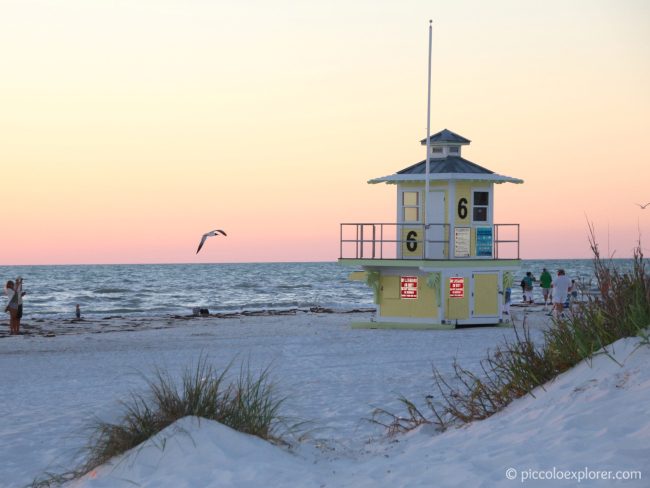 Read more about our day trip in my post: Day Trip to Clearwater Beach, FL
Where We Ate
There are loads of dining options around Walt Disney World – at the parks, at Disney Springs (shown below), at the resorts and plenty a bit further afield at the shopping malls if like us you decide to rent a car. I made bookings for the Disney World restaurants (besides the ones at Disney Springs) because it's easy to do through the My Disney Experience app and the restaurants were always pretty busy.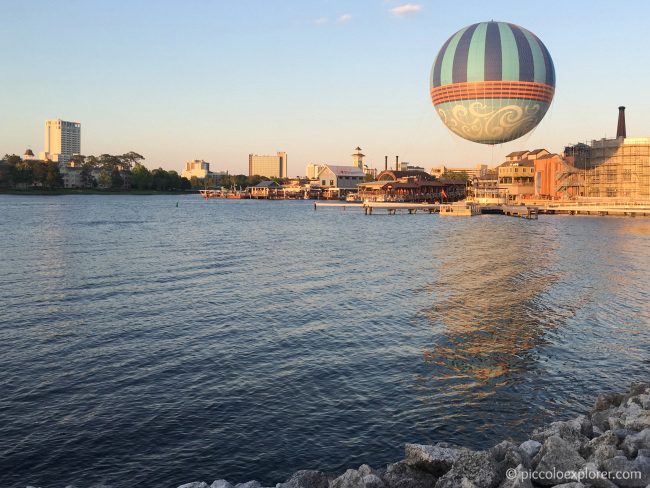 Tip: Sign up to the My Disney Experience website or app and start booking your dining reservations up to 180 days ahead of your trip – popular restaurant bookings go quickly! You can always cancel or amend your reservation up to 24 hours before. Phone numbers must be 10 digits, so to book with your UK number, drop the first '0'.
Here's where we ate while at Disney World;
Boma, Animal Kingdom Lodge – Great selection here at the breakfast buffet, from typical items – Mickey waffles, pancakes, fruit and yogurt, oatmeal, biscuits, scrambled eggs or omelettes, pastries – to more delicious additions such as plantains and hand-carved roasted ham, turkey or African spiced corned beef.
'Ohana, Polynesian Village Resort – Brunch was served in a big pan: waffles, bacon, sausages, biscuits and scrambled eggs to share "family style", along with a plate of fruit and sweet bread. It was a disappointing meal, considering the price, and we would have preferred the variety of a buffet or ordering a la carte.
Cape May Cafe, Beach Club Resort – A good breakfast buffet with the usual items: Mickey waffles, bacon and sausages, quiche and scrambled eggs, pastries, pancakes with lots of sweet toppings, cold cuts, roasted ham, asparagus and hollandaise sauce, etc.
Crystal Palace, Magic Kingdom – The lunch buffet exceeded our expectations, with various salads, a children's buffet (chicken nuggets, corn and peas, mac and cheese, etc), oven roasted chicken, salmon and tilapia, jambalaya, roast turkey and roast beef; broccoli sautéed green beans, cornbread, collards and ham; and a delicious selection of desserts and pastries.
The Polite Pig, Disney Springs – We had lunch at this casual barbecue place and the service was pretty slow and the food was all right. I had a pulled pork sandwich, Little T had chicken tenders with carrot sticks and Mr. G had the wild salmon from the smoker.
Sanaa, Animal Kingdom Lodge – Recommended for its African and Indian fusion cuisine. We had the appetiser of five kinds of naan and nine sauces that were all delicious. Little T had the kid's butter chicken meal which was actually much tastier than the braised lamb shank I ordered. Mr. G had the very good trio of grilled meats, a South African Braai sampling. Little T's meal also came with a chocolate brownie to paint with coloured icing.
Kona Cafe, Polynesian Village Resort – We had dinner at the Kona Restaurant the night we arrived in Orlando, before watching the Magic Wishes fireworks in the distance from the resort's beach. I'd recommend this place for a casual meal – the Asian noodles were pretty good.
San Angel Inn, Epcot – This restaurant in the Mexico part of Epcot's World Showcase is designed as a 17th-century hacienda at the base of Mayan ruins, dimly lit and overlooking boats going by in the small lagoon at the foot of the ruins. My carne asada was good, very tender and delicious, but I found the rest of my meal (the rice and empanada) dry and tasteless.
Getting There
I booked our trip with Virgin Holidays which at the time (January) was having a sale that made it slightly cheaper than booking through DisneyWorld.co.uk. I booked only the flights and hotel through Virgin Holidays as the car rental, with full car insurance, would have cost extra and I could find a better deal booking an Avis rental (which is what I use whenever we visit the States) via the British Airways Executive Club.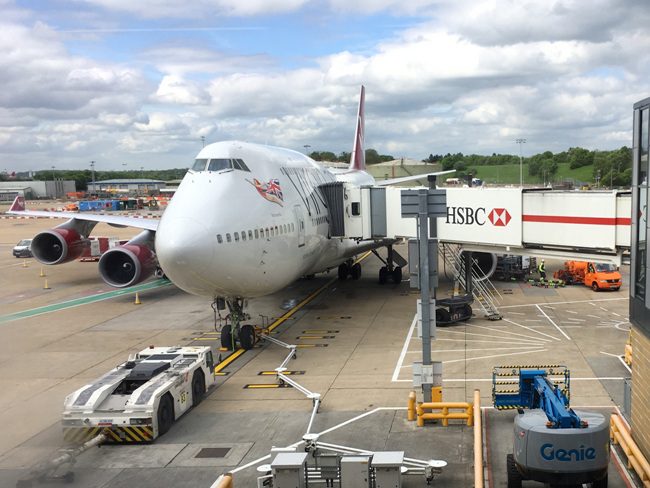 We've flown with Virgin Atlantic with Little T a few times now and are generally happy with the airline. The service at the airport and on the plane is always pleasant and efficient, the food is all right and there's a good selection in the inflight entertainment.
We could use the Disney Springs check-in facility, free when you book with Virgin Holidays (otherwise £10 per person). With this option, you can drop off your suitcases by 1pm at Disney Springs, check in for your flight and receive your boarding passes. We still had to stop by the bag drop at the airport to drop off our car seat, but otherwise we were all set for our flight which was very convenient.
More on our Trip to Orlando
Stay tuned for more posts coming up over the next weeks with tips and reviews to help with planning a family holiday in Orlando! Here's what's coming up – I'll link each post on this list once they're published;
Hotel Review: Disney's Animal Kingdom Lodge
Our Visit to Magic Kingdom, Walt Disney World
Our Visit to Universal's Islands of Adventure
Our Visit to Epcot, Walt Disney World
Day Trip to Clearwater Beach, Florida
Review: Disney Character Meal at Crystal Palace, Magic Kingdom
Review: Disney Character Meal at Cape May Cafe, The Beach Club Resort
Review: Disney Character Meal at 'Ohana, Polynesian Village Resort
Pin it for Later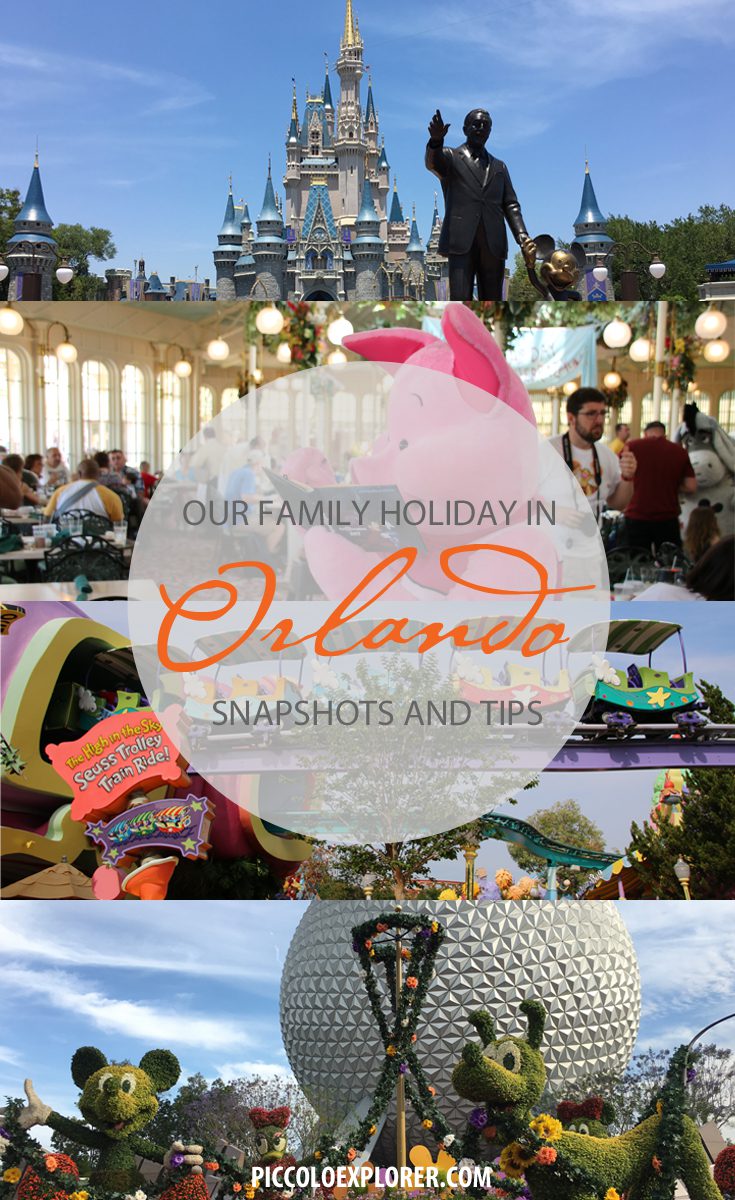 Save
Save
Save
Save
Save
Save
Save
Save
Save
Save
Save
Save
Save
Save
Save
Save
Save
Save
Save
Save
Save
Save
Save
Save
Save
Save
Save
Save
Save