Out of the four theme parks at Walt Disney World Resort, the classic Magic Kingdom is one of the best to visit with a toddler or preschooler. Our son was 3 1/2 years old when we brought him to Walt Disney World's Magic Kingdom for his first Disney parks experience. In this post, I'll be sharing tips for visiting Magic Kingdom with a preschooler and the highlights of our day, including a character meal at Crystal Palace, the fun rides for young children and meeting several favorite characters.
Walt Disney World Magic Kingdom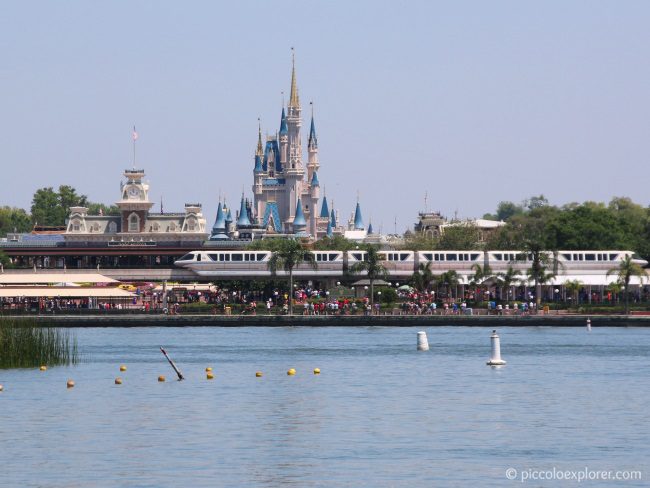 Getting to Magic Kingdom
During our Walt Disney World holiday, we stayed at a Disney resort, Animal Kingdom Lodge. Parking at Magic Kingdom is free for Disney resort guests and otherwise costs $25 for standard parking. We took a tram from the parking lot to the Ticket and Transportation center, went through a security check and then boarded a ferry boat to Magic Kingdom. Everything runs very smoothly and efficiently at Walt Disney World, and you notice that from the moment you arrive.
Altogether the time it took to get from the car to the park turnstiles was less than 30 minutes. We enjoyed taking the ferry boat ride to Magic Kingdom and being greeted with the fantastic view above as we approached the Disney park.
Tip: Visit midweek to avoid the crowds – Tuesday and Wednesday are the quietest days of the week to visit the Disney theme parks.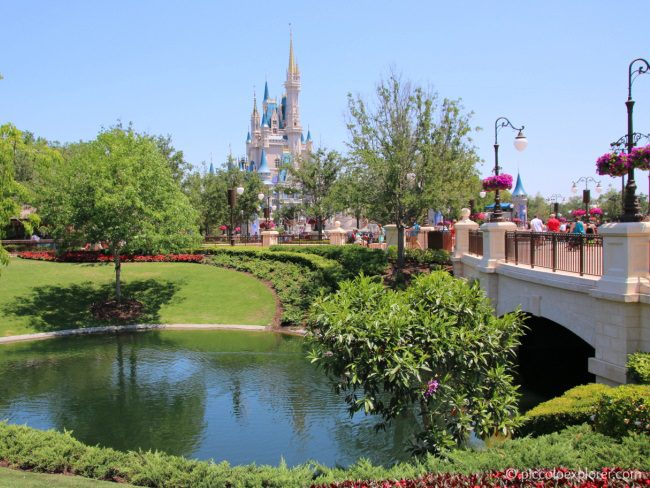 At the turnstiles, our Magic Bands were scanned to confirm our admission tickets, then we headed to the service center to rent a stroller. It's $15 to rent a single seat stroller and, even for a young child who never uses a stroller at home, it really comes in handy at the huge parks to get around especially in the hot Florida weather.
FantasyLand
FantasyLand at Magic Kingdom has many of the classic Disney park rides. Favorite childhood movies are also brought to life there, with characteristic buildings and design elements inspired by Beauty and the Beast, The Little Mermaid and Cinderella.
Tip: Measure your child's height and check the height requirements for Disney attractions when planning your visit. You can find this information on the Disney World Attractions page. Most of the slow boat rides, such as "it's a small world", Under the Sea and the Jungle Cruise are for any height and great rides for toddlers and preschoolers.
Under the Sea
Under the Sea at Fantasyland was our first ride, where you are taken around on a clamshell-shaped vehicle to relive the story of the Little Mermaid, listening to classic songs and watching almost a dozen scenes re-enacted with animatronics and video effects.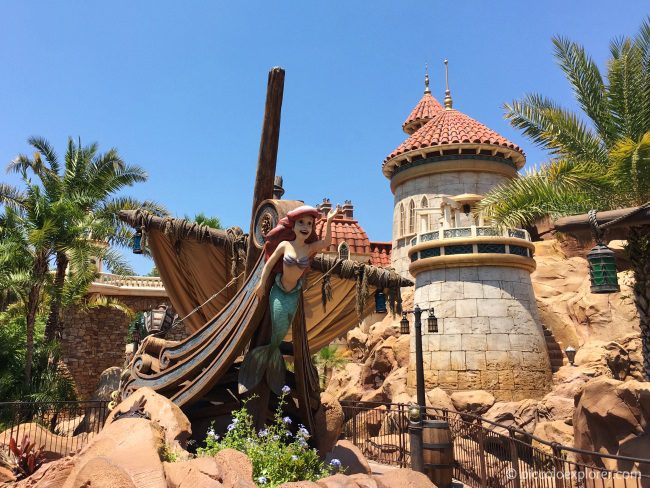 The animatronic characters are fun to watch, the music is upbeat and lively and the ride is open to all ages – a great one to bring young children. You can also meet Ariel at the nearby Ariel's Grotto.
Mad Tea Party
Next, Little T and Mr. G went on the famous spinning teacups ride. I was 6 months pregnant, and expectant mothers can go on the ride as long as you don't spin the teacups – which would probably not be that much fun anyway while pregnant. I sat this one out and had fun watching the boys enjoy themselves!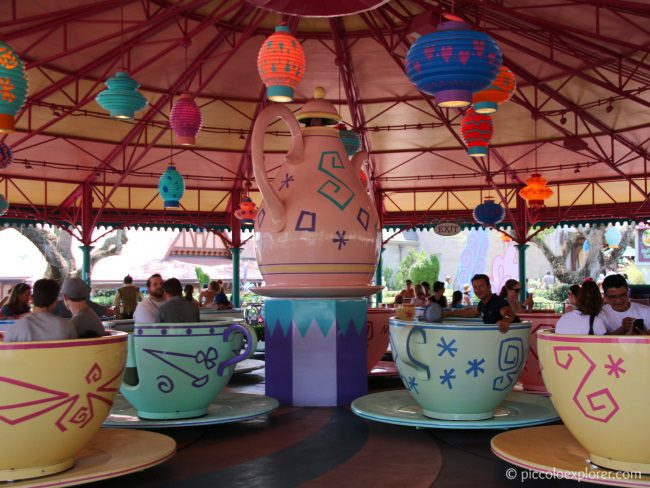 Pete's Silly Sideshow
We then headed to the Storybook Circus, which has plenty of great rides and attractions for young children. There's the Dumbo's Flying Elephant ride, Casey Jr. Soak 'N' Splash Station water play area, the Barnstormer roller coaster and a Big Top circus tent with Pete's Silly Sideshow where you can meet Minnie Mouse, Daisy Duck, Donald Duck and Goofy.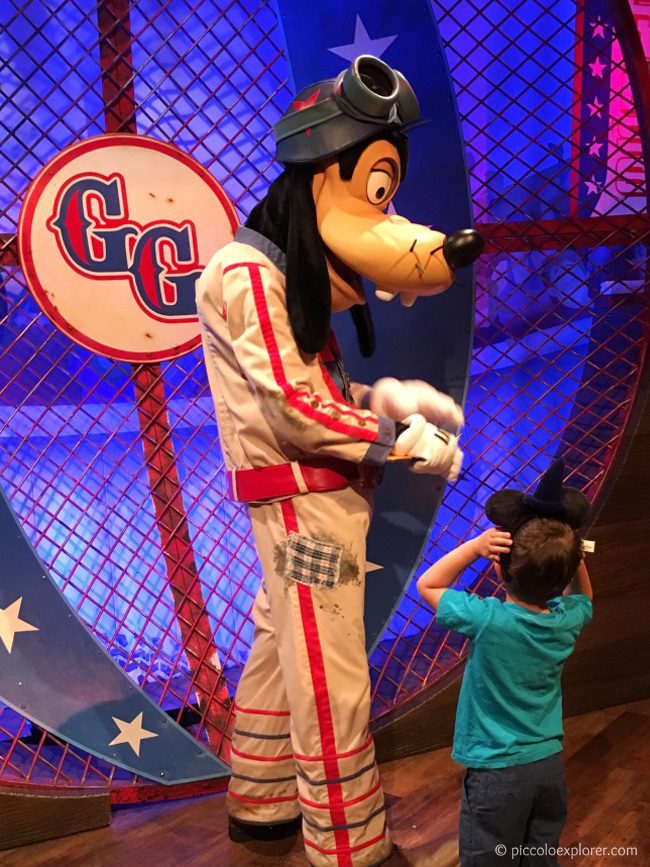 There are two queues for the meet and greet; one for Minnie and Daisy, and one for Donald and Goofy. When we visited, there was hardly any wait to see Donald and Goofy and Little T loved having the opportunity to get their autographs and have some photos taken together!
Tip: Do check out the Walt Disney World Memory Maker service, which allows unlimited downloads of all digital photos taken of you and your family while at Walt Disney World, by professional Disney PhotoPass photographers and at many restaurant character meals. Keep an eye out for packages that include the Memory Maker or discounts to book in advance.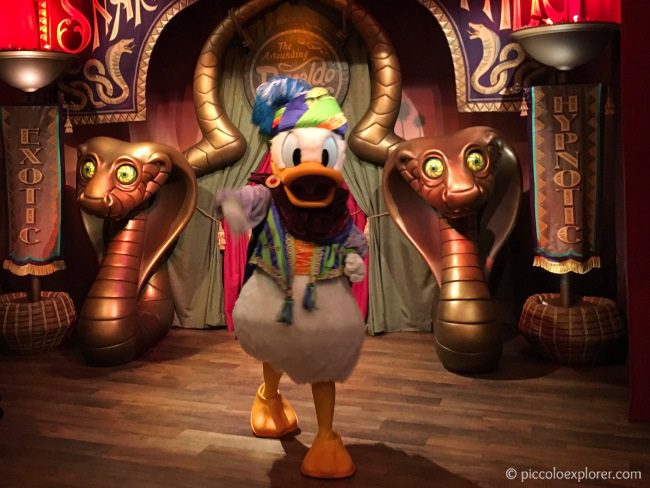 After the meet and greet, you'll find yourself at the souvenir shop and in front of a very tempting selection at Big Top Treats!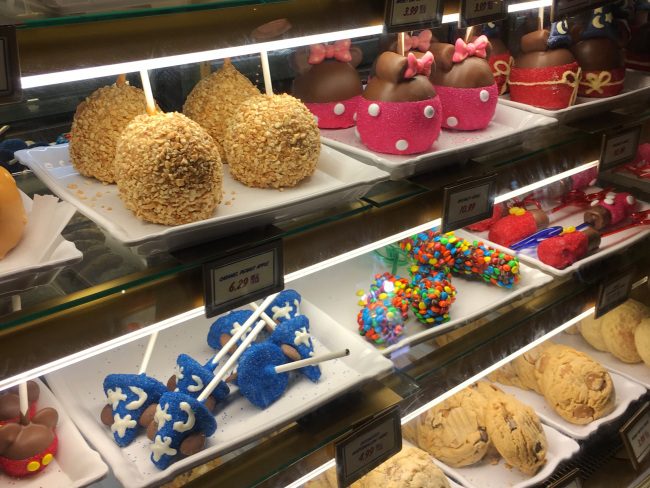 "it's a small world"
Our next ride was this classic and a must do when visiting Magic Kingdom with a preschooler. The "it's a small world" ride is a musical boat tour that takes you through beautifully created scenes around the world with children singing the "it's a small world" song in their native languages, including French, Italian, Japanese, Spanish and English.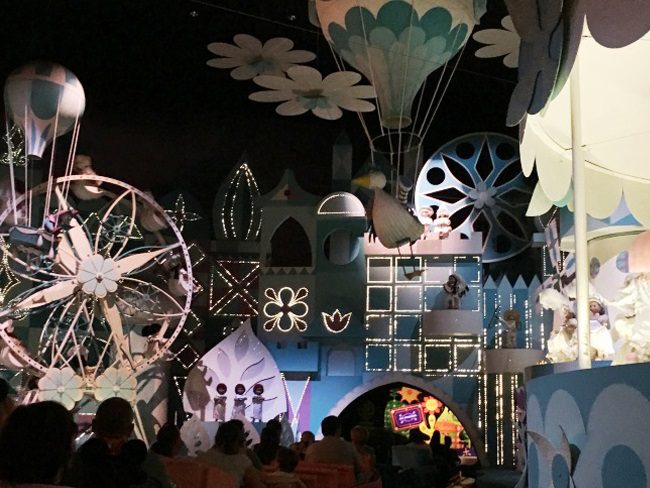 We carried on walking through FantasyLand, passing by fantastic sights from classic movies, like Beauty and the Beast…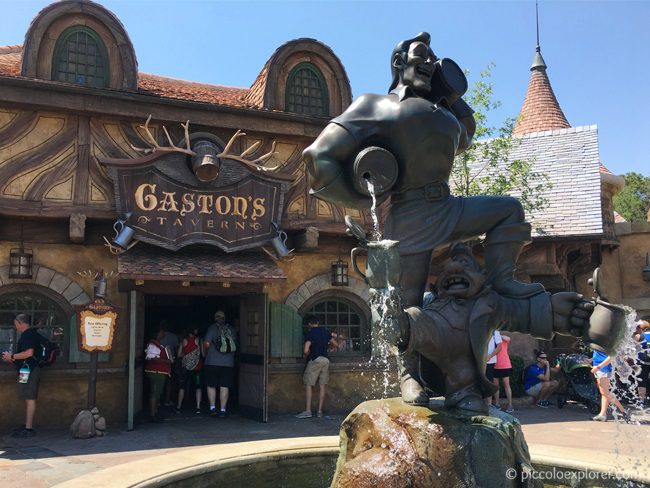 And Pinocchio…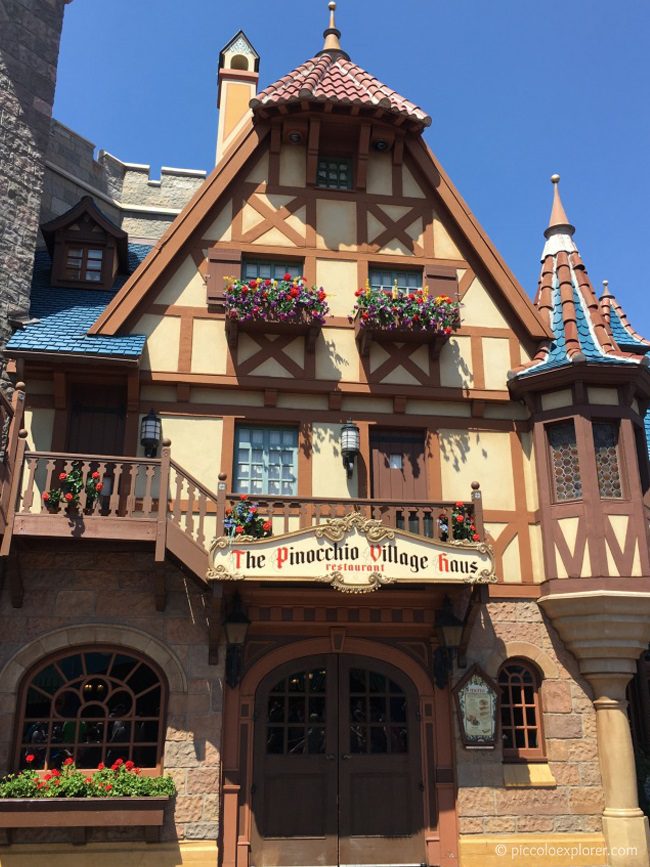 Along with new favorites such as Tangled…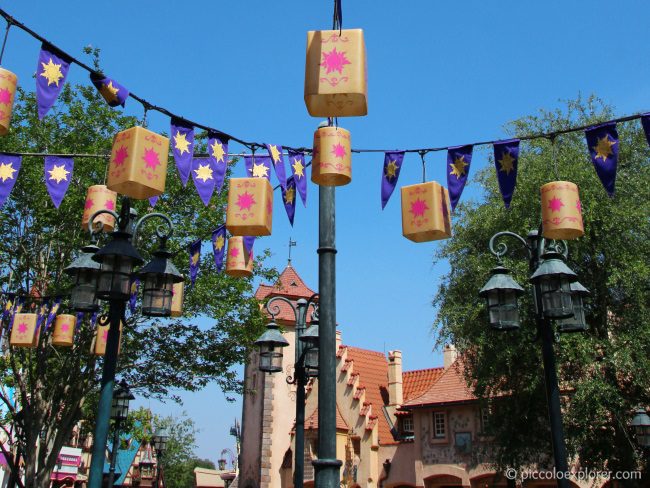 Liberty Square
We passed briefly through Liberty Square on our way to AdventureLand, where we spotted the Muppets performing at one of the buildings. Little T and Mr. G watched while I headed into Ye Olde Christmas Shoppe to buy some tree ornaments for our collection.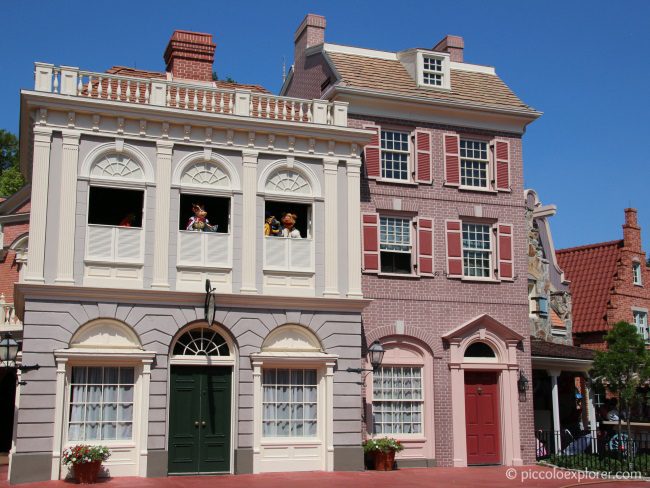 AdventureLand
Another fun area to go to when visiting Magic Kingdom with a preschooler is AdventureLand, which features a jungle and tropical forest setting, boat rides such as Pirates of the Caribbean and Jungle Cruise which are suitable for all ages (and safe for expectant mothers), the famous Dole Whip that you can buy at the Aloha Isle, and the Swiss Family Treehouse with several rooms to explore and 360 degree views of the park.
Pirates of the Caribbean
Here we rode a small barge that navigates through a shadowy grotto of fallen pirates, a foggy Caribbean fort with a 12 gun galleon locked in battle and a burning city with looters and buccaneers singing "Yo Ho, Yo Ho (A Pirate's Life for Me)".
Related: Guide to Disneyland Paris Attractions
Jungle Cruise
The 10-minute Jungle Cruise boat ride in Adventureland takes you across rivers in Asia, Africa and South America, where you spot animatronic animals along the way.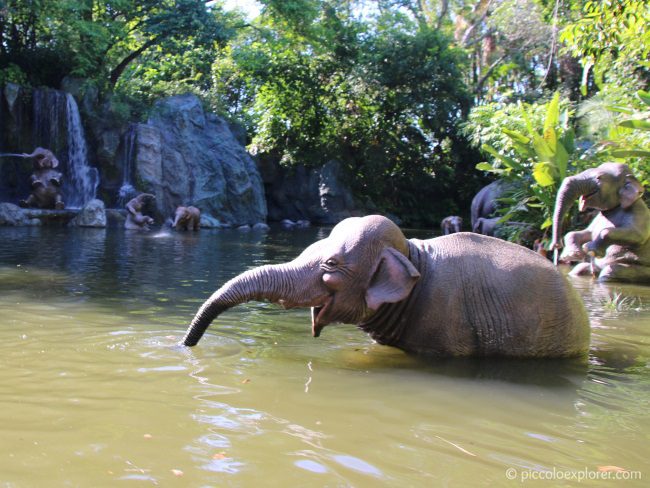 FrontierLand
Frontierland is based on the Wild West, with highlights that include Splash Mountain, Big Thunder Mountain Railroad and Tom Sawyer Island (accessible by raft). We only had time for Little T and Mr. G to go on Splash Mountain, but I do hope to go back and explore this land more next time we visit.
Splash Mountain
Little T's first thrill ride experience at Magic Kingdom was Splash Mountain, which he absolutely loved! As of January 2023, Splash Mountain has closed at Magic Kingdom and is due to re-open in late 2024 as Tiana's Bayou Adventure.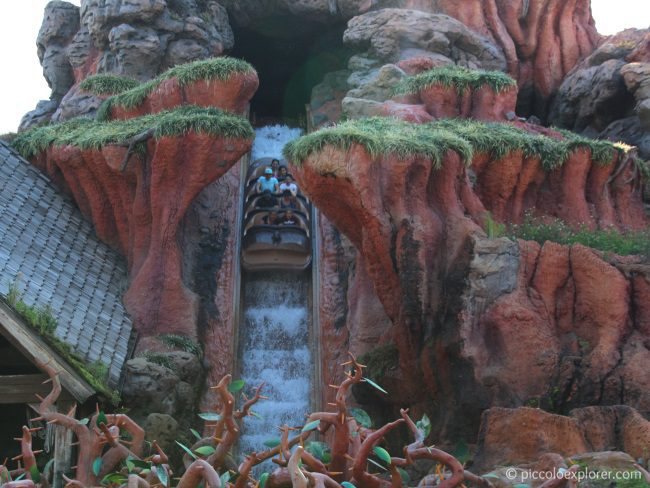 Main Street U.S.A.
After that last attraction, it was time for us to head back along Main Street to the exit, ending our day with a Mickey Mouse-shaped chocolate covered ice cream and one last look at the iconic Cinderella's Castle.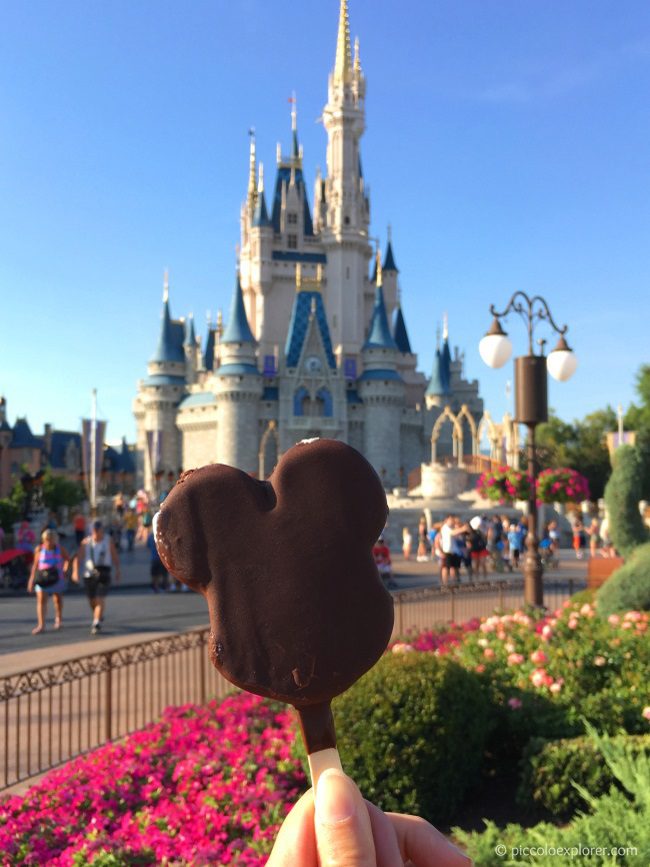 I love the beautiful, pastel colors of the turn of the century buildings along Magic Kingdom's Main Street…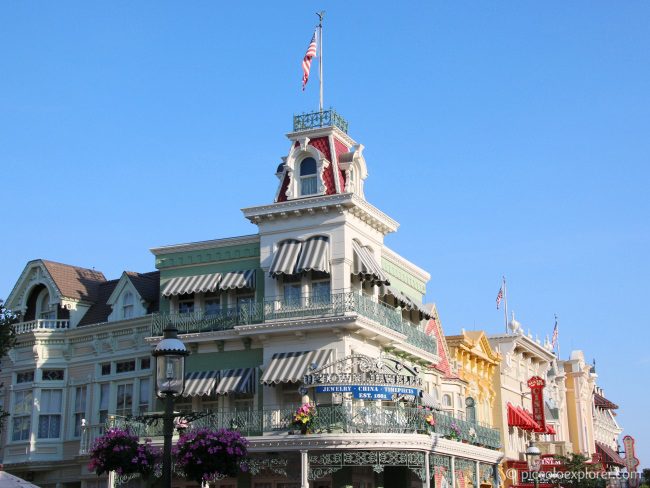 …and the charming touches such as the trolleys and horse-drawn carriages and retro ice cream parlors.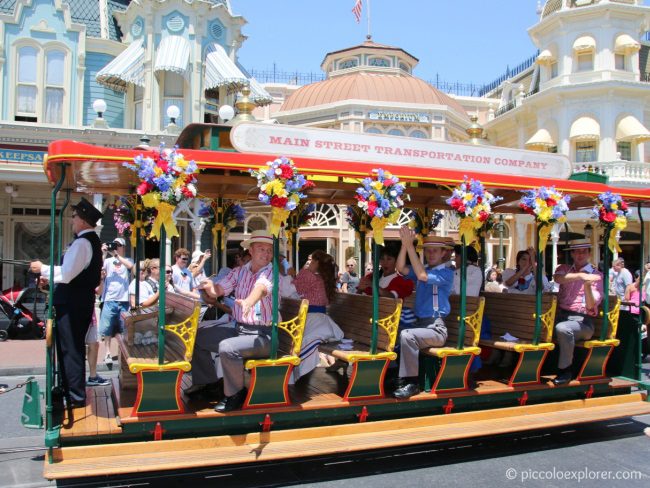 Character Meal at Crystal Palace
One of the highlights of our day at Magic Kingdom was a Disney character meal with Pooh and Friends at the Crystal Palace, a beautiful restaurant just around the corner from Main Street. You can book breakfast as early as 08:05am, so it's also a great way to get into the park early.
Tip: You can book Walt Disney World dining reservations up to 60 days in advance using the My Disney Experience app or the Walt Disney World Dining website which are straightforward and easy to use. You will be asked for your telephone number and credit card, and you can cancel or amend your dining reservation up to 24 hours before.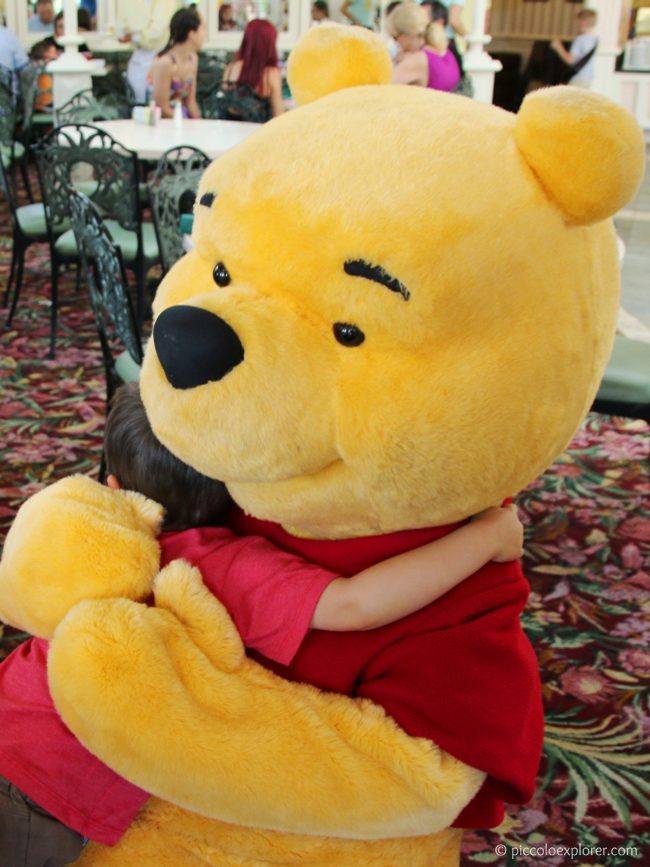 Related: Best Restaurants at Disneyland Paris
The character lunch at Crystal Palace was a fantastic experience and definitely one I would recommend if you are visiting Magic Kingdom with a preschooler or toddler. The selection at the buffet was very good, the service was great and my son loved having the chance to meet Pooh, Tigger, Piglet and Eeyore.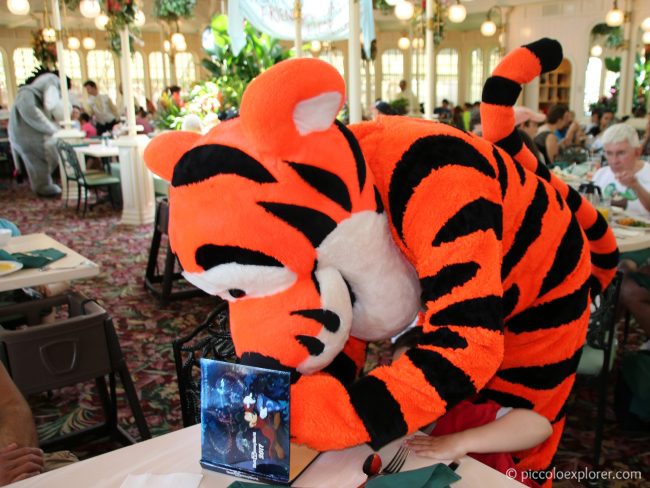 Magic Kingdom Planning Tips
Magic Kingdom is a must-visit park at Walt Disney World and especially wonderful for young children! I hope you found this post on visiting Magic Kingdom with a preschooler helpful. Little T, who was 3 1/2 years old at the time, loved his first Disney parks experience, from meeting several characters to going on his first theme park rides. The craftsmanship and creativity of the Walt Disney Imagineering Team throughout the park is truly impressive; I could happily just walk around each land admiring the detailed architecture and fun designs. Before our visit, I was mostly worried about long queues and crowds, but (1) it helped visiting mid-week when it is less crowded, (2) the park is very well-organised and (3) by planning ahead, you can really make the most of your day, avoid queues and overall make it a less stressful visit.
My top tips for visiting Magic Kingdom with a preschooler are to bring your own snacks and water; consider bringing or renting a stroller; plan out your day and book those dining reservations well ahead of time; download the My Disney Experience app so you can access it at the parks (free Wi-Fi is just about everywhere) and look out for those opportunities to meet the characters – they truly made my son's day!
Orlando with Kids
Read on for more tips and reviews to help with planning a family holiday in Orlando, including more on our visits to Walt Disney World;
Our Family Holiday in Orlando, Florida
Hotel Review: Disney's Animal Kingdom Lodge
Universal Islands of Adventure with Preschoolers
Day Trip to Clearwater Beach, Florida
Crystal Palace Character Meal at Magic Kingdom
Cape May Cafe Character Breakfast at Disney's Beach Club Resort
Ohana Character Breakfast at Disney's Polynesian Village Resort
More Disney Parks Inspiration
Read on for more inspiration on planning a Disney trip with our tips and reviews for visiting Disneyland Paris;
Best Restaurants in Disneyland Paris
Guide to Disneyland Paris Attractions
Hotel New York – The Art of Marvel Disneyland Paris Review
Disney Newport Bay Club Disneyland Paris Hotel Review
Disneyland Paris Trip Report 2022
Disneyland Paris Trip Report 2021
Pin for Later – Tips for visiting Magic Kingdom Walt Disney World Resort with a Preschooler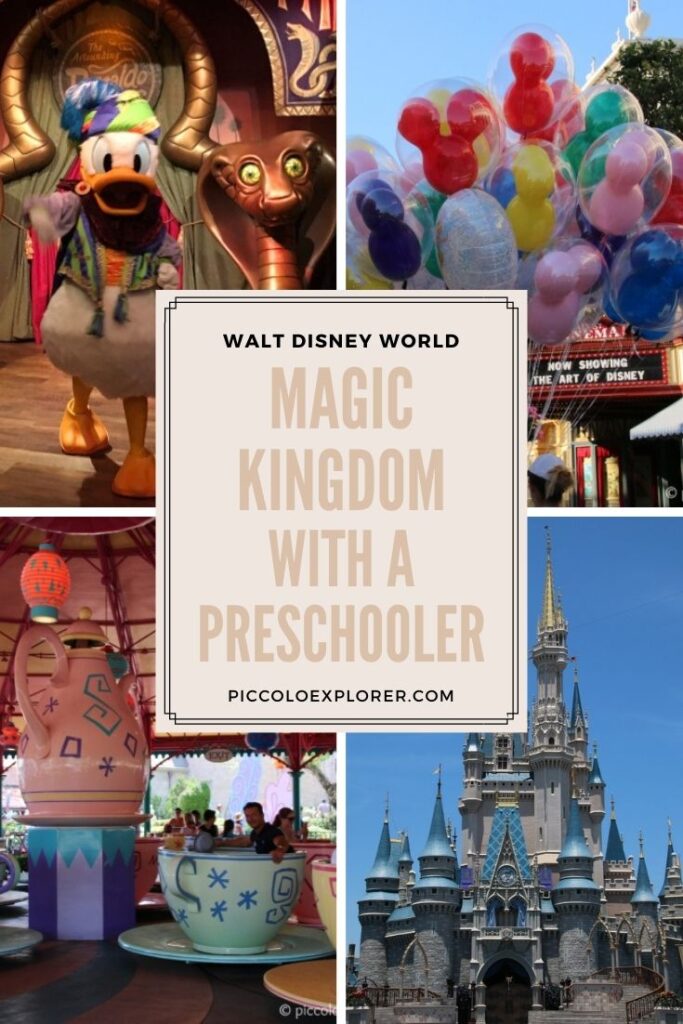 Save
Save
Save
Save
Save
Save
Save
SaveSave
SaveSave
SaveSave
SaveSaveSaveSave
Save
Save
Save
Save
Save
Save
Save
Save
Save
Save
Save
Save