The Makati Shangri-La is a tranquil oasis conveniently located in the bustling Makati city district of Manila, the Philippines, amidst sprawling shopping malls and towering office skyscrapers and only 20 minutes (depending on traffic) away from the international airport. The Glorietta and Greenbelt malls are just around the corner, along with Landmark (a useful stop for toiletries and other necessities), loads of restaurants and the Ayala Museum. We have stayed at the Makati Shangri-La three times over the past few years as a stopover in Manila on our way to and from visiting my family on another island. Learn more about our experience staying at the hotel with our toddler in this Makati Shangri-La hotel review.

Room Reservation
On our last visit, we stayed at the Makati Shangri-La for two nights when we arrived in Manila, then again on the way back to London. I booked our reservations on Makati Shangri-La's website and included in the comment section requests for a baby car seat (noting age and weight of Little T) for the airport car transfers and a baby cot for our room.
I promptly received a response confirming these requests and an outstanding special offer available at the time to upgrade, at a small fee, to a value package that included a complimentary buffet breakfast, round-trip airport transfers, unlimited laundry and dry cleaning and free local land-line calls.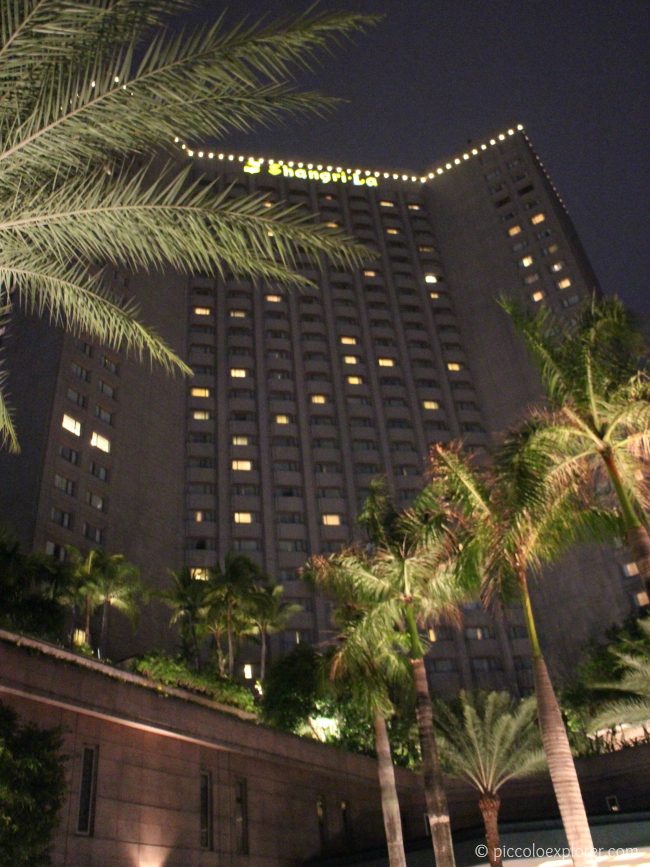 Before our arrival and throughout both stays, the Makati-Shangri-La's reservation team were always kind, helpful, and accommodating. They provided clear, straightforward information on our room reservations and airport car transfers, and throughout our stay, everything moved along smoothly thanks to their professionalism and responsiveness.
Makati Shangri-La Lobby
The impressive lobby has a stunning floral display and a bright, beautifully designed open atrium that leads to the Lobby Lounge overlooking the lush hotel gardens.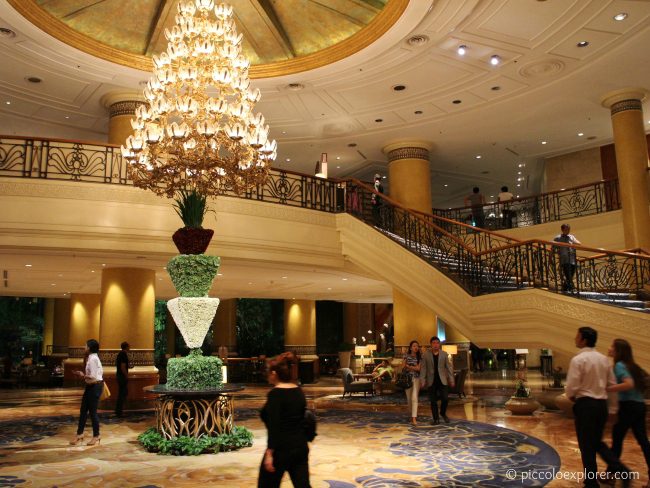 (The photos without people were taken at 3:30am when we were shuffling out the door to catch our absurdly early Cebu Pacific flight.)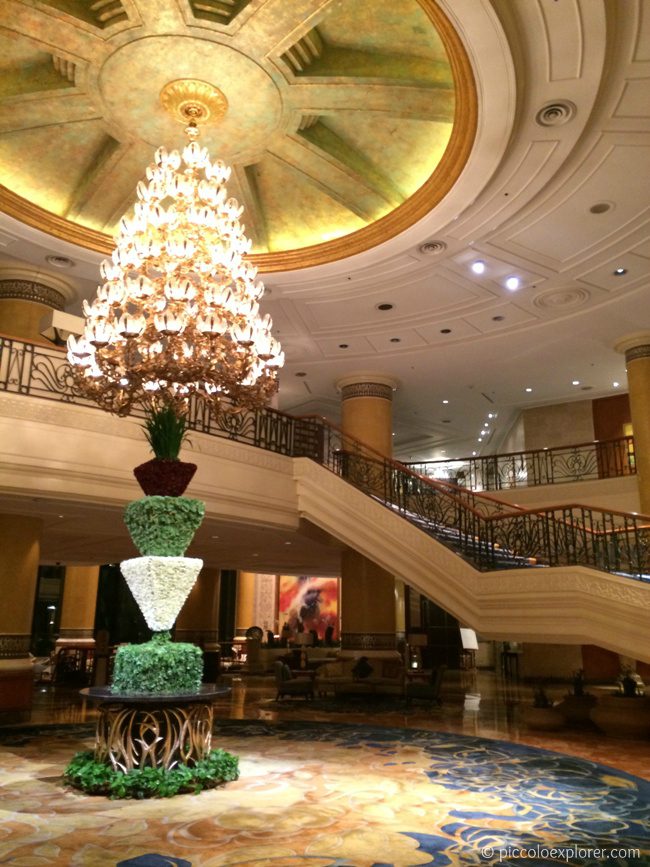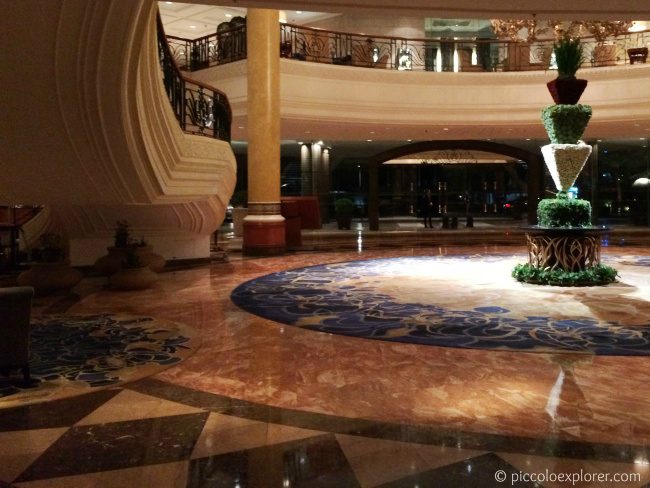 Lobby Lounge
The hub of the hotel and one of my favourite spots is the Lobby Lounge, a place to enjoy an afternoon tea, weekend buffet or cocktails while people watching or enjoying the live performances. After quickly freshening up and changing our clothes once we arrived, we headed straight for the Lobby Lounge to sit back and relax (as much as you can with an infant) enjoying a glass of champagne and taking in our surroundings.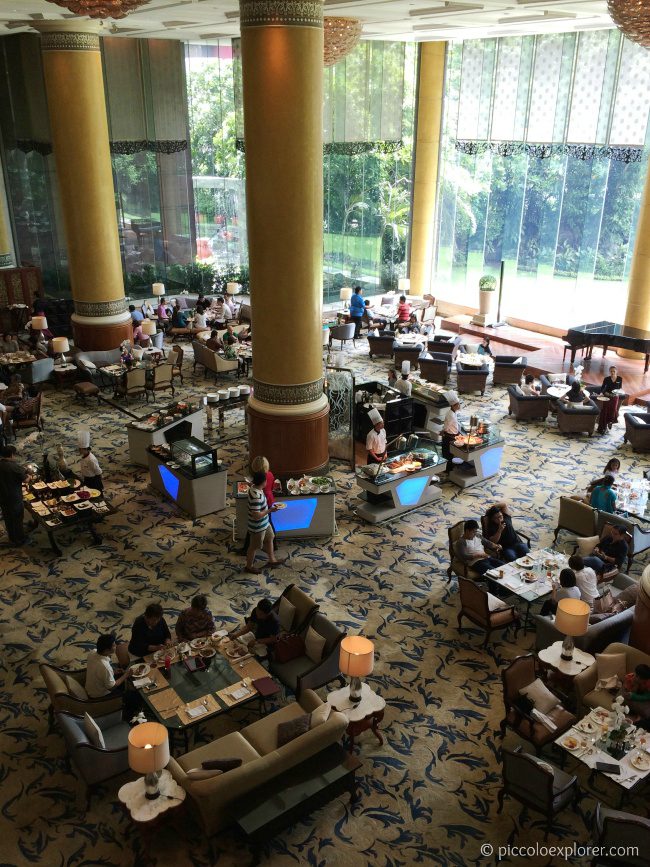 The staff at the Lobby Lounge are so lovely, especially with Little T who basked in their attention, and were always doing their best to make our time there comfortable and enjoyable.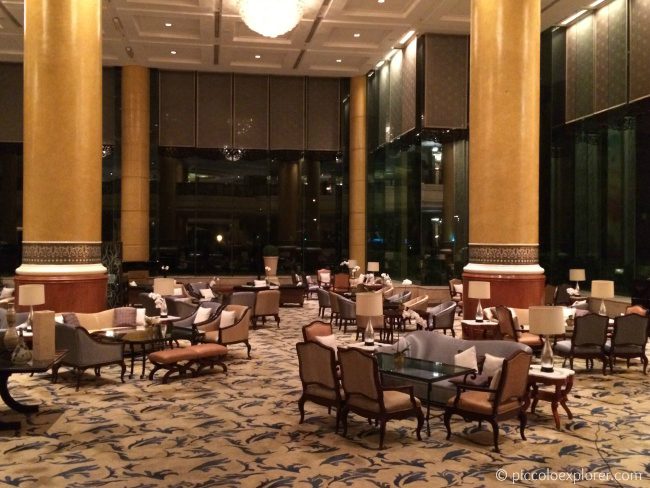 I also had lunch at the Lobby Lounge during one of our stays – a grilled chicken sandwich topped with pineapple.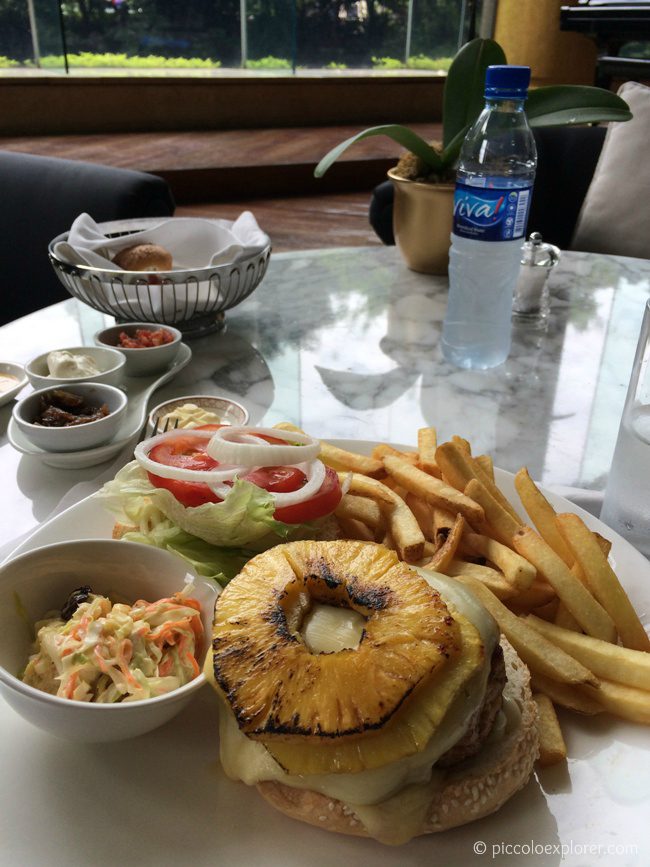 Makati Shangri-La Deluxe Suite
We stayed in a Deluxe Suite which features exclusive Horizon Club privileges including private check-in in our room, so we were led straight to the room upon our arrival. Horizon Club benefits also include a dedicated Club Concierge and access to the Club Lounge with complimentary breakfast, all day beverages, evening cocktails and canapes.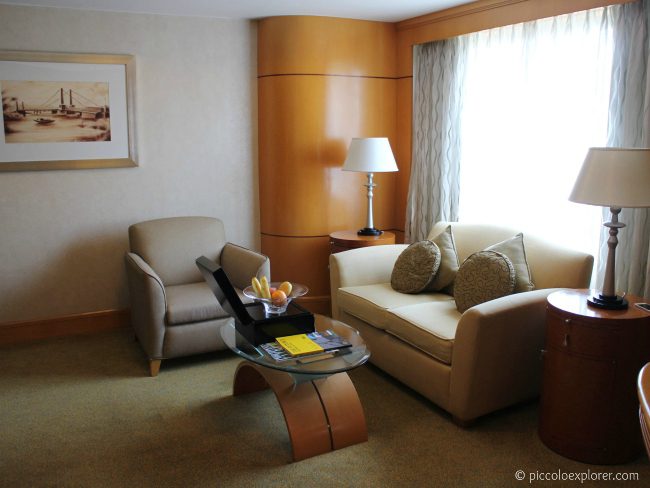 The Deluxe Suite is a 74 sqm one-bedroom suite with a spacious bathroom and separate sitting room. The bedroom features a vanity table and a walk-in closet with an electronic safe and a good-sized, modern bathroom with a separate shower and bathtub. The sitting room has an LCD TV and DVD entertainment system, a mini-bar and a large workspace complete with a printer and fax machine. The suite also comes with complimentary Wi-Fi, Shangri-La toiletries, an assortment of coffee and tea, bottled water and a bowl of fresh fruit.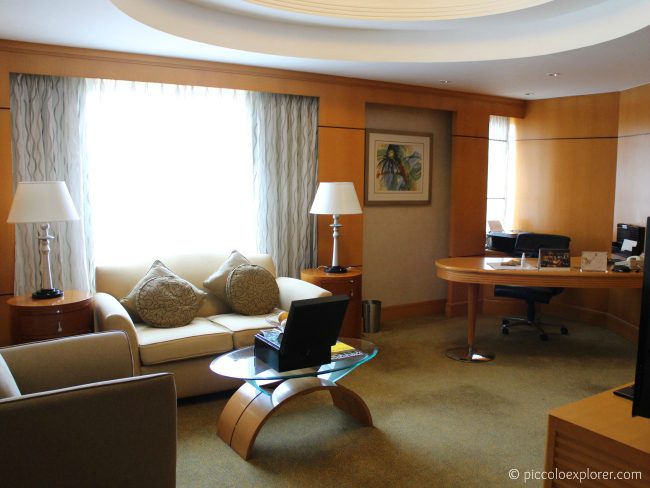 Check room rates and book on Tripadvisor.com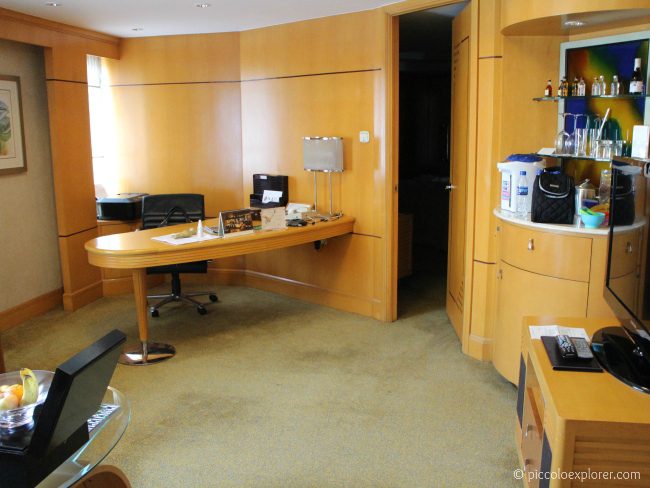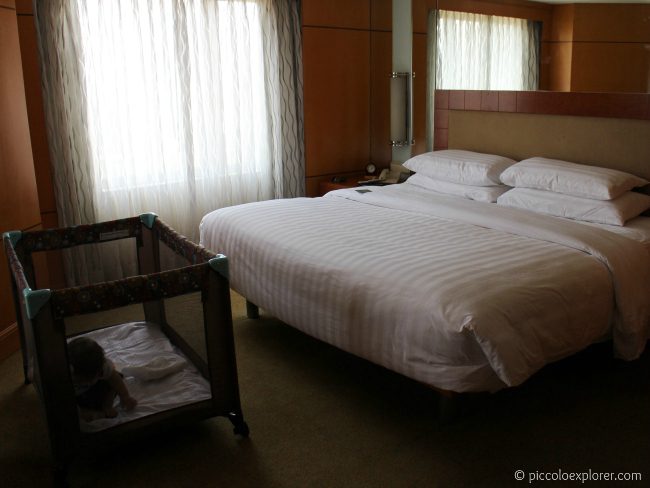 We arrived on a stunning sunny day perfect for enjoying the suite's panoramic views of Ayala Avenue.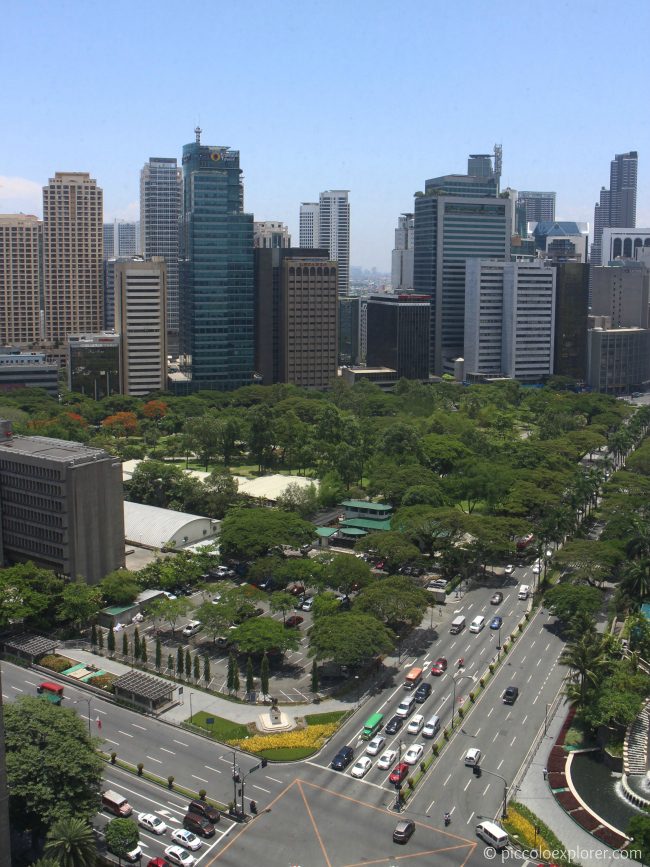 Check room rates and book on Tripadvisor.com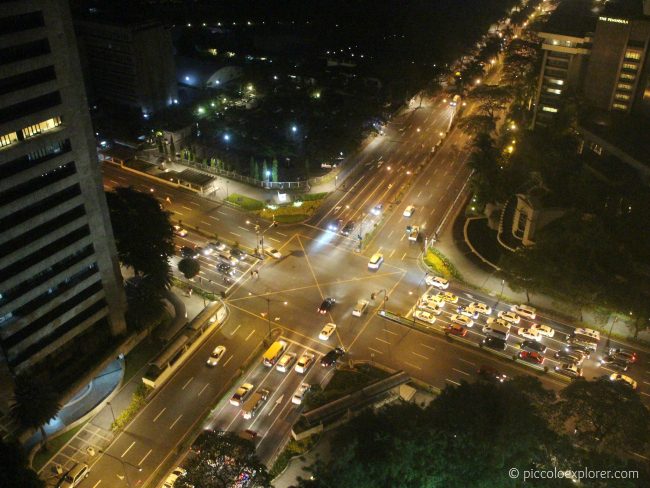 Rooftop Pool
With gorgeous weather like this, it was a must to spend time at the rooftop pool. Little T splashed about in the children's pool, which also had a shaded area so he wasn't constantly under the sun. There are plenty of loungers with large, fluffy towels on hand, plus a pool bar that offers a snack and drinks menu and complimentary jugs of ice water.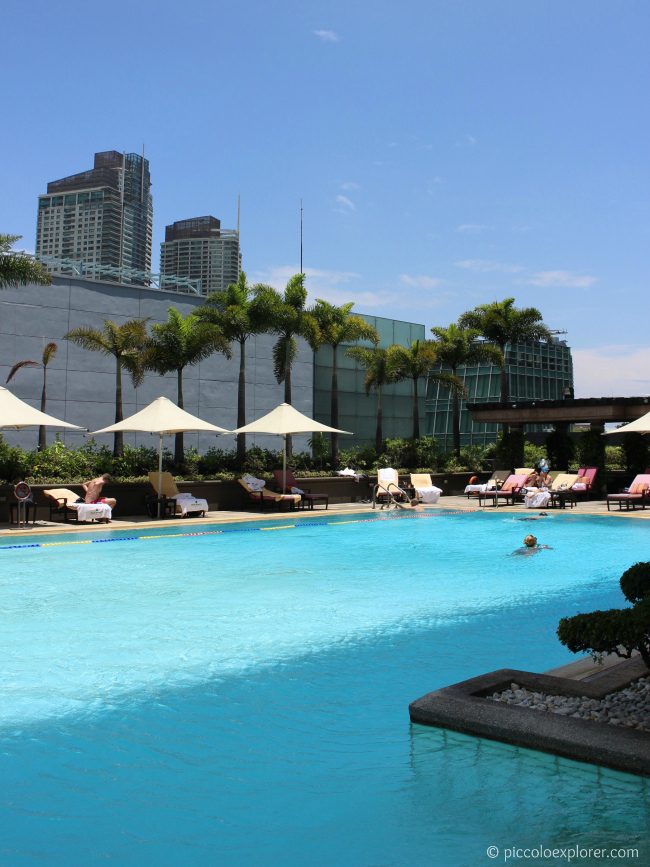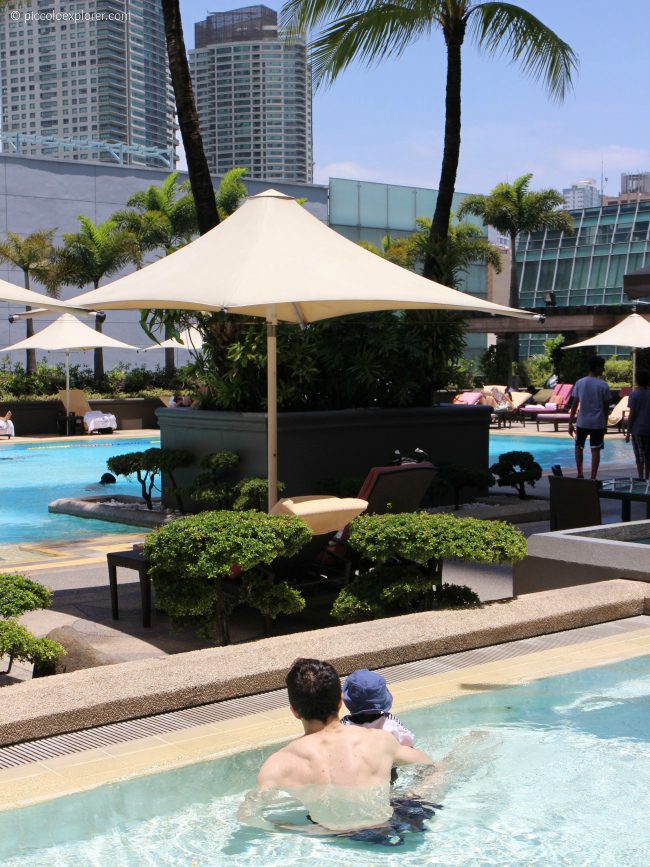 Horizon Club Breakfast

After a glorious night sleeping off the fatigue of our long haul journey, Little T and I woke up to explore the hotel (while my husband was at the gym), with our first stop being the Horizon Club Lounge for breakfast. There was a delicious spread (which I wish I photographed to share here) with both Continental and Filipino offerings. I ordered scrambled eggs with bacon and hash browns and shared the eggs and plenty of fresh fruit with the little one.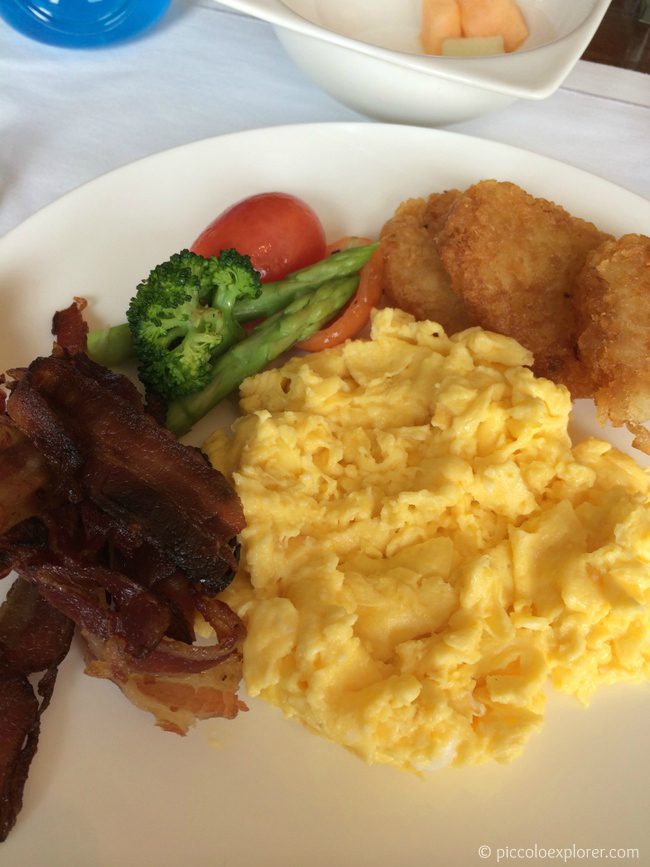 Since the next morning we were up at 3am to catch our super early flight with Cebu Pacific, our lovely Club Concierge arranged for room service to deliver us three packed breakfasts to bring on our trip with pastries, fruit, yogurt and water.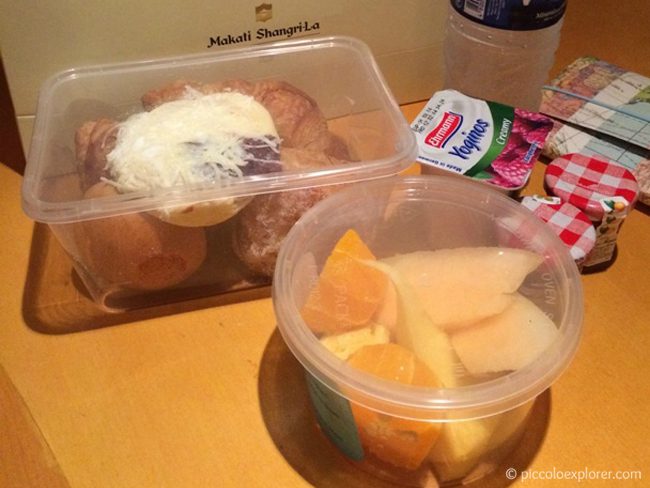 Circles Event Café
There are four restaurants in the hotel and the most family-friendly is the Circles Event Café which offers a large international buffet. You can also order off a kid's menu, which includes freshly made vegetable purees for infants.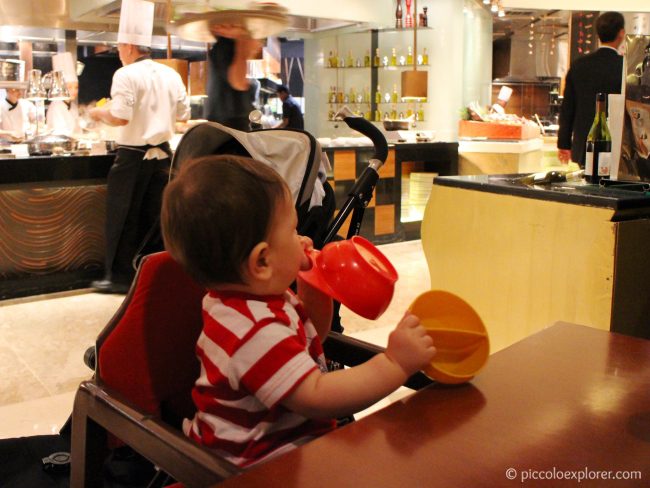 The international buffet at Circles Event Café has several stations, each featuring its own selection of specialties, from cold appetizers to seafood, Western cuisine to Asian cuisines – and an impressive dessert table!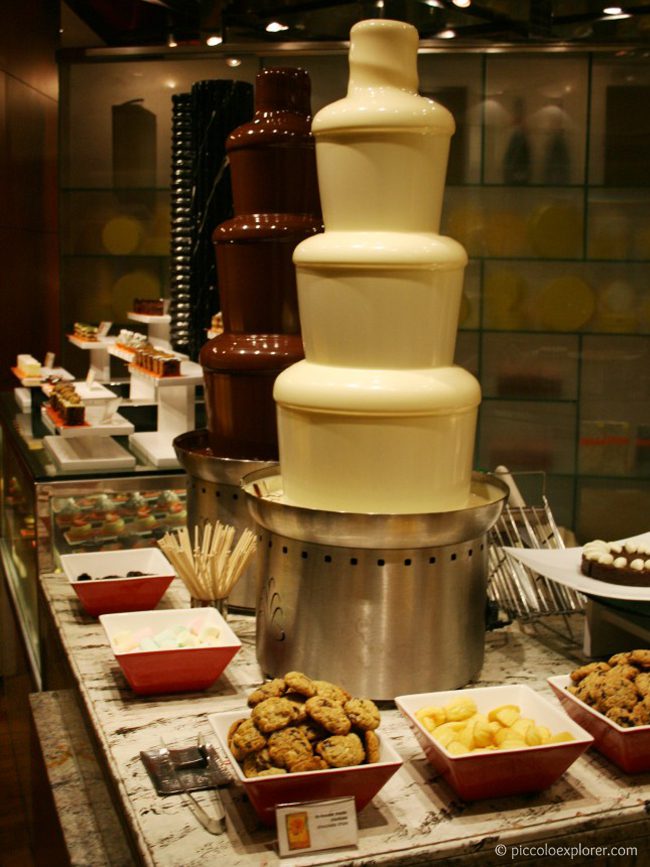 Makati Shangri-La Manila Address
Address: Ayala Avenue corner Makati Avenue, Makati City, 1200 Philippines
I hope you found this Makati Shangri-La hotel review helpful. The Makati Shangri-La caters very well to families. Throughout the hotel, the staff were always friendly, accommodating and resourceful, making our stay with Little T a breeze. We had dinner at the family-friendly Circles Event Café, lunch and cocktails at the Lobby Lounge and complimentary breakfast at the Horizon Club Lounge.
Our exceptionally comfortable suite was well laid out and the value package was well worth the upgrade to include additional services such as complimentary laundry and round-trip airport car transfers. The hotel features the high level of attention to detail, state-of-the-art amenities and outstanding customer experience you'd expect from a five-star luxury hotel, all with a special touch that makes you and your family feel at home.
Good to Know
Additional useful services at the hotel include childcare, car rental and tour bookings.
The Health Club's gym features state-of-the-art cardio and weight training equipment. You'll also find on site a jacuzzi, sauna, steam room, whirlpools, and outdoor tennis courts as well as a spa sanctuary offering a wide array of treatments, including the ancient art of traditional Filipino healing called Hilot.
A very short walk away from the Makati Shangri-La is the large department store Landmark, which is a useful spot to purchase toiletries, cosmetics and travel necessities, which are all on the ground floor. There are plenty of staff about who can help show you where to find what you need. There is a small Mercury drugstore at the entrance where you can buy over-the-counter medications.
The Greenbelt and Glorietta malls are about a block away from the hotel and are teeming with shops and restaurants. You'll find many international high street and luxury brands here, along with a selection of Filipino fashion and home design shops at Greenbelt 5's two-story Filipino zone. You can browse an online directory for Glorietta and Greenbelt to plan your visit in advance if you'd like to shop for anything in particular.
http://www.shangri-la.com/manila/makatishangrila/
PIN IT FOR LATER – Makati Shangri-La hotel review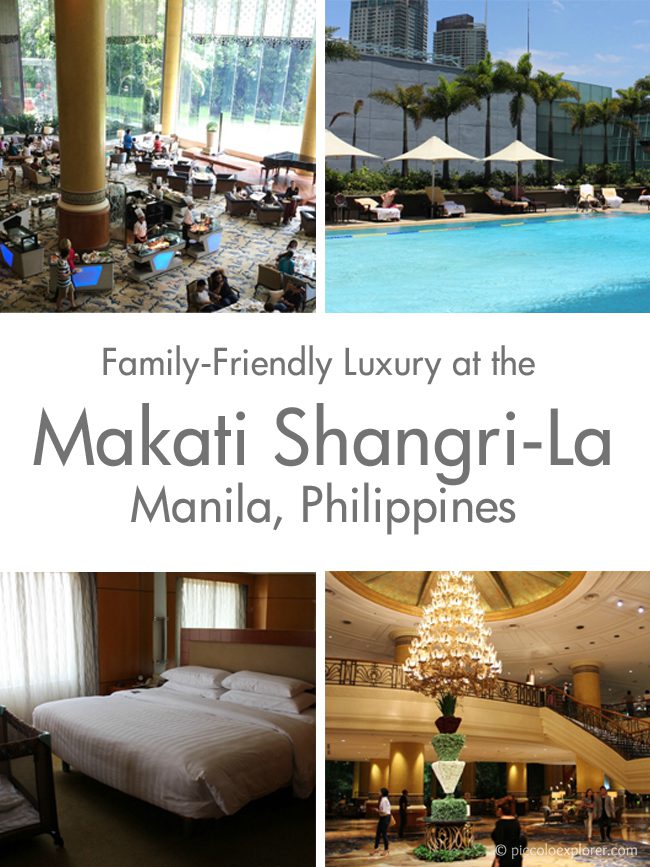 Save
Save
Save
Save
Save