The Padma Resort Legian in Bali, Indonesia, is a beautifully designed resort with lush gardens, several swimming pools and a convenient location steps away from Legian Beach. In this Padma Resort Legian review, I will share our experience staying at the Padma Resort Legian for twelve nights during our family holiday in Bali, as well as information on its family-friendly facilities and excellent customer service which truly made for a memorable holiday.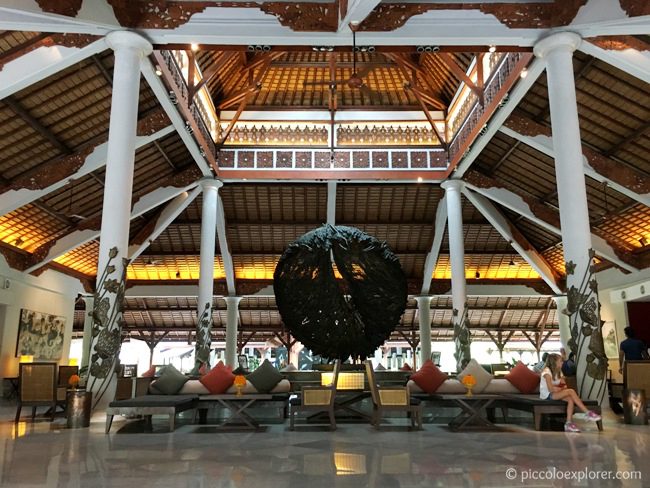 Stunning Resort Grounds
Padma Resort Legian is spread out across over 16 acres of tropical landscaped gardens, with sculptures and koi ponds dotted around the property and over 400 guest rooms and suites designed to reflect Bali's rich culture.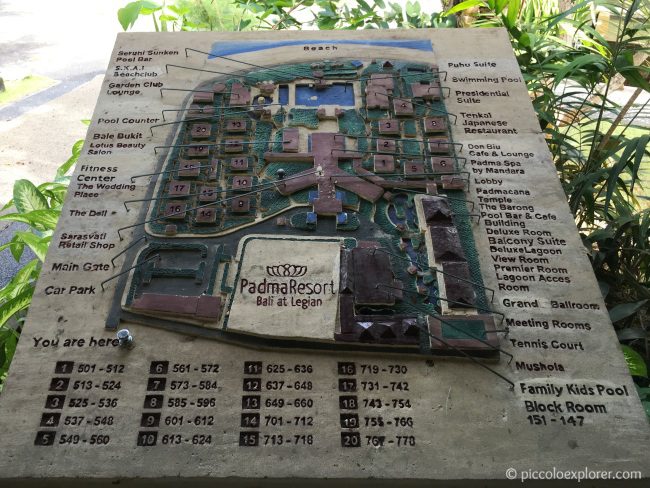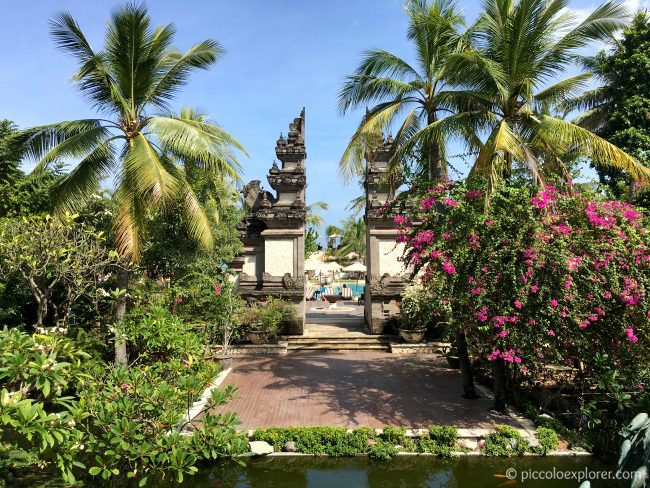 The lush gardens of the Padma Resort were a pleasure to wander around and a lovely shelter from the hot sun.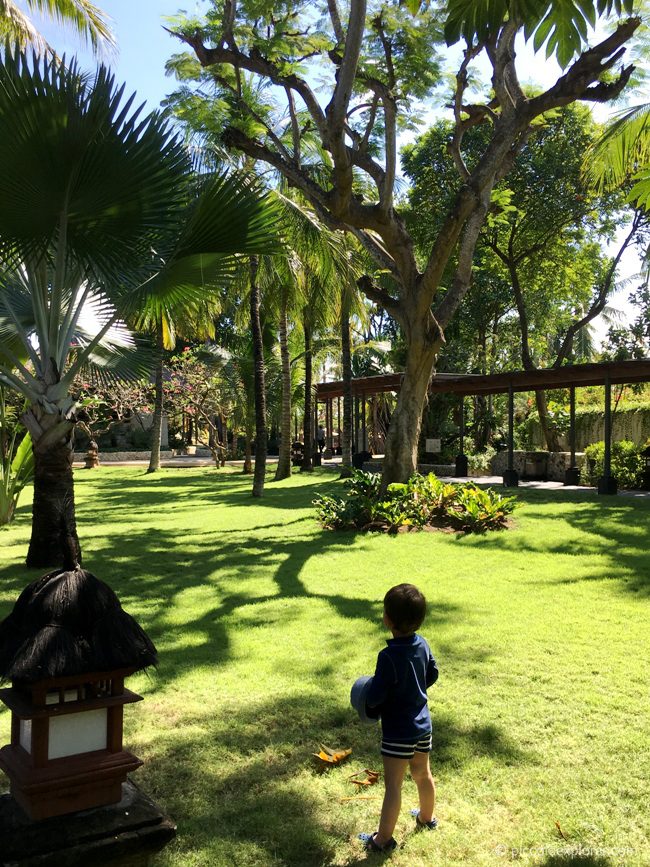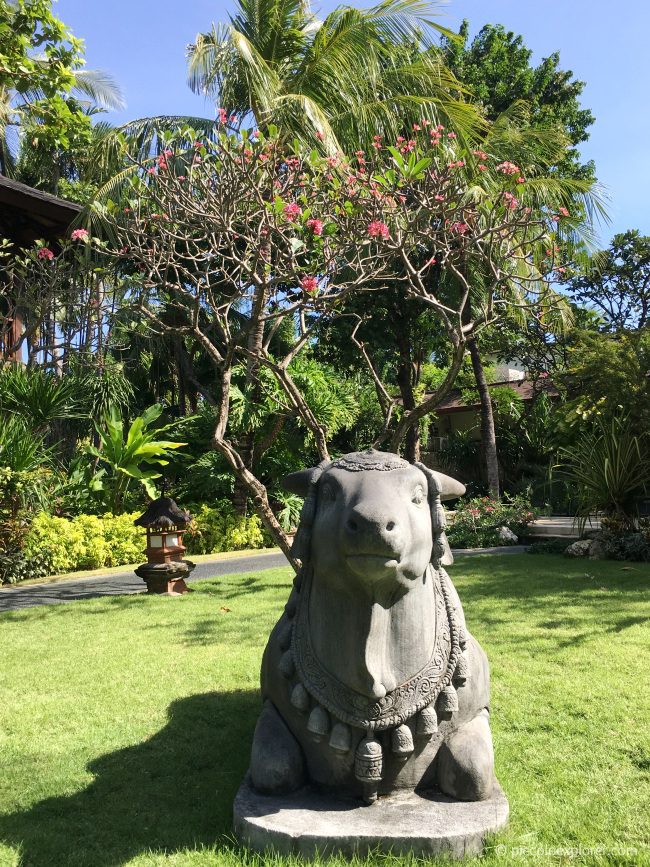 Padma Deluxe Chalet Room
For our stay at Padma Resort Legian, we booked a Padma Deluxe Chalet with breakfast included. At the time, the best value was by booking directly through the Padma Resort Legian website. In addition to the breakfast buffet, our room rate included: free Wi-Fi access throughout the resort, return airport transfers and a 50% discount at the beauty salon.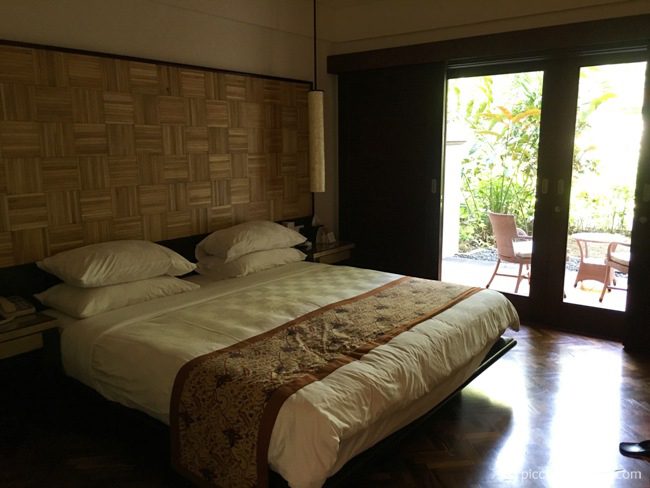 Check room rates and book at Tripadvisor.com
The Deluxe Chalet was comfortable for us, with king-size bed, a day bed, TV, a desk and chair, and a good-sized bathroom with a bathtub and shower. We also had a small patio area with a table and chairs and a drying rack for clothes.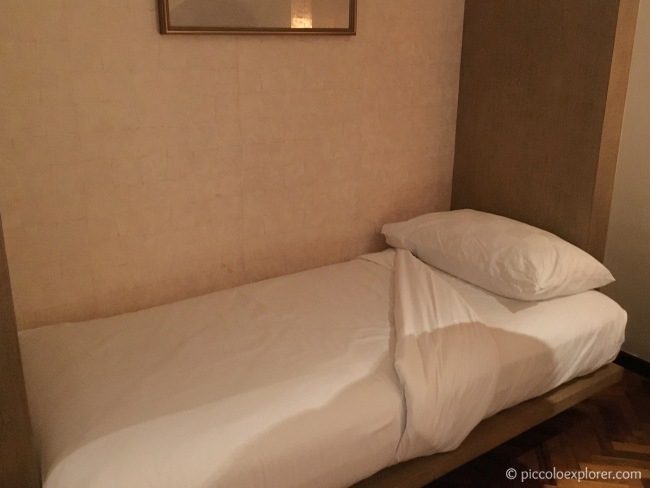 For larger families, the selection of family rooms and suites look really great and they are mostly located by the Kid's Pool and Kid's Club area.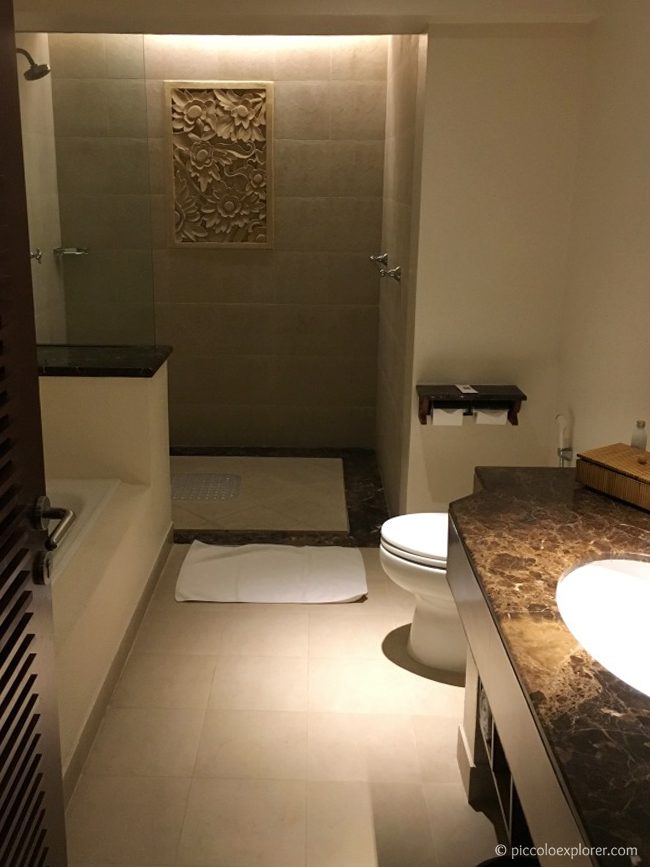 Check room rates and book at Tripadvisor.com
Family-Friendly Facilities
In this part of the Padma Resort Legian review, I will share our experience using the family-friendly facilities and services at the Padma Resort Legian. These facilities included a fantastic Kid's Pool, a Kid's Club and Games Centre and babysitting services.
Kid's Pool
We spent hours at the Kid's Pool that was divided into two parts: a shallow area with water jets and a small water slide, perfect for young tots – and a deeper pool with two tall water slides.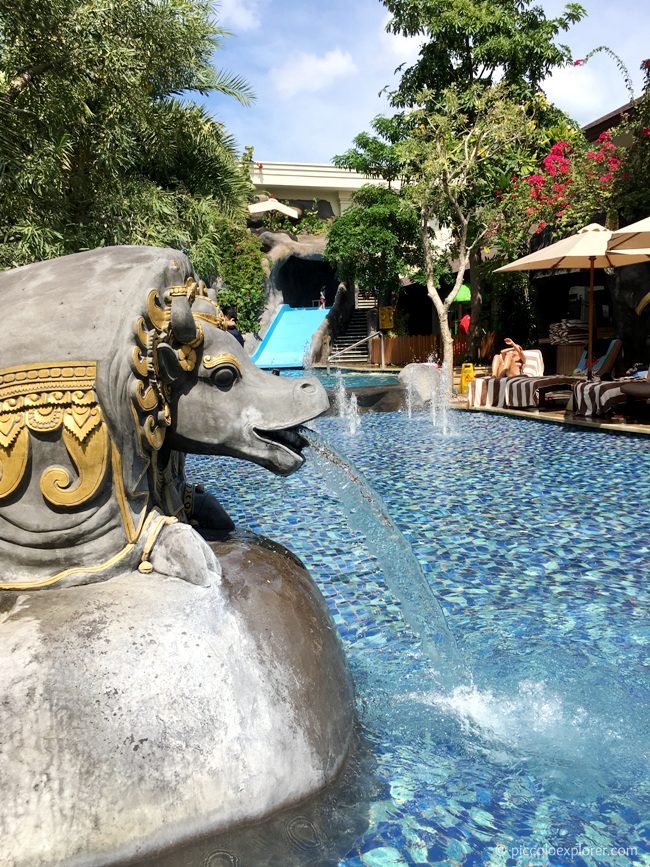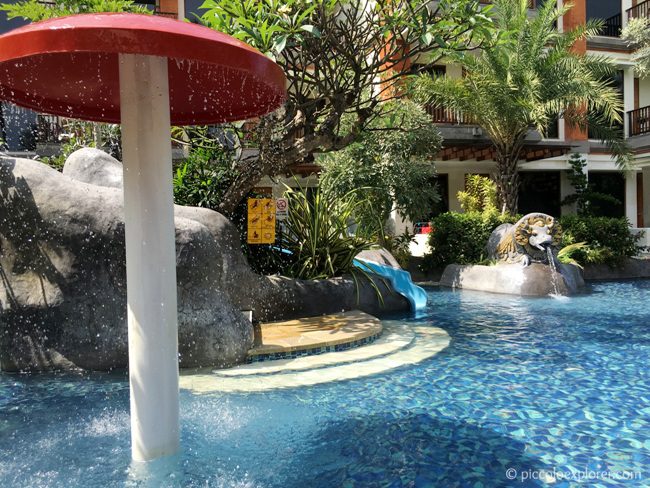 Nearly 3 year old Little T moved easily around the shallow area on his own and, with our help, would swim in the deeper area using his arm bands or inflatable ring. It was a kid's paradise!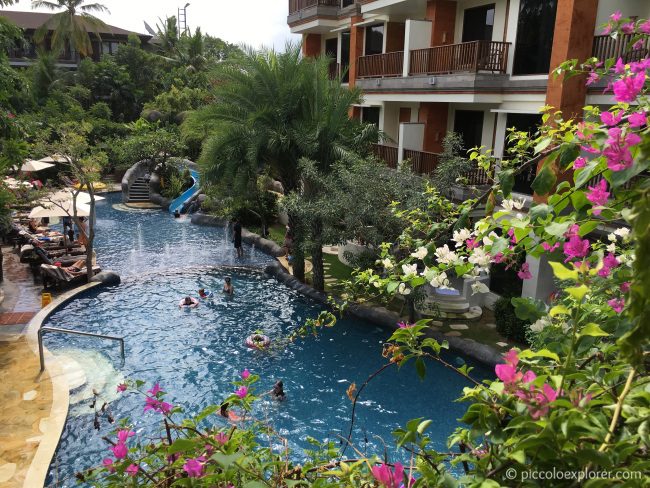 Kid's Club
While the Kid's Club is free for children aged 4 to 12 years old, Little T could play at the club supervised by us or a babysitter. The Kid's Club is open every day from 9am to 8pm, features a small outdoor playground and an indoor game room with plenty of toys and games, a TV room and a quiet room for naptime.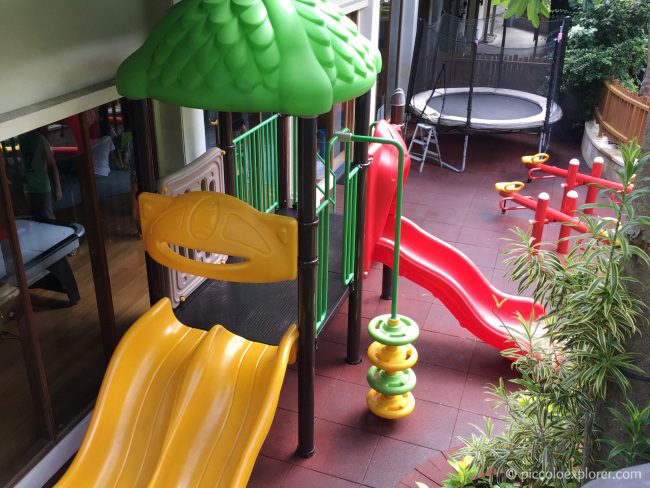 The Kid's Club also offers a great schedule of arts & crafts and outdoor activities for guests to join in on during their stay – from turtle feeding to a treasure hunt to a party club on Saturdays (at an additional cost). If your child(ren) will be having lunch or dinner time at the Kid's Club, then you just need to fill out a form with the meal request(s) that are then billed to your room.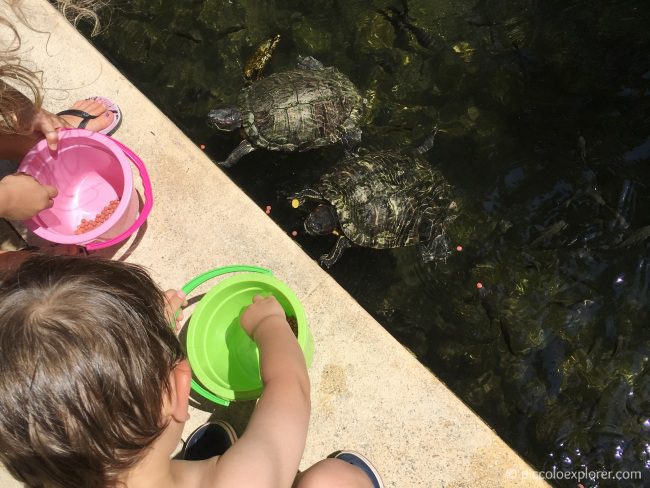 Padma Resort Legian has several other pools on-site to suit everyone, including a fantastic lagoon pool, an Olympic sized main pool, a lap pool and an ocean-view infinity pool.
Check latest hotel reviews at Tripadvisor.com
Lagoon Pool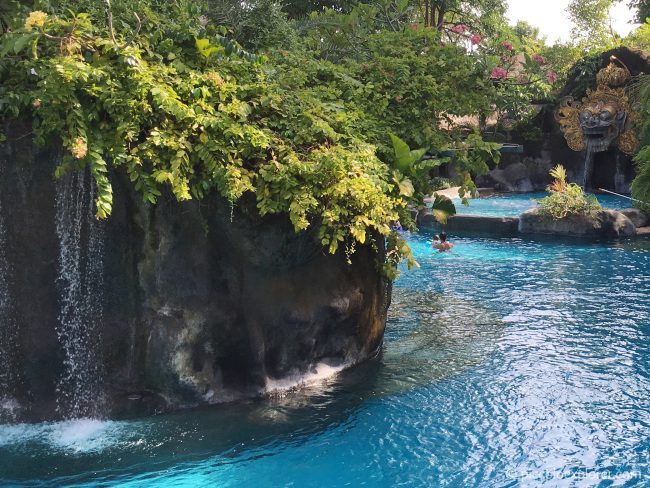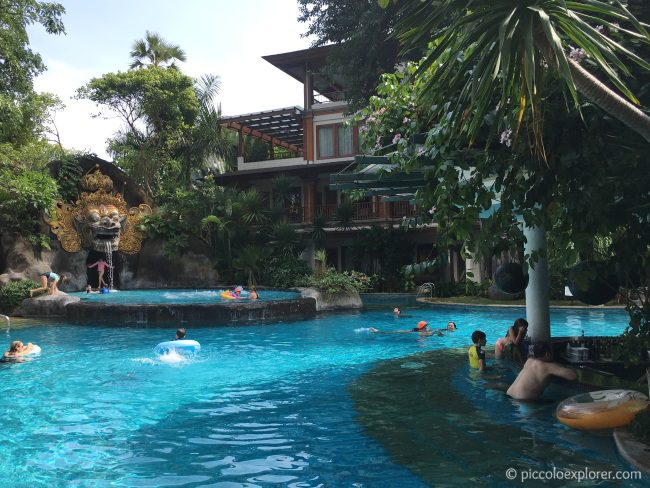 Main Swimming Pool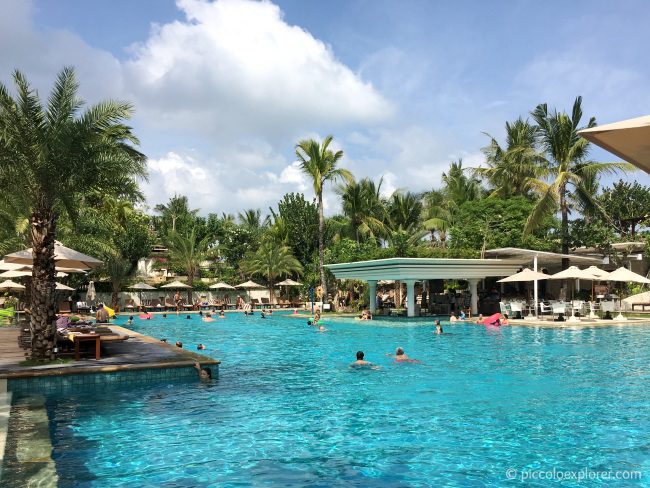 Padma Resort Dining and Entertainment
In this next part of the Padma Resort Legian review, I will share our experiences dining at the resort's restaurants. The highlights for us were the themed dinner buffets featuring live entertainment and the excellent breakfast buffet at DonBiu Restaurant, which was included in our room rate during our stay.
DonBiu Restaurant Breakfast Buffet
The breakfast buffet at DonBiu Restaurant was included in our room rate and it offered a wide selection, including breads and pastries, made to order pancakes and waffles, omelettes and sausages, freshly made juices, traditional Indonesian dishes, a variety of fresh fruit and hot dishes with chicken and/or meat, noodles and rice. Plenty to choose from and we weren't ever bored over the twelve days we were there.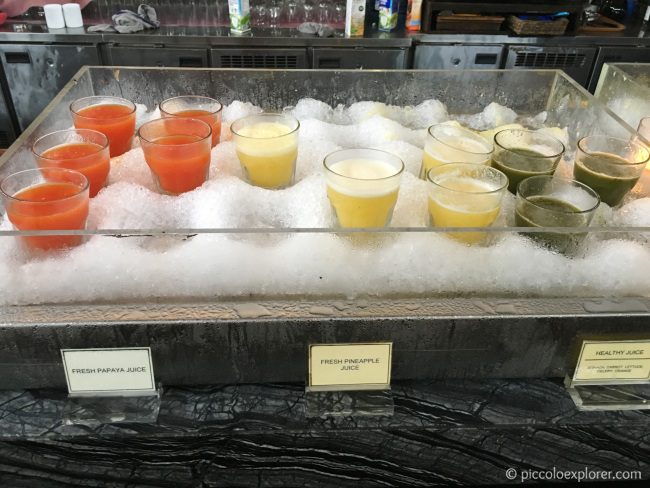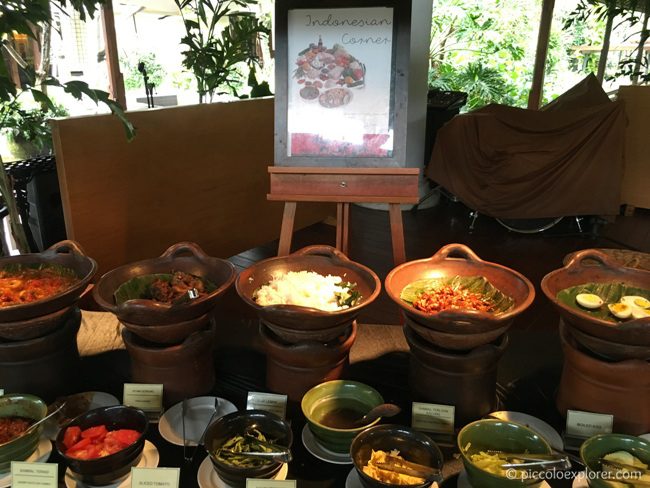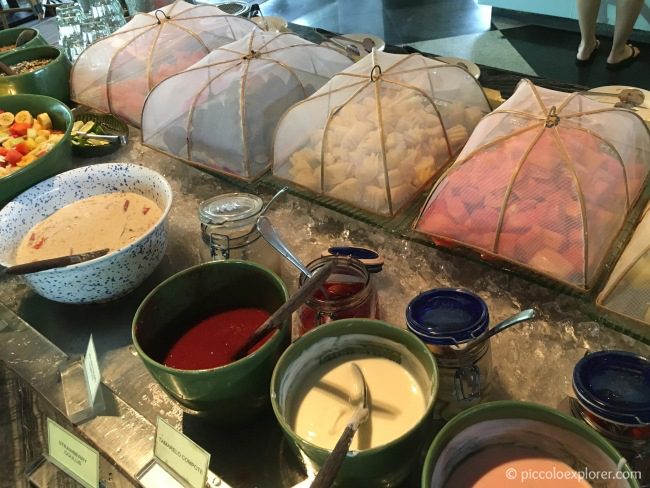 Padma Resort Legian Theme Dinners
During our stay, we also went to two buffet dinners: the Balinese Theme Dinner and the Tropical BBQ Dinner. There was always a wide selection of food: salads and starters, a carving meat station, sides and desserts.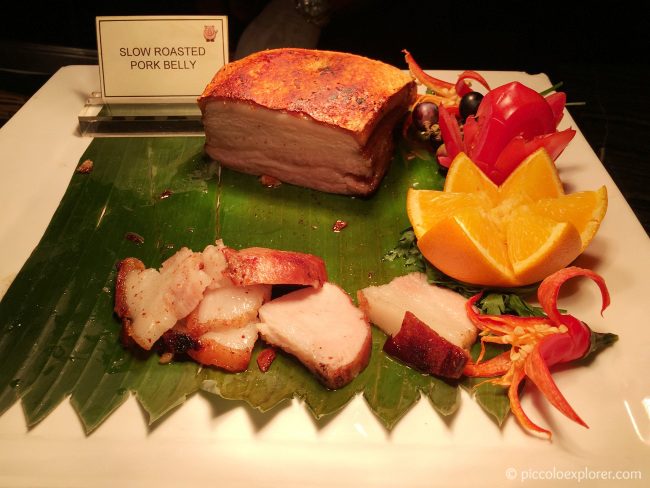 The slow roasted pork belly and 8 hour BBQ smoky beef cheek (below) were part of the Tropical BBQ buffet, which also had deep fried fish and coconut chili and lime squid skewers fresh off the grill.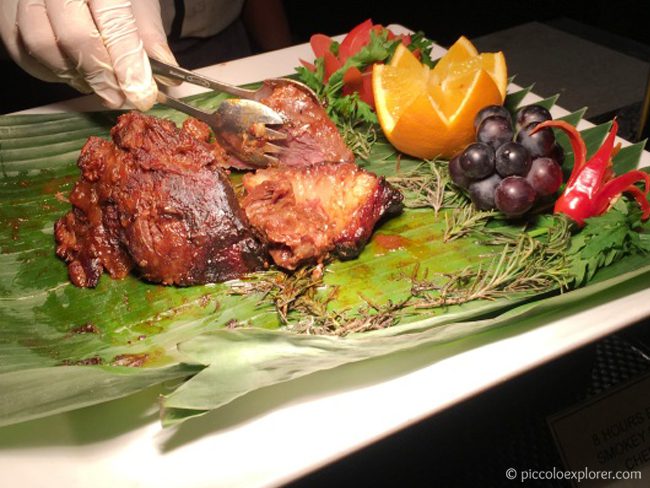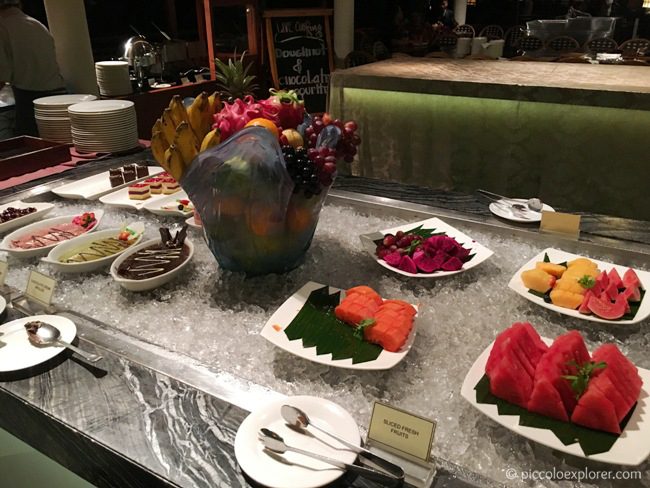 The made-to-order mie goreng at the Balinese Theme Dinner was fantastic!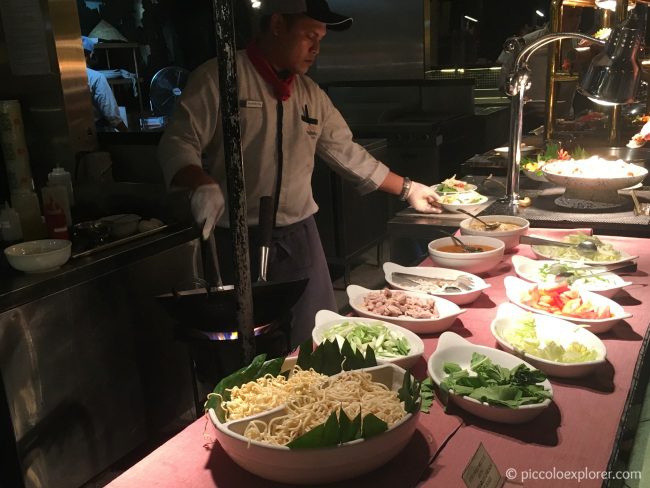 Both buffet dinners featured outstanding Balinese dance or play performances that had Little T mesmerized. Watching Balinese performances was also one of our favorite activities in Bali with kids.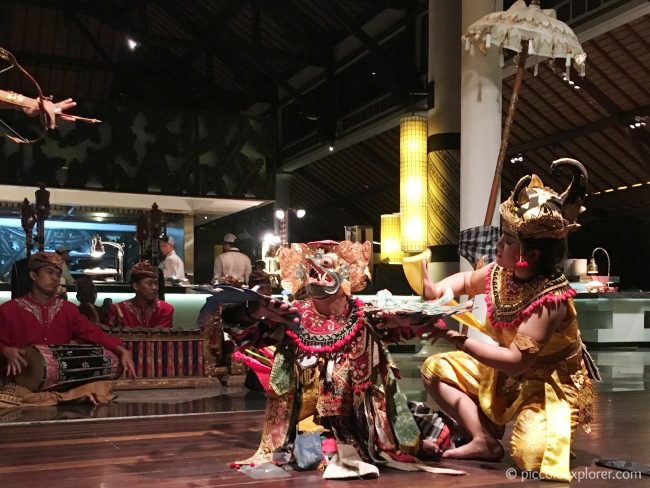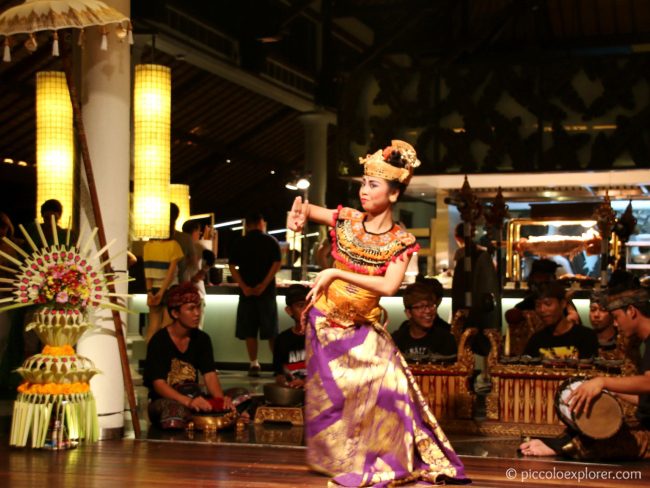 Related: Top Activities to do on Bali with Kids
Poolside Dining
Lunchtime was often at the pool. Our favorite dishes were the satay chicken skewers, mie goreng, spring rolls, smoothie bowls and grilled fish.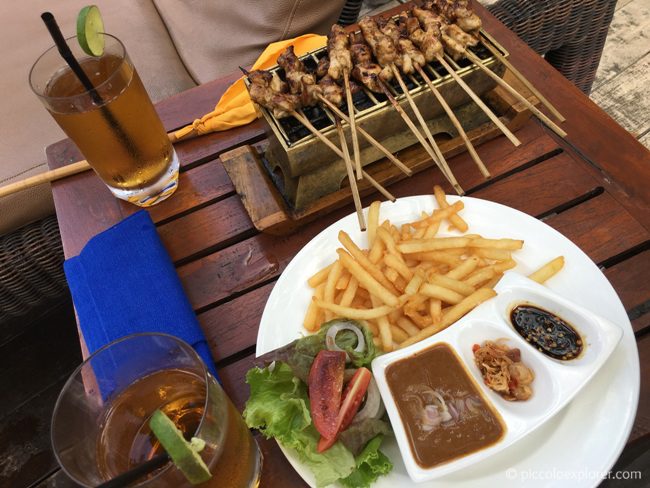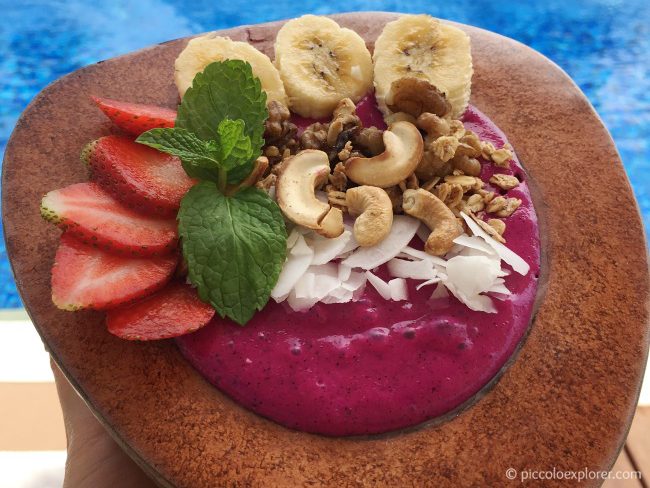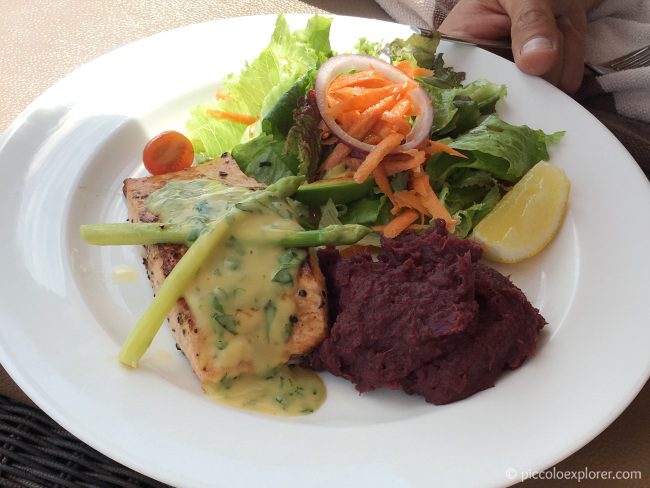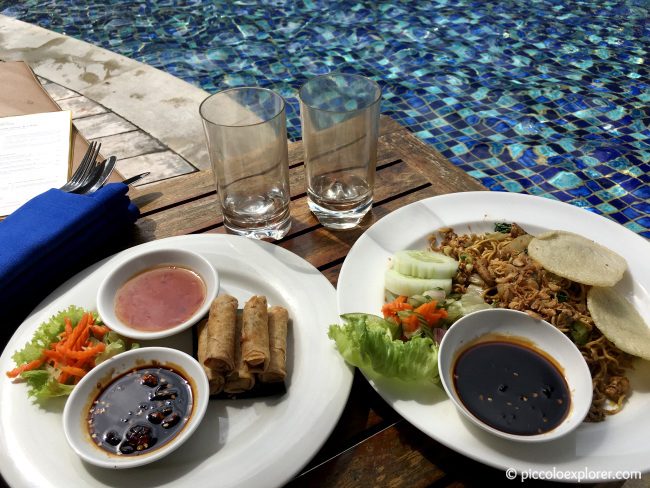 Mandara Spa Treatments
One afternoon, my husband and I booked in massages at the hotel's Mandara Spa while Little T was at the Kid's Club with a babysitter. My husband had a fantastic deep tissue sports massage and I had a very relaxing Balinese massage with a Tranquility oil blend to help with jetlag recovery. Lovely staff, peaceful setting and very rejuvenating massages!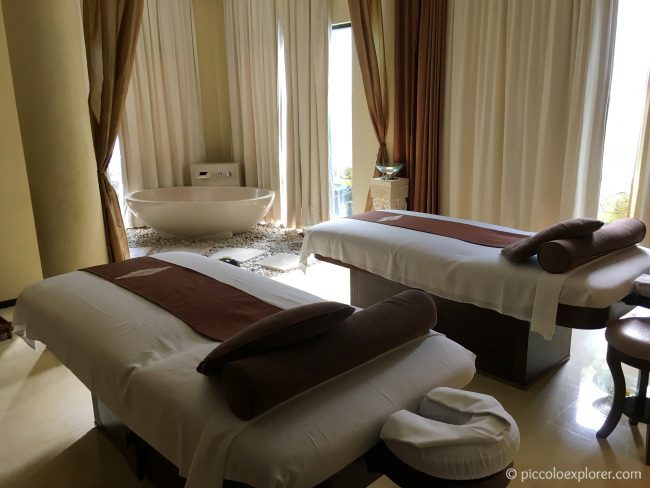 Padma Resort Legian Location
Padma Resort Legian is located within a short walking distance from the beach, which you can access at the back of the resort that brings you to a pedestrian walkway leading to the beach.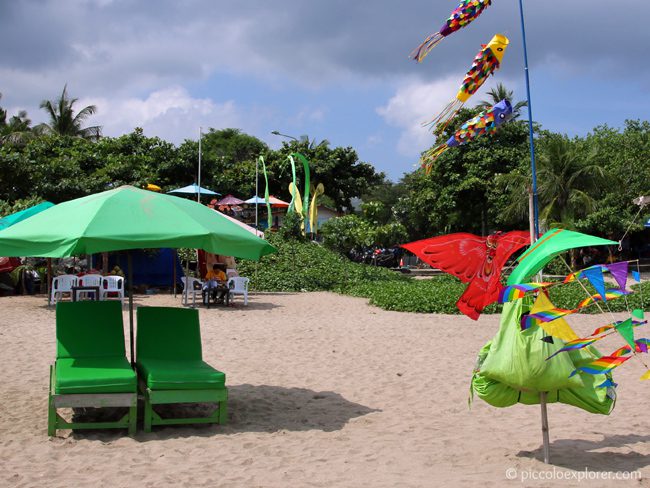 Legian Beach is a popular surfing spot, with plenty of vendors along the beach selling fresh coconut water and other refreshments, kites, seashells and more. Our favorite way to end the day on Bali was to sit back on the beach, watching the beautiful sunset.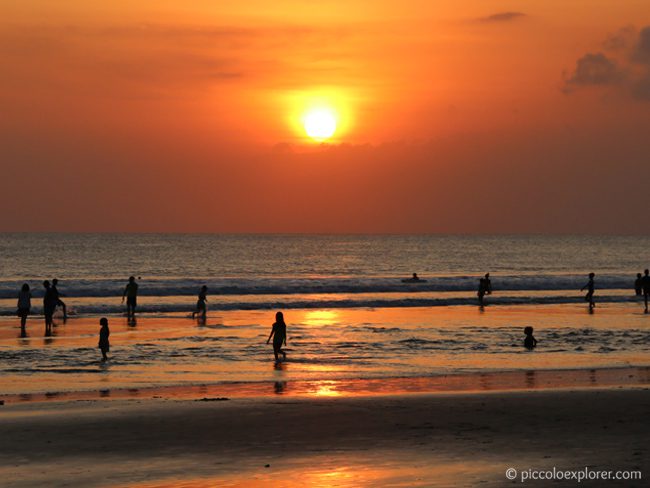 As for necessities, we found the best solution was to take a taxi to Carrefour Densapar on Jl. Sunset Road, which is about 15 minutes away. Carrefour has a huge selection that is reasonably priced, and it's a good spot to stock up on groceries, pool and beach gear, toiletries, baby and toddler supplies, etc.
When it came to dining out, we preferred to head over to Seminyak. While less than 3 km away from Legian, the traffic between the two areas often made a one-way trip in the evenings an hour or more. That was the only drawback to us during this trip and something we would consider for next time, as we wanted to enjoy the restaurants and beach clubs of Seminyak but found it frustrating to be trapped in a taxi for so long during our holiday.
Padma Resort Legian Review
I hope you found this Padma Resort Legian review helpful in planning your own family holiday in Bali. I would recommend Padma Resort Legian, especially for families who are looking for a fun, relaxing base to spend most of their time while in Bali. The customer service was always warm, accommodating and helpful – from the restaurants to the front desk to the Kid's Club and the resort grounds are stunning and a pleasure to roam around.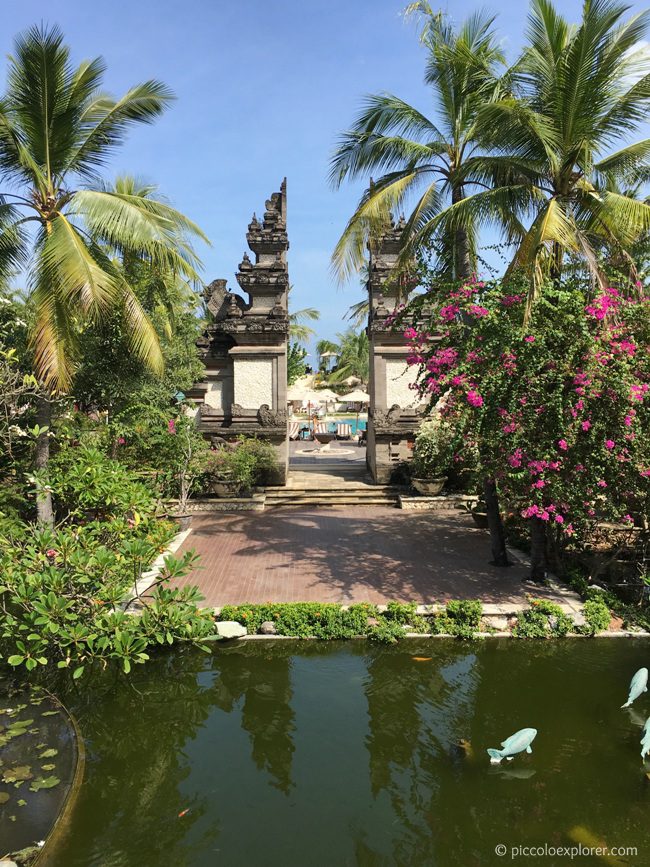 The highlights for us were the family-friendly facilities and services. The Kid's Pool was just perfect for our nearly 3 year old to enjoy and it was excellent having the indoor and outdoor play areas, activity programme and babysitting services of the Kid's Club. Our buffet breakfasts and dinners offered a wide selection and we found dining in general at the hotel to be great quality and reasonably priced.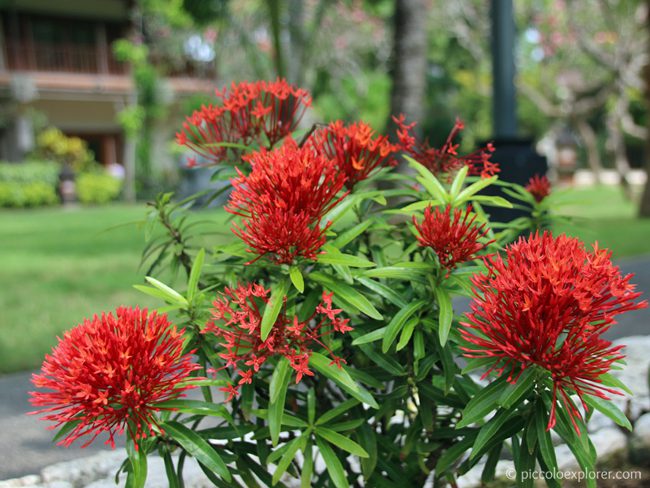 The only drawback for us was the traffic on Bali, which made traveling to other areas very time consuming, so that is something to keep in mind if, like us, you want to frequent the restaurants and beach clubs of Seminyak in particular. That aside, we enjoyed our stay at Padma Resort Legian which truly made for a memorable family holiday.
Check latest hotel reviews at Tripadvisor.com
Padma Resort Legian Address
Address: Jl. Padma No. 1, Legian – Bali 80361, INDONESIA
Telephone: +62 361 752 111
Website: https://padmaresortlegian.com/
This post was updated on 19 April 2021 with the latest hotel information and contact details.
Disclosure: This post contains affiliate links, so if you do click through and make a purchase I may receive a small amount at no extra cost to you. Thanks for your support!
PIN FOR LATER – Padma Resort Legian Review