In this family travel guide to Oahu with Kids, you'll find recommendations for family-friendly things to do, where to eat and where to stay on Oahu.
Oahu is the most populous of the Hawaiian islands and offers a wide range of activities for the whole family to enjoy, from water sports to unique cultural experiences to hiking trails and much more. Most visitors stay in the bustling neighborhood of Waikiki and rent a car at some point to explore the other parts of the island. I'd highly recommend making time for day trips to the North Shore and Windward Coasts as well as to visit Pearl Harbor and the Polynesian Cultural Center.
Things to Do on Oahu
Along with its stunning coastline and laid-back countryside, there is a lot to explore on Oahu for a fun family adventure. Read on for ideas for fun things to do in this part of the family travel guide to Oahu with kids.
Best Beaches for Families on Oahu
Waikiki Beach
There are plenty of places where you can rent surfboards, stand-up paddle boards, kayaks and other water sport equipment on Waikiki Beach. Taking a surf lesson and going out outrigger canoeing are two great experiences to enjoy at Waikiki Beach!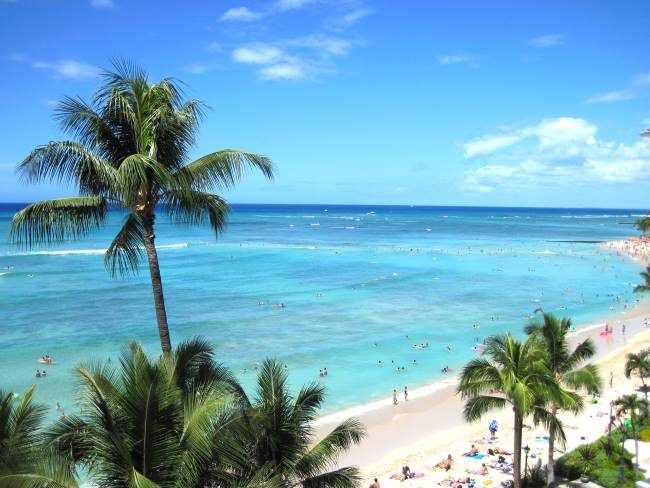 Outrigger canoeing is suitable for all ages and abilities – children ages 3+ are welcome as long as they have their own life jacket or flotation device and a parent or guardian is present to hold the child during the ride.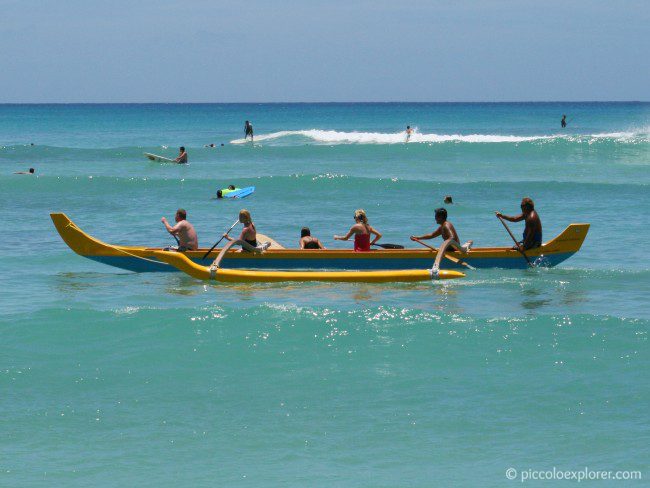 Prince Kuhio Beach
One of the most kid-friendly beaches in Waikiki is Prince Kuhio Beach, near where you'll find the Duke Kahanamoku Statue on the boardwalk. The beach is in an area protected from the surf by a break wall, making it a safe spot for swimming with calm waters.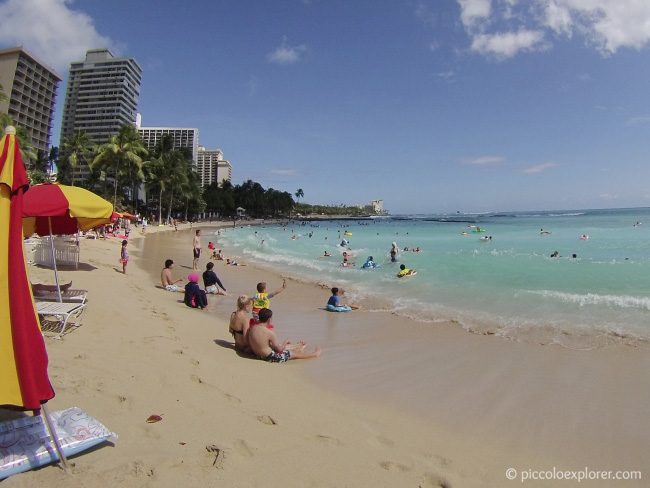 There are umbrellas and loungers available to rent and nearby toilets and showers, along with a big ABC store across the road for drinks, snacks and beach gear.
Kailua Beach Park
Due to its steady, cooling trade winds and a protective reef, Kailua Beach Park is popular for all sorts of water sports, mainly windsurfing, kite surfing, kayaking, body boarding and stand-up paddle boarding.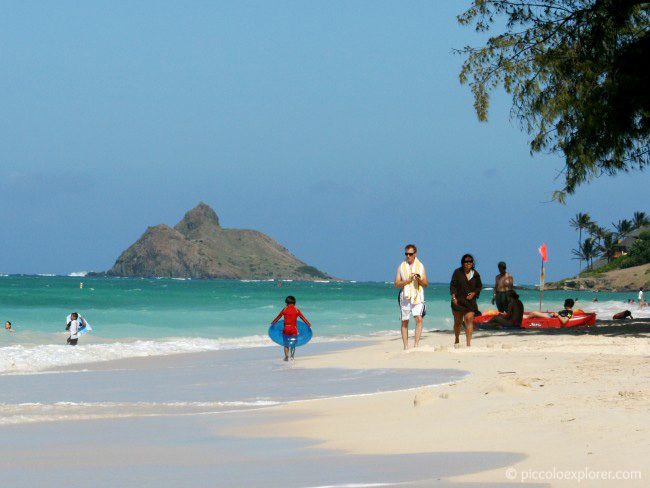 With a grassy area near the beach, Kailua Beach Park is also a great place for a picnic and a popular spot for local families.
Read more: Snapshots from Kailua Beach Park
Hanauma Bay
Hanauma Bay Nature Preserve is a beachfront protected park and popular spot for snorkelling. The calm waters of the cove, which is an old volcanic crater, make it ideal for swimming and snorkeling for all ages and abilities.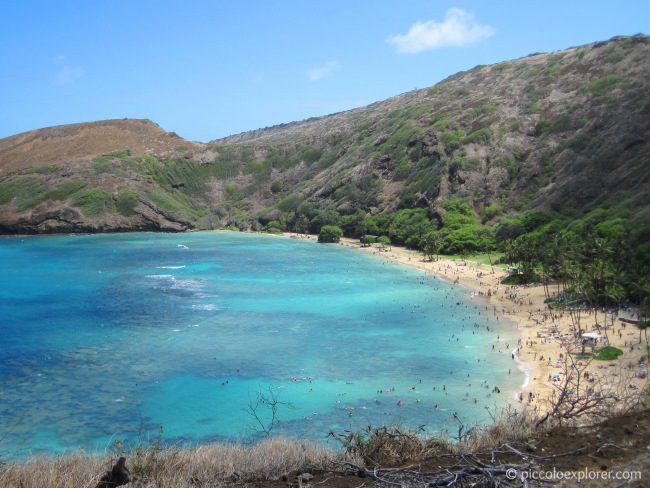 Facilities at this family-friendly beach on Oahu include a snack shop, lockers and snorkel gear rental services.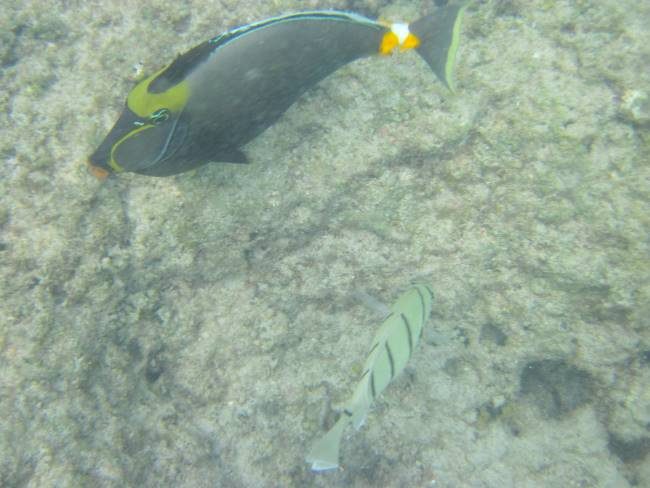 Laniakea Beach
Laniakea Beach, or Turtle Beach, on the North Shore is a beautiful family-friendly beach and a popular spot for sea turtles to come by to eat the seaweed on the rocks or bask in the sunshine.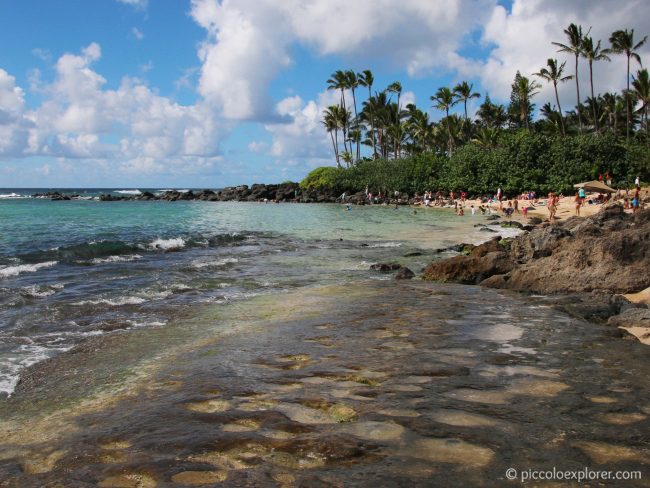 They're wonderful to see – just keep in mind to always keep your distance and never touch the turtles!
Sans Souci Beach
Sans Souci Beach is near the Waikiki Aquarium and Honolulu Zoo and is a fairly quiet, family-friendly beach – one of the best spots close to Waikiki for snorkelling and swimming.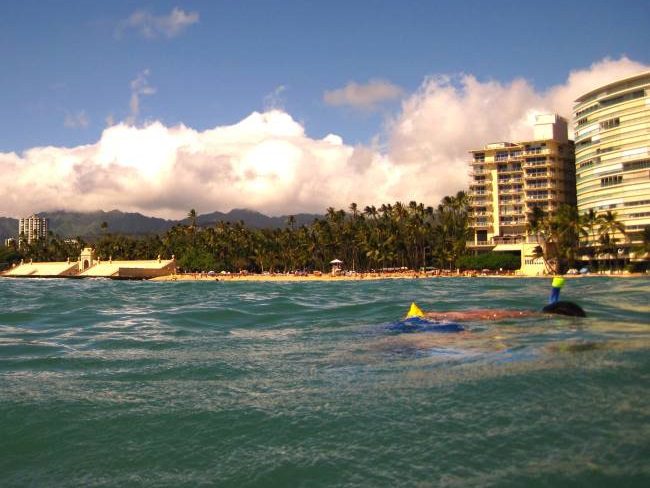 Follow the rock wall out on the left end of the beach for more fish and better visibility. Nearby facilities include restrooms, showers and food concessions.
Kualoa Beach Park
If you're visiting the Polynesian Cultural Center or Kualoa Ranch, from Waikiki, chances are you'll be driving by Kualoa Beach Park on the Windward Coast. There's a large grassy area with a small beach that is a good spot to stop for a picnic. Just offshore is the islet of Mokolii (Little Lizard), also known as the Chinaman's Hat which is now a bird preserve.
Top Attractions on Oahu with Kids
Polynesian Cultural Center
The Polynesian Cultural Center on Oahu is an excellent place to visit, featuring authentic villages from 6 Pacific cultures, art and music demos, shows and presentations and plenty of hands-on activities and games. In the evenings, at extra cost, are a luau and performances.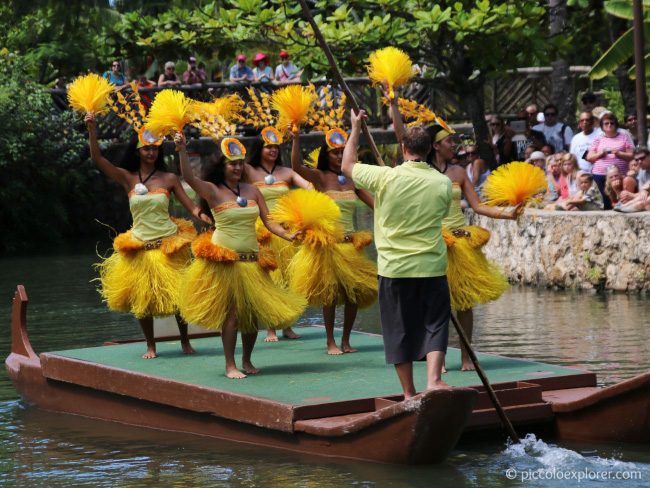 Waikiki Aquarium
The Waikiki Aquarium offers a good look at a wide array of fish, coral, sea anemones, jellyfish and more in exhibits highlighting the marine communities throughout Hawaii and other parts of the Pacific.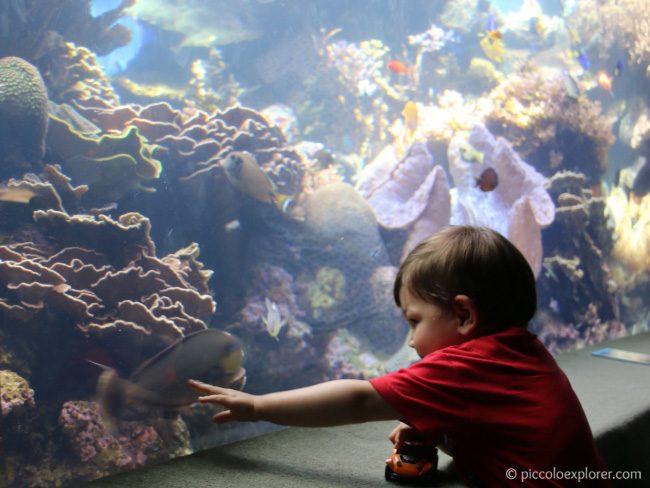 There is also an outdoor coral reef exhibit with the typical marine life you'd see snorkelling along Hawaii's reefs and an interactive area with a tide pool.
Read more: Visit to the Waikiki Aquarium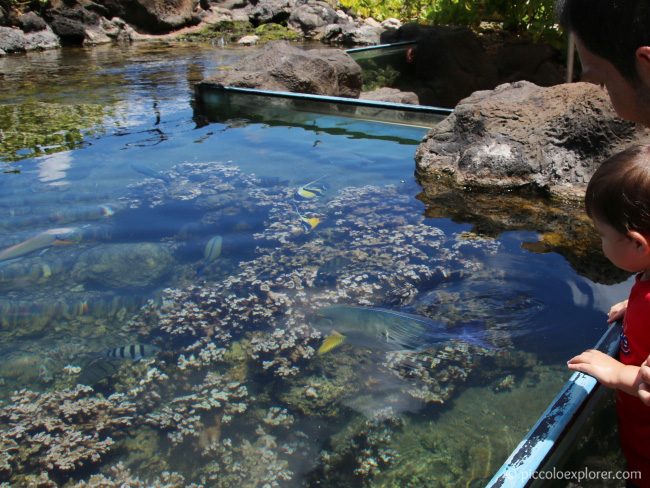 Paradise Cove
There are several luau venues throughout Oahu where you can get a taste of Hawaiian food, watch the hula and learn more about the local culture. We enjoyed the luau experience at Paradise Cove, which started off in the late afternoon with Hawaiian arts and crafts, activities and demonstrations.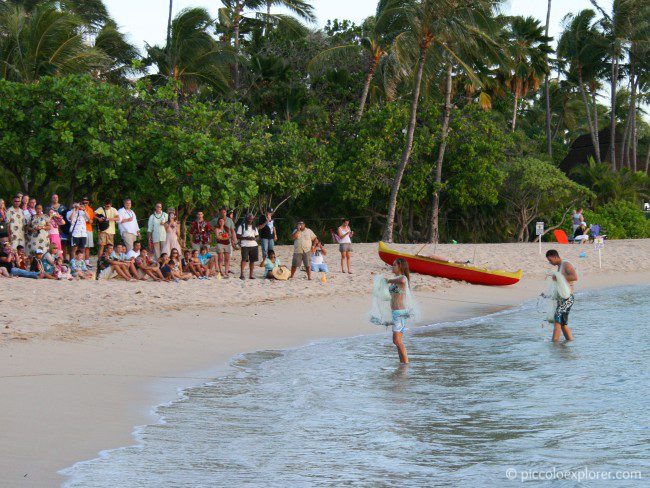 Over dinner, we watched performances of the hula and dances from across Polynesia, including the Tahitian dance and Samoan fire-knife dance.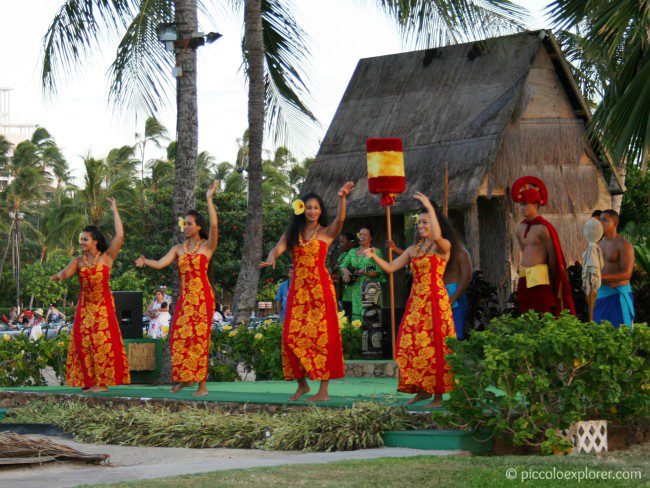 USS Arizona Memorial at Pearl Harbor
This memorial is built over the remains of the sunken battleship USS Arizona, and marks the resting place of 1,177 sailors and Marines killed on board during the Japanese surprise attack on Pearl Harbor, on December 7, 1941. It is a memorable and moving experience with starts with a documentary film then visitors take a boat to the memorial.
Dole Plantation
The Dole Plantation is worth a stop on the way to or from the North Shore for some fun family activities including the Pineapple Express Train Tour, the Plantation Garden Tour, and the Pineapple Garden Maze – and trying out the famous Dole Whip. Expect a queue for that scrumptious treat!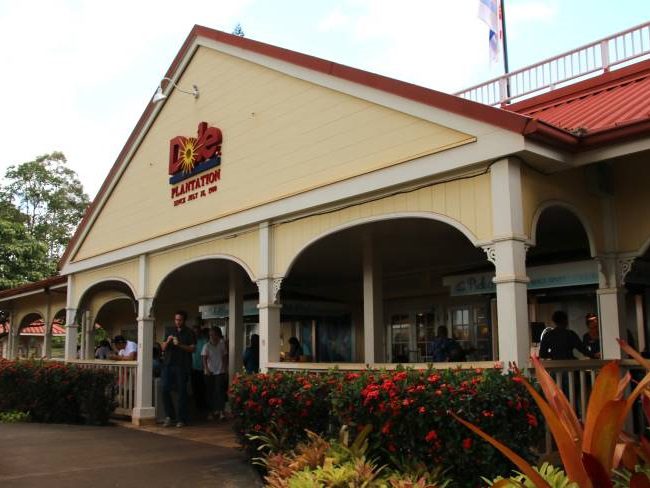 The train tour is fun for little ones and one of the best parts of visiting the plantation is seeing the different types of pineapples from all over the world.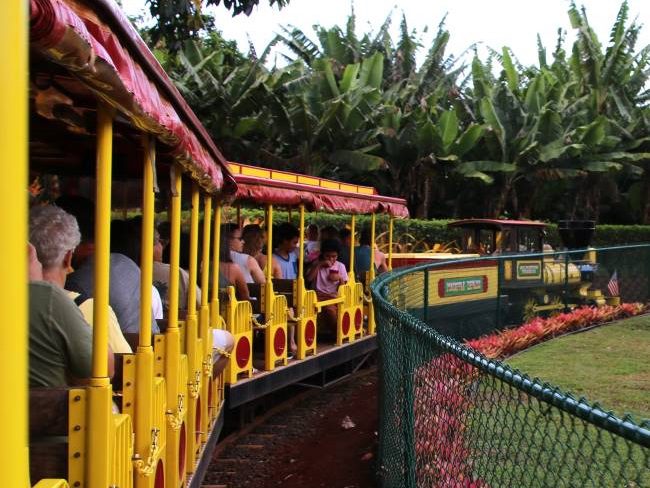 Kualoa Ranch
A 4000-acre private nature reserve and working cattle ranch on the Windward Coast, Kualoa Ranch is a popular spot for horseback riding through its valleys. Kualoa Ranch is also known for its filming locations, with over 50 movies and TV shows filmed there over the years.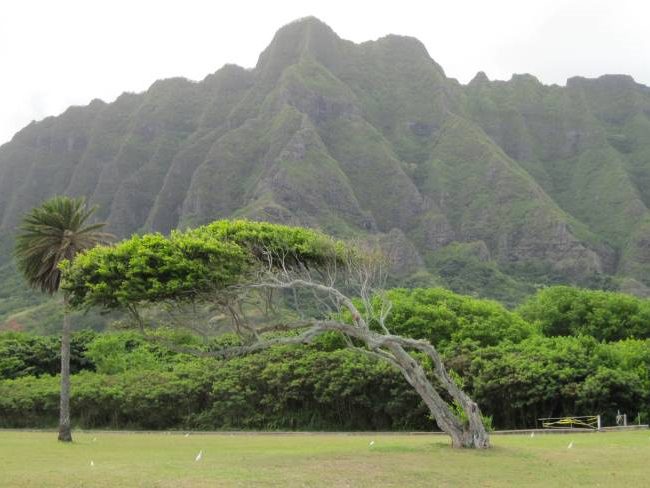 You can book guided tours to visit popular spots from films including Jurassic Park, Lost, Hawaii Five-O and Pearl Harbor.
Tropical Farms
Also along the Windward Coast and near Kualoa Beach Park is the Tropical Farms macadamia nut farm outlet. Stop in to taste delicious macadamia nut or Kona coffee, sample their wide variety of seasoned or chocolate covered macadamia nuts and stock up on food and cosmetic gifts at reasonable prices.
Outdoor Activities on Oahu with Kids
Hike the Diamond Head Trail
Hiking the Diamond Head State Monument is a popular activity with tourists and locals alike, and at the summit you're rewarded with breath-taking views of Honolulu and the Pacific Ocean, with the trail bringing you to the edge of a 300,000 year old crater. Allow 1 1/2 to 2 hours for the hike and ideally go in the early morning or late afternoon – make sure to bring plenty of water!
Horseback Riding and Pony Experiences
Oahu's valleys, forests and beaches are great for horseback excursions, and there are many ranches around the island offering lessons and trail rides. For younger children, some ranches also offer pony rides.
Read more: Kid-Friendly Activities on Oahu
Where to Eat on Oahu
Since we stayed in Waikiki, my recommendations are primarily from that neighborhood. You can find more details and photos on most of these Waikiki restaurants in my post – Beachfront Restaurants in Waikiki. While Waikiki can be an expensive place to dine out, you can still find budget eats at King's Village Shopping Center, the Royal Hawaiian Center Food Court and along Kuhio Avenue.
Tip:  If you're staying at self-catering hotel room or apartment in Waikiki, then there are Safeway or Foodland grocery stores about 1 to 2 miles away to stock up on essentials and groceries.
The Cheesecake Factory Waikiki
The Cheesecake Factory has to be the most popular place to eat in Waikiki. The restaurant does not take reservations and you can expect a wait of an hour or more in the evenings and over the weekend. It's popular because of its wide selection, offering 250 menu items and more than 50 cheesecakes and desserts, its great value and huge portions.
The Cheesecake Factory Waikiki | 2301 Kalakaua Ave, Honolulu, HI 96815
The Beach Bar, Moana Surfrider
The Beach Bar at the iconic Moana Surfrider Waikiki Beach has excellent views overlooking Waikiki Beach and offers a selection of appetizers, sandwiches, burgers and salads. Also a bonus: kid's meals are complimentary for hotel guests with purchase of an adult meal.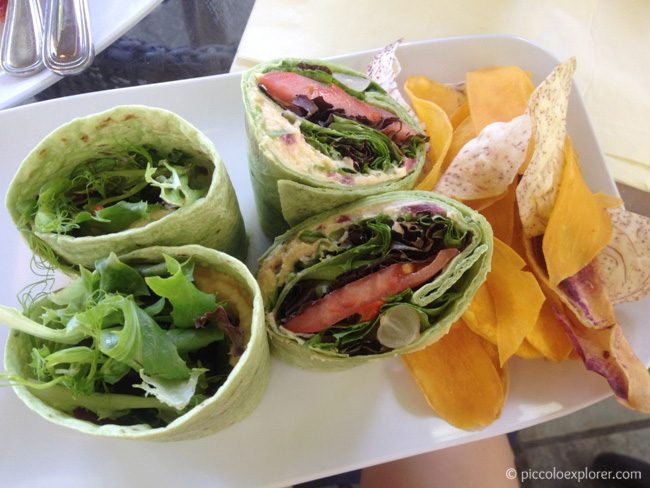 The Beach Bar, Moana Surfrider | 2365 Kalakaua Avenue, Honolulu, HI 96815
Surf Lanai Restaurant, The Royal Hawaiian
The Royal Hawaiian's casual eatery, the Surf Lanai, is an outdoor beachfront restaurant offering classic dishes with a tropical twist – tasty sandwiches, burgers, pizzas, soups, salads and fish.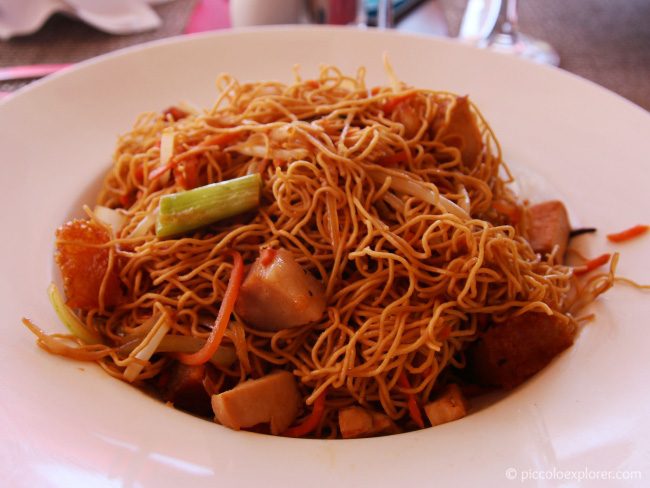 Surf Lanai Restaurant, The Royal Hawaiian | 2259 Kalakaua Avenue, Honolulu, HI 96815
House without a Key, Halekulani Hotel
The House without a Key is located in the Halekulani Hotel, a lovely place for oceanfront outdoor dining with live entertainment, offering a great selection from light appetizers to signature entrée dishes such as prime rib, lobster and fresh catch of the day. Check the website for special dinners including a Sunset BBQ.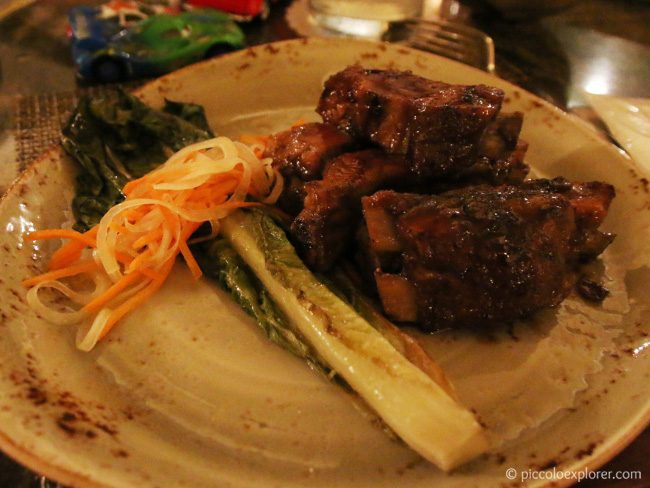 House without a Key, Halekulani Hotel, 2199 Kalia Road, Honolulu, HI 96815
Hula Grill, Outrigger Waikiki Beach Resort
The menu at the Hula Grill, located in the Outrigger features local specialties prepared with Hawaiian fresh fish, premium steaks and locally grown produce. We liked the friendly, casual atmosphere, unique menu and the great view of the ocean and the lively Duke's bar, which is just downstairs.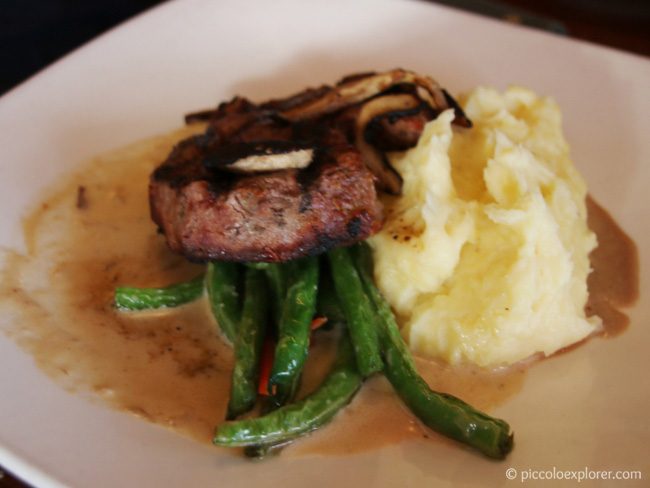 Hula Grill, Outrigger Waikiki Beach Resort, 2335 Kalakaua Avenue, Suite 203, Honolulu, HI 96815
Legend Seafood Restaurant, Honolulu
This popular Chinese restaurant in Downtown Honolulu offers a wide variety of authentic dim sum for lunch & other Cantonese-style dishes. We ate well here – good food and reasonable prices!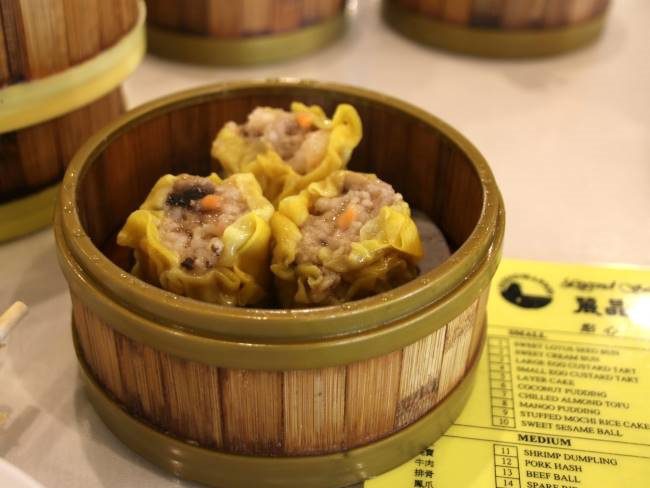 Legend Seafood Restaurant | 100 N Beretania St #108, Honolulu, HI 96817
Matsumoto Shave Ice, Hale'iwa
Stop by this famous family-owned shop in Hale'iwa, North Shore, for refreshing shave ice and ice cream in a wide variety of flavours that include cotton candy, guava, honeydew, creamy coconut, and white cake. The queue can very long (we waited about 40 minutes) but it's well worth it to try the delicious creations from this local favorite!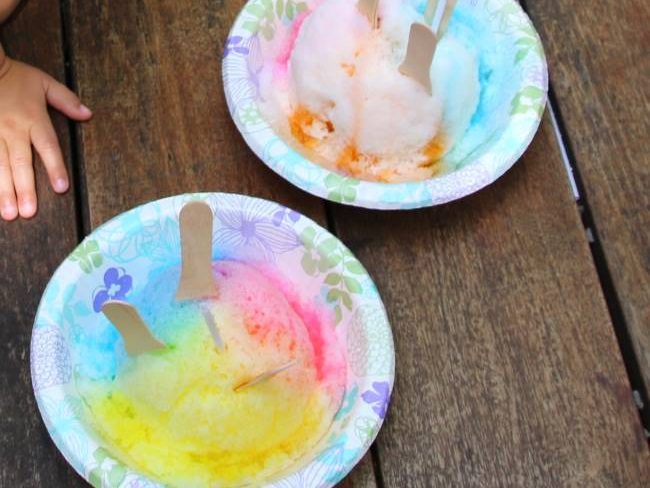 Matsumoto Shave Ice | 66-111 Kamehameha Hwy #605, Hale'iwa, HI 96712
Where to Stay on Oahu with Kids
Turtle Bay Resort
57-091 Kamehameha Highway, Kahuku, Oahu, HI 96731-2149 | +1 (866) 475-2569 | Website
Turtle Bay Resort is a beautiful oceanfront 1300-acre resort on Oahu's North Shore, including five miles of shoreline and 12 miles of scenic trails. This full-service resort offers many outdoor activities and excursions for families, from horseback riding to surfing fun, kayaking tours to hula lessons. See the full list of things to do at Turtle Bay Resort.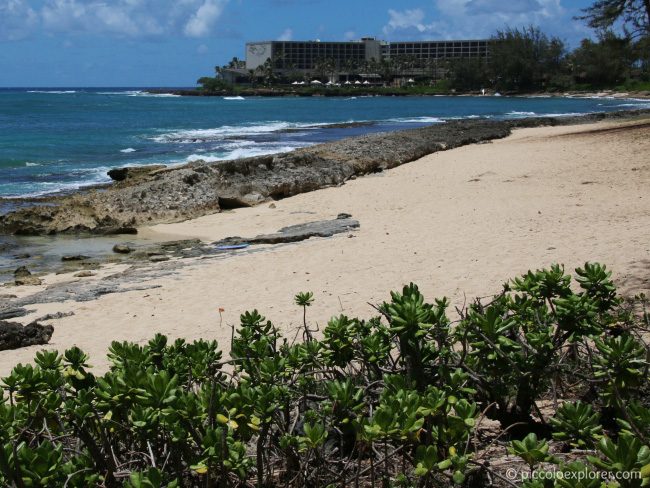 Visitors can book many of the experiences at Turtle Bay Resort, which is what our family has done as part of a day trip to the North Shore.
Related: Pony Experience at the Turtle Bay Resort Oahu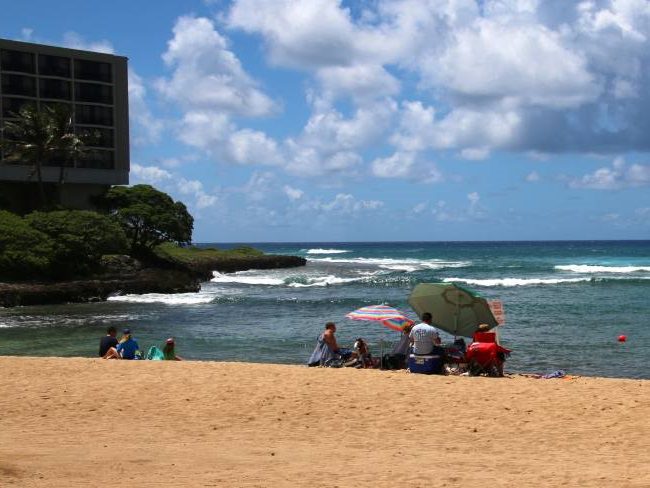 Check room rates and availability for the Turtle Bay Resort on Tripadvisor.com 
Sheraton Waikiki
2255 Kalakaua Avenue, Honolulu, Oahu, HI 96815 | +1 (808) 922-4422 | Website
Sheraton Waikiki is a very family-friendly hotel right on Waikiki Beach, featuring an all-ages swimming pool with a large water slide, an on-site creche and Kid's Club and cultural activities for families. In addition, there's a stunning oceanfront infinity pool and the hotel is conveniently located to the shopping centres and restaurants of Waikiki.
Check room rates and availability for Sheraton Waikiki on Tripadvisor.com
Moana Surfrider, A Westin Resort and Spa
2365 Kalakaua Avenue, Honolulu, Oahu, HI 96815 | +1 (808) 922-3111 | Website
Known as the First Lady of Waikiki, the plantation-style Moana Surfider Oahu offers an incredible oceanfront setting with direct access to Waikiki Beach in front of the hotel.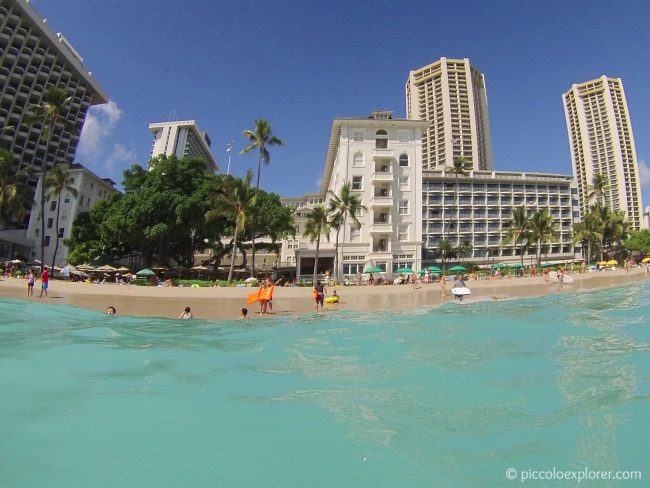 Highlights at the Moana include top-notch beachfront restaurants featuring live entertainment, an excellent location for exploring Honolulu and the nearby Diamond Head hiking trail and plenty of water activities right on its doorstep.
Read more: Moana Surfrider Waikiki Oahu hotel review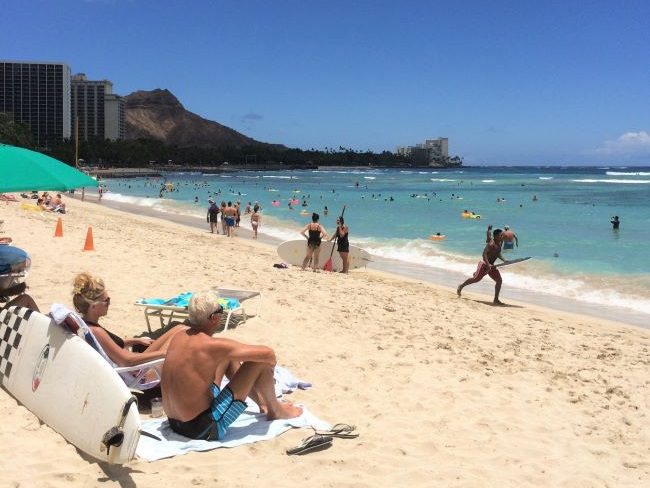 On our last two family trips to Oahu, we stayed for two weeks at a time at the Moana Surfrider. With its historic charm and oceanfront location, the Moana Surfrider, a Westin Resort & Spa, is one of the most memorable places to stay on Honolulu's Waikiki Beach.
Check room rates and availability for Moana Surfrider Oahu on Tripadvisor.com
Aulani Disney Resort
92-1185 Aliinui Drive, Kapolei, Oahu, HI 96707 | +1 (866) 443-4763 | Website
Aulani, A Disney Resort and Spa, is a stunning resort with a touch of Disney magic, offering several fantastic swimming pools and a lazy river, a water play splash zone and resort beach. There are many activities on offer, from fire pit storytelling to pool parties with Disney characters, along with a supervised activity center for children.
Check room rates and availability for Aulani Disney Resort on Tripadvisor.com
Four Seasons Resort Oahu at Ko Olina
92-1001 Olani Street, Kapolei, HI 96707 | +1 (808) 679-0079 | Website
The Four Seasons is a luxury oceanfront resort on Oahu's west coast, close to Honolulu and Waikiki Beach, yet still a relaxing oasis with its own beach. The resort offers an array of recreational activities for the whole family.
Check room rates and availability for Four Seasons Resort Oahu on Tripadvisor.com
Where to Shop on Oahu
There is no shortage of shops in the Waikiki area, from souvenir stores to luxury boutiques. The Ala Moana Center in Honolulu is the world's largest open-air shopping mall. The North Shore has a number of souvenir outlets and independent shops in Hale'iwa selling aloha wear, handmade products and artwork at much lower prices than in the Honolulu area.
Groceries & Essentials in Waikiki
Food Pantry, 2370 Kuhio Ave – The closest place to Waikiki's hotels to shop for toiletries, medicine, groceries and baby/toddler essentials. Prices are at a slight premium compared to larger grocery stores, with some manager's specials on offer.
ABC Stores, many locations in Waikiki – Convenience store selling deli foods, souvenirs, beach gear, clothing, snacks and some groceries. Great spot for cheap and cheerful beach toys and towels. Inflatable mattresses and rings can also be inflated at the cashier at small cost.
Safeway, 888 Kapahulu Ave – This is a large grocery store near Waikiki with reasonable prices. Great for stocking up on groceries and essentials if you're staying at a self-catering condo or apartment.
Oahu Shopping Centers
Ala Moana Center, 1450 Ala Moana Blvd, Honolulu, HI 96814 – There are over 350 retailers at this shopping mail, along with several restaurants. I can recommend Hilo Hattie for a great variety of aloha wear.
Royal Hawaiian Center, 2201 Kalakaua Ave, Honolulu, HI 96815 – This shopping mall in the heart of Waikiki has more than 110 shops and restaurants, including a food court, and regularly features hula performances in its outdoor courtyard.
Waikiki Beach Walk, 227 Lewers St, Honolulu, HI 96815 – A shopping center offering a selection of unique home and clothing boutiques, art galleries and fine dining restaurants
Hale'iwa Town Center and North Shore Marketplace, Kamehameha Highway, Haleiwa, HI 96712 – Hale'iwa is known for its locally owned shops and eateries, art galleries and surf gear. There are a number of souvenir outlets selling aloha wear and handmade products at much lower prices than in the Honolulu area. I can recommend Growing Keiki for children's clothing and books.
More Oahu with Kids Tips
I hope you have found this family travel guide to Oahu with kids helpful in planning a family vacation to this amazing island. Check out our other posts on Oahu for more tips, snapshots and reviews.
Hotel Review: Moana Surfrider, Waikiki
Travel Tips: Waikiki with a Toddler
Kid Friendly Activities on Oahu
Our Visit to the Waikiki Aquarium
Pony Experience at Turtle Bay Resort
Beachfront Restaurants in Waikiki
Snapshots from Kailua Beach Park, Oahu
Pin for later – Family Travel Guide to Oahu with Kids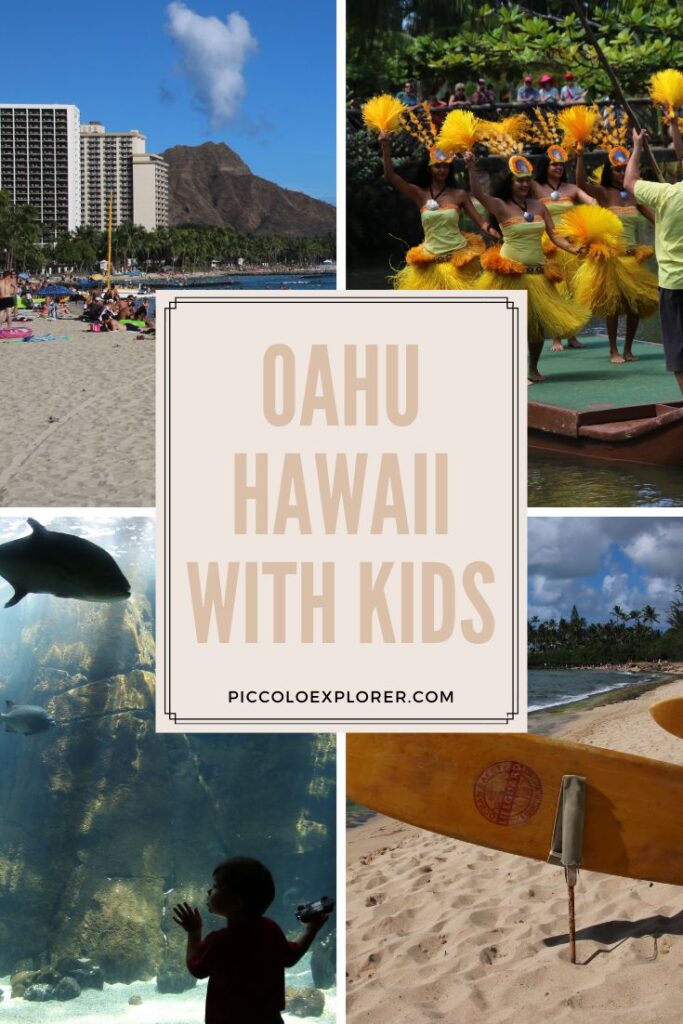 Disclosure: There are some affiliate links in this post. This means that if you choose to make a purchase after clicking on one of the links I may receive a small commission that helps to support this site at no additional cost to you. This post was updated on 21 March 2023 with contact information for family-friendly Oahu hotel recommendations.
Save
Save