Walt Disney World's Epcot theme park spans over 300 acres and is dedicated to the celebration of technological innovation and international culture. There is plenty to see and do at Epcot for all ages, with a combination of fun rides and educational experiences. In this post, I'll share tips and advice for visiting Epcot with preschoolers.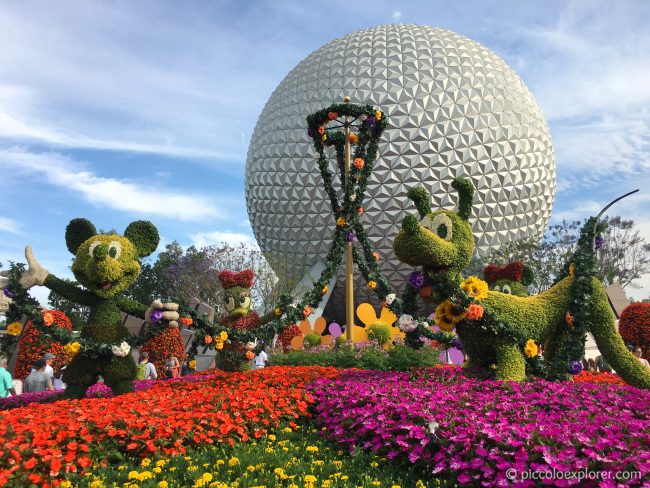 There are two sections to explore at the park: Future World, featuring popular experiences such as the Test Track and Mission: SPACE, and the World Showcase, made up of pavilions themed to 11 countries with restaurants and entertainment. Our visit was during the late afternoon and evening, so we could have dinner at Epcot and watch the fireworks at 9pm. I'd recommend spending an evening at the parks to experience the nighttime shows, dining out and fireworks. For us, Epcot was a great choice for the selection of restaurants in the World Showcase and a brilliant fireworks display.
Related: Family Holiday in Orlando, Florida
Character Spot
Our visit began with a stop at the Character Spot, where Little T (3 1/2 years old) was thrilled to meet Mickey Mouse, Goofy and Minnie Mouse. Without a FastPass+ reservation, the wait was 30+ minutes – but well worth it as once we finally got in, we had plenty of time for photos and autographs with the characters.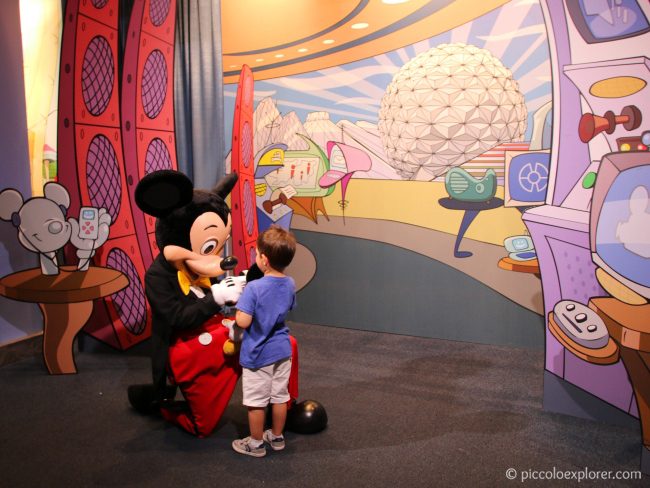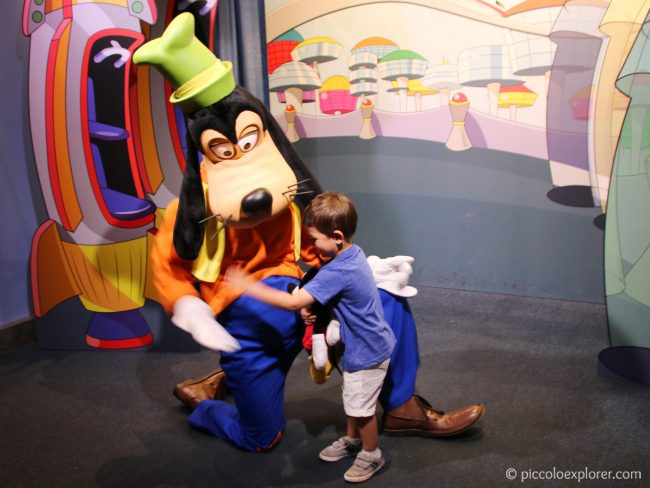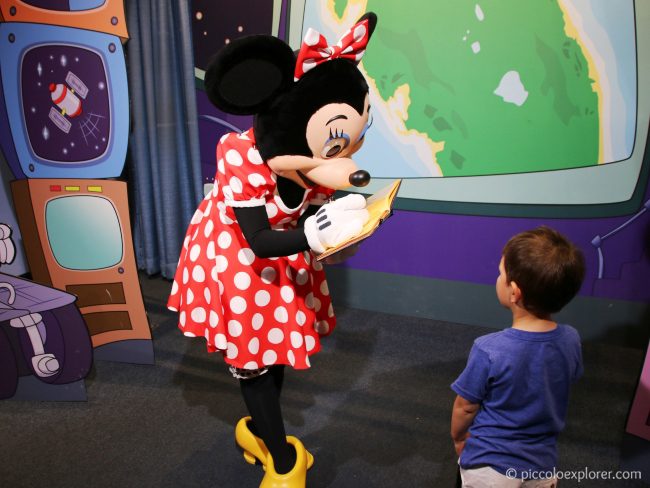 Spaceship Earth
We also went on the Spaceship Earth ride in the iconic sphere. This is a ride that takes you through the technological advances of mankind through the centuries. It was a very interesting and enjoyable ride for all ages; it goes about 2 mph so fine for toddlers and preschoolers and safe for expectant mothers.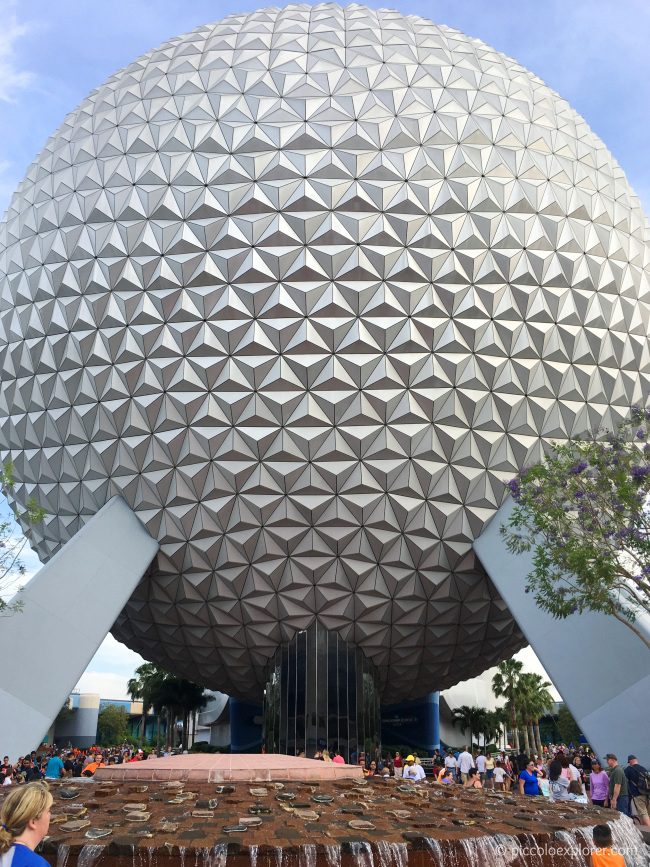 International Flower & Garden Festival
During May, Epcot was celebrating its annual International Flower & Garden Festival with fun character topiaries and beautiful flower installations set up throughout the park, featuring many characters including Winnie the Pooh, Snow White, Beauty and the Beast and Mickey Mouse.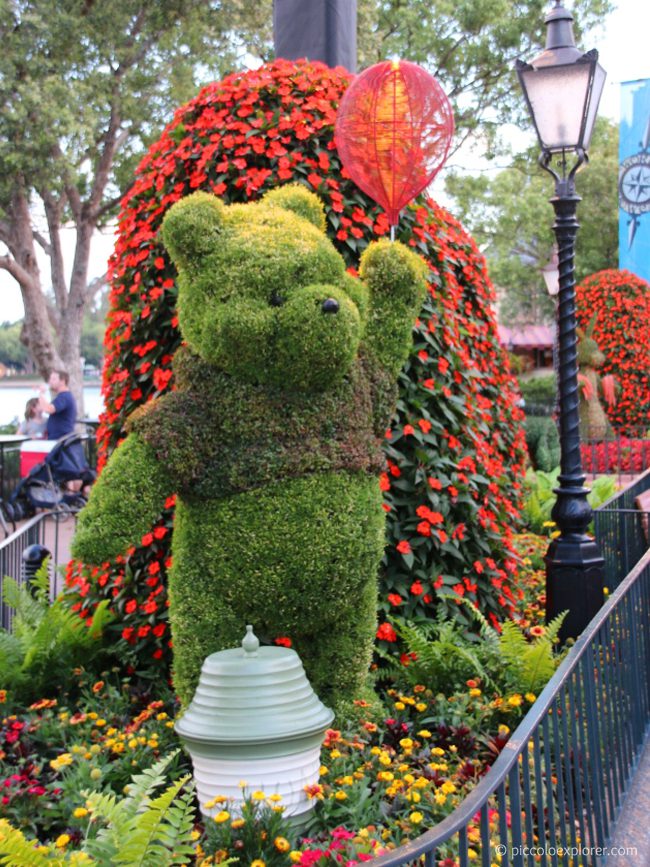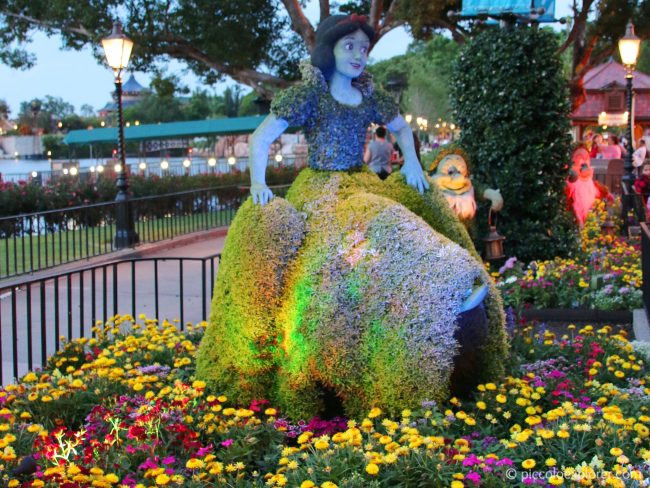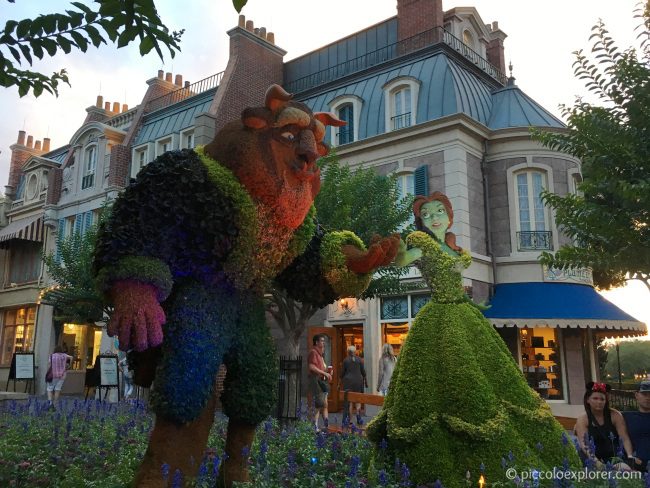 Epcot World Showcase
One of the highlights of Epcot is its World Showcase, which is split up into pavilions representing 11 countries: Mexico, Norway, England, China, Germany, France, USA, Italy, Canada, Morocco and Japan. Each pavilion features shops, restaurants, entertainment and activities based on each country.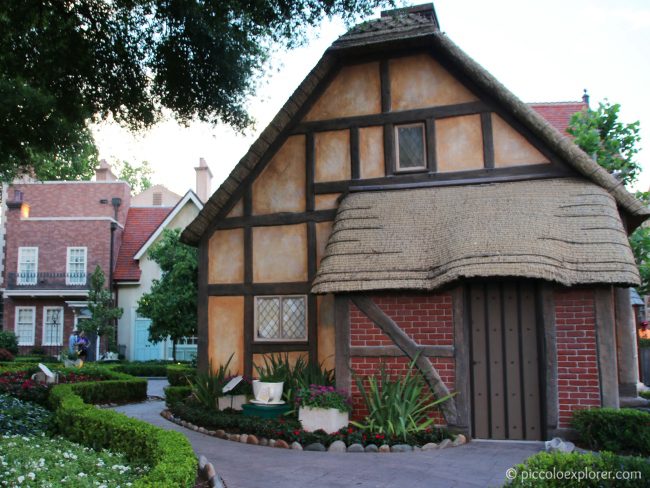 Tip: Keep an eye out for character appearances at each country, for example Elsa and Anna at Norway, Donald Duck at Mexico, Mulan at China. You can check for these appearances on the My Disney Experience app or website.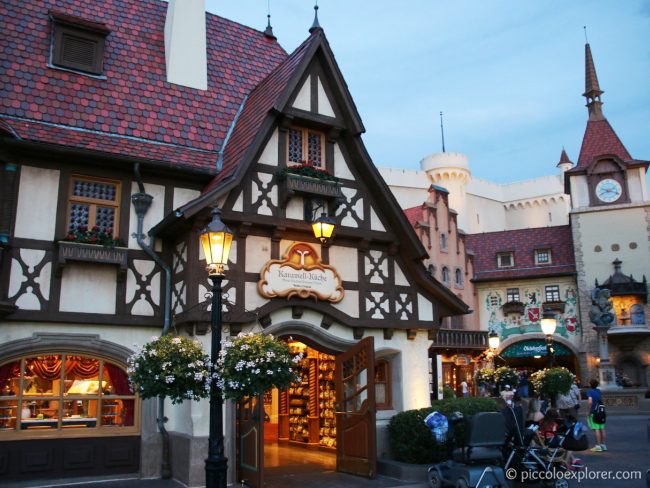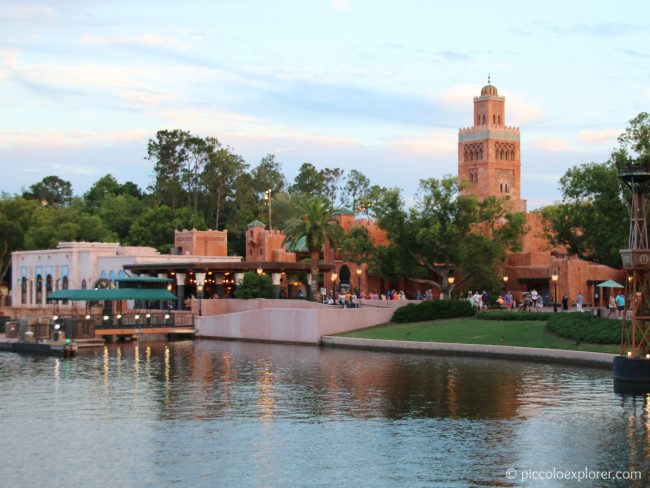 Tip: Check for special events and festivals – for example, this autumn there is the International Food & Wine Festival (31 August to 13 November) at Epcot, where you can try international foods from 30 kiosks, enjoy live performances and more!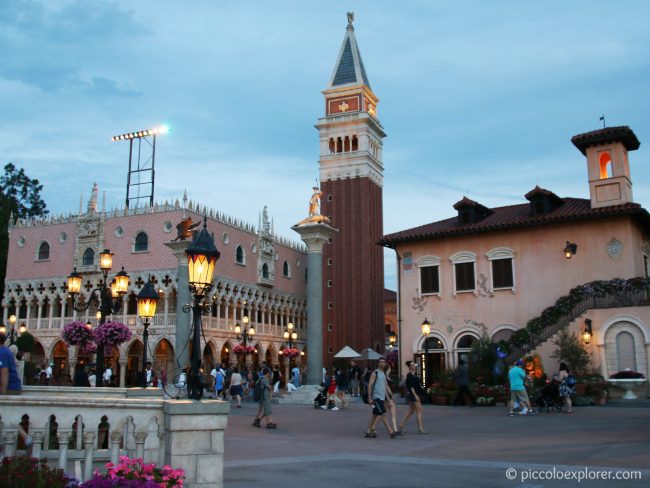 San Angel Inn Restaurante
For dinner, we booked a table at San Angel Inn, in the Mexico pavilion. The restaurant is designed as a 17th-century hacienda at the base of Mayan ruins, dimly lit and overlooking boats going by in the small lagoon at the foot of the ruins. Our dinner was pretty late (8:30PM) and the restaurant wasn't crowded at all.
San Angel Inn has a unique atmosphere, but to be honest, we were somewhat disappointed with the food. While my carne asada was tender and pretty tasty, the rest of my meal (the rice and empanada) was dry and tasteless.
Fireworks Display
We then watched the fantastic fireworks display before making our way to the exit, where the Spaceship Earth sphere looks even more beautiful by night.
Tip: We purchased one of our favourite Disney souvenirs at a kiosk at Epcot: a Mickey shaped bubble wand that also lit up – perfect for Little T to wave around in the evening!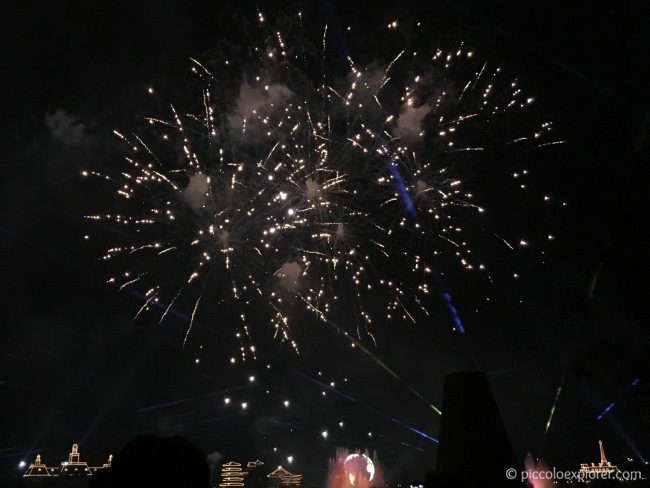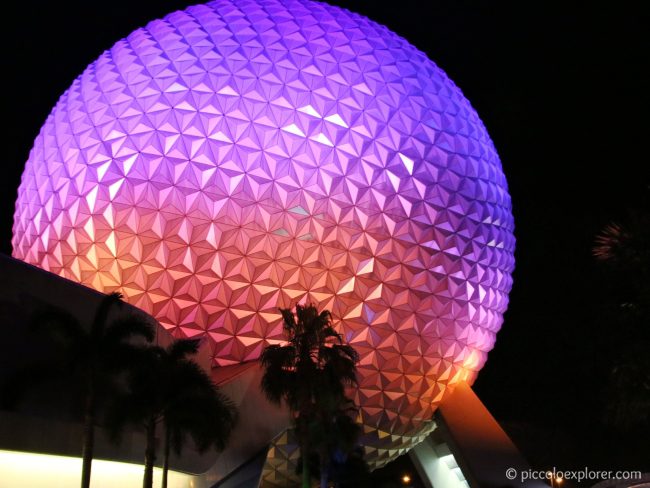 Visiting Epcot with Preschoolers
Epcot is definitely a theme park I'd love to go back to for the fun and educational rides, attractions and other experiences that showcase the environment, innovation and world culture. I originally thought Epcot was a park geared mainly to older children and adults. During this visit, however, I found there is plenty for younger children to enjoy too. Highlights visiting Epcot with preschoolers were the Character Spot with Mickey and Friends, the Spaceship Earth ride and exploring the World Showcase. Other rides and attractions that preschoolers would love include Test Track, Frozen Ever After and The Seas with Nemo and Friends.
The World Showcase is well done and fun to explore. We also loved seeing the character topiaries and flower displays for the Epcot International Flower and Garden Festival. Overall, we had a wonderful time at Epcot, and as it was also our last evening in Orlando, it turned out to be a great way to end a memorable vacation at Walt Disney World.
https://www.disneyworld.co.uk/destinations/epcot/
Pin for Later – Visiting Epcot with Preschoolers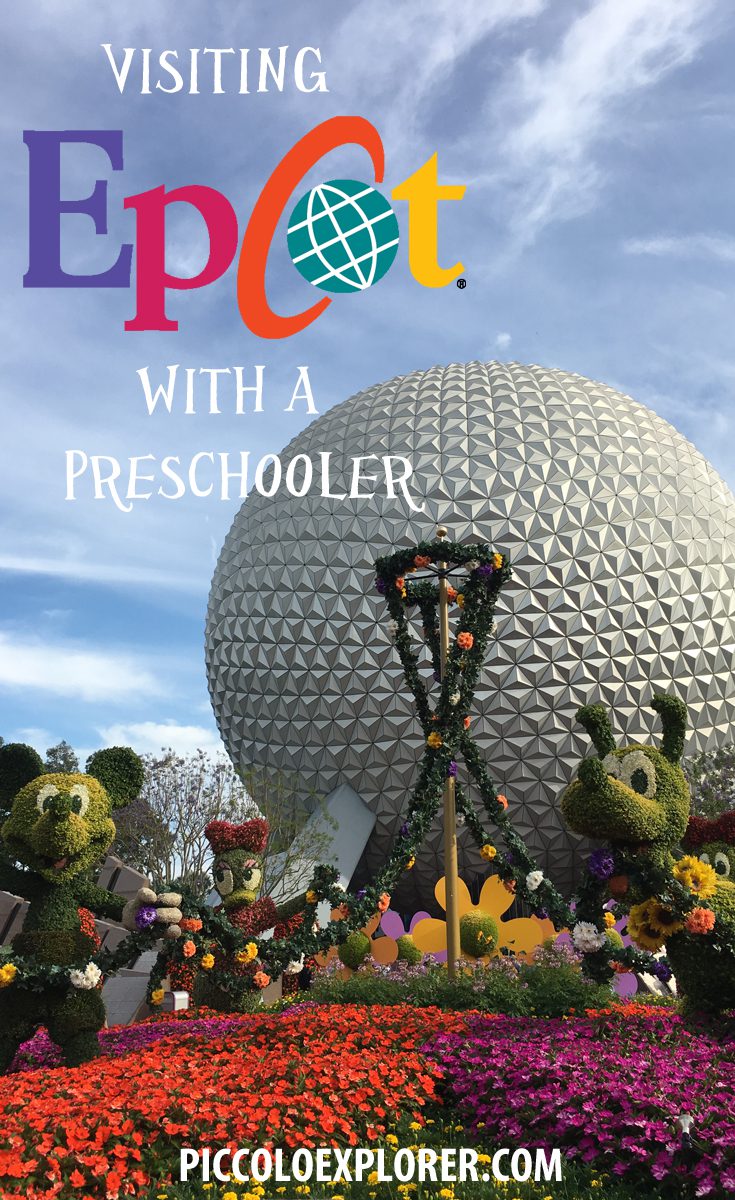 Save
Save
SaveSave
Save
Save
SaveSave
SaveSave
SaveSaveSaveSaveSaveSave
Save