Looking for things to do in London during the Easter school holidays? In this guide, you'll find a list of 2023 Easter events and activities for kids in London that are coming up in April.
When are the Easter school holidays in London?
The Easter school holidays for most schools in England is from Monday, 3 April to Friday, 14 April 2023. Some schools in London start the Easter school holidays earlier, from Monday, 27 March or finish later, ending on 22 April 2023.
Easter Activities in London with Kids
Most Easter family activities and events in London will be on during the first two weeks of April. Several venues and attractions around London typically organise special Easter trails – with a chocolate treat or prize at the end – including National Trust sites, English Heritage sites and Hampton Court Palace.
Keep reading for a list of What's On in London for the Easter 2023 school holidays. I will continue to add to this list as more events and activities are announced, so do check back for more updates over the coming weeks. For even more days out inspiration around London, I have also included upcoming Easter events and activities in neighbouring Surrey and Kent.
Brick Dinos at the Horniman Museum
10 February – 29 October 2023
Step back in time with Brick Dinos, the new family-friendly exhibition at the Horniman Museum and Gardens. See dinosaurs and other prehistoric giants – including the raptor-like Masiakasaurus and a life-sized flying pterosaur – recreated in miniature form by artist Warren Elsmore and his team.
The Brick Dinos exhibition will also feature rarely seen specimens from the Horniman's stores, and a range of hands-on activities for children to enjoy including build your own dinosaur and digging for fossils.
Tickets cost £9 for adults, £4.50 for children. Free for under 3s.
Book exhibition tickets at the Horniman Museum
Titanosaur: Life as the Biggest Dinosaur at the Natural History Museum
31 March 2023 – 7 January 2024
Step into the world of the colossal titanosaur Patagotitan mayorum, one of the  the largest known creatures to have ever walked our planet, at an exciting new, interactive exhibition at the NHM. This is the first time the Patagotitan mayorum has been on display in Europe; don't miss your chance to see this extraordinary dinosaur up close!
Follow the life of a titanosaur around a gallery, where you can handle specimens, explore interactives and learn how a creature of this colossal size could have survived on Earth. After discovering what life was like as the biggest dinosaur, get to know the giants we share our planet with today, learn about their lives, the challenges they face and how we can protect them.
Tickets cost £16 for adults and £9 for children. Advance bookings are recommended especially for visits during the school holidays and weekends. Recommended for ages 5+.
Book tickets at the Natural History Museum
The Lindt Gold Bunny Hunt at Hampton Court Palace
1 – 16 April 2023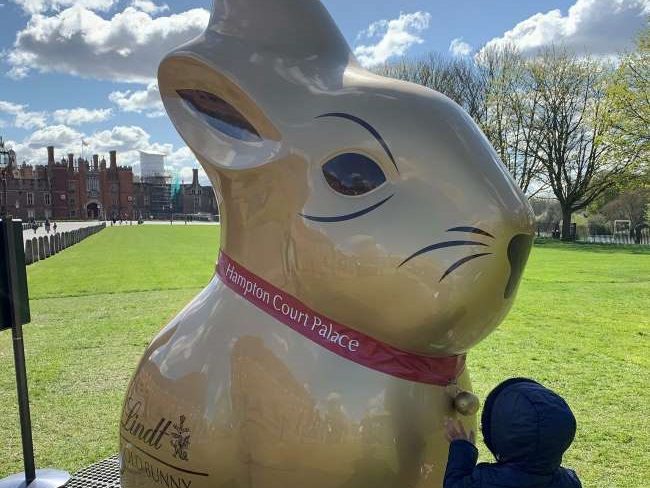 The Lindt Gold Bunny hunt returns to Hampton Court Palace during the Easter school holidays. Use the trail map to explore over 60 acres of palace gardens and find the Lindt Gold Bunny statues that are hiding there. When you have finished, remember to collect a Lindt GOLD BUNNY (10g) chocolate reward. Non chocolate rewards are also available on request.
The hunt is designed for children aged 4-12 years old and their families. The Lindt Gold Bunny hunt is included in palace admission (members go free.) Under 5s go free and will not need a ticket.
Combine with a visit to the Magic Garden playground (also included in palace admission, members go free) for a fun family day out.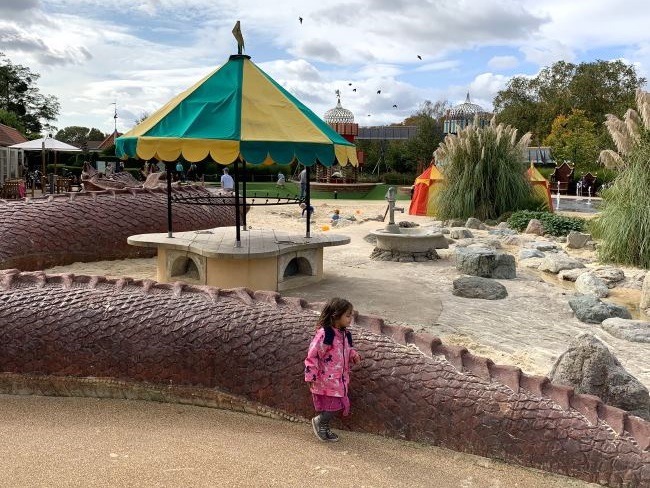 Address: Hampton Ct Way, Molesey, East Molesey KT8 9AU
Book your tickets to visit Hampton Court Palace 
Easter Holidays Kids Theatre Shows in London
Here's a list of what's on for kids at London Theatres during the Easter school holidays.
The Extraordinary Time-Travelling Adventures of Baron Munchausen at New Wimbledon Theatre
5 March – 1 October 2023
Winner of the "Best Children's Show on the Fringe" at Manchester last year, this exciting new concept show features award-winning comedians and improvisers who are challenged by one another to invent outrageously exaggerated swashbuckling stories based on the The Adventures of Baron Munchausen.
Discover how the Baron invented Morris dancing, how his actions saved the Isle of Skye from sinking beneath the waves, why every fourth child in Bruges is named after him and other fantastically delightful stories.
Running time: 60 minutes. Tickets from £11. Suitable for ages 7+
Book tickets at the New Wimbledon Theatre
The Three Billy Goats Gruff at The Unicorn Theatre
12 March – 23 April 2023
Featuring music and lyrics by the Olivier award-winning Stiles and Drewe (Mary Poppins, Honk!), this Easter holidays come and step into the magical, fairy-tale world of The Three Billy Goats Gruff in this perfect first musical for young families.
Baby, Middle and Big are three very hungry goats, and there is absolutely no grass left to eat on their side of the valley. Come on their adventure as together with Little Bo-Frilly they hatch a plan to cross the bridge to the lush green grass on the other side, they just need to outwit that horrible tricksy troll first.
Running time: 55 minutes. Tickets from £13 for adults and £10 for under 18s. Suitable for ages 3 – 6
Book tickets at The Unicorn Theatre
The Singing Mermaid at Polka Theatre
31 March – 8 April 2023
The singing mermaid is tempted away to join a travelling circus, with the promise of a life of excitement (and her own swimming pool!). The audience loves her singing but soon she finds she's been tricked by the dastardly circus master. A cast of three performers, beautiful puppets and music & songs bring Julia Donaldson and Lydia Monks' much-loved story to life.
Running time: 55 minutes. Tickets from £10.  Recommended for ages 3 – 8
Book tickets at Polka Theatre
The 'Not So' Grimm Twins at the Lyric Hammersmith Theatre
11 – 15 April 2023
Hear the fabulous Grimm Brothers' fairytales like never before, respun by three actor-musicians in this production featuring original live music and puppetry.
Meet world-famous twins Jake and Will Grimm, as they tumble from their magical wagon brimful of stories collected from every inch of the world – from Rapunzel to Red Riding Hood. Sometimes even familiar fairytales can take a turn for the unexpected, and our heroes will need all the help they can get to defeat the creatures of their own creation and save the world!
Running time: 60 minutes. Tickets from £15. Suitable for ages 4+
Book tickets at the Lyric Hammersmith Theatre
Easter Activities in Surrey with Kids
Easter Eggstravaganza at Bocketts Farm Park
1 – 16 April 2023
Bocketts Farm Park is one of the best farm parks to visit near London, with acres of outdoor playgrounds, trailer rides, pig races, feeding the farm animals, indoor soft play and small animal encounters.
Related: Day Out at Bocketts Farm Park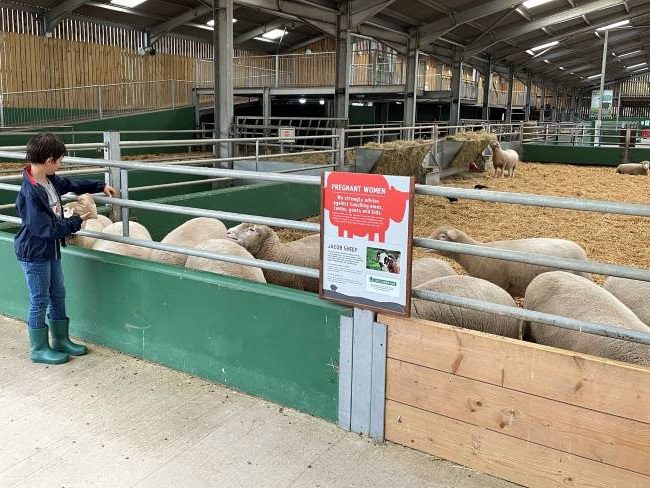 During the Easter school holidays, see the the baby lambs, chicks and ducklings; complete an Easter Trail with chocolate treats, get creative in the Craft Corner and watch live shows in the Easter garden.
Address: Young Street, Fetcham, Leatherhead, Surrey KT22 9BS
Book your tickets to visit Bocketts Farm Park
The Giant Easter Egg Hunt at RHS Garden Wisley
1 – 17 April 2023
Discover the enormous painted eggs hidden around the garden for families and all ages to discover. Join in planting or craft workshops in the CLORE Learning Centre for daily Easter activities.
Address: Wisley Ln, Wisley, Woking GU23 6QB
Book tickets to visit RHS Garden Wisley
Easter Eggvent at Crockford Bridge Farm
April 2023 dates TBA
Crockford Bridge Farm will have an Easter Eggvent over the Easter holidays, aimed at younger visitors and recommended for children up to 8+ years.
Activities must be supervised by an accompanying adult and will include an Easter Hunt (with a sweet prize), Meet the Mad Hatter, Easter crafts and Egg and Spoon around the Asparagoblins Assault Course. Tickets are required to attend this event and booking in advance is recommended.
Address: New Haw Road, Addlestone, Nr. Weybridge, Surrey KT15 2BU
Read more and book tickets for the Easter Eggvent at Crockford Bridge Farm
Easter Fun at Godstone Farm
Tickets are available to book to visit Godstone Farm in Surrey over the Easter holidays. Godstone Farm is a great farm park to visit with young children since it's easy to walk around. Wander along the Farm Trail for a chance to see alpacas, rabbits, sheep, goats, horses, chickens and more. Keep an eye out for the Animal Holding experiences for an opportunity to get up close to their smaller animals.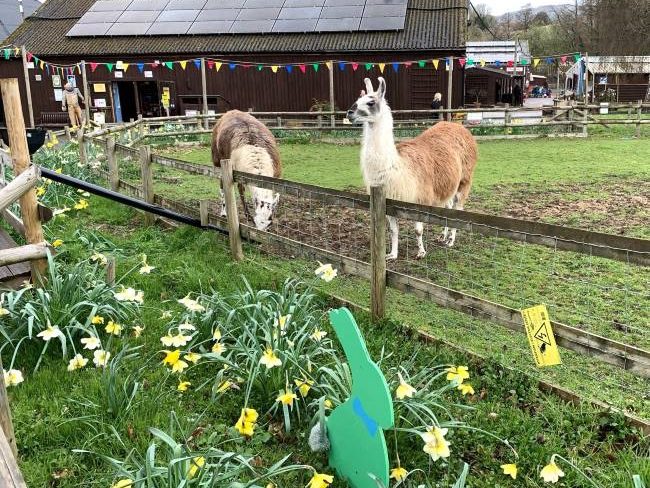 There are also several play areas to enjoy year round, including an indoor soft play, adventure playground, construction play area, sandpits and ride on toys. See the World of Dinosaur Roar! Discovery Trail along their woodland trail. New additions include a den building area and a Wilding Play Area for kids to create their own natural fun.
Address: Tilburstow Hill Road, Godstone, RH9 8LX
Book your tickets to visit Godstone Farm
Easter Activities in Kent with Kids
Easter Trail at Leeds Castle
1 – 16 April 2023
Embark on an adventure through the great outdoors at Leeds Castle this Easter. After you've completed the trail, enjoy a serene spring walk through the flowering daffodils and tulips. Meet the majestic birds of prey and watch as they swoop overhead in a captivating performance in the falconry arena.
Address: Broomfield, Maidstone ME17 1PL
Read more about the Easter family activities and book tickets to visit Leeds Castle
This post was updated on 13 January 2023 with recently announced events and activities coming up in London, Surrey and Kent during the 2023 Easter school holidays.
PIN FOR LATER – Easter in London with Kids 2022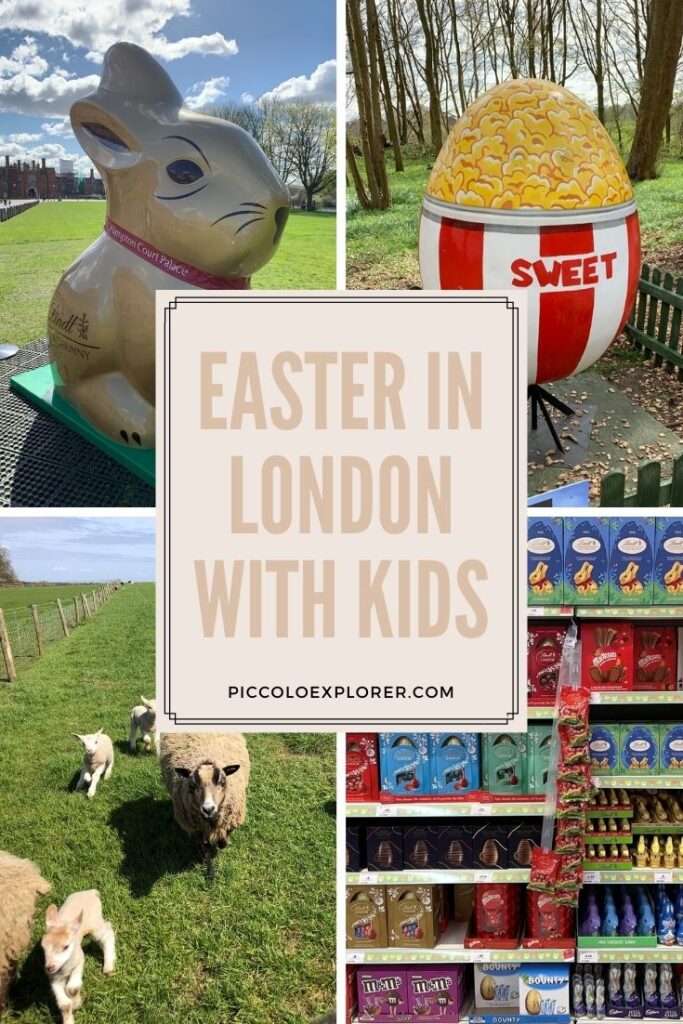 Please follow and like us: