WWT London Wetland Centre is a wonderful place for a day out in London with over 105 acres of nature reserve to explore and outdoor activities for kids. In this guide to visiting the London Wetland Centre Barnes, I will be sharing our experiences and photos from family days out in all seasons through the years.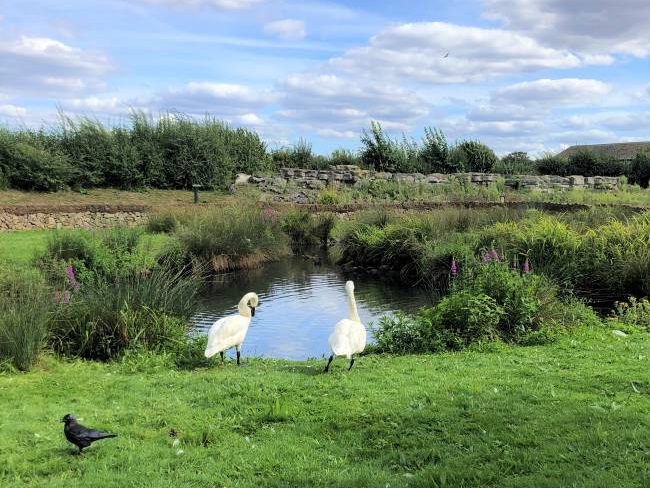 London Wetlands Centre Barnes
At the WWT London Wetland Centre, there are several different wildlife habitats to see throughout the reserve, including lakes, marshes, reedbeds and gardens. The lakes, pools and gardens are home to a huge variety of wildlife including kingfishers, sand martins, wading birds and plenty more.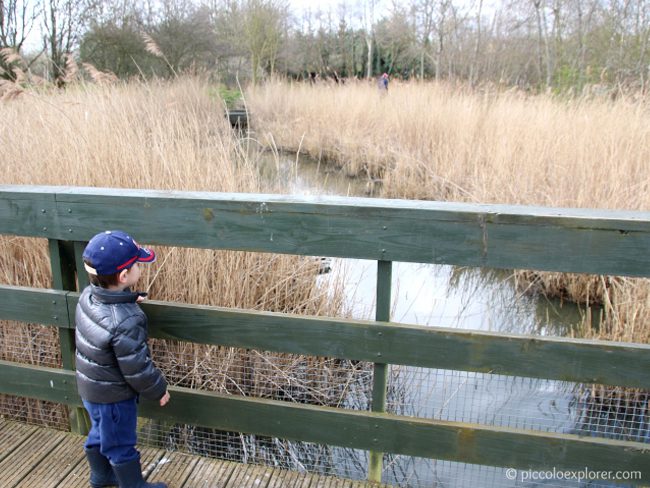 Around 180 bird species are recorded at the Barnes Wetland Centre each year. Have a look at the WWT London website for the latest wildlife sightings.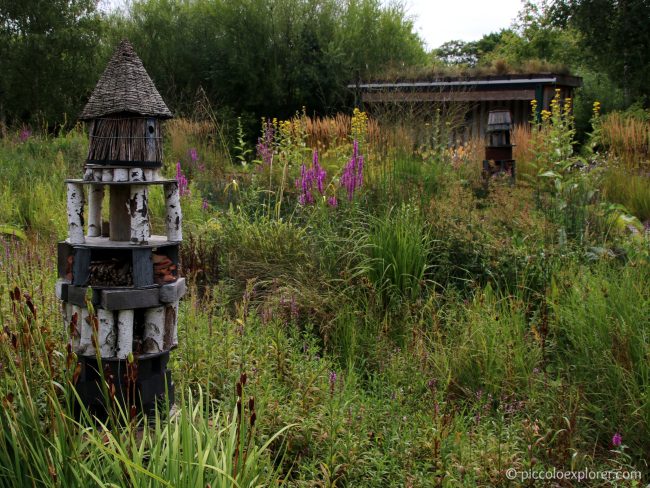 The Wildfowl & Wetlands Trust (WWT) is a conservation charity that saves wetlands in the UK and around the world. WWT has 9 Wetland Centres in the UK and manages 3,000 hectares of prime wetland habitat, much of it designated as nationally or internationally important to wildlife.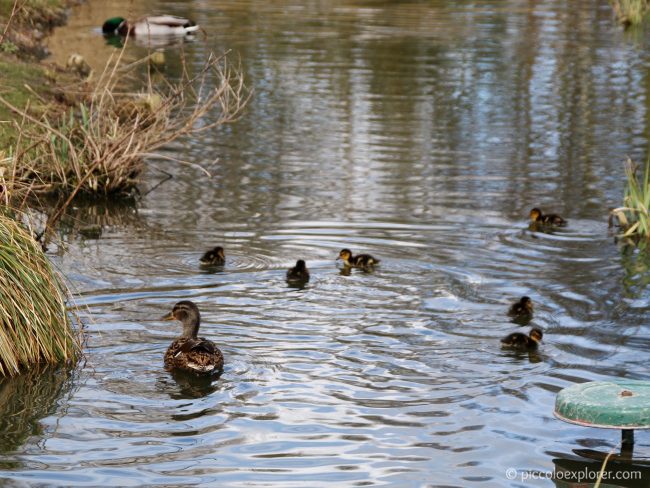 We have had a WWT annual family membership for several years and have found it to be such a great value. There's so much to do at London Wetland Centre, from exploring the trails and seeing the wildlife to pond dipping and other family-friendly activities.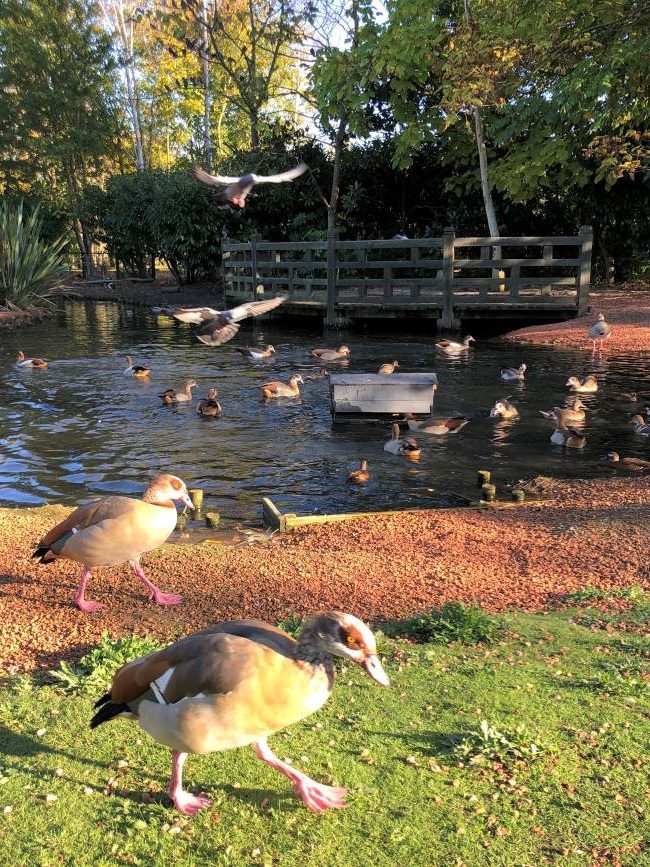 Our kids love the Explore Adventure play area and interactive displays, watching the otters and spotting the wildfowl along the nature reserve paths.
On one of our spring visits we had the pleasure of seeing a mother duck surrounded by at least twelve adorable fluffy ducklings.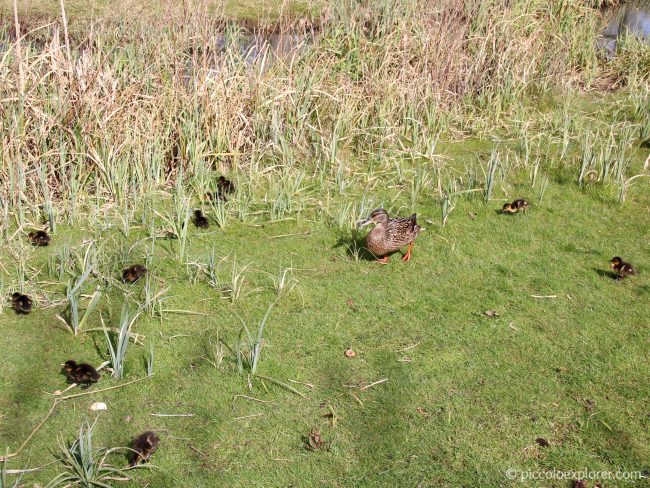 Over the summer, the reserve is a beautiful lush green dotted with vibrant flowers.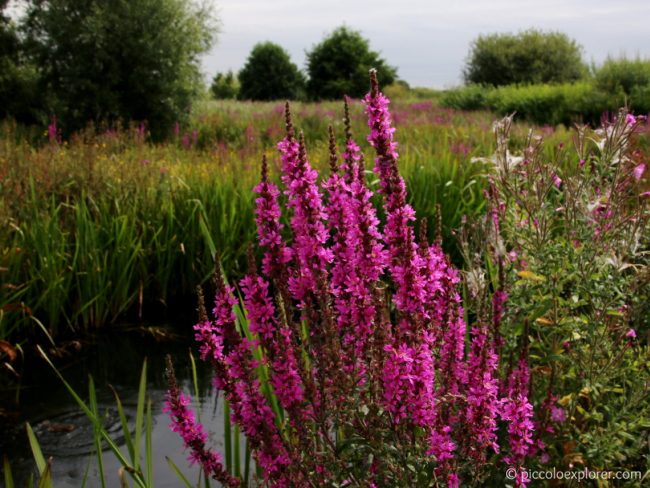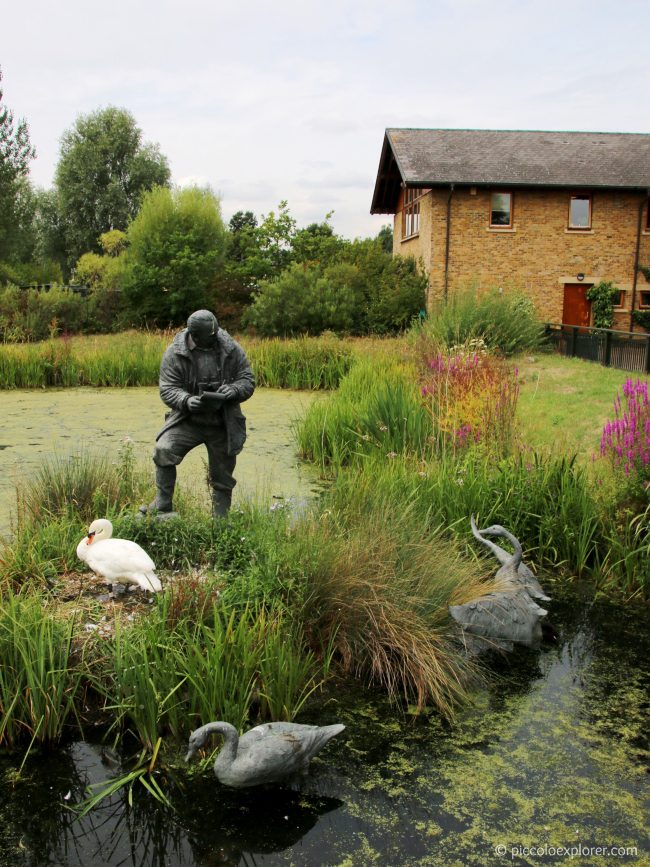 Autumn is a wonderful time to visit London Wetland Centre Barnes, with stunning autumn colours around the nature reserve. This dragonfly LEGO structure was part of the Brick LEGO trail event a couple of years ago during October half-term.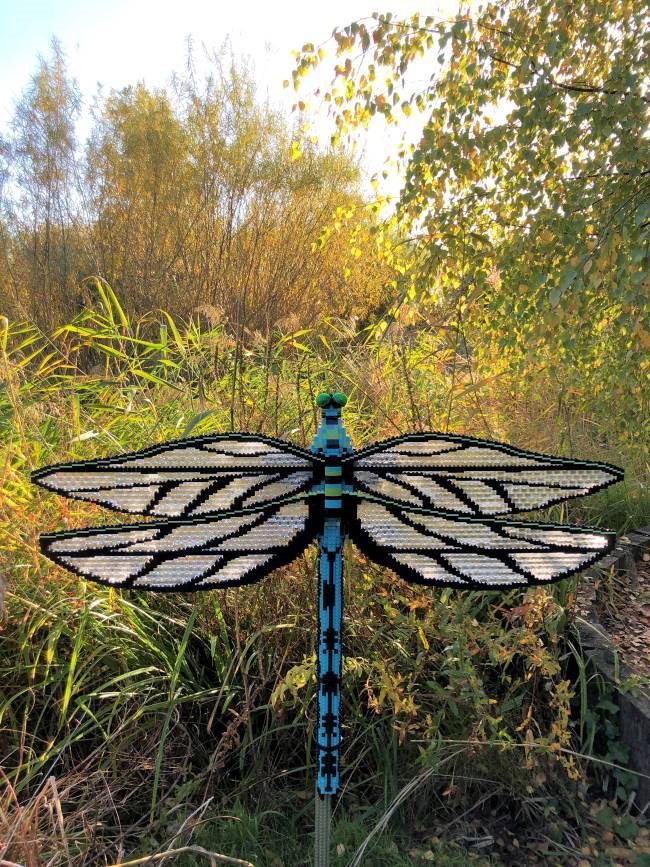 Headley Discovery Hide
There are six hides dotted around the London Wetland Centre Barnes with large windows perfect for watching wildlife and photography. At Headley Discovery Hide, you'll find telescopes plus books and other resources to help identify birds and animals. The staff at the centre were very helpful, setting up the telescope for us and pointing out interesting sights.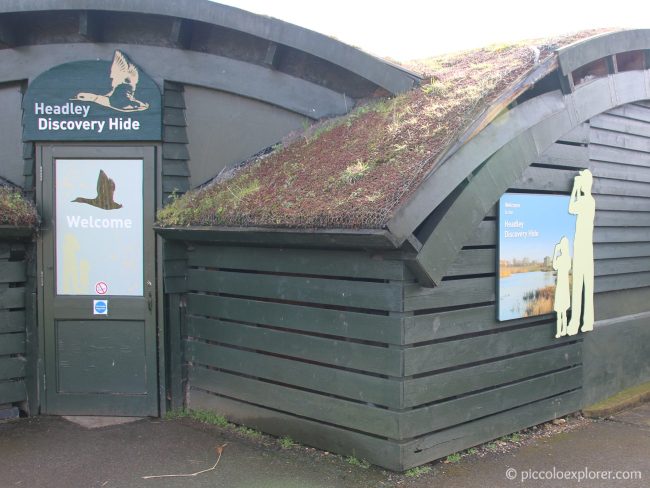 This is the view of the wetlands nature reserve through the window at Headley Discovery Hide. There are six hides scattered throughout the centre, and in addition to birds, you have the chance of spotting reptiles, amphibians and water voles.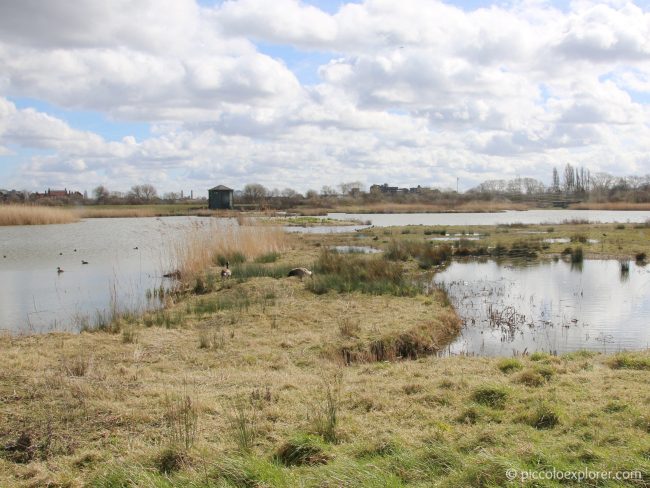 London Wetland Centre Otters
One of the highlights of visiting the London Wetland Centre is watching the Asian short-clawed otters. They are so much fun to watch as they dive to catch their food! Keep an eye out for the otter feeding times.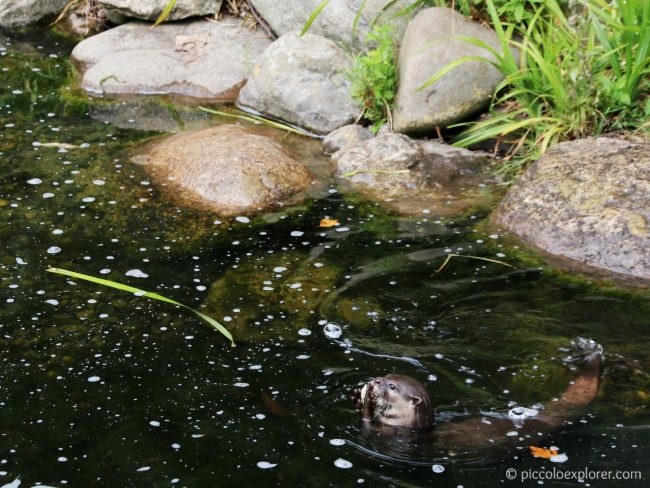 Wild Walk
The Wild Walk takes visitors on a journey through three types of wetland habitat, providing a taste of the 'wild' reserves across wobbly bridges, through reeds and over stepping logs.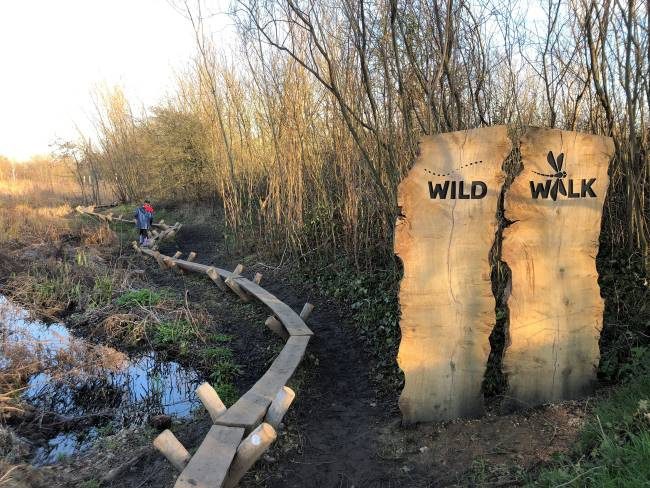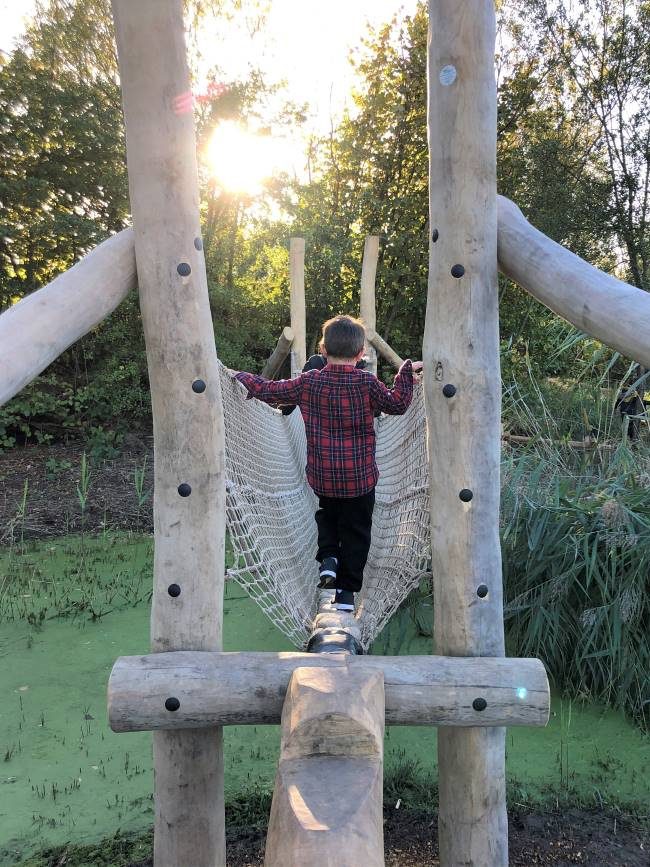 Explore Adventure Area
The Explore Adventure area is the adventure playground at WWT London Wetland Centre which is great for children of all ages. At the front, by the picnic tables, there's a play area for toddlers and pre-schoolers with a slide.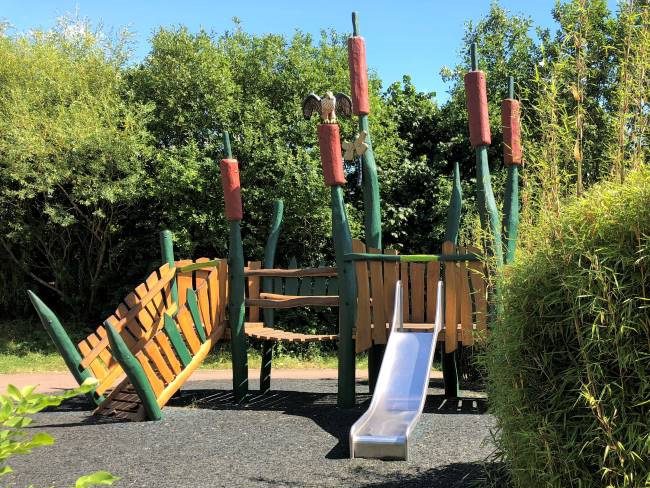 Young children will also enjoy the riding toys showing the various stages of a frog's life cycle, from tadpole to froglet to adult.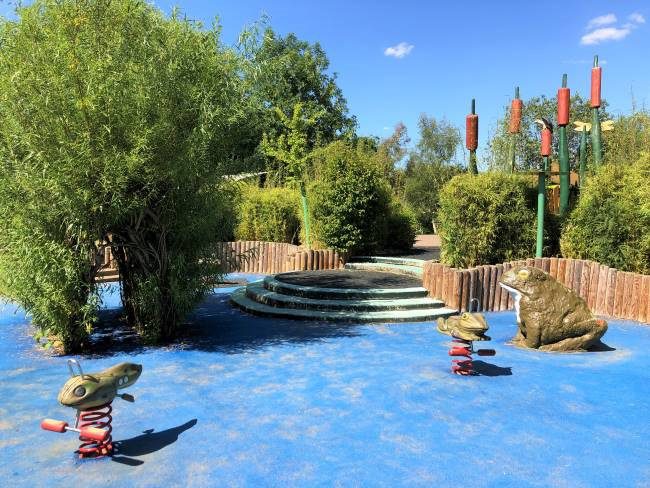 The adventure playground at London Wetland Centre also has a network of tunnels that kids love exploring. There are several exits from the tunnels, one of which opens next to the water play area.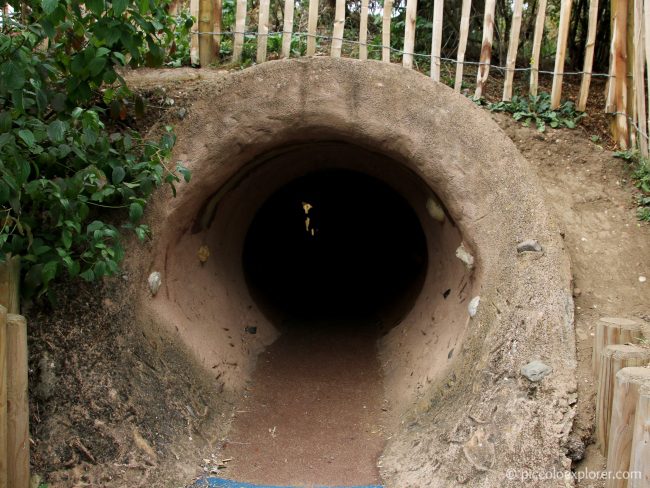 The water play area at London Wetland Centre Barnes is great fun and one of our favourite things to do in London in the summer. Remember to bring along a spare set of clothes and towels! There's a fun splash pad and a long table where kids can use the water jets to help the rubber duckies race their way back and forth.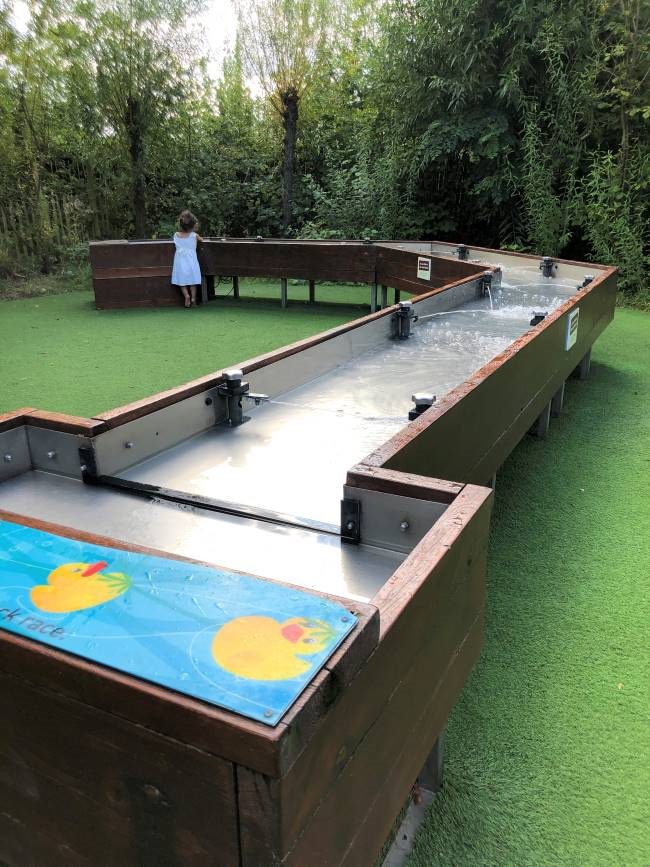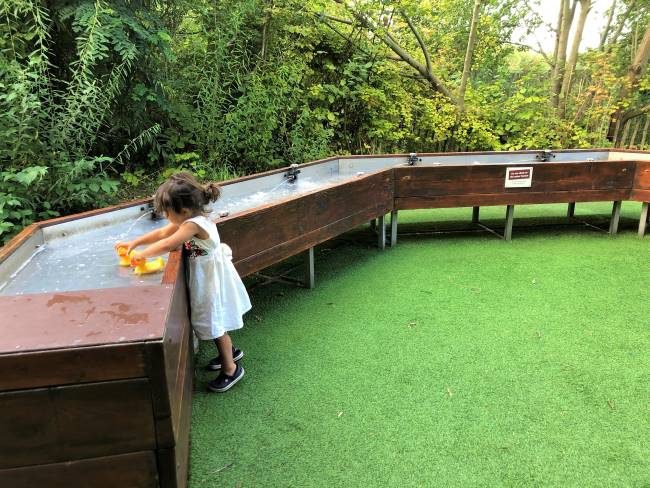 Pond Zone at London Wetland Centre
Pond dipping is free at London Wetland Centre Barnes and is available April to September during weekends and half-term holidays, 1.30pm-3pm.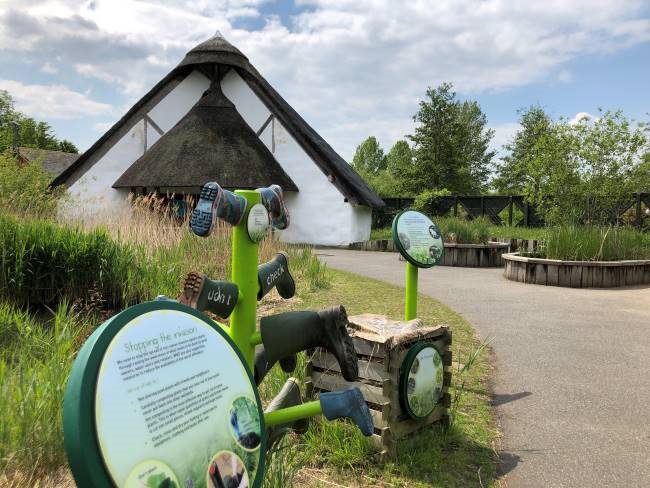 Stop by the Pond Zone at WWT London Wetland Centre for the chance to dip for nymphs, water boatmen and water fleas using equipment provided at timed sessions.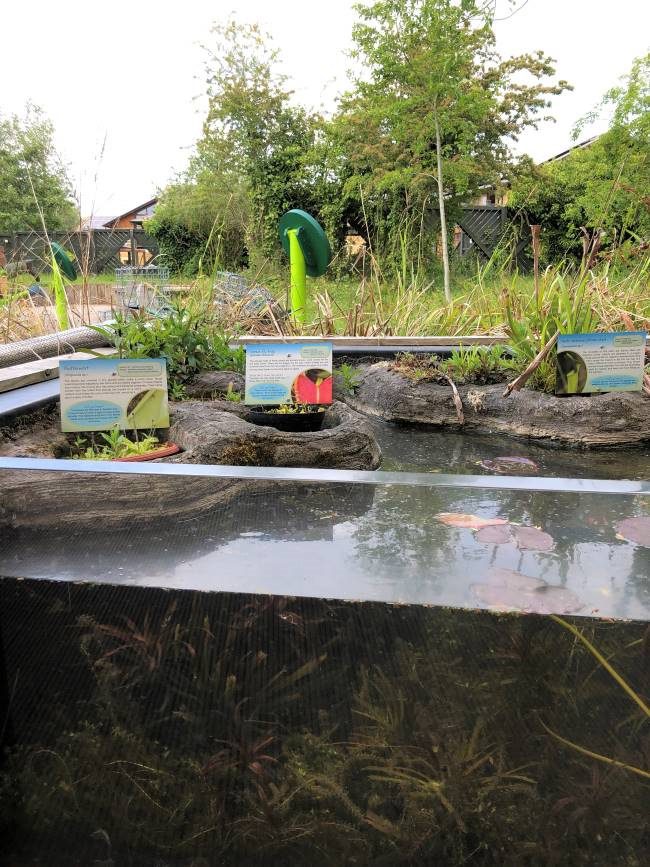 Discovery Centre
The Discovery Centre features an exhibit downstairs on the wetlands around the world. Upstairs, there's an area with interactive water games where children can learn more about what it's like to live in wetland areas, and some challenges people face such as building homes on flood plains or creating irrigation systems.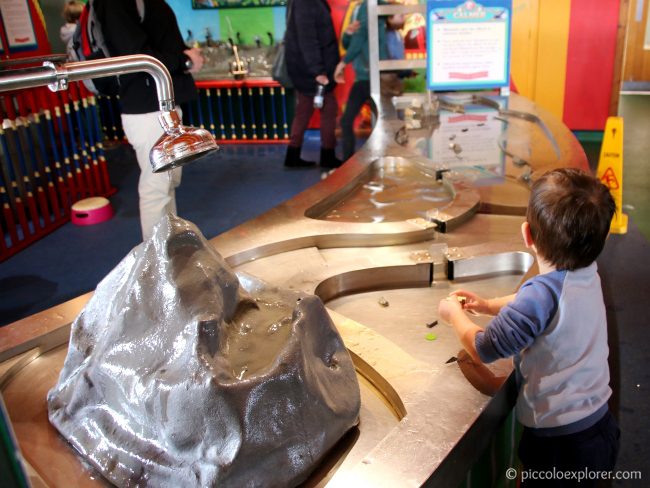 The Discovery Centre is an excellent place for children to be interactive and learn more about these unique environments. And the water activities and arcade ball game are great fun for the little ones. It's a great place to visit year round.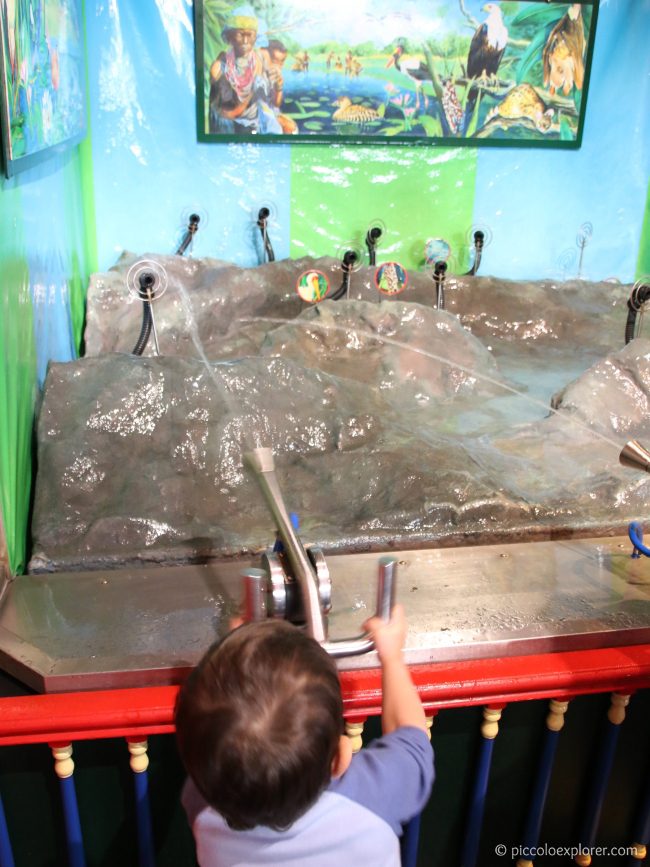 What's On at WWT London Wetland Centre
London Wetland Centre Barnes regularly runs family activities and events during the school holidays. Find what's coming up in this part of the London Wetland Centre day out with kids post.
October Half Term at WWT London Wetland Centre
21 – 29 October 2023
The London Wetland Centre Barnes are running an exciting programme of interactive family activities over October half term. Discover a mysterious world of wetland nature on the interactive trail and put your spookometer to the test.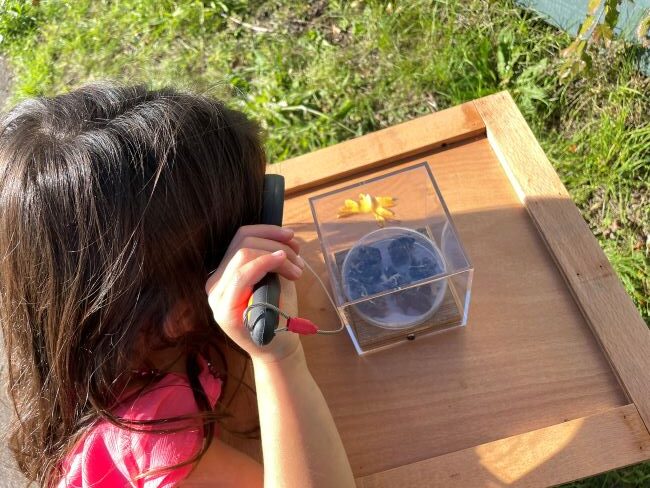 Will you dare to put your hand in a snake box, grab a photo op with a bat or get up close and personal with a toad? Free family activities over October half term also include pond dipping sessions, Make a Rainbow nature art workshops, potion making sessions and a mud kitchen.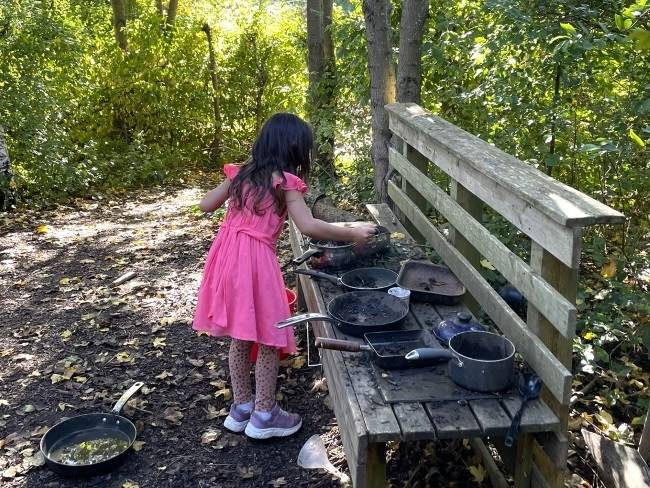 Book tickets to visit the WWT London Wetland Centre
Find more inspiration for the London October half-term in our round-up post: October Half Term Activities in London
WWT London Wetland Centre Address
Address: Queen Elizabeth's Walk, Barnes, London SW13 9WT
London Wetland Barnes Opening Times: Open 7 days a week, 364 days a year, from 9.30am to 5.00pm (last admission 4pm)
London Wetland Barnes Booking: There is no requirement to book your visit in advance. Prices from £14.09 for adults, £8.63 for child 4 to 16 years and children under 4 enter free.
WWT Annual Membership
Membership options are available to enjoy unlimited free entry to all nine wetland centres across the UK. Annual membership prices start at £45 (or £3.75 a month). You have 30 days from the day of your visit to submit your admission receipt and have the admission fee deducted from the membership cost if you decide to join the WWT. We had an annual WWT membership for several years while living in Chiswick and it is such a great value.
Food and Drink: The Water's Edge Café is located near the entrance and offers plenty of options, from picnic boxes with a sandwich, fruit, juice and snacks, to hot meals, e.g. chicken goujons, jacket potatoes and soups.
Parking: Parking is free for visitors – make sure to pick up a token from the WWT staff to open the car park gate as you drive out.
http://www.wwt.org.uk/wetland-centres/london/
This post was updated on 22 September 2023 with upcoming event details and up-to-date visitor information.
Pin for Later – Visiting the WWT London Wetland Centre Barnes