Bocketts Farm Park Surrey is a working free range farm in the beautiful countryside of Leatherhead, Surrey. One of the top farm parks near London, Bocketts Farm offers opportunities to meet and feed a wide range of animals. In addition, there are plenty of indoor play areas and outdoor activities around the farm to keep your children entertained at any time of year.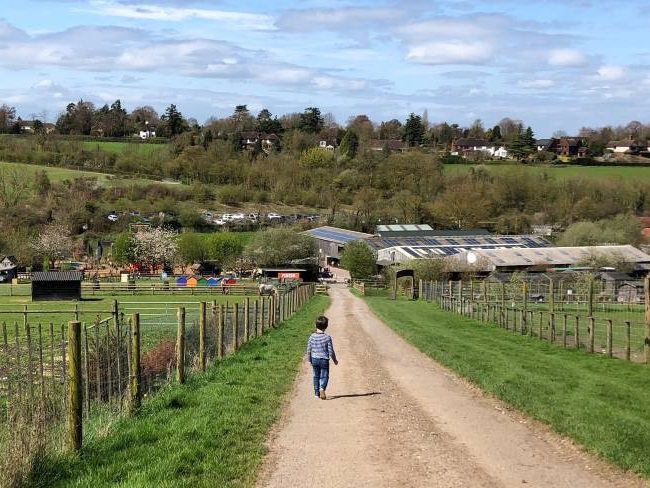 Bocketts Farm Park is one of our favourite places for a day out in Surrey. We have visited several times through the years, since Little T was 1 year old. In this post, find out more about Bocketts Farm, the fun animal encounters and the many family activities and play areas.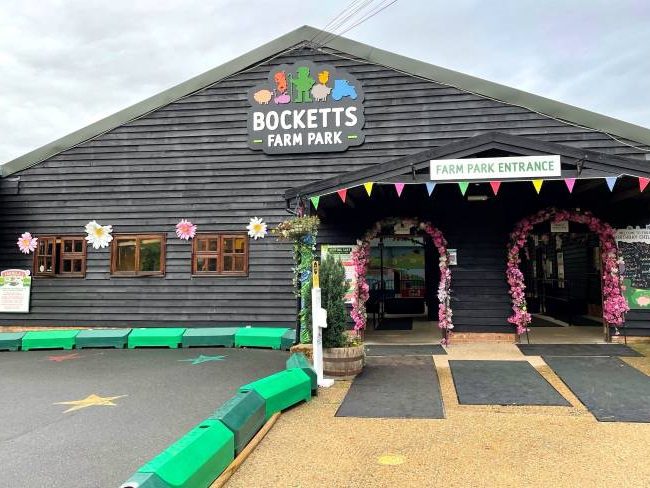 Small Animal Encounters
One of the top things to do at Bocketts Farm is to meet the small animals at the 'Little Hoppington' Small Animal Village. This miniature village is home to guinea pigs, rabbits, chinchillas and fancy rats. This area is located in the main Bocketts Farm building after you pass through the indoor play areas.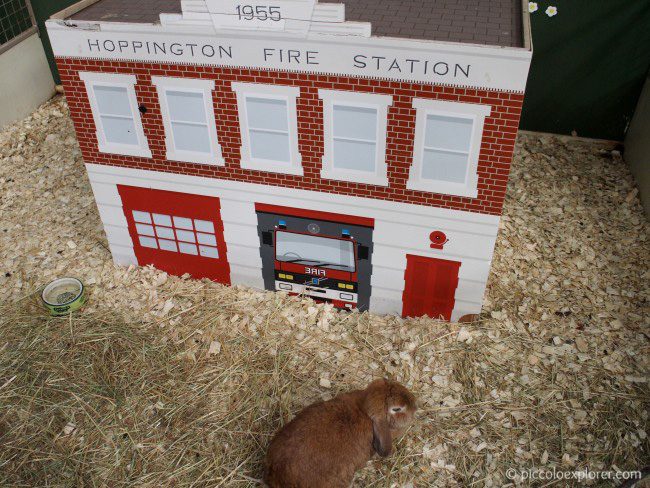 At several times during the day, the farm runs animal handling sessions at Little Hoppington Village.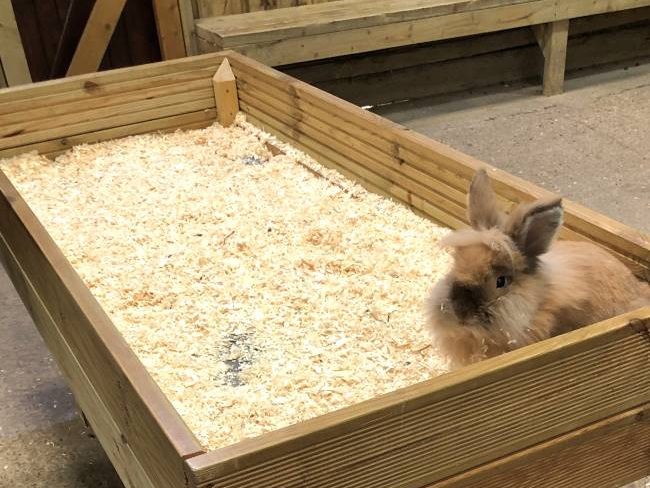 Make sure to check the daily timetable for a chance to meet their small, friendly animals! Children have the opportunity to pet and hold rabbits, guinea pigs and chickens with help from the Bocketts Farm Park staff.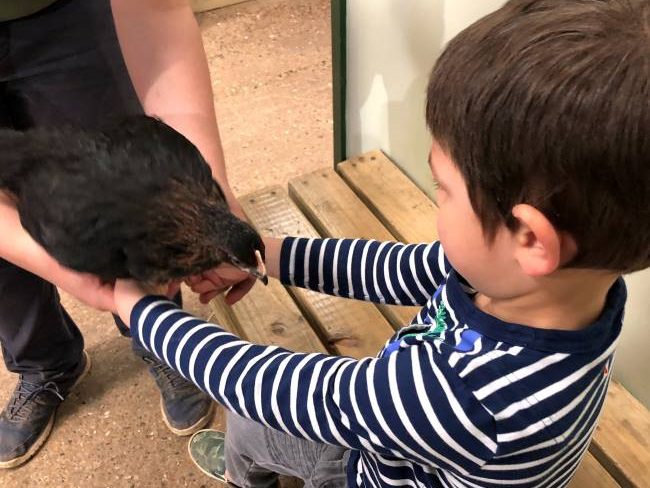 Animal Discovery Barn
Another highlight is feeding the animals around Bocketts Farm Park. The huge Animal Discovery Barn offers the chance for visitors to get up close and feed the sheep, cows, goats and llamas.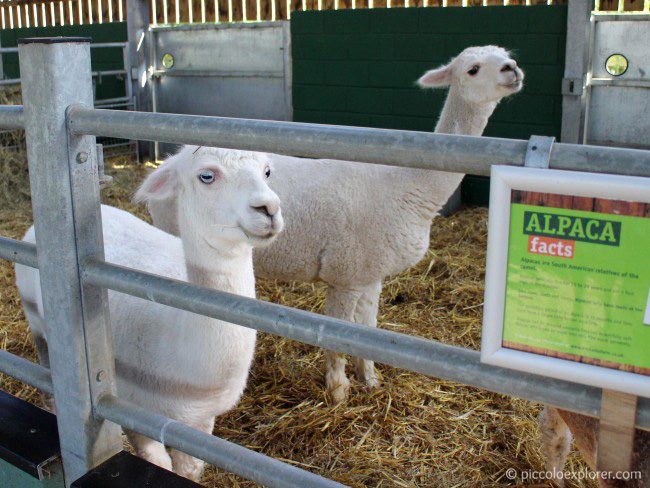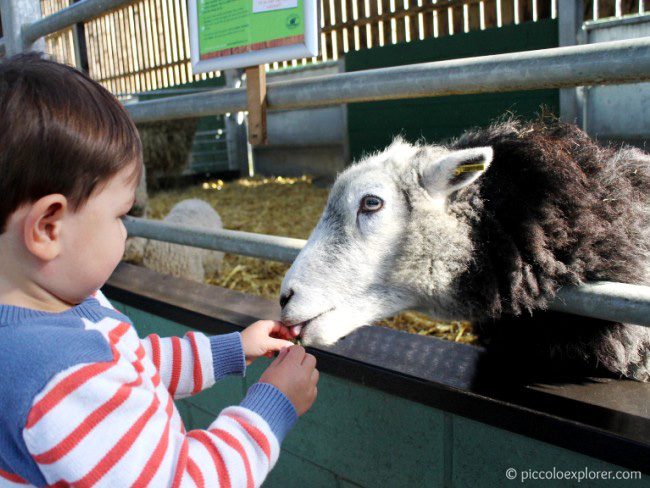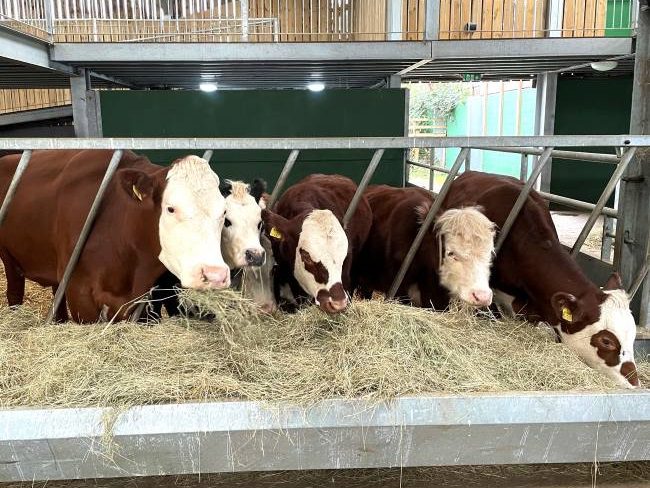 Feeding the animals at Bocketts Farm Park has always been our favourite thing to do at the farm through the years!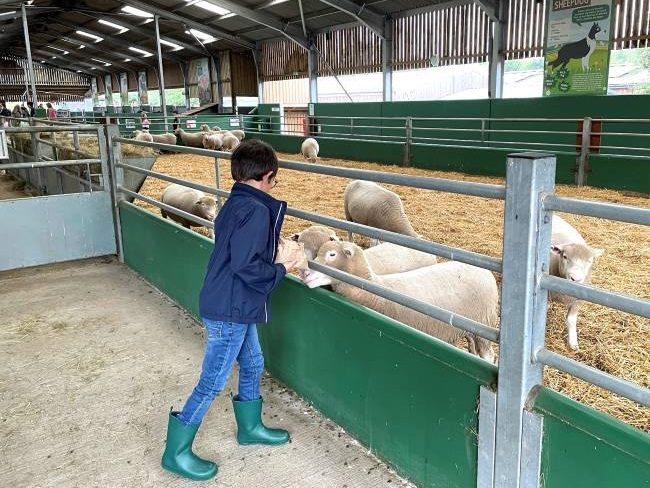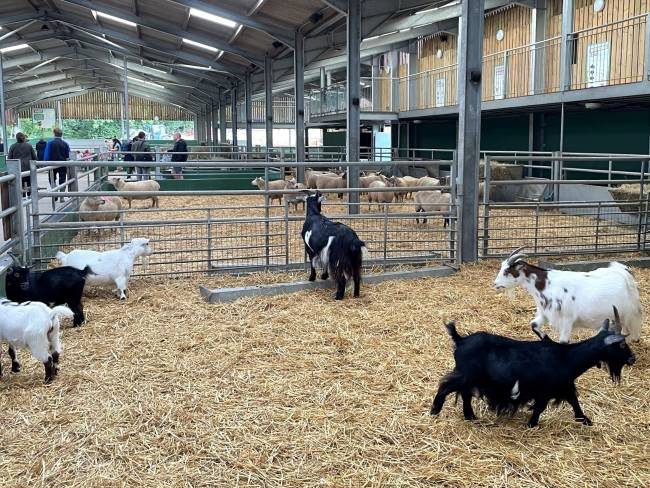 There are donkeys and pigs to see in the Animal Discovery Barn too. Note that the pigs, horses and donkeys cannot be fed with the animal food given to visitors.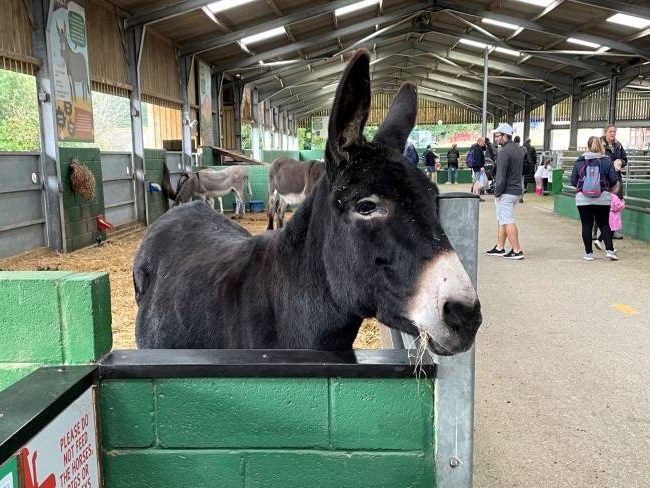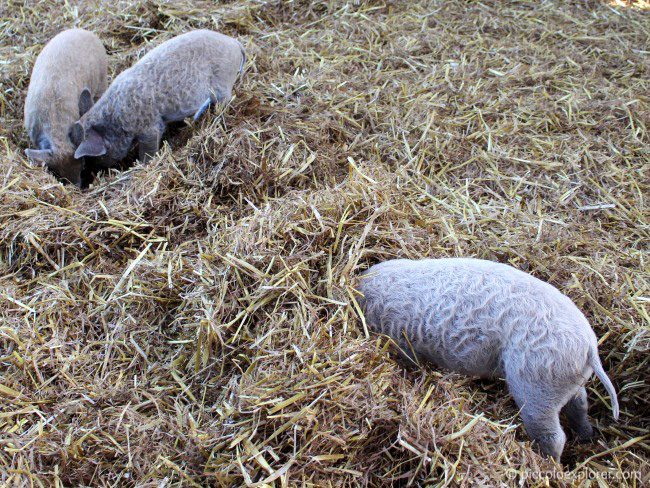 Every spring, there are many adorable newborn lambs to see in the Animal Discovery Barn. Over 500 lambs are due to be born around the Easter 2023 holiday break!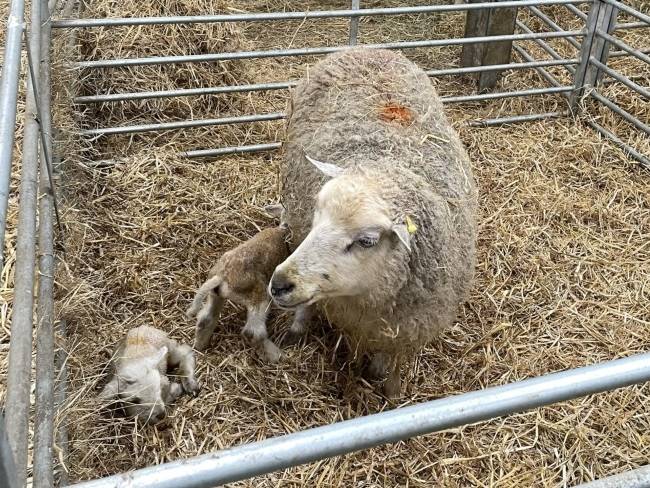 Tractor & Trailer Rides
The tractor and trailer rides are a great way to explore more of the expansive Bocketts Farm Park. Check the daily timetable for information on when the tractor and trailer rides will be running, typically it is between 11am to 4pm.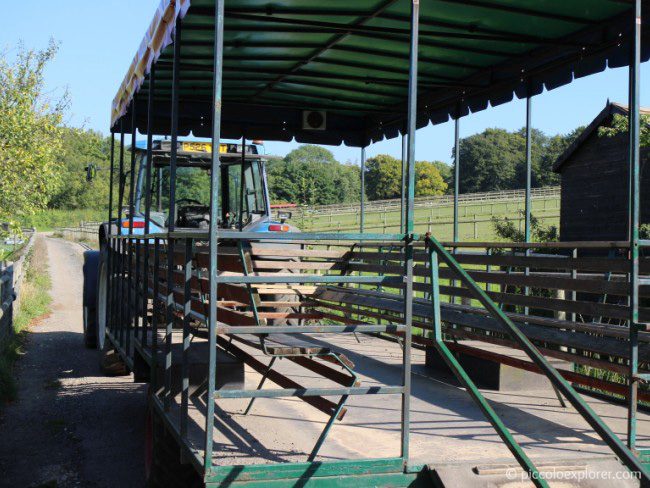 Tickets for the tractor ride cost £1.50 for adults and children 2 years and above. The tractor ride departure point is near the Animal Discovery Barn.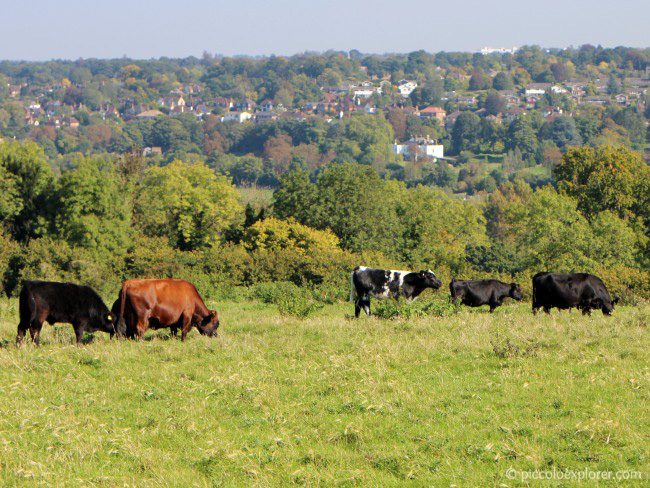 The tractor and trailer rides take about 15 minutes to go around the Bocketts farm grounds, with beautiful views overlooking the Surrey Hills countryside.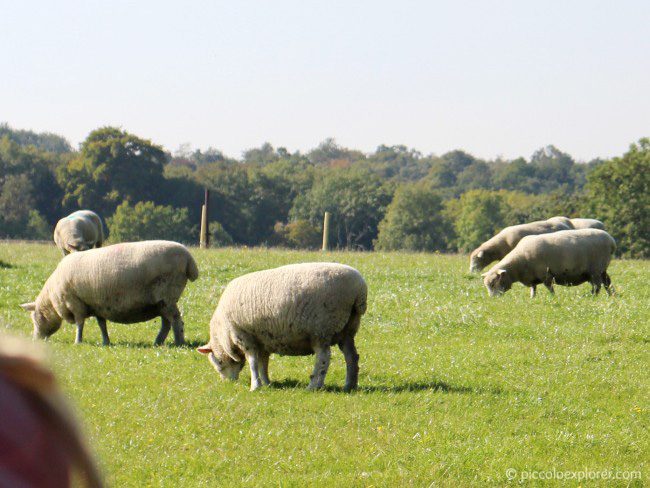 The Farm Walk
Visitors can also enjoy watching the animals out on the fields by foot along the Bocketts Farm Park Walk.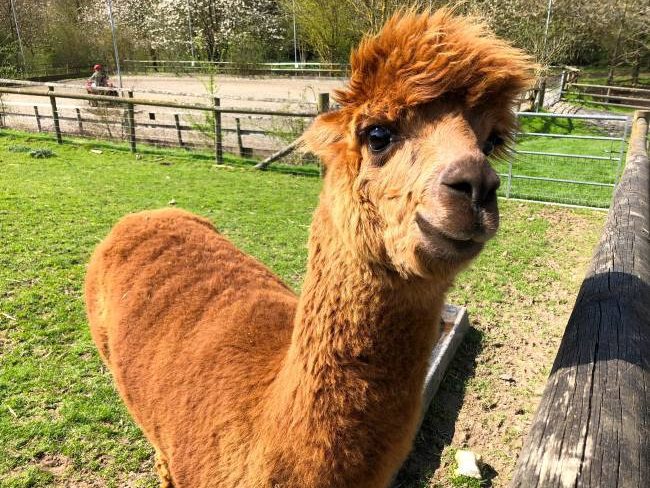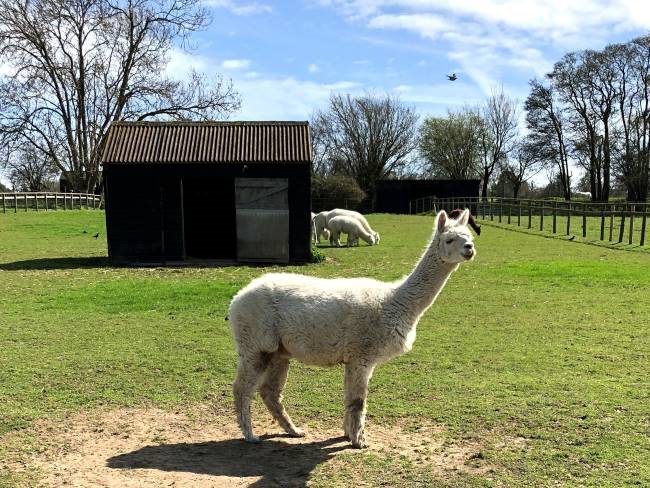 Being a working farm, there are often baby animals to see along the Bocketts Farm Walk throughout the year, including lambs, piglets, chicks and calves.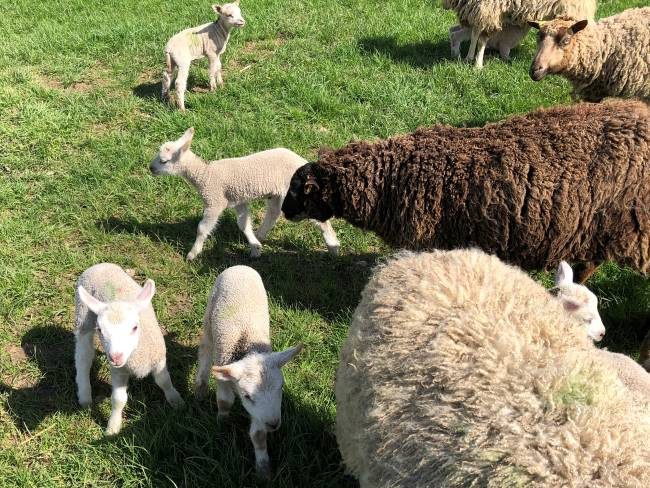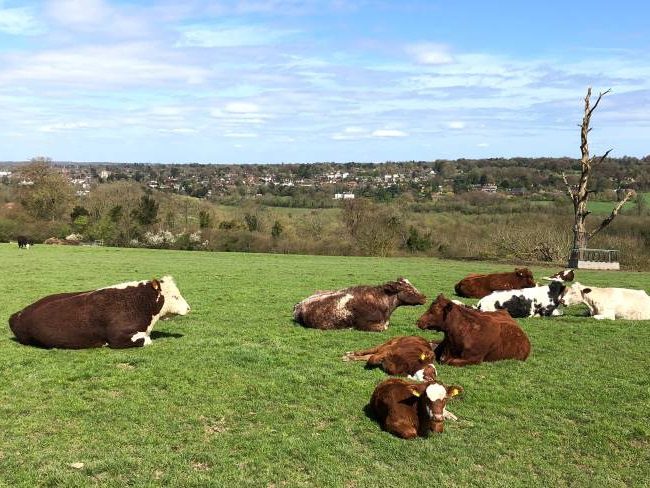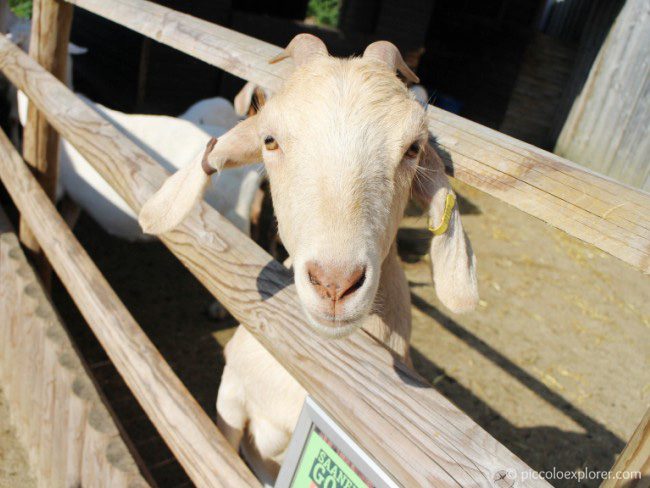 The Pig Race Track
The pig races at Bocketts Farm Park Surrey are on usually twice daily during the afternoon. Make sure to check the daily timetable. The pig races are very popular so you may need to arrive a few minutes early to get a good spot to watch!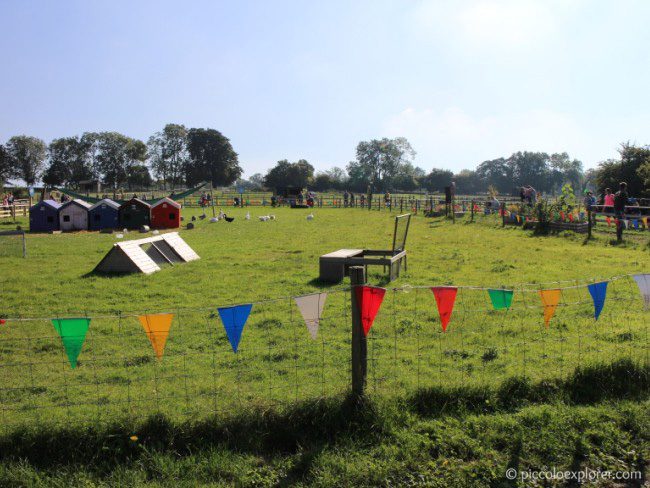 Choose your favourite pig and cheer them on to the finish line. After flags were handed out in support of each pig, a gate is opened and the pigs are off!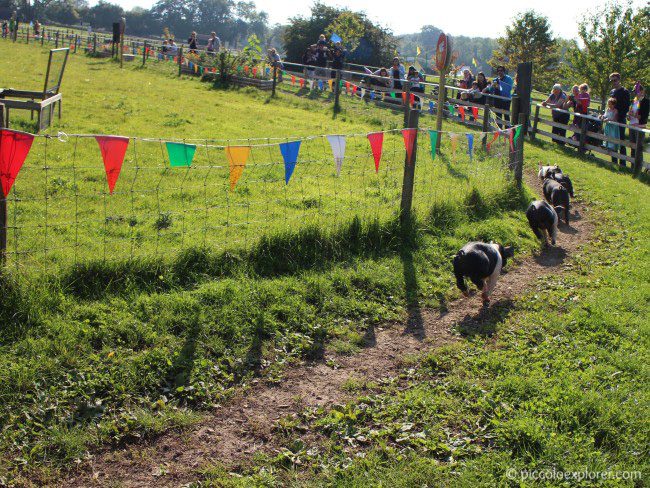 After their sprint around the race track, the pigs enjoy some delicious food at the finish line. The pig race is always fun to watch!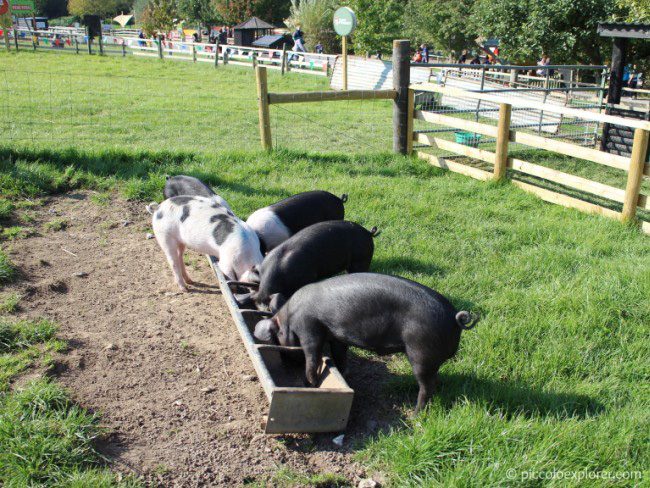 Outdoor Play Areas
Children can enjoy year round outdoor fun at Bocketts Farm Park Surrey with acres of adventure play. There are two jumping pillows, one for toddlers (under 5s) and one for big kids (5+).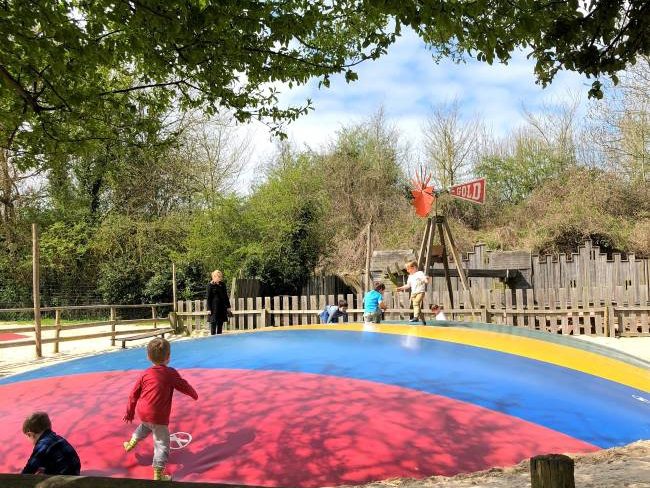 The Pedal Go-Kart Track is one of the favourites for older kids!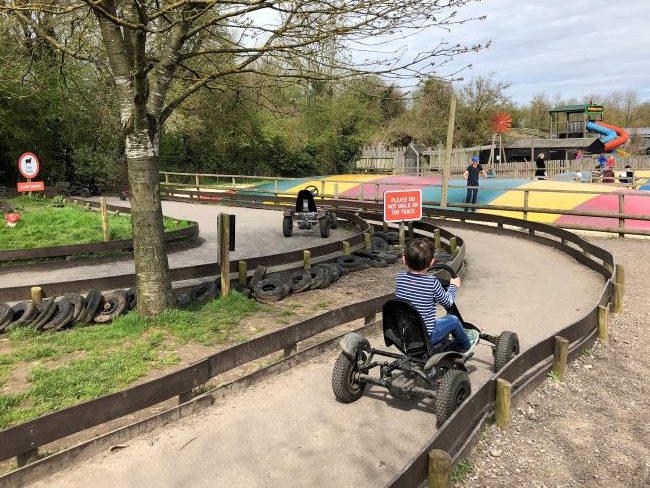 The Treehouse Towers adventure playground is also great for older kids, with plenty to explore and climb around.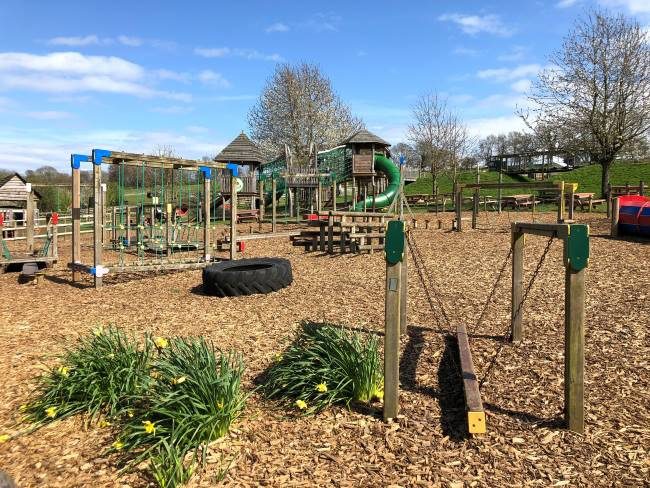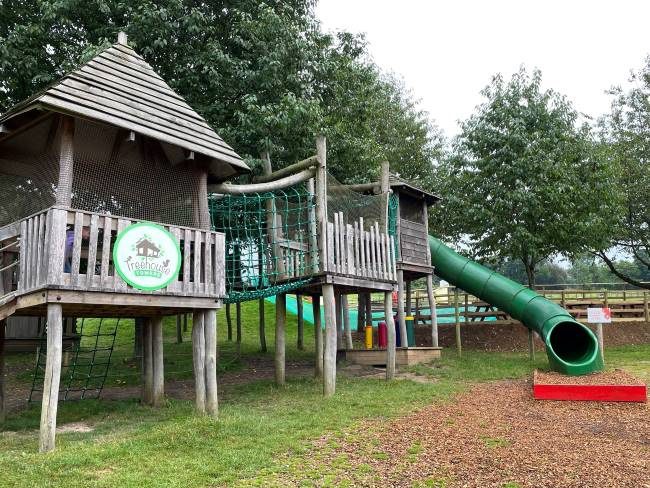 For younger kids, the playground near the stables consists of a sand pit with plenty of buckets and spades, electric diggers (£1 to operate) and Monkey House Slides.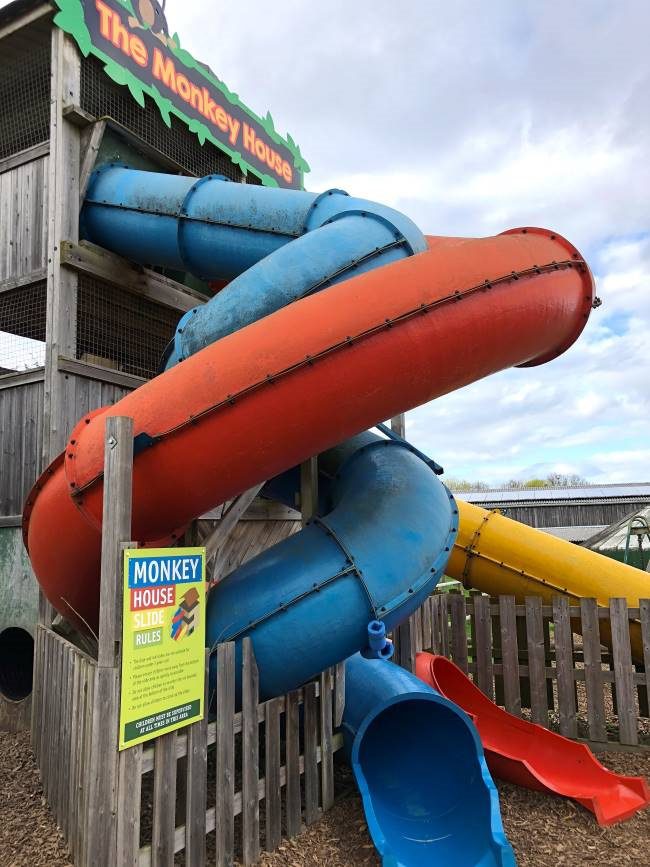 There are also several picnic tables in this area, along with a Pizza and Ice Cream stand near the Monkey House Slides.
Pony Rides
Children can also enjoy a short pony ride around the woodland track at Bocketts Farm. Children must be 3 to 12 years old or under 45 kg. Each ride costs £3.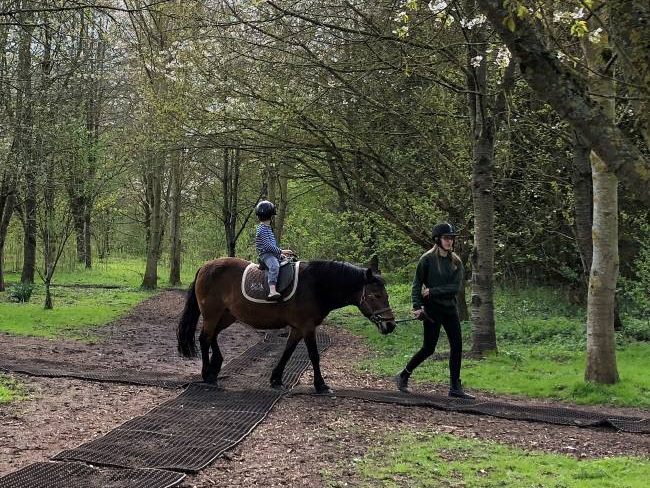 The pony rides are next to the Go-Karts at the end of the main path. Daily sessions are listed on the farm activity timetable, typically in the late morning and mid-afternoon.
Indoor Play Areas
The indoor play barn is heated during colder months and features soft play climbing frames, trampolines and the Bocketts Young Drivers area.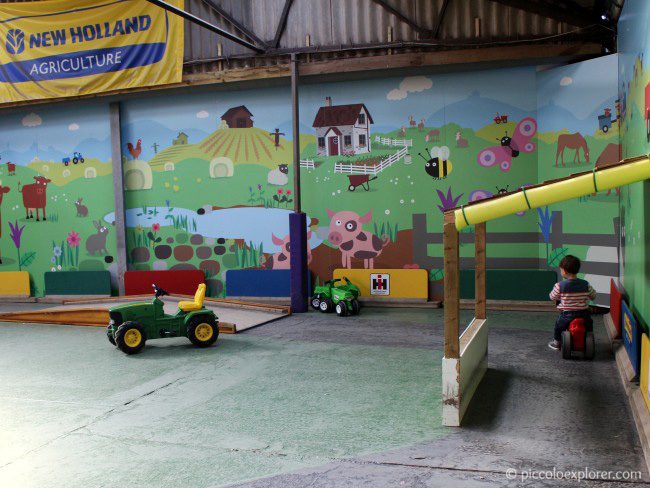 The Bocketts Young Drivers area is great for young children, with several ride-on tractor and bike toys to go on laps around a track.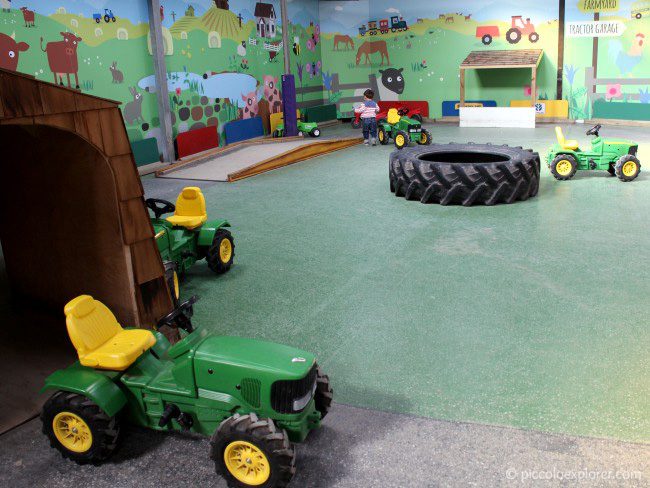 The huge undercover soft play area is open to all ages and includes a giant 4 lane Astro-slide and baby play zone.
Food and Drink
The Cow Shed Coffee Shop
The Cow Shed Coffee Shop is located near the indoor play areas and restrooms. The café sells a wide range of hot and cold drinks, pastries and cakes, sandwiches and treats.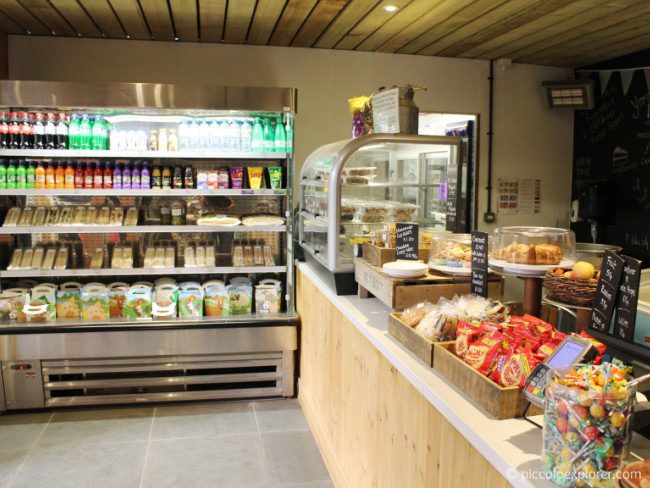 Options for children include a picnic box with an apple or orange juice, sandwich (on brown or white, with ham, cheese, tuno mayo or jam), crisps, chocolate bar and an apple or raisins.
The Old Barn Tearooms
Across the yard from the main Bocketts Farm entrance, the Old Barn Tearooms offers a full menu of homemade food from 10am to 4:30pm, 7 days a week. Hot food menu items include burgers, jacket potatoes, paninis and a children's menu.
The Woodshed Snack Shack
The Snack Shack is located by the outdoor play area, serving hot and cold drinks, snacks and ice cream. Opening times will vary.
Pizza & Ice Cream Trailers
There are two trailers located by the outside seating and play area serving pizza and soft scoop ice cream.
What's On at Bocketts Farm Park
Summer of Fun
22 July – 3 September 2023
Plenty to enjoy over the summer holidays at Bocketts Farm Park! Additional activities running over summer include a Bubble Disco, Water Wars and Gold Panning.
Read more about the Summer of Fun at Bocketts Farm Park
Witches and Wizards Week
21 – 29 October 2023
Activities during the Witches and Wizards Week over October half term include a Reptile Roadshow, Science and Slime Shows, a spooky scavenger hunt, Meet and Greet with owls and birds of prey and a Creepy Craft Corner.
Related: Halloween in London with Kids
There will be hundreds of pumpkins to choose from that were grown at Bocketts Farm and an opportunity to take family photos in their Pumpkin Village.
Read more about Witches and Wizards Week at Bocketts Farm Park
Father Christmas
23 November – 24 December 2023
Tickets will be released September 2023 to meet Father Christmas at Bocketts Farm Park. Activities will include making your own reindeer food to take home and a Christmas Craft Corner. I will update this when there is more information about the Father Christmas experience.
Read latest updates about Father Christmas at Bocketts Farm Park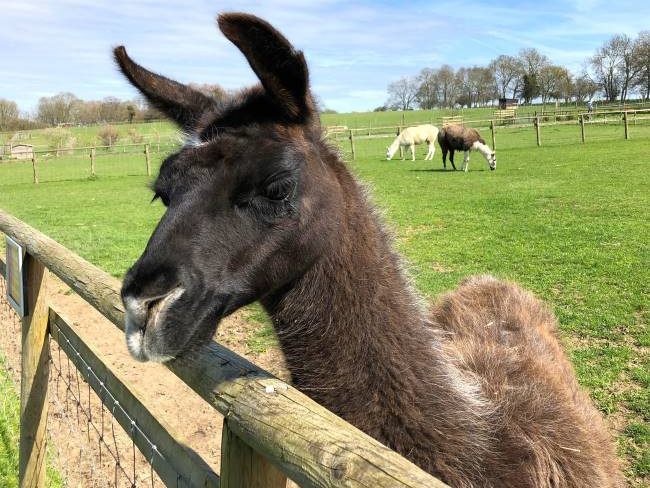 Bocketts Farm Park Surrey Address
Address: Young Street, Fetcham, Leatherhead, Surrey, KT22 9BS
Opening Hours: Open 1000 – 1730, except on 25 & 26 December and 1 January.
Parking and car admission: External parking is free. There are two large parking lots in front of the entrance.
Facilities: Hand wash stations with warm water, antibacterial soap and hand towels located close to animal contact areas. The restrooms are next to the indoor play areas. Several baby change areas are available around the farm.
Bocketts Farm Park Tickets
2023 Admission Prices: Adult tickets are priced at £18 (event) / £17 (standard) £14.50 (off peak). Children 3 – 17 years old tickets are priced at £19.50 (event) / £18.50 (standard) / £16 (off-peak). Children 2 years old tickets are priced at £17.50 (event) / £16.50 (standard) / £13.50 (off-peak). Children under 2 years go free.
Event admission prices are during the Easter school holidays, May half term and October half term. Winter weekday super saver rate costs £9.50 per person and is available during selected weekdays in November, January and the first part of February.
Optional Extras: The following activities are an additional cost, to be paid at the activity with a debit or credit card (prices per person): Pony rides £3; Tractor rides £1.50; Electric quads / Diggers: £1; Gold panning (seasonal): £2; Water wars (seasonal): £1. Bag of animal food costs £1.50 and can be purchased online in advance with your booking or paid in person at the entrance.
Pin for Later – Bocketts Farm Park Surrey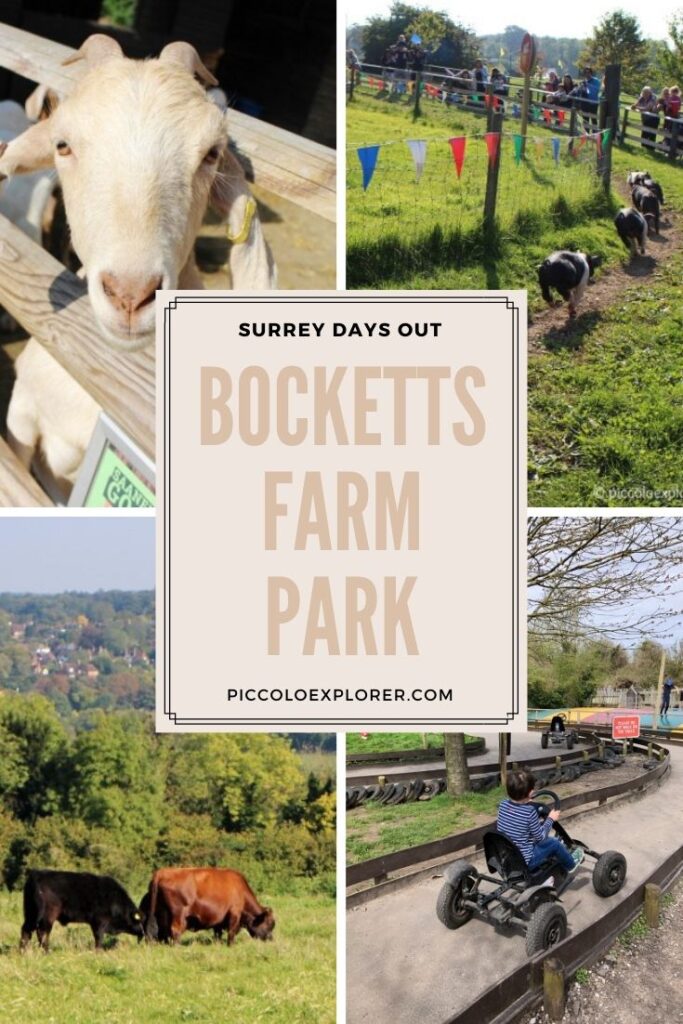 This post was updated on 3 April 2023 with new photos and updated information about visiting Bocketts Farm Park Surrey.