Kew Gardens is one of our favourite attractions in London to visit year round. I have had a Friend of Kew annual membership for several years, and it's one of our go-to places for a day out or place to meet up with friends. Since there is always something new and unique to see throughout the year, I will be sharing advice on what to do and where to go when visiting Kew Gardens by season. In this first post, you'll find tips for visiting Kew Gardens in the summer.
Located in Richmond, south-west London, Kew Gardens is an UNESCO World Heritage site and has one of the most diverse collections of living plants of any botanical garden in the world.
Read my Autumn in Kew Gardens post to find the best places to see autumn leaves in the Gardens.
Summer Exhibitions at Kew Gardens
Plantscapes
During summer 2021, there are several installations to see at Kew Gardens as part of their Secret World of Plants exhibition. Acclaimed artist Vaughn Bell has designed a series of large-scale installations that showcase some of the UK's native plant habitats, including moorlands, marshes and meadows, sand dunes, hedgerows and woodland.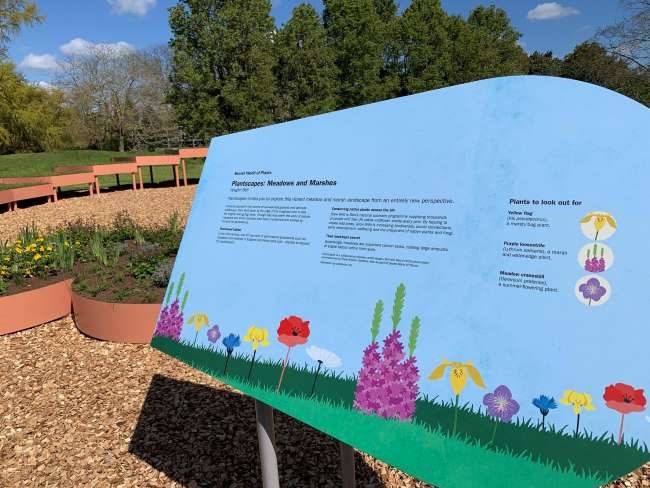 Each plantscape has been specially curated alongside Kew Gardens's team of horticultural experts using over 100 plant species.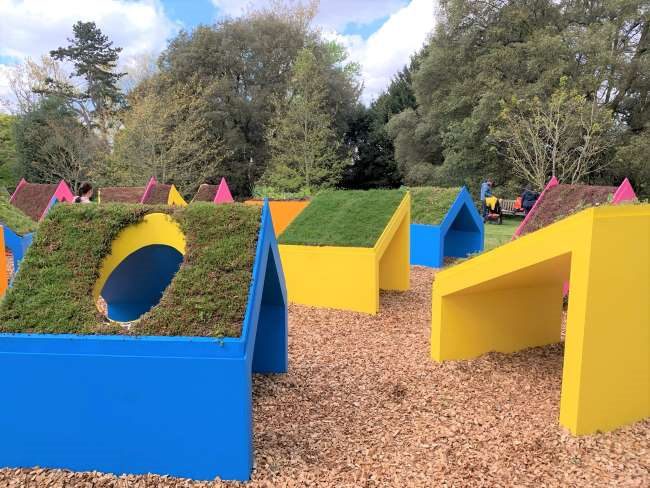 Young children will especially enjoy exploring the Plantscapes: Green Roofs, which offers a playful view of our future city skyline, an important UK habitat of the future. This colourful installation is located near Brentford Gate and the Children's Garden.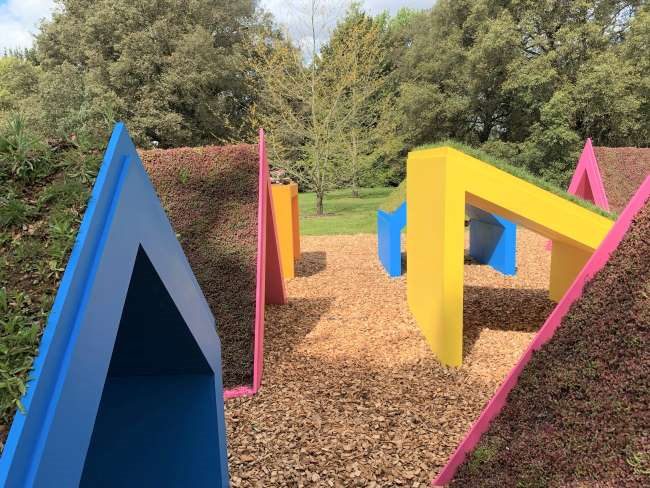 Please Be Seated
You'll find this playful seating installation, Please Be Seated by Paul Cocksedge Studio which is also part of the Secret World of Plants summer exhibition at Kew Gardens, in front of the Temperate House.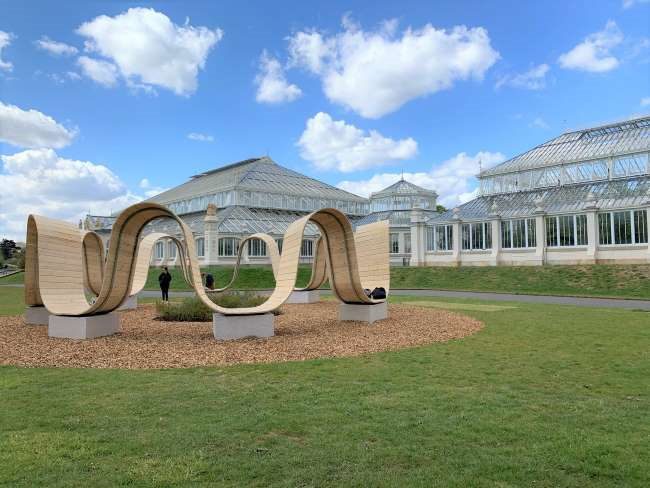 Sit back and relax, while taking in the relaxing scent of a specially planted circle of rock roses in the centre.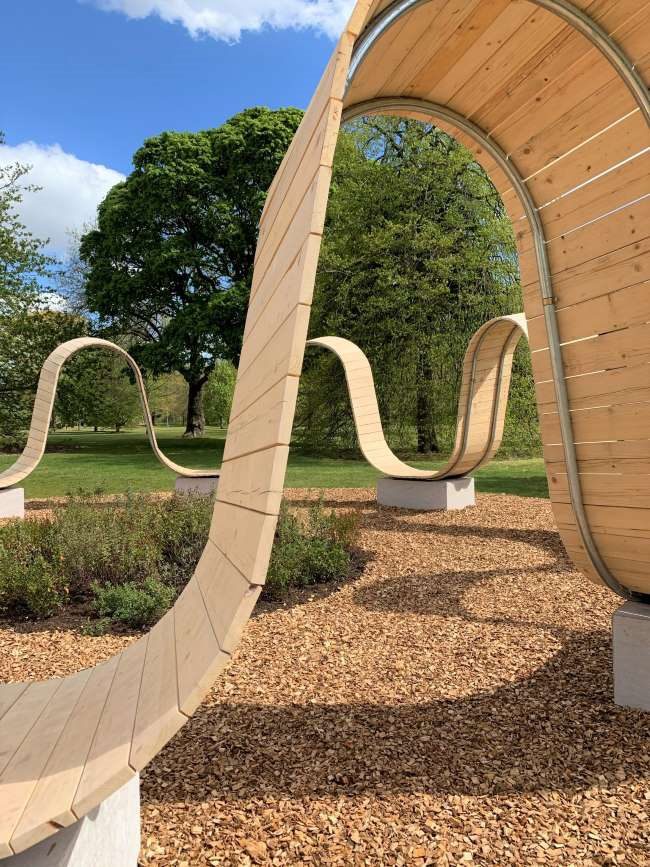 Theatre on Kew: The Wind in the Willows
This summer Kew Gardens are running a programme of outdoor family theatre productions, one of which is The Wind in the Willows starting 24 July 2021.
"The Wind in the Willows is Kenneth Grahame's classic story of life on the riverbank. A rollicking yet gentle adventure with best friends Ratty, Mole, Badger, Otter and, of course, the arrogant, vain and hilarious Toad. This critically acclaimed, outdoor theatre production set against the magical backdrop of our stunning Lake, is packed with much-loved colourful characters, music, song and laughter." From the Kew Gardens website – Theatre on Kew: The Wind in the Willows
View this post on Instagram
We enjoyed watching the Theatre on Kew's production of The Wind in the Willows a few summers back. The cast was brilliant and involved the kids in some fun adventures along the way. Remember to bring a picnic blanket for sitting on the grass.
The Wind in the Willows is suitable for all ages and will be running from 24 July – 30 August 2021, Wednesdays to Sundays (plus bank holiday Monday). Ticket prices are £22.90 for adults, £17 for children age 1 to 15 years old and include entry to Kew Gardens. There is a ticket discount for Kew Members. Check the Theatre on Kew: The Wind in the Willows booking page for full details.
Theatre on Kew: A Midsummer Night's Dream
Also on the Theatre on Kew programme this summer is a production of A Midummer Night's Dream, which will run from 28 July – 29 August 2021 at 8pm (with access to the audience area from 6.30pm), Tuesdays to Sundays.
"Set beneath heritage trees within our picture-perfect Gardens, this is A Midsummer Night's Dream in uniquely botanical surroundings. As twilight falls, the stage is set for Shakespeare under the stars. This beguiling comedy of enchantment and transformation is brought to life within a dream-like woodland filled with feuding fairies, eloping lovers and a hapless troupe of actors." From the Kew Gardens website – Theatre on Kew: A Midsummer Night's Dream
Ticket prices are from £30 for adults, £17 for children age 1 to 15 years old and include daytime entry to Kew Gardens. There is a ticket discount for Kew members. Check the Theatre on Kew: A Midsummer Night's Dream booking page for full details
Things to See and Do in Kew Gardens Summer 2021
Rose Garden
One of the highlights of visiting Kew Gardens in summer is seeing the stunning Rose Garden behind the Palm House.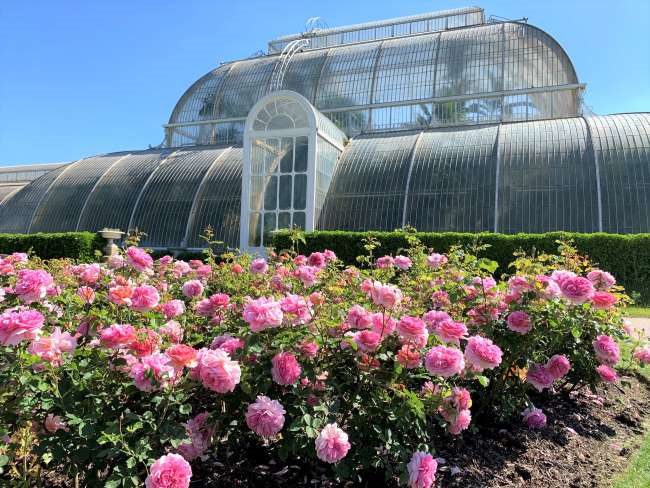 The Rose Garden at Kew Gardens is home to 170 different species and cultivars of rose, with bold plantings of mixed shrub roses.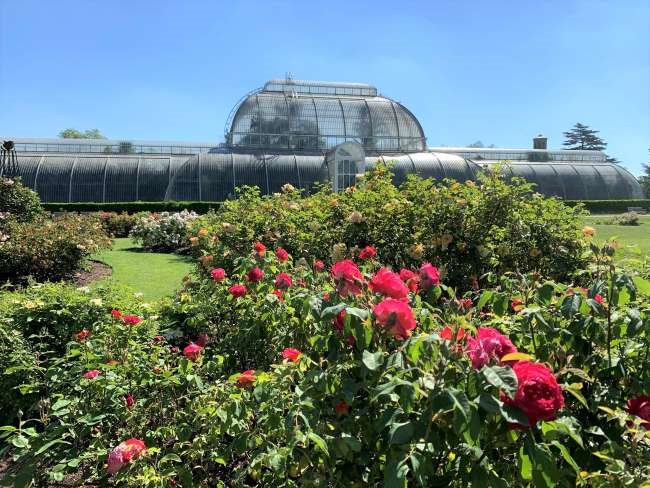 Agius Evolution Garden
Another wonderful garden to see when visiting Kew Gardens in summer is the Agius Evolution Garden, located near the Princess of Wales's Conservatory. The Agius Evolution Garden is 1.3 acres, with around 700 kinds of plants split up into 'rooms' where closely related plants are grouped by plant families and related families are grown together.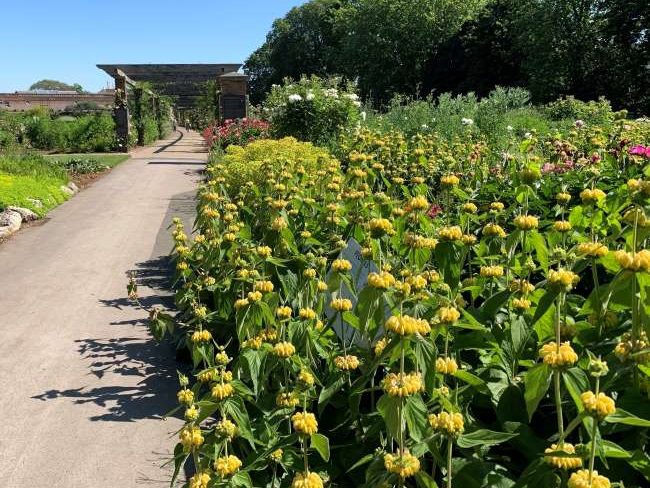 The Agius Evolution Garden is full of colour in the summertime and is fascinating part of Kew Gardens to visit, bringing over 350 million years of evolutionary history to life.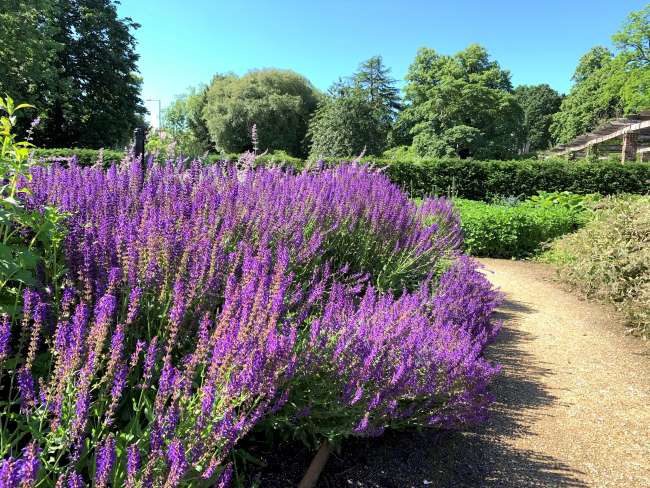 Also at the Agius Evolution Garden is Kew Garden's famous rose pergola, which is made up of 26 varieties of roses.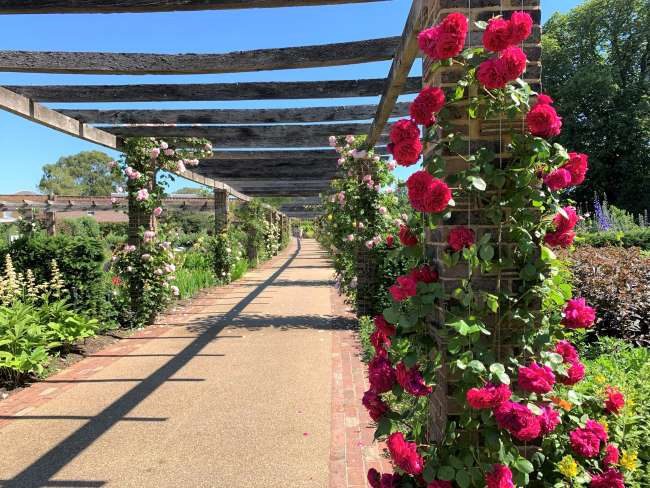 Kitchen Garden
On the other side of the rose pergola from the Agius Evolution Garden, you'll find the Kitchen Garden where Kew Gardens grow edible plants to learn more about producing healthy and sustainable food. I love bringing the kids here during the summer to see the various crops, and in the autumn to see the pumpkin patch. Keep an eye out for their Kitchen Garden sales, where they sell fruits and vegetables from the garden from May to September.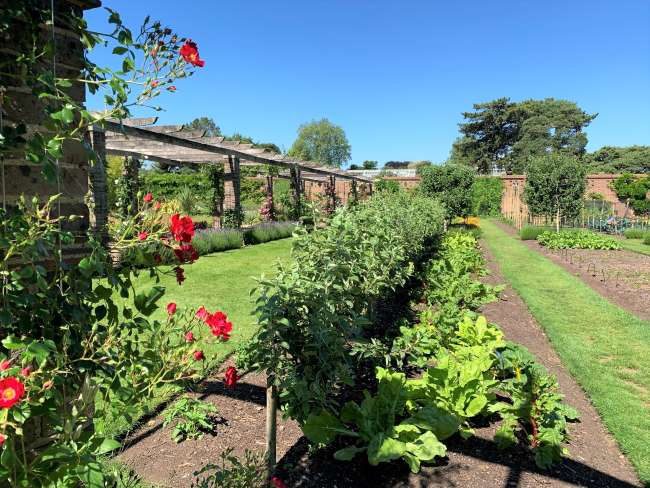 Rock Garden
The Rock Garden at Kew Gardens is over an acre in size and is located between the Princess of Wales's Conservatory and the entrance to the Kitchen Garden. Originally constructed in 1882, this spectacular garden transports you to life in the mountains, with cascading waterfalls, an Alpine House landscape and wild-collected plants displayed from six mountainous regions.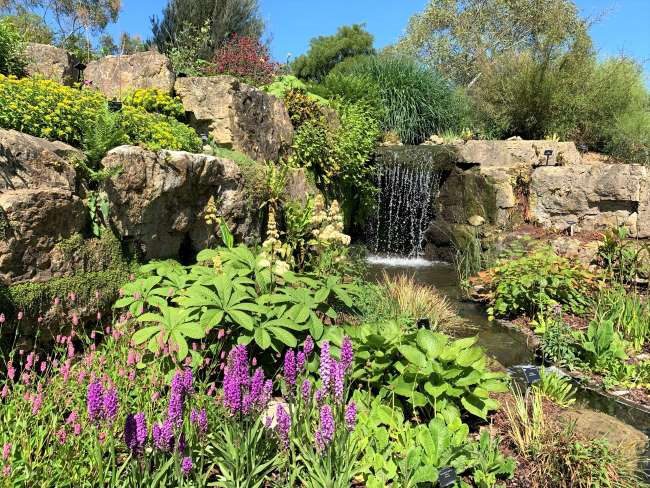 Each mountainous region is allocated its own area in the Rock Garden: the European Alps and Pyrenees; the Central Asian steppe and Himalayan mountain streams and meadows; the North American high alpine, prairies and bogs; the Windswept Patagonia; the Mediterranean scrub and South African bergs and kloofs; and the southern Alps of Victoria, Australia and the peaks of New Zealand.
Princess of Wales's Conservatory
The Princess of Wales's Conservatory is a glasshouse with 10 different climate zones under one roof. When visiting Kew in summer, keep an eye out for the California poppies growing at the glasshouse entrance.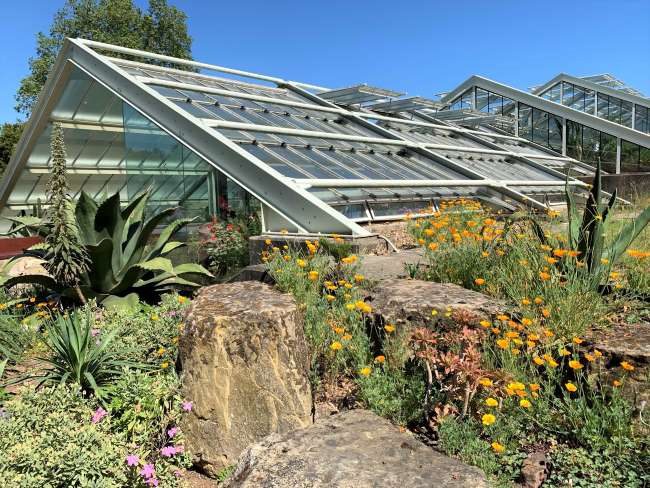 The two major climates taking up the majority of this glasshouse are dry tropics and wet tropics.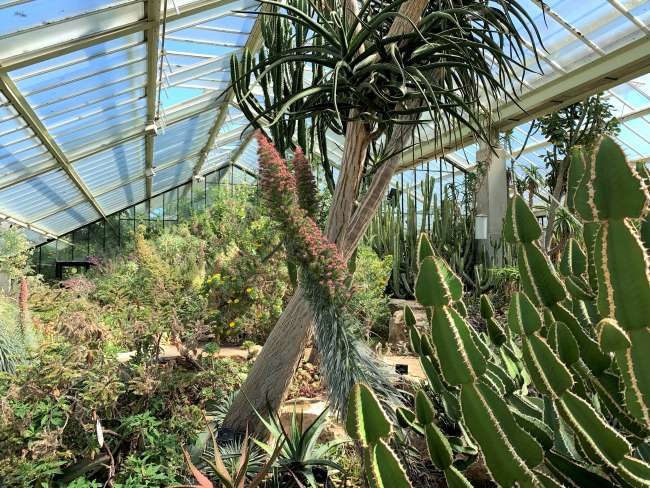 The Princess of Wales's Conservatory is a pleasure to visit year round, and especially when there is the Kew Gardens Orchid Festival during February and March, when there are stunning, vibrant horticultural displays showcasing a country's unique wildlife and plant diversity each year.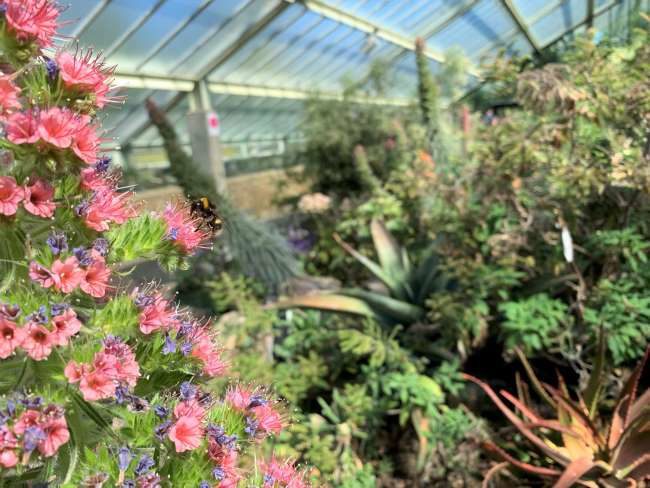 More photos of the Princess of Wales's Conservatory and the stunning Orchids Festival displays through the years in my Kew Gardens Orchids Festival post.
Waterlily House
Summer is the best time of year to stop by the Waterlily House, a small, square glasshouse by the Palm House, to see the amazing Santa Cruz waterlilies, lotus flowers and other aquatic plants. The lily pads of the Santa Cruz waterlilies grow up to two metres wide!
Fun fact: the circular pond spans over 10 metres and is dyed black (using a harmless food dye) weekly to stop algae growth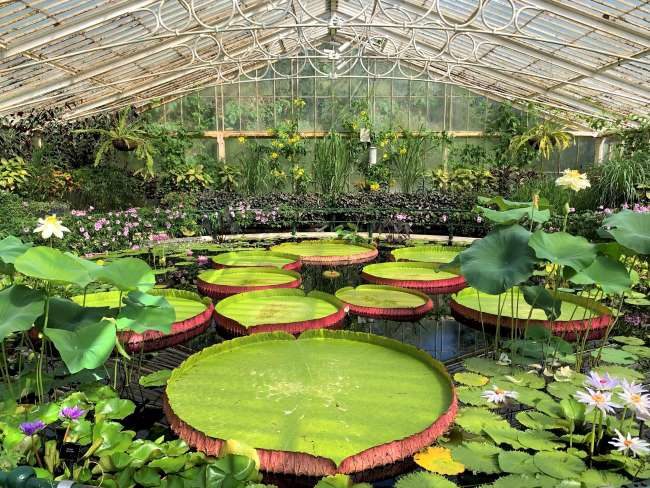 The Waterlily House is a listed building and the hottest and most humid glasshouse in Kew Gardens. It was completed in 1852 and was designed specifically to showcase the giant Amazon waterlily (their lily pads grow up to 3 metres wide), which you can now see at the Princess of Wales's Conservatory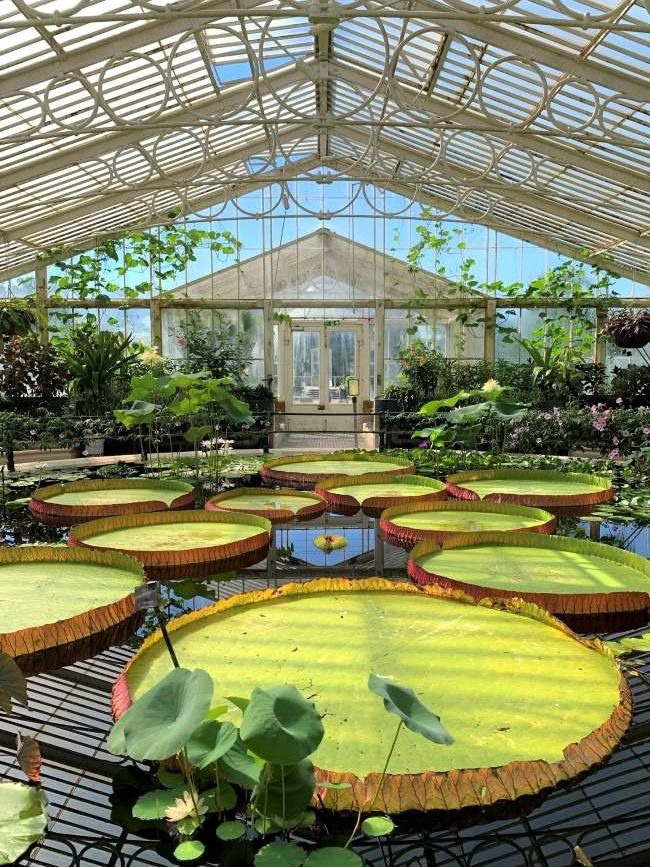 Redwood Grove
One of my favourite places to visit in Kew Gardens is the Pinetum, a 40 acre area within the Arboretum on the southernmost edge of Kew that is home to an incredibly diverse collection of conifer trees. It's a quiet, peaceful part of the Gardens and where you'll find the amazing Redwood Grove.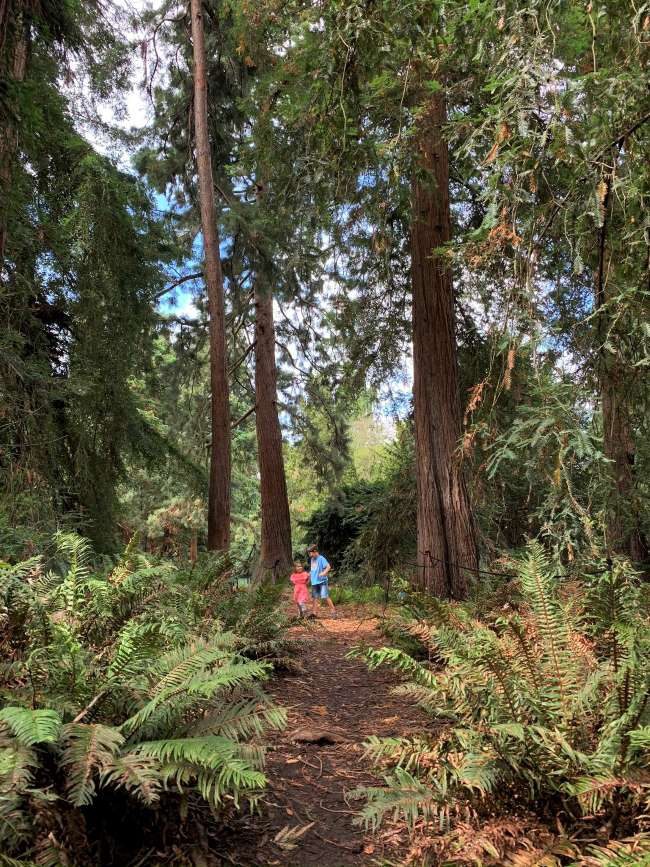 Kew Gardens have a mixture of coastal redwoods (Sequoia sempervirens) and giant redwoods (Sequoiadendron giganteum) in the Redwood Grove. You'll find the tallest tree at the Gardens here, a 40 metre tall coastal redwood which is as high as a 13 storey building.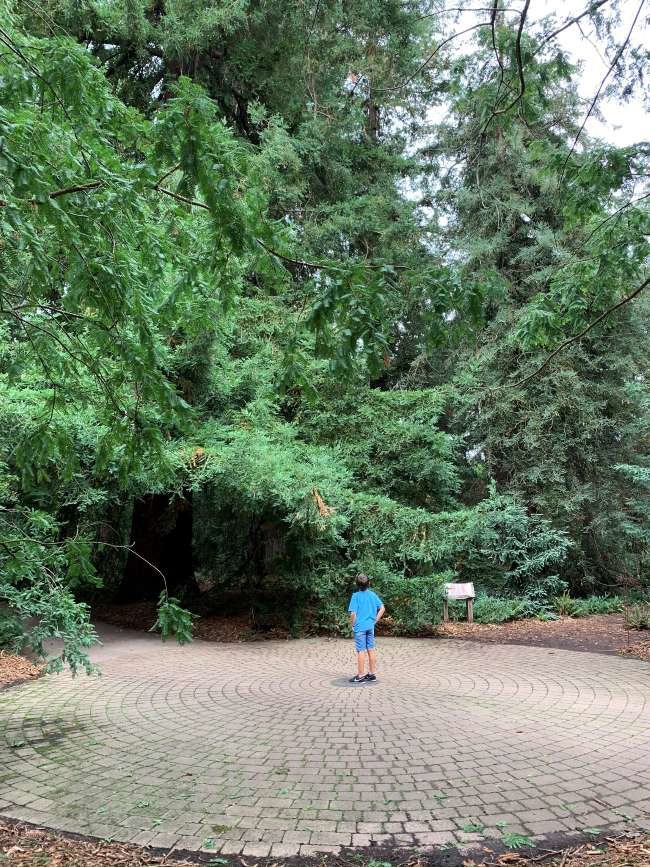 In the middle of the Redwood Grove, look for a round plaza of cobbles which has the diameter comparable to that of the trunk of a typical old-growth Californian giant redwood (8.2 m / 27 ft). It is fascinating to stand in the middle and get an idea of what a huge size an average giant redwood can grow to!
Log Trail
Nearby in the Natural Area, the Log Trail is another favourite spot to visit especially in the summertime. This natural log trail is made from storm-felled trees that have been put to use as a fun outdoor play area that winds through the trees.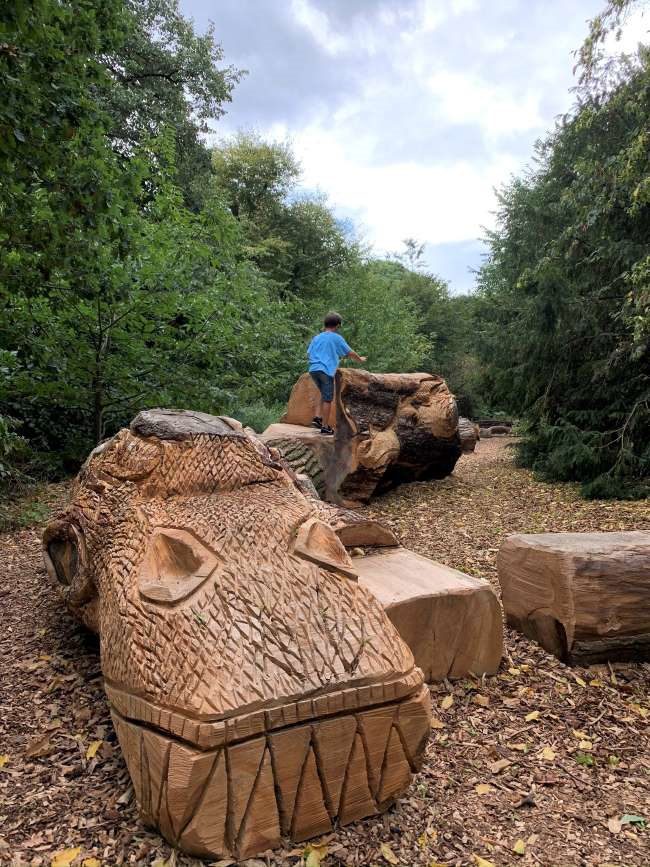 The Children's Garden
Finally, one of the best playgrounds in London is the Children's Garden that opened at Kew Gardens in 2019. It is a fantastic space based in a natural setting the size of 40 tennis courts, with highlights that include a sandy area with play houses and small slides for little ones, tall "worm-hole" tubes to slide down, an area with trampolines and wooden climbing frames.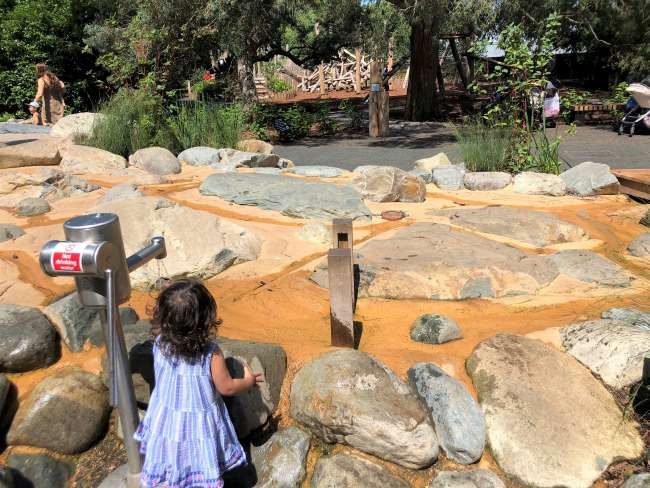 The kids love the water play area, which features log troughs, water tables and several pumps, plus there's a splash pool in a shady spot which is perfect for little ones. Due to Covid-19, the water pumps have been switched off, but hopefully they'll be back on later this summer once further restrictions are lifted.
Click through the images below for more from the Children's Garden at Kew Gardens.
View this post on Instagram
Visiting the Children's Garden is including in your Kew Gardens ticket, however, you do need to book a time slot ahead of your visit. [Click here to book a time slot at the Children's Garden.] During the summer, those time slots go quickly so I would recommend booking well in advance. If the time slots are all booked for the day you are visiting, it is also worth checking in the early afternoon if any slots have freed up.
View this post on Instagram
I hope you found these tips helpful for what to see and do when visiting Kew Gardens in summer! We are looking forward to visiting Kew Gardens during the summer holidays, and I will continue to keep this post updated with more ideas and recommendations along the way.
Kew Gardens in Summer
Kew Gardens, Royal Botanic Gardens, Kew, Richmond, Surrey TW8 3AB
Opening Hours: 10am–7pm (last entry 6pm)
Tickets: Adult tickets from £17.50, young person (16-24 years) from £8.75, children (4-15 years) from £5 and children under 4 years go free. See Kew tickets and prices for full list including with Gift Aid donations, prices for visiting after 4pm, family tickets and local residents.
Closest Tube Station: Kew Gardens [District – Richmond brand and Overground services]
Parking: There is limited Ringgo parking around Kew Green (make sure to check for permit parking spots). Parking costs £7.00 for the day at the Kew Gardens Brentford Gate car park (TW8 3AF) which is accessed by Ferry Lane, a narrow turning off Kew Green.
https://www.kew.org/kew-gardens
Pin for Later – Visiting Kew Gardens in Summer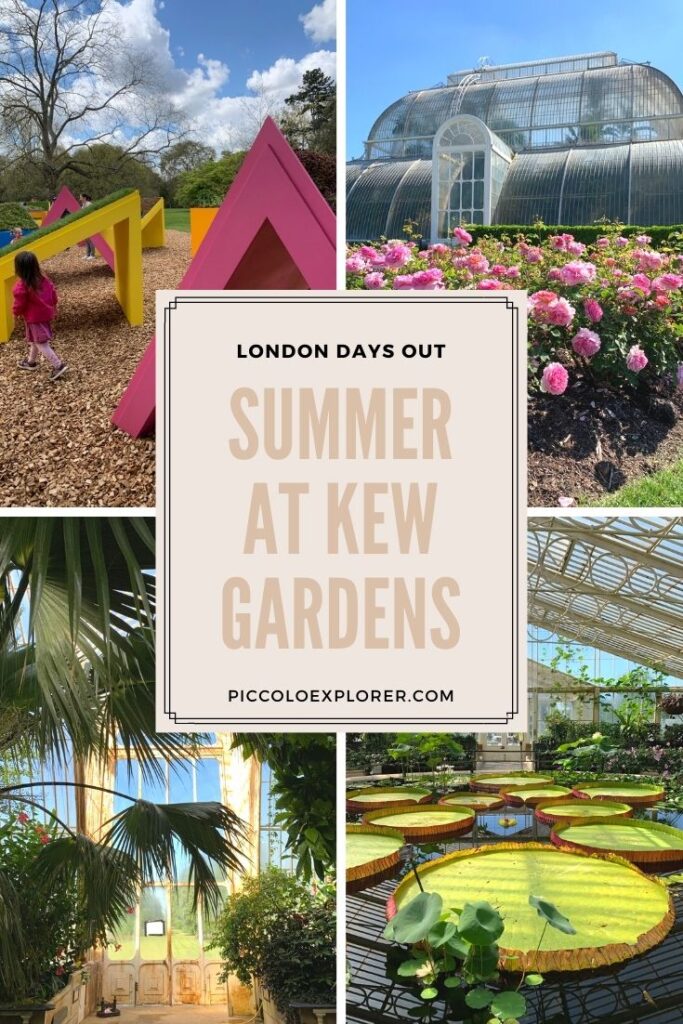 Please follow and like us: