Located in Covent Garden, London Transport Museum is one of the top London museums for kids and a fun experience for the whole family. There are over 200 years of London's transport history to discover and explore. In this quick guide, learn more and find out what to see and do when visiting the London Transport Museum with kids.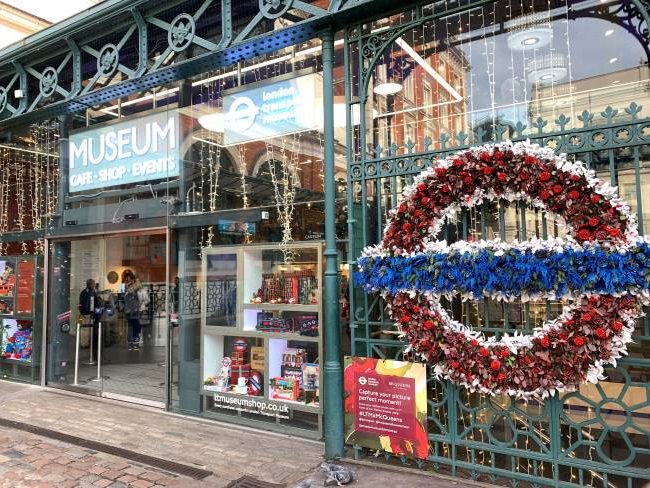 London Transport Museum
There are examples of transport vehicles from the 19th century to present day to see throughout the museum. From horse carriages to trams, buses to taxis, it's a fascinating look into the history of transport in London.
19th Century and Victorian transport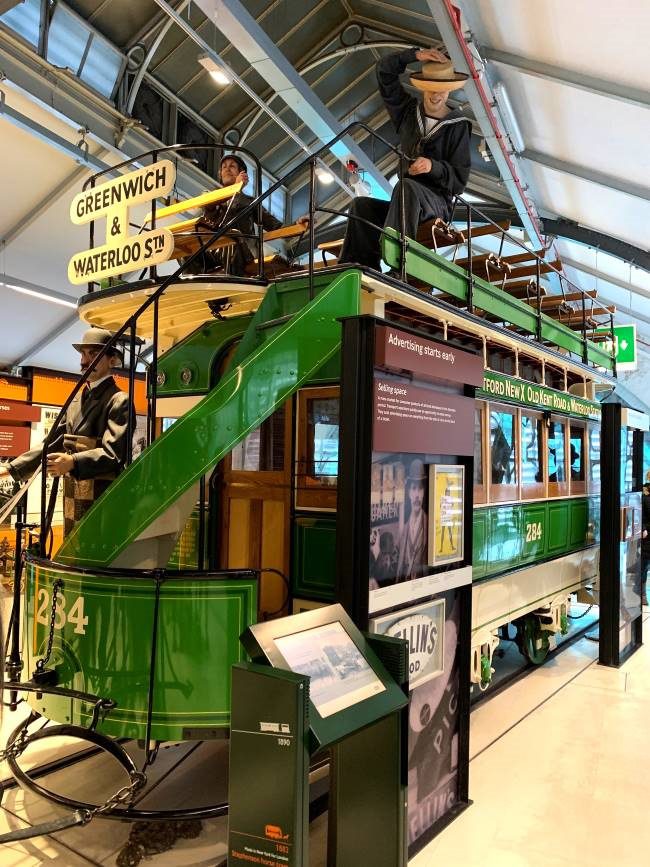 The self guided tour of the London Transport Museum begins on Level 2, where visitors discover what transport was like in London in the 1800s. One of the must-see objects in this gallery is the London Tramways Company double deck horse tram, built in 1882.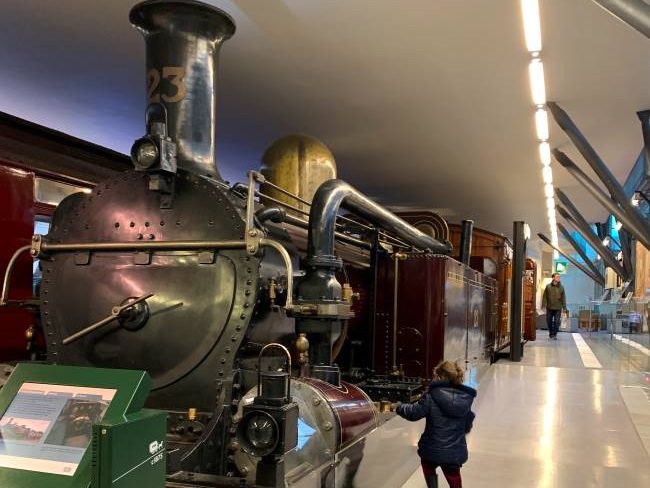 Another highlight is seeing one of only two 1860s Metropolitan steam engines left. In this section of the museum, visitors learn more about the beginning of the London Underground. Construction of the world's first underground railway, the Metropolitan, began in 1860. The first section of the Metropolitan opened from Paddington to Farringdon in 1863.
On the Surface 1900 – 1945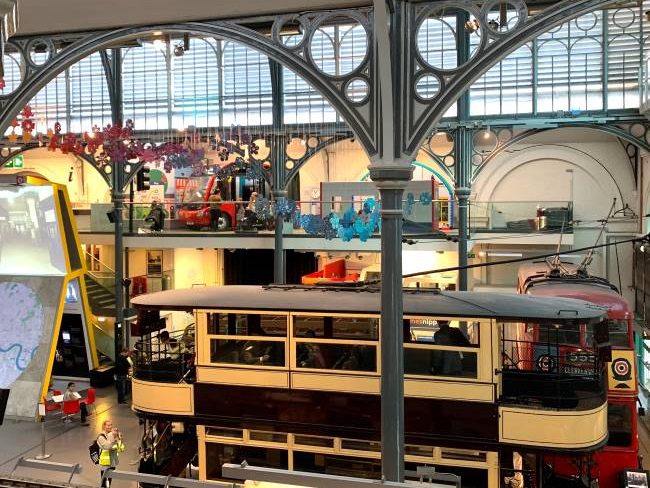 There is plenty to explore on the ground floor at the London Transport Museum, including vehicles that visitors can climb into and interactive exhibits. On the Surface 1900 – 1945 gallery shows what surface transport was like in the first half of the 20th century. Examples of horse-drawn vehicles, trams, trolleybuses and the first motor buses are on display in this gallery.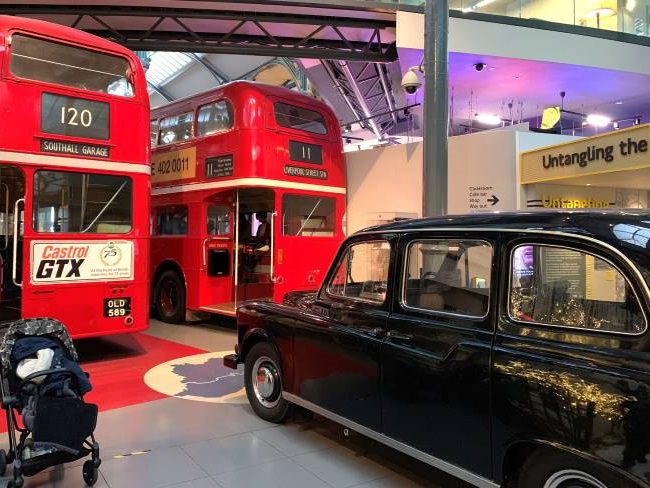 On the Surface 1945 to Today
Another gallery, On the Surface 1945 to today, explores London's surface transport after the Second World War to today's modern organisation run by Transport of London.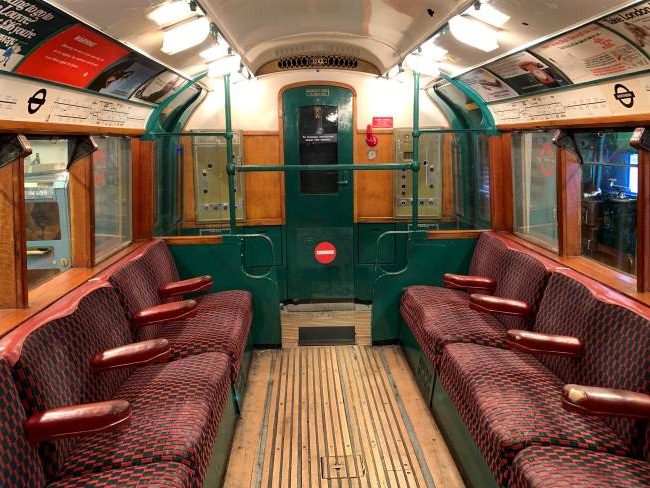 Highlights include seeing a Routemaster double deck motor bus, that entered service in 1959 and viewing the interior of a vintage tube carriage.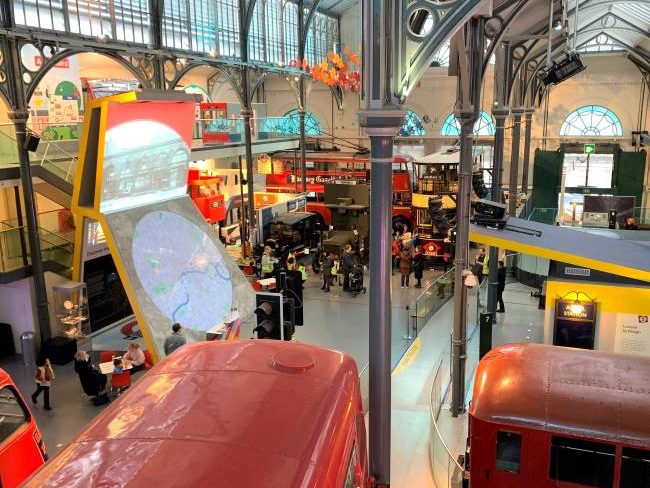 Future Engineers
Another highlight when visiting the London Transport Museum with kids is the new Future Engineers gallery. Located on Level 0, this gallery highlights the creativity, social value and sheer range of jobs available in engineering.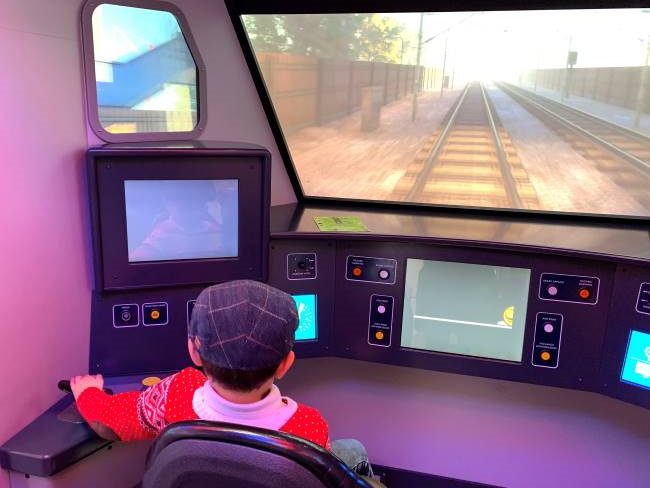 Visitors can test their skills and solve transport conundrums faced by modern day engineers. The series of interactive exhibits include the popular tube train simulator (shown above) and a hands-on challenge to fix a train.
All Aboard Play Area
The London Transport Museum has one of the best museum play areas. The fantastic All Aboard play zone is split between Level 1 and Level 0 and has been designed for children 0 to 7 years old.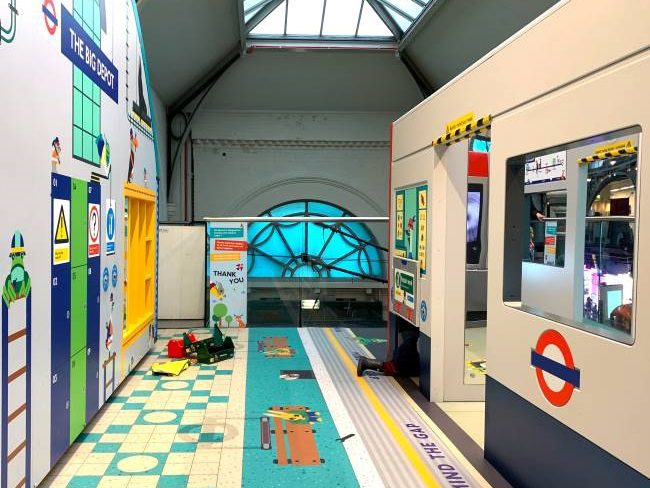 On Level 1, children can work on repairing a tube train, sit in the driver's seat of a bus and helping customers at a mini information desk using the magnetic message board, maps and clocks.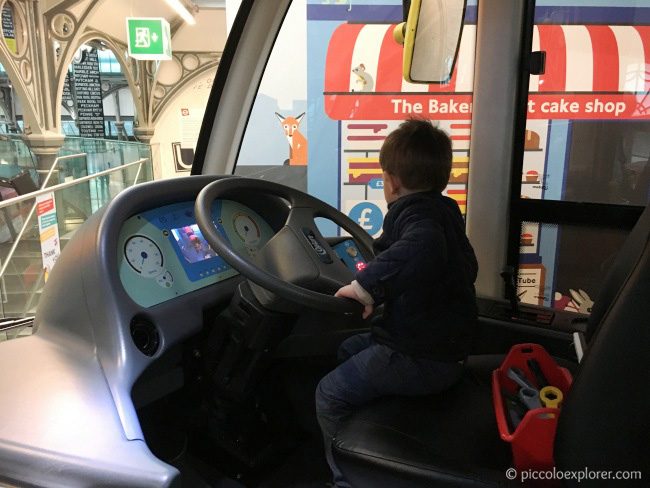 On Level 0, the All Aboard play area features a fleet of mini vehicles, trains, boats and a Emirates Air Line cable car for little ones to enjoy. There is a double decker bus and a Thames Nipper to climb around and explore. Children can dress up in uniforms to become drivers, mechanics, cleaners, announcers and even riverboat captains.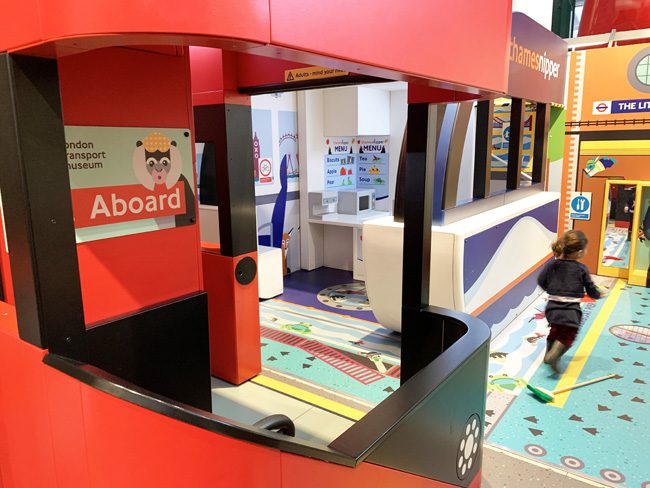 The museum play area on Level 0 also has a small soft play area for babies, with an interactive wall and building blocks to play with.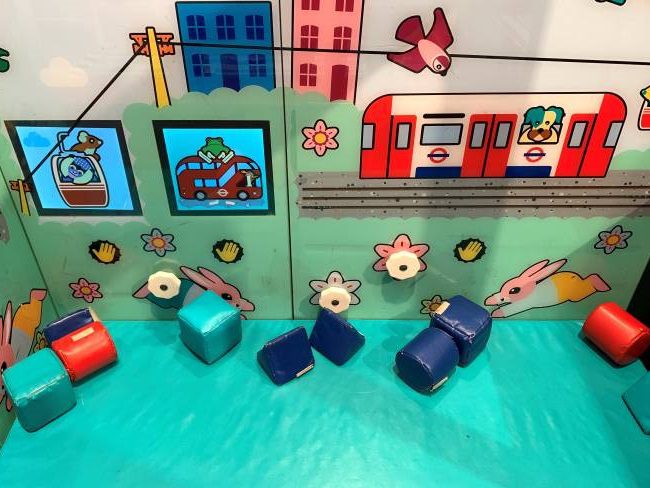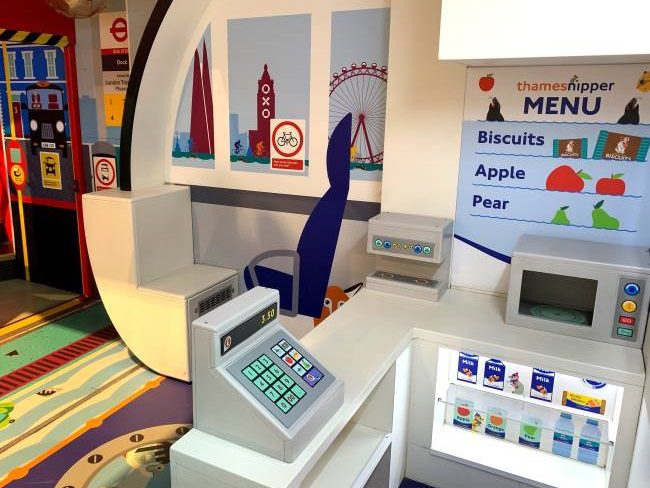 Canteen Restaurant
Open from 11am to 4pm, Canteen is the café bar at the museum. Menu includes hot and cold drinks, sandwiches, soups and homemade cakes.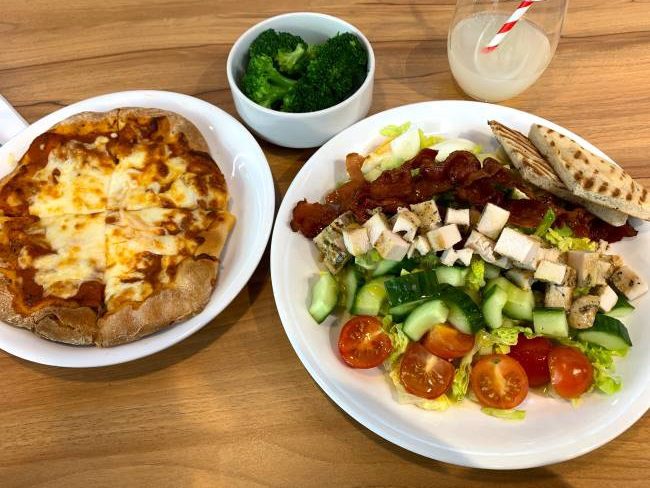 What's On at the London Transport Museum
The London Transport Museum regularly organises family activities and events throughout the year. Keep an eye on the Events calendar for activities for kids during the weekends and school holidays.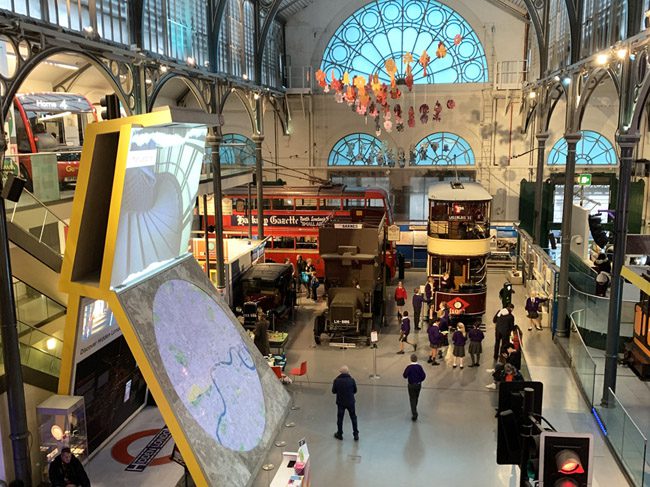 Related: May Half-Term Activities in London
May Half-Term: Festival of Curiosity
27 May – 4 June 2023
Enjoy curious and creative problem-solving challenges and meet real-world engineers this May half-term at the LTM's Festival of Curiosity.
Follow in the footsteps of the people who have kept the capital moving over the last 200 years, through family activities that include a STEAM-inspired trail, hands-on workshops and storytelling sessions.
See the full programme of family activities for the May half-term break at the London Transport Museum
London Transport Museum Tickets
Address: Covent Garden Piazza, London WC2E 7BB
Opening Hours: Monday to Sunday, 10am to 6pm (last entry 5pm)
Tickets: FREE entry for children and young people under 18.
There are now two annual pass options for adult tickets. The Unlimited Annual Pass costs £21 allow unlimited daytime entry to all museum galleries and temporary exhibitions for a whole year. The Off-Peak Annual Pass costs £18.50 and allows entry to the museum on weekdays after 2pm for a discounted price (term-time and summer holidays only, other school holidays or half breaks NOT included).
Local Resident tickets cost £15 – check website for which boroughs are included for this discount.
Buy an annual pass at https://www.ltmuseum.co.uk/visit/tickets
Pin for Later – London Transport Museum with Kids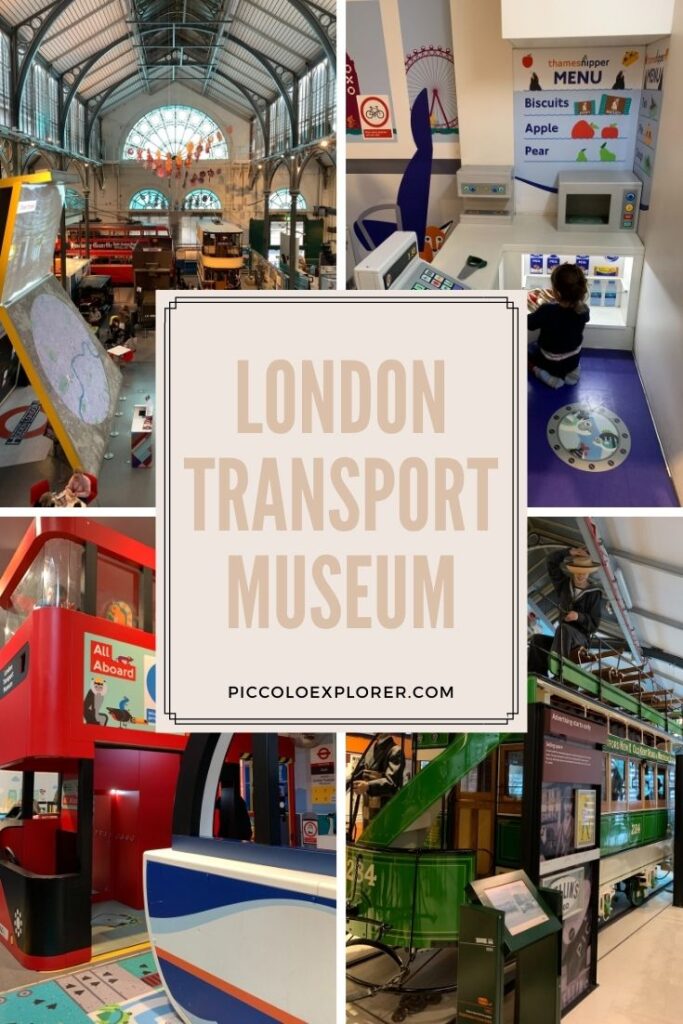 This post was updated on 26 March 2023 with up-to-date visitor information and details about family activities during the Easter school holidays.