The Diana Memorial Playground is located in Kensington Gardens, next to Princess Diana's Kensington Palace home. This playground was created by the Diana Memorial Fund and opened on 30th June 2000 in her memory. It is open to children 12 and under, and designed so less able and able-bodies children can play together.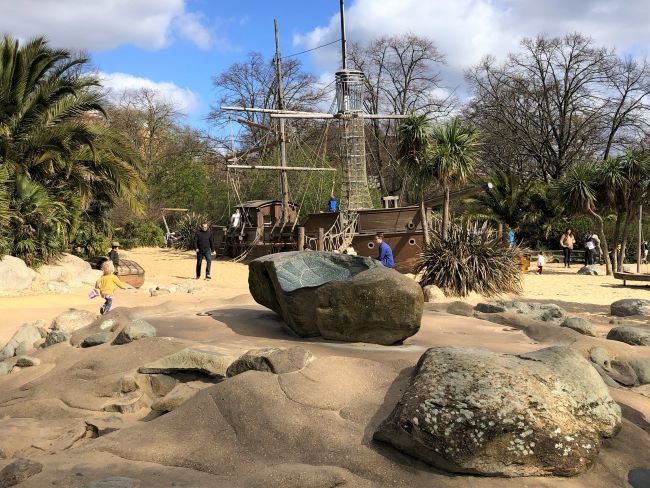 Princess Diana Memorial Playground
Inspired by the stories of Peter Pan, the Diana Memorial Playground features plenty of creative touches throughout, with play sculptures, a trio of teepees, tree-houses and little pathways tucked away in the greenery for children to explore.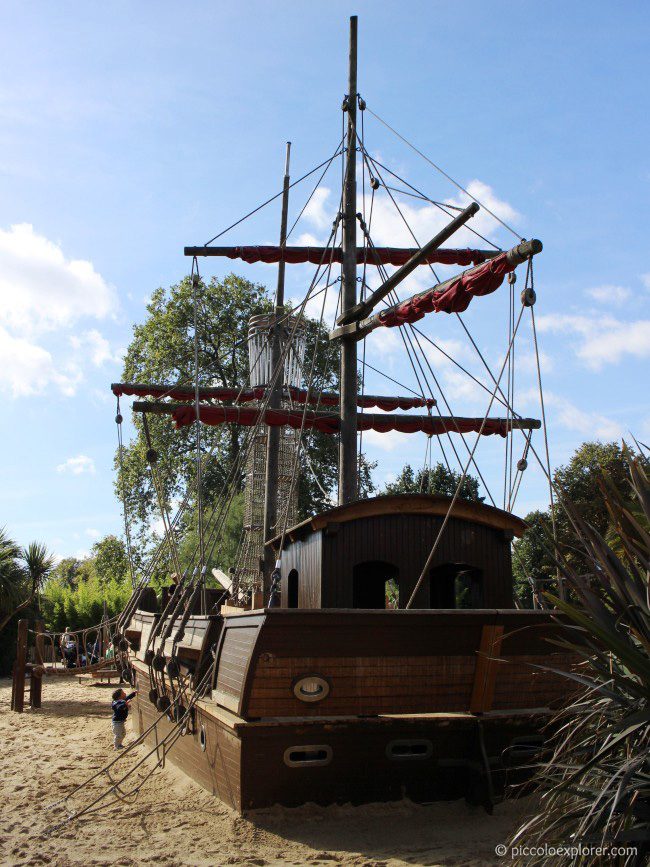 The Princess Diana Memorial Playground is a brilliant playground in Kensington Gardens, London, and a beautiful tribute to Princess Diana. The playground is beautifully landscaped and cleverly designed, and it's no wonder it has become popular as one of the top things to do with kids in London.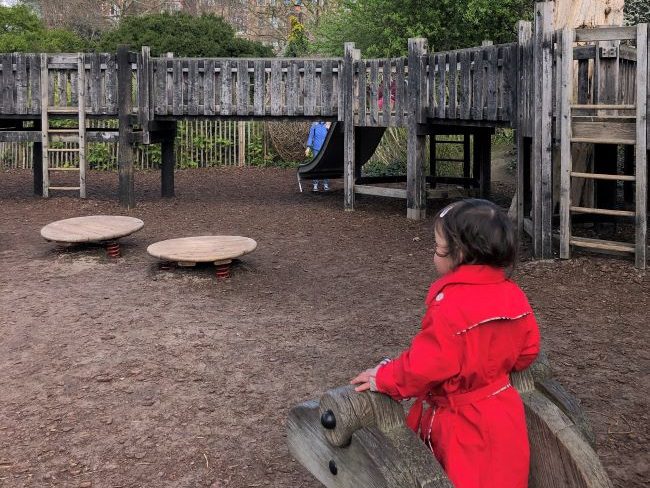 The Diana Memorial Playground is centrally located, a short walk from Kensington High Street and Notting Hill Gate station. The playground is also about a 25 minute walk away from the Natural History Museum and Science Museum so could be combined with a visit to the museums for a full day out in the area.
Related: Top Museums for Kids in London
Pirate Ship Play Structure
The centrepiece of the Diana Memorial Playground is the fantastic wooden pirate ship in the middle of a sandy beach.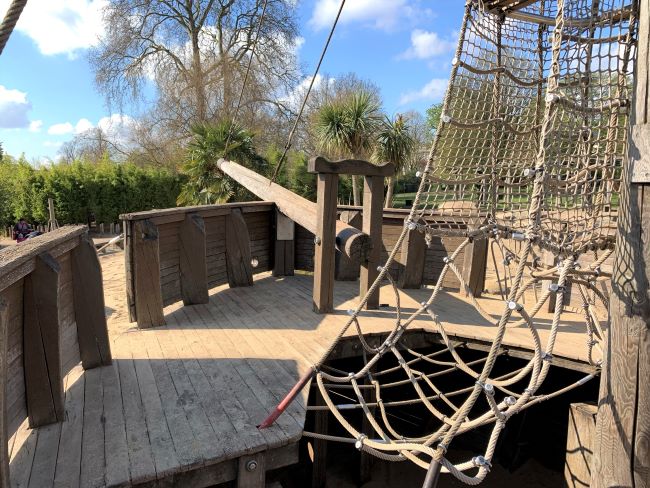 Kids can access the pirate ship on thick rope bridges and ladders, and once aboard, explore the lower deck or climb up the crow's nest.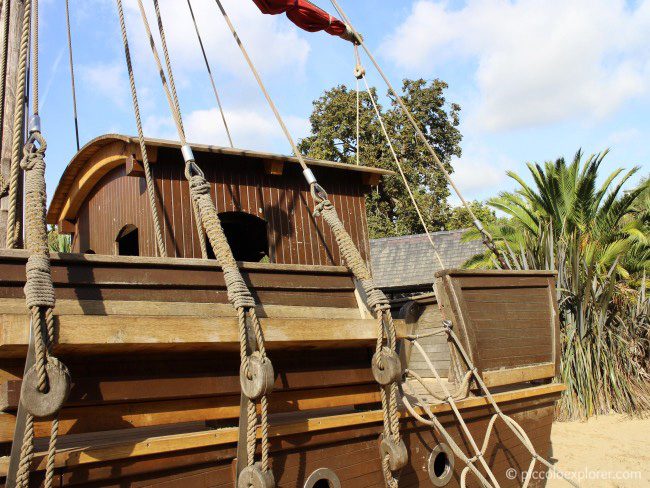 Water Play Features
During the summer months, the water features next to the sandy beach are some of the most popular play features, perfect for toddlers and pre-schoolers.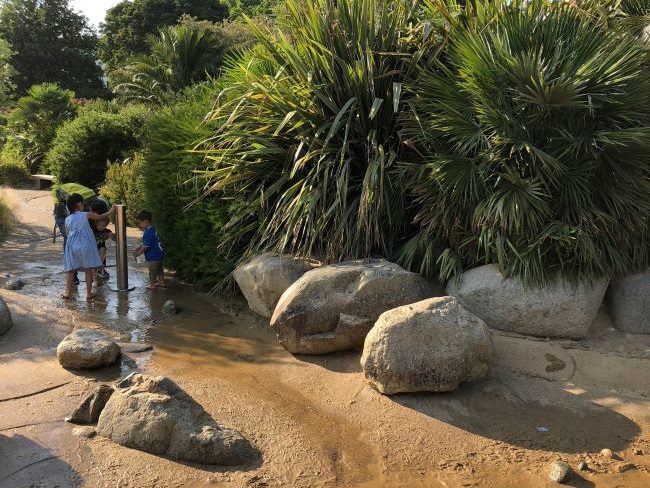 Play Equipment
Diana Memorial Playground has so much to offer for children of all ages. The playground is simply a pleasure to wander around, with always something new and different to discover around the corner.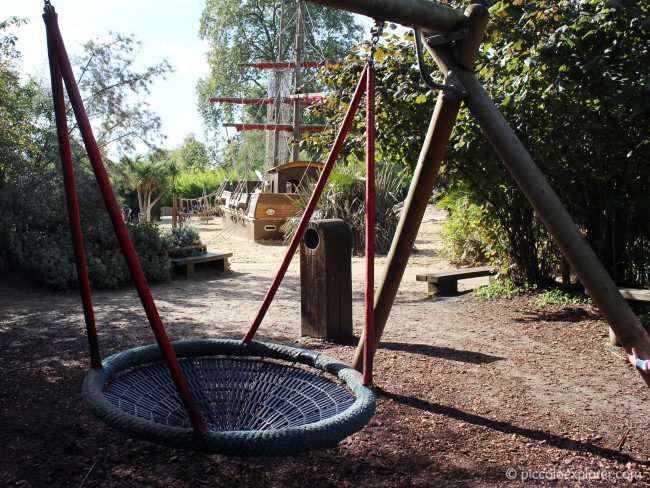 It truly feels like an adventure as you make your way around the playground, discovering other play areas hidden among the trees and clever landscaping.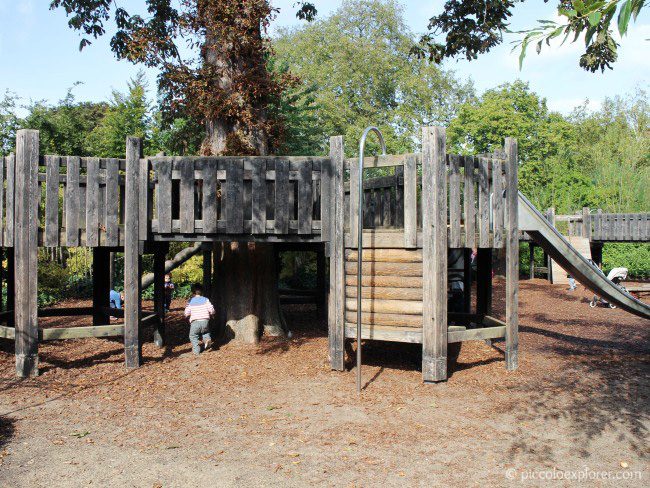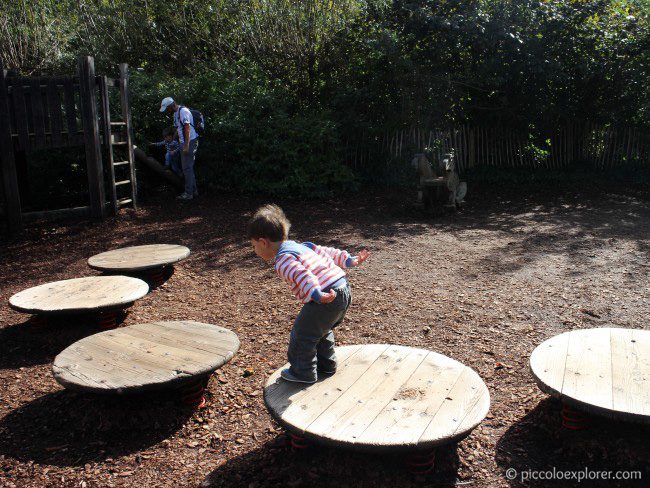 Music Play Area
Head to the far end of the playground to find a music play area tucked away in the trees.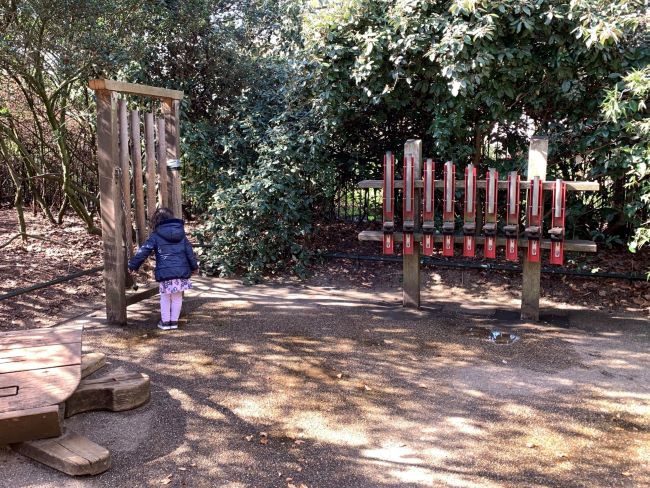 Toddler Play Areas
There is a designated area for under 3s close to the entrance, featuring small wooden playhouses, a seesaw and a large wooden trailer and cart.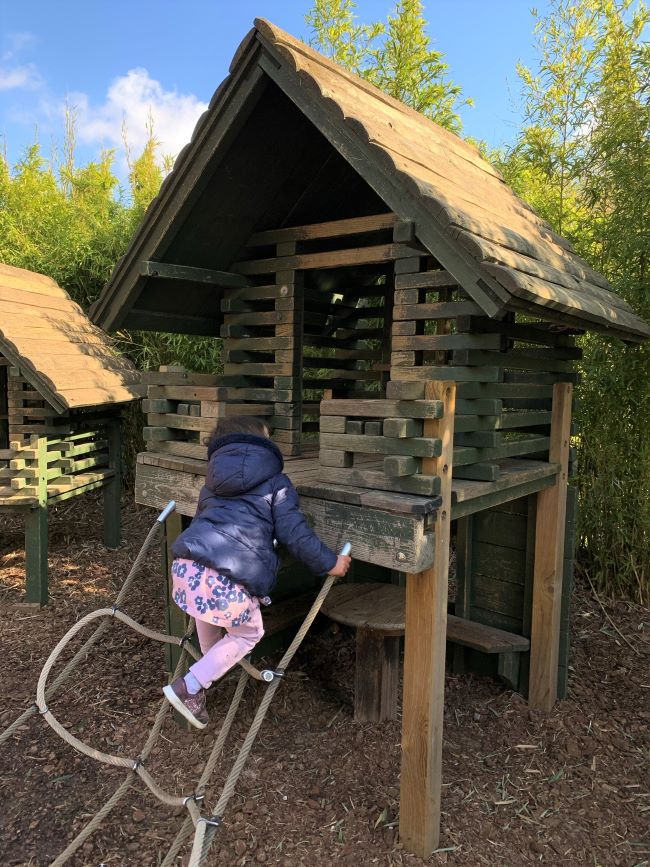 Cross through the trees to find a sandy area perfect for toddlers and pre-schoolers.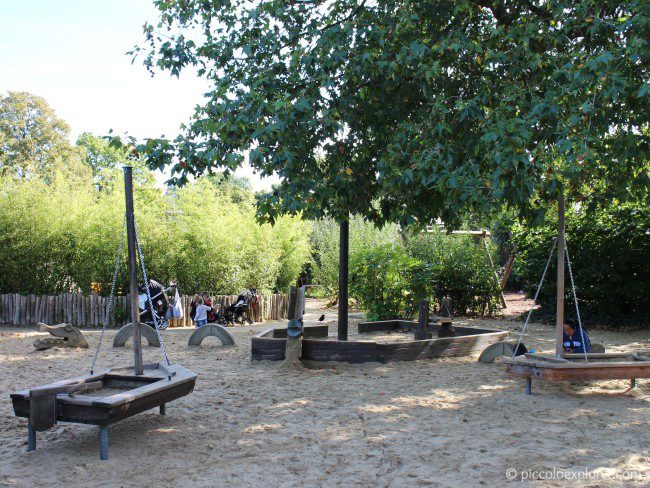 The sand pit has a slide, wooden boats to sit on and move the rudder back and forth and a sieve and chute to put sand through.
Related: Summer Activities in London with Kids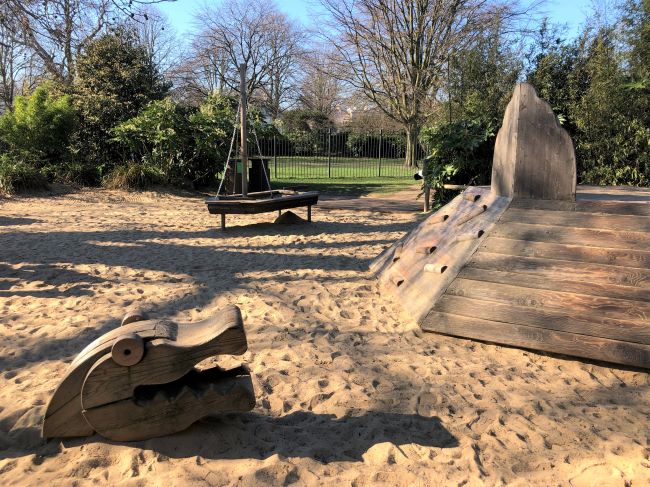 Diana Playground Entrance
The Princess of Wales Memorial Playground is free to enter and for children 12 and under. The playground is securely fenced, with only one gate that is manned by an attendant in a booth who ensures that no unaccompanied adult enters and that no unaccompanied child leaves.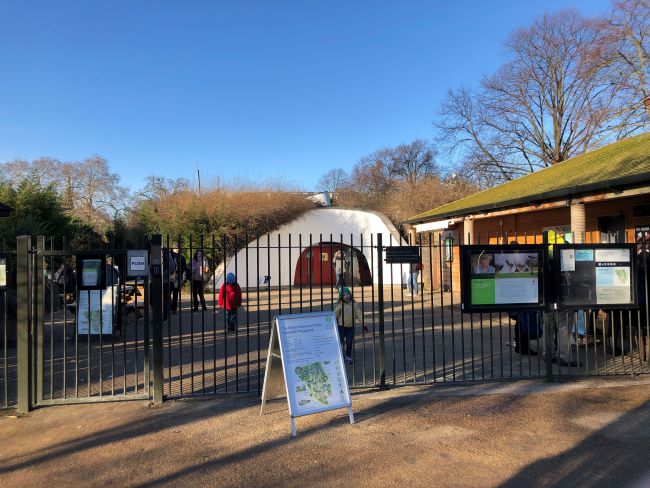 Only adults supervising children will be admitted and if an adult carer leaves the playground with the intention of returning, he/she needs to let the playground staff know as there may be problems regaining access.
Broad Walk Café
The Broad Walk Café is located in front of the playground entrance serving tea, coffee, juices and sandwiches, salads and stone baked pizza. There is a café window also within the Diana Princess of Wales Playground to place and pick up orders.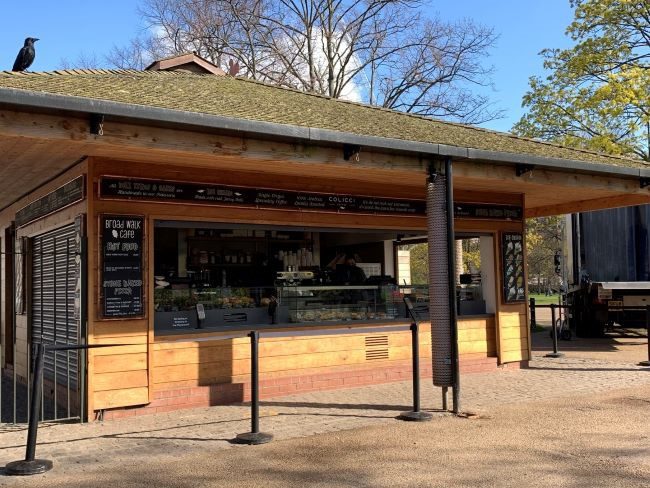 There are several picnic tables for the café just in front of the Princess Diana Memorial Playground entrance, as well as picnic areas within the playground.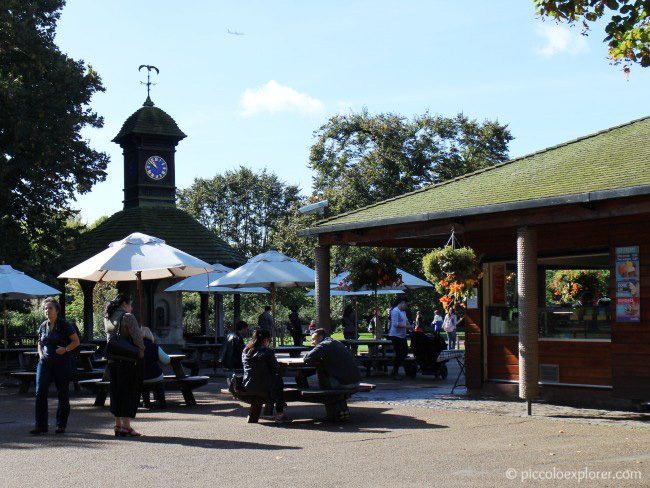 Diana, Princess of Wales' Memorial Playground
Address: Kensington Gardens, London W2 2UH
Opening Times: Open every day of the year except Christmas Day, from 10am. Closing times vary depending on time of year, check website for current opening hours.
Closest Tube Stations: Queensway [Central] and Bayswater [Circle and District]
Toilets: There are toilets on site, near the entrance, including disabled and baby change facilities.
https://www.royalparks.org.uk/parks/kensington-gardens/
This post was updated on 29 June 2023 with current visitor information.
PIN FOR LATER – Diana Memorial Playground Kensington Gardens, London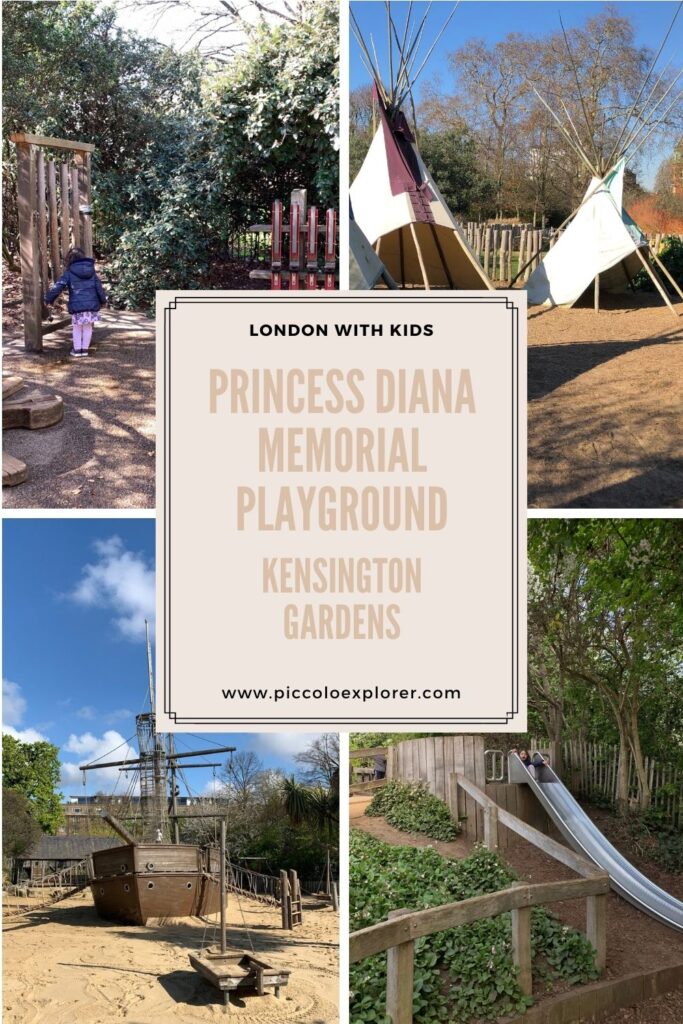 Save