With landscape gardens, woodlands, glasshouses, historic buildings and more spread out across 300 acres, Kew Gardens is one of the top places to visit during spring in London. There is plenty to see and do at this top London attraction, and in this post, you will find more details about spring in Kew Gardens London.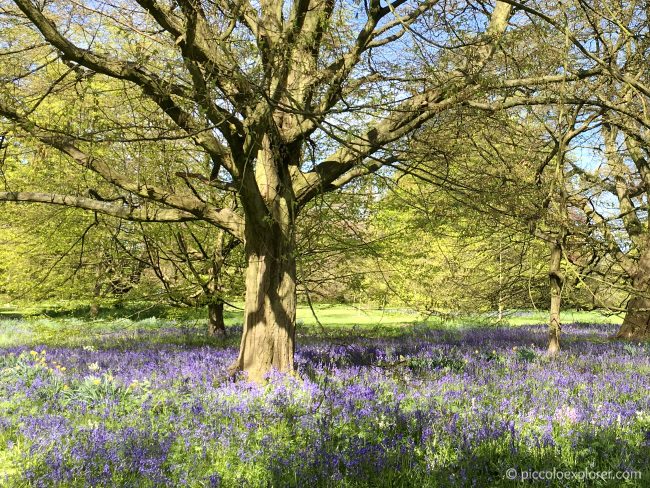 Related: Best Places to See Spring Flowers in London
Daffodils
You will start to see carpets of crocuses and daffodils around the gardens from late February to early March.
"In the UK, daffodils are sometimes called lent lilies as they often bloom between Ash Wednesday and Easter."
Magnolia Grove
From late March and through April, visit the Magnolia Grove for a spectacular display of magnolia trees in bloom.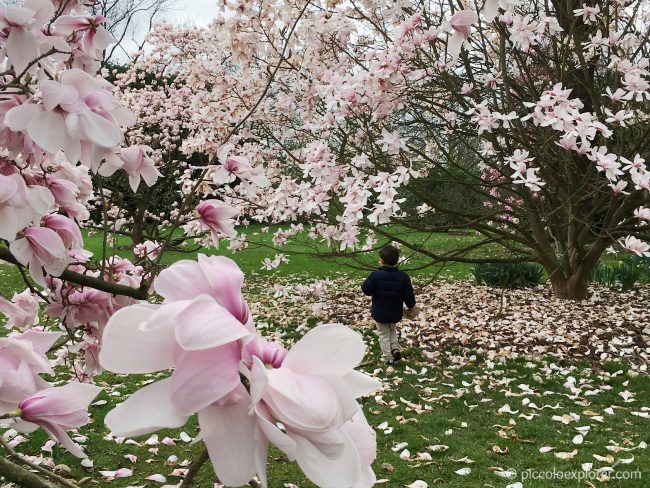 Cherry Blossoms
From April, there are a number of spots to see the beautiful cherry blossoms at Kew Gardens, including the Cherry Walk between the Palm House and Temperate House, the Japanese Garden near the Pagoda and the Palm House pond.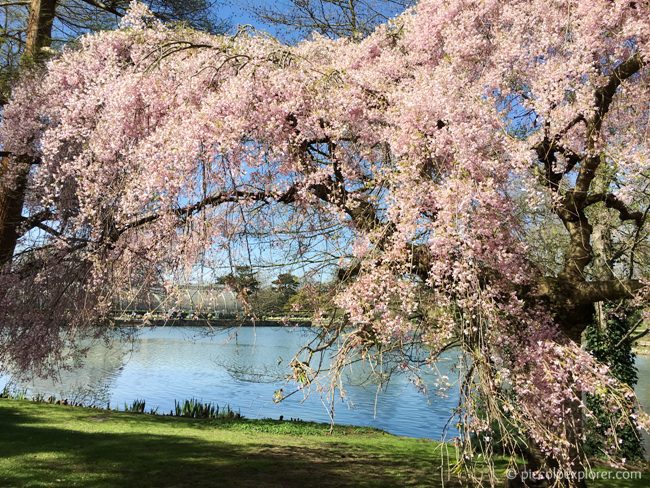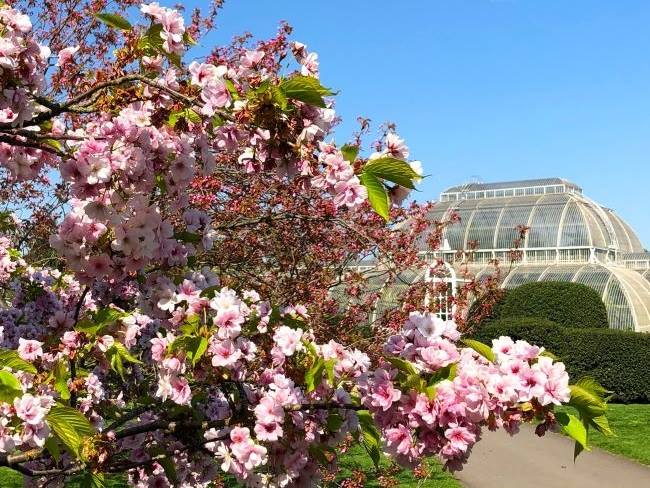 Bluebell Woods
Kew Gardens is also one of the best places in London to see bluebell woods in April and early May. Head to the Natural Area to see the bluebell woods by Queen Charlotte's Cottage.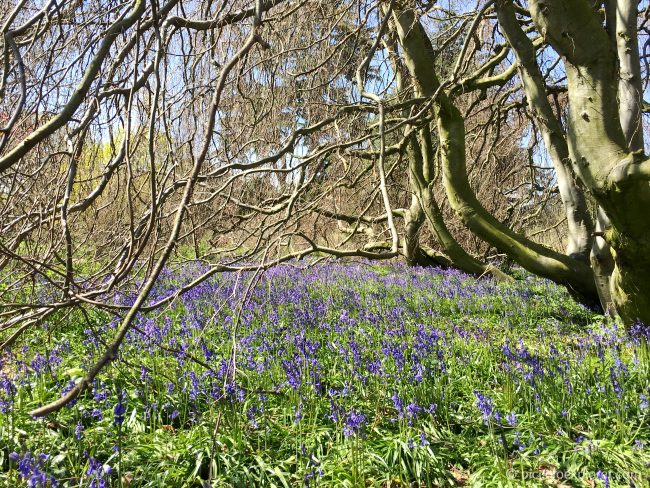 Palm House
The Palm House is a Victorian iron and glass structure housing plants from around the world including tropical palms, cocoa, rubber and banana plants and fruit trees.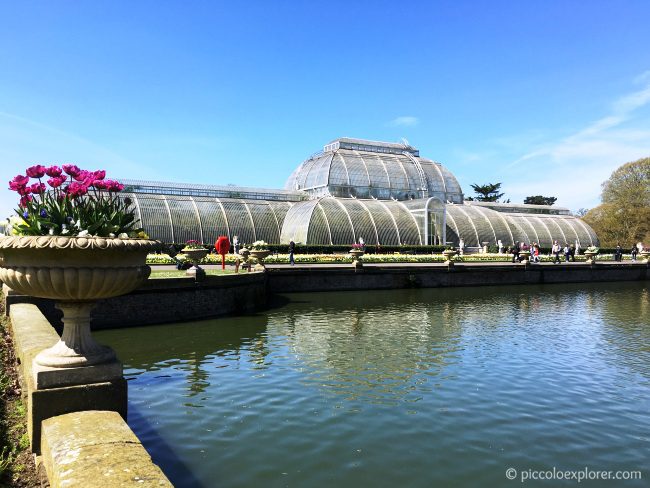 The flower displays in front of Palm House and the pond are always spectacular in the springtime.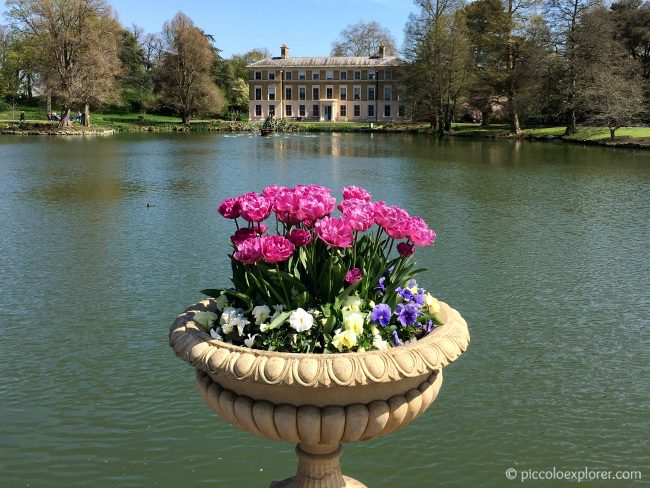 Head up a hill to the woodland garden where the Temple of Aeolus stands. Originally designed and built in the 1760s, the temple was rebuilt in 1845 in stone and is now the focal point of this area that emulates a natural woodland.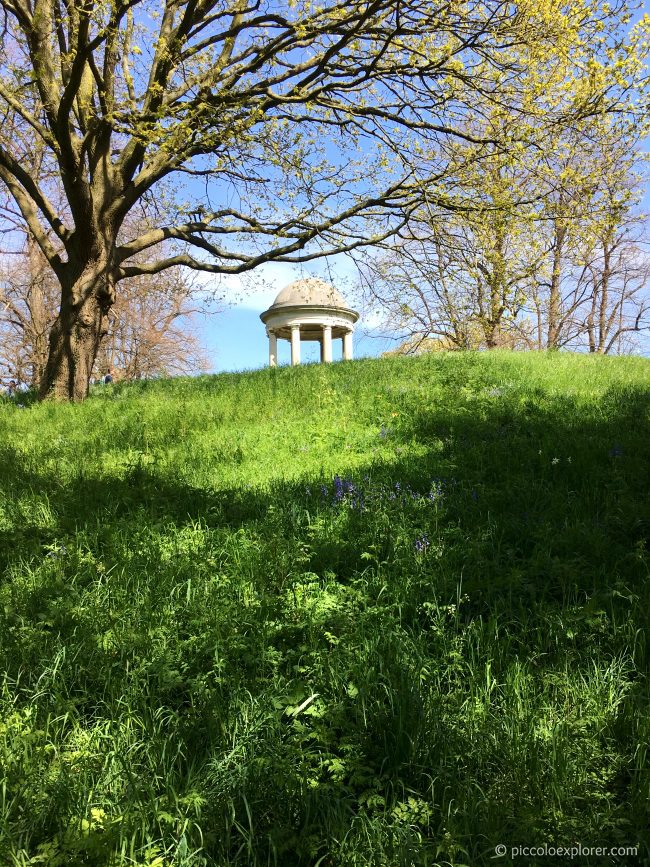 In the spring, the area is bursting with color with blossoming trees.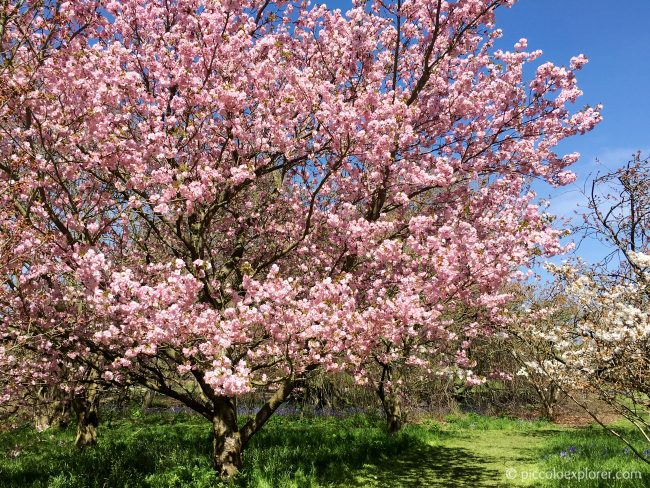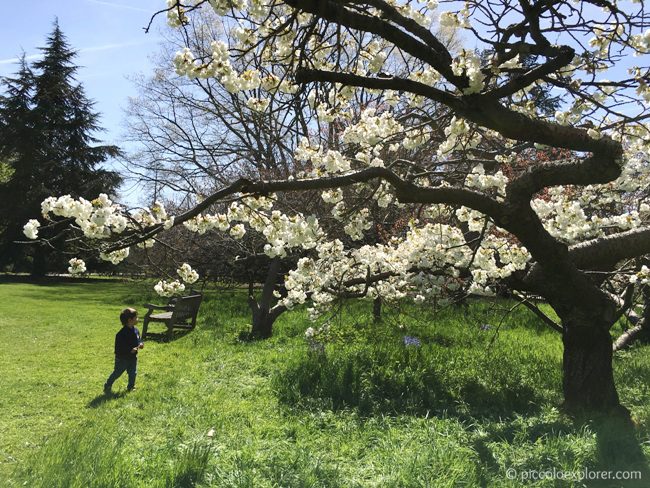 Kew Gardens by Season
Since there is always something new and unique to see throughout the year, I have been sharing advice on what to do and where to go when visiting Kew Gardens by season. Read on for more photos and information on visiting Kew Gardens at other times of the year;
Kew Gardens Address
Address: Royal Botanic Gardens, Kew, Richmond, Surrey TW8 3AB
2023 Opening Hours: Daily 10am to 6pm (last entry 5pm) until 31 March; 10am* to 7pm, 1 – 30 April (*open at 11am on 1 – 2 April).
Between 1 May – 31 August, Kew Gardens is open later on weekends and bank holidays. 10am to 7pm (last entry 6pm) on Monday to Friday; 10am to 8pm (last entry 7pm) on Saturdays, Sundays and bank holidays.
From 1 September, the opening times are the same throughout the week. 10am to 7pm (last entry 6pm) 1 – 30 September; 10am to 6pm (last entry 5pm) 1 – 28 October; 10am to 4pm (last entry 3pm) 29 October – 13 November; 10am to 3pm (last entry 2pm) 14 November – 7 January 2024.
Kew Gardens is closed on 24 and 25 December.
Tickets: Peak (1 February – 31 October) Standard tickets paid at the door are £21.50 for Adults, £9 for Young person and students (16 to 29 years old) and £5 for children (4 to 15 years old). Children under 4 years go free.
Tickets purchased online are cheaper for Young Person / Student (£8.50) and Adult (£17.00). You can pay an optional 10% donation which goes towards Kew Gardens' conservation work. By agreeing to pay the donation, Kew Gardens can claim Gift Aid on the full ticket price if you are UK tax payer.
Closest Tube Station: Kew Gardens [District – Richmond brand and Overground services]
Parking: There is limited Ringgo parking around Kew Green (make sure to check for permit parking spots). Parking costs £7.00 for the day at the Kew Gardens Brentford Gate car park (TW8 3AF) which is accessed by Ferry Lane, a narrow turning off Kew Green.
Good to Know
You can plan your visit to Kew Gardens with the comprehensive map on their website, which includes tick-boxes for selecting which attractions you would like to view on the map, such as "for kids", "facilities" and "eat and drink".
Kew Gardens offer plenty of interactive activities for children to get involved, learn and enjoy the outdoors. There's a lot to explore, from the bee gardens, to the log trail, to the marine aquarium located in the Palm House.
Right next to the two play areas, you'll find the White Peaks Café and Shop which has a salad bar and serves kid's boxes, gourmet sandwiches, ice cream.
http://www.kew.org/visit-kew-gardens
PIN IT FOR LATER