With landscape gardens, woodlands, glasshouses, historic buildings and more spread out across 300 acres, Kew Gardens is one of the top places to visit during spring in London. There is plenty to see and do at this top London attraction, and in this post, you will find more details about spring in Kew Gardens London.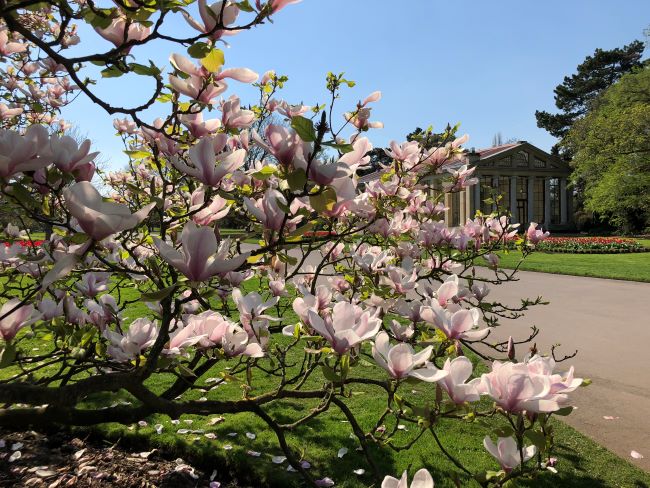 Related: Best Places to See Spring Flowers in London
Daffodils
One of the first signs of spring are the beautiful carpets of bright yellow daffodils in London parks and gardens from late February to early March.
"In the UK, daffodils are sometimes called lent lilies as they often bloom between Ash Wednesday and Easter."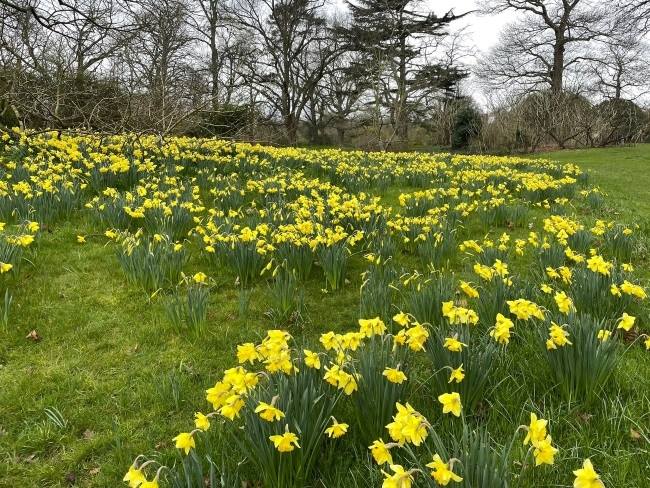 During spring in Kew Gardens, daffodils can be seen along the Great Broad Walk Borders, surrounding the Temple of Aeolus and in the Natural Area.
Magnolia
With over 250 magnolias across the Gardens, Kew is one of the best places in London to see these stunning star-like flowers. During early spring, look for the Magnolia Grove, off Princess Walk and near the Children's Garden, for a spectacular display of magnolias in bloom.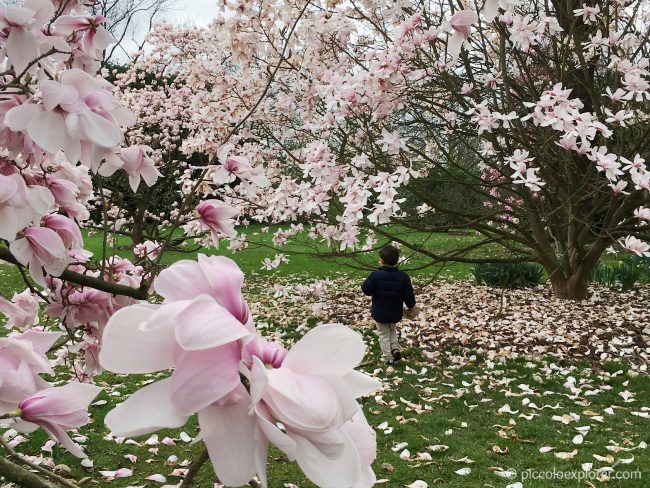 Many of the magnolias at Kew Gardens date back to the early 1900s. The Magnolia campbellii, or 'pink tulip tree' is one of the first magnolia trees to bloom between February and March.
You can also see mass flowering of magnolia near the Orangery. Across from the Hive and at Elizabeth Gate are also beautiful spots to see magnolias.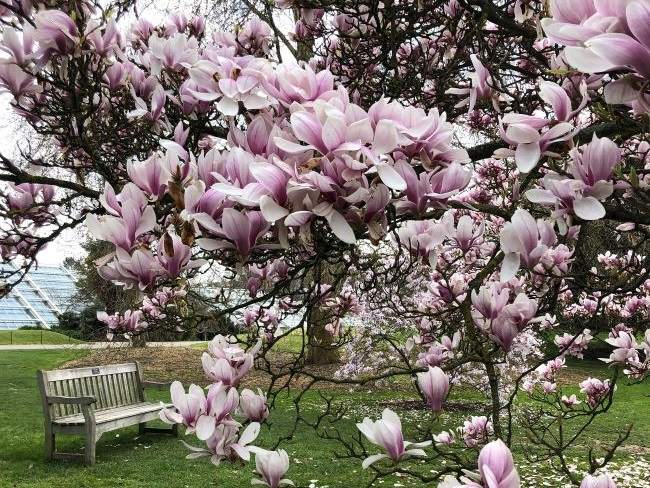 Cherry Blossoms
Another highlight during spring in Kew Gardens London is seeing the beautiful blossom trees in bloom through the Gardens between April and May.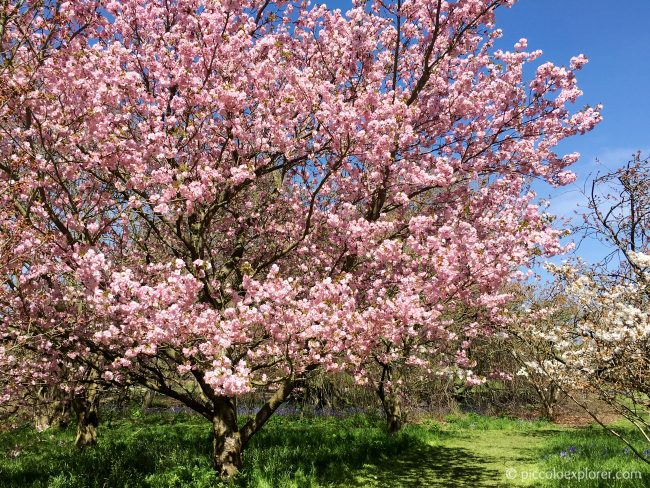 The cherry blossom are considered the national flower of Japan. They symbolise life, hope and good health.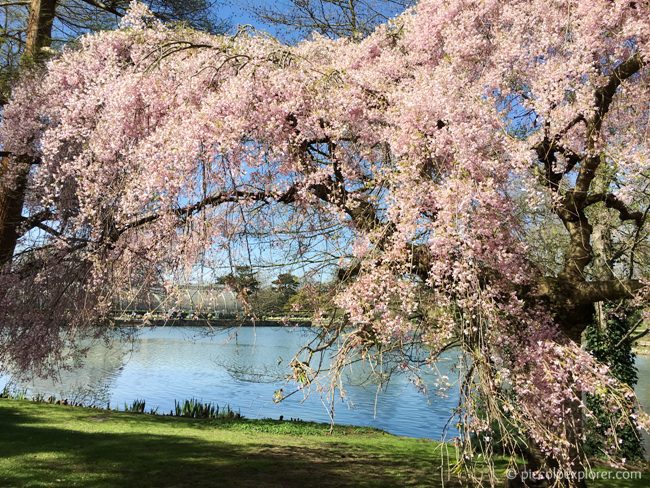 The best displays of cherry blossoms at Kew Gardens are along the Cherry Walk that runs from the Rose Garden behind the Palm House to the Temperate House. The Cherry Walk consists of over 30 cherry trees of many varieties, including the delicate Prunus 'Hokusai'.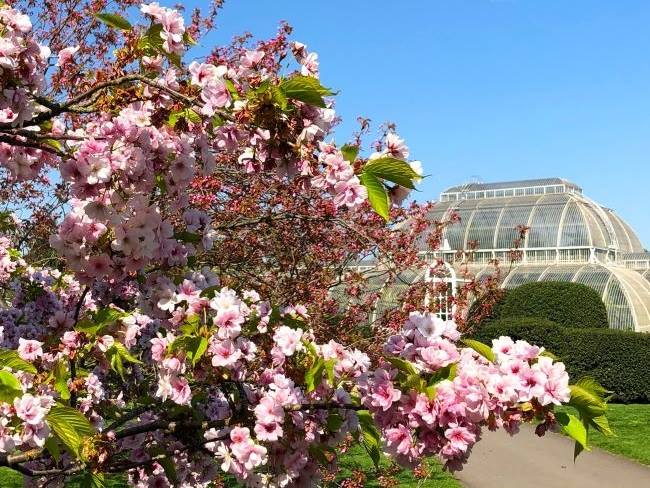 Visit the Japanese Landscape garden to see a variety of beautiful blossom trees, including a great white cherry (Prunus 'Taihaku) next to the Gateway.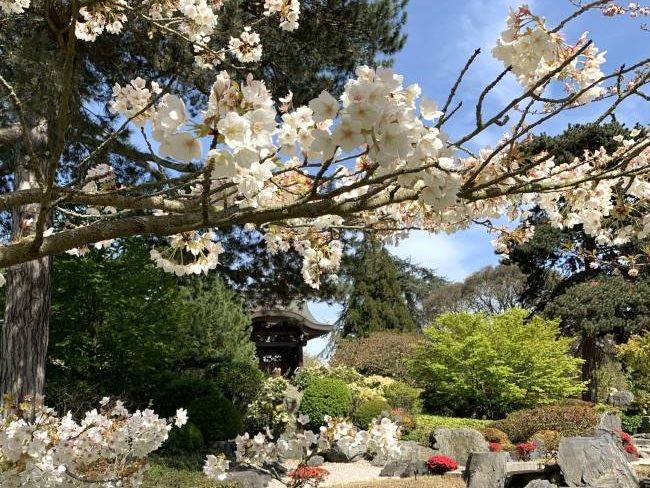 Bluebells
Kew Gardens is also one of the top places in London to see bluebell woods, with the best time to see the magnificent bluebells being from mid-April to May. Head to the Natural Area to see the bluebell woods surrounding Queen Charlotte's Cottage.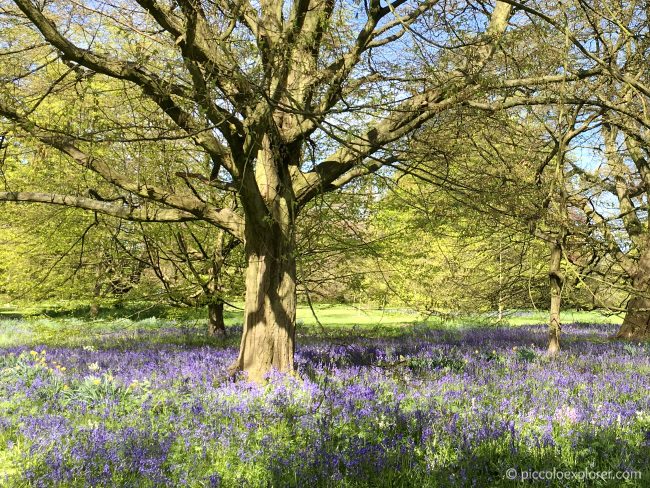 The Natural Area at Kew is home to one of London's finest bluebell woods, part of which is over 300 years old.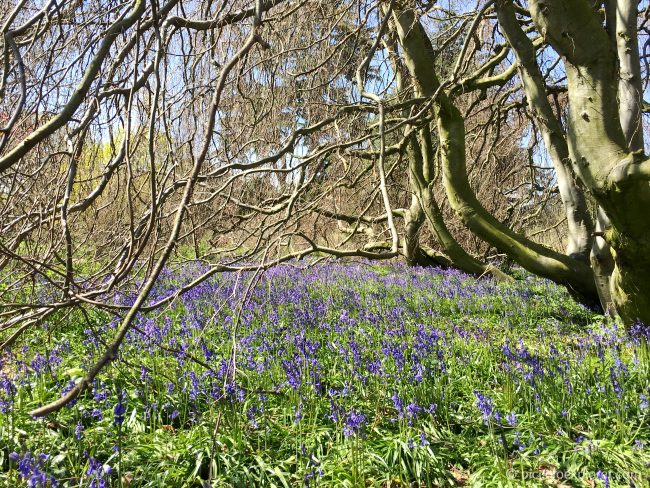 Rhododendrons
Another highlight during spring at Kew is seeing the colourful rhododendrons in bloom at the Rhododendron Dell.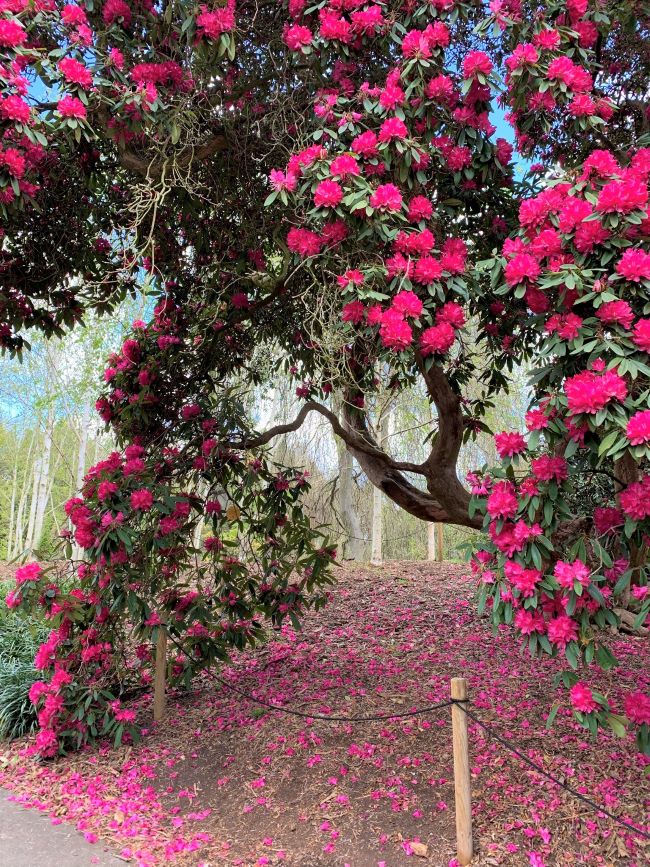 Sir Joseph Hooker brought back many new specimens of rhododendron from his travels to the Himalaya in the mid-19th century. Several were planted at the Kew Gardens Rhododendron Dell, including some unique hybrids found nowhere else in the world.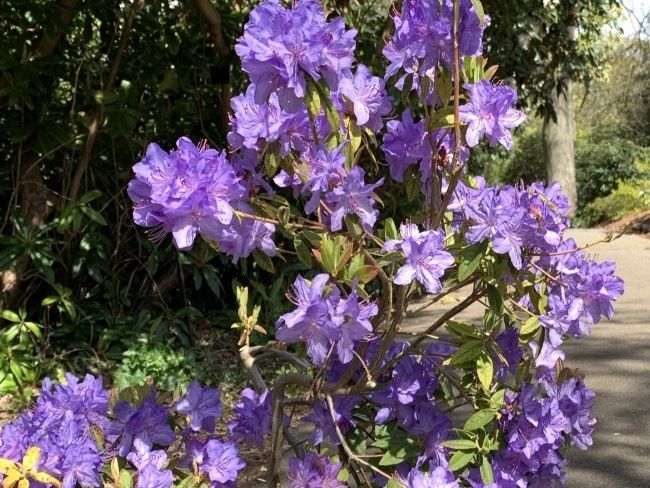 Tulips
Look out for fantastic tulip displays at Kew Gardens in April and May. The best displays are in the flower beds in front of the Palm House (shown below) and the Broad Walk Borders.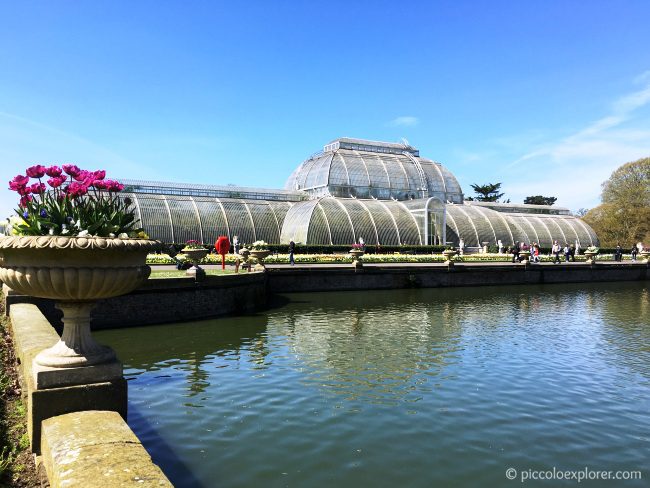 "Although they are often thought to come from the Netherlands, many tulip species originate from Central Asia where they grew wild."
More tulip displays can be found throughout the Gardens in springtime and change from year to year.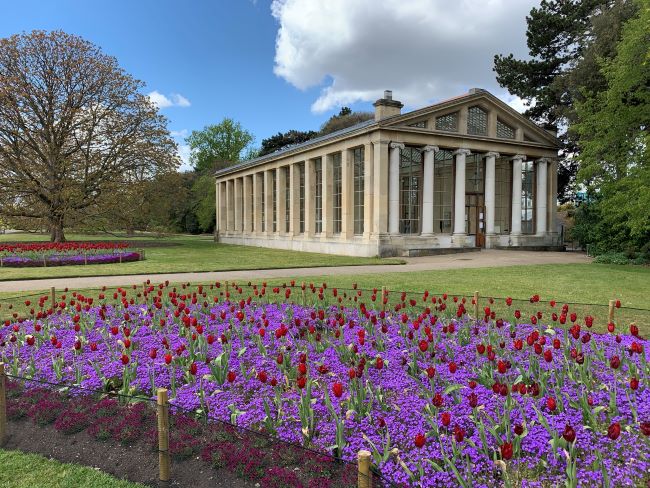 In previous years, there have been some wonderful displays near Elizabeth Gate, in front of the Princess of Wales's Conservatory, in front of the Waterlily House and in the Children's Garden.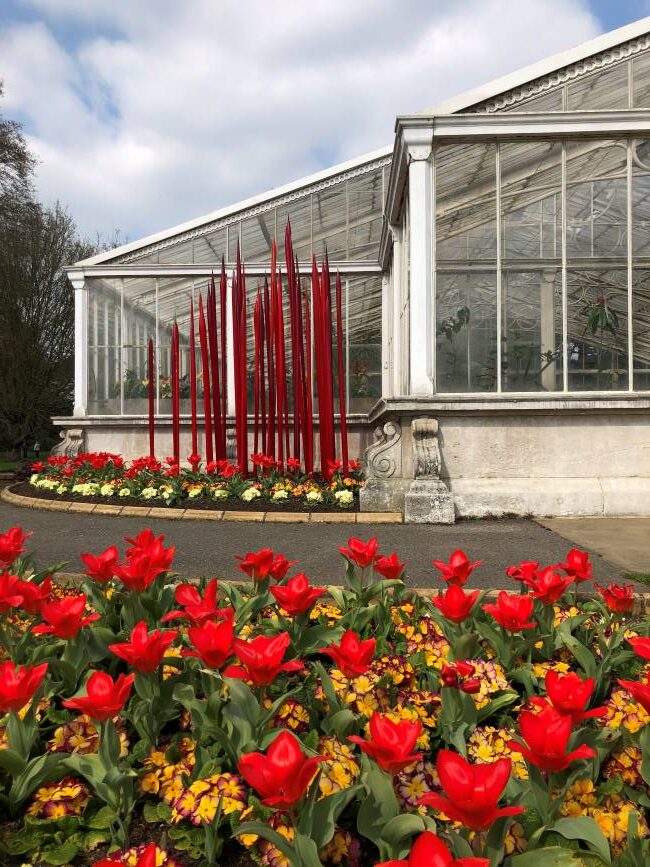 What's On at Kew Gardens
Kew Gardens also regularly runs family activities and events for children to get involved, learn and enjoy the outdoors. Find what's coming up in this part of the spring in Kew Gardens London post.
Superworm Trail at Kew Gardens
1 – 16 April 2023
Over the Easter holidays at Kew Gardens, explore the world of Superworm to see how plants and animals work together as a team, with all the heroes from the best-selling book by Julia Donaldson and Axel Scheffler. Combine with the Children's Garden (more details below) for a fun day out at Kew Gardens this spring.
Book tickets to visit Kew Gardens
Children's Garden
The Kew Gardens Children's Garden is a fantastic space based in a natural setting the size of 40 tennis courts, with highlights that include a sandy area with play houses and small slides for little ones, tall "worm-hole" tubes to slide down, an area with trampolines and wooden climbing frames.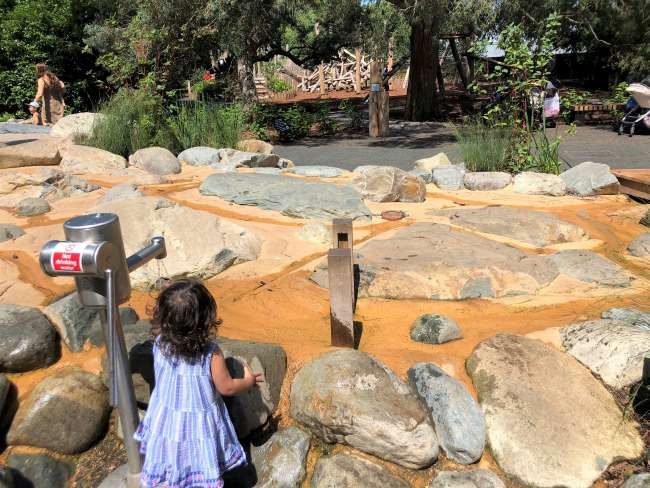 Visiting the Children's Garden is including in your Kew Gardens ticket, and pre-booking is no longer required. All visitors are welcome to come and go throughout the day until one hour before the Gardens close.
Kew Gardens by Season
Since there is always something new and unique to see throughout the year, I have been sharing advice on what to do and where to go when visiting Kew Gardens by season.
Read on for more photos and information on visiting Kew Gardens at other times of the year;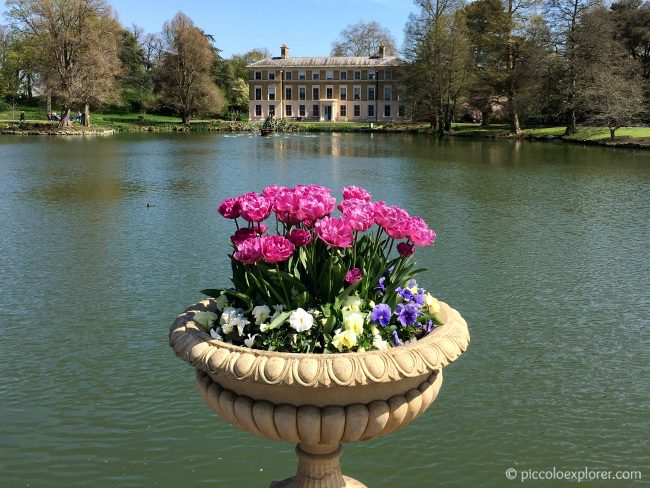 Kew Gardens Address
Address: Royal Botanic Gardens, Kew, Richmond, Surrey TW8 3AB
2023 Opening Hours: Between 1 May – 31 August, Kew Gardens is open later on weekends and bank holidays. 10am to 7pm (last entry 6pm) on Monday to Friday; 10am to 8pm (last entry 7pm) on Saturdays, Sundays and bank holidays.
From 1 September, the opening times are the same throughout the week. 10am to 7pm (last entry 6pm) 1 – 30 September; 10am to 6pm (last entry 5pm) 1 – 28 October; 10am to 4pm (last entry 3pm) 29 October – 13 November; 10am to 3pm (last entry 2pm) 14 November – 7 January 2024.
Kew Gardens is closed on 24 and 25 December.
Tickets: Peak (1 February – 31 October) Standard tickets paid at the door are £21.50 for Adults, £9 for Young person and students (16 to 29 years old) and £5 for children (4 to 15 years old). Children under 4 years go free.
Tickets purchased online are cheaper for Young Person / Student (£8.50) and Adult (£17.00). You can pay an optional 10% donation which goes towards Kew Gardens' conservation work. By agreeing to pay the donation, Kew Gardens can claim Gift Aid on the full ticket price if you are UK tax payer.
Closest Tube Station: Kew Gardens [District – Richmond branch and Overground services]
Parking: There is limited Ringgo parking around Kew Green (make sure to check for permit parking spots). Parking costs £7.00 for the day at the Kew Gardens Brentford Gate car park (TW8 3AF) which is accessed by Ferry Lane, a narrow turning off Kew Green.
Food and Drink: There are several restaurants at Kew Gardens, including the Orangery for coffee, cakes and light meals; the Pavilion Bar and Grill serving burgers and Mediterranean dishes; and the Botanical Brasserie for formal dining. Right next to the Children's Garden, you'll find the new Family Kitchen & Shop which has a stone-baked pizza oven, salad bar, artisan sandwich station, ice cream servery and more.
http://www.kew.org/visit-kew-gardens
PIN IT FOR LATER – Spring in Kew Gardens London