Crockford Bridge Farm in Addlestone, Surrey, is a popular pick your own farm near London for picking fruit, vegetables and sunflowers from May to September. Read more about Crockford Bridge Pick Your Own Farm and upcoming family events in this post.
Crockford Bridge Pick Your Own Farm Surrey
Crockford Bridge Farm is a popular pick your own farm in Surrey open from April to September. Popular fruit and vegetable crops including asparagus, rhubarb, strawberries, carrots, raspberries and sunflowers. The pick your own farm opens in spring with the first crops that are ready to pick, rhubarb and asparagus.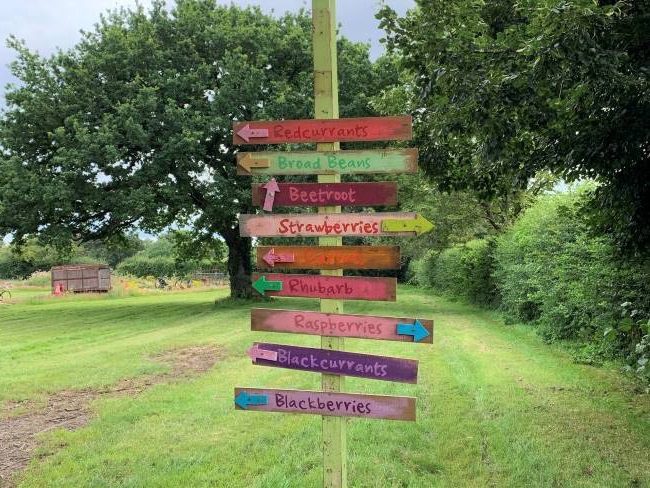 Throughout the fruit and vegetable picking season, you can check what is currently ready to pick from April onwards on the Crockford Bridge Farm PYO webpage.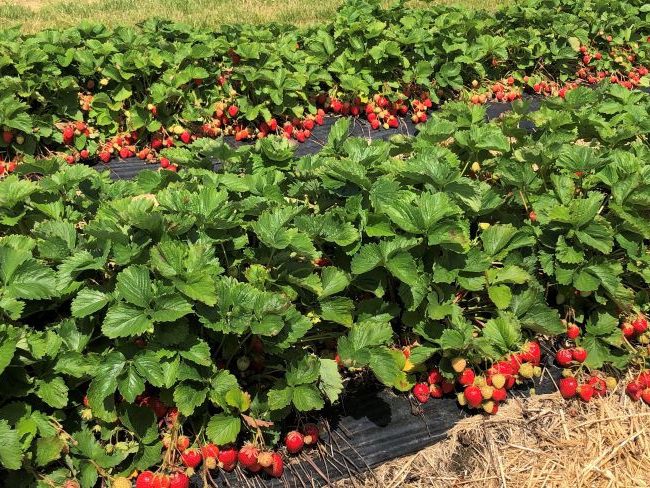 Crockford Bridge Farm is one of the best PYO farms for strawberry picking near London with kids. It is easy to walk around, plus there's a small playground, ice cream stand and bee house.
Related: Pick Your Own Farms near London
There is no admission charge to enter the farm (updated March 2022), however Crockford Bridge Pick Your Own Farm operate a minimum spend policy. Customers are required to spend a minimum amount at the PYO (£4 per adult and £2 per child) which is then redeemed against your crops at the exit till. No change is given should you pick less than that amount.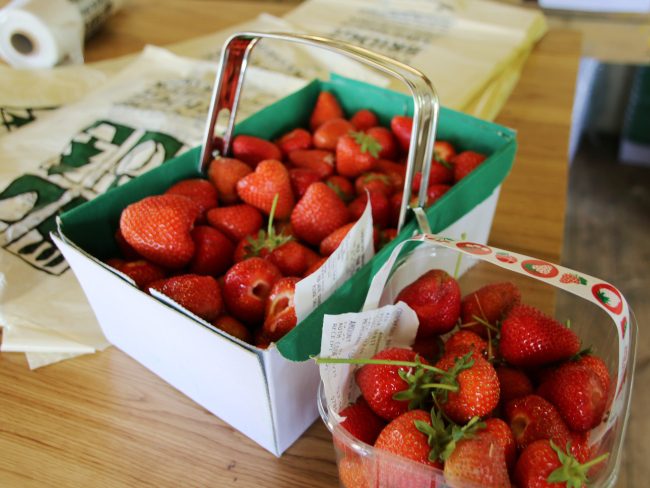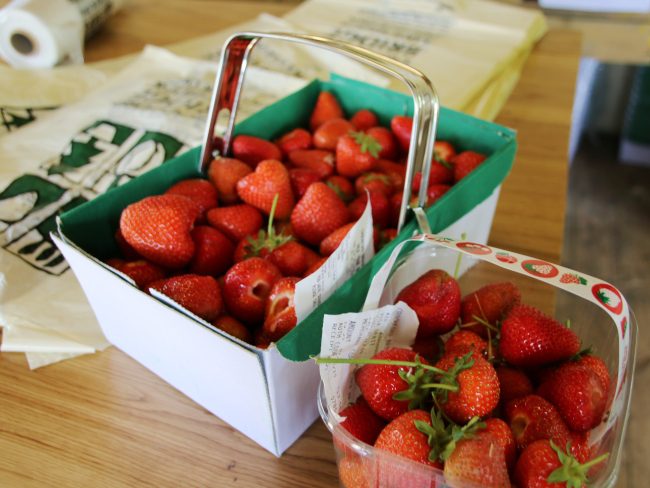 Produce must be paid for at the exit kiosk after picking and before visiting the other areas of the farm such as the Ice Cream Parlour and picnic tables.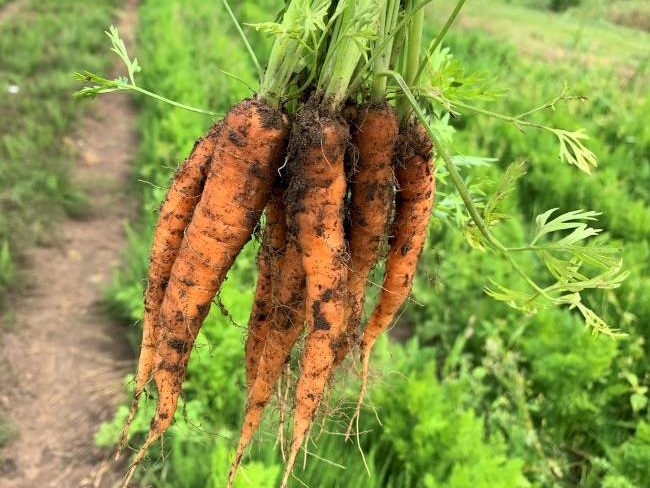 Events at Crockford Bridge Farm
Pumpkin Picking at Crockford Bridge Farm
Crockford Bridge Farm is one of the closest pumpkin patches to London where you can go pumpkin picking in October. For this year, pumpkin picking will be open during the first two weeks of October only on selected dates. Tickets are available to book pumpkin picking at Crockford Bridge Farm for 1 – 13 October 2022 (excluding 3 October).
Book your Farm Passes and timeslots for pumpkin picking at Crockford Bridge Farm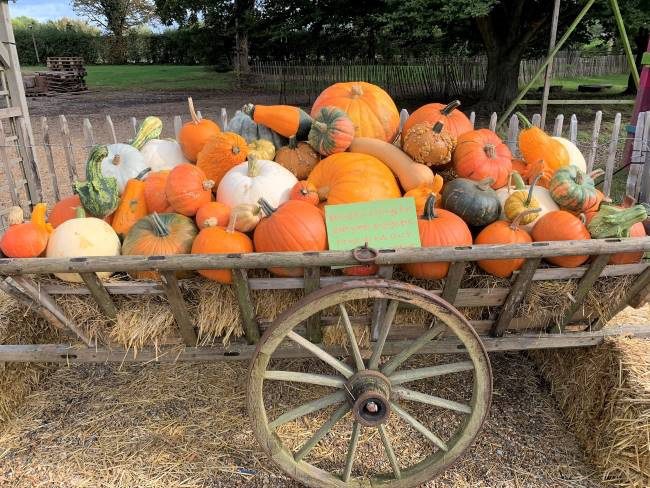 Crockford Bridge Farm also organise fun family activities for their Pumpkin Festival that starts the third weekend of the month through October half-term week. There are three different timed sessions throughout the day to choose from; 09:30 – 12:00, 12:30 – 15:00 and 15:30 – 18:00. Tickets are required for adults and children; under 1s will require an 'infant ticket'.
Book tickets for the Pumpkin Festival at Crockford Bridge Farm
Dates: 15, 16, 22 – 30 October 2022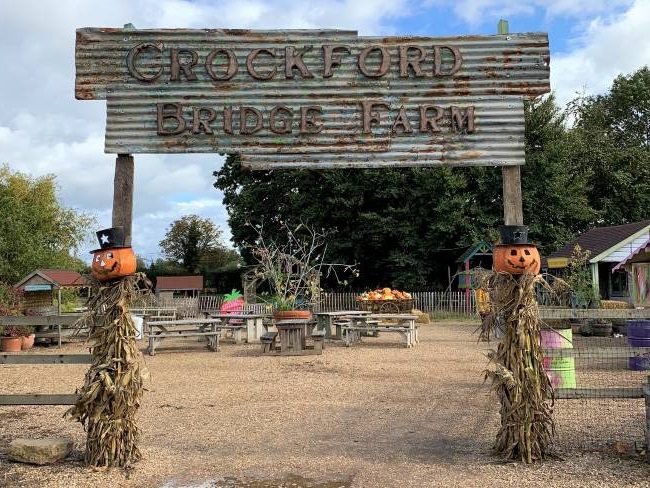 Pumpkin Market at Crockford Bridge Farm
A wide range of pumpkins and gourds will also be available for sale at the Pumpkin Market from mid October after the field picking has closed. There is no need to book to visit the Pumpkin Market, simply turn up. The Pumpkin Market is located outside of the Pumpkin Festival so those without tickets can still purchase a pumpkin.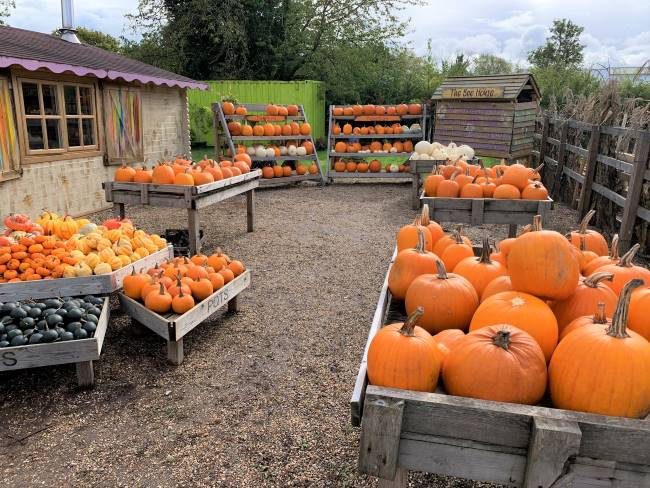 Related: Pumpkin Patches near London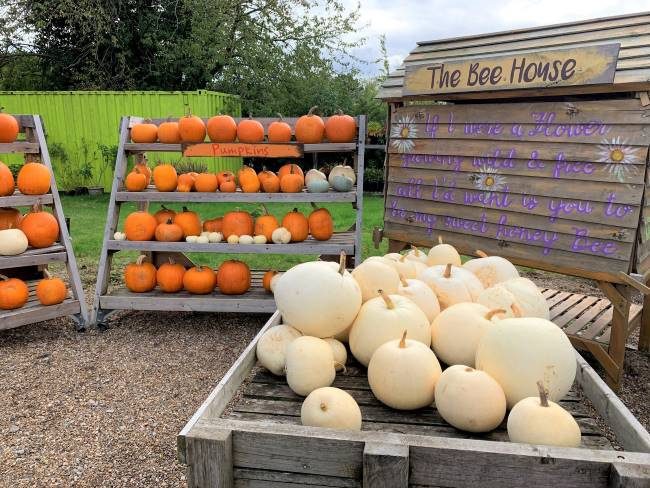 Food and Refreshments
At the entrance of Crockford Bridge Farm, you'll find the Ice Cream Parlour, the Tea Shack and several picnic tables. When the PYO is open, the Ice Cream Parlour and Tea Shack are open every day throughout the summer. The Ice Cream Parlour serves 24 different flavours of delicious hand made gelato.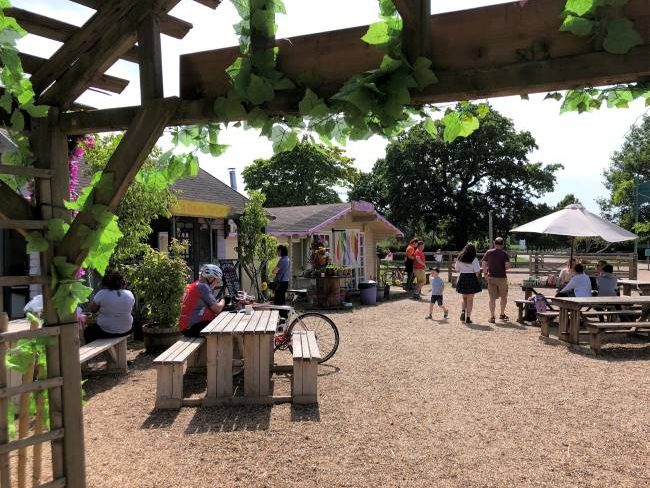 The Tea Shack serves hot and cold drinks and snacks. There are usually more options available at the Tea Shack during special events. During the Pumpkin Festival, there was hot chocolate, farm fresh apple juice, homemade soups and toffee apples.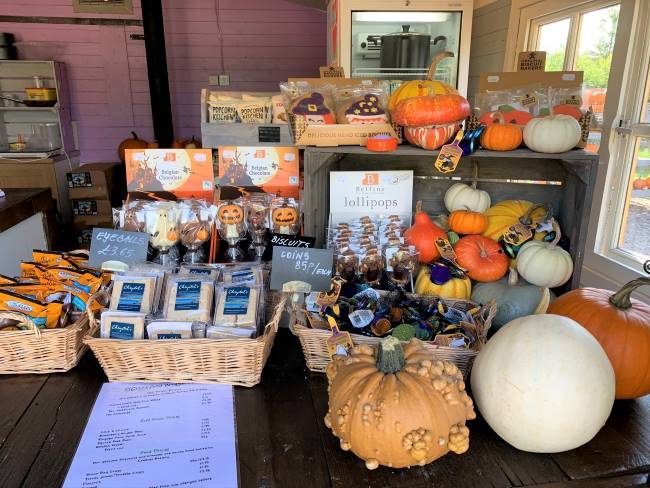 Crockford Bridge Farm Address
Address: New Haw Road, Addlestone, Nr. Weybridge, Surrey KT15 2BU
Opening Hours: Monday to Saturday 1000 to 1730; Sunday 1000 to 1630
Crop availability: Check the latest crop availability and PYO farm updates before visiting at https://www.crockfordbridgefarm.co.uk/farm-pyo
Food and refreshments: You'll find an Ice Cream Parlour and Tea Shack with outdoor seating area at the entrance. There is a restaurant and coffee shop in Weybridge Garden Centre located next to the farm.
Toilets: There are no toilet facilities at the farm. The closest public restrooms are in Addlestone, which is a 2 minute drive away. If you are shopping or dining at the Weybridge Garden Centre, there are restrooms with baby changing facilities located by the restaurant.
Farm Shop: The Crockford Bridge Farm Shop sells a wide range of locally grown or sourced produce, baked goods, eggs and dairy, meats and honey. The Farm Shop also sells a huge range of American treats and goodies, special diet foods (e.g. gluten free) and seasonal products for Easter, Halloween and Christmas.
This post was updated on 18 September 2022 with latest information on October events and pumpkin picking for the upcoming season.
PIN FOR LATER – Crockford Bridge Farm Family Days Out