There are a number of pick your own farms near London where you can go pumpkin picking this October. In this Pumpkin Patches near London guide updated for 2023, I have listed places for pumpkin picking with kids that we have visited through the years. Also included are several more pumpkin patches near London that are planning fun Halloween events for kids and October half-term family activities.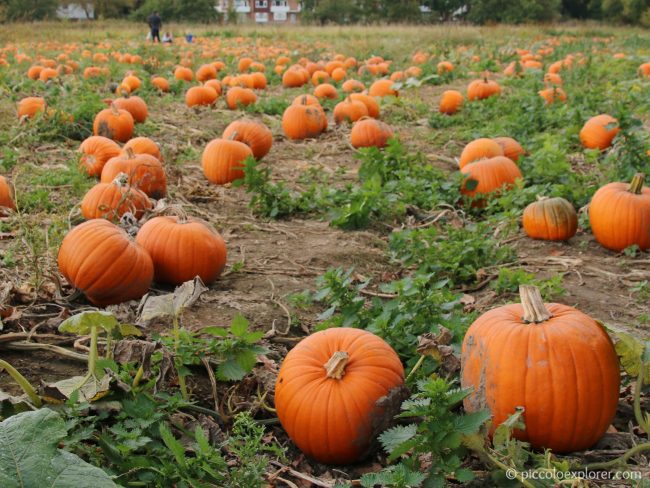 If you're heading out into the pumpkin fields this October, make sure to bring your wellies and take along carrier bags to carry your pumpkins. Keep in mind that most pumpkin patches around London will require booking a time slot in advance for pumpkin picking or special family events.
Halloween for Kids in London 2023 Map
I am also pinning the top places around London for Halloween family events, activities and workshops as well as pumpkin picking near London in my "Halloween in London with Kids 2023" Google Map Guide. For a direct link to the map to bookmark, click here. To explore the map, click on the door sign with an arrow just before the map title.
Crockford Bridge Farm
30 September – 15 October 2023, excluding Mondays
Address: New Haw Road, Addlestone, Nr. Weybridge, Surrey KT15 2BU
Crockford Bridge Farm is one of the pumpkin patches near London that will be offering pumpkin picking from 30 September to 15 October (closed on Mondays).
Farm Passes, which cost £4.50 each, are required for everyone over the age of 1 years old to enter the fields. Under 1s require a free infant ticket. The value of your Farm Pass(es) is redeemed against the cost of the pumpkins you pick at the exit till. 
Book your Farm Passes and timeslots for pumpkin picking at Crockford Bridge Farm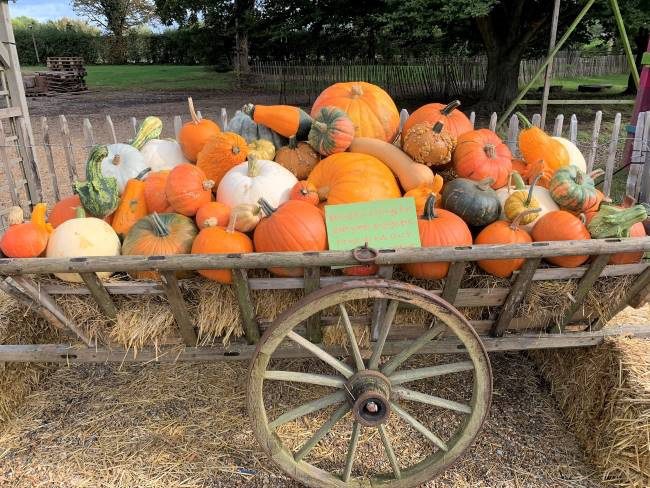 Pumpkin Market: Open from 17 October, 10am to 5pm
A wide range of pumpkins and gourds will also be available for sale at the Pumpkin Market from 17 October, after the field picking has closed. The Pumpkin Market is located outside of the Pumpkin Festival so those without tickets can still purchase a Pumpkin.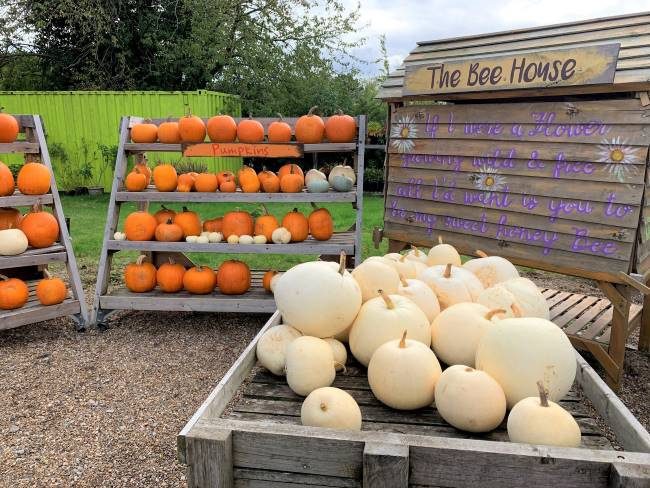 Read more: Crockford Bridge Farm Pick Your Own Farm
Pumpkin Festival: 20 – 29 October 2023
Crockford Bridge Farm is also organising fun family activities during October half term at their annual Pumpkin Festival. There are three different timed sessions throughout the day to choose from; 09:30 – 12:00, 12:30 – 15:00 and 15:30 – 18:00. Tickets are required for adults and children; under 1s will require an 'infant ticket'.
Book tickets for the Pumpkin Festival at Crockford Bridge Farm
Garsons Farm
7 – 31 October 2023
Address: Winterdown Road, Esher, Surrey, KT10 8LS
Garsons Farm Pick Your Own Surrey is one of the best pick your own fruit and vegetable farms and pumpkin patches near London.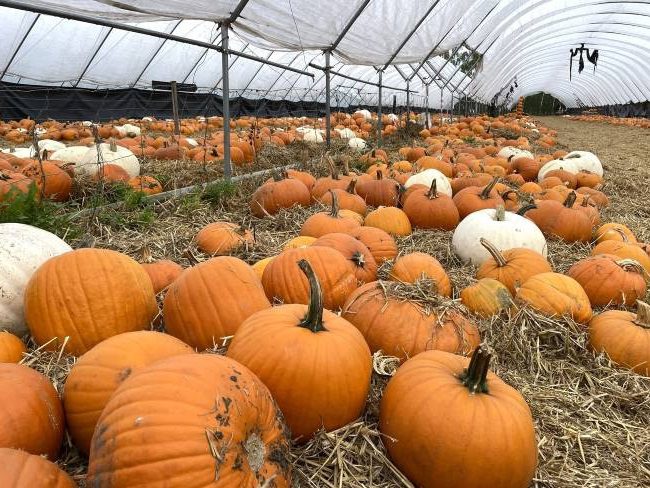 Garsons Farm Esher have their pumpkins for picking arranged in a Pumpkin Parade, a covered area with four tunnels in the Pick Your Own farm.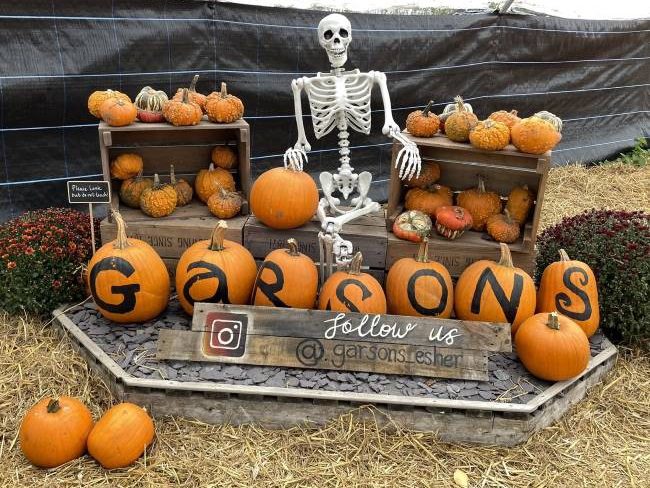 A Pumpkin Pass, booked online in advance, is required to enter the farm and parade experience. Pumpkin Passes cost £3 per person for adults and children aged 2+. Infants under 2 years old free and do not require a Pumpkin Pass booking.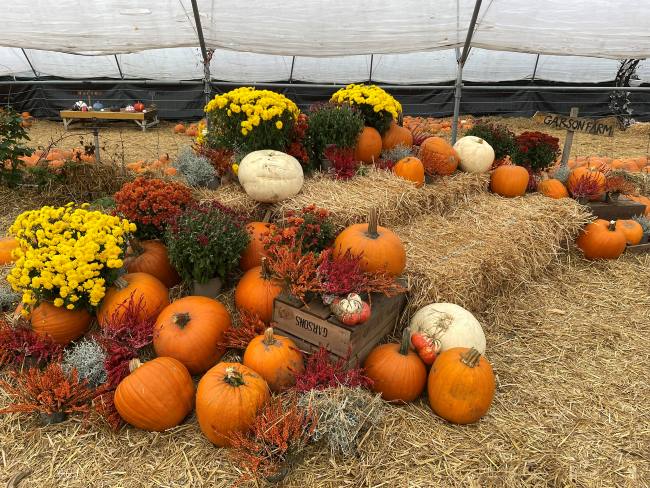 Once at the Pumpkin Parade, pick up a wheelbarrow and choose from hundreds of pumpkins and take autumn and Halloween themed photos.
Read more: Garsons Farm Pick Your Own 
There is also a Children's Corner with decorated character pumpkins and tables for colouring activities and noughts and crosses games.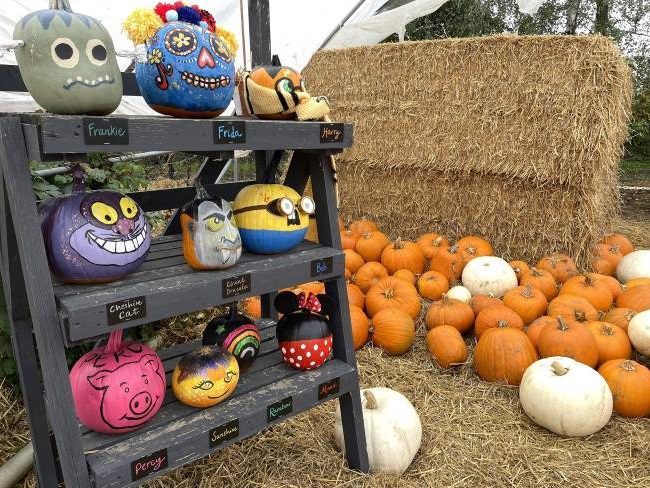 The Farm Shop at Garsons Esher has a huge selection of pumpkins and gourds along with food gifts and festive treats for the holidays.
Opening Hours: Monday to Saturday 9am – 6pm; Sunday 11am – 5pm
Book tickets for the Pumpkin Parade at Garsons PYO Farm
Tulleys Pumpkin Farm
23 September – 29 October 2023, selected dates
Address: Turners Hill Road, Turners Hill, Crawley, West Sussex, RH10 4PD
Tulleys Pumpkin Farm, located in the picturesque West Sussex countryside, offers a huge field for pumpkin picking and autumnal displays with great photo opportunities.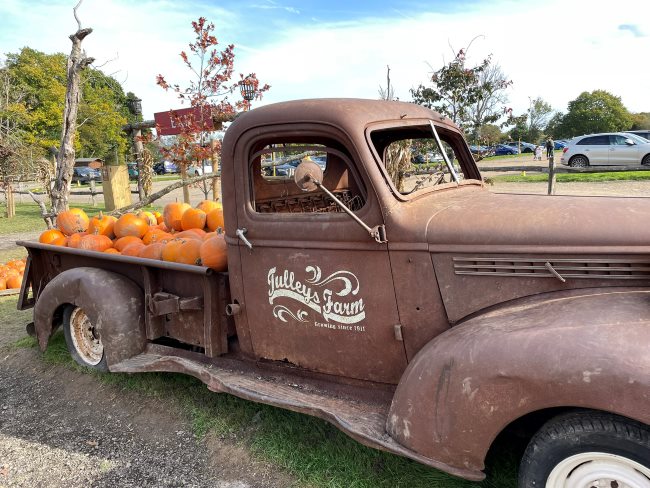 Read more: Tulleys Pumpkin Farm Sussex
One of the largest UK pumpkin festivals, Tulleys Pumpkin Farm has produced over 1 million pumpkins and gourds across 100 acres of farmland this year. There are a hundred varieties of pumpkins and gourds to choose from between the pumpkin patch and marketplace.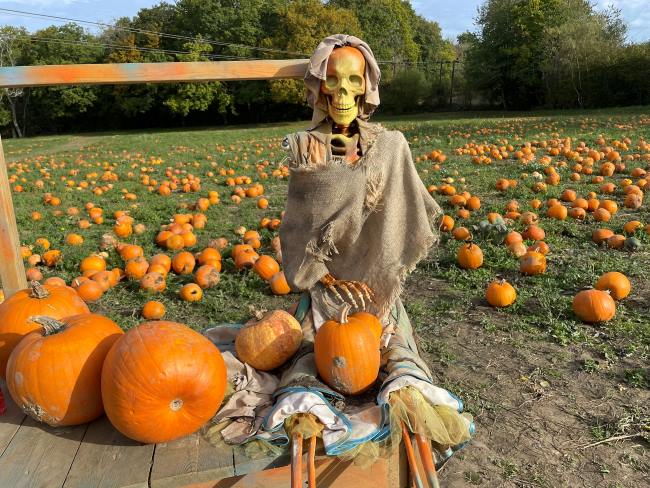 Pick Your Own Pumpkin tickets range between £6 to £8 for adults and children ages 2+ and includes daytime access to the pumpkin field, photo opportunities and live roaming entertainment. Under 2s go free. There is also a Pumpkin Nights experience (booked separately) open from 6pm to 10pm. Pumpkin prices are kept low, they will vary from £1 to £25 for very large ones.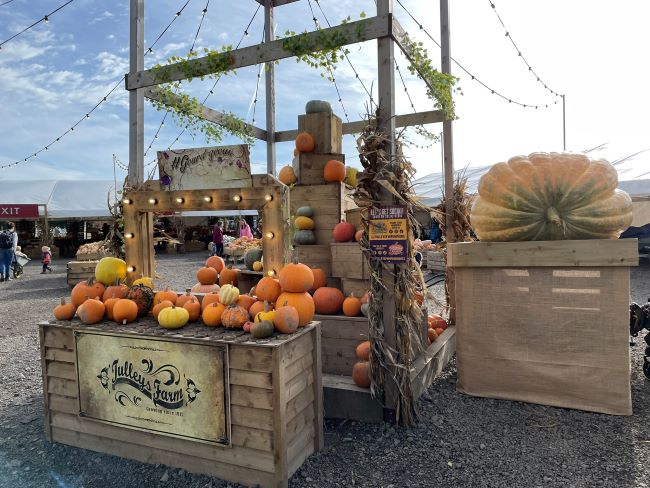 The Pumpkin Village at Tulleys Farm features several food and drink stalls serving burgers, hot dogs, hot donuts, fresh toffee apples and hot and cold refreshments.
Book tickets for Pick Your Own Pumpkins at Tulleys Pumpkin Farm 
Cammas Hall Farm
30 September – 29 October 2023
Address: Cammas Hall Farm Needham Green, Hatfield Broad Oak CM22 7JT
Located on the Hertfordshire / Essex border, Cammas Hall Farm put together a fantastic pumpkin patch each year. Cammas Hall Farm have a large selection of pumpkins and squash of all types and sizes – 60 varieties altogether.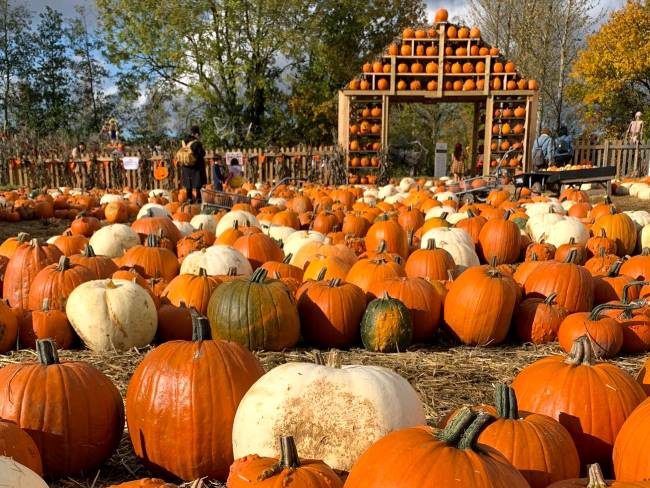 Tickets cost from £4 to £6 per person and include entrance to the Cammas Hall Farm pumpkin patch, interaction with friendly Halloween characters and a Wicked Walkway with haunting props and surprises. Children under 2 years old are free and do not need a ticket. 
Halloween-themed Maize Maze is open from 10am (last entry at 3pm) and costs £4.50 per person for ages 2+. Free for under 2s.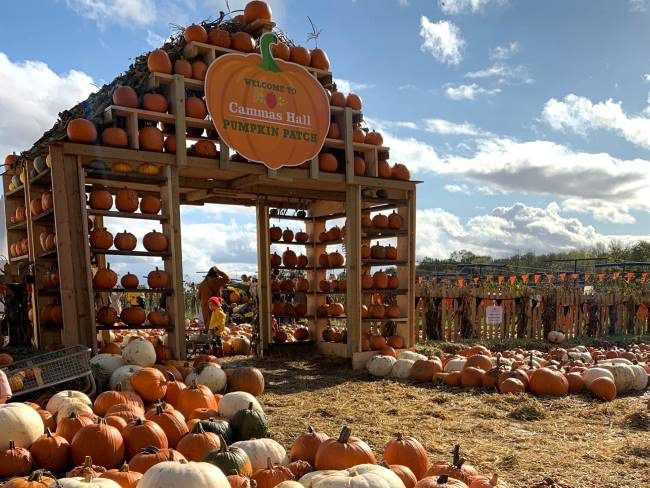 Each weekend and every day during October half term, Cammas Hall Farm will also be running a Monster Mayhem show twice a day. Tickets cost £8 per child and £5 per adult (plus booking fee), with a 10% discount if you book with your Halloween Pumpkin Patch tickets.
Book tickets for the Halloween Pumpkin Patch at Cammas Hall Farm
Priory Farm
7 – 8, 14 – 15, 21 – 29 October 2023
Address: Sandy Lane, South Nutfield, Redhill, RH1 4EJ
Priory Farm grow over 10,000 pumpkins every year, and there will be range of shapes and sizes for picking in their fields. You'll also find interactive play features at the pumpkin fields, including a Hay Bale Maze, action-packed Pumpkin games and a House of Pumpkins.
Pumpkin picking at Priory Farm costs from £4 per person and is open for booking from 7 October, for weekends only and during the last week of October.
New for 2023, there are two options available for pumpkin picking at Priory Farm. The Park and Pick experience costs £4 per person, free for under 1s. Park your car in the designated car park and walk the short distance to the pumpkin fields.
The Tractor and Trailer Rides cost £6 per person, free for under 1s.  Climb aboard a tractor and trailer for a ride to the pumpkin fields.
In addition, Priory Farm will have a Halloween Trail in their Discovery Land, with spooky surprises along a nature trail, open on selected dates in October.
Venture along a spooky, Halloween themed walk through ancient woodland and meadows and around their fishing lakes. Halloween trail tickets cost from £6 (off peak) to £8 (peak) per person, for all aged 2+
Book tickets for Pumpkin Picking at Priory Farm
Stanhill Farm
7 – 8 and 14 – 27 October 2023
Address: The Farm House, Birchwood Rd, Dartford DA2 7HD
Tickets are now available to book for the pumpkin patch at Stanhill Farm, Kent. One ticket, which costs £3.50, admits one vehicle of up to seven people or a walk in group of up to seven people.
Pumpkin Prices were £37.00 for a wheelbarrow full (as many pumpkins as you can fit in) or £1.00 (mini) to £5.50 (large) for individual pumpkins. Grab a wheelbarrow and head down to the patch where you will find a huge array of pumpkins in various different sizes.
Book tickets for the Pumpkin Patch at Stanhill Farm
The Pop-Up Farm
7 – 31 October 2023
Address: M1 junction 9 Flamstead, next to the Harvester. Use postcode AL3 8HT for sat nav.
The Pop-Up Farm is located in Hertfordshire, 30 miles north of London and near the ZSL Whipsnade Zoo in Dunstable. Pop-Up Farm runs pop-up farming festivals for picking pumpkins in autumn with family-friendly activities for a fun day out.
Day and evening tickets are now available for their Pumpkin Squash Festival. There are typically 15 different varieties of pumpkin and squash to discover, photo opportunities and huge bales to clamber. Snacks and hot and cold drinks are available at the Pit Stop Café.
Book tickets for the Pumpkin and Squash Festival at The Pop-up Farm
Secretts of Milford
21 – 29 October 2023
Address: Hurst Farm, Chapel Lane, Milford, Surrey GU8 5HU
Secretts of Milford are running a PYO Pumpkin Week event during the October half term break. Tickets cost £3.50 each, children under 2 go free.
Bookings are required in advance and tickets include entry to pumpkin field, where you can pick from a large variety of pumpkins of all shapes and sizes which are priced according to size and paid for on the field.
There will be photo opportunities around the farm and a PYO enclosure serving BBQ and a pumpkin themed menu. Children will receive an activity sheet for a scavenger hunt and the chance to win a prize in a fancy dress competition.
Book tickets for Pumpkin Week at Secretts of Milford
This post was updated on 2 October 2023 with new photos and latest information on pumpkin patches near London. 
PIN FOR LATER – Pumpkin Patches near London