One of the best beach day trips from London is Camber Sands in East Sussex. Camber Sands has a long stretch of sandy beach and picturesque sand dunes, and at just over two hours away from London, it's manageable for a day trip while also a great location to enjoy a weekend staycation. The drive to Camber Sands was fairly easy along a series of motorways and dual carriageways before taking a winding road to the coast through the beautiful countryside.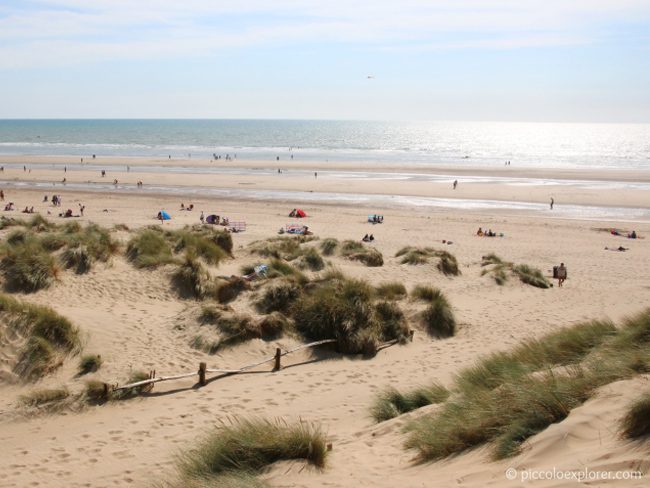 Camber Sands is a popular kite-surfing and windsurfing spot known for experiencing high winds at times, so it is recommended to use a windbreak or tent when spending the day on the beach. The rental shop by the Camber Sands car park, The Kite Surf Centre, rents out windbreaks along with beach gear and water sports equipment such as stand up paddle boards with a wetsuit.
Another option for renting water sports equipment, booking lessons for windsurfing and kitesurfing or booking a kids' activity day (ages 7 – 12), is Rye Watersports located between Rye and Camber Sands.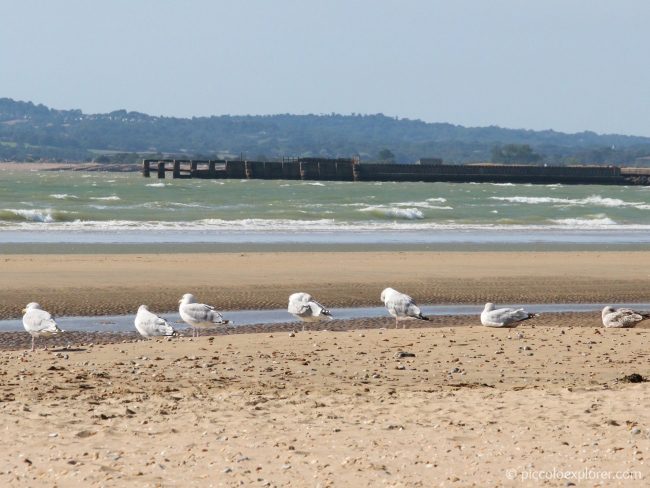 Camber Sands is about five miles long of golden sand backed by beautiful dunes. From where we were, there was a small strip of calm, shallow water and then a sandbar of squelchy wet sand to cross before reaching the waves breaking at the shore.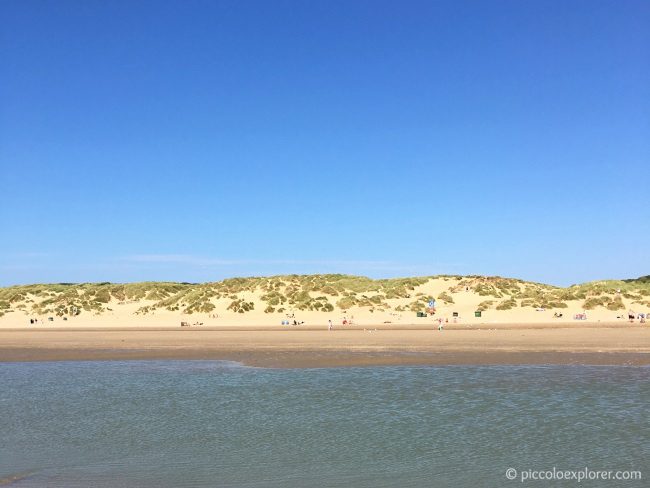 We went back and forth between jumping the choppy waves at the shore to dipping our feet in the shallow water where you could also see tiny fish darting about. Little T loved stomping along the sandbar making footprints or letting his feet sink into the sand.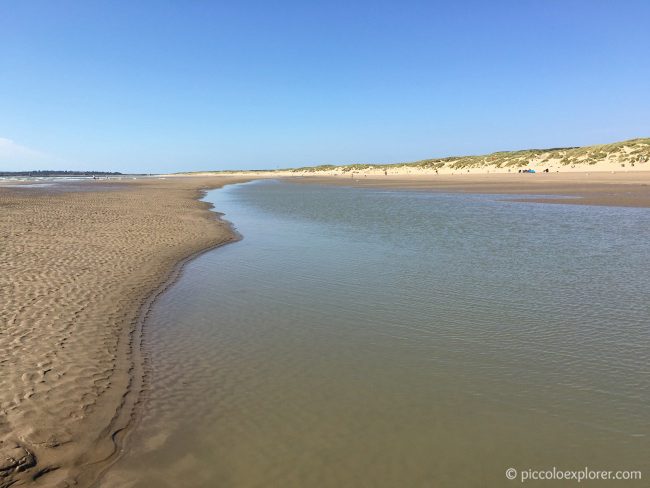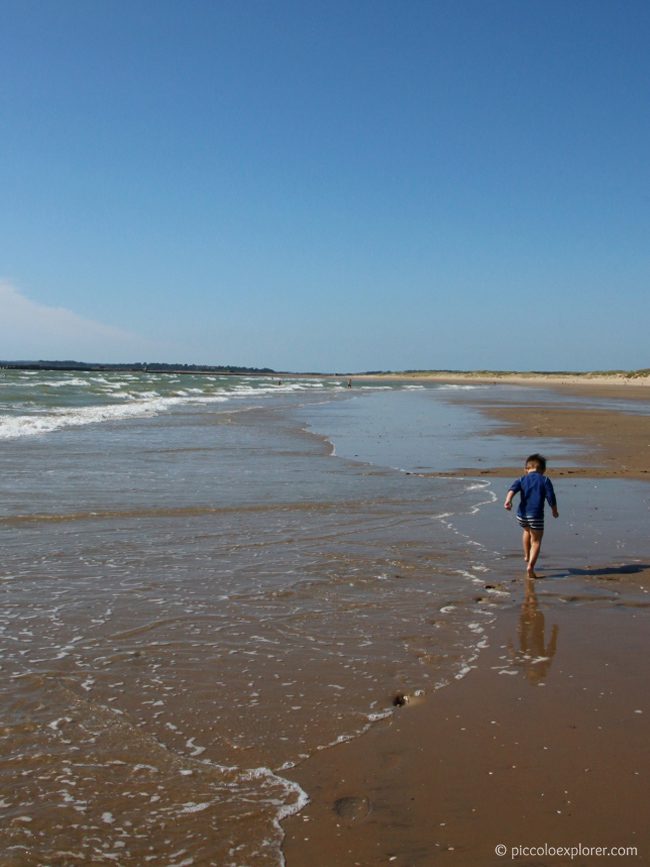 The sand dunes at Camber Sands were my favourite part of the beach. We climbed the dunes and raced back down, weaving around the patches of tall grass.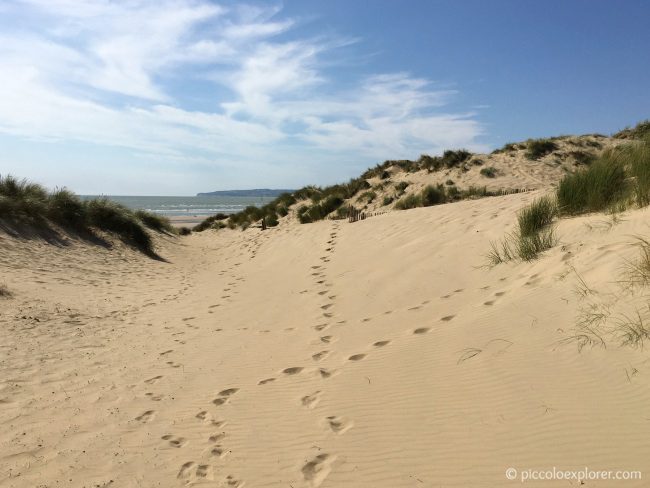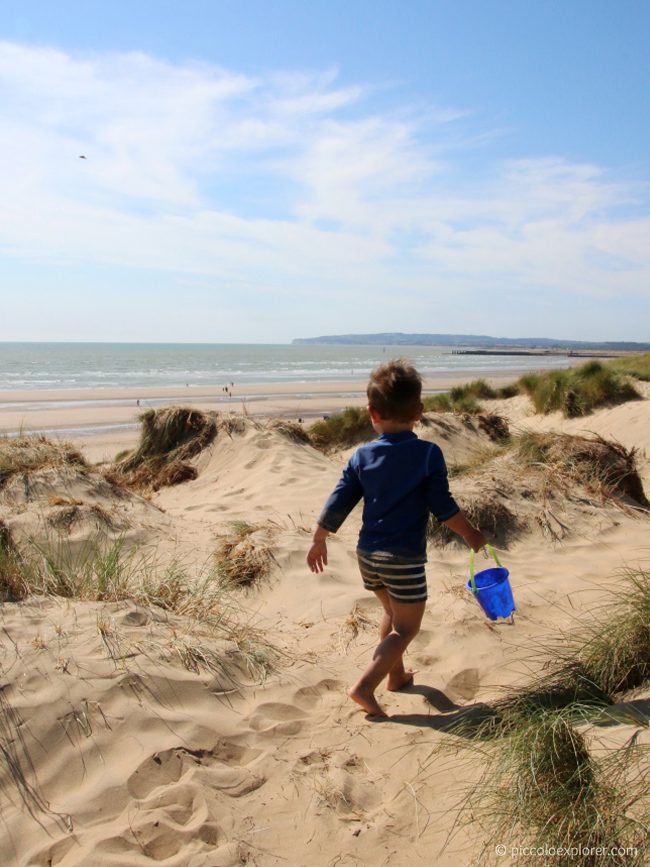 On the other side of the dunes, you'll come across a café, pub and a couple of fish and chips shops on New Lydd Street. We ended up taking a path that took us down to the beach parking lot, where we made our way to the street to buy chips to indulge in back on the beach under the watchful eye of a squawking seagull.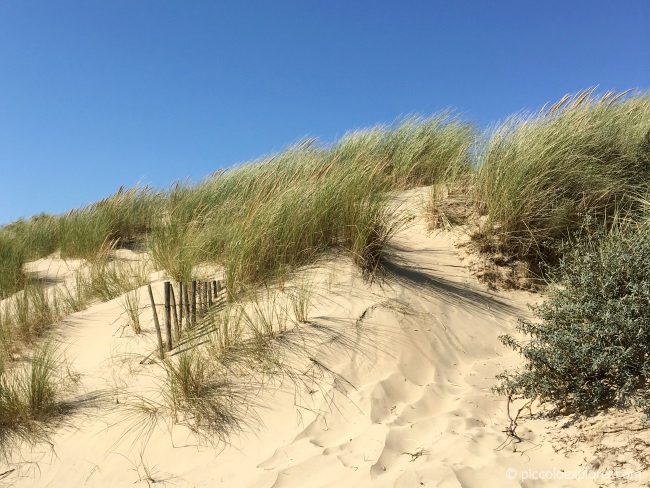 Day Trip to Camber Sands from London
We had a great day enjoying the late summer sun at this beautiful beach and I would highly recommend visiting! We lucked out having stunning weather for a last minute day trip in early September. Something to keep in mind is that the traffic heading back to London along the M25 can be awful during evening rush hour, so I would recommend making the trip out as early in the day as possible to start making your way back home ahead of rush hour.
Camber Sands Beach
Camber, East Sussex, TN31 7RT
Parking: Camber Central car park (TN31 7RH) is a pay and display (RingGo) car park with direct access to the beach. From 1 April to 30 September the gates to the Central car park are locked at 8pm on Friday and Saturday evenings. Two other pay and display / RingGo car parks nearby are Old Lydd Road (TN31 7RH) and Western Car Park (TN31 7RB).
Facilities: Right next to the parking lot, you'll also find restrooms, a first aid post, a beach rental shop, café and grill. On the main road as you get to the parking lot, you'll also see a row of fish and chip shops, a pub and a couple of restaurants.
https://www.rother.gov.uk/leisure-and-events/beaches-and-coastline/camber-sands/
This post was updated on 22 May 2021 with current visitor information 
PIN FOR LATER – Day Trip to Camber Sands Beach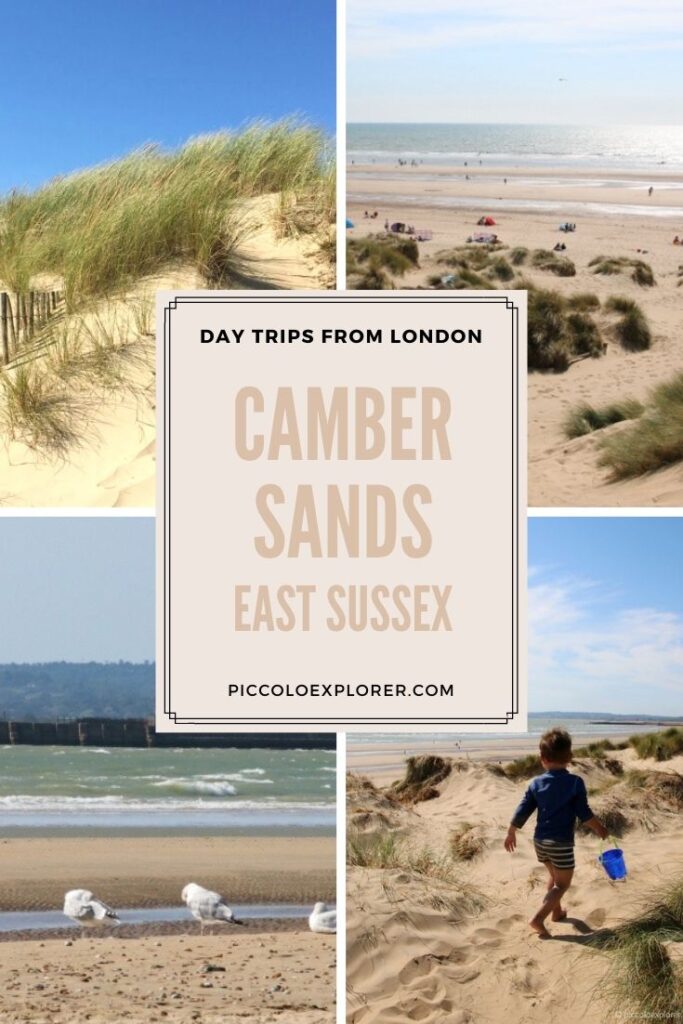 Save
Save
Save
Save
Save