The Children's Garden at Kew Gardens is a fantastic playground based in a natural setting the size of 40 tennis courts. In this post, learn more about the Children's Garden at Kew and top thing sto do at Kew Gardens with kids.
Located in Richmond, south-west London, Kew Gardens is an UNESCO World Heritage site and has one of the most diverse collections of living plants of any botanical garden in the world.
Children's Garden at Kew Gardens
The new Kew Gardens children's playground opened in 2019, after two years in the making. Highlights in this interactive and sensory garden include a sandy area with play houses, a forest of spinning windflowers, a water play area, small trampolines and a large wooden climbing frame.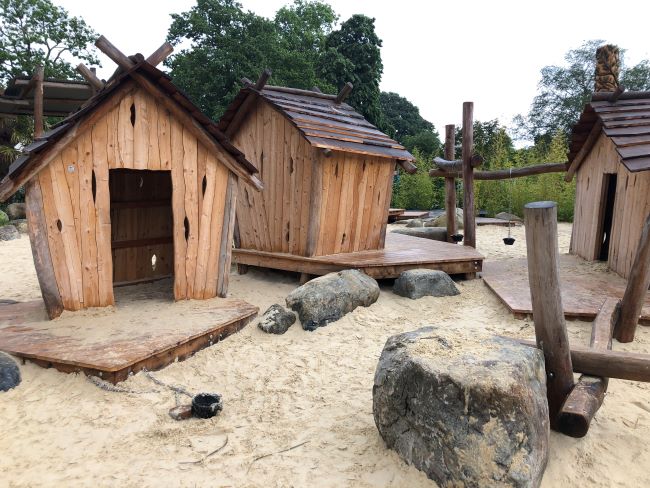 Visiting the Children's Garden at Kew Gardens is included in your admissions ticket, and pre-booking is no longer required. The Children's Garden at Kew is aimed at children aged 2 to 12 years old. All visitors are welcome to come and go throughout the day until one hour before the Gardens close.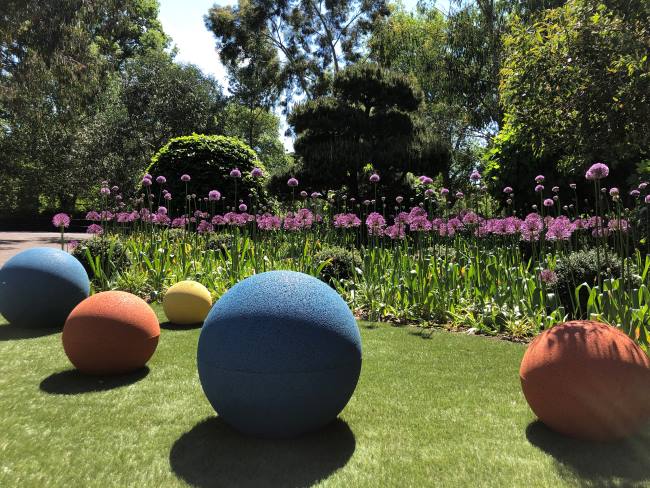 Canopy Walk
Over 100 varieties of mature trees are spread over the playground's picturesque landscape, including ginkgo, pines, sweet chestnut, beech and eucalyptus. At the heart of the Children's Garden at Kew, the first sight you see as you enter the playground, is an 200-year-old oak tree, with a 4 metre high canopy walk.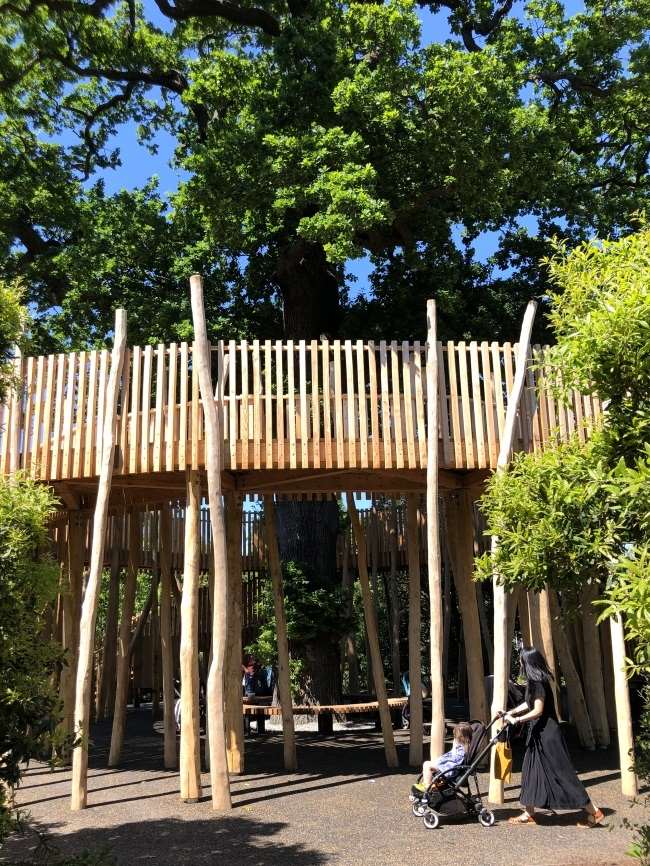 The Canopy Walk offers wonderful views across the Kew Gardens Children's Garden and into the Gardens itself. The buggy parking lot is under the Canopy Walk at the foot of the oak tree.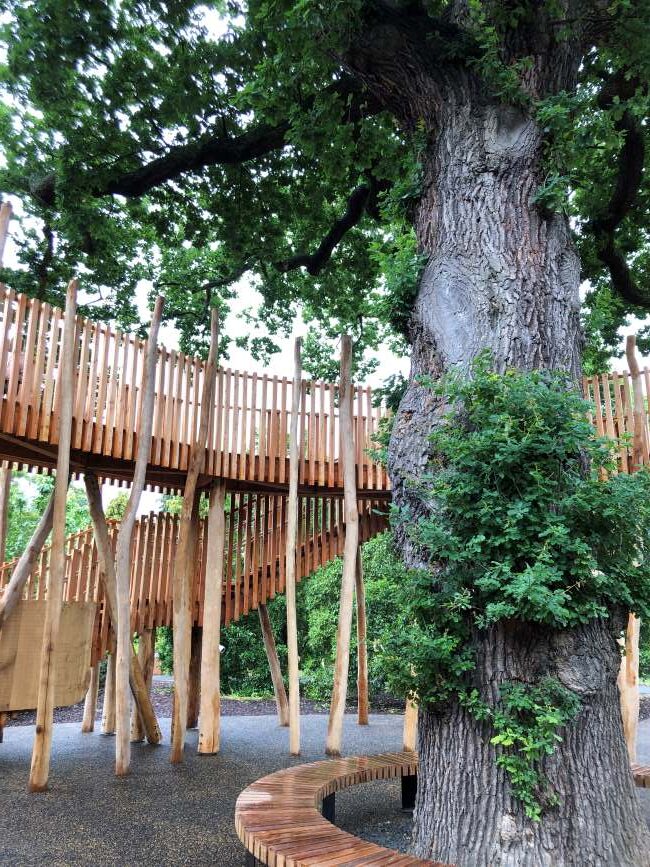 Related: Summer at the Royal Botanical Gardens at Kew
The core theme of the Children's Garden at Kew Gardens are the four elements plants need to grow. The playground is divided into four sections based on the four elements: the Earth Garden, the Air Garden, the Sun Garden and the Water Garden.
Earth Garden
As you head into the Children's Garden towards the Canopy Walk, the Earth Garden will be on your left. This is a wonderful place for young children to play and explore.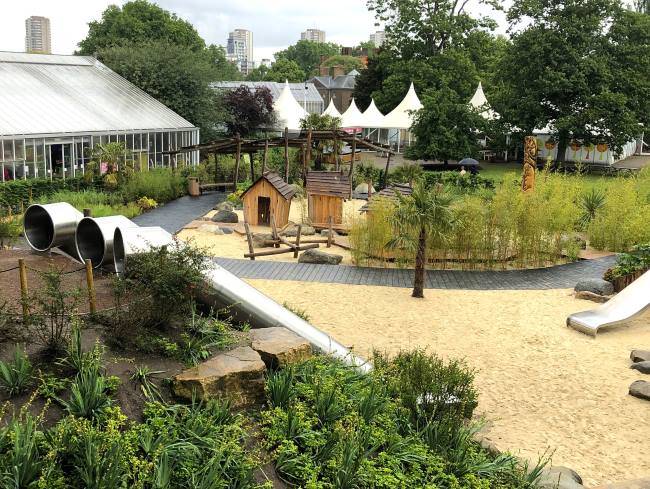 Children can weave through a living bamboo tunnel and slide down 'worm-hole' tubes.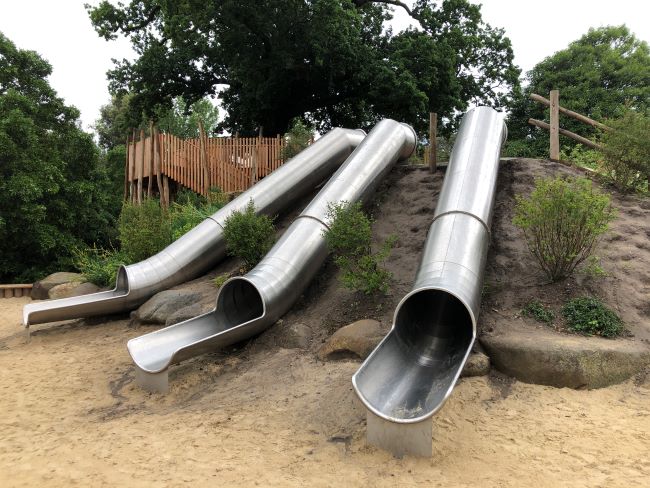 There are small slides and wooden playhouses, along with buckets and spades to move the sand around a pulley system.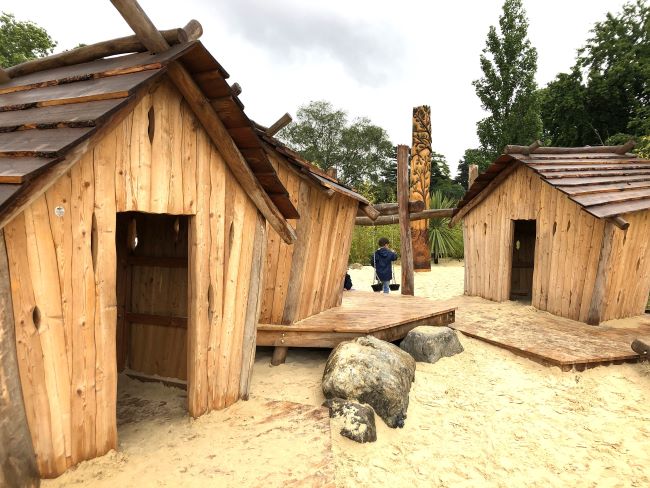 Air Garden
The Air Garden is at your left when entering the playground. The vibrant Air Garden features tall spinning windflowers, bouncy spheres to hop across and mini trampolines.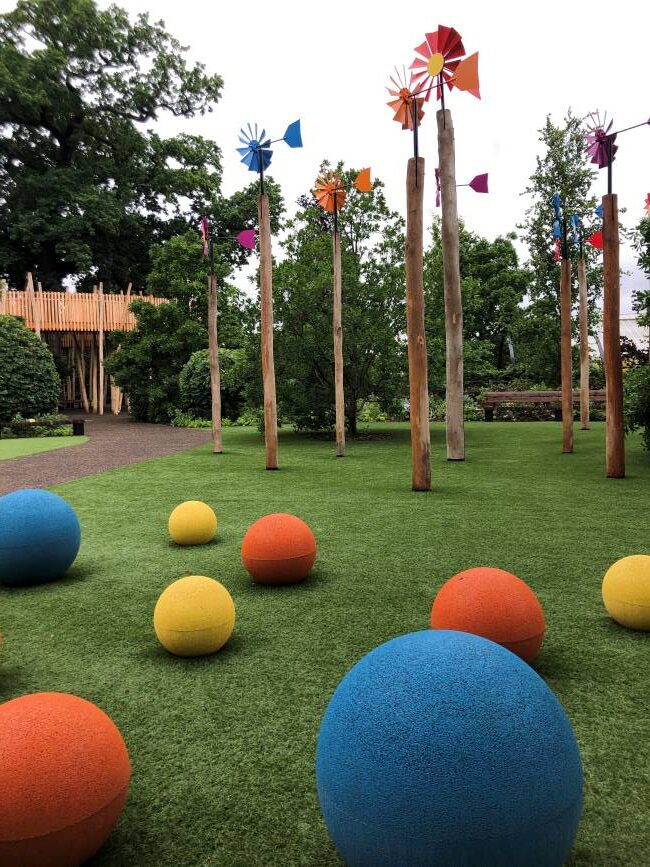 Tucked away under the trees is a giant hammock and periscopes for children to gaze at the sky.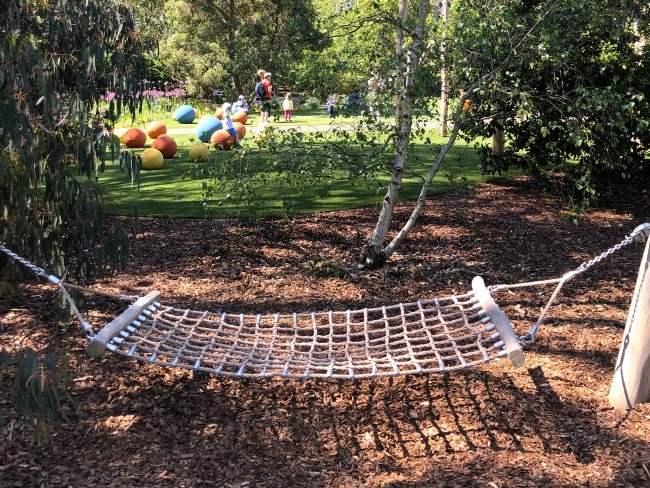 Related: Summer in Kew Gardens London
Sun Garden
The next section of the Children's Garden at Kew is the Sun Garden. Follow windy and twisted paths through a ring of sunflowers and intricate pergolas with colourful climbing plants.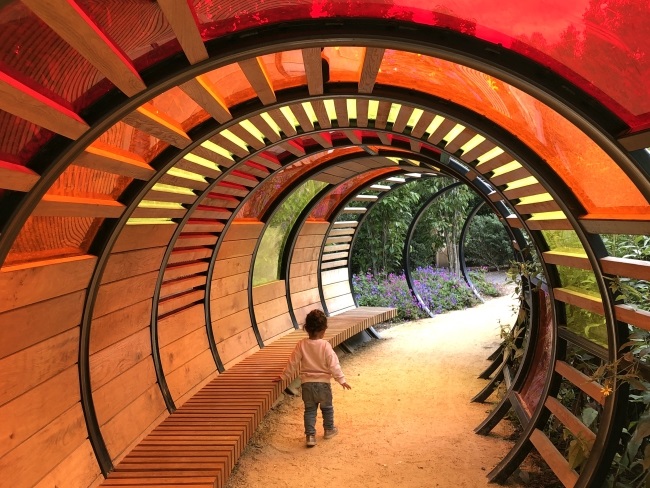 The Sun Garden also features a wide open space, a row of cherry blossom trees and hoop frames made of apple and pear trees for a real sensory adventure.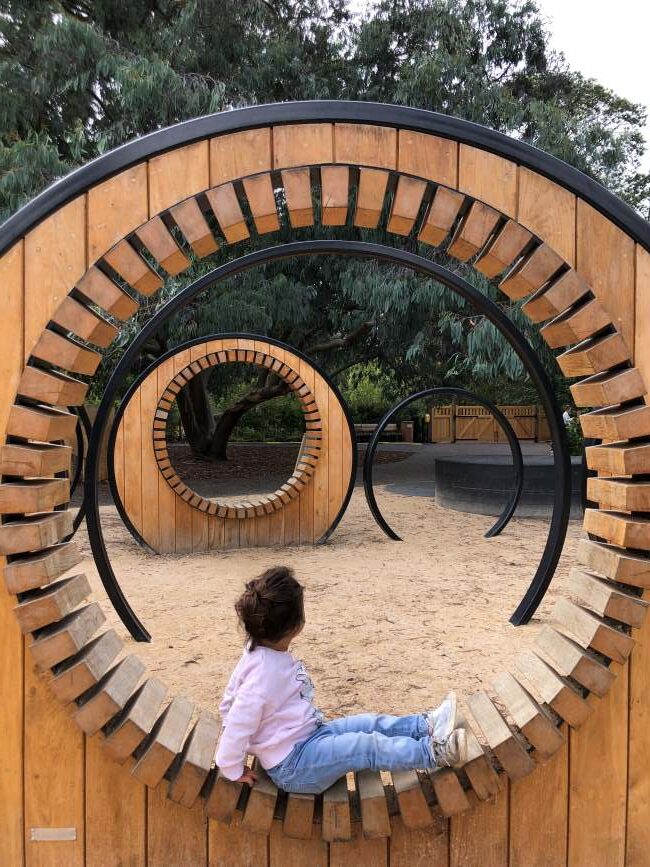 Water Garden
The Water Garden at the Kew Gardens Children's Garden is a fantastic place to explore, with a stream and water feature and waterlily-shaped stepping stones.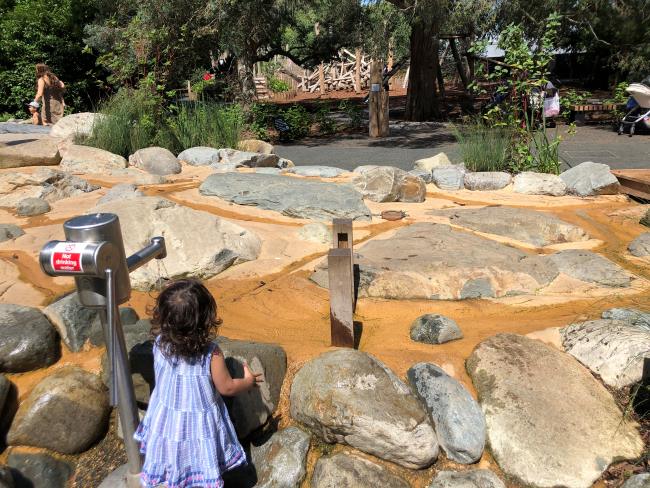 The splash pool is perfect for little ones and gets plenty of shade from eucalyptus and other nearby trees. Children can clamber over large natural stone boulders, planted with horsetails, ferns and giant rhubarb whilst learning about the vital role of the water cycle.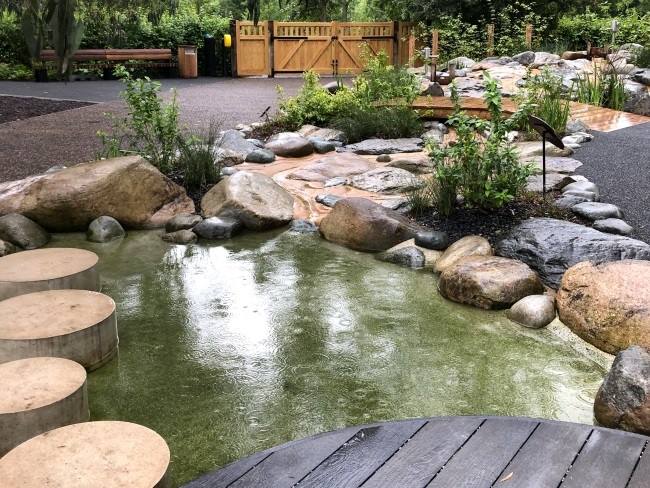 The kids love the water play area, which features log troughs, water tables and several pumps.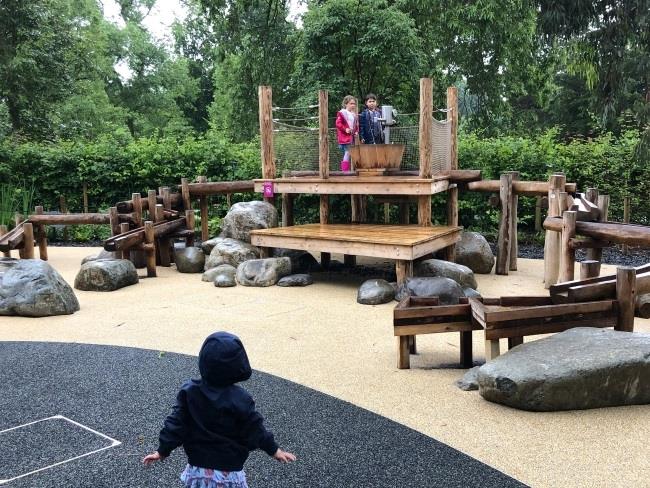 Related: Best Play Fountains in London
Climbing Frame
Next to the Water Garden is an enormous climbing frame based around natural materials, with plenty of carved wood and rope.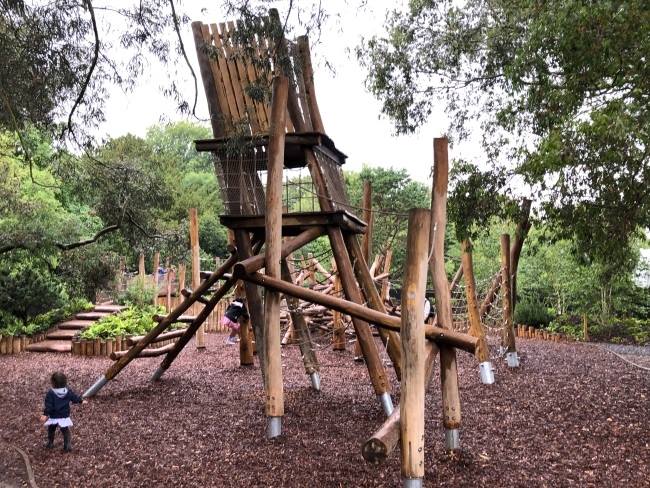 Older children will enjoy scrambling across the ropes to the leaning tower and clambering through the passages.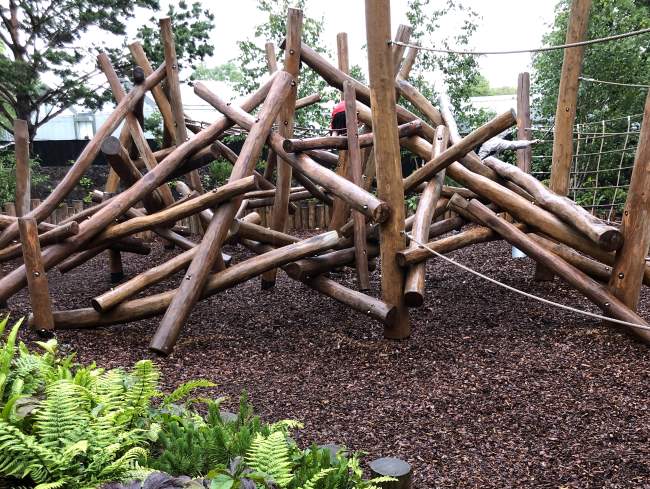 Family Kitchen & Shop
Right next to the Children's Garden, you'll find the new Family Kitchen & Shop.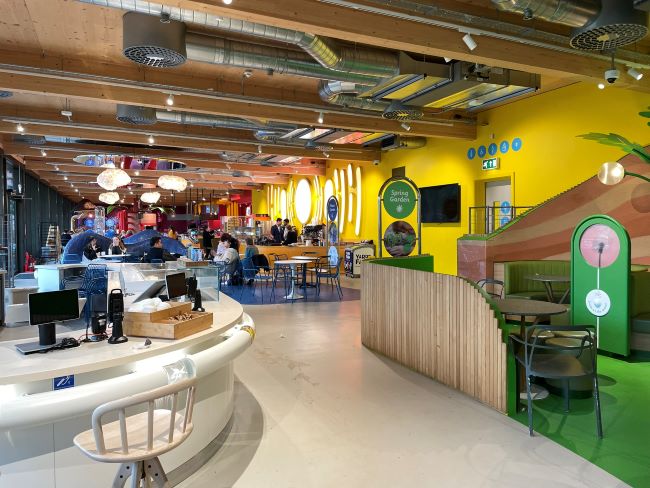 There is plenty for families to choose from for lunch and snacks, with a stone-baked pizza oven, salad bar, artisan sandwich station, ice cream servery and more.
Read More: What's On Summer Holidays in London with Kids 2023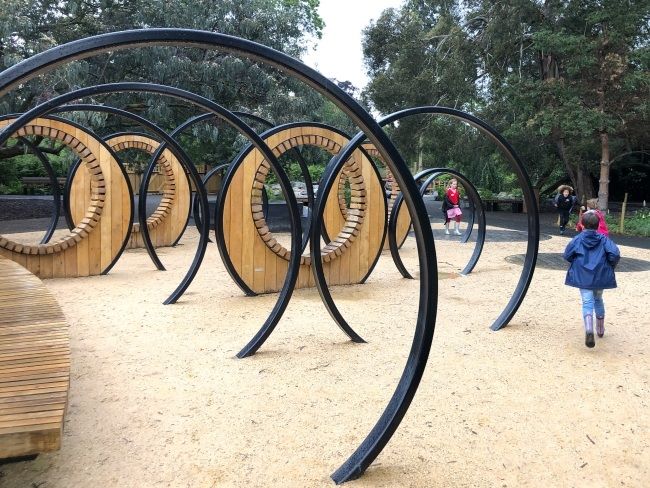 Kew Gardens with Kids
With landscape gardens, woodlands, glasshouses, historic buildings and more spread out across 300 acres, Kew Gardens is one of the top places in London to enjoy nature year-round. In addition to the fantastic Children's Garden at Kew, there is plenty to see and do around this top London attraction for families.
In this list, I will share our favourite areas to explore in Kew Gardens with kids.
Natural Area
Located at the border where the Royal Botanic Gardens at Kew meets the River Thames, the Natural Area consists of 37 acres of classic woodland and wilder landscape. There is a lot for children to explore within the Natural Area, from the Woodland Walk to the Log Trail to the Bug Hotels.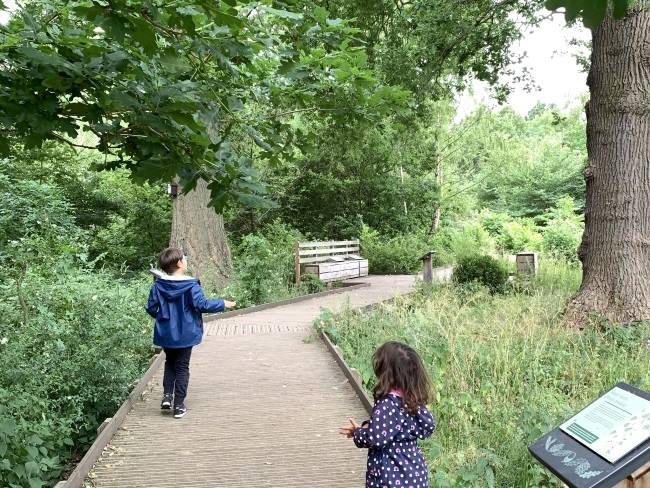 The Log Trail is a favourite spot for kids to play especially in the spring and summer. The natural log trail is made from storm-felled trees that have been put to use as a fun outdoor play area that winds through the trees.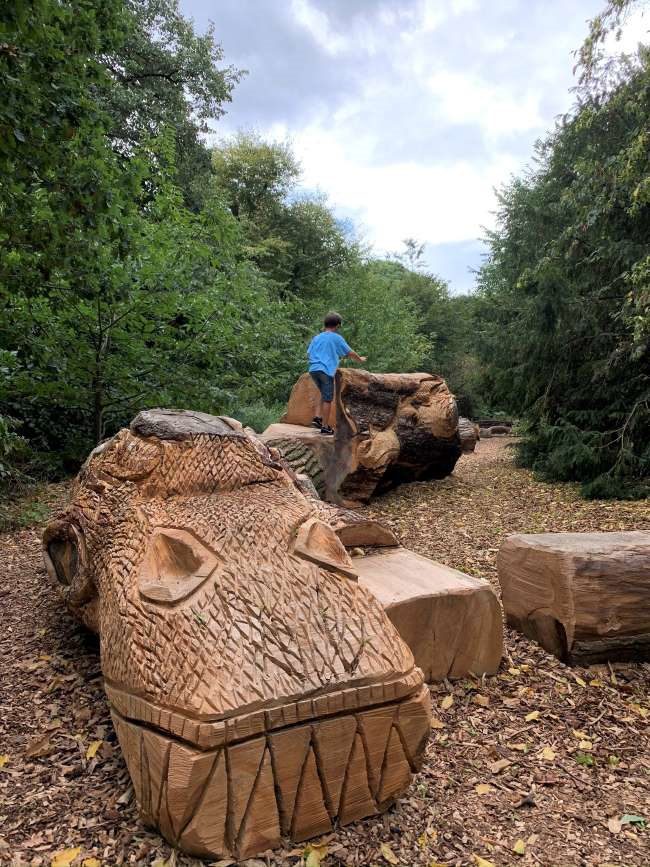 Related: Things to see and do in Kew Gardens in Summer
Redwood Grove
One of my favourite places to visit in Kew Gardens is the Pinetum, a 40 acre area within the Arboretum on the southernmost edge of Kew that is home to an incredibly diverse collection of conifer trees. It's a quiet, peaceful part of the Gardens and where you'll find the amazing Redwood Grove.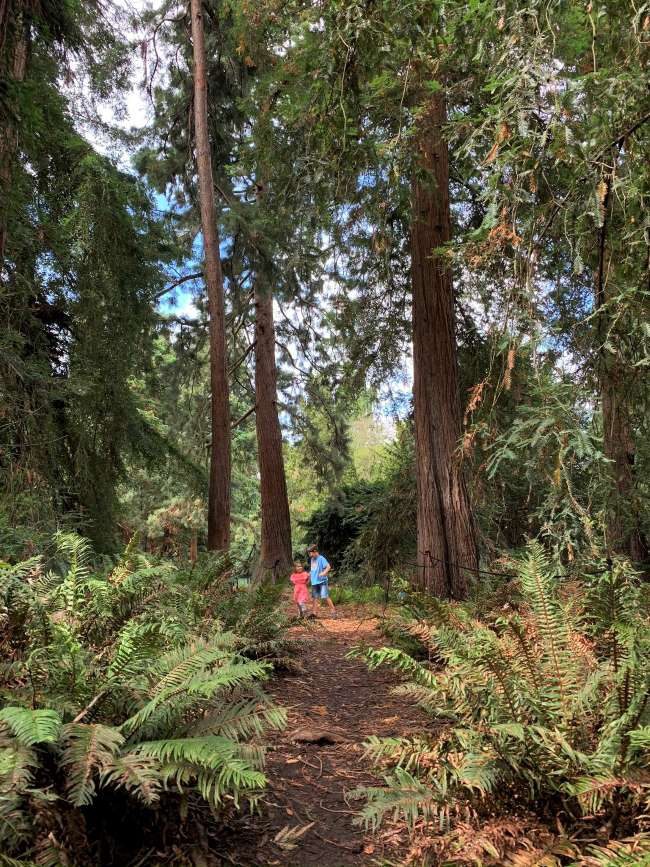 In the middle of the Redwood Grove, look for a round plaza of cobbles which has the diameter comparable to that of the trunk of a typical old-growth Californian giant redwood (8.2 m / 27 ft). It is fascinating to stand in the middle and get an idea of what a huge size an average giant redwood can grow to!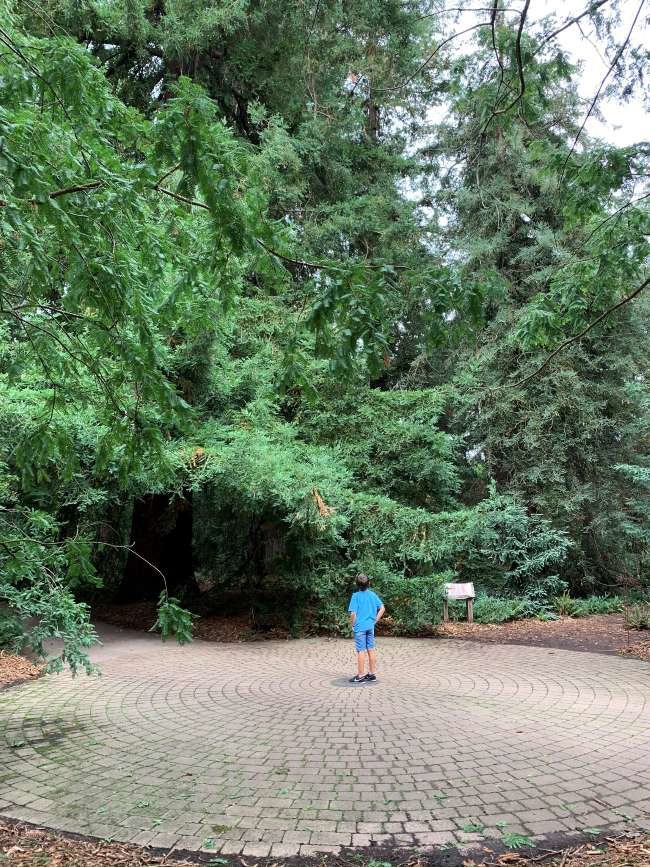 Treetop Walkway
The Treetop Walkway is a 18-meter high, 200 meter long walkway that stands in the Arboretum. One of the best spots to see the autumn leaves at Kew Gardens, the Treetop Walkways offers a bird's eye view of the Gardens from the tree canopy.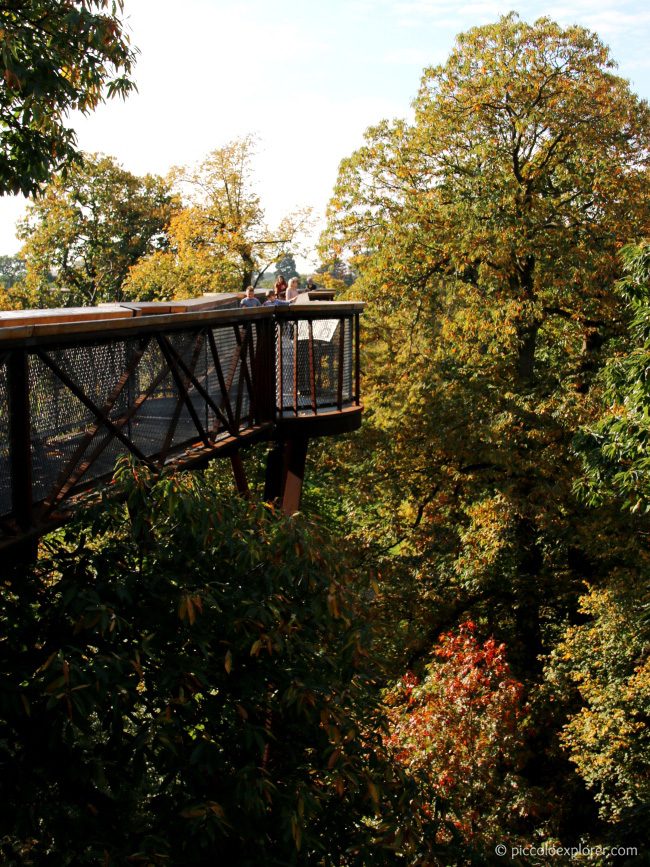 There are 118 steps up to the walkway, and once you're at the treetops, you'll be passing through branches of the sweet chestnut, beech, horse chestnut and different oak species that border the Treetop Walkway.
What's On in Kew Gardens London 2023
We're Going on a Bear Hunt
21 – 29 October 2023
Explore Kew Gardens this autumn with a sensory adventure based on the bestselling picture book, We're Going on a Bear Hunt.
The journey will take you across the Lake and into the Arboretum, home to some of Kew's most magnificent trees.
Read more about We're Going on a Bear Hunt at Kew Gardens
Find more inspiration for October family days out in our Halloween in London with kids and October half-term activities in London round-up posts.
Kew Gardens by Season
Since there is always something new and unique to see throughout the year, I have been sharing advice on what to do and where to go when visiting Kew Gardens by season. Read on for more photos and information on visiting the Royal Botanical Gardens at Kew during other times of the year;
Kew Gardens Address
Address: Royal Botanic Gardens, Kew, Richmond, Surrey TW8 3AB
2023 Opening Hours: From 1 September, the opening times are the same throughout the week. 10am to 7pm (last entry 6pm) 1 – 30 September; 10am to 6pm (last entry 5pm) 1 – 28 October; 10am to 4pm (last entry 3pm) 29 October – 13 November; 10am to 3pm (last entry 2pm) 14 November – 7 January 2024.
Kew Gardens is closed on 24 and 25 December.
Tickets: Peak (1 February – 31 October) Standard tickets paid at the door are £21.50 for Adults, £9 for Young person and students (16 to 29 years old) and £5 for children (4 to 15 years old). Children under 4 years go free.
Tickets purchased online are cheaper for Young Person / Student (£8.50) and Adult (£17.00). You can pay an optional 10% donation which goes towards Kew Gardens' conservation work. By agreeing to pay the donation, Kew Gardens can claim Gift Aid on the full ticket price if you are UK tax payer.
Closest Tube Station: Kew Gardens [District – Richmond branch and Overground services]
Parking: There is limited Ringgo parking around Kew Green (make sure to check for permit parking spots). Parking costs £7.00 for the day at the Kew Gardens Brentford Gate car park (TW8 3AF) which is accessed by Ferry Lane, a narrow turning off Kew Green.
Food and Drink: There are several restaurants at Kew Gardens, including the Orangery for coffee, cakes and light meals; the Pavilion Bar and Grill serving burgers and Mediterranean dishes; and the Botanical Brasserie for formal dining. Right next to the Children's Garden, you'll find the new Family Kitchen & Shop which has a stone-baked pizza oven, salad bar, artisan sandwich station, ice cream servery and more.
http://www.kew.org/visit-kew-gardens
This post was updated on 11 September 2023 with details on the upcoming October half-term activities at Kew Gardens London.
Pin for Later – Children's Garden at Kew Gardens London