The USS Midway was one of America's longest serving aircraft carriers, in service for 47 years from 1945 to 1992, and is now a maritime museum in San Diego dedicated to carriers and naval aviation. Located in Downtown at Navy Pier, the USS Midway Museum is a great place to visit for a family day out, offering hands-on activities and a fascinating look into what it's like to live and work on a carrier. Read more about what to expect visiting the USS Midway Museum San Diego in this review.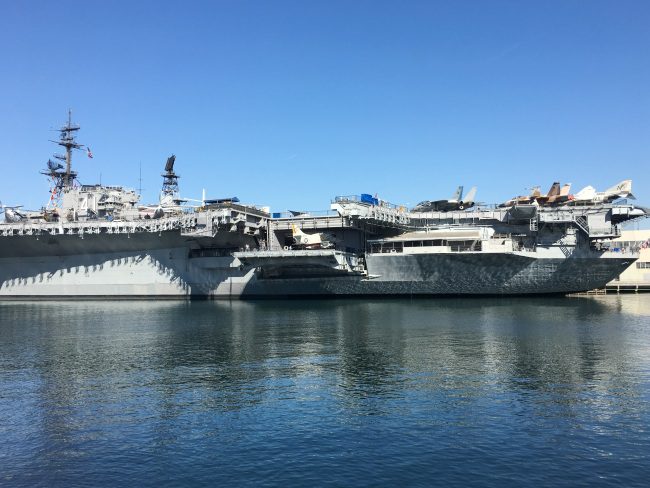 2021 update: Wearing a mask in indoor public places is now recommended for everyone, regardless of vaccination status. If you have not been fully vaccinated, you are required to wear a facial covering while on board. Photos in this review were taken in pre-Covid times.
USS Midway Museum San Diego
There are 60 areas to explore in the USS Midway Museum, including the sleeping quarters, engine room, radio room, galley and war room, and the museum houses a wide array of aircraft – some that you climb into for a great hands-on experience. There are also several museum docents you'll have the chance to meet throughout the USS Midway, who help bring the carrier to life with their own experiences and anecdotes.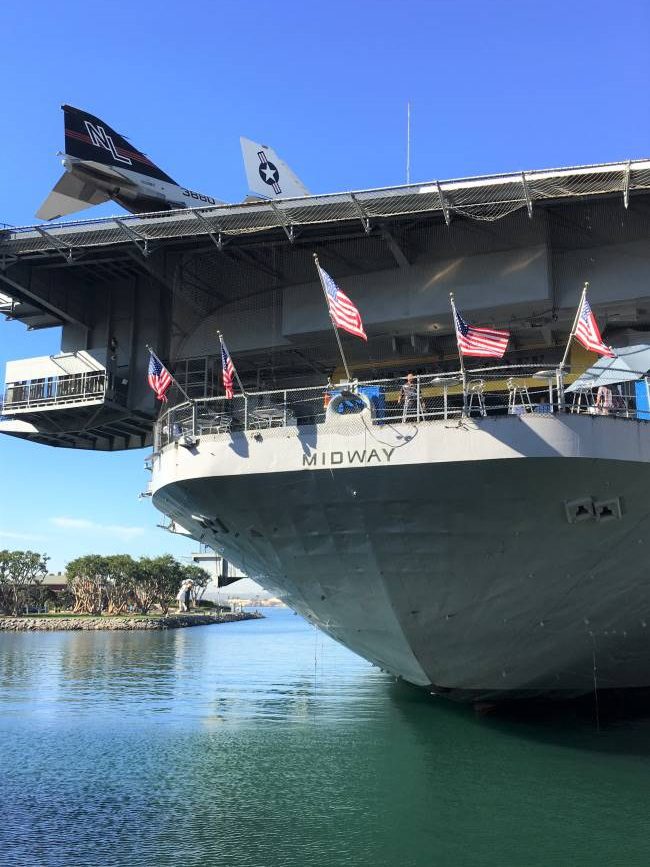 Admission includes a self-guided audio tour, narrated by USS Midway sailors, that takes you through the 60 exhibits and altogether lasts 3 hours. You can choose which locations to visit in the aircraft carrier museum, however, so the length of the tour depends on the visitor. There is also a family audio tour that has been tailored to children, following Airman Sam Rodriguez through more than 30 locations on the carrier.
We didn't use an audio guide during this visit, but I have used one on a previous visit to the USS Midway San Diego, and it's fascinating to listen to the sailors' stories about what life was like on this floating city on the sea as you move through the various rooms.
Hangar Deck
We started our USS Midway Museum tour at the Hangar Deck, where you'll find the Information Kiosk, the Battle of Midway theater, flight simulators and several climb-in cockpits. Don't forget to stop by the Information Kiosk to find out how your children can earn their Junior Pilot Wings during the visit!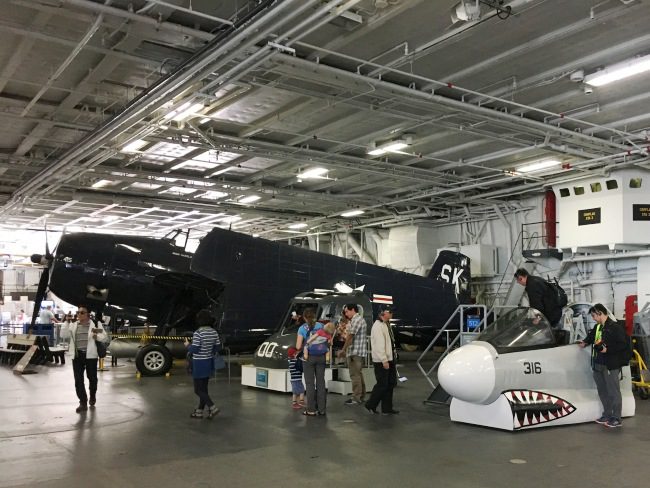 One of the highlights visiting the USS Midway Museum with kids is the opportunity to get hands on and climb into several aircraft cockpits. Little T started off with this F-8 Crusader supersonic fighter jet, that entered service in the late 1950s and flew from the Midway during her first combat deployment to Vietnam in 1965.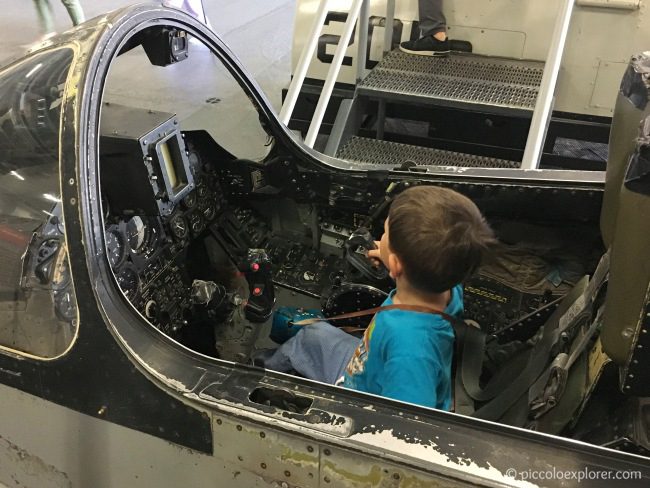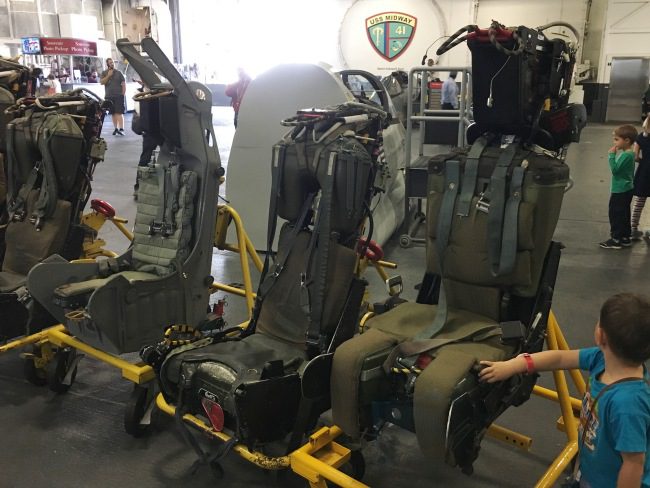 There was work in progress on restoring this aircraft's rotor blade – very interesting to watch while we explored the Hangar Deck!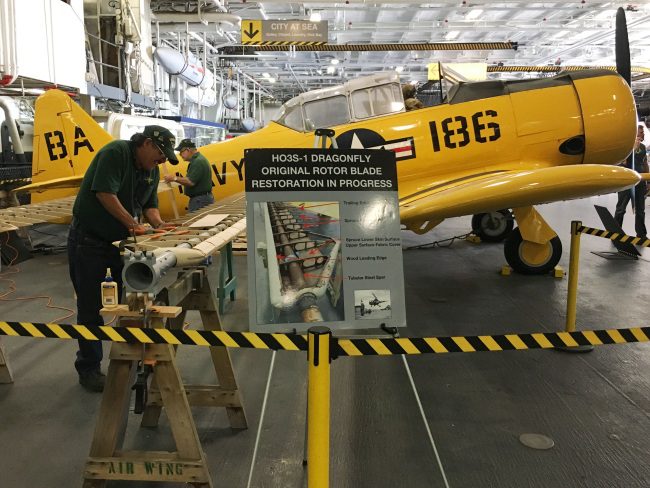 Flight Deck
The next part of the tour is up on the USS Midway Flight Deck, where you'll find about 25 restored aircraft – including some you can climb aboard or walk through. There are 29 restored aircraft, from World War II to Operation Desert Storm, on display between the Hangar Deck and Flight Deck. The museum's current inventory includes: a SBD Dauntless dive bomber (World War II), a F9F Panther jet fighter (Korean War), a Huey gunship (Vietnam War) and a F/A-18 Hornet combat jet (Desert Storm).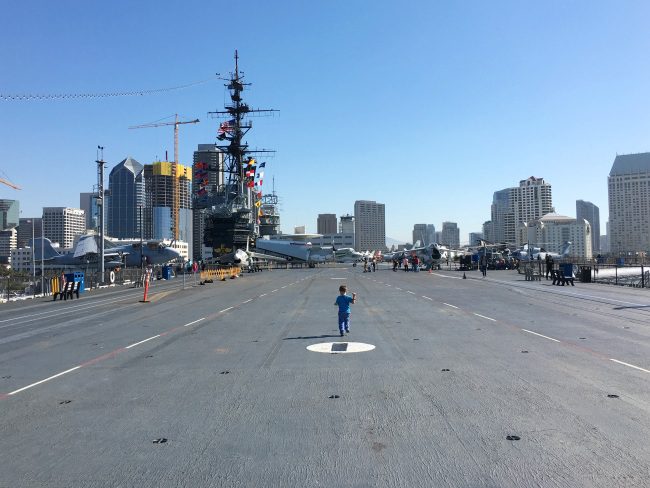 You might recognize the F-14 Tomcat fighter jet that became well-known thanks to the film Top Gun. Tomcats were armed with a 20mm cannon and array of guided missiles, making them the carrier battle group's first line of defense for more than 30 years. (Top Gun was also mostly filmed in San Diego – the site of the training school, for example, was filmed at the Marine Corps Air Station in Miramar)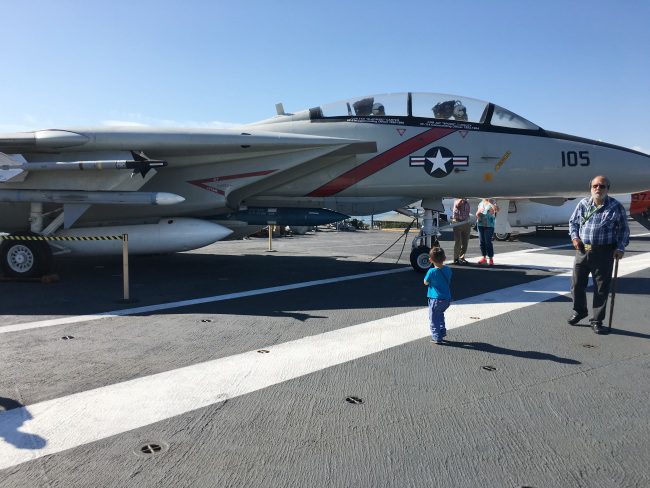 We carried on walking along the runway, with Little T climbing into a couple more cockpits…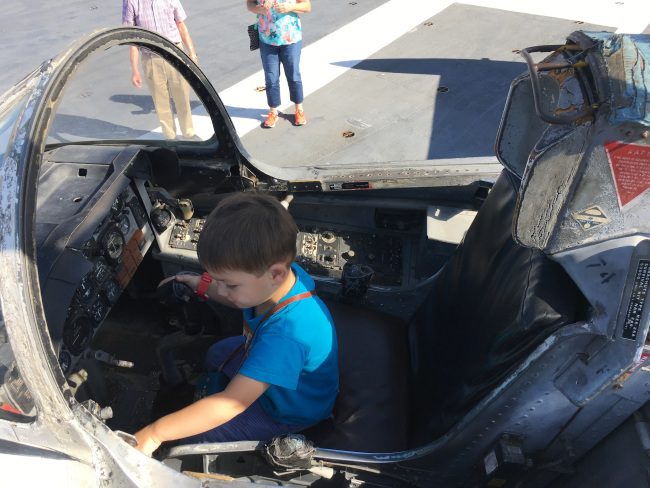 and walking into helicopters, such as this rescue helicopter which was so fascinating to see what it's like on the inside!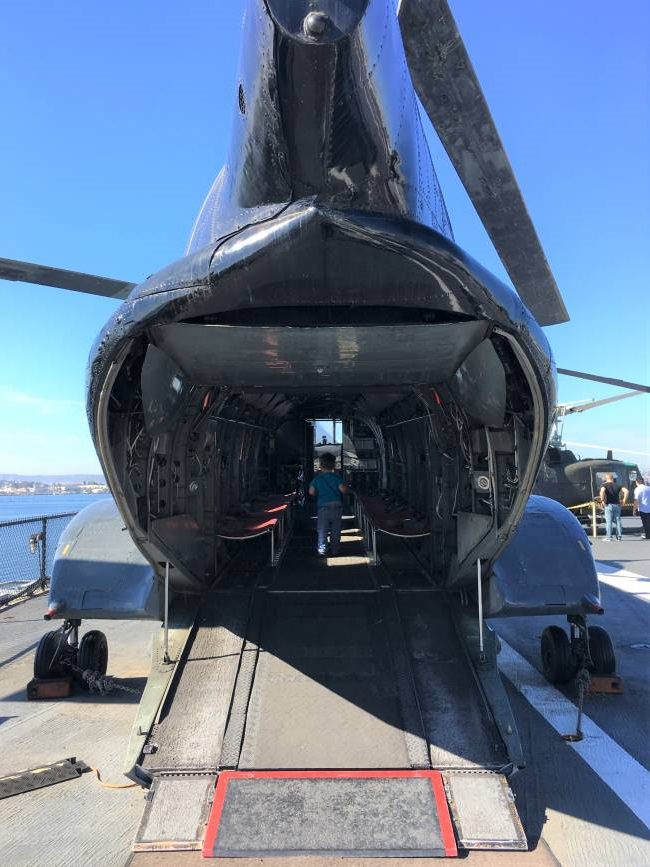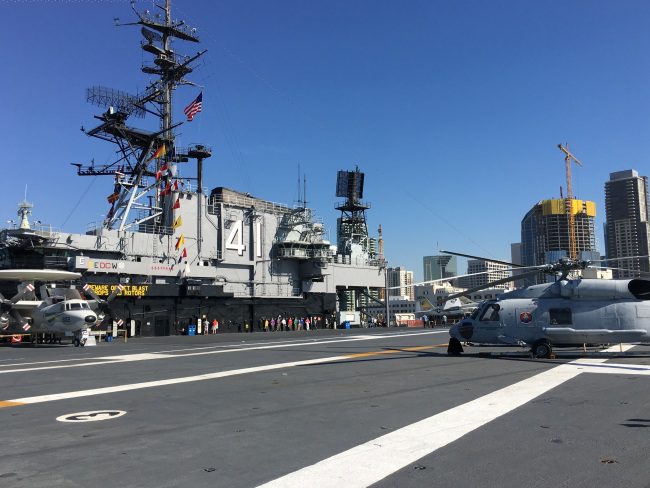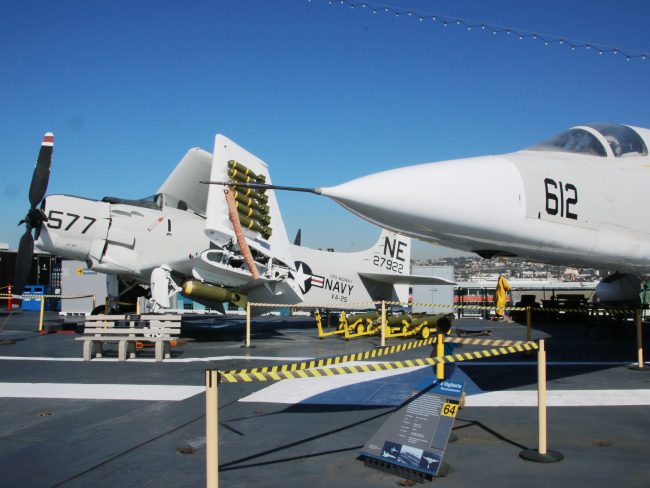 From the USS Midway Flight Deck, you also have an amazing view of San Diego Bay, Downtown and the Coronado Bridge. Shown in the photo below is the 25-ft. tall "Unconditional Surrender" statue based on the iconic photo taken on V-J (Victory Over Japan) Day of a U.S. Navy sailor in Times Square grabbing a nurse for a kiss when the news broke that Japan had surrendered.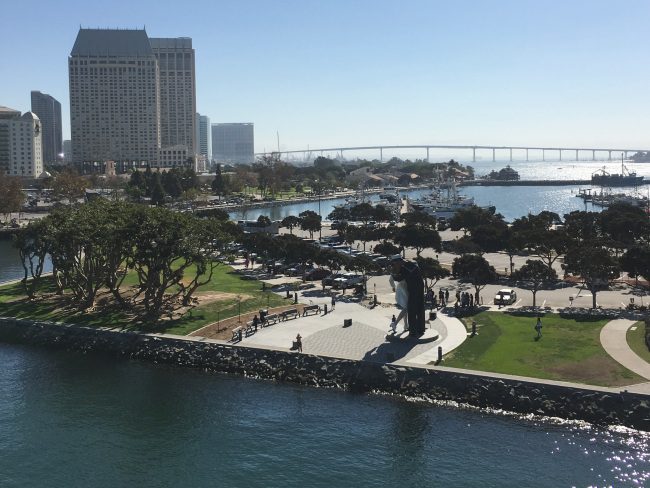 Admiral's & Captain's Country
From the USS Midway Museum Flight Deck, we headed into a series of rooms that made up the Admiral's and Captain's Quarters – including living rooms, a private kitchen with a cook, full bathrooms and conference rooms.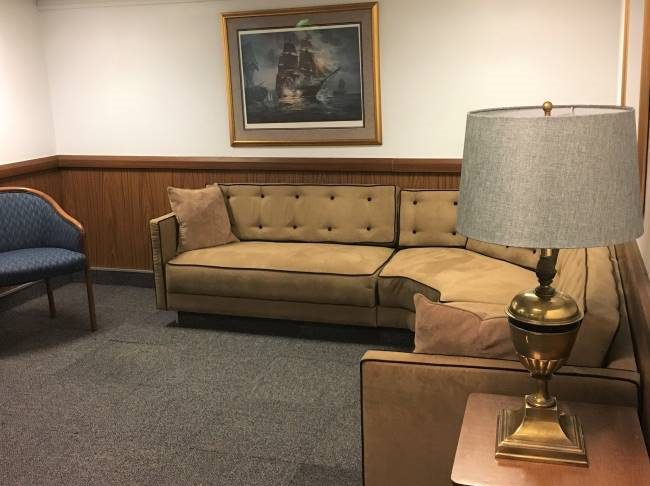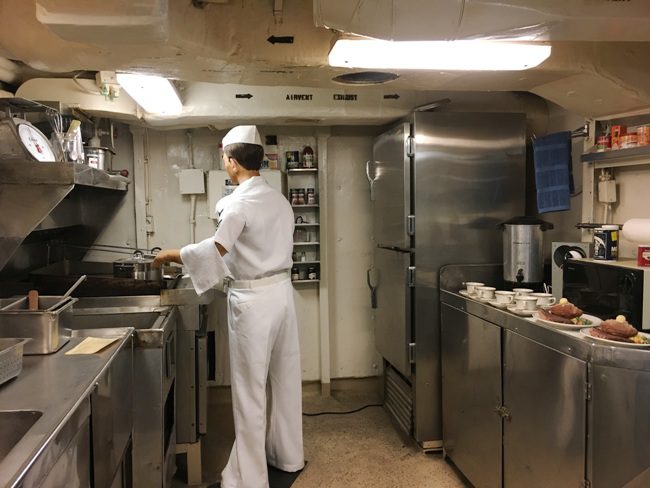 War Room
We also saw the war room, where the staff would maintain the strategic picture of the region where the Midway was operating. In 1991, developments during Operation Desert Storm were analyzed and displayed in this room using the sliding map panels.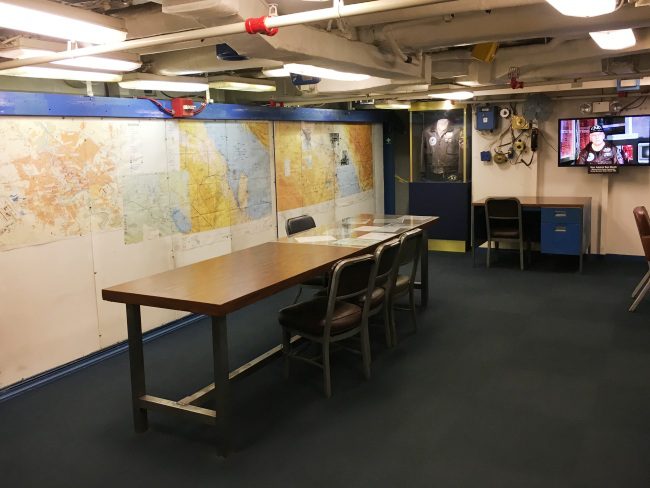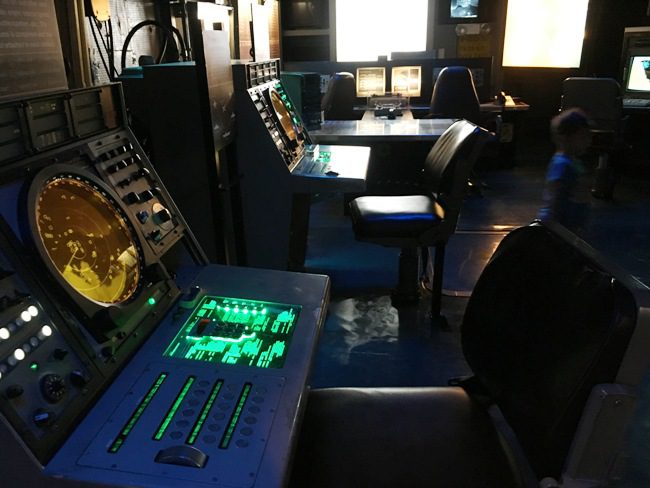 Radio Room
The Radio Room is where staff would patch and route radio signals to, from, and around the ship.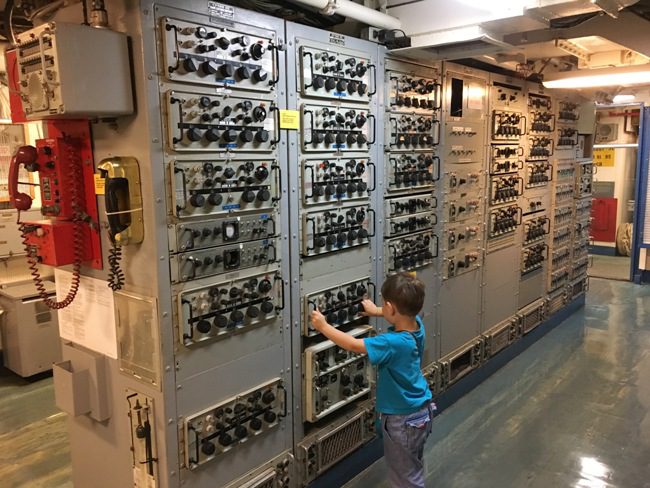 Captain's Quarters
The next part of the USS Midway Museum self-guided tour took us through the Captain's Quarters – a bedroom and bathroom, lounge and this conference room shown below. Little T hightailed it out of there the moment the animatronic captain behind the counter kicked into gear to welcome us to his cabin!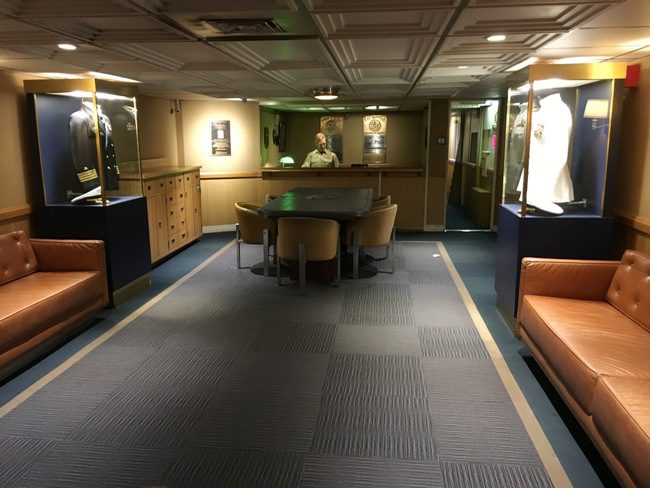 We didn't manage to see the rest of the carrier's Below Deck Exhibits on the 2nd, 3rd and 4th Decks, where you'd find the crew's sleeping quarters, post office, ship's jail, mess hall and more. There so much to see and do for a family day out, and I look forward to coming back again to the USS Midway Museum San Diego to explore the areas we missed. This brilliant aircraft carrier museum is very family-friendly and a great value, and I highly recommend visiting for a fun, interactive and educational experience.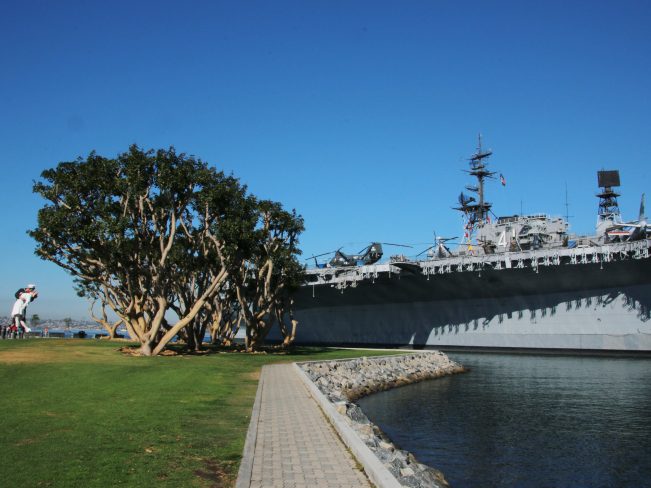 Address & Ticket Info
USS Midway Museum San Diego
Address: 910 North Harbor Drive, San Diego, CA 92101
Opening Hours: 10am to 5pm; last admission at 4pm. Closed Thanksgiving Day and Christmas Day.
USS Midway Tickets: Adult (18+) tickets are $26; youth (ages 6 to 12) are $18; children under 5 enter free. Veteran tickets (with proof of service) are $18. Complimentary admission for active-duty military personnel, law enforcement and firefighters – see the website for full details.
Parking: There is a parking lot alongside the San Diego USS Midway Museum on Navy Pier and metered spaces available on surrounding city streets
Good to Know
Ticket fare includes a free self-guided audio tour sharing details of over 60 locations.
There is a new family audio tour, tailored to children, following Airman Sam Rodriguez through more than 30 locations on the carrier.
Stop by the Information Kiosk to find out how children can earn their Junior Pilot Wings.
There is elevator access from the Hangar Deck to the 2nd Deck and Flight Deck. While the Hangar Deck and Flight Deck are stroller-friendly, there are some areas on the ship where you would need to leave the stroller behind to visit since they can only be accessed by stairs.
Fantail Café offers family-friendly patio dining on the Hangar Deck, serving sandwiches, burgers, salads and snacks.
Pin for Later – The USS Midway Museum San Diego with Kids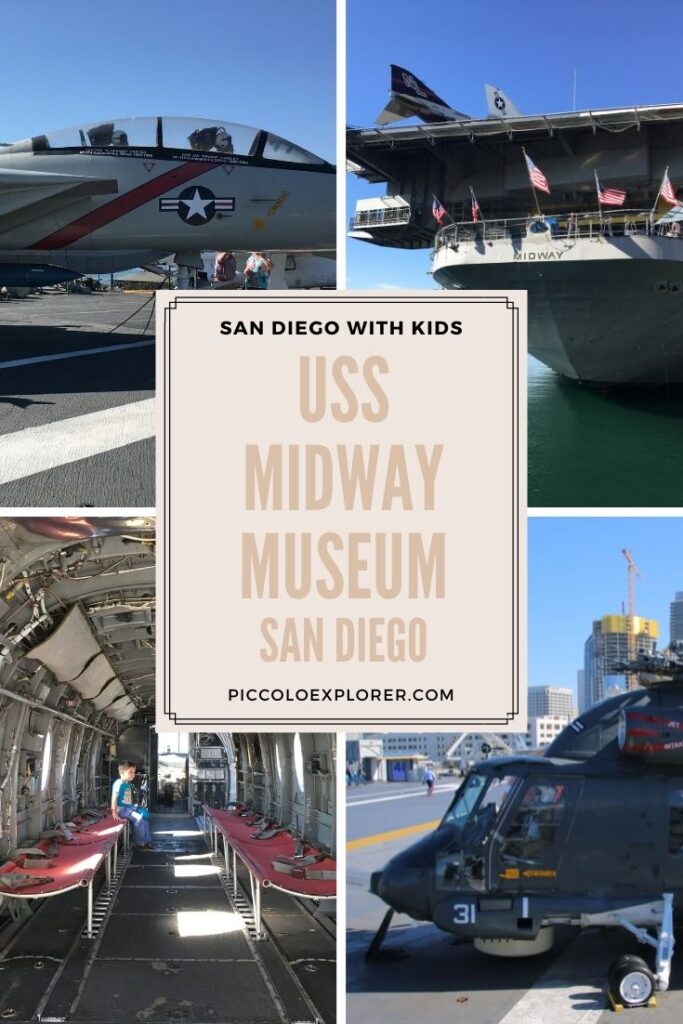 Save
Save
Save
Save
Save
Save
Save
Save
Save
Save
Save
Save