Planning a family holiday to the Riviera Maya region of Mexico? The Mayan Riviera offers a plethora of family-friendly activities, attractions and unique experiences. In this post, you will find inspiration for things to do in Riviera Maya with kids.
Riviera Maya with Kids
The Riviera Maya spans 75 miles along the coastline of the Yucatan Pensinsula in the state of Quintana Roo, Mexico. A glorious stretch of Caribbean coastline, the Riviera Maya runs south from the fishing village of Puerto Morelos to the Sian Ka'an Biosphere Reserve.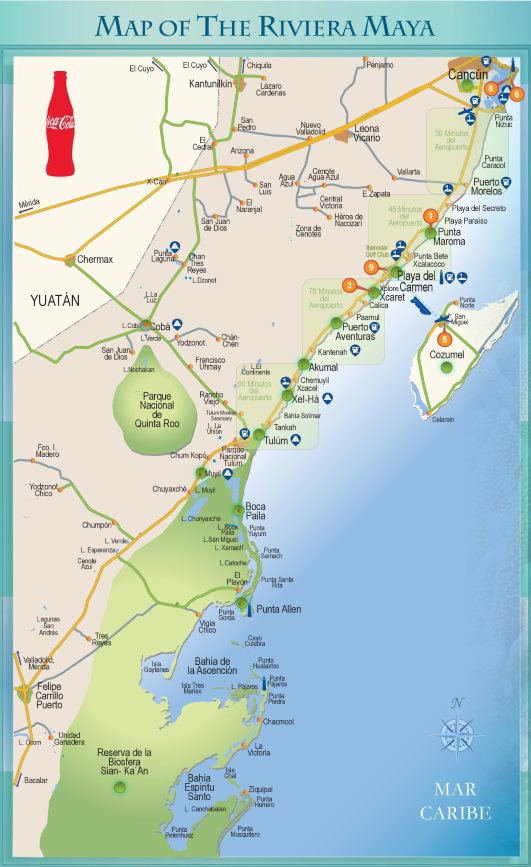 The Riviera Maya is a top destination for family-friendly resorts offering all-inclusive packages and activities for children of all ages.  Popular family holiday destinations in the Riviera Maya are Puerto Morelos, Playa del Carmen and Tulum.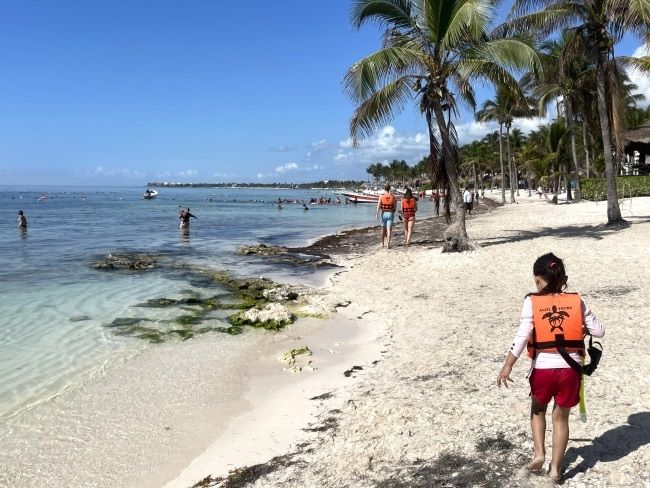 The approximate time to drive from the Cancun International Airport to the Riviera Maya towns ranges from 30 minutes (Puerto Morelos) to 45 minutes (Playa del Carmen) to 90 minutes (Tulum).
Playa del Carmen with Kids
On our last two trips to the Riviera Maya, we stayed in Playa del Carmen, a coastal town located approximately 40 miles (68 km) south of Cancún. Playa del Carmen is a great central location for exploring the Yucatan Peninsula.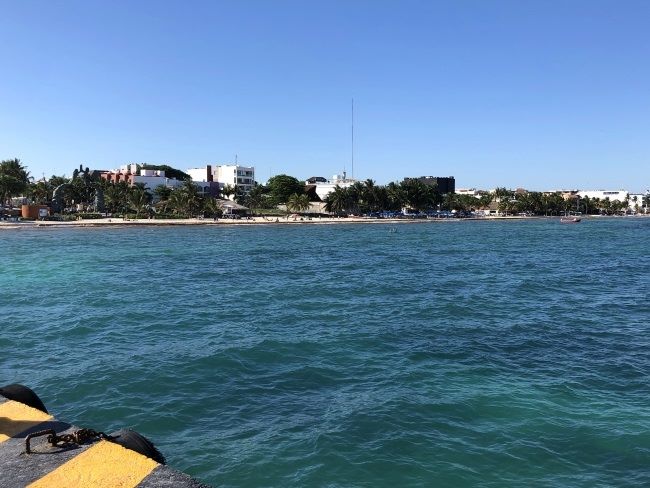 Family-Friendly Resorts
Playa del Carmen offers a wide choice of places for families to stay in the beachfront town and its surrounding area. There are charming boutique hotels and oceanfront apartments steps from the bustling Fifth Avenue, as well as several expansive, all-inclusive beach resorts tucked away along the beaches.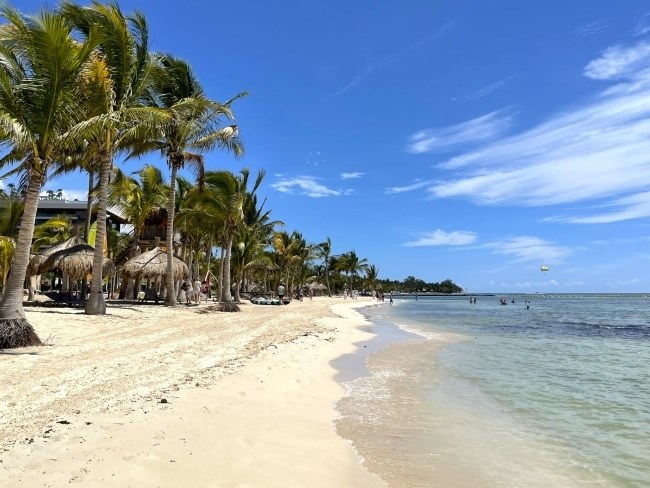 Top-rated beachfront family resorts in Playa del Carmen are Hotel XCaret Mexico, Paradisus Playa del Carmen, the Royal Haciendas All Suites Resort and Spa, Grand Velas Riviera Maya, Fairmont Mayakoba and the Fives Beach Hotel and Residences.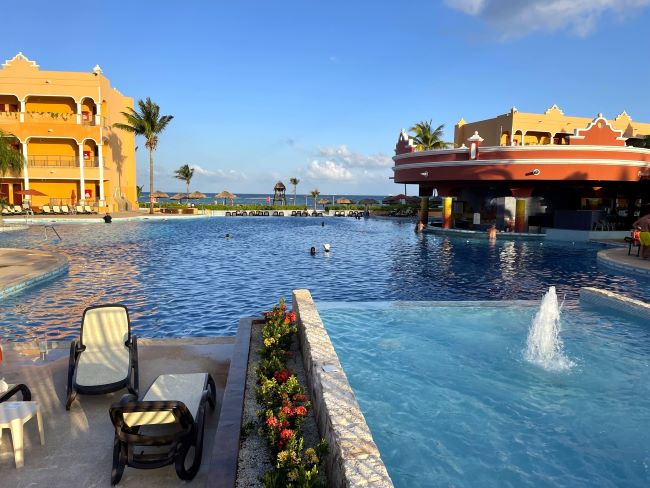 Top Playa del Carmen Restaurants
Our favourite places to eat in Playa del Carmen with kids are La Cueva del Chango and El Fogón.
La Cueva del Chango
Calle 38 Norte 77710 Playa del Carmen | lacuevadelchango.com
La Cueva del Chango is located on 38th Street (Calle 38 Norte) between Fifth Avenue and the beach. This beautiful restaurant has a open air patio dining area set in a lush garden.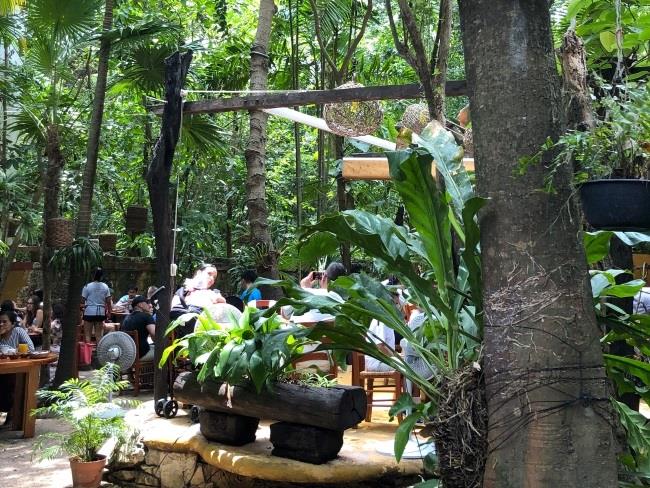 A popular spot for breakfast and brunch, La Cueva del Chango specialises in Mexican specialties such as chilaquiles, enchiladas and stuffed poblano peppers. Reservations are a must!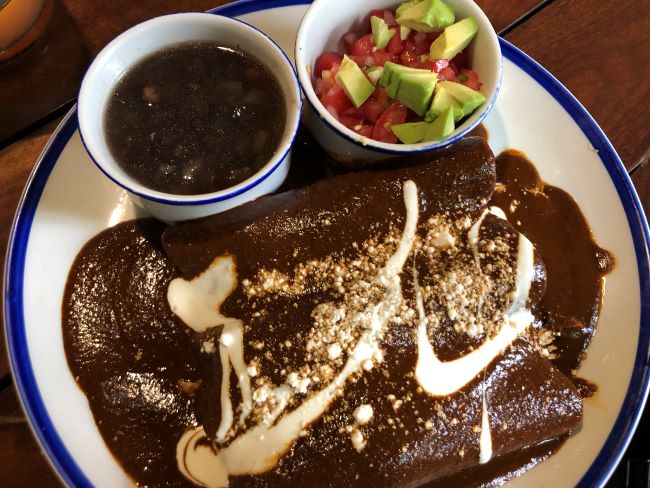 El Fogón
Avenida Constituyentes and 30 Avenida Norte | facebook.com/ElFogonPDC
El Fogón is a casual Mexican restaurant with four locations in Playa del Carmen. We went to the El Fogón on Avenida Constituyentes, situated between 25th Avenue and 30th Avenue and off the beaten path from the tourist district. The flagship location is on 30 Avenida Norte.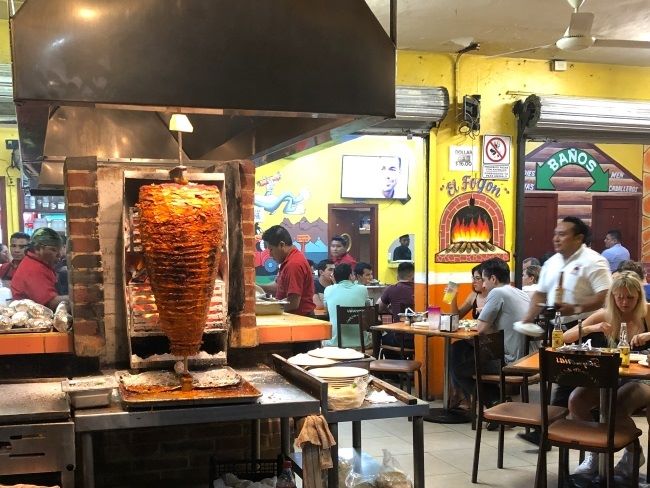 El Fogón is a great place to eat for authentic, traditionally made tacos and grilled meat dishes, at a fraction of the price at the tourist trap restaurants on Quinta Avenida. Highly recommend ordering the tacos al pastor.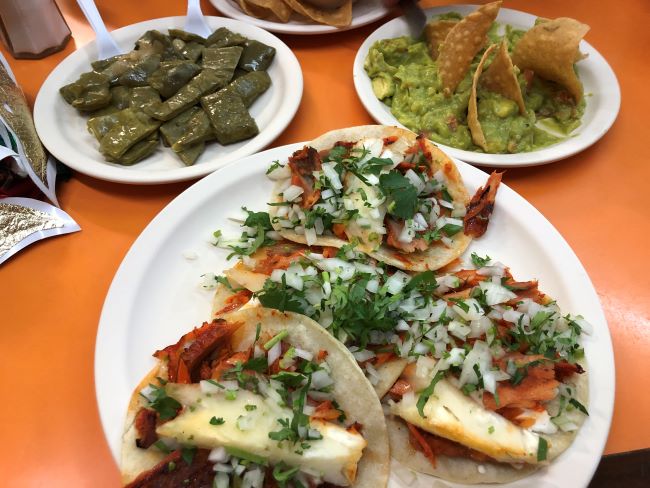 Best Riviera Maya Family Activities
The Riviera Maya offers easy access to many exciting day trips and excursions with kids. Top things to do in Riviera Maya with kids include swimming in the cenotes and exploring the region's historical attractions. This beautiful region of Mexico offers plenty for a family holiday between beach time and cultural tours.
Visit the Ancient Mayan Ruins of Tulum
One of the top Riviera Maya excursions for families is visiting the ancient Mayan ruins just outside of Tulum's city centre. Located 100 miles (62 km) south of Playa del Carmen and overlooking the Caribbean Sea, the Tulum ruins are a must-see historical attraction in the region.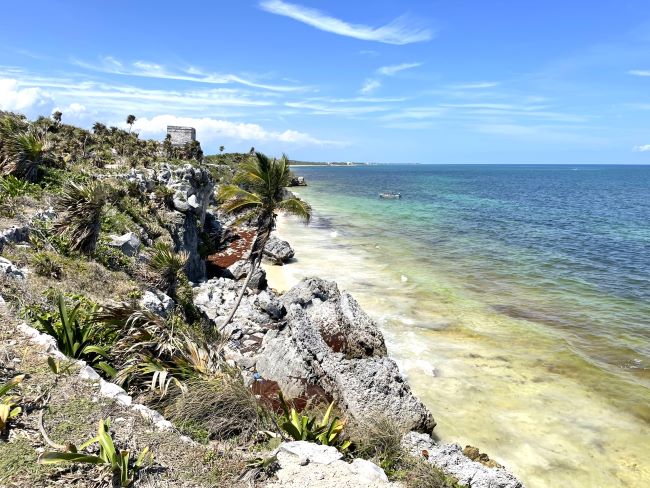 The Mayans built the walled city and port at Tulum to serve the inland town of Coba, as well as Chichen Itza and Ek Balam. Between the 13th and 15th centuries, Tulum prospered as an important trading hub and religious ceremonial centre. Textiles, jade, copper, feathers, salt and obsidian were among the goods traded here, coming from the Caribbean, central Mexico and Central America.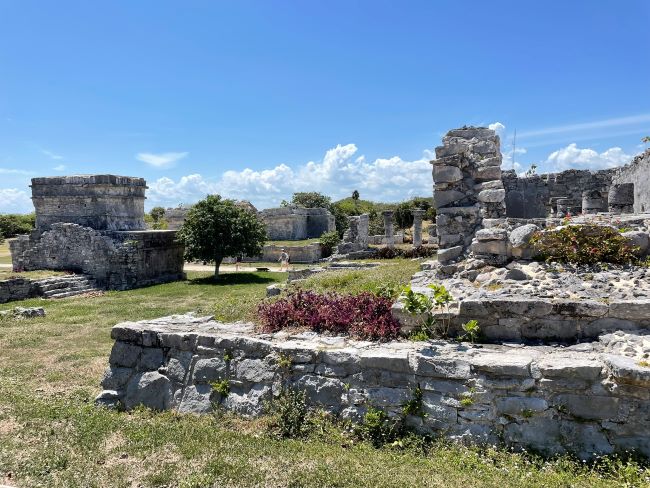 Tulum was more of a religious and ceremonial centre than a population centre, with no more than 1600 inhabitants living in the walled city at one time. One of the best preserved coastal Maya sites, the Tulum archaeological site consists of several structures, the most significant being El Castillo (The Castle), the Temple of Frescoes and the Temple of the Descending God.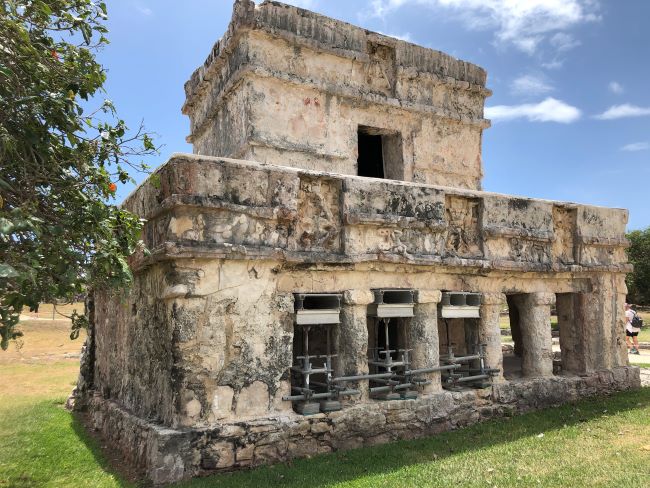 The seaside views are spectacular along the coast. The Tulum ruins are situated on 12-metre-tall (39 feet) cliffs overlooking the turquoise waters of the Caribbean Sea.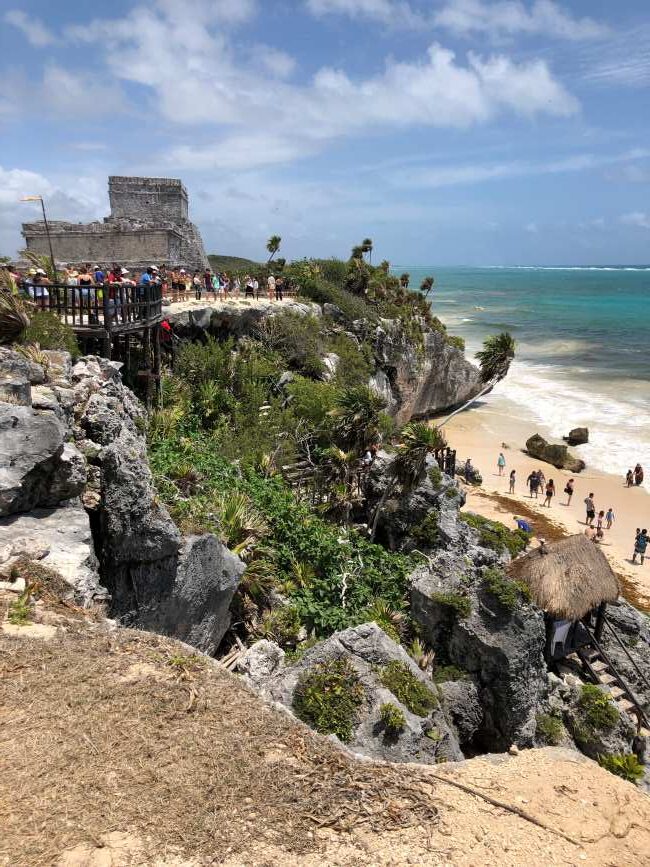 The Tulum ruins are open Monday through Sunday, from 8am to 5pm. It gets very hot and crowded by midday, and there is little natural shade around the ruins. About 2 hours at the park is plenty for visiting the Tulum ruins.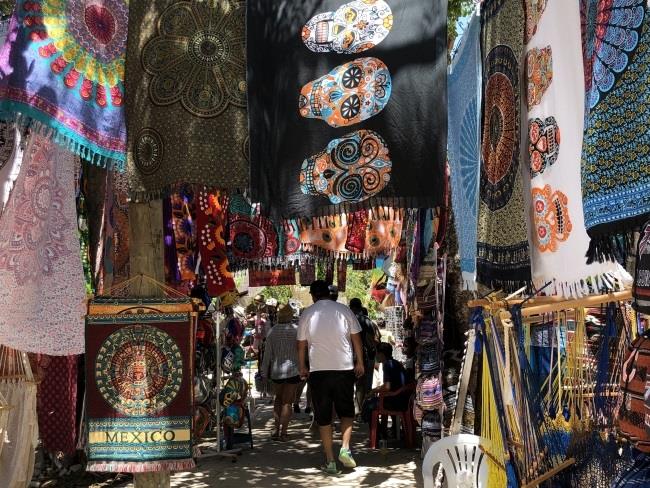 It is about a 10 minute walk to the entrance from the car park, but there is a small train that takes visitors back and forth for a fee (about 20 MXN per person). There is a shopping market in front of the car park, with an ATM and several places to eat including Starbucks, Subway and Frosty's Restaurant Bar.
Swim through the Sistema Sac Actun Caves
One of our top things to do in the Rivieria Maya with kids is swimming through the underwater caves at Sistema Sac Actun near Tulum. At about 386 km long, Sistema Sac Actun is the world's longest underwater cave system and connects with over 200 cenotes in the Riviera Maya region.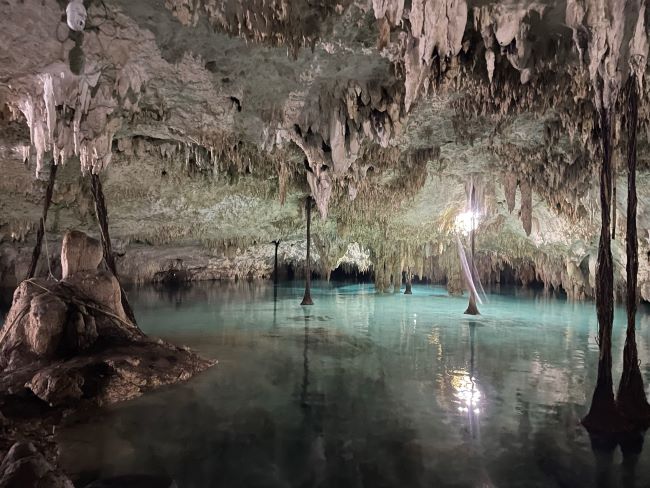 Sac Actun, which means "white cave" in the Maya language, is considered the most important submerged archaeological site in the world. Archaeological finds include 15000 year old remains of giant sloths, an elaborate shrine to the Maya god of war and commerce and Naia, one of the oldest (over 12000 years old) and most complete human skeletons found in the Americas.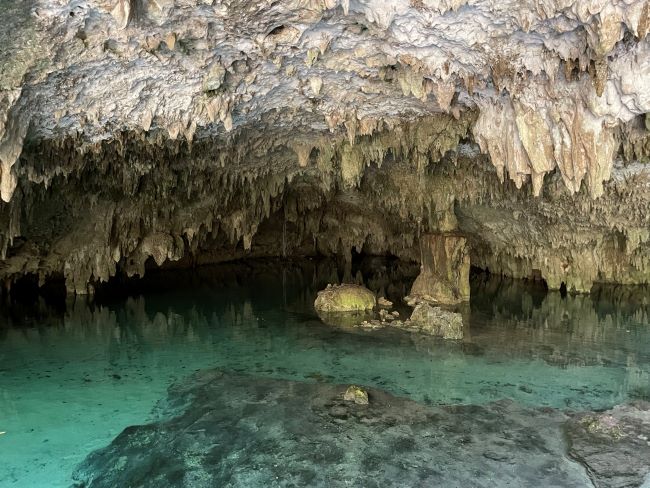 Snorkeling through the labyrinth of otherwordly caves at Sistema Sac Actun was an incredible experience. Our guide took us swimming through the caves, with one other family, which takes 40 – 60 minutes.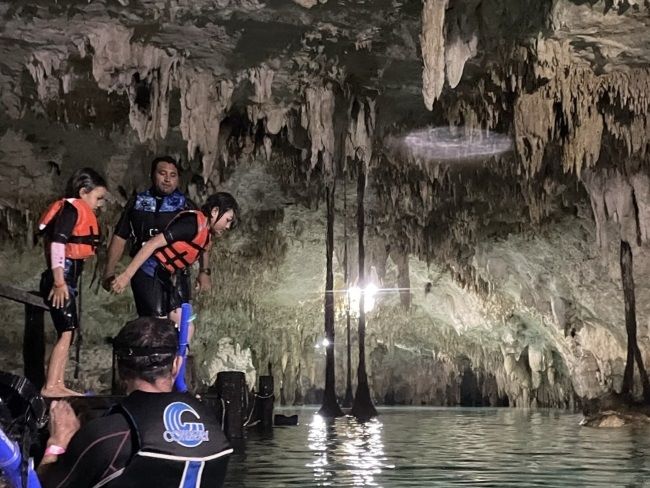 There is a spot halfway where the kids enjoyed jumping off a platform. You can also exit at this point if you do not want to continue swimming. Entrance fee includes snorkeling gear, wetsuits (water was about 70 degrees) and life jackets.
Explore the Riviera Maya Cenotes
There are thousands of natural freshwater sinkholes, or cenotes, throughout the jungles of the Yucatan peninsula. Over 200 cenotes in the Riviera Maya, mainly around Tulum, are connected by the extensive underground network of rivers and caves of the aforementioned Sistema Sac Actun.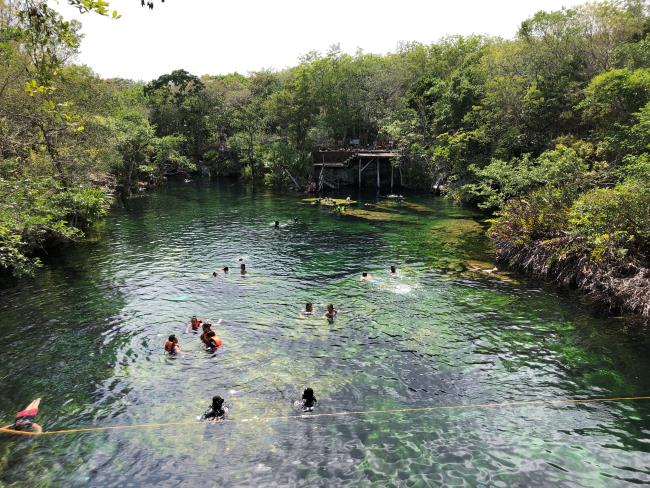 Swimming in the Tulum cenotes is a unique experience and one of the top things to do in Riviera Maya with kids. Cenotes are a fun alterative to going to the beach, some with additional features like rope swings and diving platforms.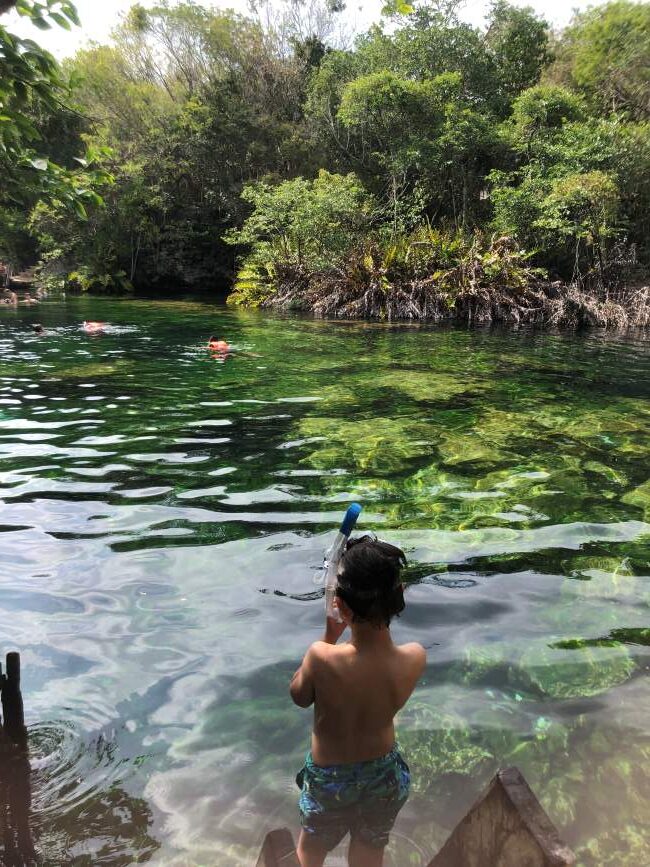 Between the natural shade and cool fresh water, cenotes are also great places to cool off on hot days. The most common types of cenotes in Riviera Maya are cave, semi-open and open cenotes. An open cenote is formed when the cave ceiling has fallen into itself.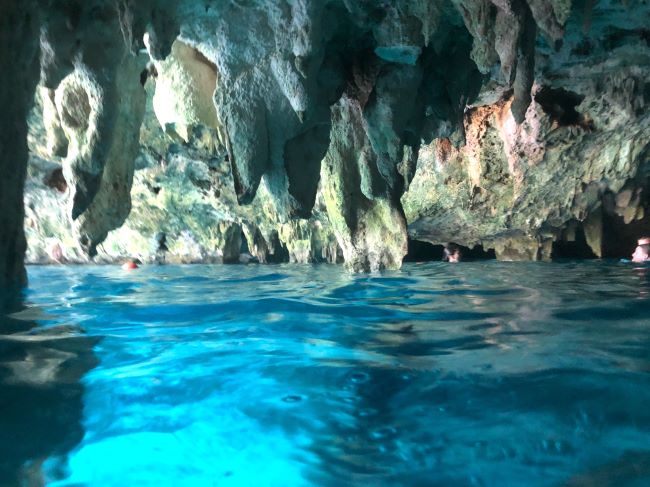 Top things to pack for visiting the cenotes of Riviera Maya with kids are (1) biodegradable, reef-friendly sunscreen since chemicals in regular sunscreen can damage the cenotes, (2) rash vests and swim shorts to wear with life jackets and (3) quick drying towels and change of clothes. We bring our own masks and snorkels, however, you can rent snorkeling gear on site.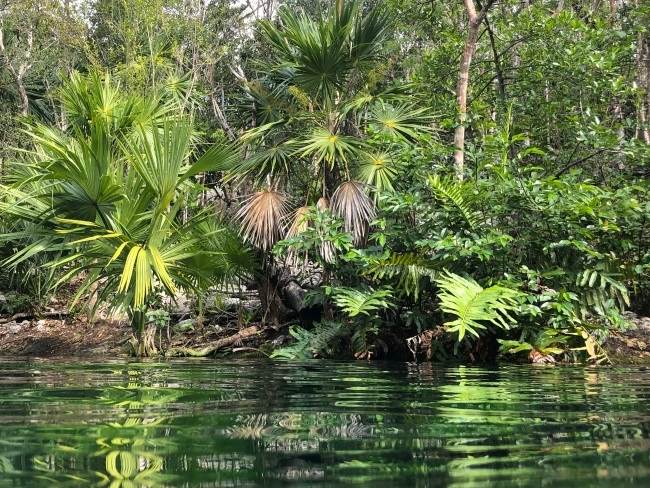 Many cenotes are popular attractions in Tulum and have facilities such as lockers, restrooms and snack bars. Entrance fees for Tulum cenotes range from 80 to 500 Mexican pesos (MXN) and typically include life jacket rental. Children under 4 years old enter free.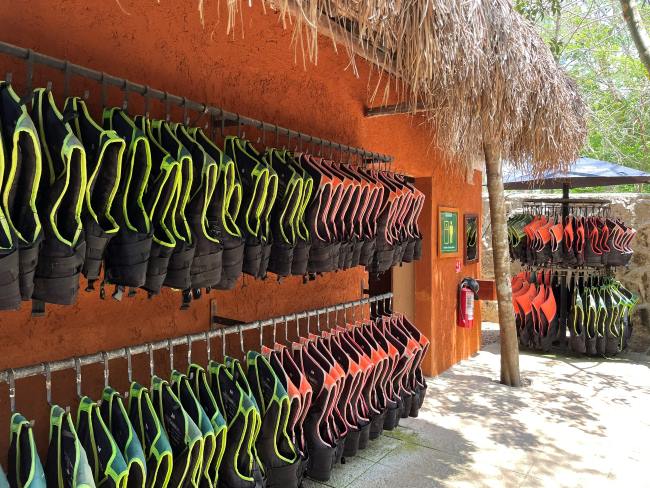 We have visited the Tulum cenotes as part of day excursions from Playa del Carmen. On one family trip, we went to the Gran Cenote and Cenote Jardin del Eden. The next trip, we visited Cenotes Casa Tortuga as part of a Tulum day excursion that included Sistema Sac Actun and the Tulum ruins.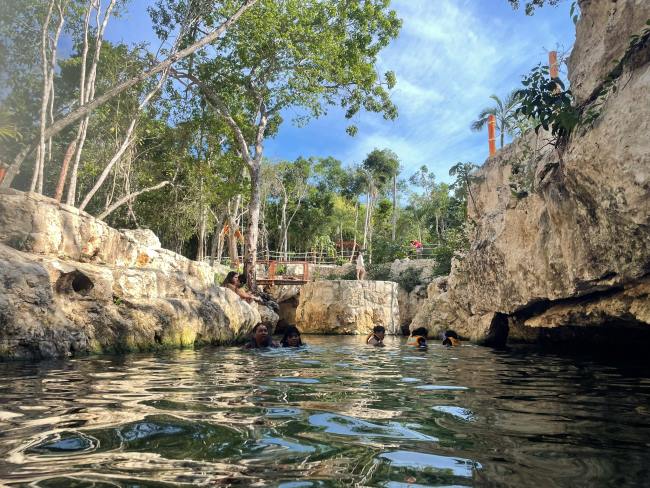 Other popular Tulum cenotes for families include Cenote Dos Ojos, Cenote Azul, Cenote Zacil Ha and Cenote Yax-kin. In this post, I will share our experiences visiting Cenotes Casa Tortuga, Cenote Jardin del Eden and Gran Cenote Tulum with kids.
Cenotes Casa Tortuga Tulum
A great option for families, Casa Tortuga is a natural park with four differently shaped cenotes, Cenote Wisho, Cenote Campana, Cenote Tres Zapotes and Cenote Jaguar.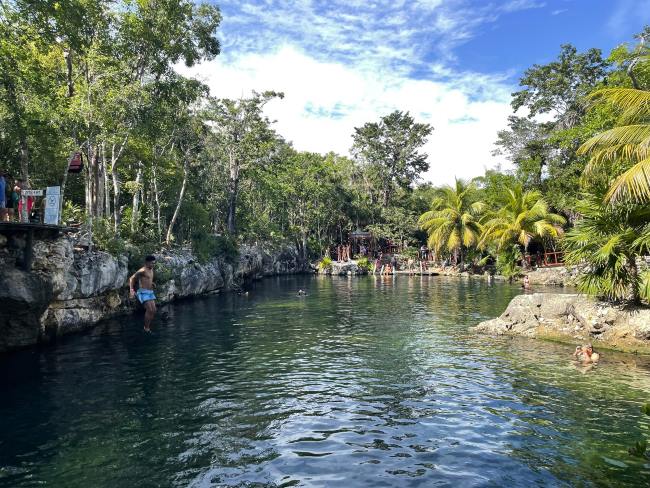 The depths of the various cenotes at Casa Tortuga range from 1 to 8 metres. Two of the cenotes are caverns with stalactities and stalagmites to see, while the two larger, deeper cenotes have jumping-off points and areas for swimming.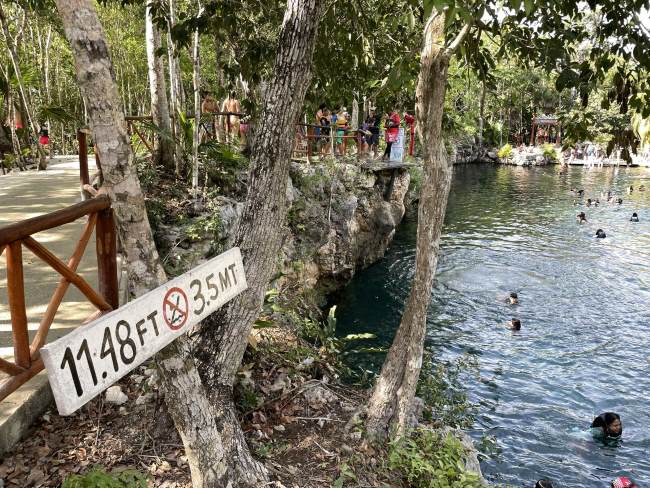 Facilities at Casa Tortuga Tulum include toilets, snorkeling gear rentals, zipline (additional fee) and a restaurant. Entrance fee starts from 350 MXN per person and includes life jacket rental. Under 4s enter free.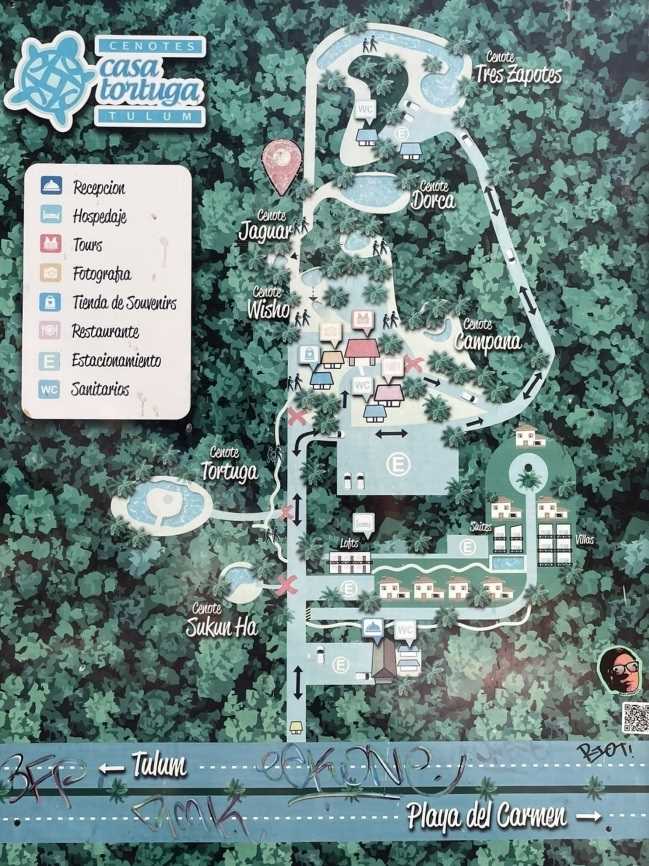 Cenotes Casa Tortuga is located 14 km (20-minute drive) north of Tulum and about 53 km (40-minute drive) south of Playa del Carmen.
Cenote Jardin del Eden
Cenote Jardin del Eden is a beautiful open water cenote surrounded by lush greenery. At one end of the cenote is a 12-foot tall cliff with a diving platform. Below the platform is an entrance to a deep underground network of caves popular with divers.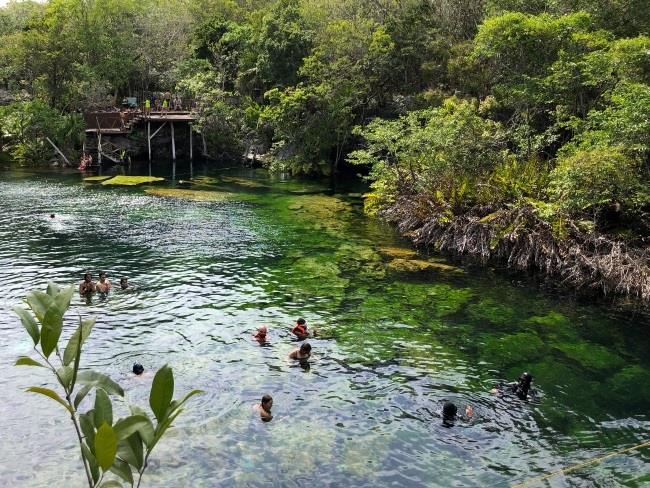 In the middle of Jardin del Eden are the rocks which used to be the roof of the cenote. The rocks are submerged about 1 foot underwater, which make a nice resting spot. We enjoyed snorkeling at Cenote Jardin del Eden to see the little fish, tree roots and unique rock formations.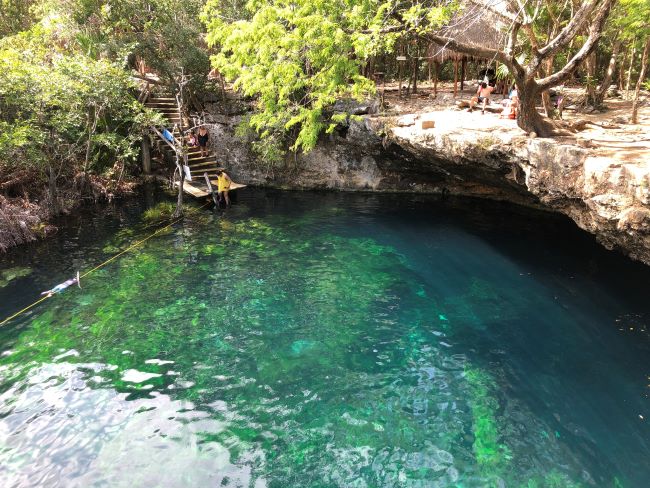 Cenote Jardin del Eden is located about 40 km (30-minute drive) north of Tulum and 25 km (20-minute drive) south of Playa del Carmen.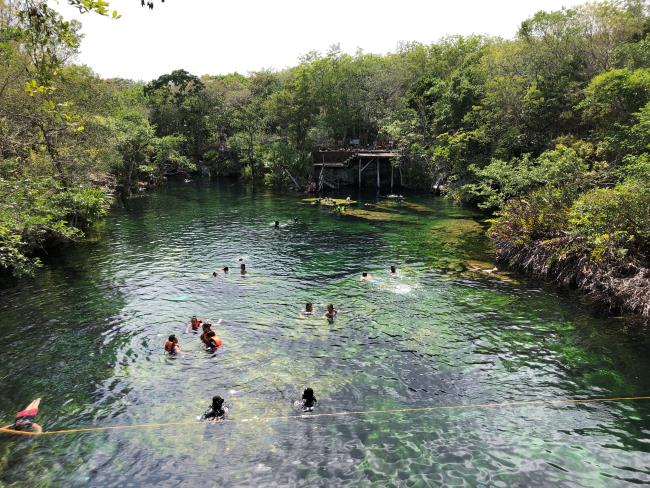 Facilities at Jardin del Eden include toilets, snorkeling gear rentals and a small snack bar. Entrance fee (cash only) is 200 MXN for adults and 100 MXN for children ages 4+ and includes life jacket rental. Under 4s enter free.
Gran Cenote
One of the most famous sinkholes in Mexico, Gran Cenote is actually the main entrance to Sistema Sac Actun and comprises an open-air cenote surrounded by caves. Since many of the caves and tunnels at Gran Cenote are not fully submerged, you can get through and explore parts by swimming or snorkeling.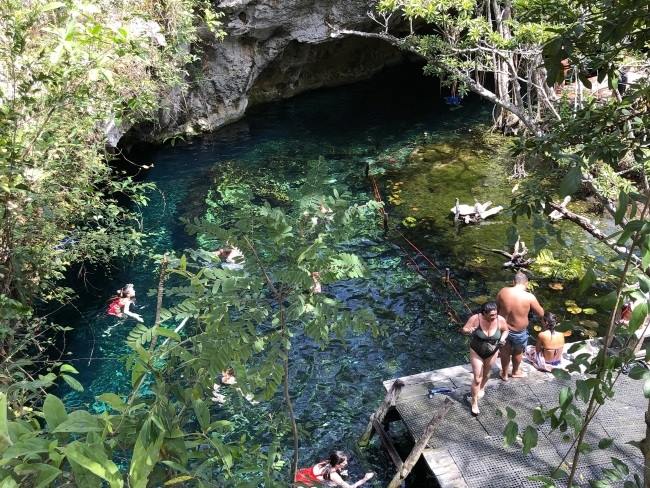 The water at Gran Cenote is crystal clear and ideal for snorkeling to see the underwater life and unique rock formations. There are catfish and turtles to see swimming about in Gran Cenote.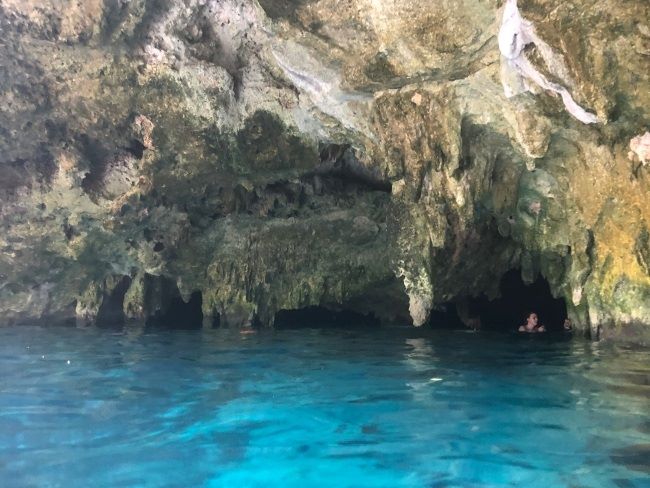 Gran Cenote is located about 5 km (10-minute drive) from Tulum and about 66 km (50-minute drive) south of Playa del Carmen.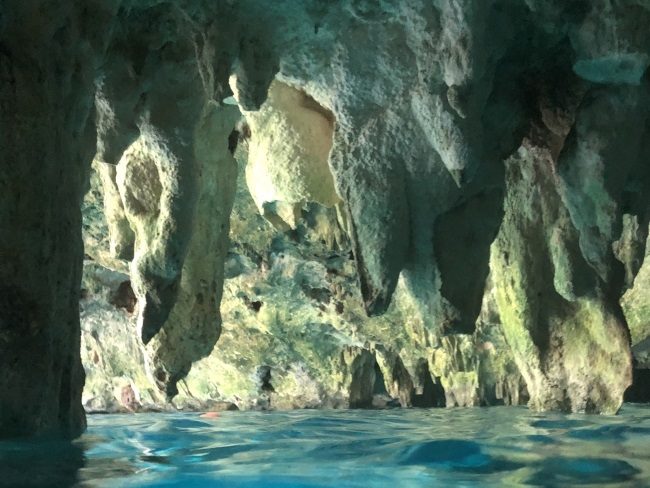 Facilities at Gran Cenote include showers, toilets and snorkeling gear rentals. Entrance fee (cash only) is 500 MXN per person. Under 4s enter free.
Spend the Day at XCaret Theme Park
One of the top family attractions in the Riviera Maya, Xcaret is a water and theme park located just a couple of kilometres south of Playa del Carmen. There are over 50 natural and cultural attractions to make a full day out visiting this sprawling natural park.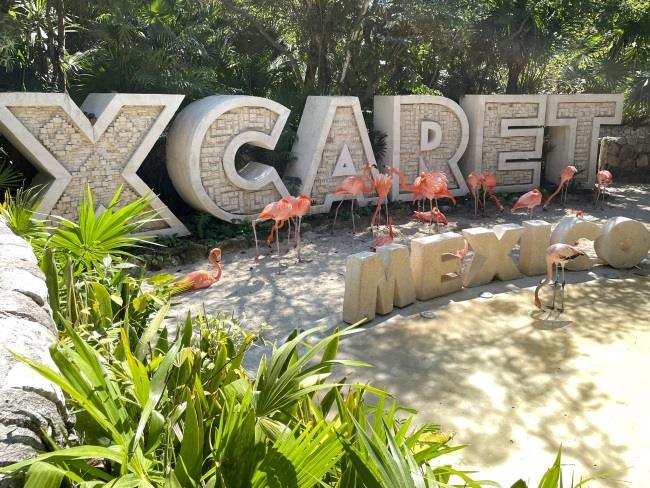 Highlights for us on our day out at Xcaret Park with kids were the incredible Aviary Birds Sanctuary, the Sea Turtle exhibit, snorkeling at the lagoon and floating along the underground rivers through caves, mangroves and tunnels.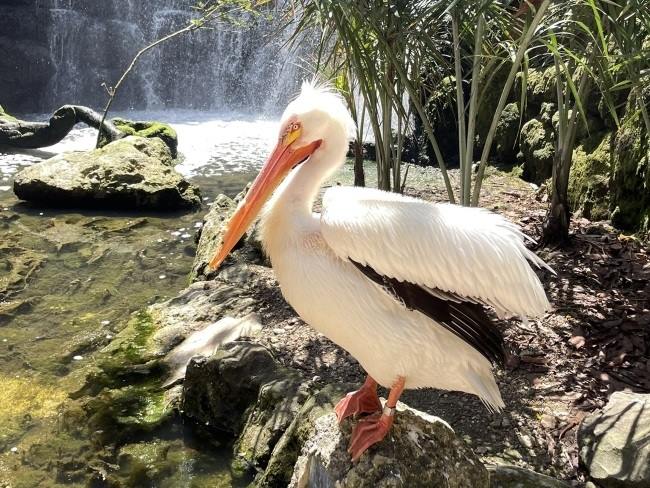 There is so much to do at Xcaret Park with kids, with activities extending into the evenings with performances and shows. The Xcaret Mexico Espectacular Show features 300 artists on stage taking the audience through the rich culture and history of Mexico.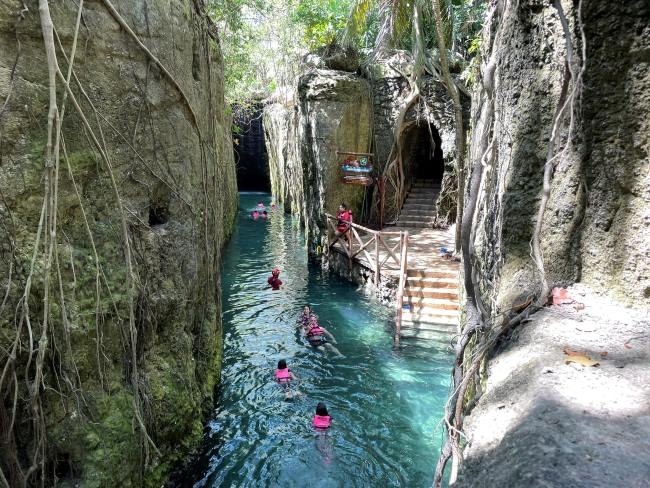 Fun things to do at Xcaret for familes also include visiting the Coral Reef Aquarium, playing at the Children's World area featuring slides and cenotes and seeing the Butterfly Pavilion.
Take the Ferry Boat to Cozumel Island
Another fun thing to do in Riviera Maya with kids is to plan a day excursion to Cozumel Island. A 45-minute ferry boat ride from Playa del Carmen, Cozumel is a popular destination for snorkeling and diving at its vibrant coral reefs and relaxing on its pristine beaches.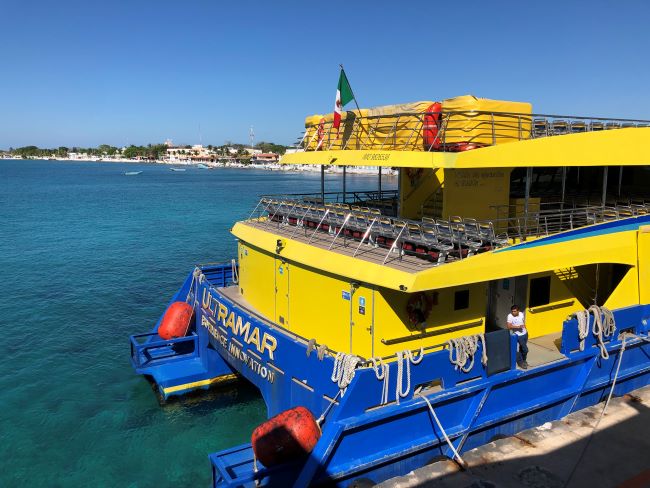 Money Bar Beach Club
On our day trip to Cozumel Island with kids, our first stop was at Money Bar Beach Club for lunch and snorkeling. Money Bar Beach Club has a family-friendly oceanfront restaurant, serving American and Mexican food, and a small sandy beach with sun loungers. Money Bar is about 7.5 km (15-minute drive) from the Cozumel ferry port.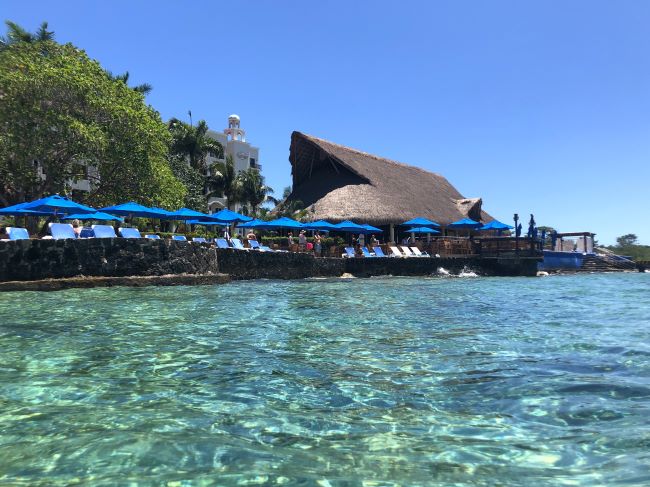 Money Bar Beach Club is on Dzul-Ha reef, which is a popular snorkeling spot in Cozumel. It is an easy place to go snorkeling since you can see a wide array of fish right off shore. Note that there are many rocky areas, sometimes with sea urchins hidden between the rocks, so you do need to wear water shoes or booties when swimming here.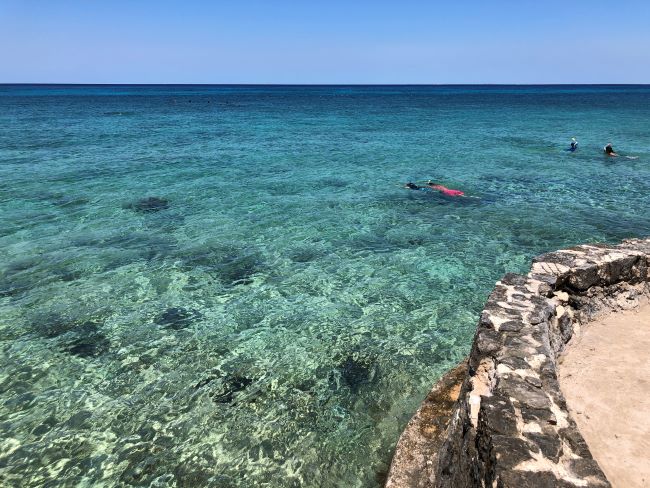 Playa Palancar Beach Club
Our next stop on Cozumel Island with kids was the family-friendly Playa Palancar Beach Club, located 20km (25-minute drive) from the ferry port. There is no entrance fee for Playa Palancar Beach Club, but there is an extra fee for chair and umbrella rentals. Remember to bring your own towels!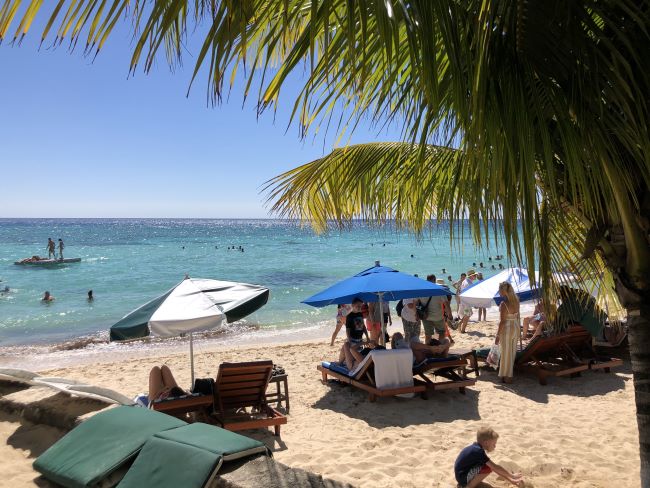 Facilities at Playa Palancar Beach Club include a snack bar and restaurant, outdoor showers and toilets, water equipment rentals and a small souvenir shop.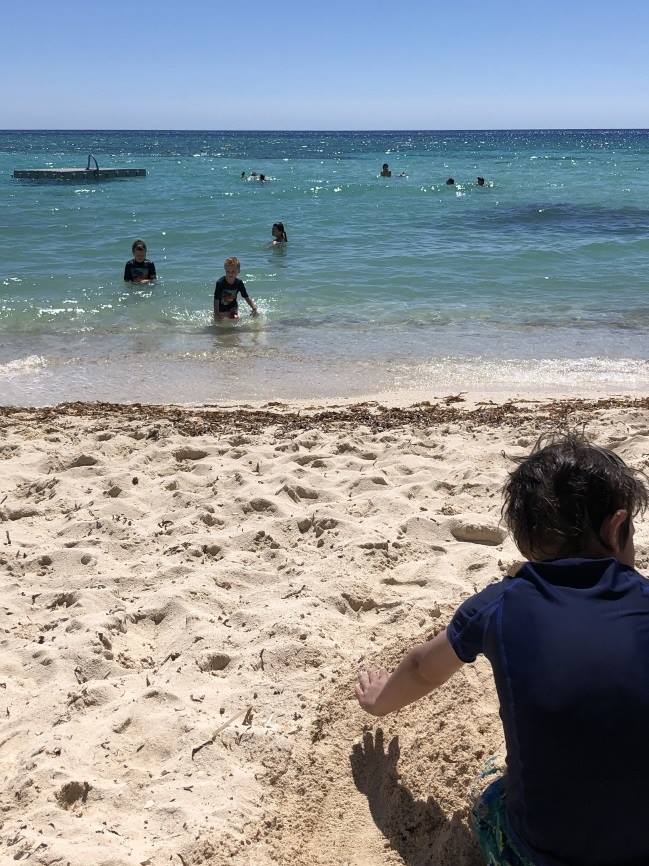 With its turquoise waters and pristine white sandy beach, Playa Palancar is one of the most beautiful beaches to visit on Cozumel Island with kids.
Go Snorkeling at Akumal Bay
Another fun thing to do in the Mayan Riviera with kids is to go snorkeling at Akumal Bay. Located about halfway between Playa del Carmen and Tulum, Akumal, which translates to "Land of Turtles" in the Mayan language, is a marine protected area and home to three species of turtles.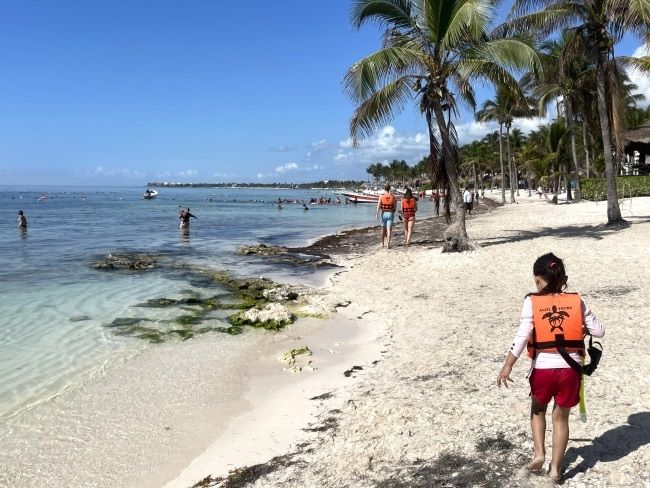 Sea turtles are drawn to Akumal Bay to feed on the abundance of sea grass growing at the bottom of the bay, and Akumal has become a popular spot for snorkeling and swimming with turtle tours.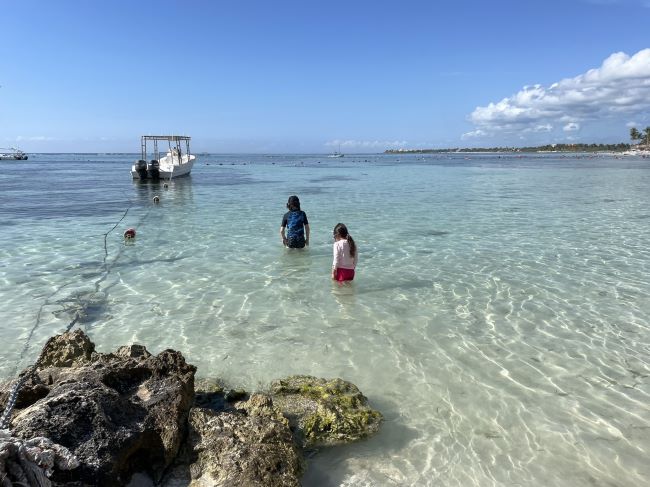 There are regulations in place for snorkeling at Akumal Bay to protect the sea turtles. If you are snorkeling independently, you are required to stay in a specified area within 150 feet of the shore.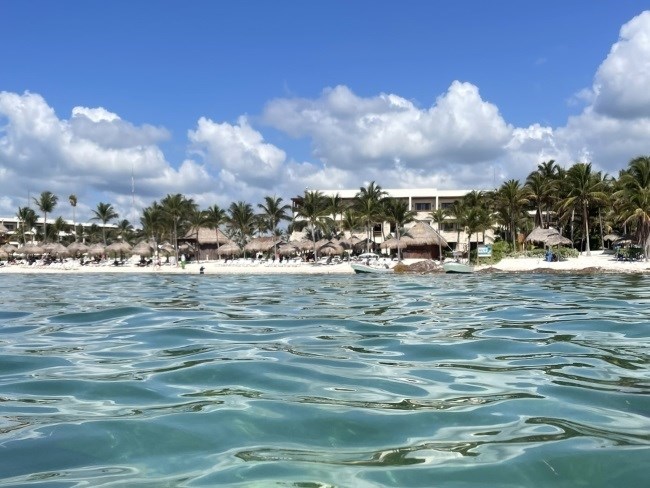 The other option is to pay for a snorkel tour with a licenced guide to go into the Akumal snorkel zone, where you have more opportunities to spot turtles, sting rays and several kinds of fish such as barracuda and parrotfish.
Day Trip to Chichen Itza Mayan Ruins
Chichen Itza, one of the most visited archaeological sites in Mexico, is about a 2 to 3 hour drive inland from the Riviera Maya. One of the new Seven Wonders of the World, Chichen Itza is a testament to the Maya people's wealth of knowledge in engineering, acoustics, astronomy and agriculture.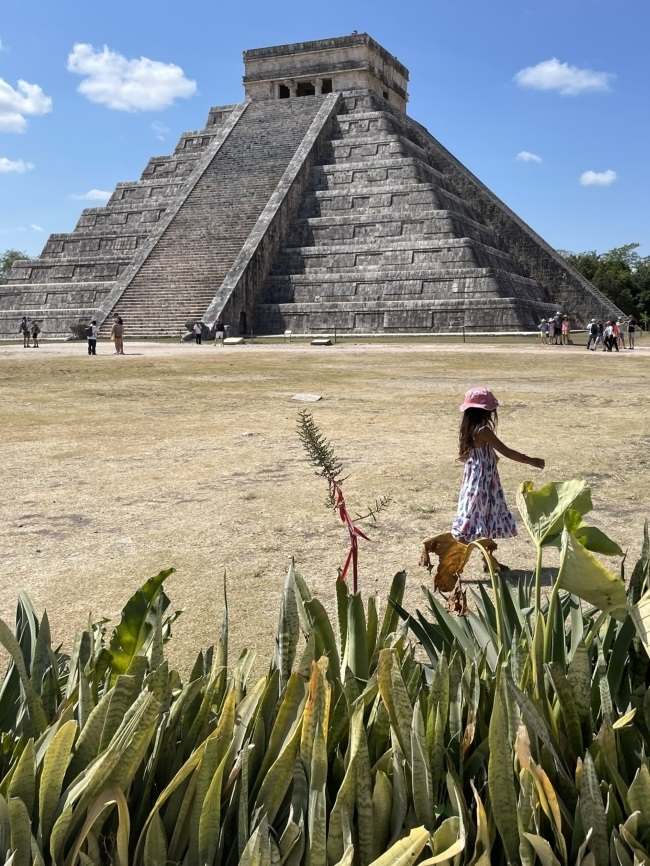 The city's temple, El Castillo was used as a calendar and has 365 steps: each of the temple's four sides has 91 steps, and the top platform makes the 365th. The temple was also built so that it lined up with the sun, and on the spring and autumn equinoxes, shadows from the sun create an illusion of a snake slowly sliding down towards the stone serpent head at the bottom of the pyramid. A person could also speak from the temple's top platform and be heard loud and clear throughout the square.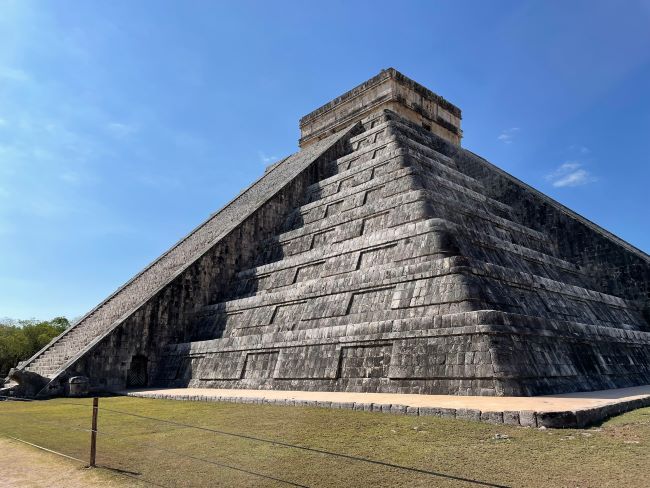 We have visited Chichen Itza with kids on two separate trips, each time booking a private family tour with Yax'kin Tours and Travel, which I would highly recommend. Booking a private tour meant our family could arrive early to beat the crowds (and the heat!) and move at our own pace, with a knowledgable, engaging guide.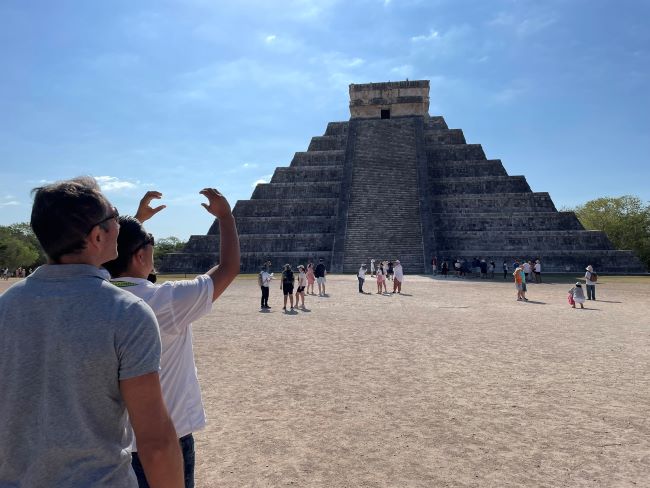 As part of the Chichen Itza excursion, our tour guide Angel at Yax'kin Tours and Travel arranged a visit to a nearby cenote, Cenote Saamal, then lunch at Hosteria del Marques in Valladolid.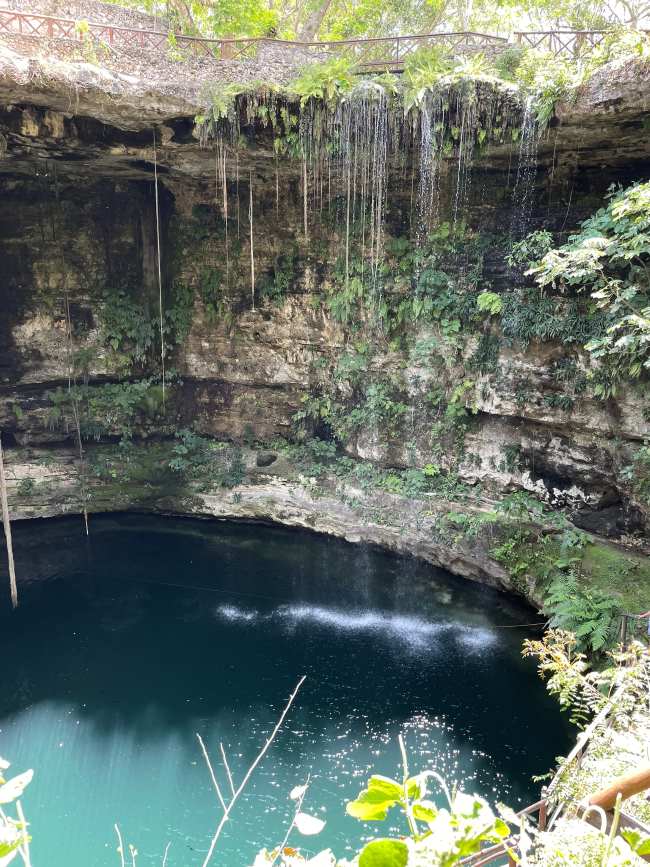 Visiting the cenotes after Chichen Itza is a great way to cool down and there are plenty to choose from in the surrounding area, especially near Valladolid. Cenote Saamal also has a buffet restaurant on site, Selva Maya, which is a sister restaurant to Hosteria del Marques.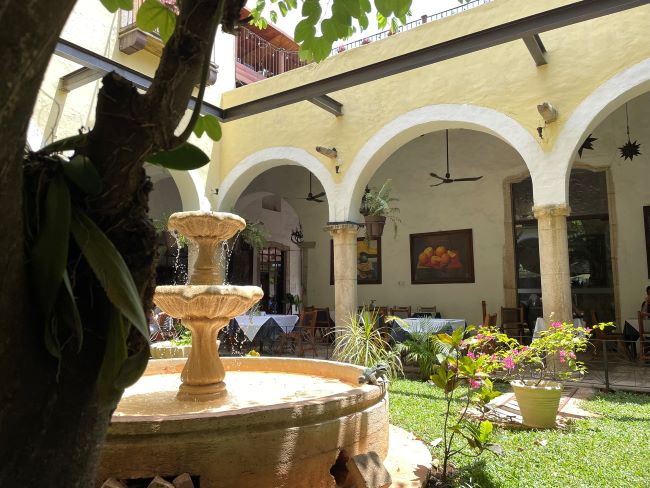 Hosteria del Marques is a lovely courtyard restaurant that specialises in regional Yucatecan cuisine. Regional specialities include cochinita pibil, pork (or chicken) marinated in achiote paste and citrus juices then slow roasted and served with tortillas.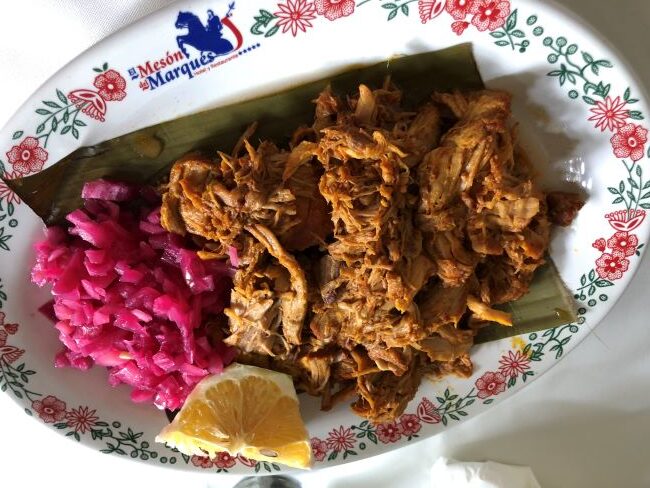 Riviera Maya Family Tour Guide
I highly recommend booking a trusted, knowledgable tour guide especially to get the most out of visiting the ancient Mayan ruins of Chichen Itza and Tulum. A tour guide can also help with transport for exploring the cenotes as well as organising other outdoor activities and cultural attraction visits in the region.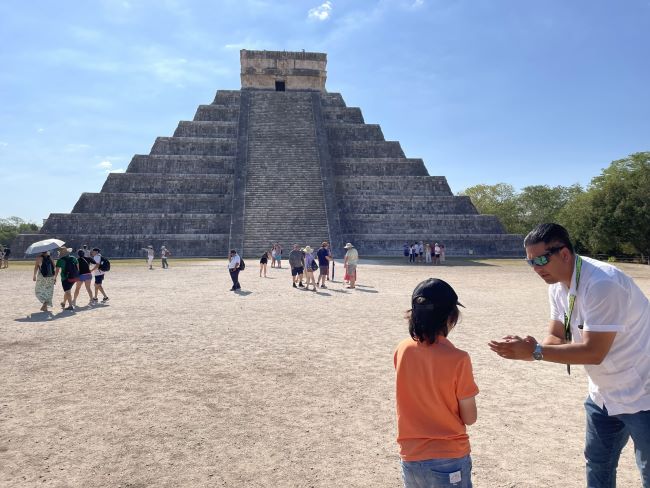 On our past two trips to the Riviera Maya with kids, our fantastic tour guide Angel at Yax'Kin Tours & Travels (not sponsored) organised several of our day trip excursions. He organised our private family tours to Chichen Itza and Valladolid, as well as day trips to the cenotes, Tulum ruins and Akumal Bay.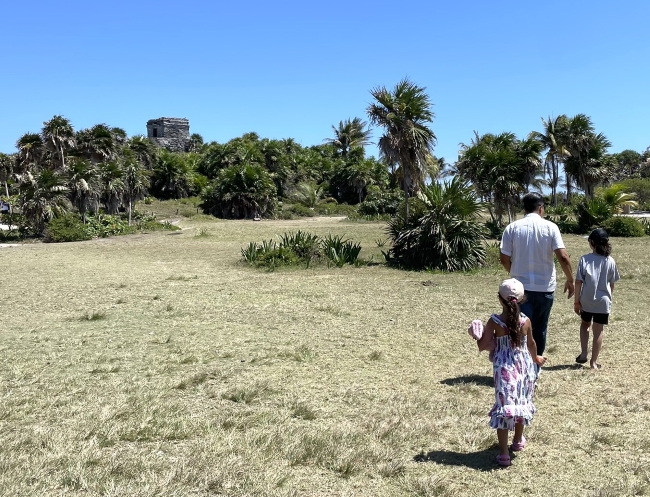 We have found booking a private tour worth the extra cost to arrive well ahead of the crowds, tour the site with a very knowledgeable guide and make the most of the day with other stops in the region. Angel is friendly, reliable, well-organised and full of amazing ideas of things to do in the region.
Book a Riviera Maya tour with Yax'Kin Tours and Travel
Thing to Do in Riviera Maya with Kids Map
I have also pinned our favourite Riviera Maya activities in my "Things to do in Riviera Maya with kids" Google Map Guide. For a direct link to the map to bookmark, click here. To explore the map, click on the door sign with an arrow just before the map title.
Family Travel Guides
I hope you have found this post on things to do in the Riviera Maya with kids helpful! Read on for more family travel inspiration and destination guides;
Family Guide to Visiting Morzine in Summer
Fun Activities in Bali for Toddlers
Tips for Visiting Waikiki Oahu with a Toddler
Things to do in San Diego California with Kids
Family Travel Guide to Oahu with Kids
Best Restaurants in Disneyland Paris
Turtle Release with Bali Sea Turtle Society
Family Guide to Visiting Chamonix in Summer
Things to do in Granada Spain with Kids
Things to do in Sedona Arizona with Kids
Pin for Later – Things to Do in Riviera Maya with Kids