Oahu offers a wide range of activities for the whole family to enjoy, from water sports to unique cultural experiences to hiking trails and much more. Along with its stunning coastline and laid-back countryside, there is a lot to explore on the island and in this post, I'll be sharing recommendations for things to do on Oahu with kids.
Enjoy water sports at Waikiki Beach
Like all beaches in Hawaii, Waikiki Beach is open to the public and there are plenty of places, particularly in front of hotels, where you can rent surfboards, stand-up paddle boards, kayaks and other water sport equipment. Taking a surf lesson and going out outrigger canoeing are two great experiences to enjoy at Waikiki Beach!
Outrigger canoeing is a fun way to enjoy the thrill of surfing from the safety of the canoe! Since people of all ages and abilities can participate, it's an ideal activity for the whole family. Young children (ages 3+) are welcome, as long as they have their own life jacket or flotation device and a parent or guardian is present to hold the child during the ride.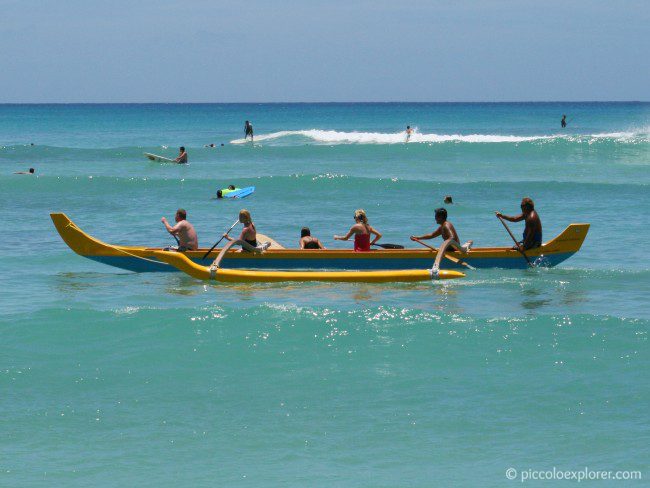 The warm waters off Waikiki are excellent for swimming, but in most parts the surf may be too strong for young children. One of the most kid-friendly beaches is Prince Kuhio Beach which is located between the Moana Surfrider and the Kapahulu Groin and also where you'll find the Duke Kahanamoku Statue on the boardwalk.
The beach is in an area protected from the surf by a break wall, making it a safe spot for swimming with calm waters. There are umbrellas and loungers available to rent and nearby toilets and showers, along with a big ABC store across the road for drinks, snacks and beach gear.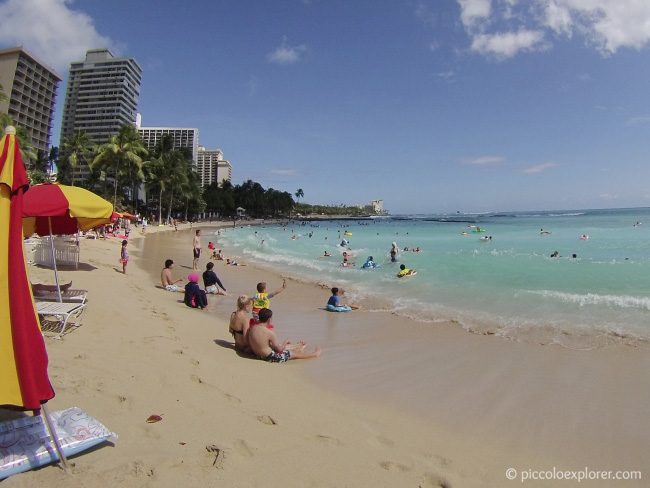 Have a picnic and enjoy a relaxing day at Kailua Beach Park
One of our favorite beaches on Oahu is Kailua Beach Park. Due to its steady, cooling trade winds and a protective reef, Kailua Beach Park is popular for all sorts of water sports, mainly windsurfing, kite surfing, kayaking, body boarding and stand-up paddle boarding. The beach to the south, Lanikai, also comes highly recommended for families and is a popular spot for kayaking.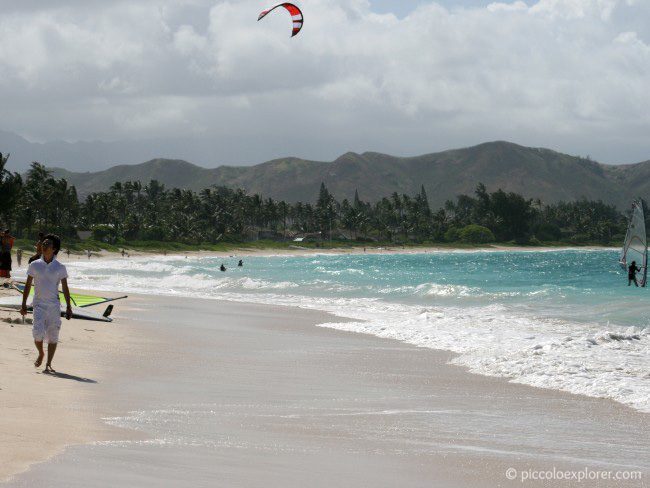 With a grassy area near the beach, Kailua Beach Park is also a great place for a picnic. Park facilities are open from dawn to dusk and there is hardly any lighting at the park at night, so I'd recommend being packed up and ready to go before dark. There are toilets and beach showers at the beach park, and plenty of free parking.
Related: Snapshots from Kailua Beach Park
Kailua Beach Park | 526 Kawailoa Road, Kailua, HI 96734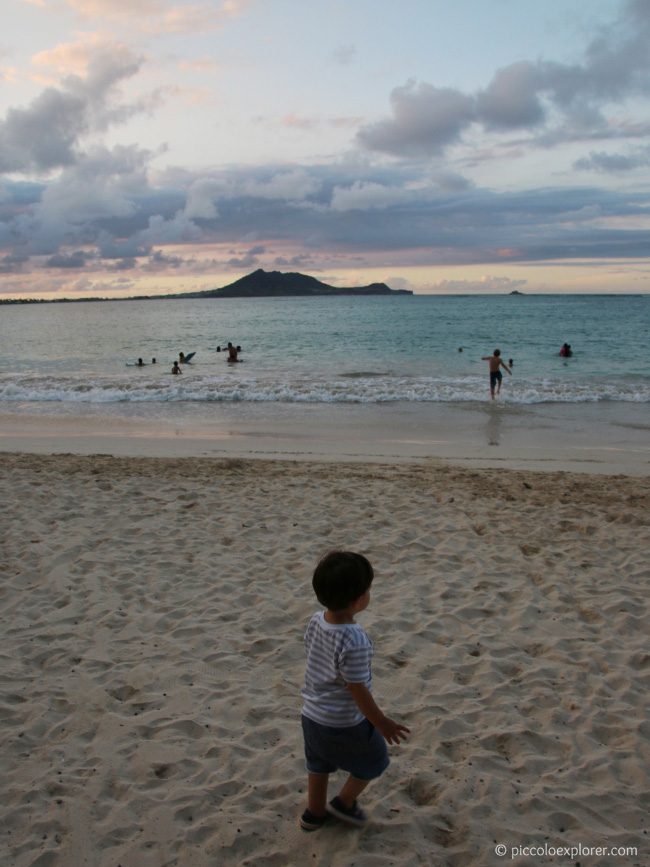 Go snorkeling at Hanauma Bay
Hanauma Bay Nature Preserve is a beachfront protected park and popular spot for snorkeling. The calm waters of the cove, which is an old volcanic crater, make it ideal for swimming and snorkeling for all ages and abilities. The darker areas in the photo below are the coral, with plenty of colorful fish and marine life to discover. We even saw a sea turtle swimming by! It costs $1 per car to park, $7.50 per person to enter; free for children under 13 or Hawaii residents. You'll find a snack shop, lockers and snorkel gear rental services at the bay.
Hanauma Bay Nature Preserve | 100 Hanauma Bay Rd, Honolulu, HI 96825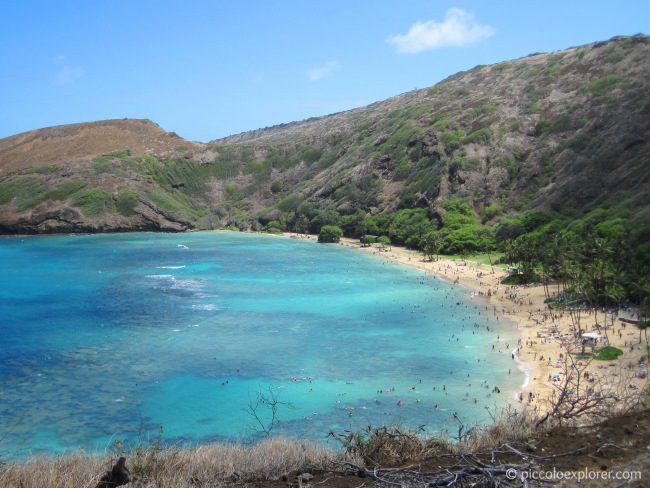 Experience the islands of Polynesia at the Polynesian Cultural Center
Visiting the Polynesian Cultural Center on Oahu with kids is an excellent experience, featuring authentic villages from 6 Pacific cultures, art and music demos, shows and presentations and plenty of hands-on activities and games. In the evenings, at extra cost, are a luau and performances. We loved exploring the villages and learning more about the islands that they represent – Hawaii, Tahiti, Tonga, Samoa, Aotearoa (Maori New Zealand) and Fiji.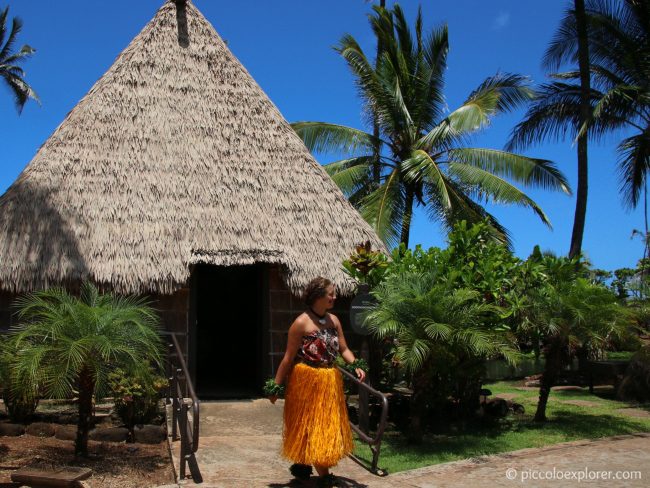 A great show to watch while you visit is the daily canoe pageant, "Rainbows of Paradise," which features dance performances of each culture with vibrant, traditional costumes on double-hulled canoes in the PCC's lagoon.
Ticket prices start at $59.95 per adult; $47.96 for children 5+, children under 5 enter free, for basic admission from 12pm to 6pm. There are various packages available on the website that include evening luau and dining experiences.
Polynesian Cultural Center | 55-370 Kamehameha Hwy, Laie, HI 96762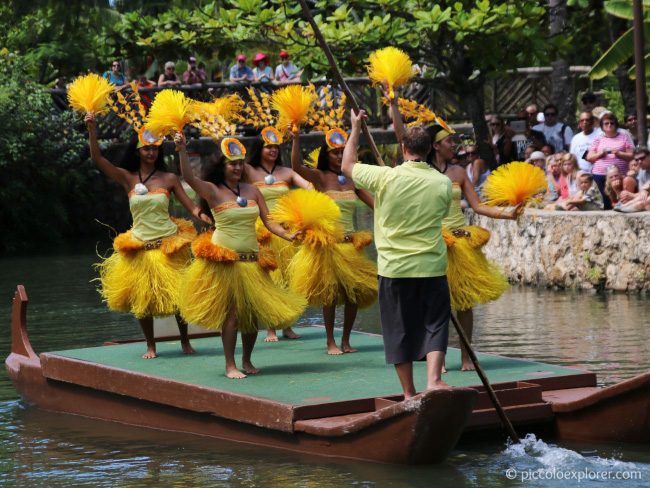 Get up close with local marine life at Waikiki Aquarium
Another place to visit on Oahu with kids, is the Waikiki Aquarium which offers a good look at a wide array of fish, coral, sea anemones, jellyfish and more in exhibits highlighting the marine communities throughout Hawaii and other parts of the Pacific. There is also an outdoor coral reef exhibit with the typical marine life you'd see snorkeling along Hawaii's reefs, including parrot fish and sea urchins – and an interactive area with a tide pool, great for little ones, where you can have a close look at a sea urchin and hold a hermit crab in your hand.
Related: Our Visit to the Waikiki Aquarium post.
Waikiki Aquarium | 2777 Kalakaua Avenue, Honolulu, HI 96815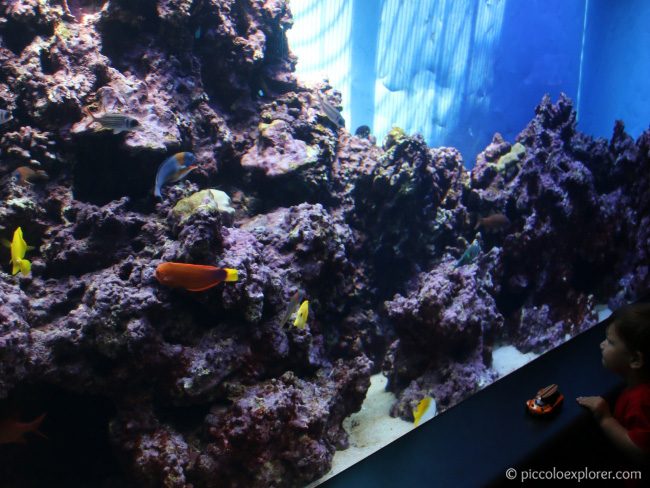 Experience a traditional Hawaiian luau
There are several luau venues throughout Oahu where you can get a taste of Hawaiian food – like kalua pig and poi (taro starch) – watch the hula and learn more about the local culture. We enjoyed the luau experience at Paradise Cove, in the Ko Olina area of Leeward Oahu, which started off in the late afternoon with Hawaiian arts and crafts, activities and demonstrations, such as learning the net fishing techniques of old Hawaii.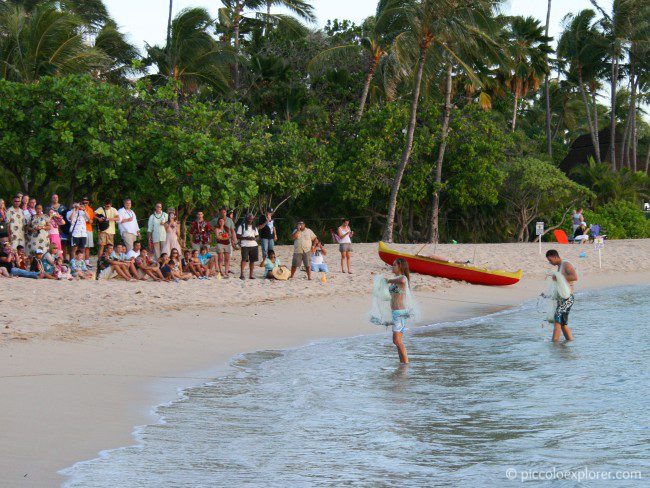 As the sun set (and the venue has an amazing view), there was a traditional imu ceremony, when the roasted kalua pig to be served at dinner is lifted from the imu, or underground earth oven. Over dinner, we listed to live music and watched performances of the hula and dances from across Polynesia, including the Tahitian dance and Samoan fire-knife dance. It was a memorable evening and at Paradise Cove, I'd recommend getting the Deluxe package for table service and seats close to the stage for the performances.
Paradise Cove | 92-1089 Ali'inui Dr, Kapolei, HI 96707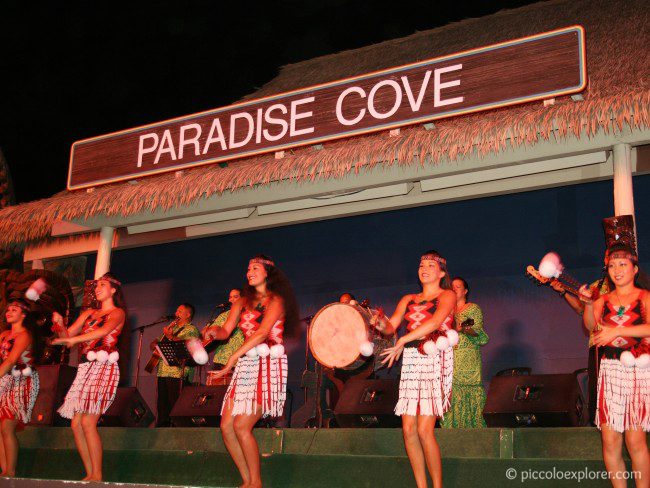 Go horseback riding in the countryside or at the beach
Oahu's valleys, forests and beaches are great for horseback excursions, and there are many ranches around the island offering lessons and trail rides.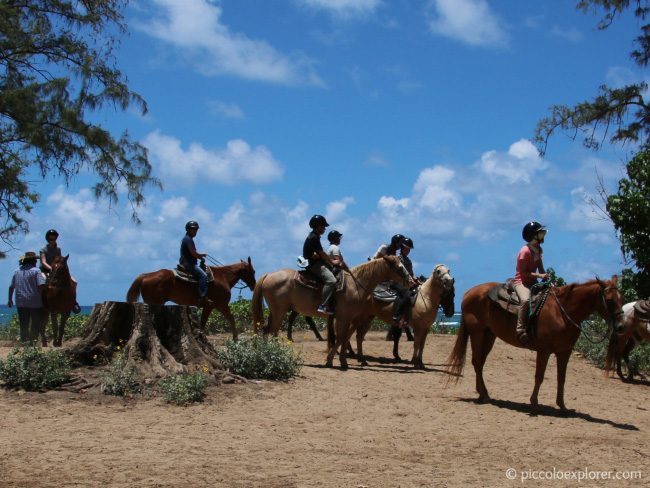 For younger children, some ranches also offer pony rides. We brought Little T to the Turtle Bay Resort for the Pony Experience they offer for children 6 and under. Each session is 15 minutes long, and children learn how to groom and feed the pony before heading out on a ride on the pony or a pony drawn cart.
Related: Pony Experience at Turtle Bay Resort
Turtle Bay Resort | 57-091 Kamehameha Hwy, Kahuku, HI 96731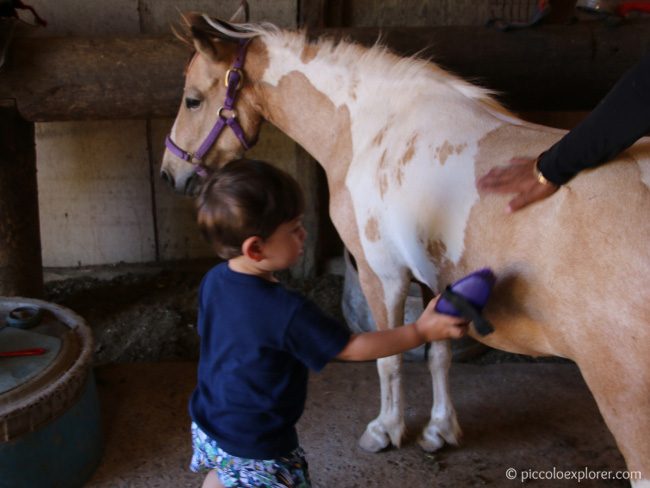 Hike the Diamond Head trail
Hiking the Diamond Head State Monument is a popular activity with tourists and locals alike, and at the summit you're rewarded with breath-taking views of Honolulu and the Pacific Ocean, with the trail bringing you to the edge of a 300,000 year old crater.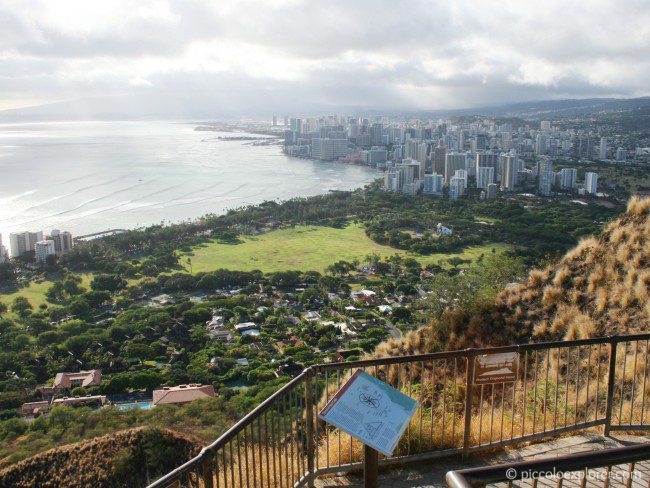 The 0.8 mile hike from the beginning of the trail to the summit is steep and strenuous, gaining 560 feet as it ascends from the crater floor, and at the end, there are about 200 steps of stairs leading to the top that are especially steep. Allow 1 1/2 to 2 hours for the hike and ideally go in the early morning or late afternoon – make sure to bring plenty of water! $5 per car or $1 per person for pedestrians. The park only accepts cash.
Diamond Head | Diamond Head Road, Honolulu, HI 96815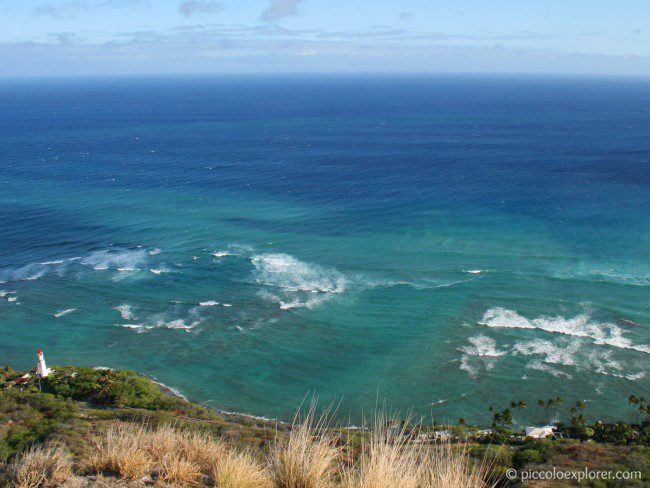 Watch turtles basking in the sunshine at Laniakea Beach
Laniakea Beach, or Turtle Beach, on the North Shore is a beautiful family-friendly beach and a popular spot for sea turtles to come by to eat the seaweed on the rocks or bask in the sunshine. We saw some swimming in the shallow water while we were there. They're wonderful to see – just keep in mind to always keep your distance and never touch the turtles!
Laniakea Beach | 83 Kamehameha Hwy, Haleiwa, HI 96712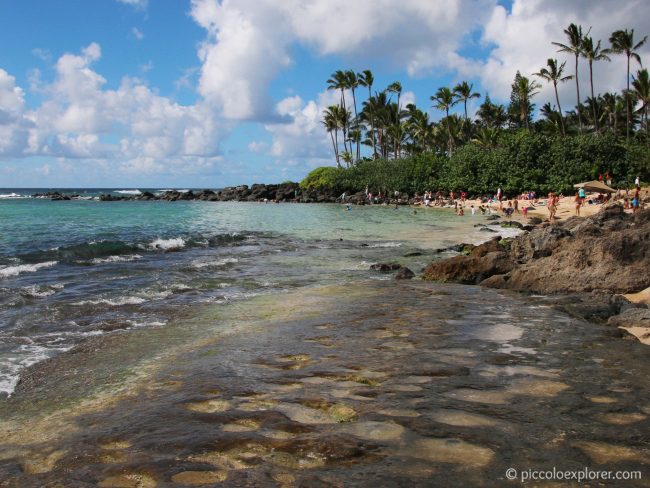 Visit the USS Arizona Memorial, Pearl Harbor
Last but not least on our list of activities on Oahu with kids, is the very memorable and moving experience visiting the USS Arizona Memorial in Pearl Harbor. The memorial is built over the remains of the sunken battleship USS Arizona, and marks the resting place of 1,177 sailors and Marines killed on board during the Japanese surprise attack on Pearl Harbor, on December 7, 1941.
The tour starts with a 23-minute documentary film on the history of the politics, the people, and the attack on Oahu, then visitors take a boat to the memorial. There is no age limit and children do not need a ticket if they are small enough to sit on the lap of their guardian during the film and while on the boats to and from the USS Arizona Memorial. Tickets to the USS Arizona Memorial are free and 1300 tickets are given away every day from 7am and available on a first-come, first-served basis.
USS Arizona Memorial | Pearl Harbor Visitor Center, 1 Arizona Memorial Place, Honolulu, HI 96818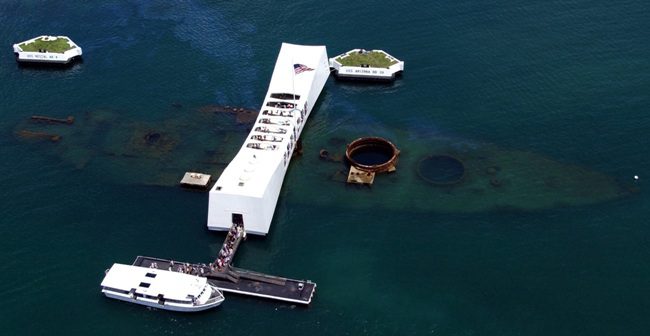 Photo courtesy of the National Parks Service
PIN FOR LATER – Things to do on Oahu with Kids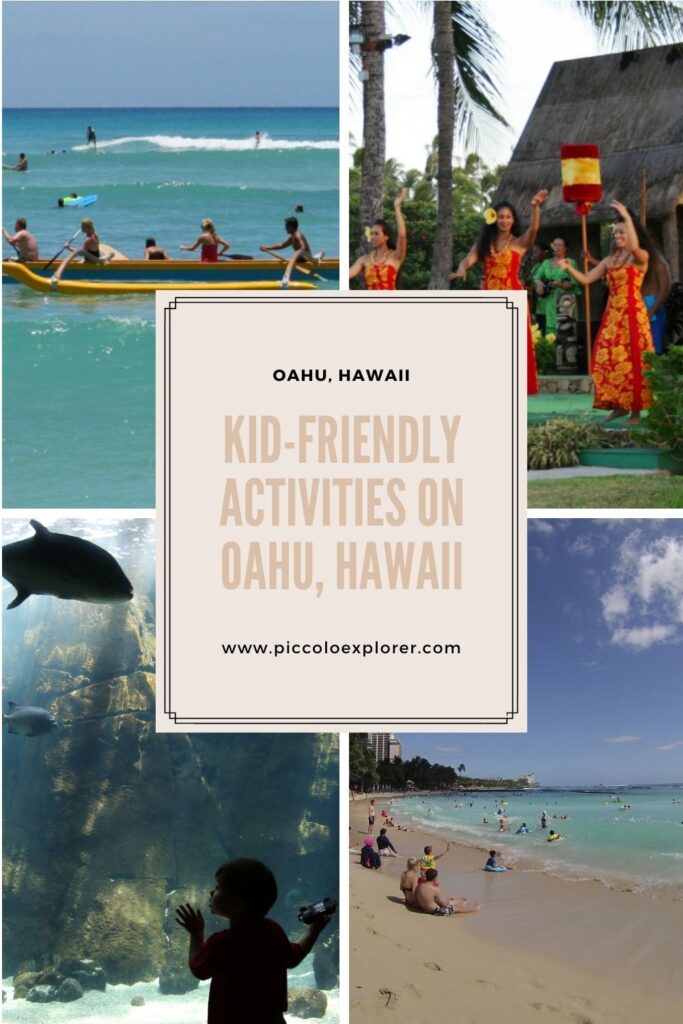 For more tips on visiting Oahu with kids, have a look at our Oahu Destination Guide