Oahu, Hawaii is a great family travel destination, with plenty of things to do with kids, a laid-back aloha spirit, beautiful beaches and family-friendly attractions. Whether you're staying in Waikiki for a couple of days as a stopover on your way to another destination in the Hawaiian islands, or for a longer stay like we did, I hope you find these tips for visiting Waikiki with a toddler helpful to making your stay comfortable and fun.
Visiting Waikiki with a Toddler
Pack the essentials so you're ready for the beach
Bring the practical items with you, as luggage weight allowance permits, so you are ready to hit the beach on day one and prepared for any urgent needs. Pack any medicines you may need and make sure to bring along beach essentials such as sunscreen, a rash vest, beach shoes and a couple of sunhats. If you have particular brands for toiletries you prefer to use for your baby or toddler, I would recommend bringing your own since the selection at the local shops can be limited.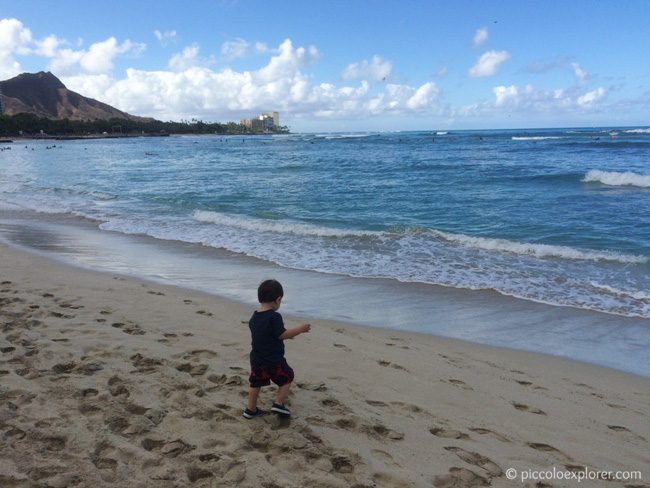 I usually pack in the suitcase several diapers, a couple of swim diapers and a pack of wet wipes, enough to last for the first couple of days to give us time to settle in before heading over to a shop to stock up. Food Pantry is the most convenient place when staying in Waikiki with a toddler for essentials, including a wide selection of diapers and wet wipes.
You can find baby and toddler size rash vests and other beach gear at the local shops (such as Quiksilver), but you may prefer to shop around at home for better deals. Most ABC Stores have a small household section stocked with sponges, small bottles of washing liquid and laundry detergent.
Related: Things to do with Kids on Oahu
Find baby and toddler supplies at Food Pantry

Food Pantry is located on Kuhio Avenue, a short walk away from the Moana Surfrider and Sheraton Princess Kaiulani. You'll find the essentials, such as toiletries, medicine, cereal, snacks, juice and other groceries. The Food Pantry have a good selection of souvenirs and local food, including an aisle dedicated to macadamia nuts. There are also some hot food counters serving quick meals at the entrance.
Being in Waikiki, prices are at a slight premium although there were quite a lot of manager's specials on various products. If you're staying at a hotel room or condo with a kitchenette and are planning on cooking regularly, you might prefer to drive to Safeway or Foodland, both about 1 to 2 miles away from the main part of Waikiki.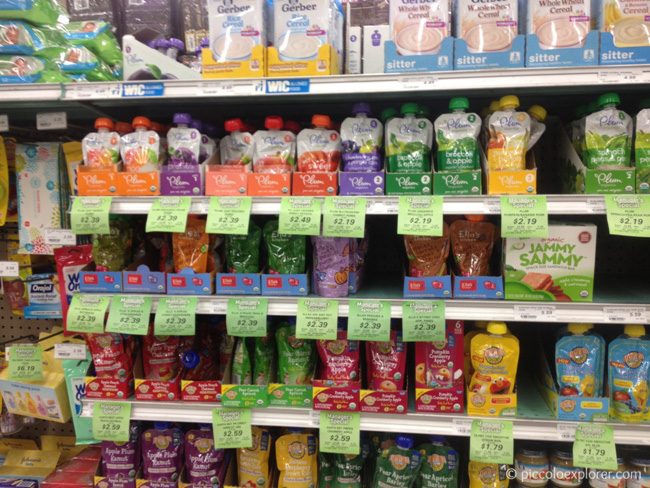 Food Pantry offers many of the essentials you may need staying in Waikiki with a toddler. You'll find a wide range of snacks to diapers, swim diapers and wet wipes, with brands such as Huggies, Pampers, Seventh Generation and The Honest Company.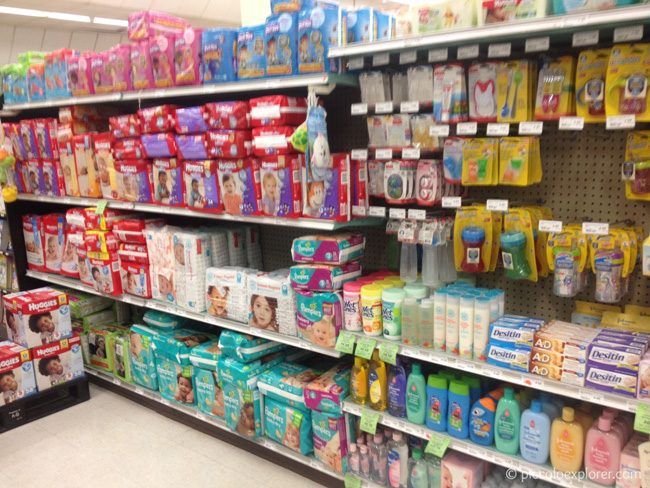 ABC Stores offer basic souvenirs, food and drink and practical essentials

If you're looking for cheap and cheerful beach toys, towels, inflatable mattresses and rings, the large ABC Stores along Kalakaua Avenue are well stocked and you can have the items inflated for a small fee at the cash register.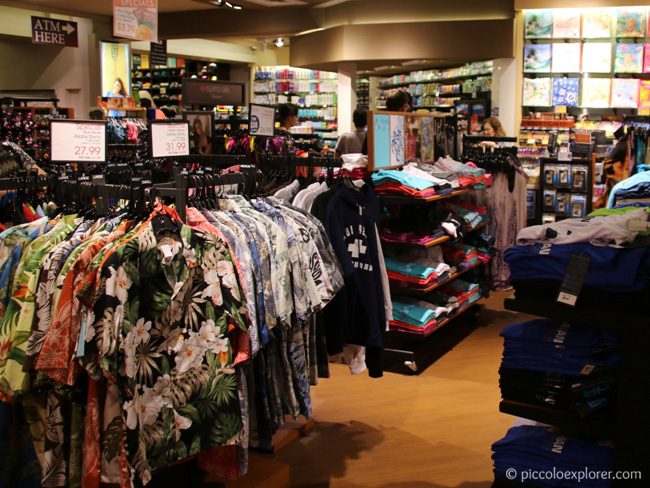 For a quick lunch, most ABC Stores have prepared sandwiches, sushi and salad in their deli sections. Almost all stores are open from 6:30 AM to 1 AM.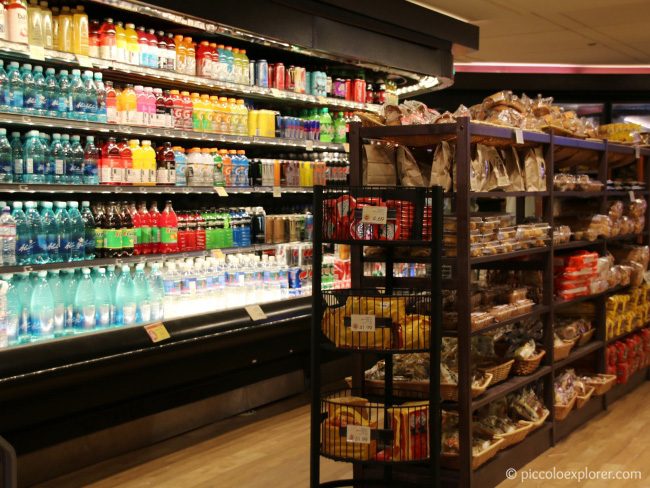 Get an up close look at the local marine life at the Waikiki Aquarium
The Waikiki Aquarium is just the right size for a one hour visit with a toddler, offering a good look at a wide array of fish, coral, sea anemones, jellyfish, seahorses and more in exhibits that highlight the marine communities throughout Hawaii and other parts of the Pacific.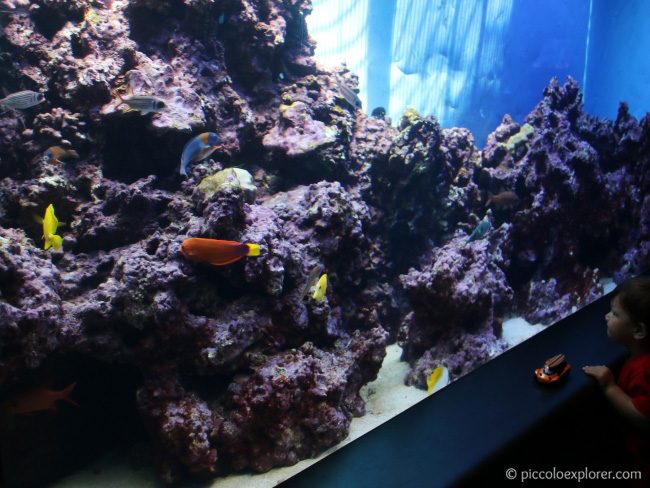 There is also an outdoor coral reef exhibit with the typical marine life you'd see snorkeling along Hawaii's reefs, including parrot fish and sea urchins – and an interactive area with a tide pool, great for little ones, where you can have a close look at a sea urchin and hold a hermit crab in your hand. There are also two monk seals living at the aquarium who were rescued as pups.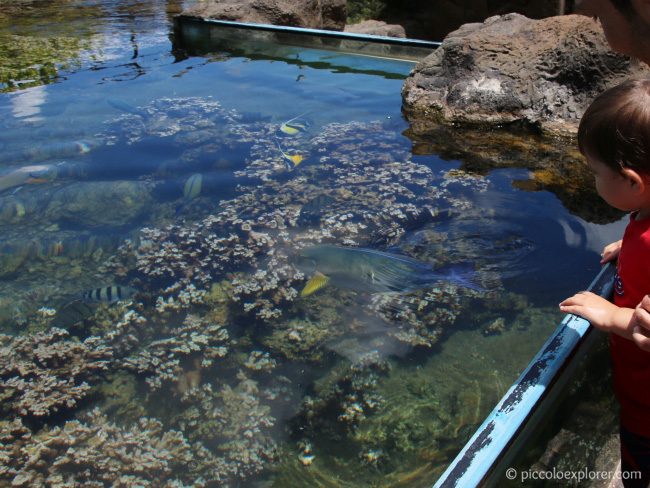 Read more: Family Visit to the Waikiki Aquarium
Poppins at the Sheraton Waikiki offer a kids room, group activities and a babysitting service
While the Moana Surfrider doesn't have an on-site creche, we were recommended the Poppins Keiki Kids room located at the Sheraton Waikiki which is the only hotel based drop-in childcare centre for kids 3 months of age and up. Poppins are a Japan-based company and in addition to the kids' room, they offer fun group activities, educational programs and a babysitting service.
Little T had a great time at the kids' room and I found the employees to be lovely and professional. We would have liked to schedule the babysitting service too but they were fully booked for the last few days we were there. If you're interested in booking a babysitter when visiting Waikiki with a toddler, definitely check their availability as soon as possible to get a date in the diary.
Hilo Hattie have an excellent selection of matching outfits for the whole family
We don't often have good photos taken of the three of us, and a professional photo session booked through the Moana ended up being the perfect souvenir of the trip. We decided on matching aloha style outfits, and it was difficult to find a matching look for a toddler and adults in the Waikiki area. We ended up finding Hilo Hattie at the Ala Moana Center which have an excellent selection of clothing of all sizes.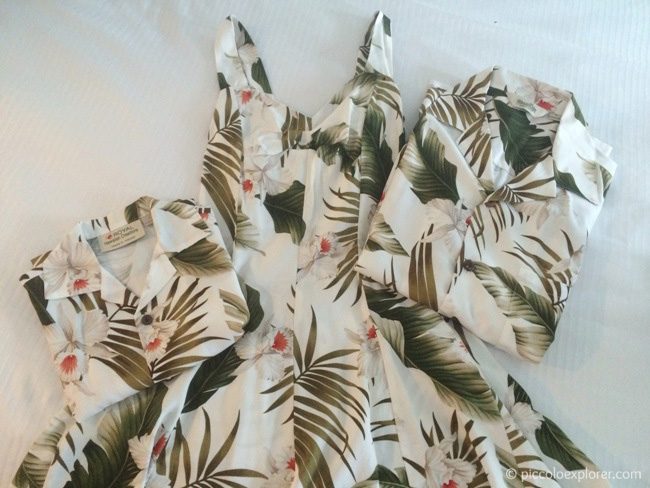 There were plenty of dress styles to choose from for every body type and a good selection of colors and designs to match your style. I ended up with a retro style dress that I absolutely love and Little T and Mr G wore matching aloha shirts with khaki shorts. I'd highly recommend visiting Hilo Hattie if you're looking for a great selection of aloha wear across all sizes, including baby and toddler.
Related: Moana Surfrider Waikiki Hotel Review
Check for "kids eat free" specials at Waikiki restaurants
Most Waikiki restaurants cater well to families, offering high chairs and booster seats, changing tables in the restrooms, kid's (keiki) menus, and often crayons and coloring sheets.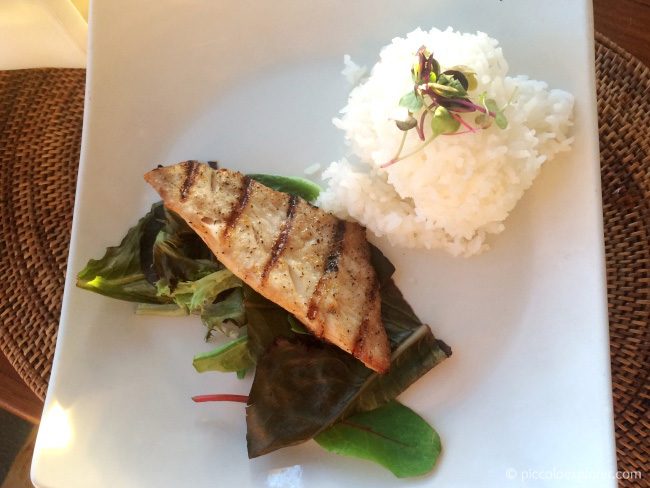 It's also worth checking which restaurants currently have "kids eat free" offers. At several of the restaurants at Waikiki hotels during our visit, such as the Moana Surfrider and Royal Hawaiian, kid's meals were complimentary for hotel guests with purchase of an adult meal.
Related: Beachfront Restaurants in Waikiki
Kuhio Beach is one of Waikiki's best kid-friendly beaches
Kuhio Beach is located between the Moana Surfrider and the Kapahulu Groin and is also where you'll find the Duke Kahanamoku Statue on the boardwalk. The beach is in an area protected from the surf by a break wall, making it a safe spot for swimming and one of the best beaches to go to in Waikiki with a toddler. There are umbrellas and loungers available to rent and nearby toilets and showers. There's a big ABC store across the road for drinks, snacks and beach gear. The Honolulu Zoo and Waikiki Aquarium are only a 10 to 15 minute walk away.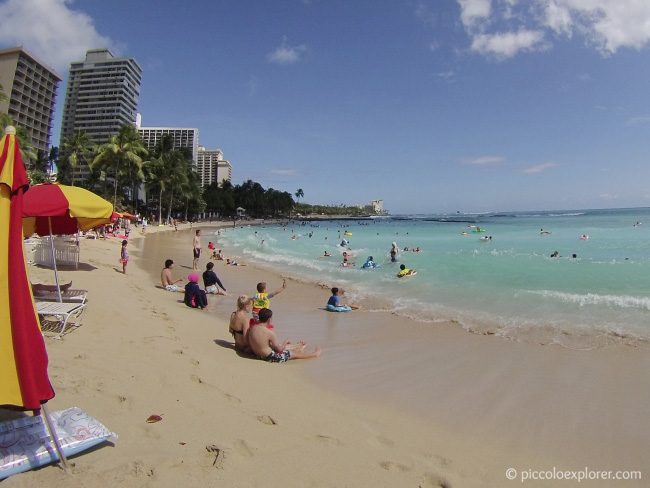 For more tips on visiting Oahu for families, have a look at our Family Travel Guide to Oahu with Kids
This guide for Visiting Waikiki with a Toddler has been updated on 5 May 2022 with updated shop information. 
Save