In early March, we traveled to Prague for a long weekend staying at the Four Seasons within a short walk of many of the city's attractions. Prague is a stunning city to explore by foot and admire the architecture spanning over eight centuries of history. Since the city didn't suffer large-scale destruction during World War II, its medieval Old Town remains largely intact and it's a pleasure to wander around the beautiful and well-preserved historic buildings.
While on previous holidays before Little T was born, we would have packed a lot of sights in, this time around Mr. G and I picked a few places to visit and kept a somewhat leisurely pace. It worked out well that Prague is so easy to get around. We brought Little T's stroller along for longer walks but he was mostly walking on his own as we explored the Old Town Square, Prague Castle, Charles Bridge and the riverside paths.
This post is a summary of our trip to Prague, where we stayed, what we did, where we ate and shopped. We had a great time and I highly recommend visiting beautiful Prague. It made for an excellent place to visit for a weekend city break.
Where We Stayed
The Four Seasons Prague came highly recommended to us by just about everyone and for good reason. The hotel has an excellent location within walking distance of Old Town Square and Charles Bridge, along with fantastic riverside views of Prague Castle from its CottoCrudo restaurant and many of its rooms.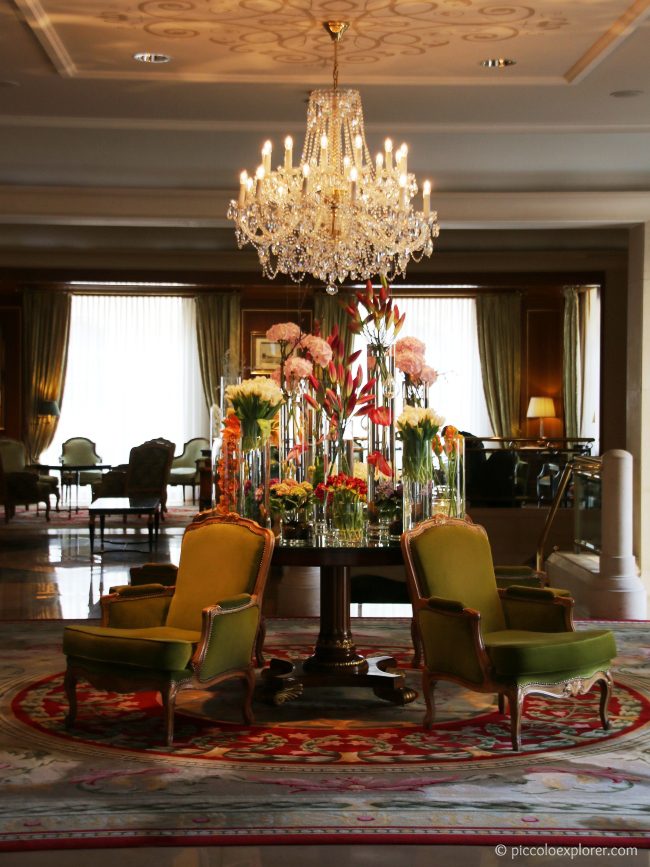 Staying at the Four Seasons was one of the highlights of our trip. Not only is it a beautiful hotel with a convenient location, but it's also very welcoming to families. In the bathroom was an amenity basket for Little T with children's body wash, lotion, colorful towels, a bath toy and sponge, plus a kid-sized bathrobe and slippers and a step for the sink.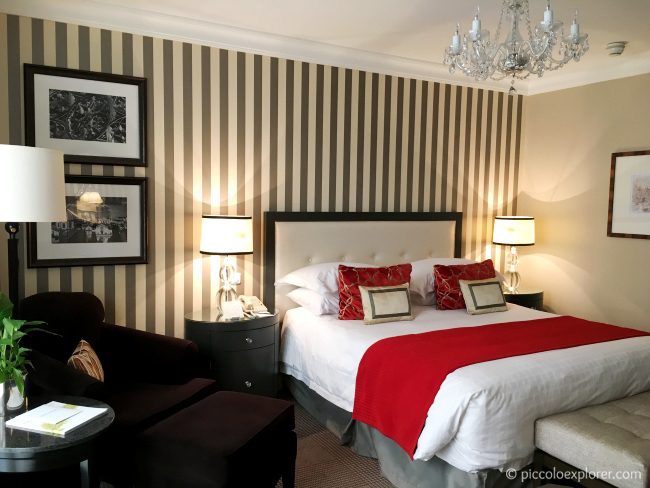 And when we came back from dinner on our first night, we found this lovely surprise on our desk: a gingerbread horse with icing, some biscuits, a coloring book and a bedtime story.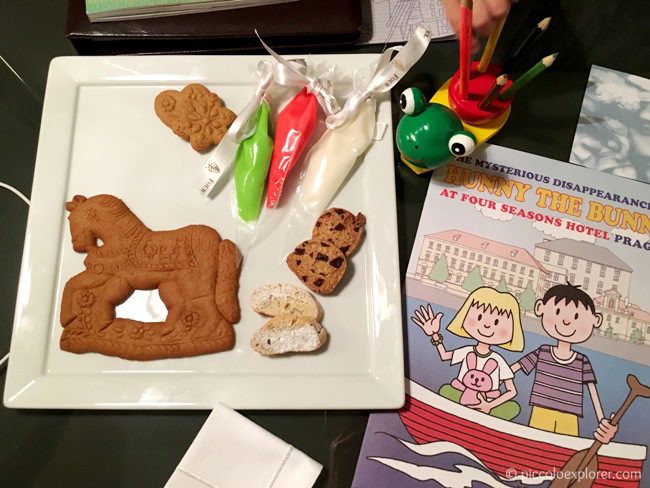 What We Did
We spent our city break sightseeing, starting off with passing through the Old Town Bridge Tower and taking a walk across the famous Charles Bridge.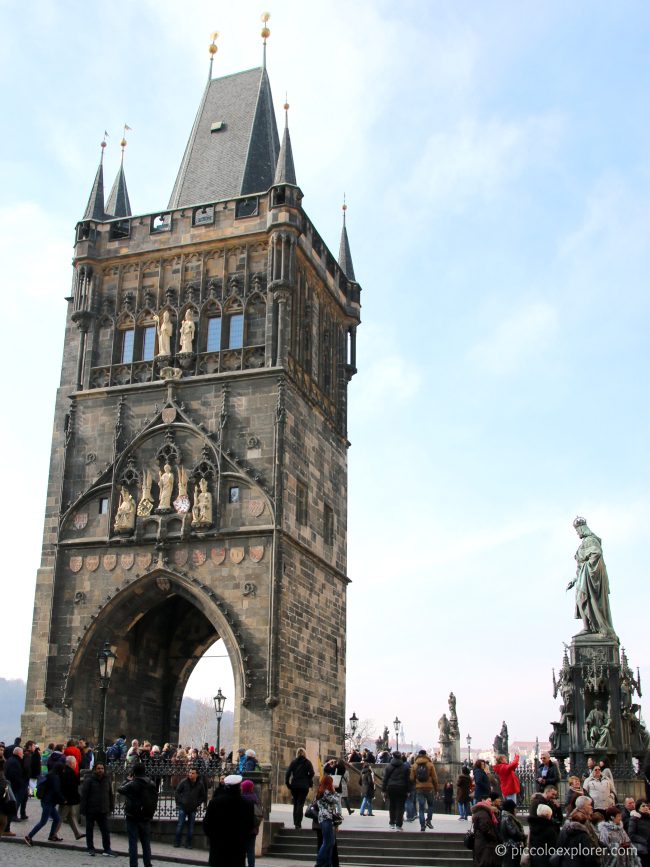 It was about noontime when we arrived and very crowded along the bridge as people snapped the stunning views along the river, especially of Prague Castle overlooking the city with the spires of St Vitus Cathedral jutting out above the castle buildings.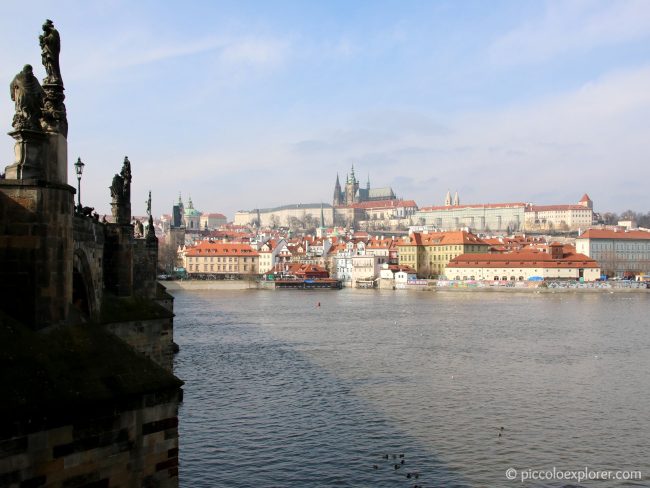 One of the most famous statues along Charles Bridge is of Saint John of Nepumok, the court priest of King Wenceslas IV who was thrown off the bridge to his death on orders by the king for not divulging the secrets of the queen's confession. Legend has it that a cluster of stars appeared above the spot where he drowned, which is why stars are depicted on all of his statues and a few steps away from the statue (left side of bridge, towards Old Town) you'll find a cross with five stars at the spot where he was thrown into the river in 1383.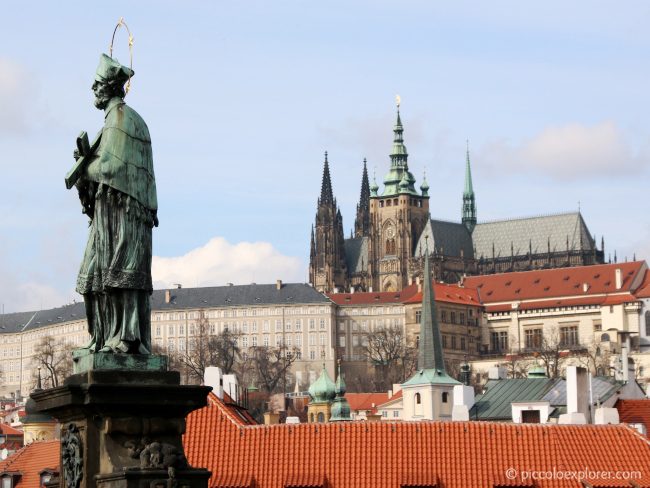 There is a bronze plaque on the statue that depicts the priest being thrown off the bridge and it is said that touching the falling priest is meant to bring good luck and ensure your return to Prague.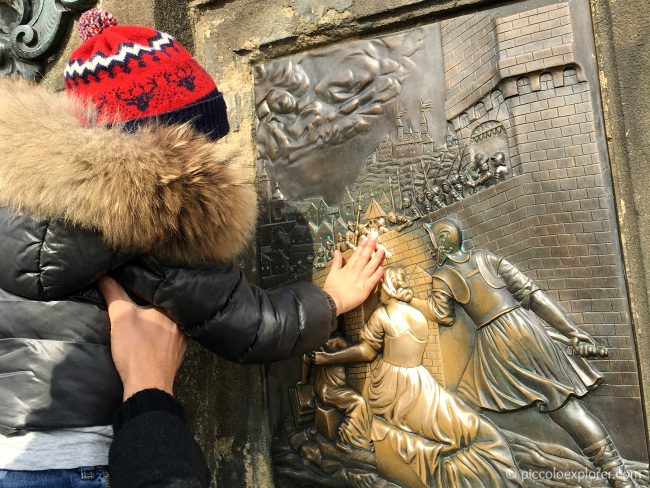 We also strolled around the heart of Old Town a few times during our visit, admiring the splendid Romanesque, Baroque and Gothic buildings and churches that line the square.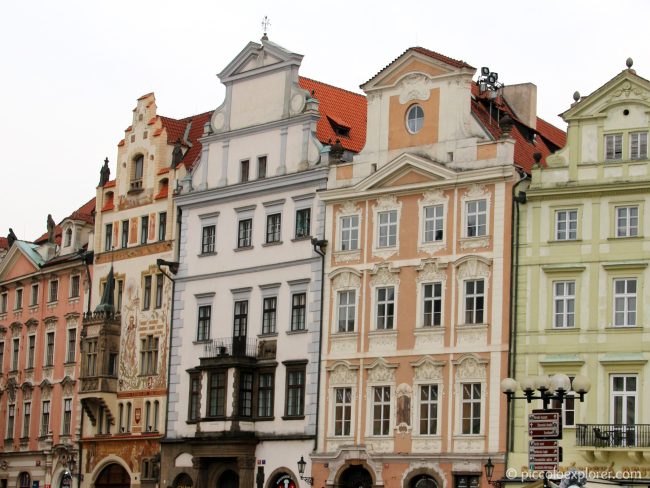 Old Town Square is free of traffic, aside from the occasional horse-drawn carriage, with plenty of cafés and restaurants that look perfect for enjoying casual al fresco dining in warmer weather.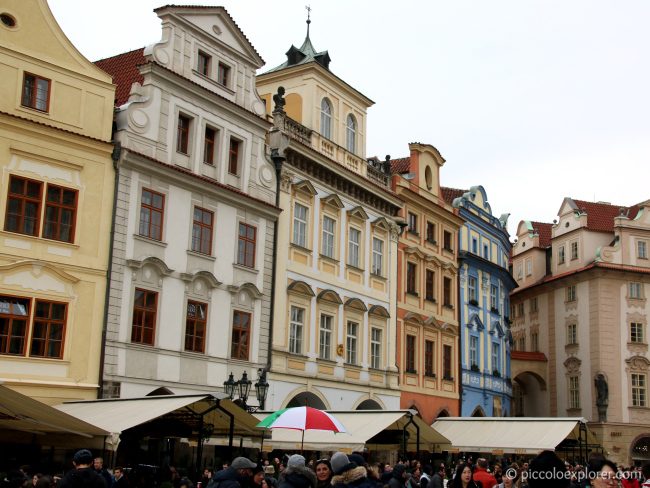 Prague's famous Old Town City Hall, which was completed in 1364, is one of the most striking buildings in Old Town Square, famous for its intricate Astronomical Clock that dates back to the beginning of the 15th century. Every hour on the hour, the skeleton (representing Death) on the upper right pulls a string and wooden figures of the 12 apostles appear in the windows above the clock.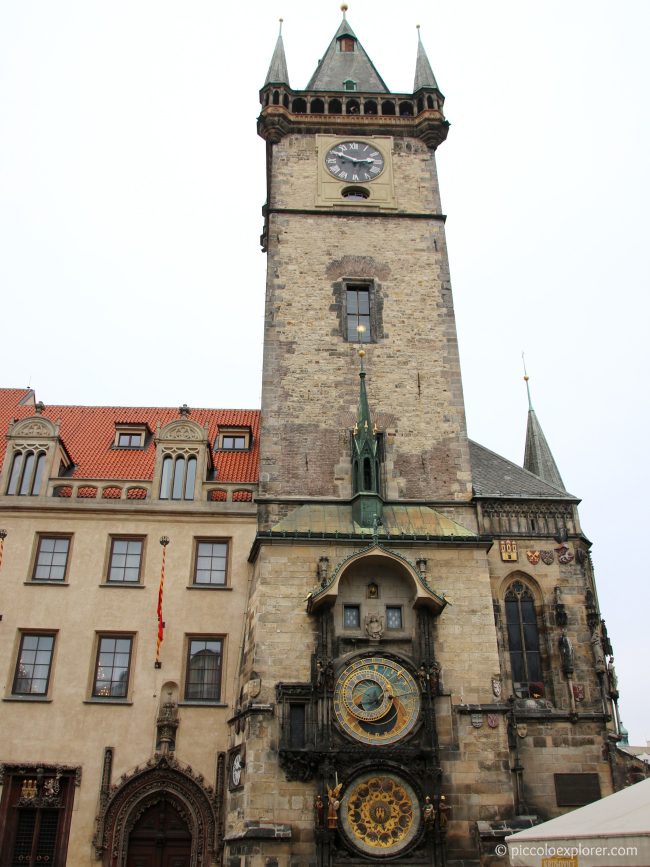 Already stunning by day, Prague's Old Town appears even more magical by night with its beautiful historic buildings lit up by the glow of the street lamps. After passing through the square, we would go down the narrow winding streets looking at the shops before ending up back in front of the Old Town Bridge Tower of Charles Bridge.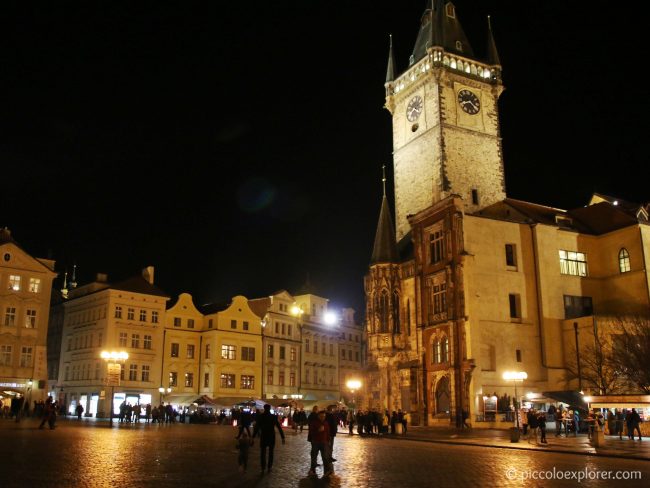 Also on our agenda was to visit Prague Castle, the world's largest ancient castle that was built and renovated over 13 centuries. Within its walls are a palace, three churches and a monastery, and its buildings are a splendid mix of architecture from the Gothic St Vitus Cathedral to the Late Baroque and Neo-Classical of the courtyards.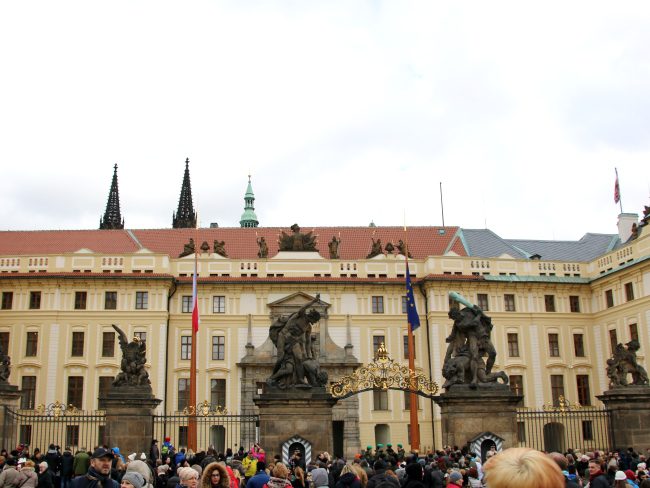 We spent a good amount of time gaping at the magnificent details of St Vitus Cathedral, which was truly amazing and one of the highlights of our trip.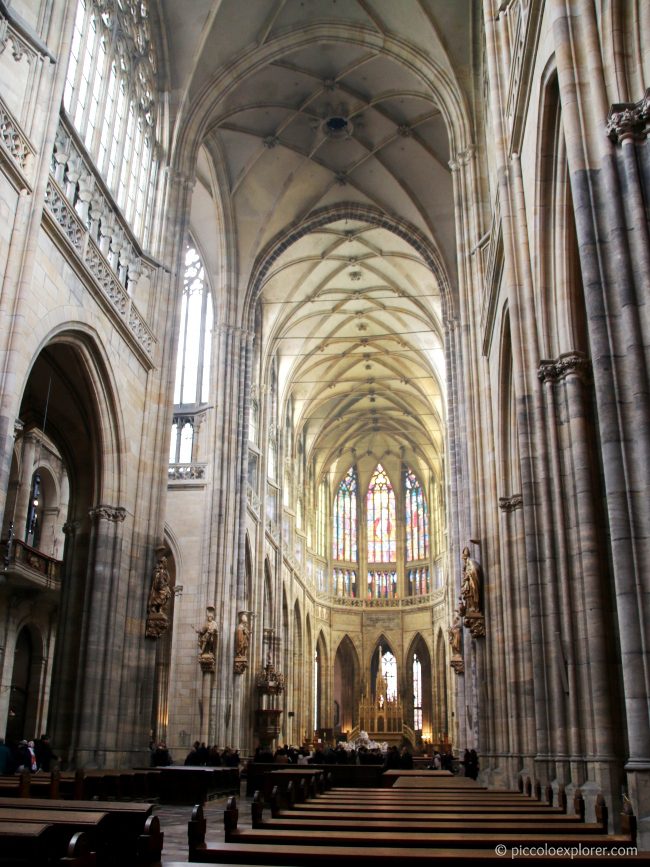 We visited the Old Royal Palace before making our way towards Villa Richter for lunch, taking the steps along the castle walls that offer amazing sweeping views of the city. You can see Old Town Bridge Tower and Charles Bridge in the upper right part of the photo below.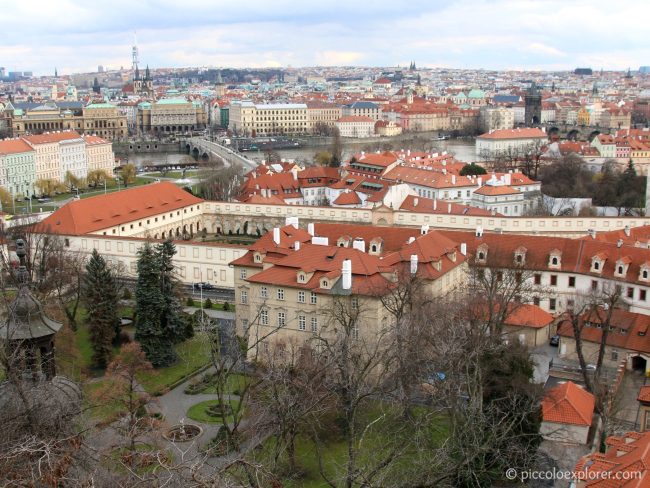 Where We Ate
We ate very well during this trip, trying some of the local cuisine and especially enjoying the meat dishes with dumplings and cranberries and the Prague ham. For Little T's meals, it was fairly easy to request a simple grilled meat or cooked ham dish without sauce.
Kampa Park, Na Kampě 8b, Mala Strana – Our first meal was lunch at this restaurant near Charles Bridge that offers views along the Vltava River from its downstairs dining room, where we were seated, or the riverside terrace. It was the perfect spot to take in the scenery after we had arrived in the city.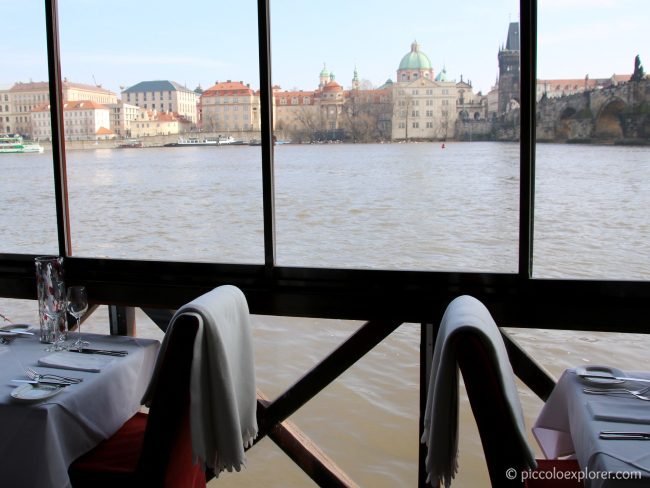 U Modré Kachnicky, Neboviská 6, Mala Strana – We asked the hotel concierge for restaurant recommendations to try the local Czech cuisine and we were directed to this wonderful gem in Mala Strana. First of all, the interior is simply stunning.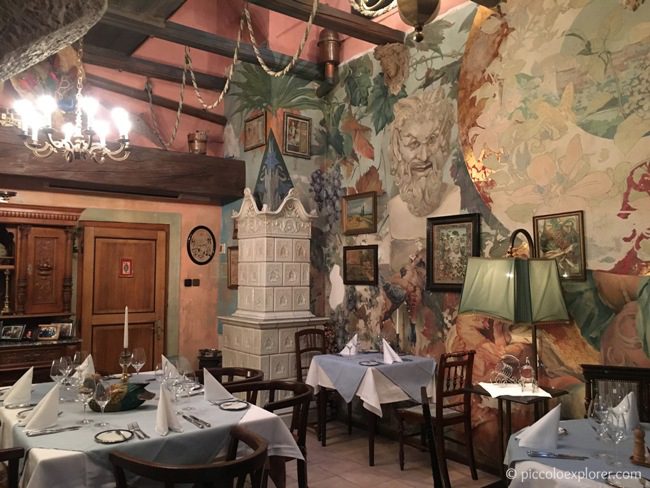 And second, the food was absolutely delicious and our best meal during the trip. The restaurant's name translates to "The Blue Duckling" and while they specialize in traditional dishes with duck and wild game, Mr. G and I both went with the filet mignon with dumplings and cranberries. For Little T, they put together a simple dish of Prague ham and dumplings that he enjoyed.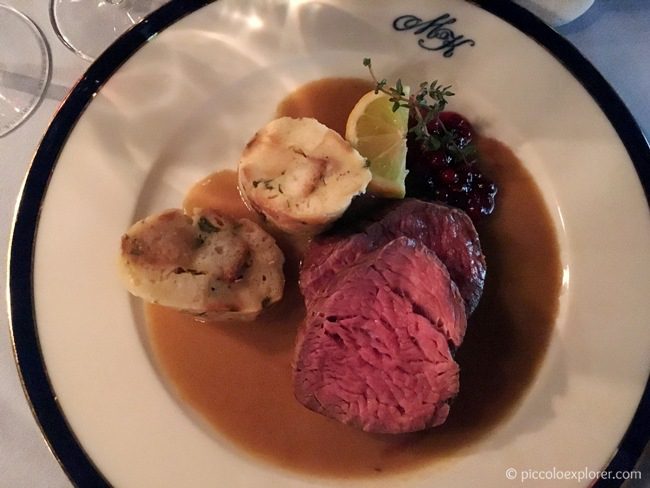 Restaurace Mincovna, Staroměstské námestí 7, Old Town – This restaurant in Old Town Square was another great recommendation by the hotel concierge. The goulash I ordered was fantastic; Mr. G had a taste and was pretty envious about it. Tender meat and a bit of bite with the green onions, it was delicious.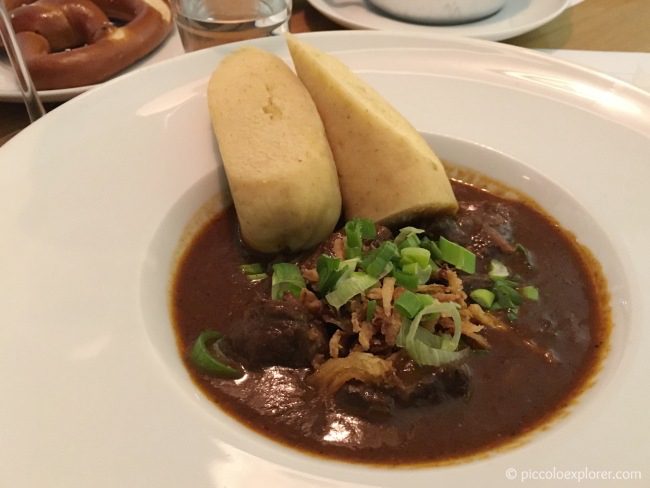 Good Food Coffee and Bakery, Karlova 160/8, Old Town – Here we picked up some tunnel-shaped trdelnik, or chimney cake, that are filled with ice cream, whipped cream, fruit, chocolate or other ingredients. There are even some savory options with cheese, ham and olives! We always saw a queue but I thought it was worth the wait to try this delicious pastry! Shown below is the strudel trdelnik filled with apple, walnuts, raisins and whipped cream.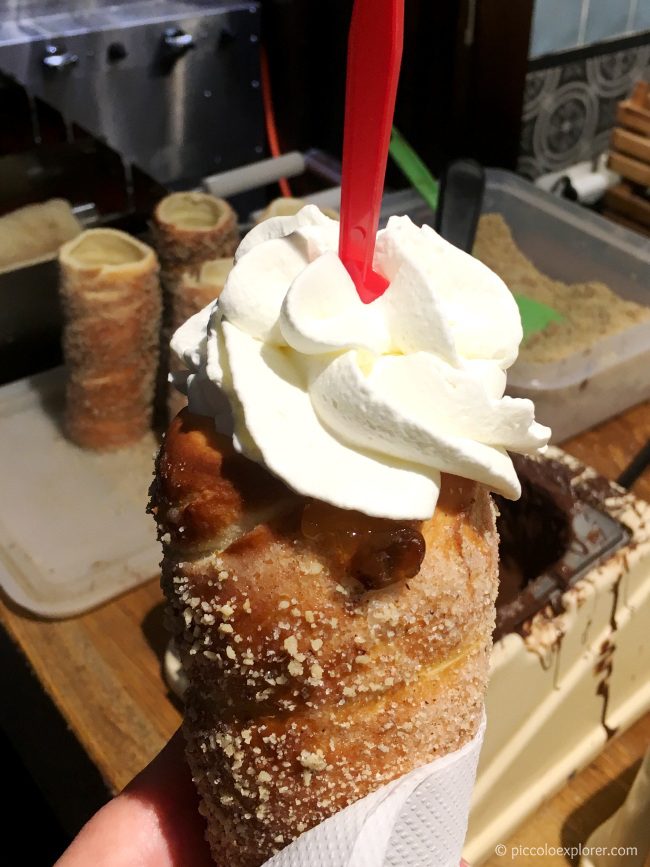 CottoCrudo, Four Seasons, Veleslavínova 2a/1098, Old Town – We had a buffet breakfast at the hotel restaurant, which had a good spread of fresh fruit, cold cuts and cheese, eggs, sausages and potatoes and a variety of pastries including some scrumptious Czech doughnuts and poppy seed cake. The restaurant also overlooks the river and Prague Castle and before our flight home, we stopped by for one last glass of champagne on the outdoor patio.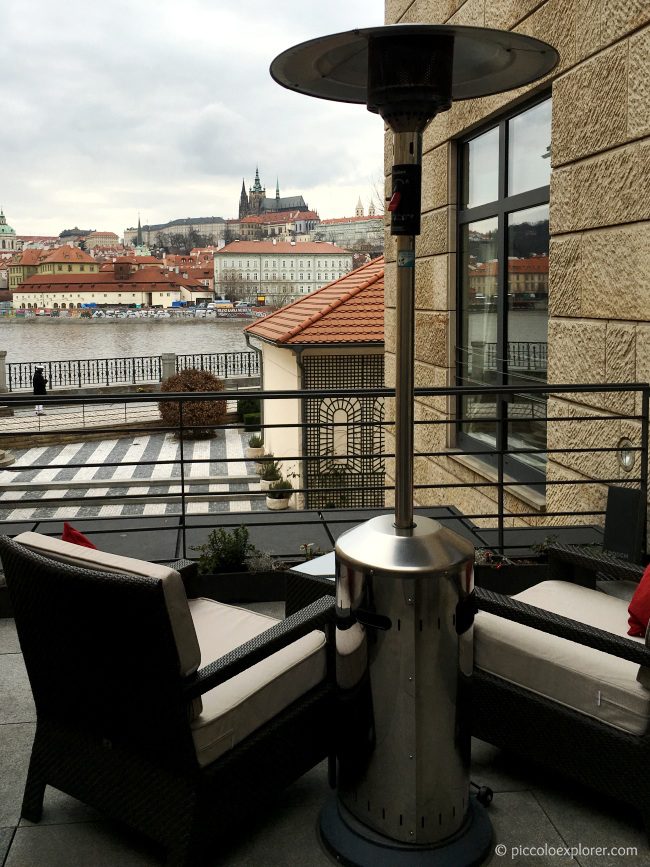 Kolkovna Olympia, Vítězná 7, Mala Strana – We had lunch at this traditional Czech pub which is on the western end of the Legii Bridge and offers an extensive menu. Upon entering you come across the bar where smoking is permitted, but there is a non-smoking section at the back of the restaurant. We found it to be a good value and the servings were huge. I had the beef flank steak with potatoes which was good, but the food I remember the most from this place was the soft, freshly baked pretzel we had with our appetizers!
Villa Richter, Staré zámecké schody 6/251 – Almost at the bottom of the Old Castle Stairs leaving Prague Castle, there's an entrance that takes you right back up the hill via stairs and a ramp to St. Wenceslas' Vineyard, one of the oldest vineyards in Bohemia, and the restaurant Villa Richter. It's a lovely place to sip local wine and admire the beautiful views of the city over lunch, but the hushed ambiance wasn't ideal with a toddler. We each had a simple plate of Prague ham before heading on our way as soon as possible.
Where We Shopped
I packed enough wet wipes and nappies for the three days so the only essentials I needed to shop for were fresh milk and bottled water, which I bought – along with some fruit for snacks – at a small grocery across the road from the Four Seasons.
We didn't do much shopping during this trip and only quickly strolled down Karlova Street peeking at windows, but we managed to buy a couple of souvenirs along the way including a hand-painted Easter egg.
Národní Banka Vín, Platnéřská 191/4, Old Town – Halfway between the Four Seasons and Charles Bridge is a wine bar that has a shop at the entrance selling hot chocolate and a variety of handmade gingerbread that make delicious treats or lovely souvenir gifts.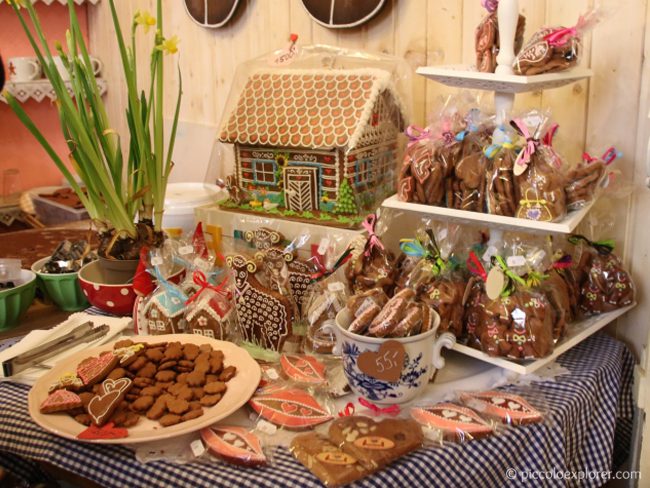 Knihkupectví Fiser, Kaprova 45/10, Old Town – I buy at least one children's book from each place we visit so I stepped in this bookstore along the way to Old Town Square and was happy to see that they had a couple English translations of books by local authors. One is a beautifully illustrated story that takes you on a mystical adventure through the city, while the other is a fantastic pop-up book full of facts on Prague's history.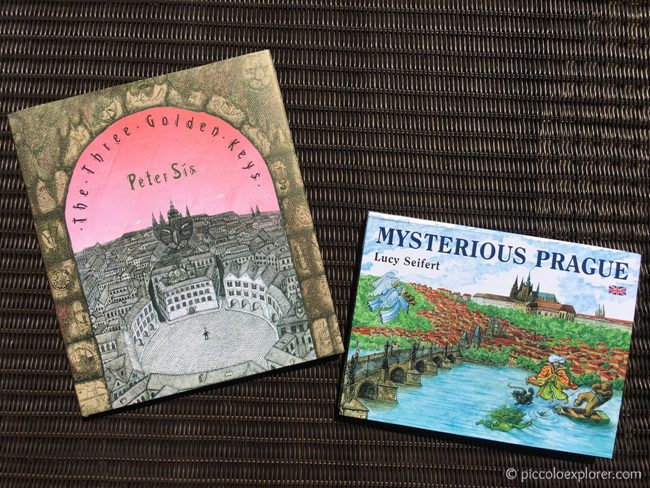 Manufaktura, Melantrichova 970/17, Old Town – This shop has a wide selection of locally made products from dishware to skincare products to toys. Little T chose a traditional wooden cat figure with a spring that originated in the Czech Republic.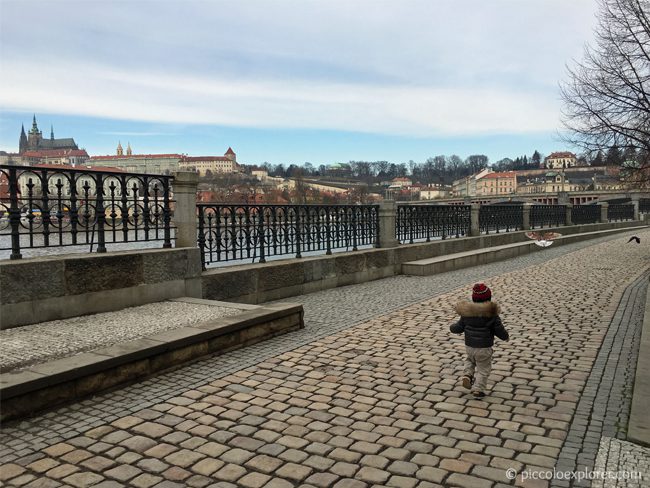 We loved it in Prague and again highly recommend it for a weekend city break! Stay tuned for more photos of Old Town Square, Prague Castle and St Vitus Cathedral and an Eating Out in Prague post.
Getting There
We took a flight with British Airways to Prague's Václav Havel Airport. The flight was an early 0720 out of Heathrow Airport on a Saturday, arriving at about 1015 in Prague (which is one hour ahead of London). The flight was under two hours long and worked well to have nearly a full day to explore the city. Our flight back from Prague was at 1840, arriving at London Heathrow at 1950, again a convenient time to enjoy lunch and some sightseeing on Monday before making our way to the airport.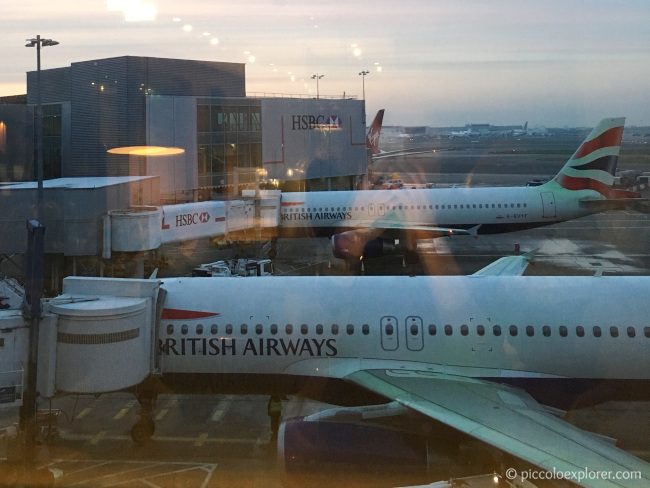 Traveling with British Airways to Prague was an easy process. Online check-in opens 24 hours before departure, so the day before I checked us in online and printed out our boarding passes. Since we traveled with hand luggage only (the first time since Little T was born!), we went straight to security and had a quick breakfast at the lounge before the flight.
PIN IT FOR LATER