Granada is a wonderful place for a city break from London located in the vibrant region of Andalusia in southern Spain. In this post, I will share tips for planning a city break to Granada with kids (or without) with top things to do, places to eat and where to stay.
Things to Do in Granada with Kids
The Andalusia region was under Moorish rule from the 8th to 15th centuries. Granada is known for its well-preserved examples of architecture dating back to that period – in particular its UNESCO World Heritage sites situated on two adjacent hills, the Alhambra palace complex and Generalife gardens, and Albayzin, the old Moorish quarter of city.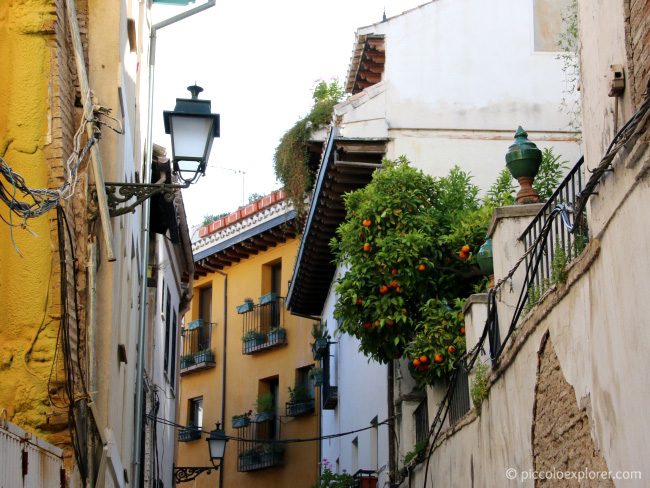 The warm weather and relaxed atmosphere combined with the city's beautiful architecture and culture makes for a wonderful family city break. Highlights of visiting Granada with kids include exploring the historic Albayzin neighborhood, visiting the incredible Alhambra and watching an outstanding flamenco performance in the Sacromonte caves.
We found that five days was plenty enough to see Granada, and I would highly recommend it for a city break exploring a beautiful, historical part of Spain.
Exploring Albayzin
On the hillside opposite the Alhambra, Albayzin is a beautiful district of Granada and UNESCO world heritage site that has retained many elements of the distinctive design and architecture of its medieval Moorish past.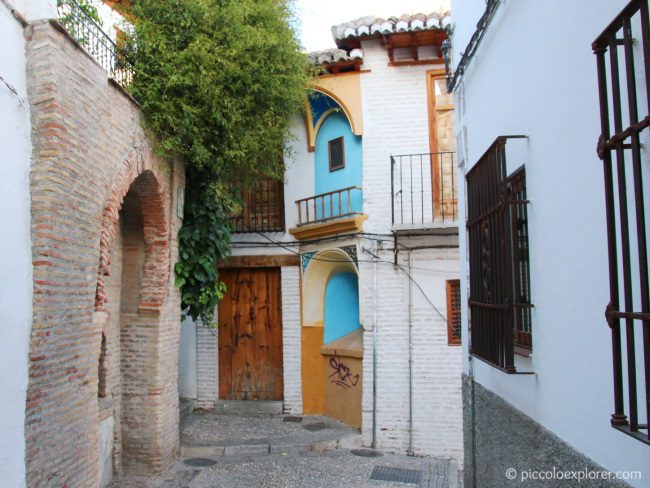 It is a pleasure to wander around with so much to discover along a maze of narrow streets: whitewashed buildings, hidden plazas, orange trees and bright flowers, and traditional houses with secluded inner gardens known as carmens.
Throughout the neighborhood, you find amazing views of the Alhambra – and in some places, you can see as far as the Sierra Nevada mountains. The highest point of Albayzin and best viewpoint for Alhambra, especially at sunset, is the Plaza de San Nicolas. The photo below was taken from nearby Callejón de las Tomasas, a short walk from the Plaza de San Nicolas.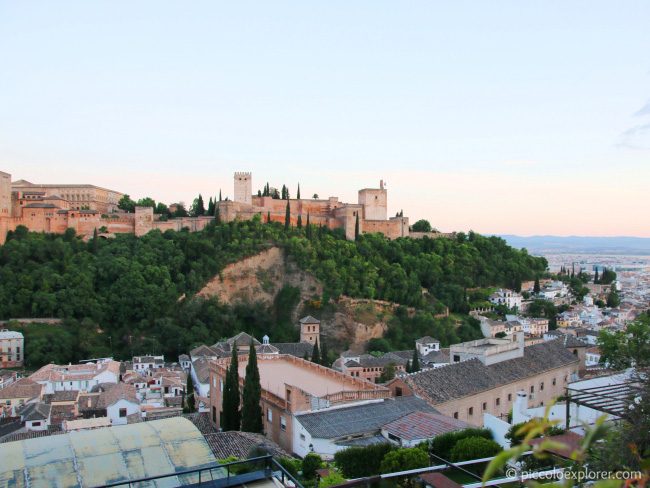 Albayzin is on a steep hill where many roads are pedestrian only so a good amount of walking up- and downhill is required, something to keep in mind if you're traveling with little ones or using a stroller.
Visiting the Alhambra
One of the top things to do in Granada is to visit Alhambra, a palace complex that was built under the Nasrid Dynasty between the 13th and 14th centuries. The most popular monument in Spain and a UNESCO World Heritage site, the "red fortress" stands at the foot of the country's highest mountain range, the Sierra Nevada, and overlooks Granada and the countryside.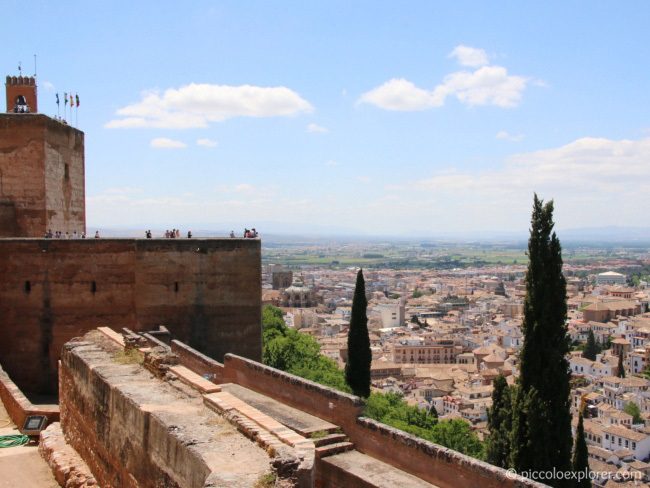 Tip: Tickets to the Alhambra are available to purchase three months in advance – to visit the Nasrid Palaces, you select a time slot and will only be allowed to enter at that time. Demand for tickets is high, so be sure to book in advance. The official website for the Alhambra is: http://www.alhambra-patronato.es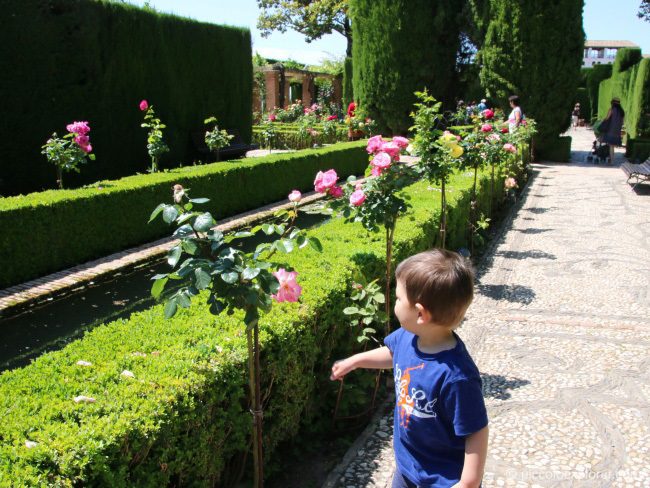 The gardens of the Palace of the Generalife, AlhambraThe places at Alhambra open for public visits are divided into four areas: Alcazaba (the military area and watchtower), Nasrid Palaces (central palace complex), Partal (includes portico of Palace and Promenade of Towers) and Generalife (palace retreat of the kings of Granada with beautiful gardens).
The Nasrid Palaces is the pinnacle of the Alhambra's design and architecture, and visits to this part of the complex are very restricted and need to booked in advance with a specific time slot. It is recommended to spend at least 3 hours touring the Alhambra.
Olive Oil Tour
An interesting excursion to go on from Granada for families is an olive oil tasting tour in the quaint village of Nigüelas, about a 30 minute drive south of the city. The tour operator, Olive Oil Tour, picked us up with other customers from a spot in Granada and provided a car seat for the drive. The tour started at an olive grove near Nigüelas, where we were shown magnificent centuries-old olive trees and the innovative irrigation system used since Roman times.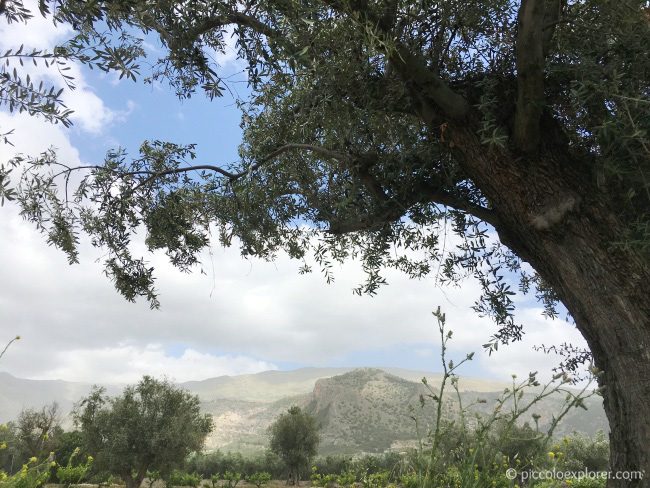 During the tour, we visited an agricultural museum, the Museo Almazara de los Laerillas, that houses a well-preserved 15th century mill and is where you can learn about the traditional tools and equipment used during the process of pressing olives to extract oil.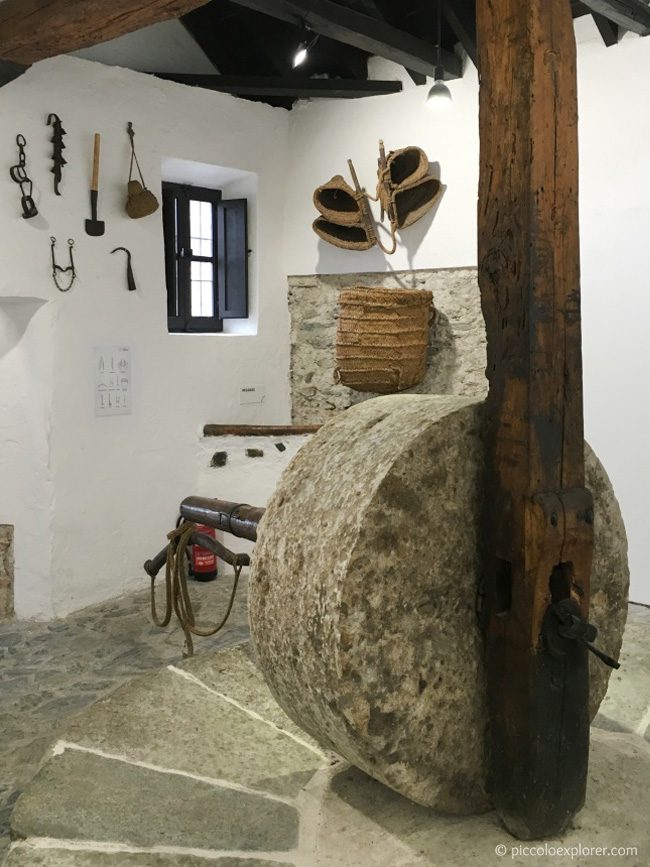 The tour ended with an olive oil tasting session, learning about the different aromas and flavours of with extra virgin olive oils from the Andalusian region. The session included, at an additional cost, a selection of 4 Spanish wines paired with tapas of Serrano ham and fresh goat cheese.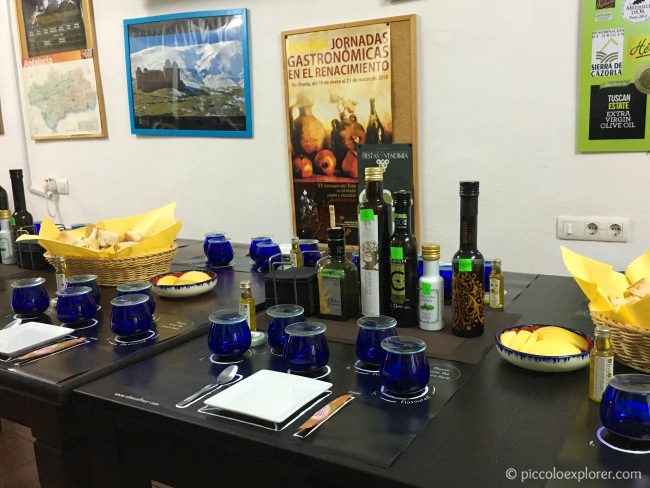 Flamenco at Sacromonte Caves
The quarter of Sacromonte, which overlooks the city from the north, is home to Granada's Roma community and is famous for its cave dwellings and flamenco performances. We booked to watch a flamenco performance at Zambra María la Canastera, which is one of the oldest flamenco cave venues in the city of Granada.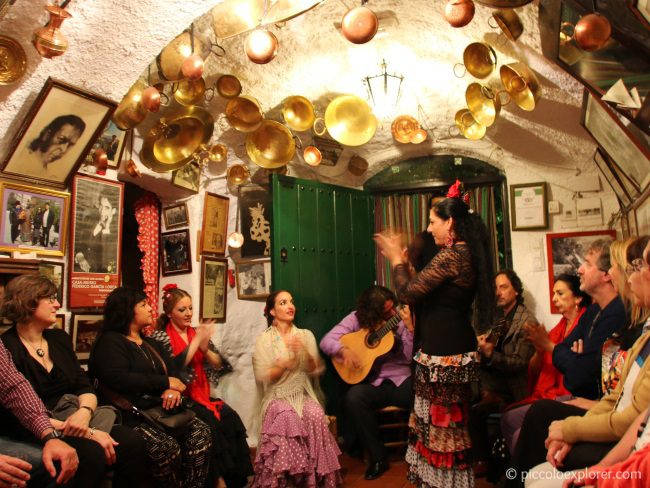 It was a brilliant, energetic performance watching several flamenco dancers and listening to the music in this intimate setting where we were so close to the performers. (Children under 5 enter free but must sit on a parent's lap.)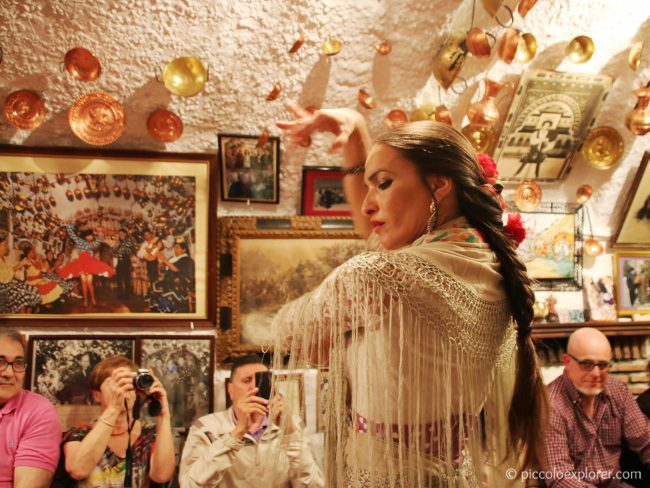 Touring Granada Cathedral
Granada Cathedral was built by Queen Isabella immediately after the conquest of Granada on the site of an ancient mosque as an expression of victory of Christianity over Islam. It is a stunning building, a masterpiece of Spanish Renaissance built on Gothic foundations, and the fourth largest cathedral in the world.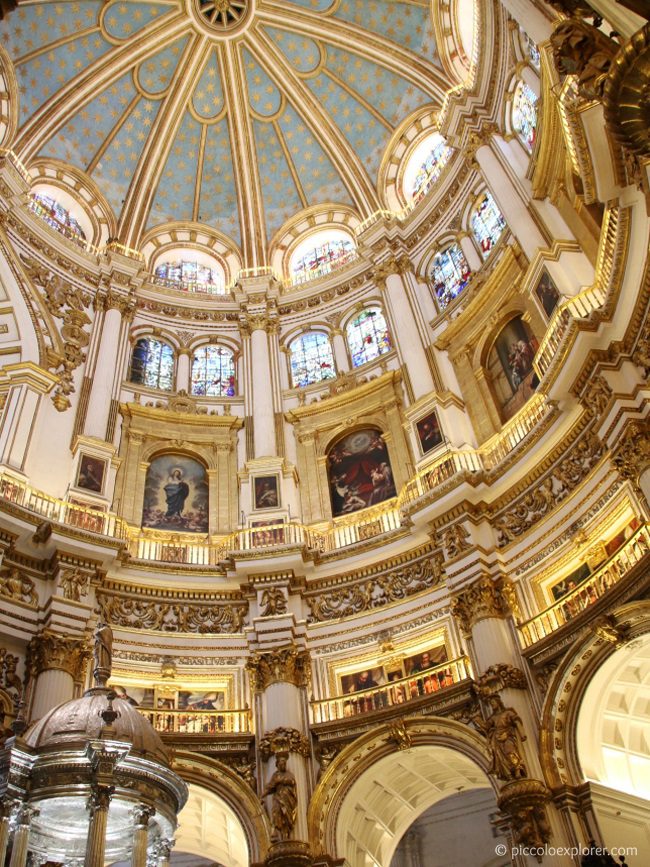 The detail within the cathedral is amazing, with a grand altar and several chapels – the main chapel shown in this photo was simply breath-taking.
Browsing the Markets
Part of the fun of exploring Granada with kids was browsing its markets. There were food markets, clothes and souvenir markets and stalls along the main streets selling tea leaves, dried fruit and nuts. Our hotel was steps away from Caldereria Nueva, a street lined with shops selling souvenirs, lamps, clothes, musical instruments, babouches, home decor and more. Little T loved exploring the markets as much as I did!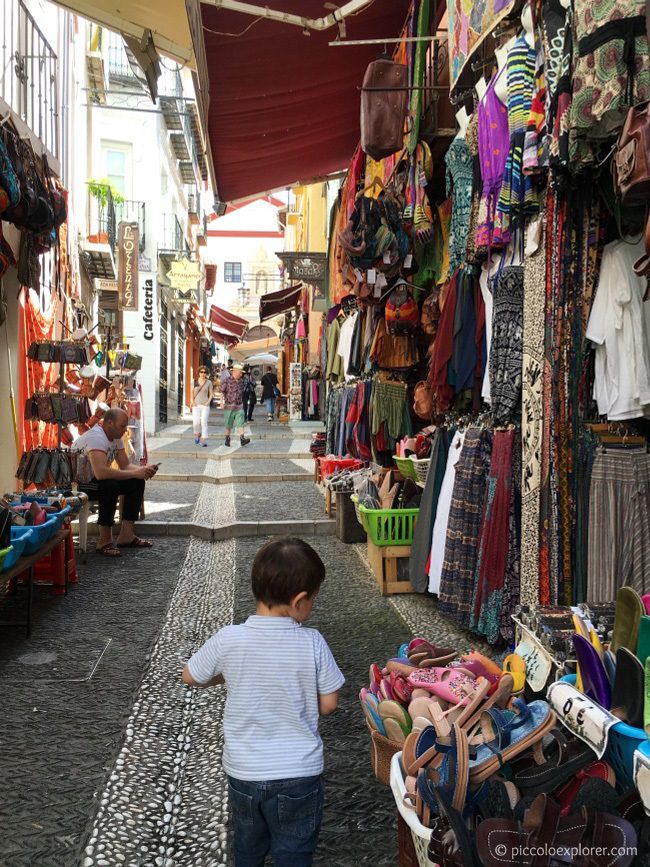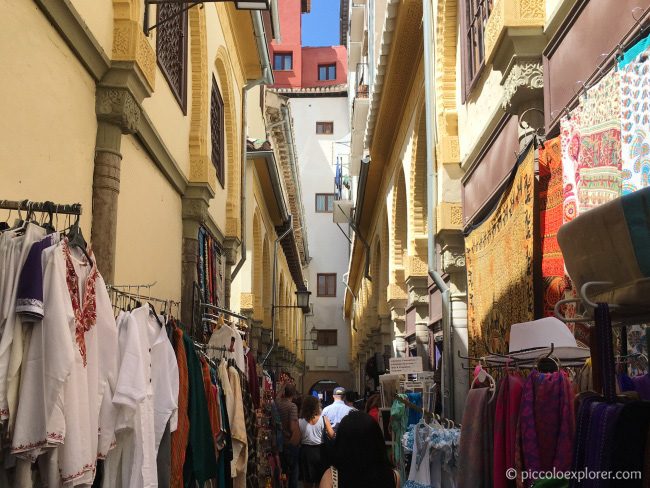 Plaza Bib Rambla City FairAt the time of our visit, a local city fair was running at Plaza Bib Rambla, a large square in the heart of commercial Granada, lined with cafés and shops. The fair was on Friday, Saturday and Sunday and it was a great place to bring kids for a break from sightseeing, enjoying the bouncy castles and covered play area – which were free to enter – and a wooden carousal (about €2).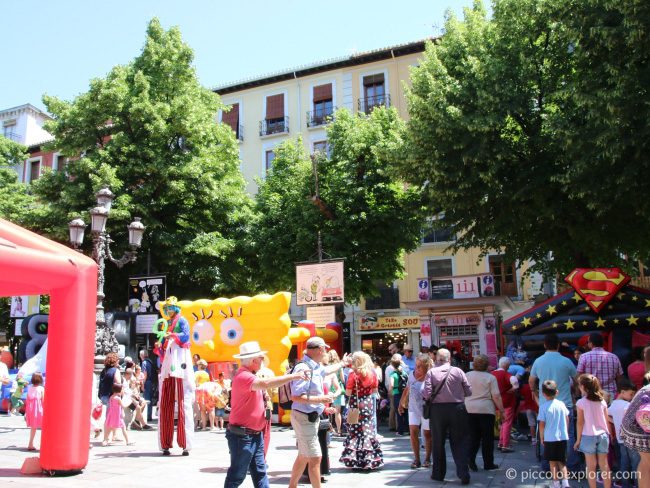 Disclosure: This post contains affiliate links. If you click through and make a purchase, I may receive a commission (at no additional cost to you). Thanks for your support in this way.
Where to Stay in Granada with Kids
Palacio Conde de Cabra
We booked an apartment rental for our five day stay at the Palacio Conde de Cabra, a property set in a renovated 16th century former palace in the heart of the Albayzin. It is beautifully designed and furnished in keeping with the neighbourhood's Moorish influence, with a quaint indoor courtyard and handmade furniture and doors from Morocco.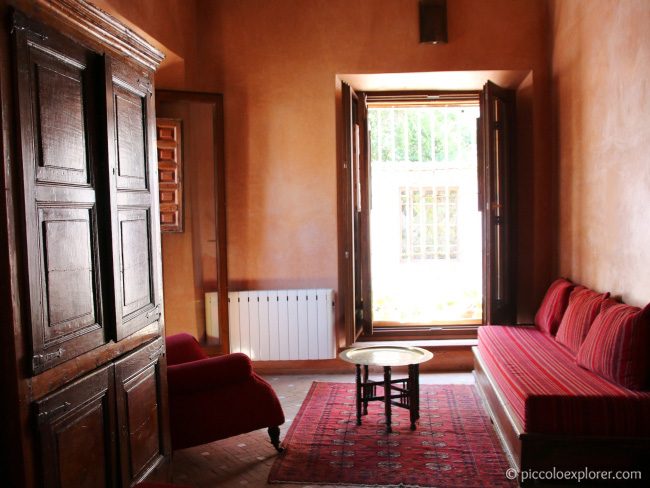 The apartment we stayed in consisted of 2 bedrooms with en suite bathrooms, a kitchen counter with sink, an open plan dining area and living room with beautiful high ceilings.
Check rates and book on Booking.com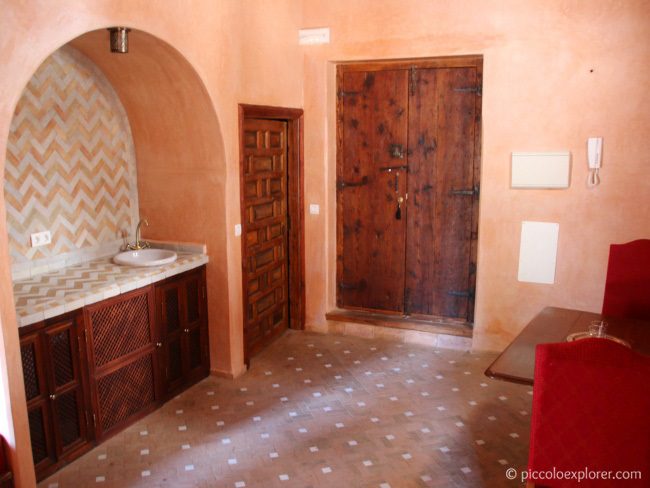 The Palacio Conde de Cabra apartment had a city view, overlooking the steps to Plaza San Gregorio. In the distance, you can just about see Granada Cathedral peeking over the buildings. Some apartments also have a view of the Alhambra, and you can make a request for availability in advance with the owner.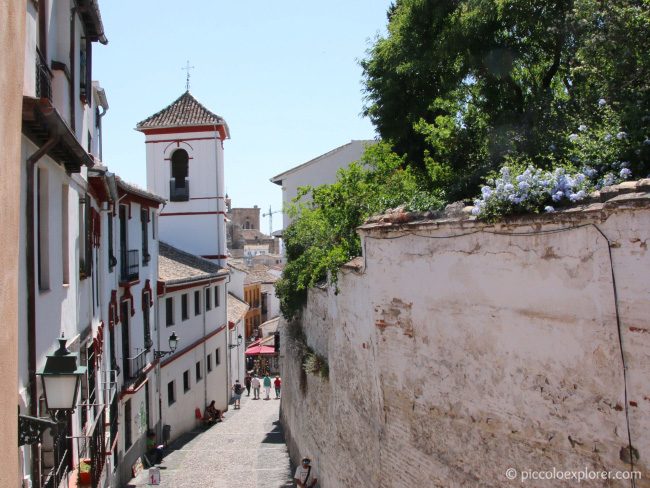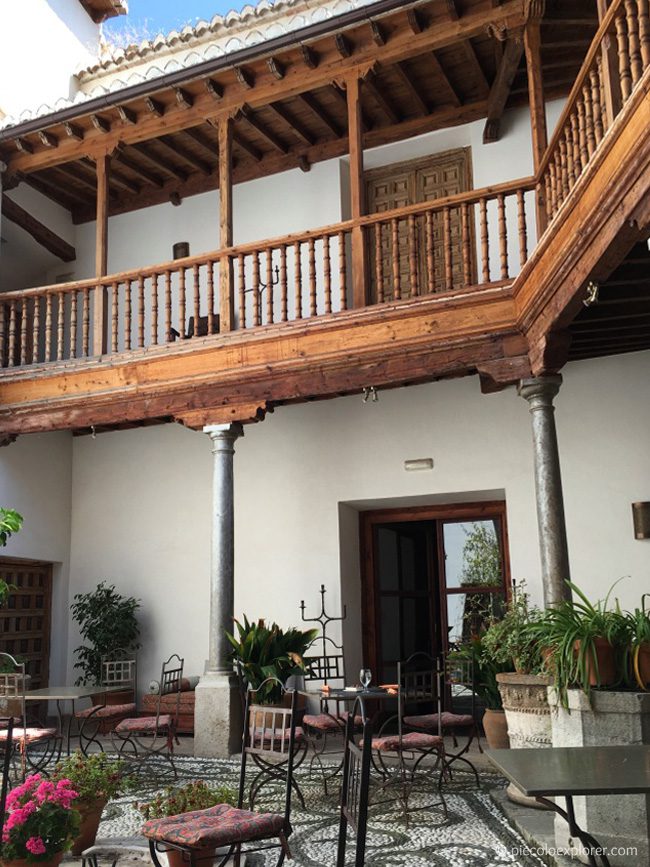 Check rates and book on Booking.com
Located in the heart of Albayzin, Palacio Conde de Cabra made a perfect base for exploring Granada. It is only a 10 minute walk to various attractions. The hotel is a short walk from the Plaza San Gregorio, where one street brings you to the cafes and restaurants of Plaza Nueva in one direction and another through a pathway of shops towards Granada Cathedral and the commercial part of the city.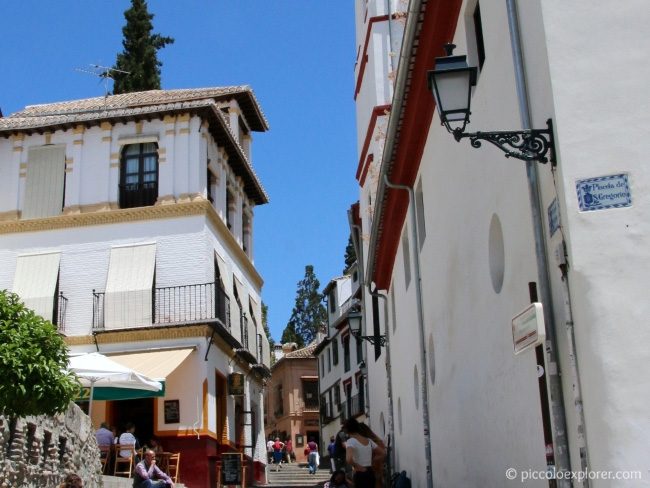 Heading the other way and uphill (shown in photo above) takes you through a labyrinth of the narrow streets of Albayzin to Plaza de San Nicolas which offers amazing views of the Alhambra.
I can also recommend dining at the Palacio Conde de Cabra restaurant even if you are not staying at the property. Scroll down to Granada restaurants for more on the property's restaurant, Taberna des Beso.
Places to Eat in Granada with Kids
To be honest, with the thousands of tourists Granada sees a day – many of which come on day trips to see the Alhambra – there are quite a lot of tourist traps in the city and I'd recommend researching restaurants for the trip in advance. Based on our experience, these are several restaurants I can recommend for eating out in Granada with kids;
Carmen de Aben Humeya
Cuesta de las Tomasas, 12, 18010 Granada | +34 958 22 83 45 | Website
Carmen de Aben Humeya is a lovely hillside restaurant offering a beautiful view of the Alhambra, a great option for dinner at sunset. The food at Carmen de Aben Humeya was fantastic – especially the plate of Iberian ham with cheese and pear that we started off with, the best we had on our trip!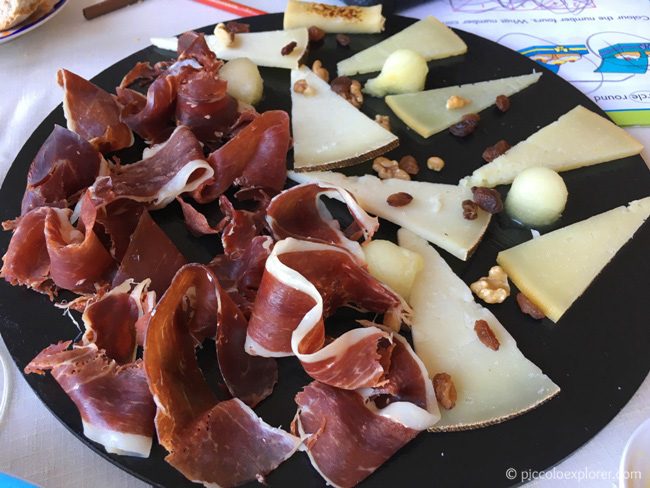 Little T had grilled pork chops, while Mr. G and I ordered the ox entrecôte that was full of flavour and came highly recommended.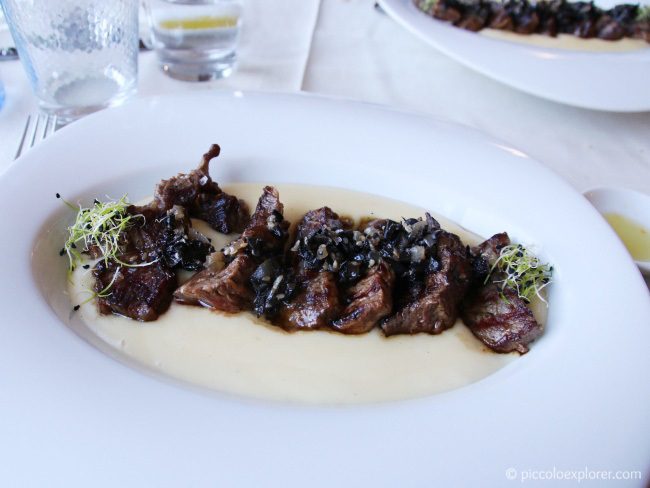 And the highlight was definitely enjoying this delicious food with an incredible view of Alhambra at sunset from Carmen de Aben Humeya's outdoor patio.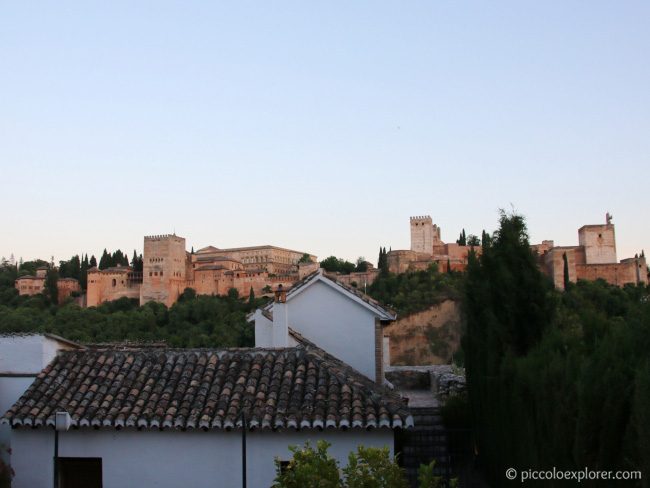 Restaurante Arrayanes
Cuesta de Maranas 4, 18010 Granada Spain | +34 958 22 84 01 | Website
Restaurante Arrayanes, a recipient of the 2021 TripAdvisor Traveller's Choice Award, is one of the best restaurants in Granada for Moroccan cuisine, offering delicious food along with lovely ambience and décor. Definitely a restaurant to add to your list for a great meal in Granada!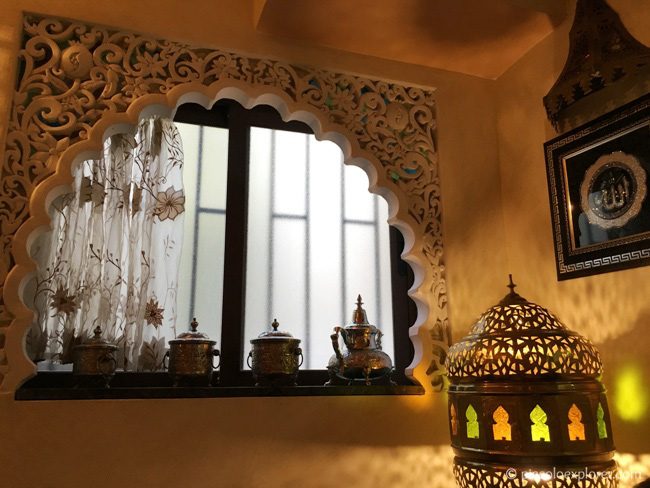 Mr. G and I ordered lamb tajines with prunes, while Little T had a plate of chicken skewers with vegetables and loved the fresh juices. I'd definitely recommend this restaurant for great Moroccan cuisine in Granada.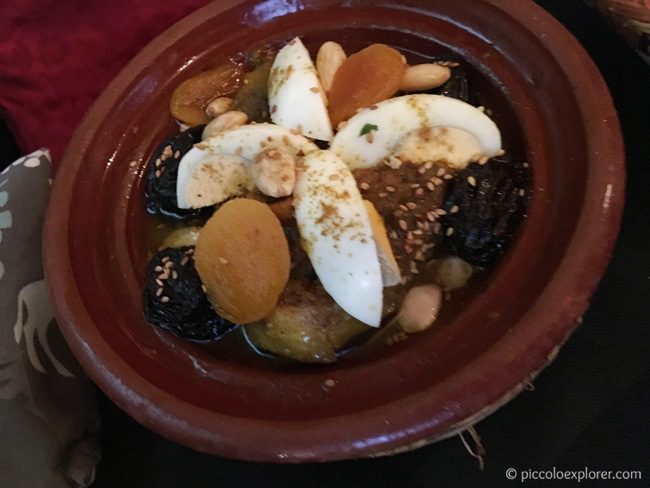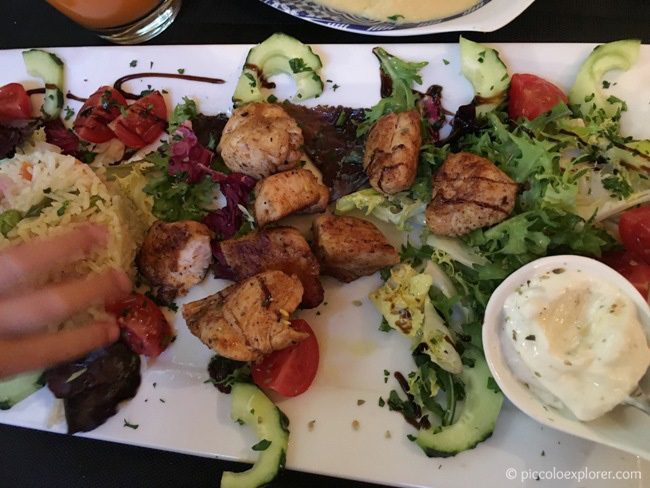 Taberna del Beso
San Gregorio Esquina Arremangadas, Albaicin, 18010 Granada, Spain | +34 858 99 22 47 | Website
The restaurant at Palacio Conde de Cabra, Taberna del Beso, serves Mediterranean cuisine with options for indoor or outdoor dining. I can recommend this restaurant also if you're staying elsewhere and looking for a bar or restaurant in Granada with great food at a good value. My son had the chicken skewers, while I had the delicious chicken tajine with olives.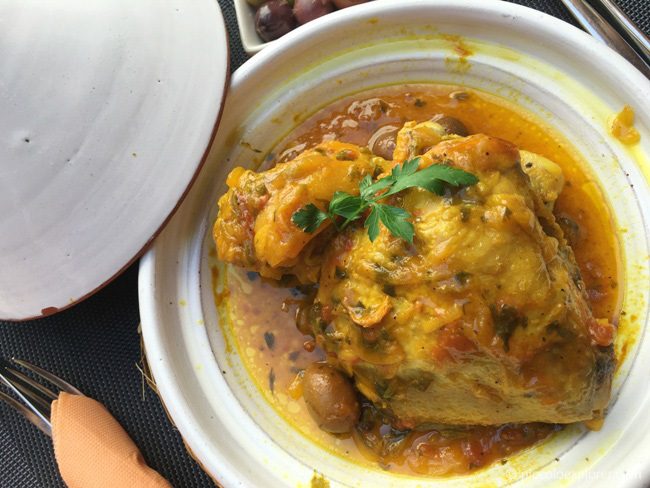 Flights to Granada from London
I traveled solo with Little T for both journeys, and while British Airways does fly direct to Granada from London City Airport, the best ticket option in our case was to travel from London Heathrow via Madrid through BA's airline partner, Iberia Airlines.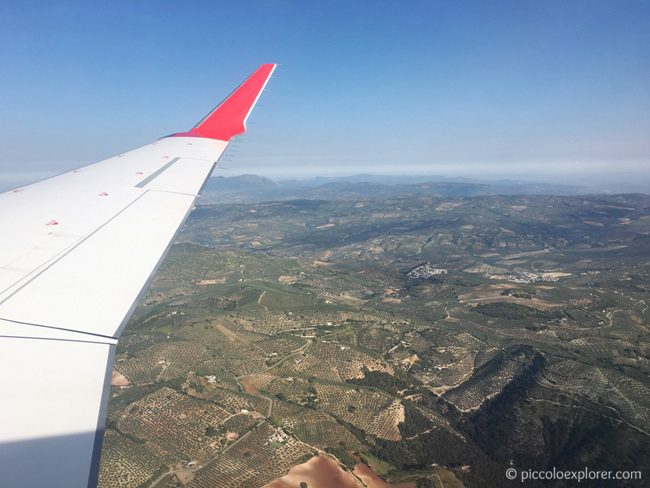 We had pleasant flights with Iberia both ways and I was very impressed with the family-friendly facilities on offer at the Madrid Airport. There was a special queue for families at security, play areas throughout the airport – near many of the departure gates and at baggage claim – and a family room complete with a small kitchen and soft play.
I hope you have found this post helpful in discovering what Granada has to offer for a city break with kids! Read on for more inspiration for travel with kids and city breaks;
Family Hikes in the French Alps
Weekend Break in the Champagne Region
Visiting Chamonix in the Summer
Tips for Visiting Prague with Kids
The Best London Museums for Kids
Pin for Later – Tips for Visiting Granada with Kids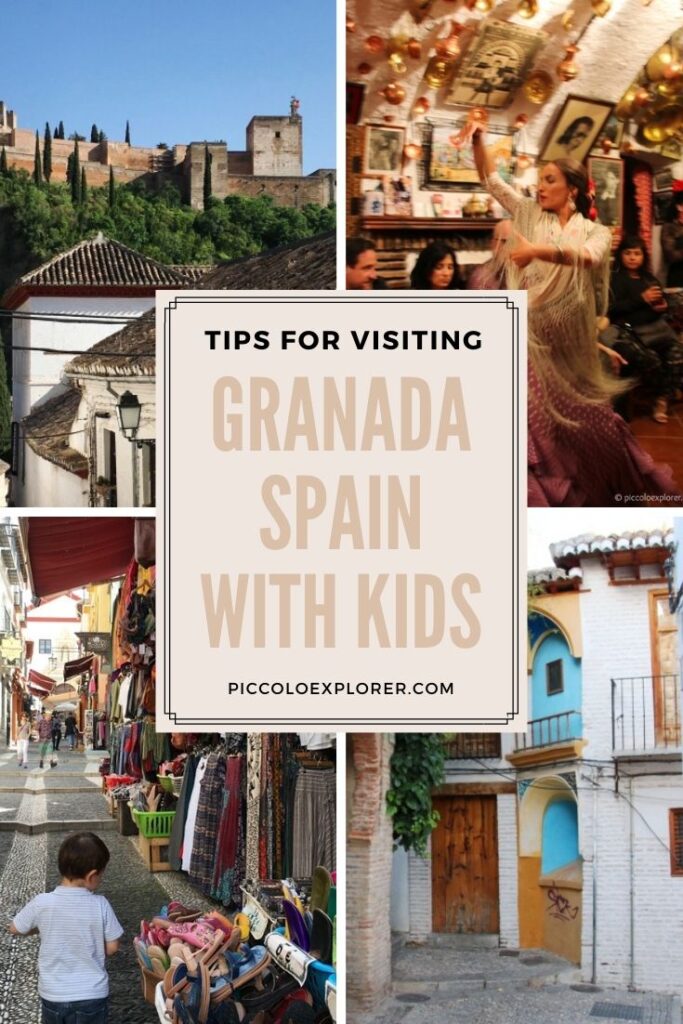 Save
Save
Save
Save
Save
Save
Save
Save
Save
Save
Save
Save
Save
Save
Save
Save
Save
Save
Save
Save
Save
Save
Save
Save