Chamonix-Mont-Blanc (or simply Chamonix) is France's oldest ski resort and is located at the foot of Mont Blanc, the highest mountain in the Alps, and very close to where the French, Swiss and Italian borders meet. While it's best known as a winter sports destination, Chamonix also makes a fantastic base for enjoying mountain adventures in the summer, including hiking, lake swimming, mountain biking, road cycling and more. Our family has enjoyed two summer trips to Chamonix in recent years, and in this guide, you'll find advice on where to stay, things to do and tips for visiting Chamonix in summer.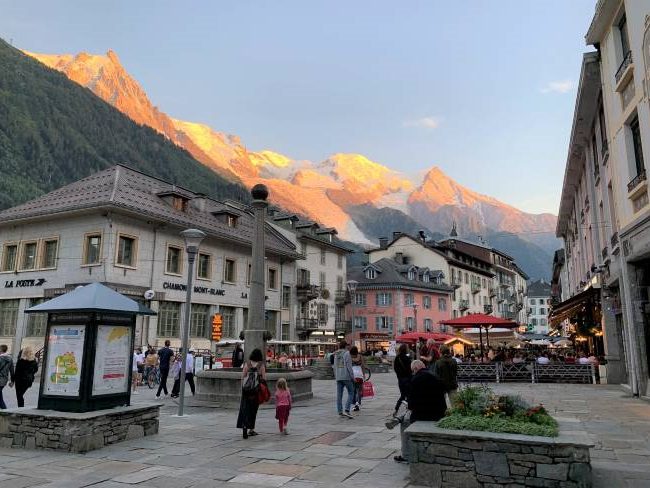 Where to Stay in Chamonix
There is a wide range of places to stay at in Chamonix, from hotels to apartments to chalets, and prices are lower in the summer than what you would expect for the much busier ski season. The top apartments and chalets, however, do start to be booked out months ahead of the summer season, so make sure to start checking for availability well in advance to get the best value for your money.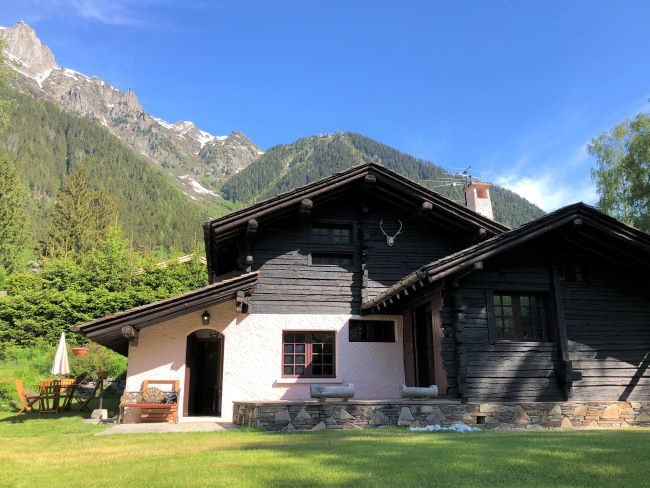 As a family of four, our preference is to stay at a two bedroom apartment or a chalet to have extra room, the convenience of a kitchen and laundry facilities and ideally some outdoor space. For our first time visiting Chamonix in summer, we stayed at an Airbnb chalet that was very conveniently located a short walk away from the shops and restaurants of the town centre.
It had a cosy, traditional interior, plenty of outdoor space for the kids to play in and a well equipped kitchen with a washing machine. The highlight was the outstanding views of the Mont Blanc range that we could enjoy from the garden.
Check prices and book a holiday rental in Chamonix at Tripadvisor.com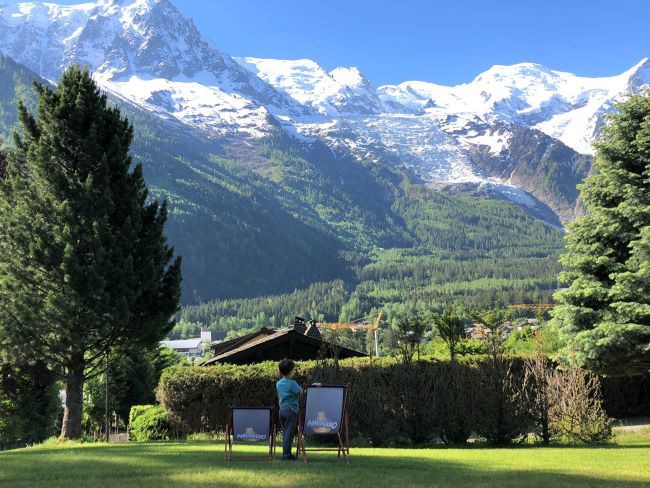 When looking for apartment or chalet rentals on Airbnb, Tripadvisor or Booking.com, I'd recommend also expanding your search to nearby villages such as Argentière, just 5 miles north of Chamonix town centre, or Les Bossons, a small village at the foot of Bossons Glacier about 3 miles south.
You can often find more value for your stay, be within walking distance to restaurants and facilities and still be a short journey away from the Chamonix town centre by bus or car. During our most recent visit to Chamonix, we spent a week at a ground floor apartment of a chalet in Les Bossons. The chalet was located off a quiet side street in a large grassy area, with a view of the Bossons Glacier.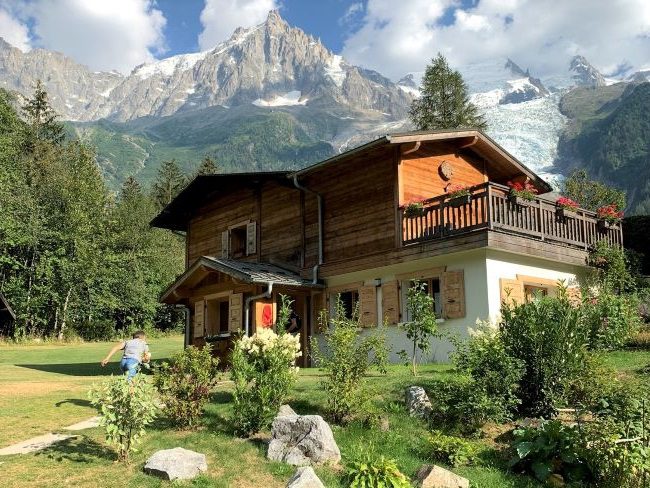 This vacation rental had some drawbacks but it ticked many of the boxes we were looking for: loads of outdoor space, well-stocked kitchen with a washer and dryer included, a quiet place to ourselves, free parking and a convenient location to explore the surrounding area.
Check prices and book a holiday rental in Chamonix at Tripadvisor.com
Summer Hikes in Chamonix
The highlight for us visiting Chamonix in summer has been going on several family-friendly hikes. Chamonix offers a plethora of outdoor adventures to enjoy in the French Alps, from road cycling, mountain biking, paragliding, horseback riding, river rafting, the list goes on. To help plan your visit, stop by the tourist office in the Chamonix town centre to pick up free map routes and local guides. Another great resource in the town centre is Maison de la Presse, a bookstore specialising in mountaineering literature which sells a comprehensive selection of maps and guidebooks.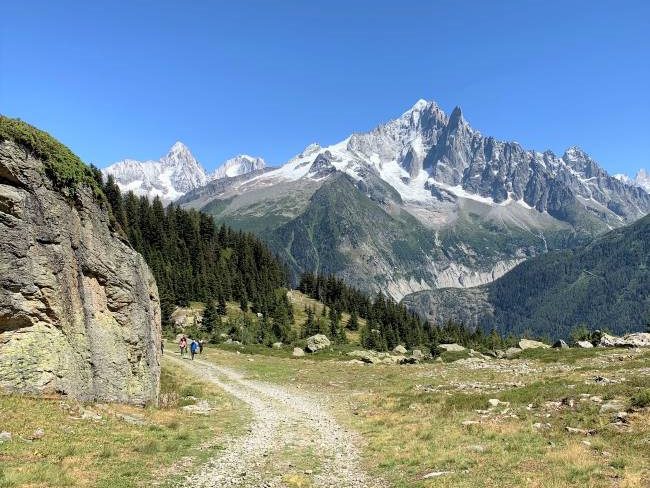 During our two visits to Chamonix in the summer, we went on a number of hikes with kids in the French Alps. I'd definitely recommend bringing a baby carrier or a child carrier backpack, depending on age and weight, if you are hiking with children 3 years and under. In this section of the visiting Chamonix in summer post, I'll share recommendations for summer hikes with kids in the Chamonix valley.
Related: Family Hikes in the French Alps
Bernard Valley, Vallorcine
The hiking trail starts from Le Buet (20 min drive from Chamonix) first passing by a picturesque waterfall then continuing along a river, through a steep forest then back into a beautiful valley. It's about a 2.5 hour hike along a good trail and perfect for families. Cascade de Bérard café is open during the summer and overlooks the waterfall.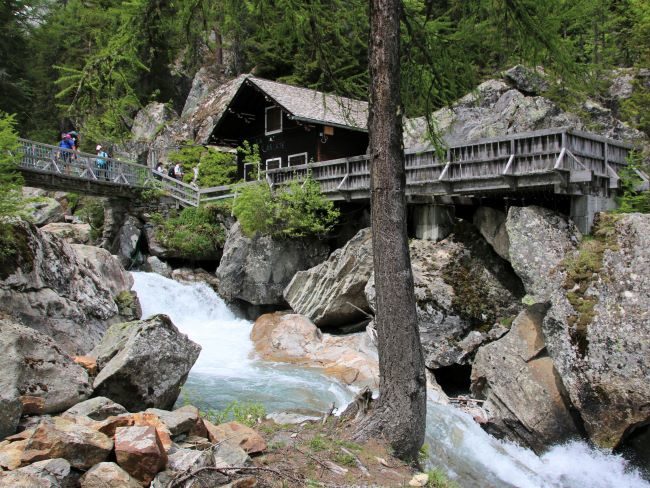 Grand Balcon Sud, Chamonix
The Grand Balcon Sud hike is a moderate trek that goes above western side of the valley at an altitude of around 2000m. We did the hike between the cable car stations at La Flégère and Planpraz. This hike takes about 2 to 3 hours and is more technical in some parts where you're going along narrow trails with steep drops and clambouring over rocky paths.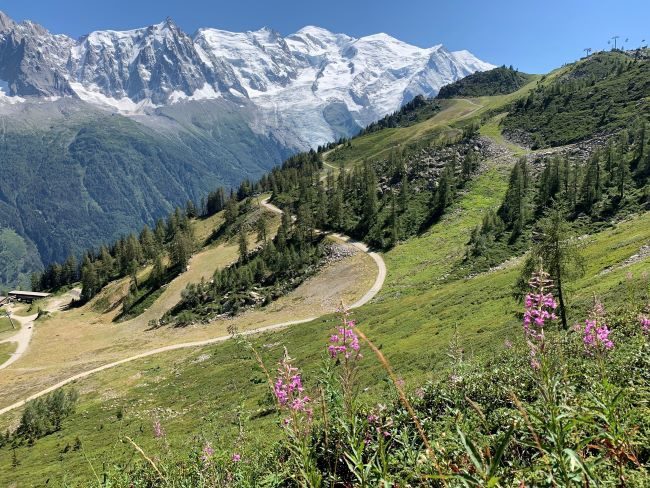 The hike along Grand Balcon Sud goes through a forest, along a path lined with blueberry bushes, then a series of what in the winter are ski runs. The views are rewarding throughout, with the trail facing the picturesque Mont Blanc range and overlooking the valley.
Related: Grand Balcon Sud Hike Chamonix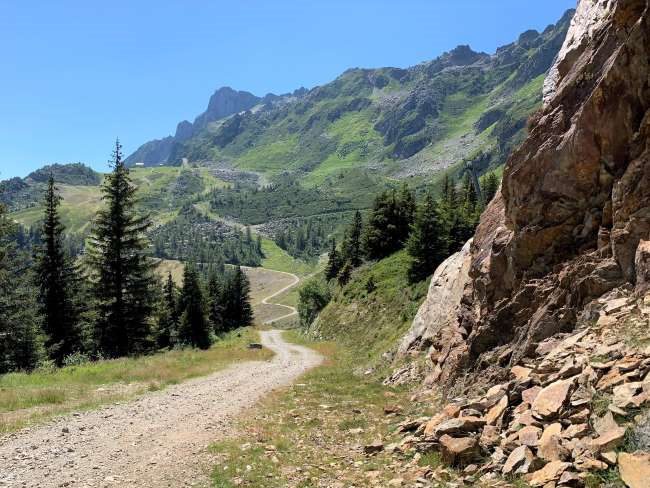 Parc Animalier de Merlet, Les Houches
One of the highlights of visiting Chamonix with kids is seeing the local wildlife on a hike at Parc Animalier de Merlet in the nearby village of Les Houches. Eight animal species live here, including the ibex mountain goat, chamois and marmot, and you can watch the animals roam about their natural habitat.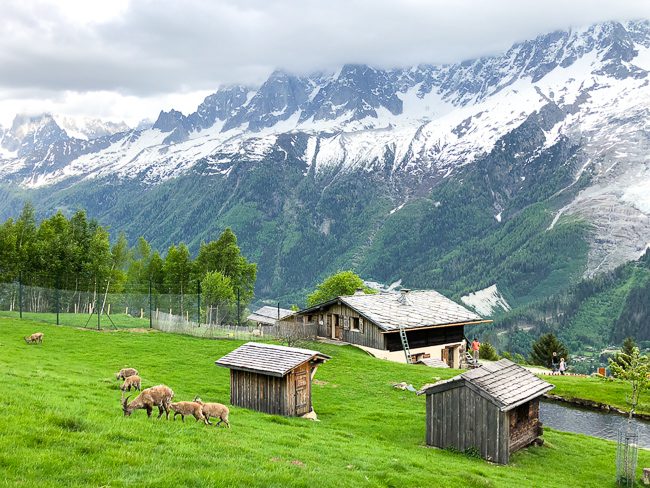 Trails range from easy (stroller-friendly) to more challenging and steep, and you're rewarded along the way with breath-taking panoramic views of the mountains and valley. You'll also find a small play area and a café to relax at after exploring (no picnics allowed inside the park).
Related: Parc de Merlet in Les Houches, French Alps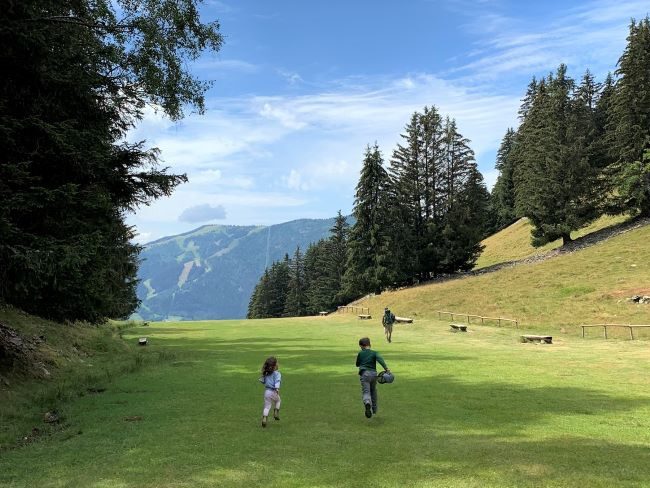 Bisse du Trient
For a day trip, we can recommend following the family-friendly hike, Bisse du Trient, located just across the border in Trient, Switzerland, a 40 min drive from Chamonix. The Bisse du Trient trail follows the irrigation canals that were built in 1895, along a path that was used to transport ice from the glacier. It's an easy hike to do with kids, about one hour to a chalet restaurant with a beautiful view of the Trient glacier and river, going along a relatively flat trail with hands-on activities and information boards set up along the way.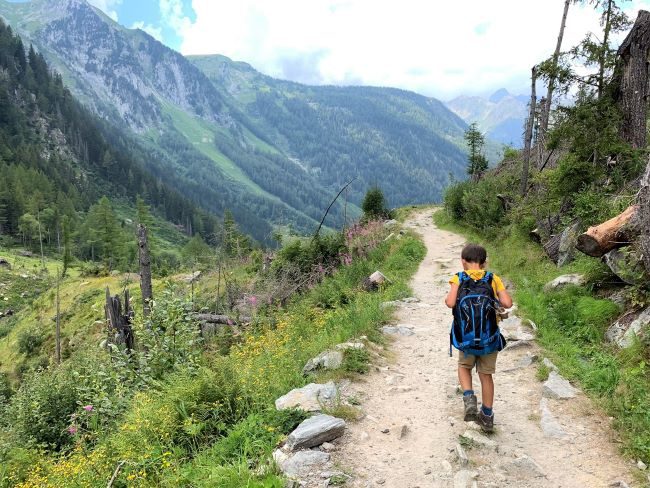 Related: Morzine France in Summer
Lakes in Chamonix Valley
The best places to cool down in the summer heat are the lakes in Chamonix Valley, with many offering a wide range of recreational activities including water sports, hiking and cycling trails and family-friendly activities.
Lac de Passy
Located in the Arve Valley, Lac de Passy is about a 20 minute drive from Chamonix-Mont-Blanc. It is the largest lake in the Pays du Mont Blanc created for leisure and swimming. There is loads to do here during the summer season – stand up paddle-boarding, fishing, windsurfing, boating and an inflatable water park. Around the lake, you'll also find playgrounds, go-karts, mini-golf, beach volleyball, café and restaurant, hiking and cycling trails.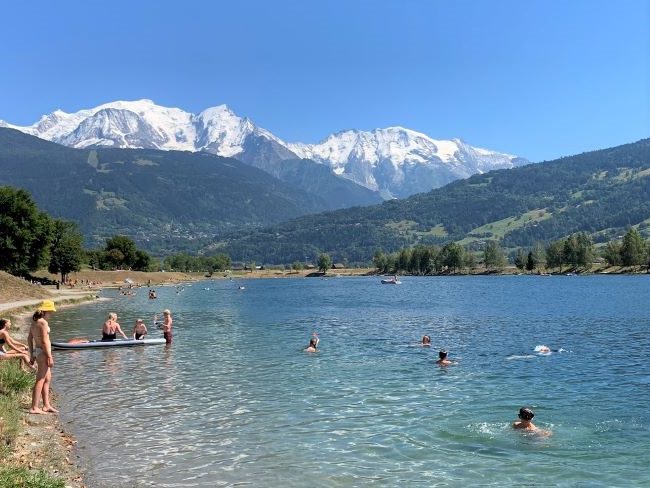 Ilettes Lakes, Sallanches
Another excursion about a short drive from Chamonix-Mont-Blanc was to these beautiful lakes popular for swimming, fishing and windsurfing. There's a trail around the lakes for walking and cycling, and nearby you can also visit the Cascade de l'Arpenaz, one of the tallest waterfalls in France. You'll find plenty of facilities by the lakes: free parking, a restaurant, toilets and picnic tables.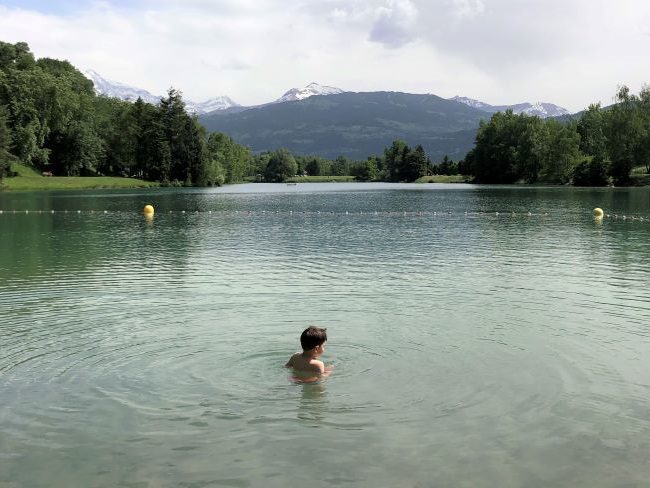 Gondola rides to a Mountain Summit
Another highlight of visiting Chamonix in summer is taking the cable cars up to nearby peaks to take in the panoramic views. We enjoyed a mountaintop view experience heading up to Brévent, which is also a popular launching site for paragliders.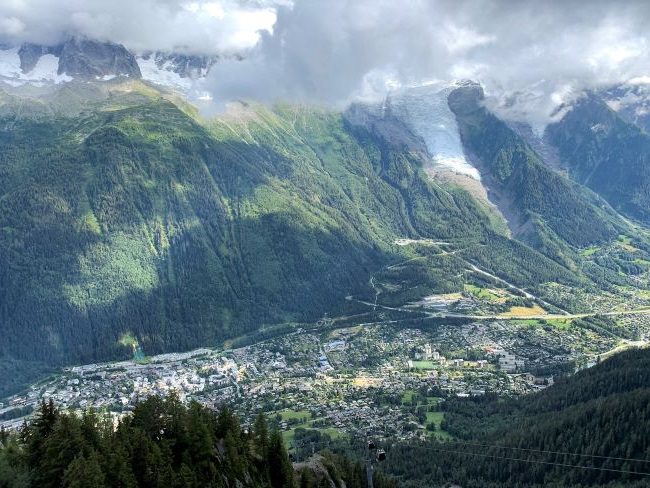 From Chamonix, you take the gondola lift to Plan Praz at 2000m, then the cable car to Le Brévent at 2,525m (children under 3 years old are permitted on this cable car).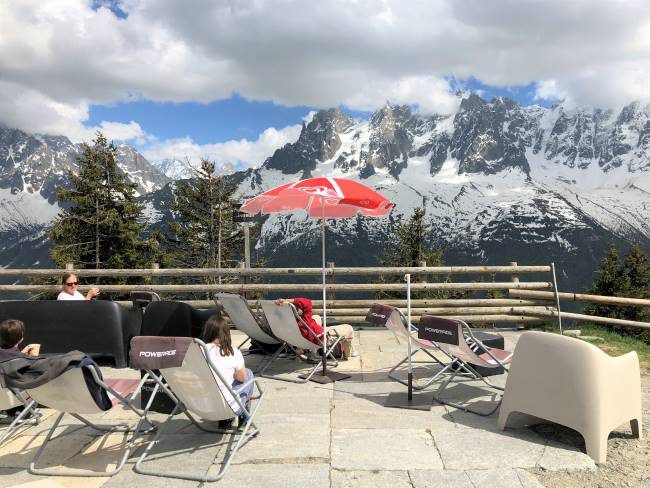 The most popular option is to go to the viewing platforms of Aiguille du Midi, which opens for the summer season in late May and reaches an altitude of 3,842m. Note that children under 3 years old are not permitted and it is not recommended for children under 5 years old.
Shops and Restaurants in Chamonix-Mont-Blanc
The town centre of Chamonix-Mont-Blanc is a pleasure to explore. There are plenty of shops and restaurants along Rue du Docteur Paccard, the mostly pedestrian-only road. We would head into town for dinner or to shop for local produce to prepare picnics for our hikes or meals at the chalet.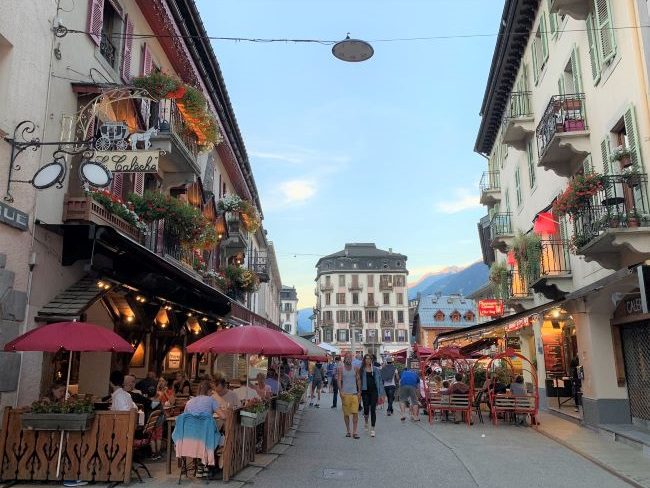 Our favourite places to visit in the Chamonix-Mont-Blanc town centre are;
La Calèche – Restaurant with a quirky interior full of antiques serving local, traditional Savoyard dishes, such as tartiflette and fondue.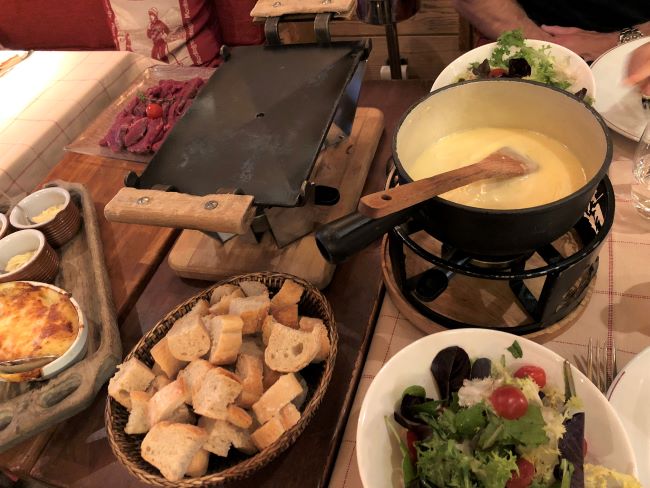 Annapurna – Restaurant serving Indian cuisine, excellent food and one of the few places offering takeaway or delivery within the city centre
Le Refuge Payot – Delicatessen and local speciality shop offering a variety of cold cuts, cheese and wine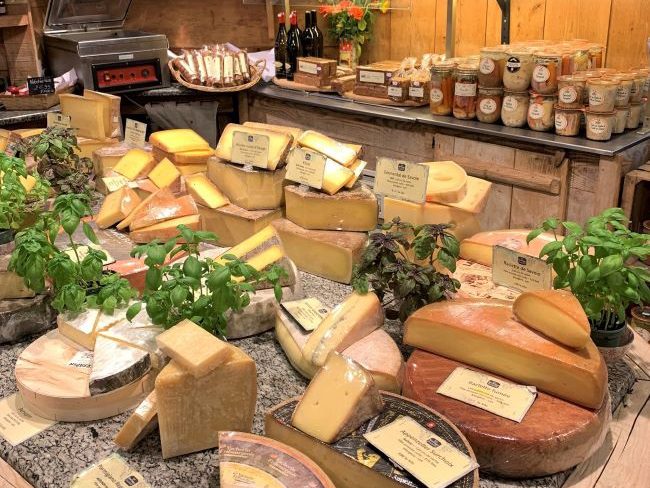 Maison de la Presse – Bookstore specialising in mountaineering literature, with a great selection of maps, guidebooks, novels and children's books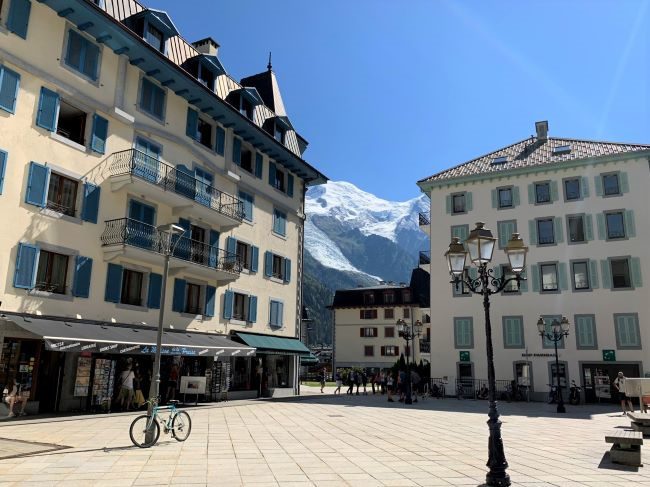 If you're staying at a self-catering apartment or chalet, there are several supermarkets within the Chamonix-Mont-Blanc town centre, including Le Petit Casino on Rue du Dr Paccard and SPAR Supermarket on Place Edmond Desailloud, along with Carrefour Market on the Route Blanche.

Visiting Chamonix in Summer
I hope you found this guide for visiting Chamonix in summer helpful. The French Alps offer a plethora of outdoor adventures and stunning scenery to enjoy during the summer, and Chamonix is one of best locations to be based, with a variety of places to stay, loads of hiking trails around the valley, plenty of shops and facilities in the town centre and so much to do for the whole family.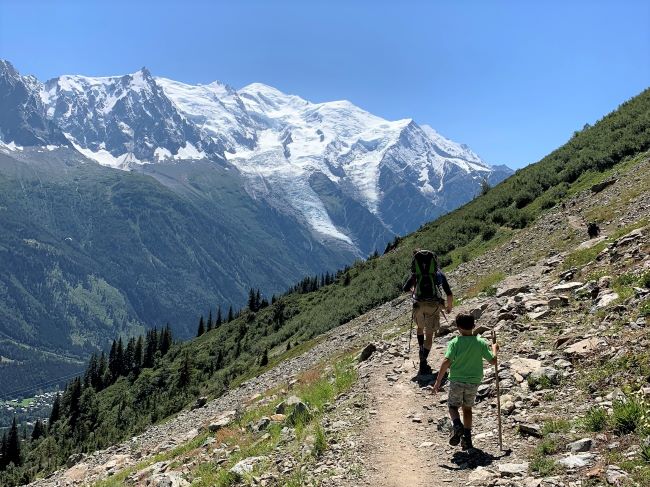 We have enjoyed our two summer trips to Chamonix hiking in the mountains and can't recommend it highly enough. If you have any questions about visiting Chamonix with kids in the summer, please let me know in the comments.
French Alps with Kids Guide
I hope you found some inspiration and ideas from our list of family hikes in the French Alps. Hiking is one of the top things to do with kids when staying in Chamonix or Morzine, and there are plenty of options around these areas to enjoy outdoor adventures in the mountains.
Read on for more tips and reviews for planning a family summer trip to the Alps;
Family Hikes in the French Alps
Guide to Visiting Morzine in Summer
Grand Balcon Sud Chamonix Hike – La Flégère to Planpraz
Parc de Merlet, Les Houches in the French Alps
La Bourgeoise Samoëns Hike, French Alps
Hike to Lago d'Arpy, Aosta Valley, Italy with Kids
This post was updated on 24 June 2023 with more photos and updated visitor information
PIN FOR LATER – Visiting Chamonix in Summer