Morzine is located in the heart of the Portes du Soleil area, which encompasses twelve ski resorts between Mont Blanc in France and Lake Geneva in Switzerland. With great restaurants and a wide range of outdoor activities, Morzine is a fantastic destination for a family holiday in the mountains. In this French Alps with Kids guide, you will find advice on where to stay, things to do and tips for visiting Morzine in summer.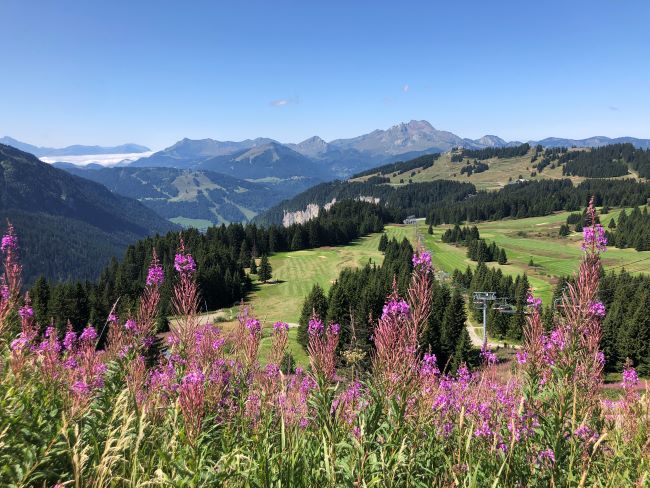 Things to Do in Morzine in Summer
Morzine, France is a charming alpine village and resort located in the French Alps in the Department of Haute-Savoie. The village of Morzine sits at an altitude of 1000m, while its sister resort, Avoriaz, is situated 1800 metres above sea level.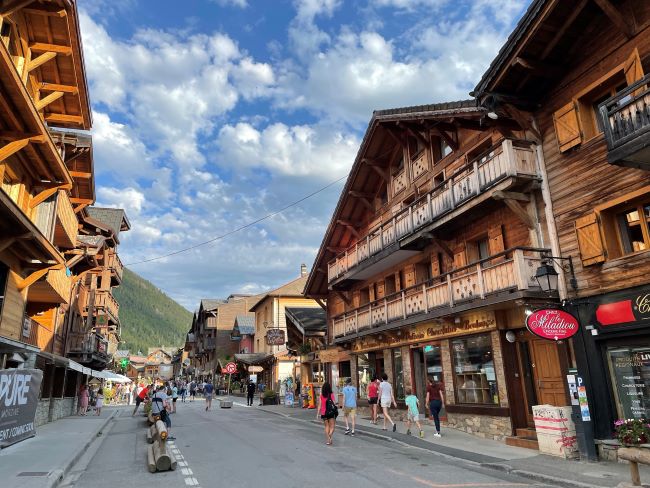 Located in one of the largest ski and mountain biking areas in the world, Morzine is a popular family destination in winter and summer. Morzine and the surrounding Portes du Soleil area offers excellent tourist infrastructure, facilities and 23 chairlifts for pedestrians and mountain bikers that link the network of resorts.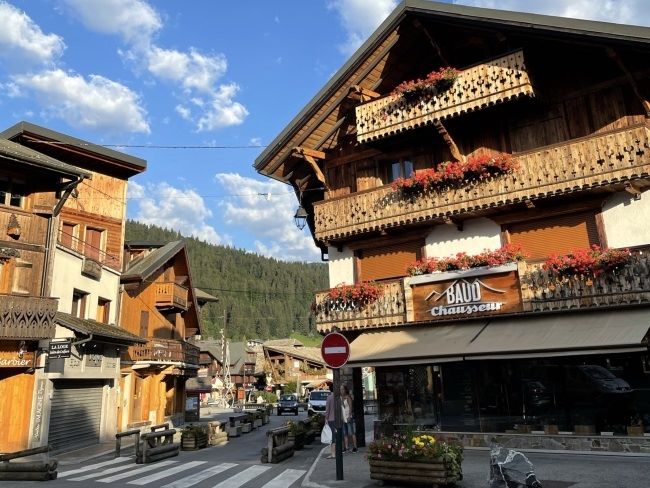 Summer facilities in the village of Morzine include an aquatic centre with 3 outdoor pools and 3 indoor pools, an indoor ice rink, the Parc des Dérêches sport centre, tennis courts and a golf course. Additional places for Morzine summer activities are the Indiana Parc and Cascade Aventure treetop adventure parks and the equestrian centre which offers pony riding and children's workshops.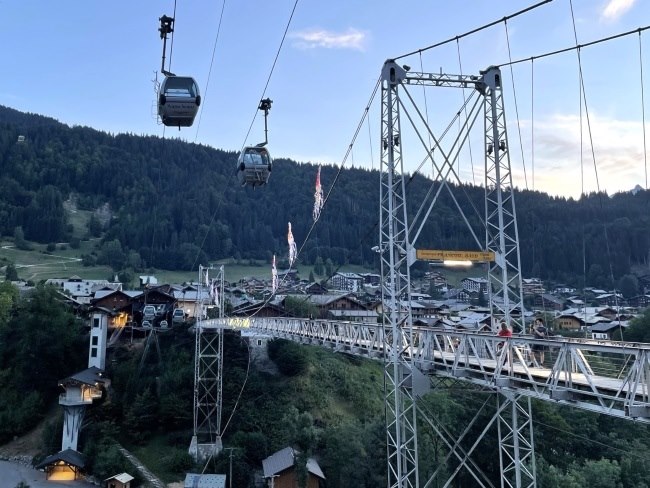 To help plan your visit, stop by the Morzine Tourist Office (located at 26 Place du Baraty) to pick up free map routes and the summer family activity programme.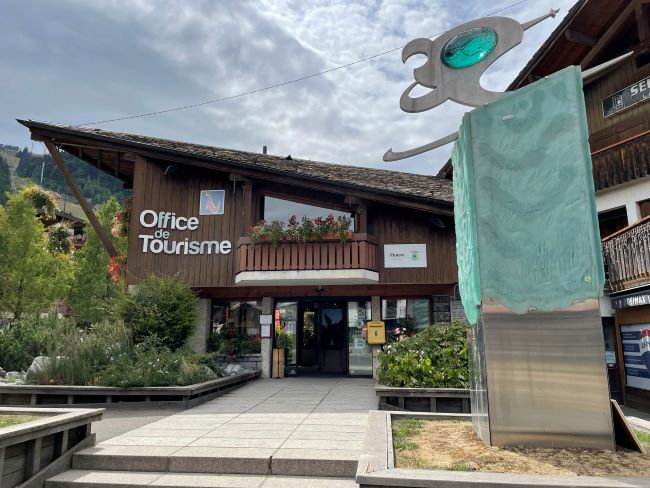 You can also access PDF versions of the most up-to-date Morzine summer brochures, maps and guides online at Morzine-Avoriaz Portes du Soleil. The "Guide des Marmots" Kids Guide is packed with ideas for things to do in Morzine, children's creative workshops, toddler activities and family sightseeing tours.
Hiking in Morzine
Morzine is an ideal destination for family hikes in the French Alps with over 200km of alpine walking and hiking trails to suit all ages and abilities.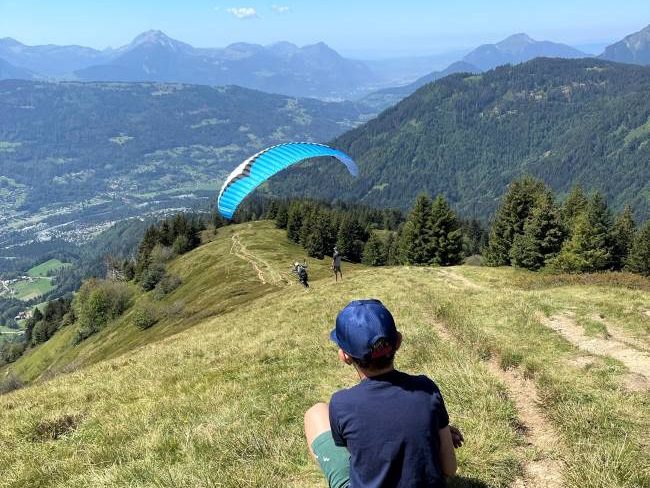 In this section, you will find our top family hikes in Morzine from summer holidays through the years. These family-friendly hikes range from easy and relatively flat treks, to moderate hikes that include some challenging parts such as steep climbs or narrow rocky paths.
La Bourgeoise Samoëns
Duration: 1 hour. Difficulty: Easy. Starting Point: Col de Joux Plane
Located in Samoëns, La Bourgeoise is an approximately 6 km loop trail that offers picturesque panoramic mountain views of the Mont Blanc Massif, Mont Buet, and the Aravis Range. Only a 20 minute drive away from Morzine, the La Bourgeoise Samoëns hike is an excellent outdoor activity for the family to enjoy while visiting the area.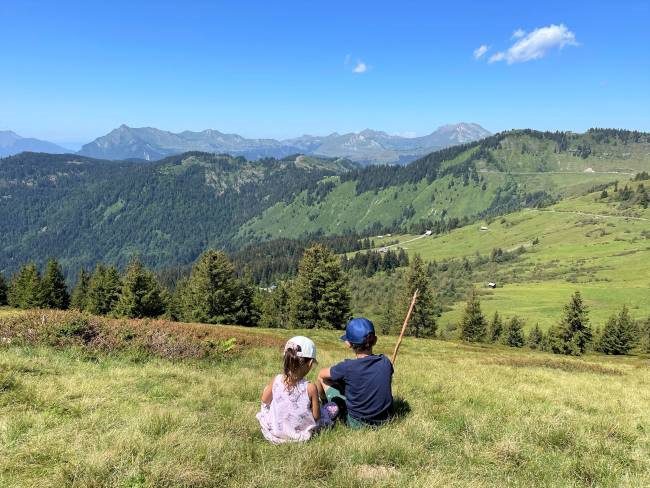 The starting point for this hike is Col de Joux Plane (alt. 1691m), with plenty of parking near Lac de Joux Plane. The trail to La Bourgeoise takes 30 minutes and is rocky and uneven at the beginning.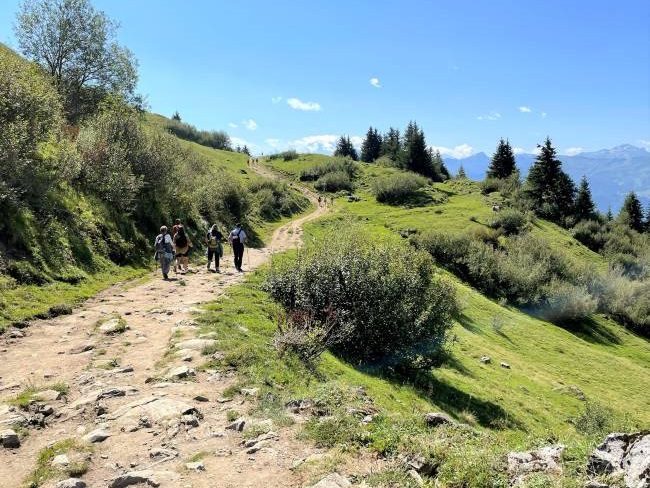 Halfway along you are rewarded with stunning views of the surrounding valleys and mountain ranges including Mont Blanc. Bring along a picnic to enjoy at the summit (1710m) while taking in the views and watching the paragliders at their launching site.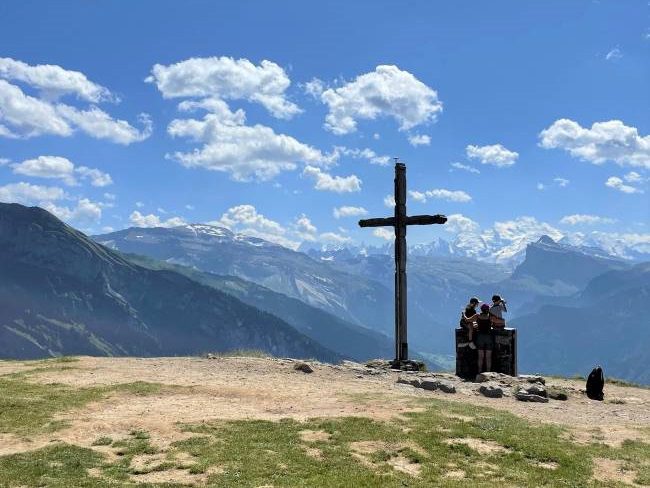 Read more: La Bourgeoise Samoëns Hike, French Alps
Cascade des Brochaux
Duration: 1 hour – 1 hour 30 minutes. Difficulty: Easy. Starting Point: Les Lindarets
One of our favourite excursions near Morzine is the 30 to 40 minute walk from the Les Lindarets chair lift to Cascades des Brochaux. The trailhead is Plateau de la Lécherette, a popular starting point for hikes in the area. The trek is mostly flat, following a river through a forest then it opens up in a meadow before you reach the waterfalls.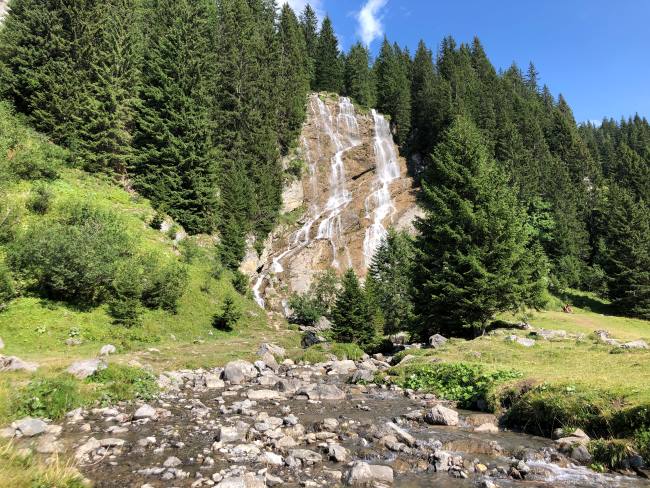 There are two restaurants just before the Brochaux waterfalls. Refuge de l'Abricotine serves a selection of sandwiches, crepes and beverages. Le Refuge des Brochaux, the closest to the Mossettes chairlift, offers omelettes, fish and steak dishes.
Between the Brochaux waterfall and the restaurants, you will find the chair lift for Pointe des Mossettes (2277 m), which is across the border in Switzerland.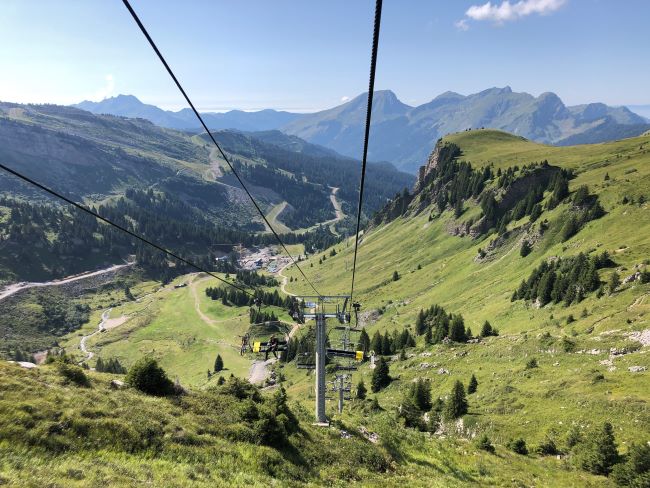 Riding the chair lift to the top of the Mossettes summit and taking in breath-taking mountain views is a great experience to add to the walk to Cascade des Brochaux.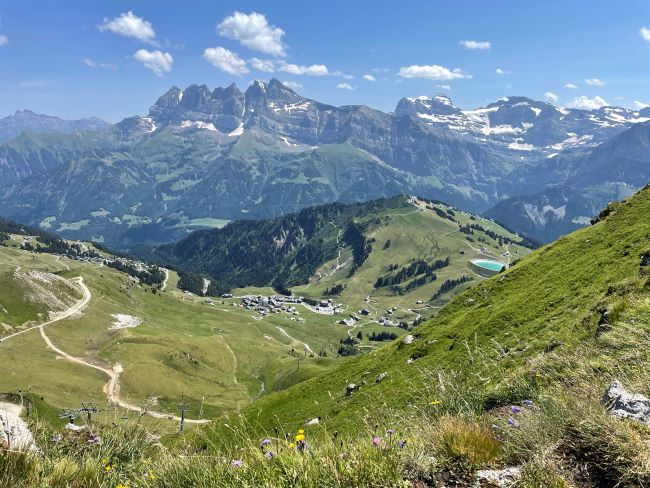 Make sure to stop by Cookie Café, the highest restaurant in Portes du Soleil, for their outstanding coffee, a freshly pressed juice or a scrumptious baked goodie. Cookie Café also serves gourmet pub style food, including burgers, bao buns, hot dogs, soups and sandwiches. View the menu.
Cascade d'Ardent
Duration: 1 hour to 1 hour 30 minutes. Difficulty: Easy. Starting Point: Lac Montriond (near Auberge du Bout du Lac)
Lake Montriond offers numerous summer hiking trails and circuits to suit all abilities. The hike to the Ardent waterfalls from Montriond lake takes about 30 minutes, with an easy hiking trail suitable for all ages and a moderate trail that goes through the woods. Both trails join up for the last part, a steep climb to the waterfalls.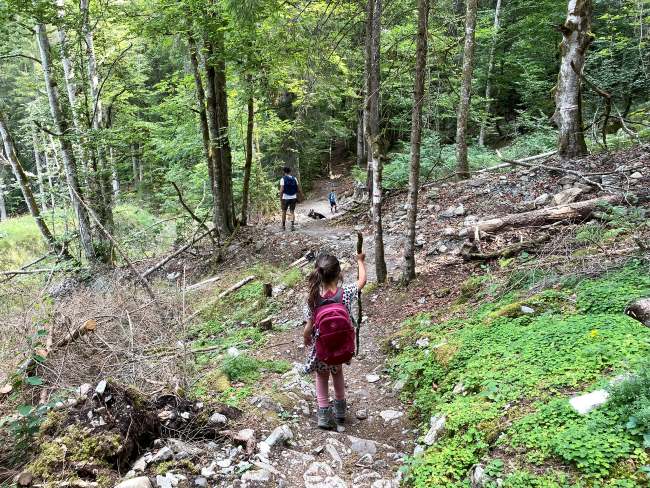 The end point of the hike is a small footbridge at Cascade d'Ardent, where you can take in the view of the long drop. The end point of the hike is a bridge overlooking the waterfall drop.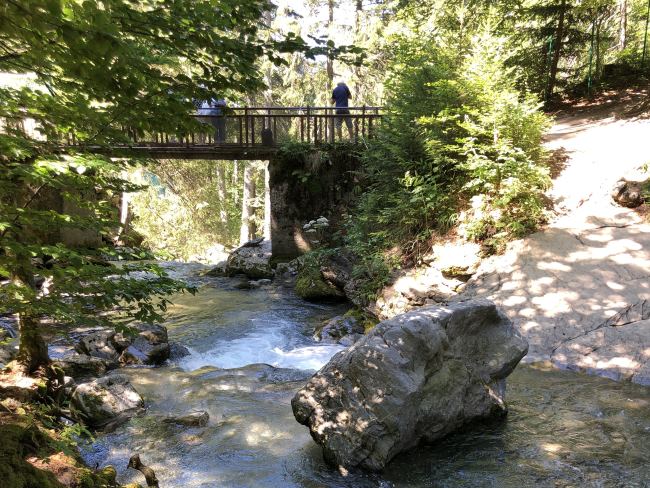 This is a lovely spot to take a break and have a snack relaxing by the river before heading following the trail down to the lake through meadows with charming chalets.
Lac Mines d'Or to Chalet de Freterolles
Duration: 1 hour. Difficulty: Easy. Starting Point: Lac Mines d'Or 
Located about 15 minutes away from the centre of Morzine, Mines d'Or Lake is a beautiful setting for summer hiking. There are several trails that start from the car park at Lac Mines d'Or.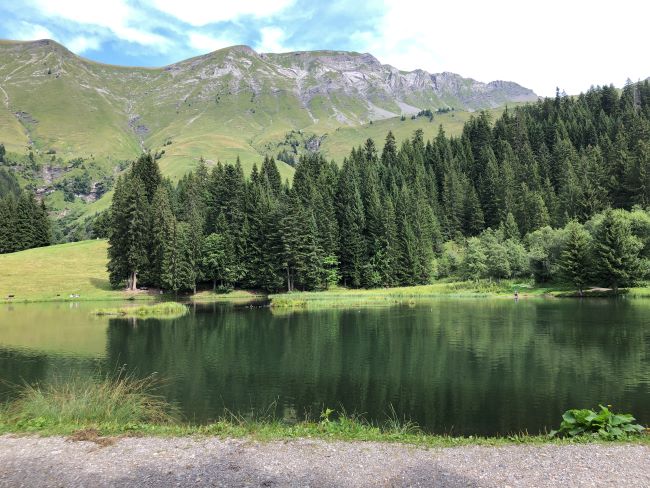 We took a hiking trail heading uphill to Ferme Auberge de Fréterolles or Chalet de Freterolles, a family-run restaurant with a terrace overlooking the mountains. We enjoyed the panoramic views along this hike, spotting cows resting in the grass along the way and seeing the goats at the farm next to the restaurant.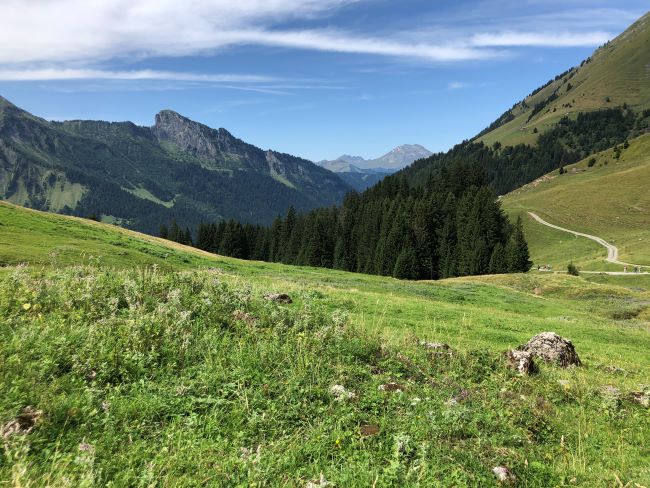 While we headed back down the same way we came, a longer circular route (total 6km, approx 2 hours) continues from this point to the Refuge de la Chardonnière and Lac Mines d'Or. Back at the lake, we had lunch at Restaurant Les Mines d'Or, which we can highly recommend.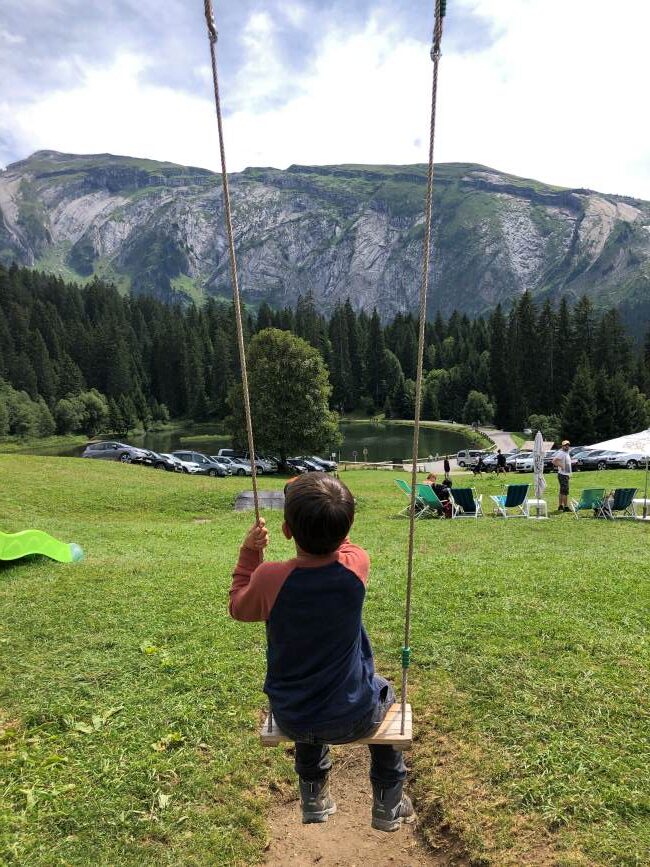 The kids loved spending time in the play area at Les Mines d'Or while we relaxed taking in the views. The food was great and it is a truly lovely spot to enjoy a beautiful summer day in the mountains.
Mont Chery to Mont Caly
Duration: 2 hours. Difficulty: Easy. Starting Point: Les Gets
A great family-friendly hike in the neighbouring town of Les Gets is the trek between Mont Chery to Mont Caly. Take the gondola to Mont Chery from Les Gets, then follow the dirt road trail an hour to Restaurant Les Chevrelles (1490 m).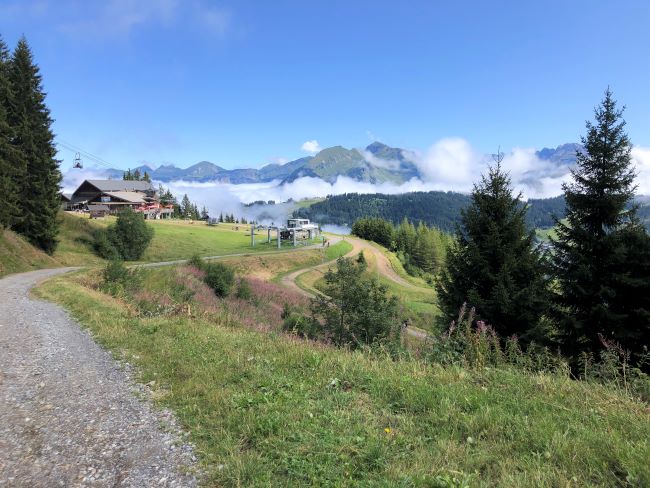 Les Chevrelles is a charming restaurant located on Mont Caly which offers stunning views of Les Gets and, on a clear day, Mont Blanc in the distance. The restaurant serves traditional dishes such as tartiflettes, raclette, fondue and omelettes.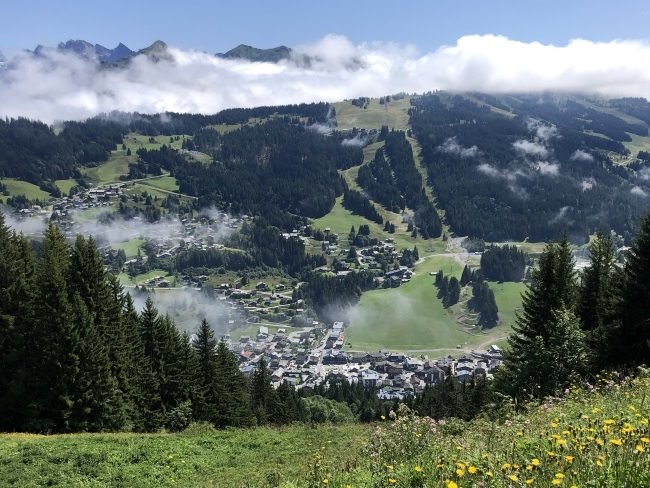 Col de la Ramaz to Lac de Roy
Duration: 2 hours. Difficulty: Easy. Starting Point: Col de la Ramaz
The hike from Col de la Ramaz, located in the Praz de Lys Sommand resort, makes for an ideal family walk and offers panoramic views of the Grandes Alpes.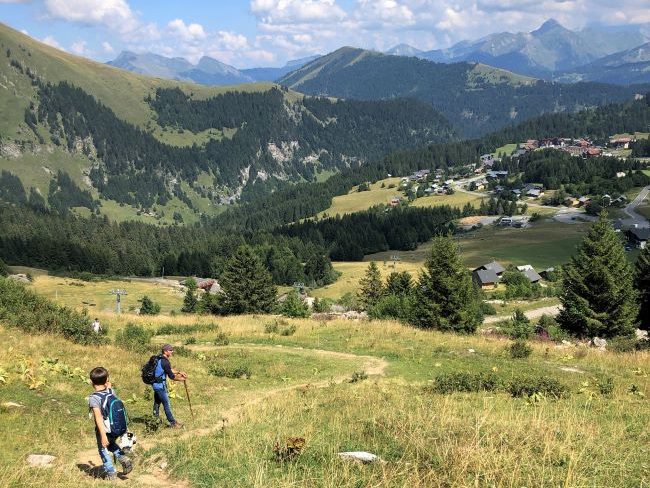 The trailhead is right across from the car park at Col de la Ramaz, and a wide trail takes you slightly uphill to Lac de Roy, which faces Mont Blanc. This trek goes through mountain pastures and offers beautiful panoramic mountain views along the way.
Lac de Montriond
Lac de Montriond is one of the best places near Morzine for summer activities, from recreational water sports to hiking excursions. There are several hiking trails at Lake Montriond, from an easy circular walk around the lake, to uphill climbs through the forests to see the waterfalls.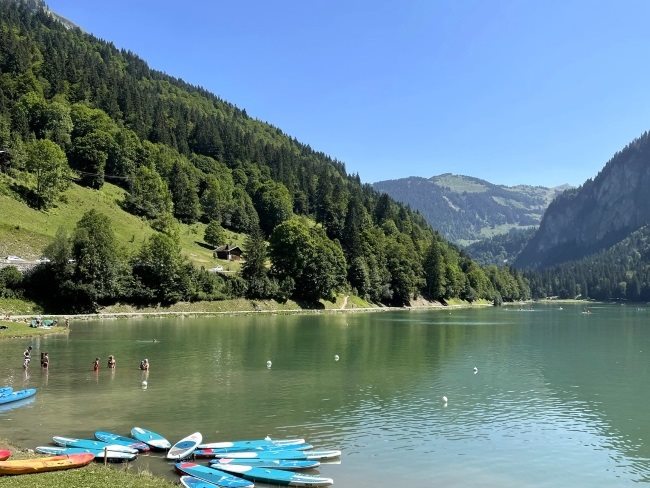 Kayaking and stand up paddle boarding are popular activities for families at Lake Montriond. You can hire equipement at Nauti'Chill, located on the lake in front of Restaurant Le Verdoyant.
Nauti'Chill rents out kayaks, stand up paddle boards and canoes. Check latest prices and availability, as well as make a booking on the Nauti'Chill website.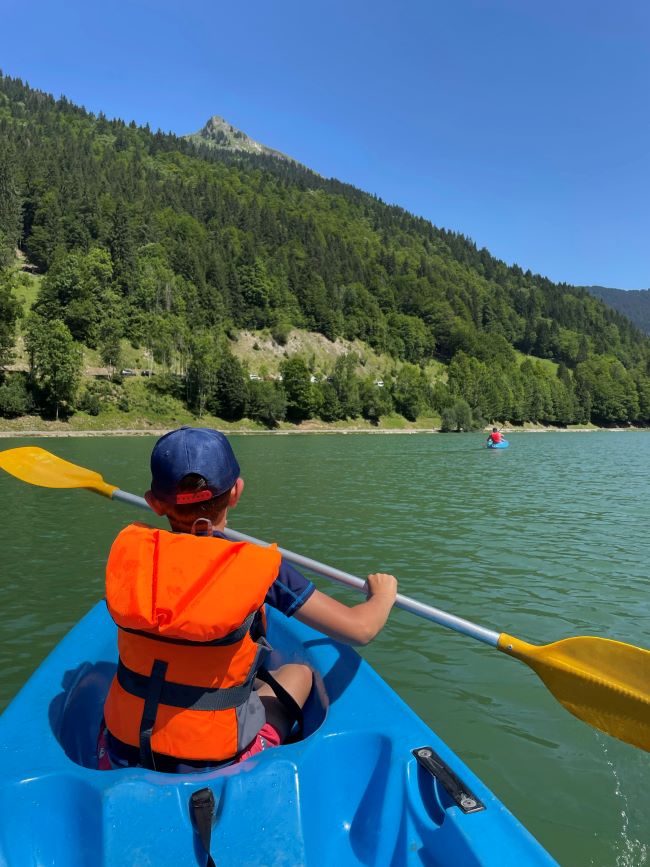 The fully secure swimming area at Lac de Montriond, with a great space for little ones, has lifeguards on duty from 11am to 6pm in July and August, excluding Saturdays. Nearby summer family activities include mini-golf and pony rides.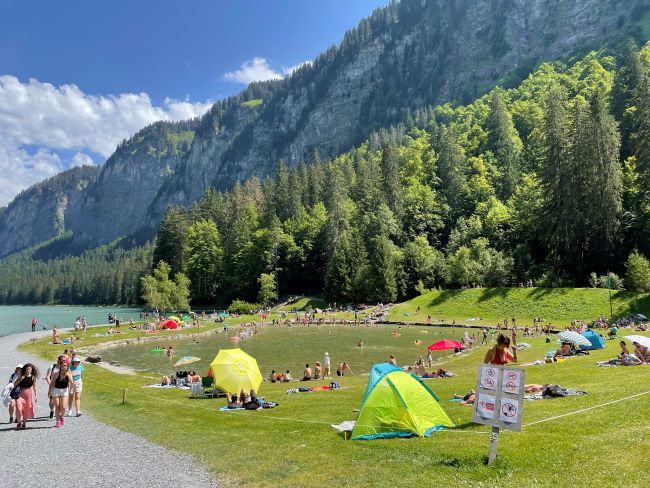 There are four Lake Montriond restaurants, Bar Crêperie Burgers Lac'tuel, Hotel du Lac Restaurant, Le Verdoyant and L'Auberge du Bout du Lac. In the summertime, Hotel du Lac Restaurant serves pizzas and has Sunday BBQs (booking advised).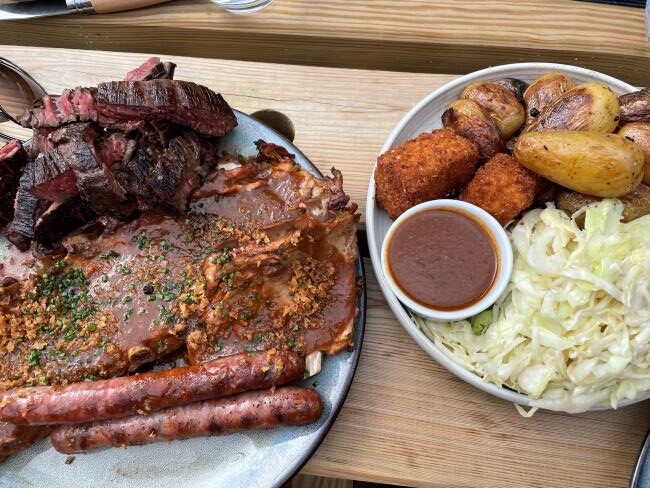 L'Auberge du Bout du Lac is at the far end of Lake Montriond and offers traditional Savoyard cuisine and lakeside views.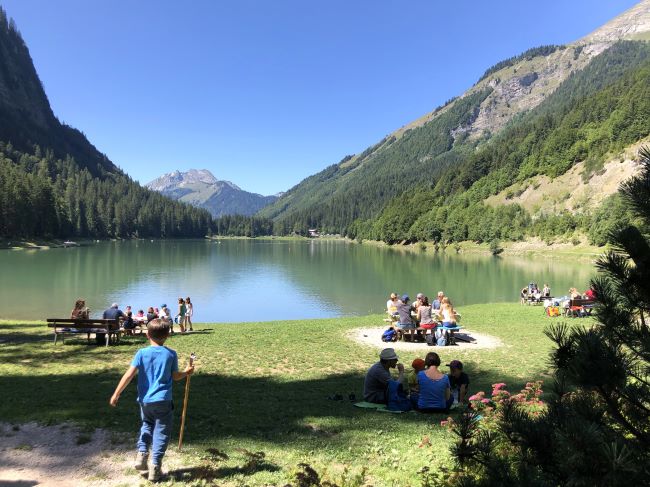 Cascade Aventure Park
One of our top family experiences in Morzine is the Cascade Aventure Park located at Nyon waterfalls. Cascade Aventure Park is a treetop adventure park, similar to GoApe in the UK, with 3 different circuits of varying levels of difficulty with high ropes, platforms and zip lines.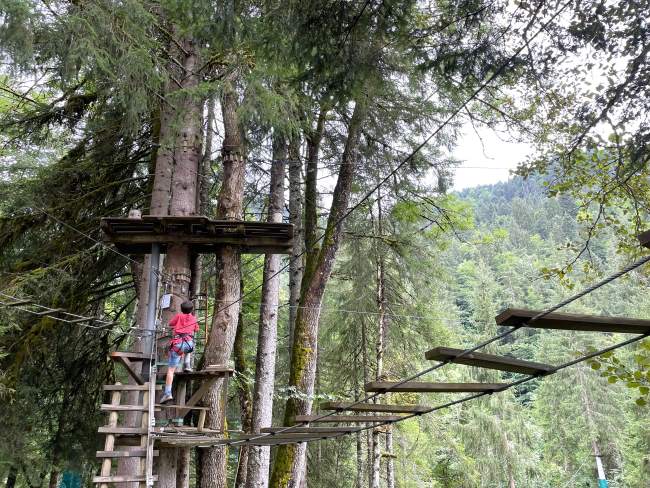 There is plenty to do around the treetop adventure course and my son (age 9) enjoyed following the circuits and going on zip lines through the woods. My daughter (age 5) started on the circuit for ages 3+ and practiced various obstacles at 1m above the ground, with rope bridges, nets and mini zip-lines.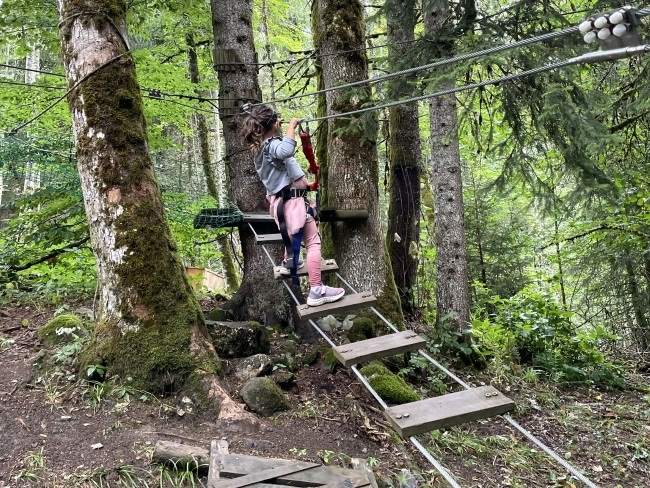 The mini circuit helped build up her confidence to move to the next level and try the zip lines too. Find more details at Cascade Aventure Park Morzine.
Les Lindarets Goat Village
I would recommend combining the hike to the Brochaux waterfall with a stop in the picturesque village of Les Lindarets, or the "Goat Village".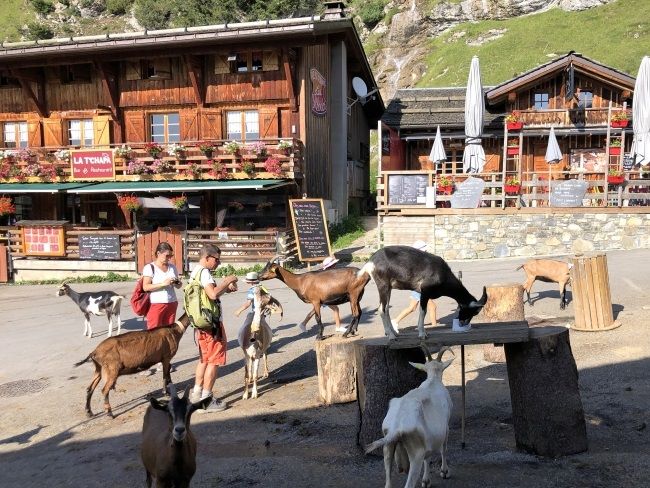 It is a fun experience seeing the hundreds of goats that roam around the village in the summertime. Several shops around the village sell local cheese, wine and souvenirs. We usually make a quick stop on our way back to Morzine.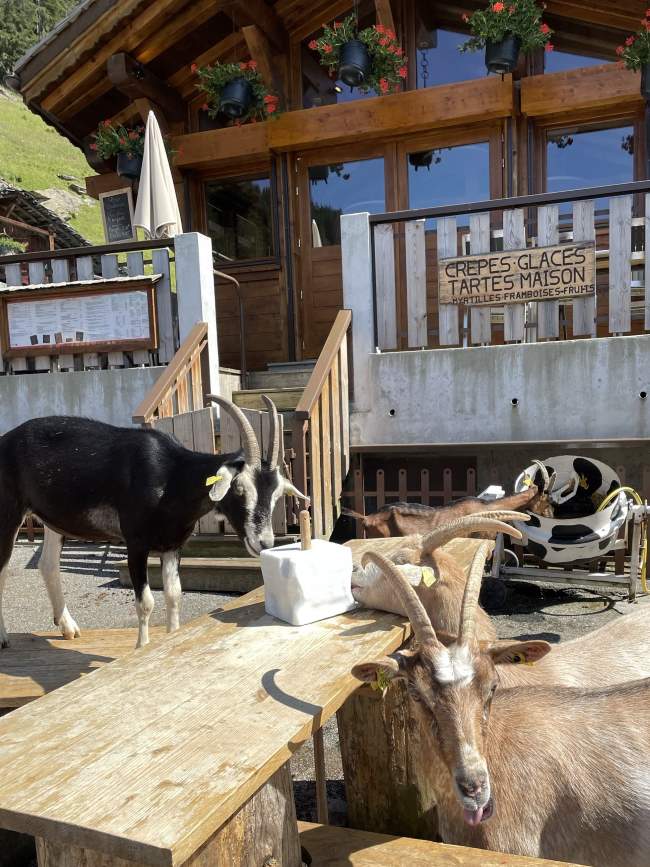 Les Lindarets is also well known for its restaurants serving up popular Savoyard dishes in the winter and summer seasons. Popular restaurants include Chaudron and Restaurant La Crémaillère.
Morzine Town Centre
The town centre of Morzine in summer is a pleasure to explore, with characteristic village alleys, a pedestrianised town square and traditional alpine chalets with finely decorated balconies and slate roofs. Morzine has maintained its traditional alpine character while also embracing sustainable tourism and high standards for its facilities and services.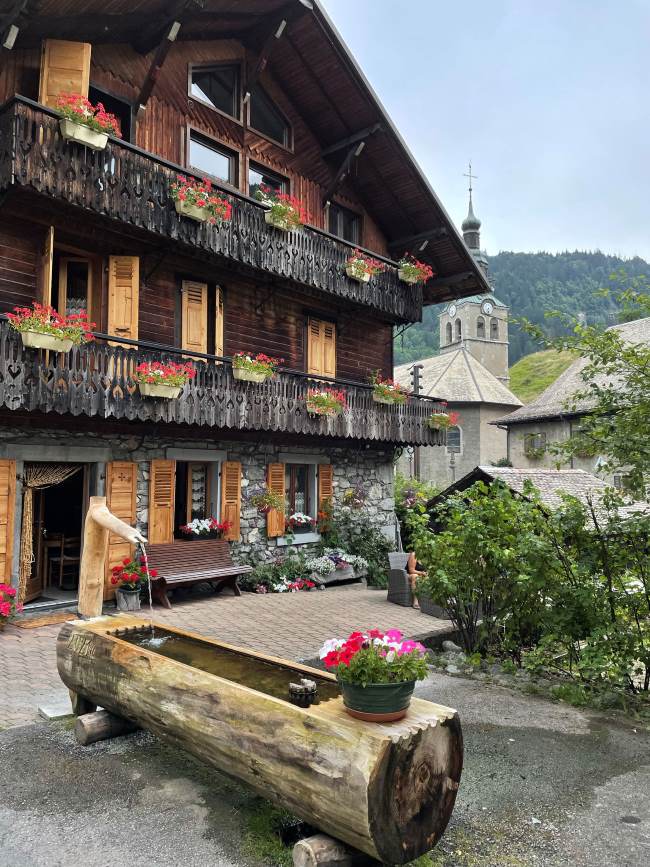 The Morzine Tourist Office Square is closed to traffic from the beginning of July to the end of August, while the Rue du Bourg is closed during selected weeks during summer.
Family Activities
The town square in Morzine is pedestrianised during the summer season and becomes a hub for family activities and events. The Morzine Tourist Office Square is closed to traffic from the beginning of July to the end of August, while the Rue du Bourg is closed during selected weeks.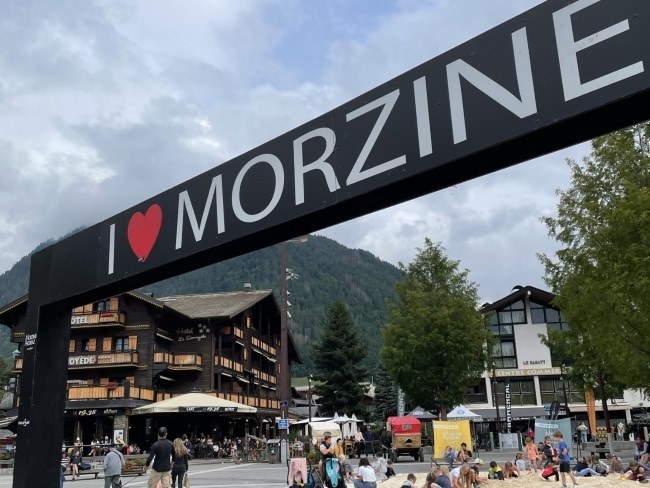 Drop-in summer activities at the Morzine Tourism Square are typically between 5pm and 7pm and include a carousel, a go-kart race track and family games. Other fun things to do in Morzine for kids include children's arts and crafts workshops, free carpentry workshops and making a local blueberry jelly.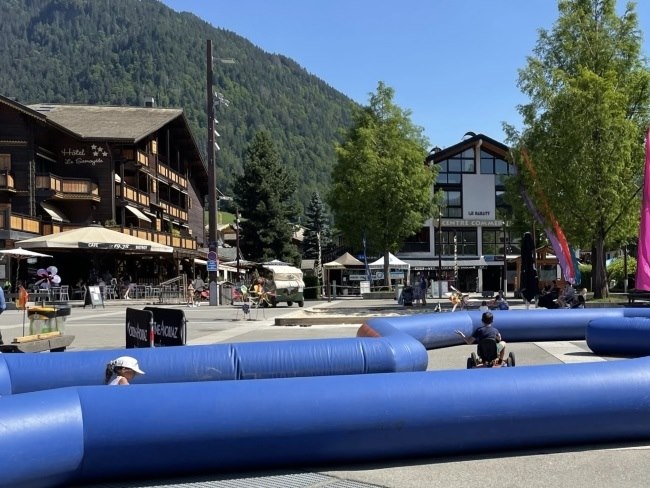 Check the Events calendar at the Morzine-Avoriaz Tourism website for what's on the week(s) you are visiting. When you click to open an event listing, there will be a link for "Booking". You will need to register and book a place in advance, either via the online listing, by phone or email, or in person at the Morzine Tourist Office (located at 26 Place du Baraty).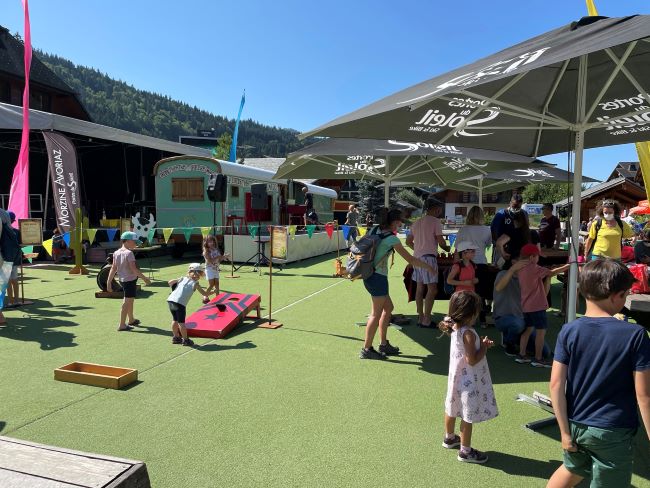 You can also access PDF versions of the most up-to-date Morzine summer brochures, maps and guides online at Morzine-Avoriaz Portes du Soleil. The "Guide des Marmots" Kids Guide is packed with ideas for things to do in Morzine, the summer activity and event programme and information on family sightseeing tours for the local region.
Morzine Restaurants
There is a wide range of restaurants in Morzine, offering a variety of cuisines from traditional Savoyarde fayre to gourmet burger restaurants to Asian street food. Do book ahead during the busy summer season, since most restaurants book out early and sometimes cannot accommodate walk-ins. In this Morzine Restaurants list, you'll find our top places to eat in Morzine, which are all also dog-friendly;
La Chaudanne
590 Route de la Plagne, 74100 Morzine | www.lachaudanne-morzine.com
La Chaudanne is one of the top Morzine restaurants and one we always go back to when we visit Morzine in summer. Also popular for its excellent wine bar, La Chaudanne offers traditional Savoyard cuisine and local specialties.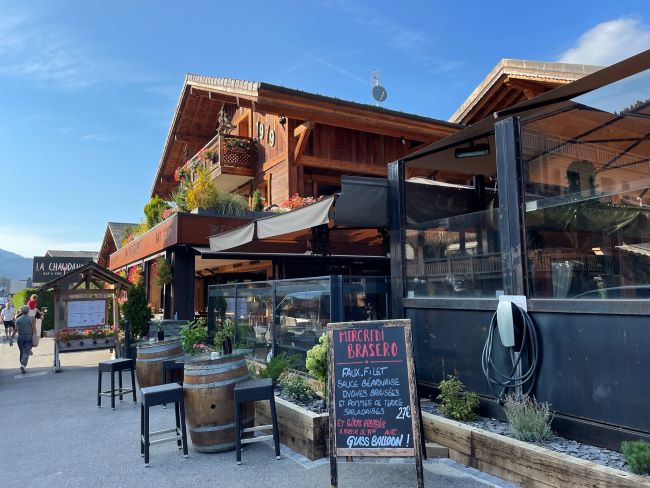 Our favourite Savoyard specialties to order at La Chaudanne are the cheese fondue, tartiflette and the pierrade, a hot stone served with a platter of beef, chicken and veal for you to cook at your table.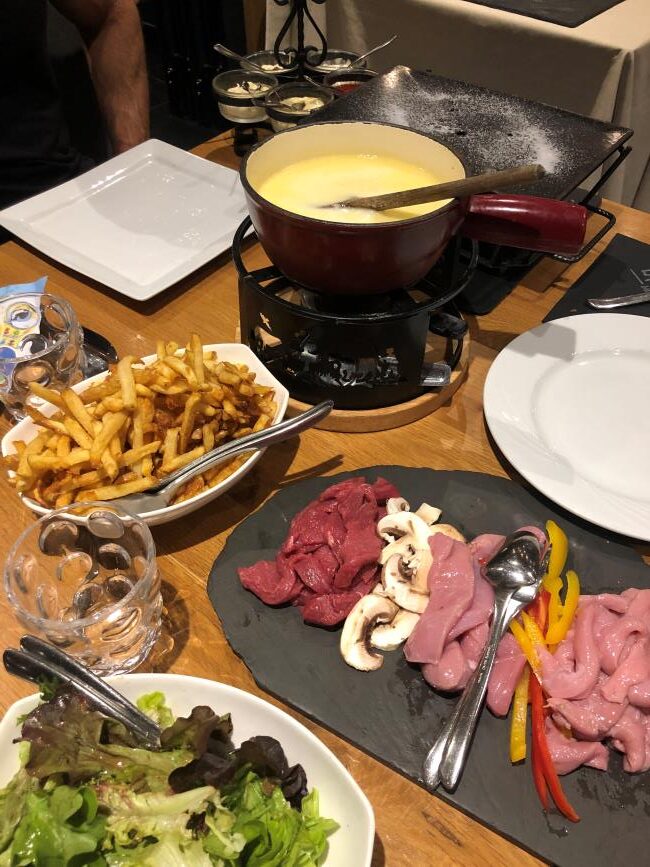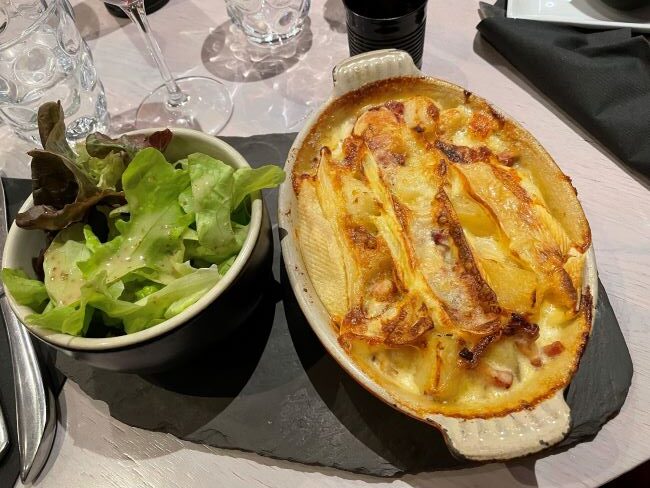 View the menu at La Chaudanne
La Chaudanne Morzine also serves fish, chicken and meat dishes, such as beef fillet and pork ribs with barbecue sauce.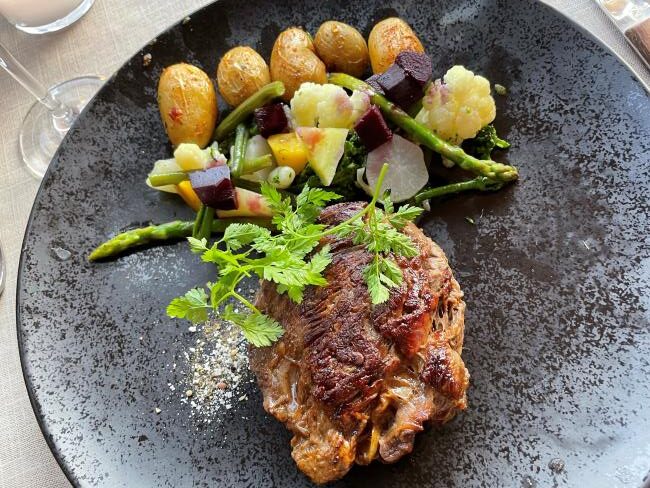 La Rotonde
890 Avenue de Joux-Plane, 74110 Morzine | www.rotonde-morzine.com
La Rotonde is one of our favourite Morzine restaurants, located just down the road from the Pleney. It has a large terrace and garden great for dining outdoors and enjoying the views in summer.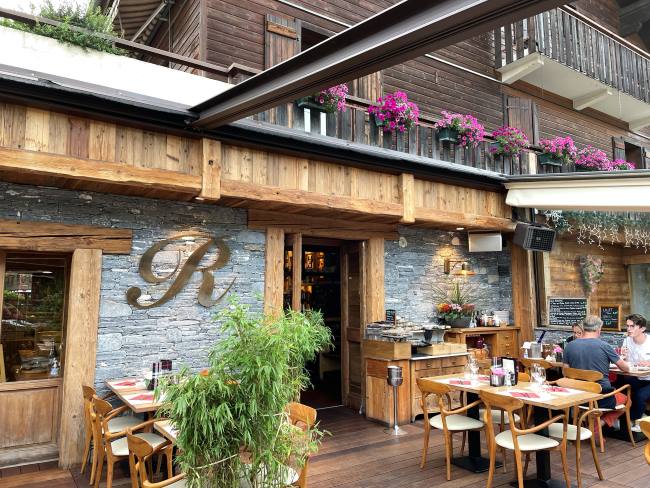 Along with local Savoyard classics like fondue and raclette, La Rotonde serves pizzas, salads, pasta and risottos, fish and meat dishes. One of our favourite dishes at La Rotonde is La Potence, pan-friend beef meat which is served flamed with whiskey.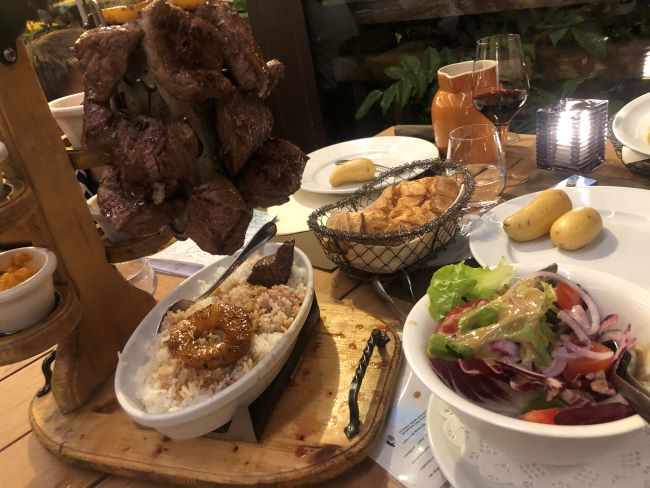 View the menu at La Rotonde
La Grange
60 Chemin de la Coutettaz, 74110 Morzine | www.lagrangemorzine.com
One of the best restaurants in Morzine, La Grange is a traditional alpine retaurant set in a charming wooden chalet in Morzine's old town. La Grange is popular for its fondue and raclette, as well as its contemporary French menu offering of salads, steak and fish dishes.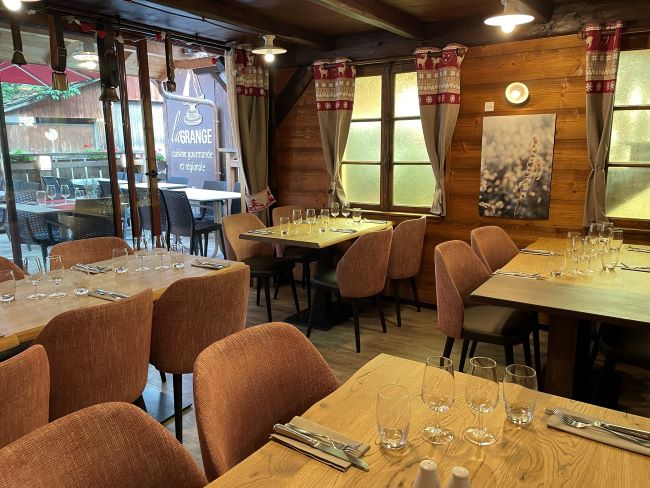 View the menu at La Grange
Overall we highly recommend La Grange Restaurant for excellent service, lovely atmosphere and outstanding food. Along with the three cheese fondue, my favourite dish at La Grange is the goat cheese salad – delicious and perfect for summer!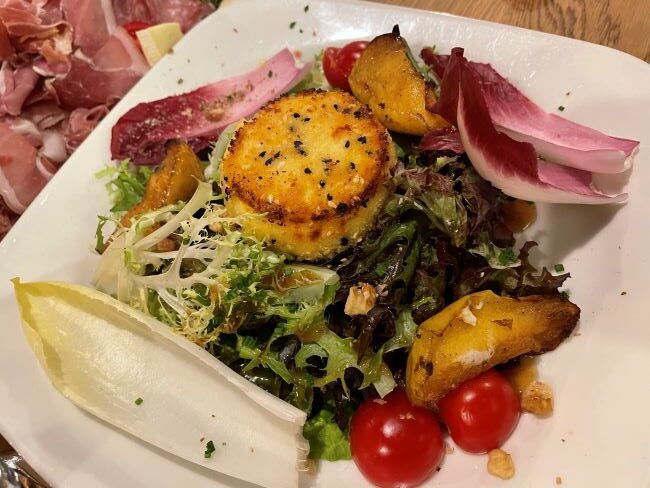 L'Etale
80 Taille de Mas du Pleney, 74110 Morzine | www.etale-morzine.com
L'Etale is a lively, bustling brasserie with a terrace and large indoor space. The service was slow when we had dinner here, but we did eat well and would go back again. Highly recommend ordering La Potence, the "Meat Tree" pan fried beef dish served flamed with whisky (also shown above at Restaurant La Rotonde).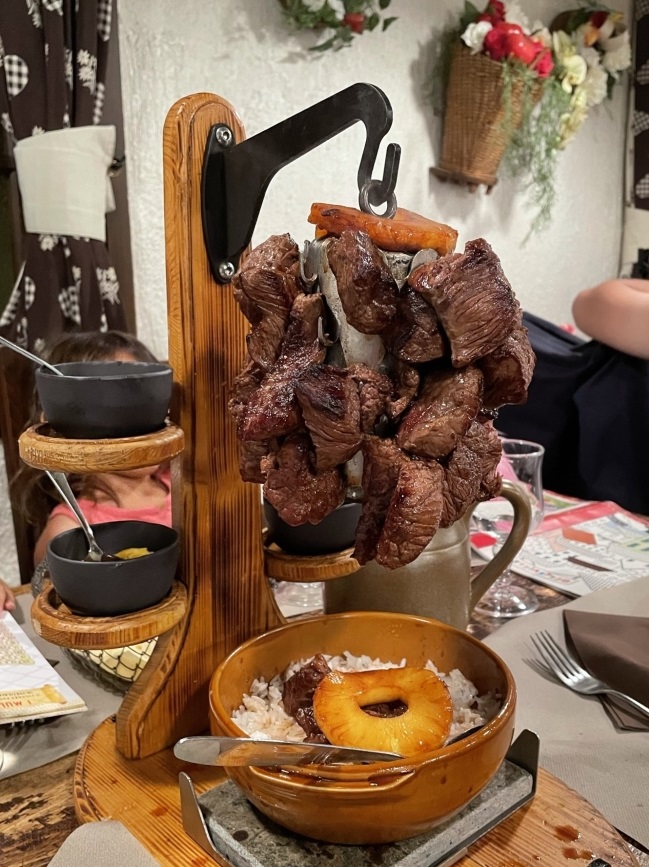 View the menu at L'Etale
Morzine Shops
If you're staying at a self-catering apartment or chalet, there are several supermarkets within the Morzine town centre, SPAR at 106 Route de la Plagne, Casino at 535 Route de la Plagne and Carrefour Market at 141 bis Route du Plan.
La Poterie de Morzine
Rue du Bourg, 74110 Morzine 
La Poterie de Morzine is a workshop-boutique selling traditional Savoyard pottery by local potter Gérard, who makes each piece by hand using local decoration and patterns.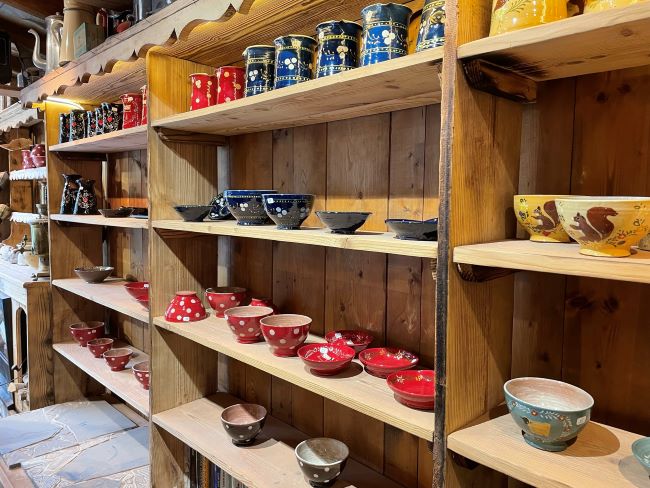 Every time we visit Morzine, I make a stop at La Poterie de Morzine to add to our growing collection of beautifully made mugs, milk jugs and bowl with the characteristic Savoyard designs. The pottery at La Poterie de Morzine make wonderful gifts and souvenirs.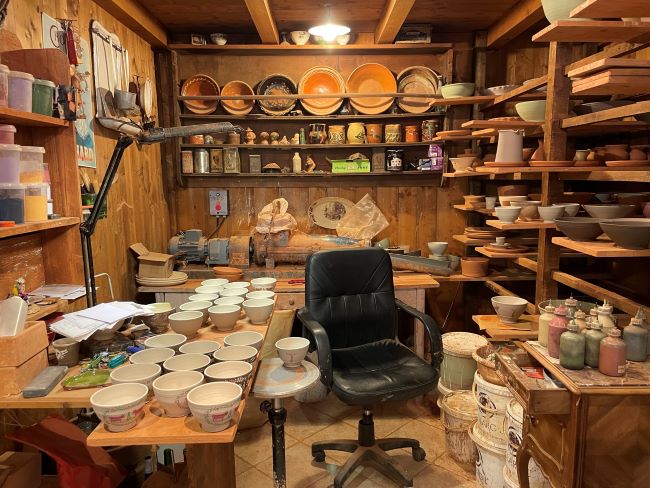 L'Alpage Fruitière
337 Route du la Plagne, 74110 Morzine
L'Alpage is a delicatessen in the Morzine village centre selling a range of locally made cheese, including regional specialities Reblochon, Abondance and Raclette. Local specialities also produced by L'Alpage are the Vieux Fromage de la Pointe de Nyon and the Tomme and Tomette de Morzine.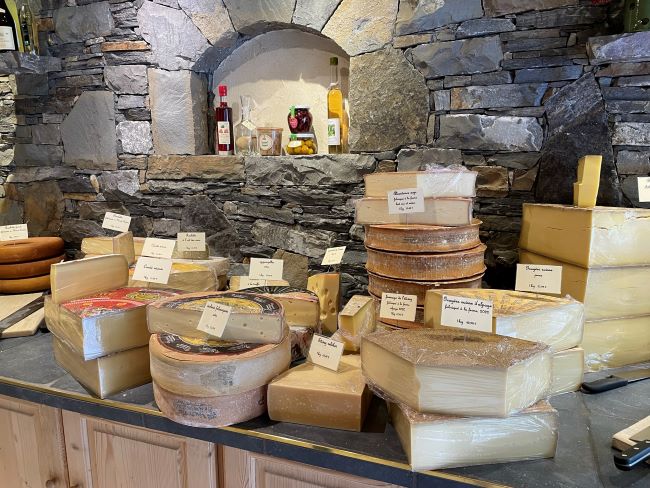 The L'Alpage shop also offers a wide range of locally made products, such as butter, jams and fruit conserves, charcuterie, Savoie wines and liqueurs, honey and natural yogurts.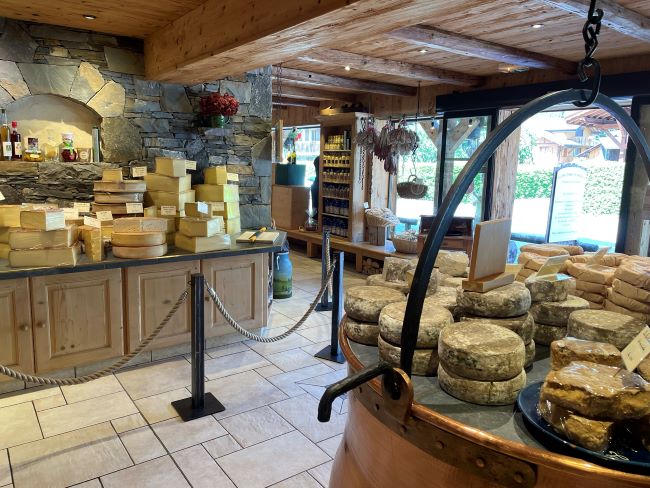 La Bonbonniere
129 Route de la Plagne, 74110 Morzine
La Bonbonniere is an artisan bakery in the Morzine village and a popular spot first thing in the morning for its delicious coffee and pastries. In addition to baked goods and desserts, La Bonbonniere offers a variety of bread, sandwiches, snacks and ice cream.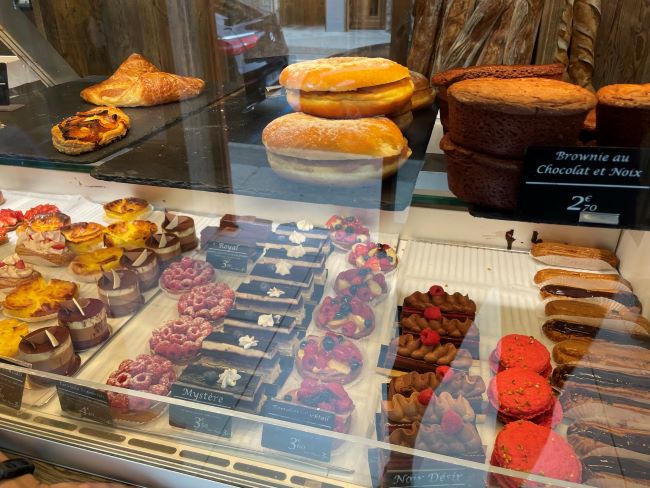 Where to Stay in Morzine
Morzine and the surrounding area offer a wide range of places to stay, from hotels to apartments or chalet rentals. While prices are lower in the summer compared to the much busier ski season, the top apartment and chalet rentals do tend to be booked out months ahead of the summer season. Start checking for availability well in advance to get the best value for your money.
Check prices and book a holiday rental in Morzine at Booking.com
As a family of four, our preference is to stay at a two bedroom apartment or a chalet to have extra room, the convenience of a kitchen and laundry facilities and ideally outdoor space. On our previous visits to Morzine in summer, we have stayed in apartment and chalet rentals located in the Morzine town centre and, on our last trip, in a chalet rental in the neighbouring town of Montriond.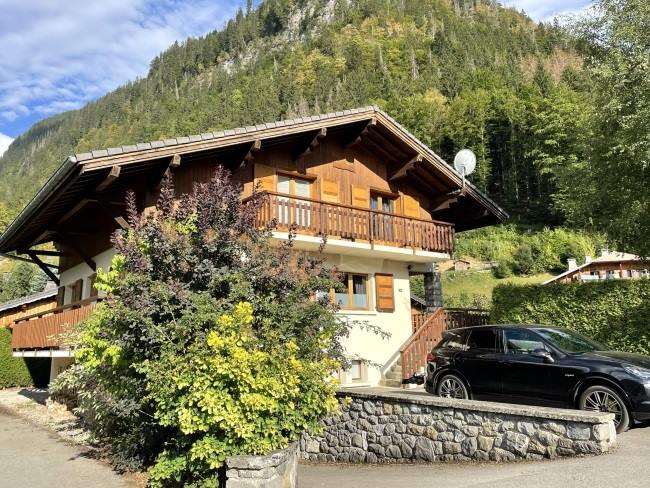 The self-catered chalet rental in Montriond was our favourite place to stay. This pet-friendly chalet was spacious and comfortable for our family of four, plus our dog Rex. With four bedrooms and four bathrooms, the chalet can sleep up to 8 people and also featured a well-stocked kitchen, a home office, a cosy living and dining area and even a rec room with a ping-pong table.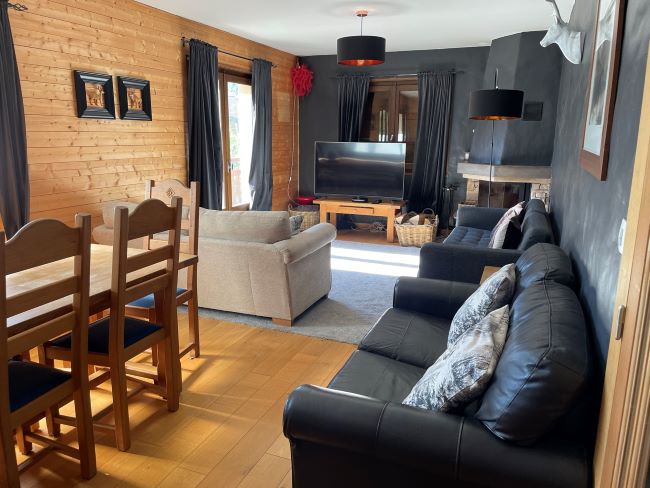 We loved the large, fenced-in outdoor space, which had a lovely little playhouse for the kids. There was also outdoor dining on the patio with a BBQ grill. The garage had a washing machine and dryer and was also convenient for storing my husband's bicycle.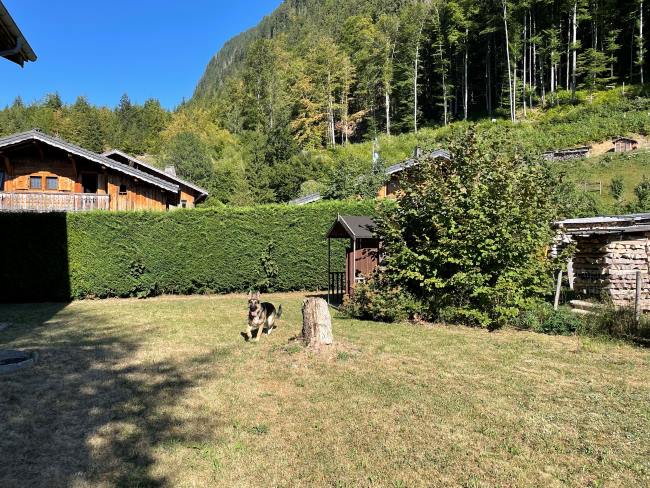 The peaceful location was conveniently located halfway between the Morzine town centre and Lake Montriond, with the grocery and restaurants of Montriond a short walk away.
Check prices and book a holiday rental in Montriond at Booking.com
Staying within Morzine is very convenient, since it is an easy village to get around by foot or bus. When choosing a flat or chalet in the town centre, I find it helpful to use the Morzine Tourism Office (labelled in map below at 26 Place du Baraty) as a reference point due to its central location to the village shops and restaurants.
We have stayed previously at a two bedroom flat on Route de la Plagne. The flat had its drawbacks, however, the location was excellent, within walking distance to the town centre. On the next trip, we stayed at a four bedroom chalet, also conveniently located to the town centre, which was spacious and comfortable for our family but was on a busy road.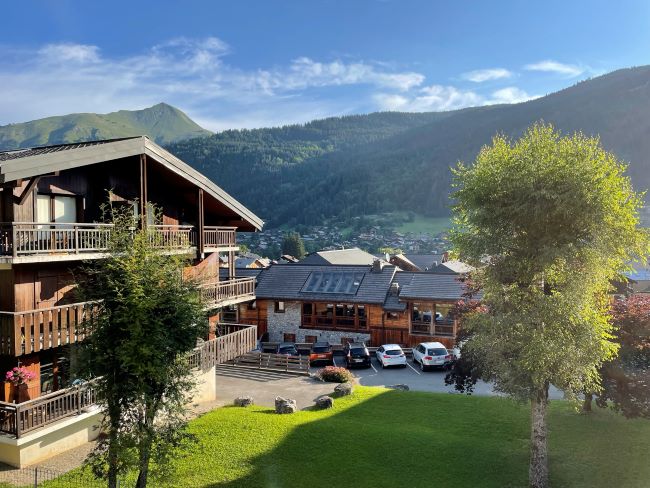 Check prices and book a holiday rental in Morzine at Booking.com
When looking for apartment or chalet rentals on Airbnb or Booking.com, I would recommend also expanding your search to nearby villages such as Les Gets, just 5 miles south of Morzine, or Montriond, less than 2 miles north. You can often find more value for your stay, be within walking distance to restaurants and facilities and still be a short journey away from the Morzine town centre by bus or car.
Portes du Soleil Summer Lift Passes
In summer, the Portes du Soleil network of resorts are accessible by lifts for pedestrians and/or mountain bikers. 23 chairlifts and cable cars across 650 km of ski slopes link the villages of Morzine, Les Gets, Avoriaz, Chatel, Lindarets, Champery, Champoussin, Torgons, Morgins and Les Crosets. Over the summer, the slopes become waymarked trails for hiking and mountain biking.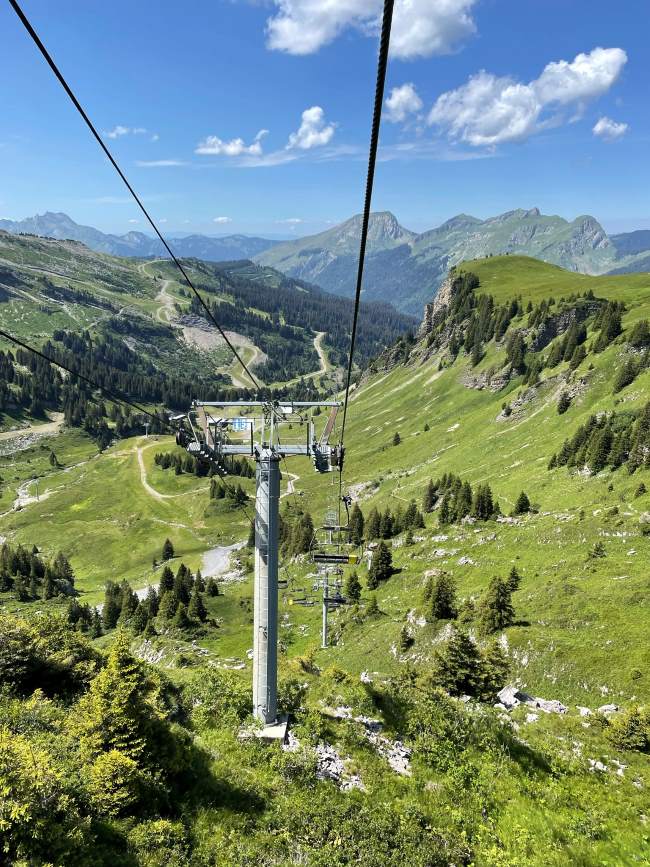 Some chair lifts are open to pedestrians or mountain bikers only, while other lifts are open to both, so do always check first. All lifts are equipped to carry bicycles. There are special packages available to access all the Portes du Soleil lifts at a reduced price – the Mountain Bike Package and the Multi Pass.
The Multi Pass, which is a great option for families and starts from €2.50 a day, covers a wide range of indoor and outdoor activities throughout the region. Along with chair lift access, the Morzine summer activities on the Multi Pass include paragliding, the Indiana Parc Morzine, the Aquatic Centre, the summer sledge and Morzine bike school. The Portes du Soleil Multi Pass is free for children under 5 years old.
Find out more about the Summer Lift Passes offered at Portes du Soleil.
Travelling to Morzine France
By Air
Morzine is conveniently located approximately 1 hour 30 minutes from Geneva International Airport (GVA). British Airways and Swiss Air fly direct to Geneva from London Heathrow, while EasyJet operated direct flights to Geneva from London Gatwick.
By Car
Morzine is an 8 to 9 hour drive from the port city of Calais, France, which you can get to from the United Kingdom taking the Eurotunnel Le Shuttle car train or a ferry boat.
Eurotunnel Le Shuttle – The easiest and fastest way to drive your car from London to Calais is to take the Eurotunnel Le Shuttle at Folkestone, Kent, which only takes 35 minutes. We have driven our car several times for road trips to France on the Eurotunnel Le Shuttle, and each time found the process easy and seamless from start to finish.

Ferry Boat – Another option for driving your car is to take one of the several ferry boat options from Dover to Calais, such as P&O Ferries. Ferry crossings take around 1 hour 30 minutes to arrive at Calais, and the ferry boats usually offer facilities on board such as duty free shopping, restaurants and toilets.
French Alps with Kids Guide
I hope you found this guide for visiting Morzine in summer with kids helpful. The French Alps offer a plethora of outdoor adventures and stunning scenery to enjoy during the summer. Morzine is one of best alpine towns to be based, with a variety of places to stay, loads of hiking trails around Portes du Soleil, plenty of shops and facilities in the town centre and so much to do for the whole family.
Read on for more tips and reviews for planning a family summer trip to the Alps;
Family Hikes in the French Alps
Tips for Visiting Chamonix in Summer
Grand Balcon Sud Chamonix Hike – La Flégère to Planpraz
Parc de Merlet, Les Houches in the French Alps
La Bourgeoise Samoëns Hike, French Alps
Hike to Lago d'Arpy, Aosta Valley, Italy with Kids
Disclosure: This post contains affiliate links, so if you do click through and make a purchase I may receive a small amount at no extra cost to you. Thanks for your support!
Pin for Later – Tips for Visiting Morzine in Summer with kids