For our nearly two week holiday in Bali, we were based on the beach in Legian, which is between Seminyak (to the north) and Kuta (to the south). We planned three day trips to Uluwatu, Ubud and Nusa Lembongan, and the rest of the time was spent mostly splashing about in the hotel pool and frolicking along the shores of Legian or Seminyak at sunset. We had some fun family adventures during the trip as well as some unique experiences. Here are top recommendations for fun activities in Bali with kids
Bali Sea Turtle Release
Right at the top of the list was participating in a sea turtle release with the Bali Sea Turtle Society, a non-profit organisation that are doing great work protecting local endangered sea turtles and increasing awareness of their plight. They patrol Bali's beaches for turtle eggs that they collect to be hatched safely at their centre, protecting them from poachers, dogs and beach traffic. Once the baby turtles have hatched, the organisation invites visitors to help release the hatchlings to sea the following afternoon. You need to keep a close eye on their social media (Instagram or Facebook) for the latest announcements for when a release is scheduled.
After a long queue, we picked up a baby sea turtle to carry to the beach and set free scurrying towards the water, with Little T cheering him on with "Go, baby, go!" It was an amazing experience that we still talk about (especially as Little T loves turtles!) and I'm very grateful that we could participate in a release during our visit.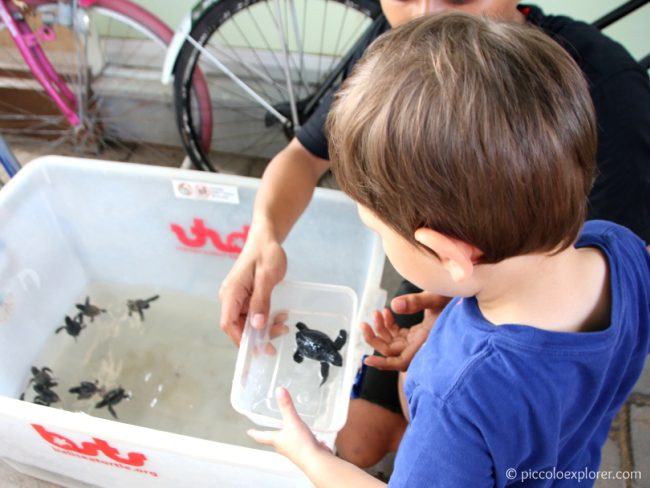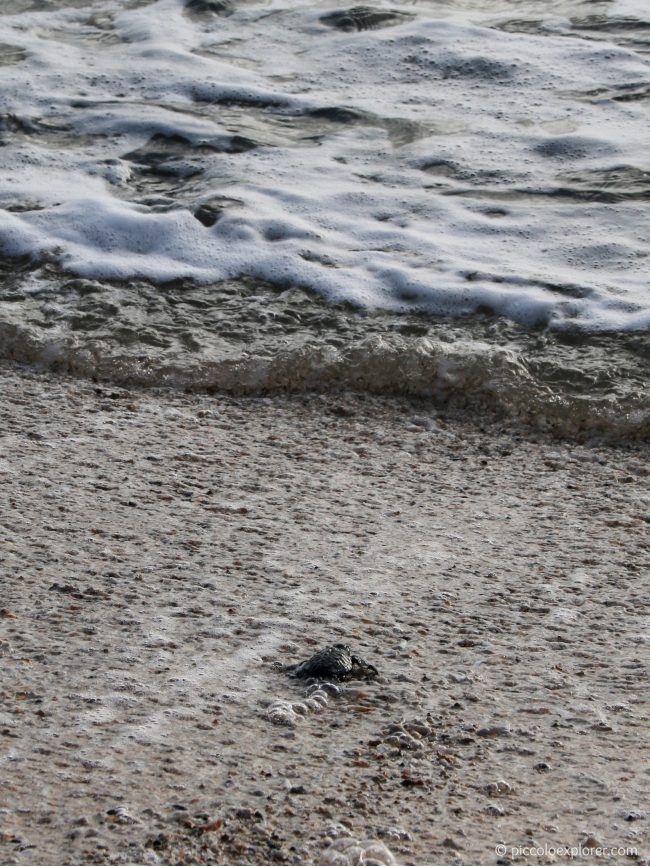 Ubud Monkey Forest
We stopped by the Sacred Monkey Forest Sanctuary during our day trip to Ubud. We spent an hour there, walking through the forest and having a look at the temple, watching the many monkeys along the paths and in the trees and even feeding a few with bananas we purchased from the vendors. The monkeys were great fun to watch moving freely around the forest, snatching the various fruits tourists were offering them. We even saw some adorable little babies, including one nursing its mother while she snacked on some fruit.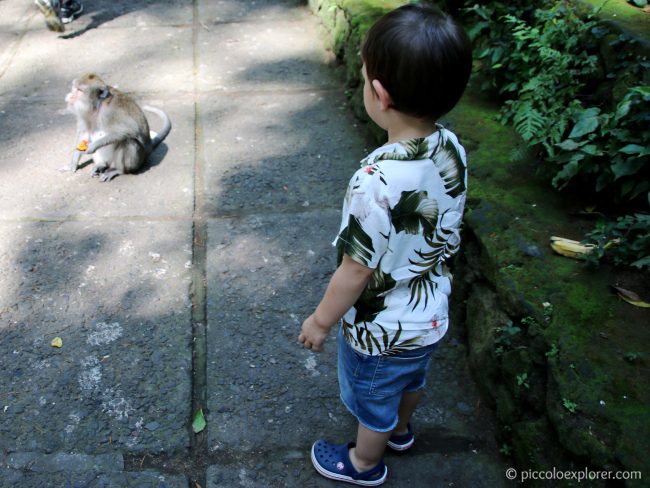 The main tips for visiting are to leave behind anything in the car the monkeys could snatch, i.e. hat or sunglasses, to not pack food into your bag as they will sniff it out and try to get into your bag and to overall keep your distance and not touch the monkeys; there are some that can be aggressive. This was a truly unique experience we all enjoyed!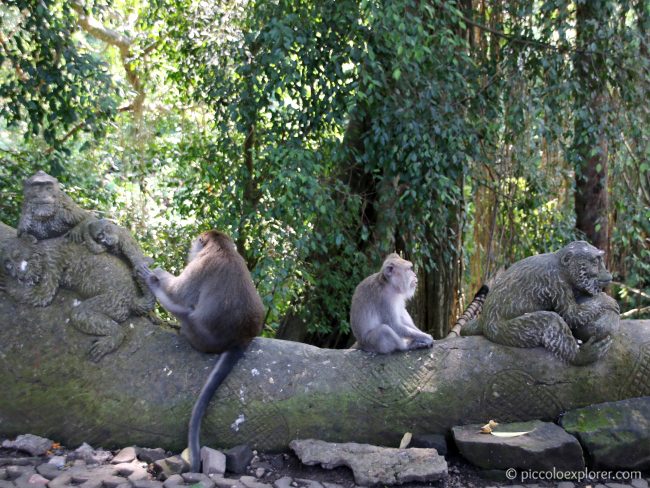 Day Trip to Nusa Lembongan
We took a fast boat cruise from Sanur on Bali's southeast coast to the neighboring small island of Nusa Lembongan, with Rocky Fast Cruises which I'd highly recommend especially for families as I found them very helpful and accommodating. We hired a golf buggy to explore the island on our own and Little T loved it!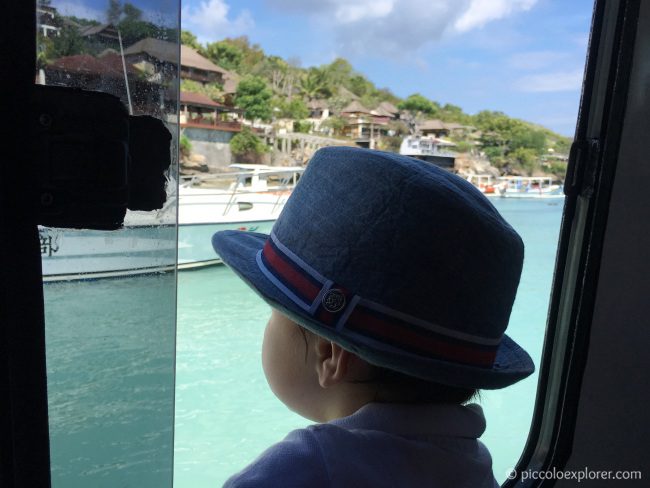 After checking out some of Nusa Lembongan's dramatic coastline at Dream Beach and Devil's Tears, we had lunch at Hai's Beach Bar & Grill on Mushroom Beach. We found it to be a great place to eat with a toddler – the restaurant is very family friendly, the food was really good and it's right in front of the beach so your little one can play while you wait for the food. Mushroom Beach is also the calmest beach in the area for swimming with young children. There's an area fit for swimming between one side of the beach with a very rocky floor and the other with boat traffic.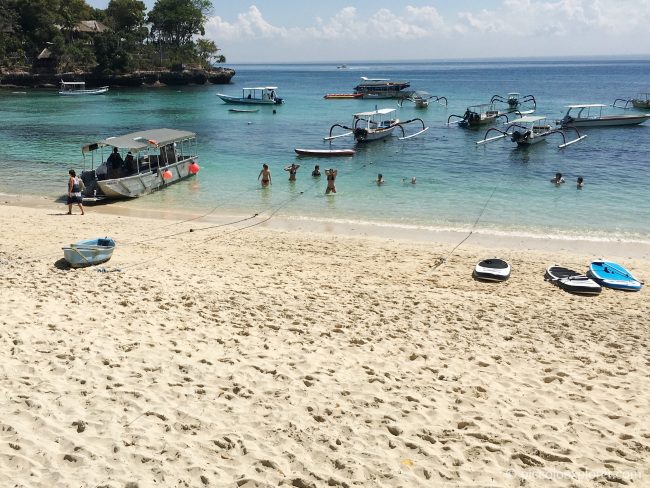 Watching Balinese Traditional Dances

The Balinese dances and plays performed at the Padma Resort's buffet dinners were beautiful to watch. Little T was spellbound throughout the performances, by the colorful and decorative costumes, the expressive performers and the somewhat hypnotic music.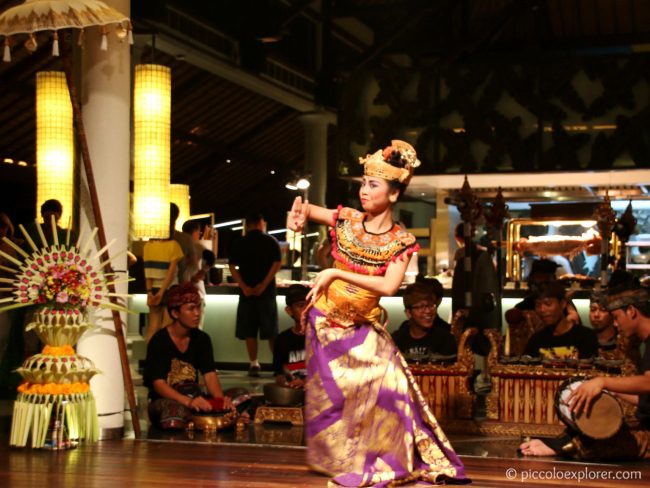 We also enjoyed an evening at Made's Warung for the Balinese dance performance at dinnertime. We booked a table in advance close to the stage and I would highly recommend doing the same. Little T watched from our table during dinner then moved to sit directly in front of the stage with the other children. There was also a demonstration at the end to teach some of the basic elements of Balinese dance.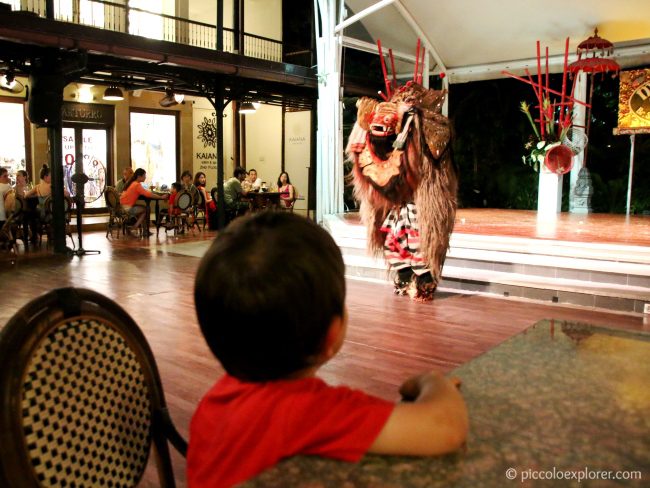 Beach Fun

With the heat and harsh sun during the day, the late afternoons were the best time for us to be at the beach. Sunset was usually at around 6pm, so we especially liked finding beachfront restaurants where we could enjoy watching the sunset, jumping the breakers at the shore before heading in for something to eat. Bali has plenty of great beachfront restaurants to choose from – in Seminyak, our favorite places to watch the sunset (that we also found very family-friendly) were La Plancha, La Lucciola and KU DE TA Beach Club.
Those moments along the shore were some of my favorites from the trip! Little T would always end up getting his clothes soaked, so I always had an extra outfit for him to change into before dinnertime.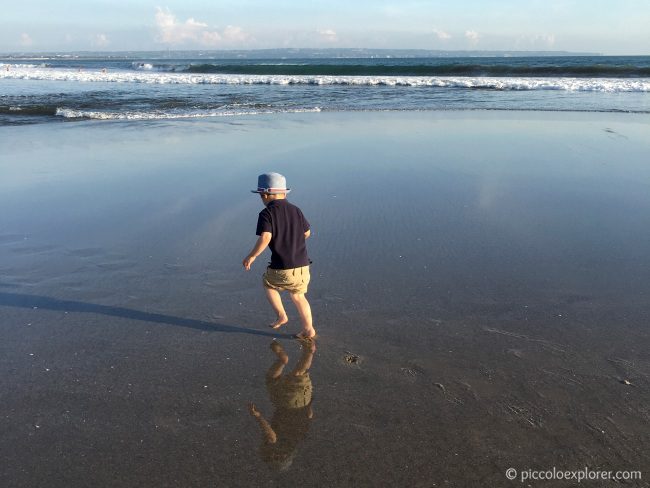 Sunday Family Dayze at KU DE TA

KU DE TA Beach Club in Seminyak organises a family day every Sunday, with activities, crafts, baby soft play and a large bouncy castle from 11am to 3pm. There's a swimming pool too to splash about in overlooking the beach. The food there was excellent – and they have a great kid's menu that includes pan roasted barramundi (which Little T enjoyed), grilled beef tenderloin and chicken schnitzel burger along with typical plates like fish and chips, spaghetti and meatballs.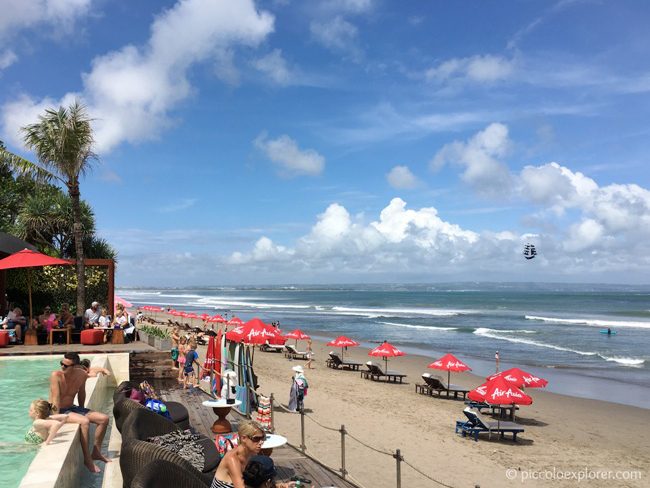 We had such a fun day there, enjoying the lively atmosphere and beach views. Little T had a blast on the bouncy castle then after lunch we went to the beach for some kite flying. I'd highly recommend visiting for a fun family day at a great beach club.
Pooltime
One of the highlights for us on this trip was the kid's swimming pool at the Padma Resort Legian. The pool is divided into two parts: a shallow area with water jets and a small water slide, perfect for young tots – and a deeper pool with two tall water slides.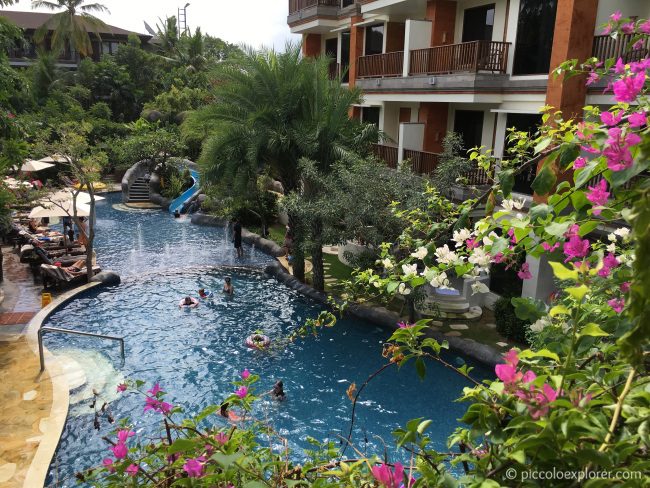 Little T moved easily around the shallow area on his own and, with our help, would swim in the deeper area using his arm bands or inflatable ring. It was wonderful to see how confident Little T has become in the water and it certainly helped having a safe, secure pool designed with young children in mind.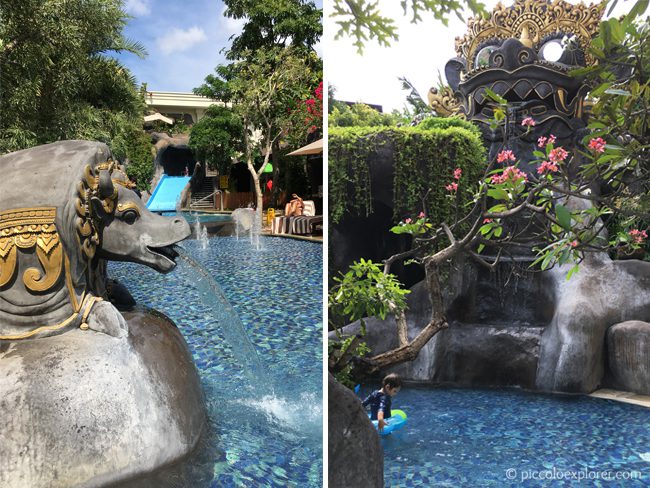 Fish and Turtle Feeding
There were several ponds dotted around Padma Resort Legian, where we loved watching the colorful koi fish and a few turtles. The hotel has regular times for feeding the fish in the morning and afternoon, or you could also ask the bellhop for a cup of fish food to go out on your own. In addition to feeding them on our own, we joined in with the Kid's Club to feed the turtles one day with a few other kids which Little T enjoyed.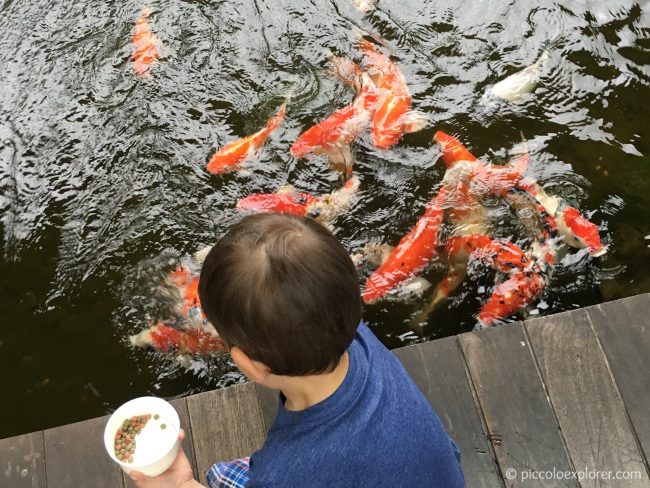 Bali is a truly memorable place to visit with kids. We often speak about the trip, with Little T remembering fondly the baby sea turtle, koi ponds, swimming pool and the monkeys.
Save
Save
Save
Save
Save
Save
Save
Save
Save
Save
Save
Save
Save
Save
Save
Save
Save
Save
Save
Save
Save
Save
Save
Save
Save
Save
Save
Save
Save
Save
Save
Save
Save
Save
Save
Save
Save
Save
Save