Offering a wide array of tourist attractions, outdoor activities and family-friendly resorts, Bali, Indonesia is one of the best destinations for a family holiday. There are plenty of fun activities in Bali for all ages to enjoy, along with the beautiful beaches, family-friendly beach clubs and unique opportunities to see wildlife. In this post, I will be sharing our experience visiting Bali with a three year old and ideas for fun activities in Bali for toddlers and preschoolers.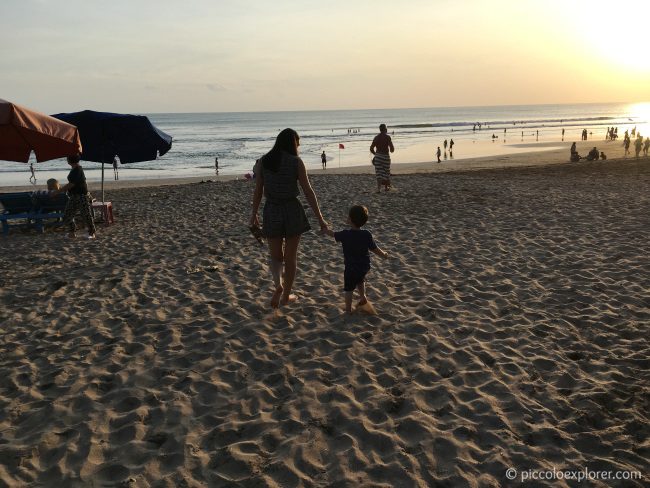 Bali Sea Turtle Release
Right at the top of the list of our top things to do in Bali with kids is participating in a Kuta Beach turtle release with the Bali Sea Turtle Society.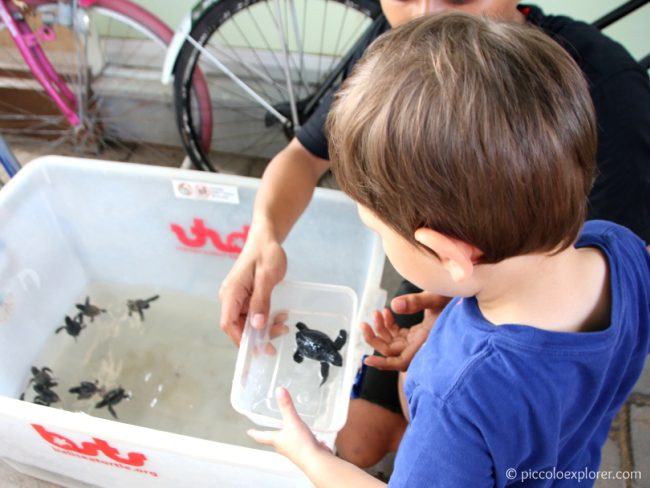 The Bali Sea Turtle Society is a non-profit organisation that are doing great work protecting local endangered sea turtles and increasing awareness of their plight. They patrol Bali's beaches for turtle eggs that they collect to be hatched safely at their centre, protecting them from poachers, dogs and beach traffic.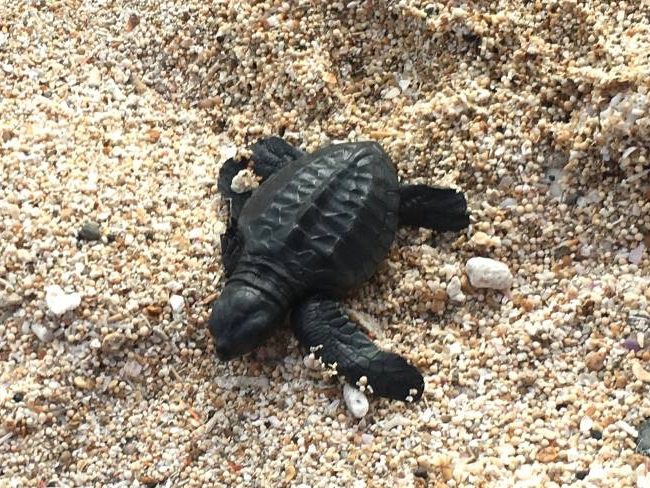 Once the baby turtles have hatched, the organisation invites visitors to help release the hatchlings to sea the following afternoon. You need to keep a close eye on their social media (Instagram or Facebook) for the latest announcements for when a release is scheduled.
Read more details: Turtle Release Bali Sea Turtle Society
We picked up a baby sea turtle to carry to the beach and set free scurrying towards the water, with Little T cheering him on with "Go, baby, go!" It was an amazing experience and we are very grateful that we could participate in a release during our family holiday in Bali.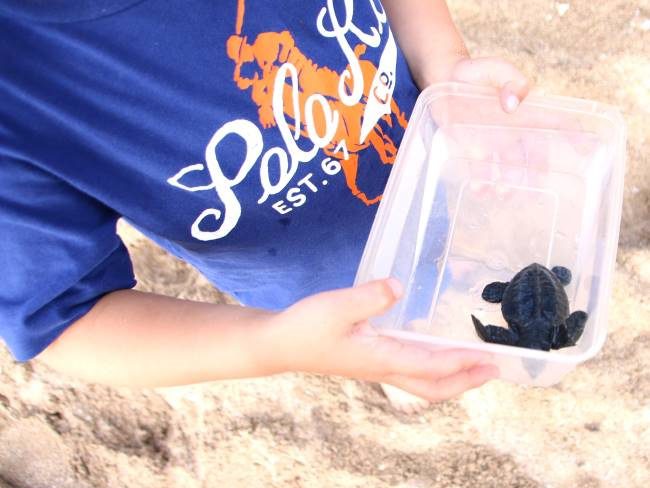 Ubud Monkey Forest
The Sacred Monkey Forest Sanctuary is a nature reserve and Hindu temple complex across 27 acres of forest land in Ubud, the centre of Bali. The Ubud Monkey Forest is a popular tourist attraction for families, offering the unique experience of seeing the monkeys that live in the sanctuary.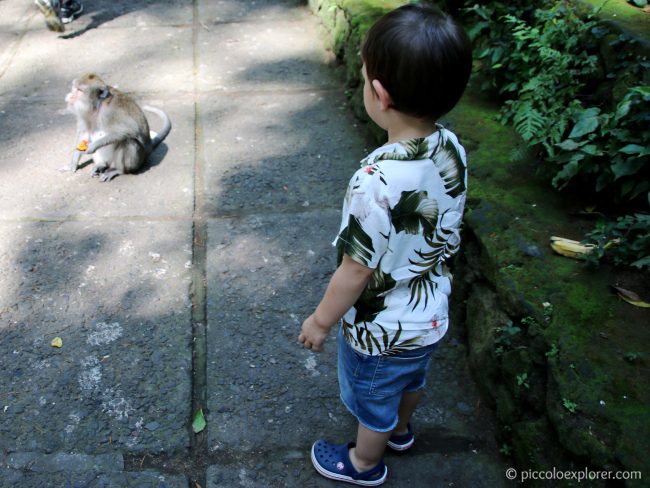 There are three 14th century Hindu temples within the Ubud Monkey Forest grounds, the Pura Dalem Agung Padangtegal, the Pura Beji and the Pura Prajapati. Ubud Monkey Forest is located in the village of Padangtegal, and the three temples play an important role in the spiritual life of the local village community.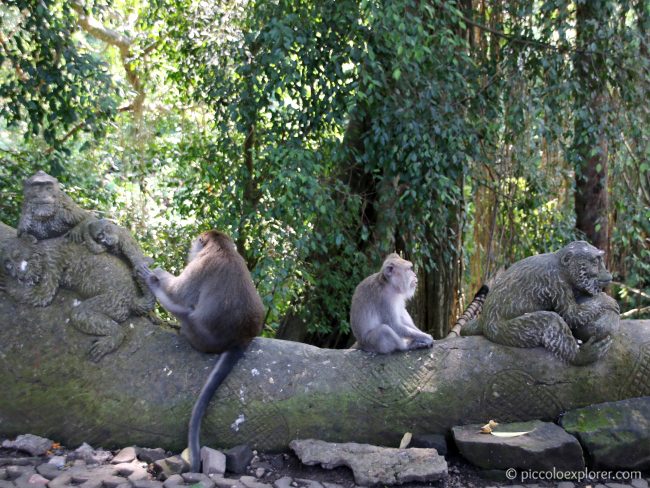 The main tips for visiting Ubud Monkey Forest Bali with kids are to not wear accessories the monkeys could easily snatch off you, i.e. a hat or sunglasses, to not pack food in your bag as they will try to get it and to overall keep your distance and not touch the monkeys. There are some monkeys that can be aggressive and there is the risk of catching the Herpes B virus with a monkey bite. There are plenty of staff members around to provide assistance with recovering a lost item.
It was a truly unique experience visiting the Sacred Monkey Forest Sanctuary and one of the top fun activities in Bali for toddlers. The monkeys were great fun to watch roaming freely around the forest, snatching the various fruits tourists were offering them. We even saw some adorable little babies, including one nursing its mother while she snacked on some fruit.
After visiting the Ubud Monkey Forest, we went for lunch at the barbecue and grill restaurant at Luxe Villas Ubud, located about 15 minutes away for lunch. It is off the main road and the last 800 meters or so are inaccessible by car, but you can request scooters to pick you up.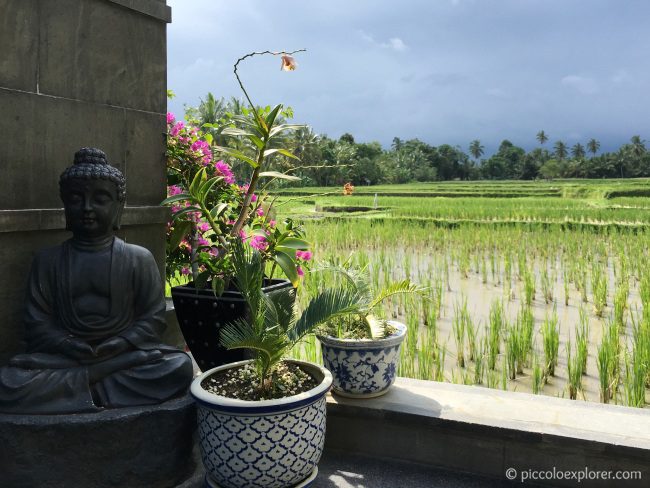 The Luxe Villas Ubud restaurant was excellent, with impeccable service, refreshing drinks and delicious food and such a beautiful view surrounded by rice paddies.
Day Trip to Nusa Lembongan
We took a fast boat cruise from Sanur on Bali's southeast coast to the neighboring small island of Nusa Lembongan, with Rocky Fast Cruises which I'd highly recommend especially for families as I found them very helpful and accommodating. We hired a golf buggy to explore the island on our own.
Tip: Bring cash for a day trip to Nusa Lembongan. There was only one cash machine with a very long queue and it's been known to run out of cash during the day.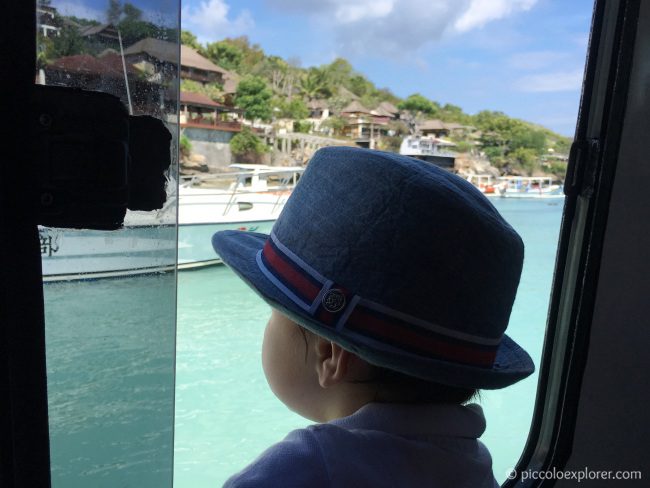 Most people get around Nusa Lembongan on scooters or, for larger groups, on covered pickup trucks with a tour guide. There aren't taxis on the island and the hilly terrain is not ideal for leisure cycling. For the three of us, hiring a golf buggy was the best solution to explore the island on our own.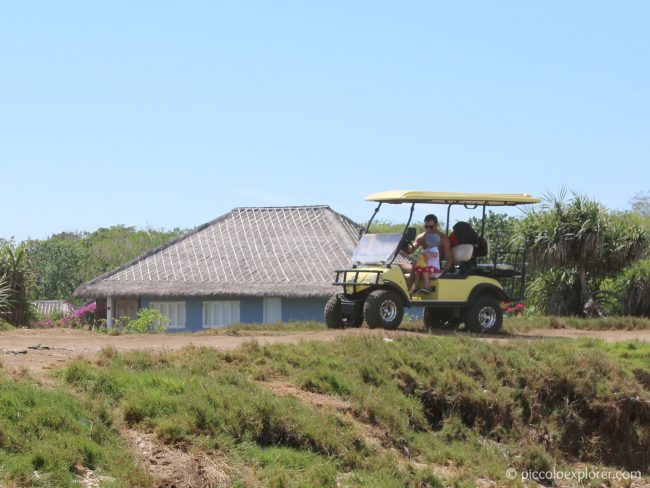 After checking out some of Nusa Lembongan's dramatic coastline at Dream Beach and Devil's Tears, we had lunch at Hai's Beach Bar & Grill on Mushroom Beach. We found it to be a great place to eat with a toddler – the restaurant is very family friendly, the food was really good and it's right in front of the beach so your little one can play while you wait for the food. Mushroom Beach is also the calmest beach in the area for swimming with young children. There's an area fit for swimming between one side of the beach with a very rocky floor and the other with boat traffic.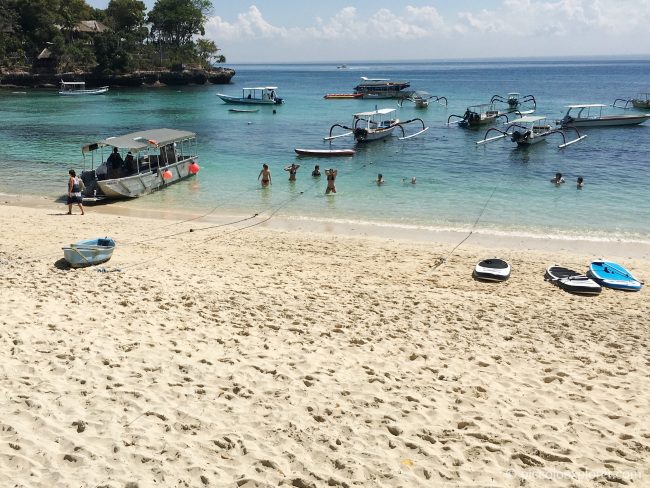 There's really only a small area fit for swimming between one side of the beach with a very rocky floor and the other with boat traffic, but it's the calmest beach on Nusa Lembongan for swimming with young children.
Read more: Day Trip to Nusa Lembongan from Bali
Nusa Lembongan was a stunning place to visit and a great escape from Bali's busy traffic and crowded beaches. It ended up being a fun family adventure exploring some of the island's tucked away beaches and we would have loved to stay a couple of days to enjoy it all at a more leisurely pace and possibly go out to one of its famous dive sites!
Balinese Traditional Dances

One of the unique experiences we enjoyed visiting Bali with a toddler was watching traditional Balinese dance performances and plays. Our toddler was spellbound throughout the performances, by the colorful and decorative costumes, the expressive performers and the somewhat hypnotic music.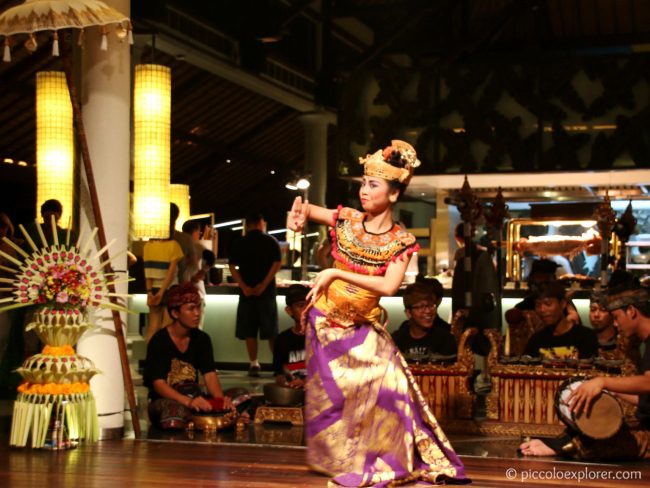 In addition to the performances at our resort, we went to Made's Warung to watch the Balinese dance performance at dinnertime. We booked a table in advance close to the stage and I would highly recommend doing the same, especially if you are dining at Made's Warung with kids.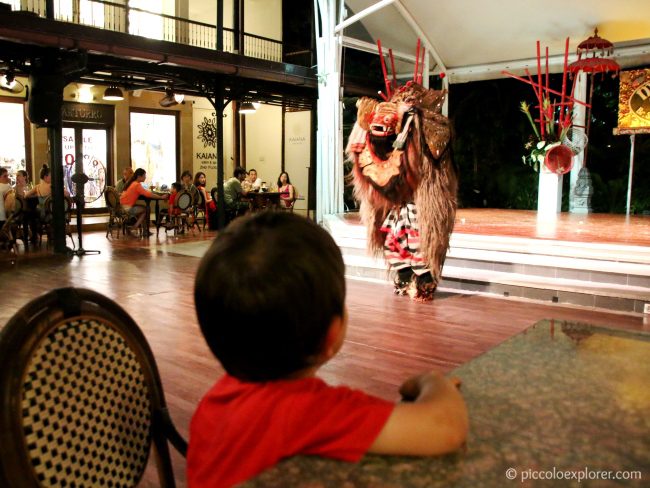 Little T watched from our table during dinner then moved to sit directly in front of the stage with the other children. There was also a demonstration at the end to teach some of the basic elements of Balinese dance.
Seminyak Beach

Many of the fun activities in Bali for toddlers are on the beautiful beaches around the island. With the heat and harsh sun during the day, the best time at the Bali beaches with a toddler is first thing in the morning or in the late afternoon.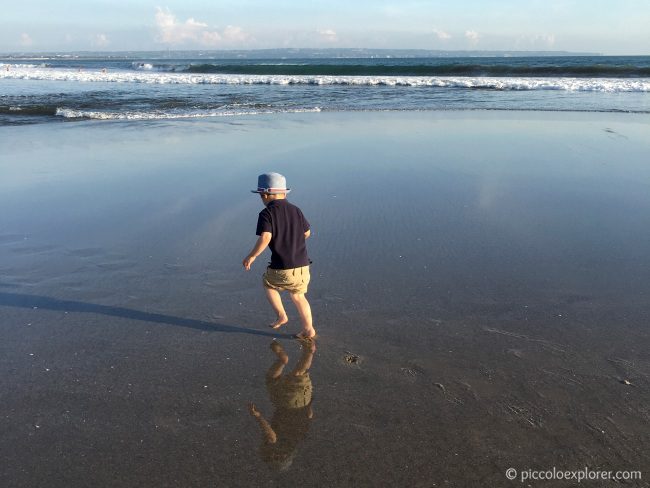 There are plenty of great oceanfront restaurants for families to enjoy watching the sunset while the kids play at the shore. In Seminyak, our favorite family-friendly beachfront restaurants are La Plancha, La Lucciola, BREEZE at Samaya and KU DE TA Beach Club.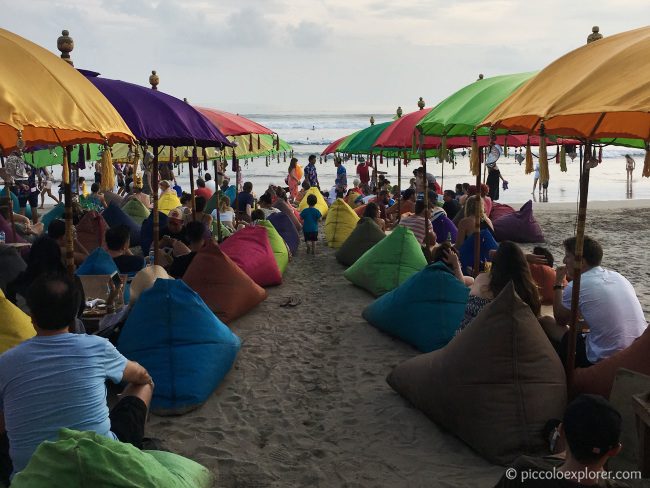 La Plancha is a great spot with a lively atmosphere and colorful umbrellas and bean bags along the beach.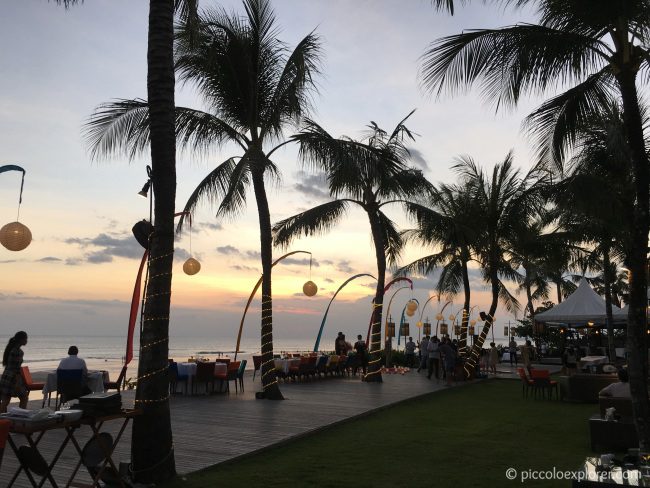 Those evenings along the shore were some of our favorite moments from our family holiday in Bali! Little T would always end up getting his clothes soaked, so I always had an extra outfit for him to change into before dinnertime.
Family Sundays at KU DE TA

Another one of our top fun activities in Bali for toddlers is spending a family day out at a beach club family day. KU DE TA Beach Club in Seminyak organises Sunday family days, with arts and crafts, face painting and kids workshops every Sunday from 10am to 2pm.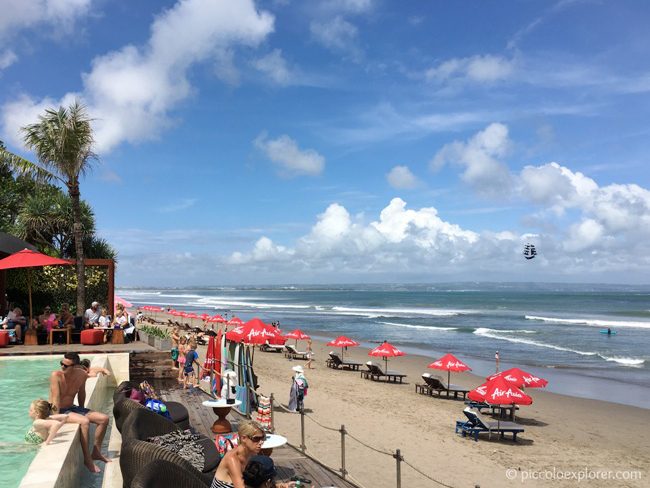 KU DE TA also has a swimming pool overlooking Seminyak Beach. The food at KU DE TA beach club was excellent, and they offer a great kid's menu that includes pan roasted barramundi, grilled beef tenderloin and chicken schnitzel burger along with typical plates like fish and chips, spaghetti and meatballs.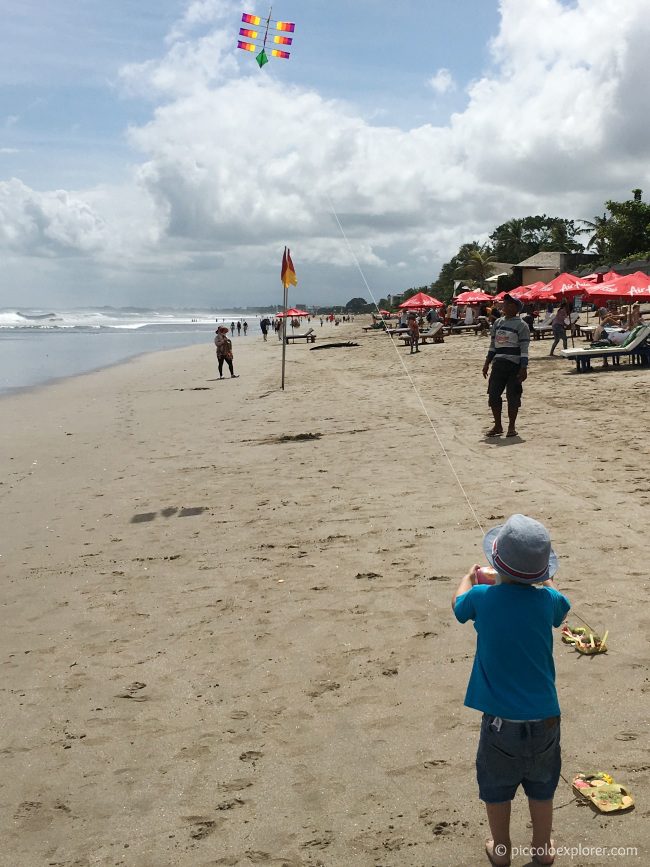 I would highly recommend visiting KU DE TA Family Sundays for fun family activities, with a lively atmosphere and great beach views.Little T had a blast on the bouncy castle then after lunch we went to the beach to fly a kite.
Find the latest information on Family Sundays at KU DE TA
Day Trip to Uluwatu
There are so many places in Bali to explore with kids and appreciate the natural beauty of the isladn. I can recommend planning a day trip to Uluwatu, a hilly peninsula on the southern tip of Bali.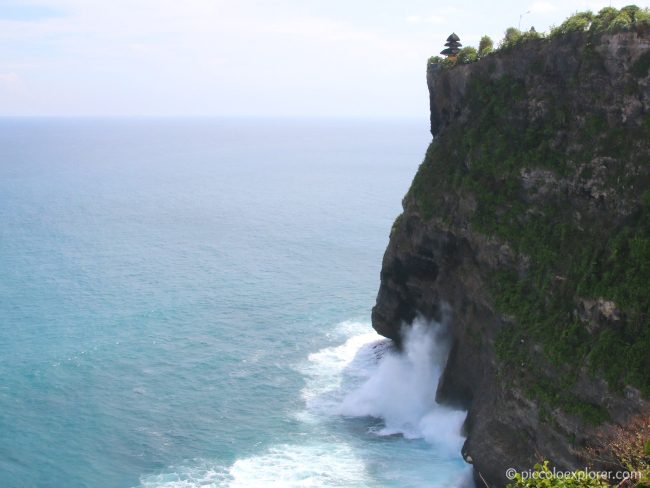 On our day trip to Uluwatu, we first stopped to see Uluwatu Temple, a Balinese Hindu sea temple dedicated to the spirits of the sea. Uluwatu Temple, one of Bali's six key temples, is perched on top of a steep cliff, approximately 70 metres above the sea.
Our next stop on our Uluwatu day trip was at Padang Padang Beach, a famous surf point in Bali. We climbed down a set of steep stairs, at one point through a crevice just wide enough for two people to shimmy past each other, before making it to a tucked away beach cove at the foot of tall, dramatic cliffs.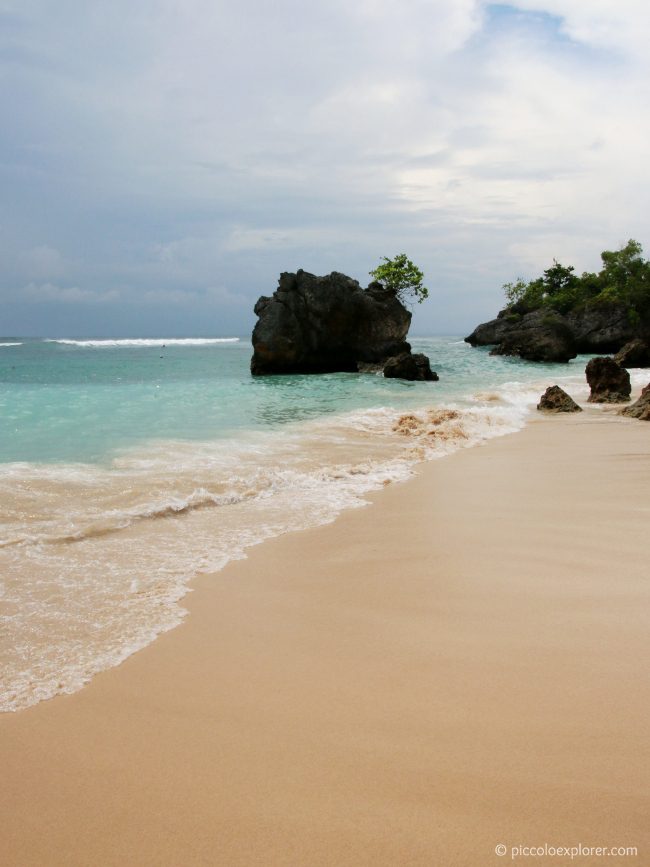 Although it looks deserted in this shot, the place was heaving with people along the 100 metre-long stretch of sand, out paddle-boarding and surfing in the turquoise waters and at the beachfront restaurant. Even with the crowds, we were blown away by the stunning landscape and had a blast with Little T jumping the waves at the shore.
Bali Resort Pooltime
One of the top things to do in Bali with kids is enjoying the swimming pools! At the family-friendly Bali resort we stayed at, the Padma Resort Legian, the kid's swimming pool is divided into two parts: a shallow area with water jets and a small water slide, perfect for young tots – and a deeper pool with two tall water slides.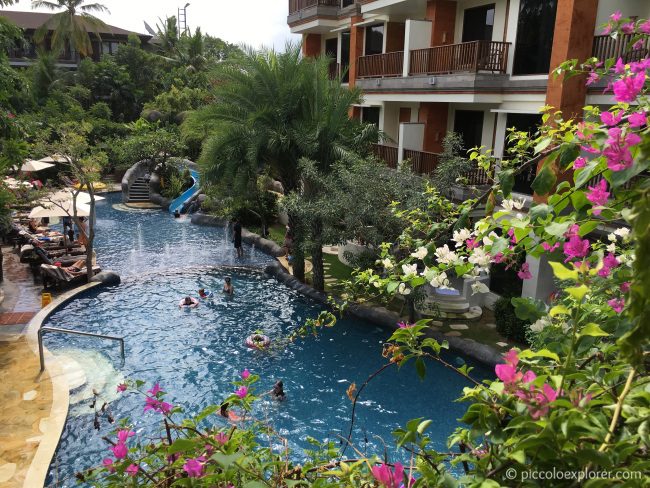 Little T moved easily around the shallow area on his own and, with our help, would swim in the deeper area using his arm bands or inflatable ring. It was wonderful to see how confident Little T has become in the water and it certainly helped having a safe, secure pool designed with young children in mind.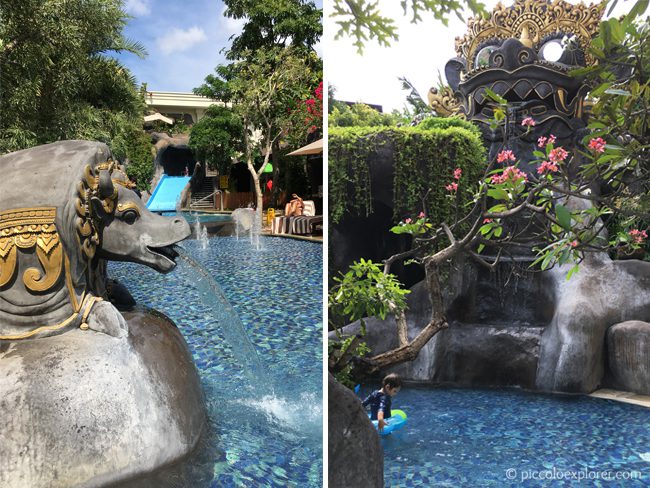 Best Bali Restaurants
Bali is full of fantastic restaurants and we ate so well on our family holiday. Here is a list of our top places to eat in Bali with kids;
Tip: Do reserve a table in advance either online or through your hotel concierge – tables at many of the top restaurants in Seminyak get booked out quickly especially going into the weekend.
Barbacoa, Seminyak |https://barbacoa-bali.com
Barbacoa Seminyak is a fab restaurant with lively ambience and delicious grilled food. The restaurant patio overlooks rice paddies and is a great spot for lunchtime. The pulled pork tacos were delicious and the 8 hour wood-fired local suckling pig is a must-try.
Breeze at The Samaya, Seminyak | https://thesamayabali.com
The Breeze beachfront restaurant at the Samaya is a lovely place to eat on Seminyak Beach, with an excellent food and drinks menu. There are several oceanfront tables set up with an amazing view of the sunset.
KU DE TA Beach Club, Seminyak | https://www.kudeta.com
We had lunch during thee KU DE TA Family Sunday and I love that the beach club does family-friendly days with activities for children. The food was outstanding, I had the pork belly ramen noodles and Mr. G and Little T had pan roasted barramundi filets. Highly recommended!
La Lucciola, Seminyak | https://lalucciolabali.com
An Italian restaurant with a lovely oceanfront location on Seminyak Beach, La Lucciola serves homemade pasta, traditional bread, pizza and fritto misto dishes.
La Plancha, Seminyak | https://laplancha-bali.com
La Plancha Seminyak is a popular beachfront bar and restaurant with bean bag seating right in front of the sea. The beach bar and grill serves up casual fare that was so-so when we were there, but we would still come back for the fun ambience and beachfront tapas and drinks.

Made's Warung, Seminyak | https://madeswarung.com
I would recommend Made's Warung for the entertainment. Book a table by the stage to watch a Balinese dance performance over dinner. Little T was mesmerized by the Balinese dance and plays we watched during our trip and really enjoyed this evening out. Stick to the Indonesian specialties for meals, such as the beef rendang and beef satay.
Starfish Bloo at the W, Seminyak | https://www.starfishbloorestaurant.com
Another one of our favourite Bali restaurants, Starfish Bloo serves a mix of Indonesian, Japanese, Chinese and Indian cuisines. The service was great – our waiter was very friendly and accommodating. Everything we ordered was outstanding and many plates are to share. I ordered the caramelised Wagyu brisket with rendang sauce and steam buns.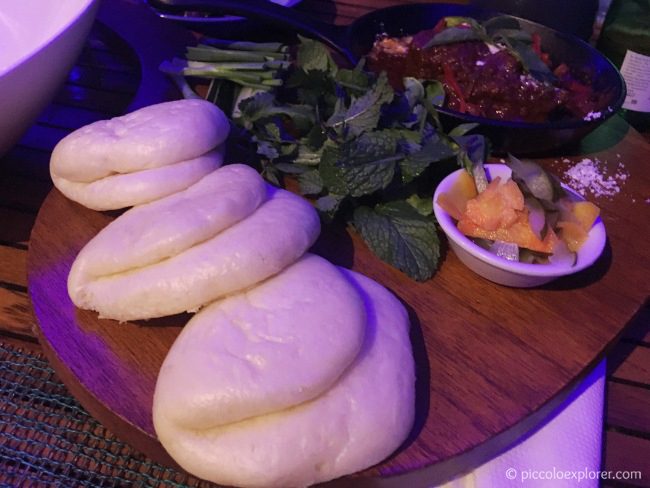 The Grill at Luxe, Ubud | https://thegrillatluxe.com
With a stunning view overlooking rice paddies, the Grill at Luxe Ubud offers fantastic service and great food. Mr. G and Little T had the chicken satay skewers while I went with a burger in a lettuce wrap, heaped with toppings and full of flavor. Off the beaten path, the villas at Luxe Ubud look like a gorgeous place for a relaxing retreat.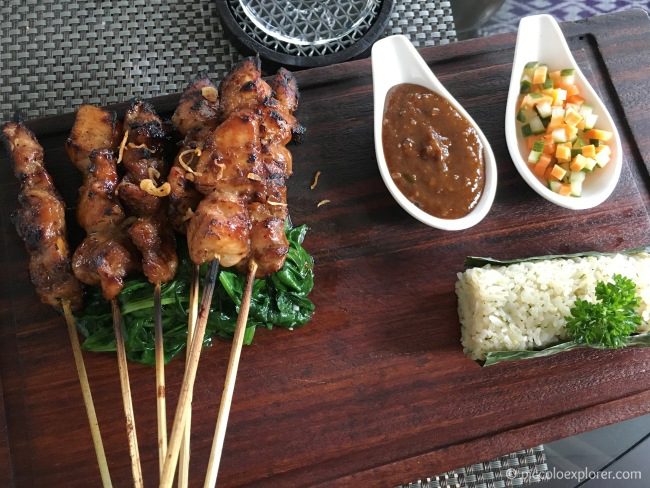 Family-Friendly Bali Resort
Our stay at the Padma Resort Legian truly made for a wonderful family holiday in Bali. The lush gardens of the Padma Resort were a pleasure to wander around and a lovely shelter from the hot sun. Little T would collect fallen flowers and leaves along the paths and we would often stop by the many ponds scattered around watching the koi fish and turtles swimming about.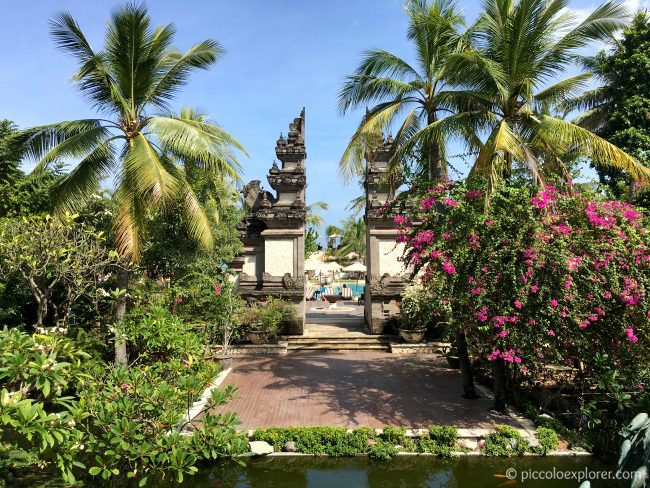 The Kid's Club and children's pool came highly recommended and both exceeded our expectations. While the Kid's Club is free for children aged 4 to 12 years old, Little T could play at the club supervised by us or a babysitter. The Kid's Club is open every day from 9am to 8pm, features a small outdoor playground and indoor game room with plenty of toys and offers a great schedule of arts & crafts and outdoor activities that you can also join in on during your stay, like turtle feeding and a treasure hunt.
Read more: Family-Friendly Bali Resort: Padma Resort Legian Review
Padma Resort Legian, Jalan Padma No. 1, Legian, Bali, Indonesia
Getting to Bali
At the time of booking our flights in early June, Garuda Indonesia and Singapore Airlines offered the least expensive flights and, also very important to us, the shortest trip durations, i.e. shortest layover at the first stop (Singapore or Jakarta) as there isn't a direct flight to Bali from London.
Tip: Double check all passports well ahead of travel. Passports should be valid for a minimum period of 6 months from date of entry.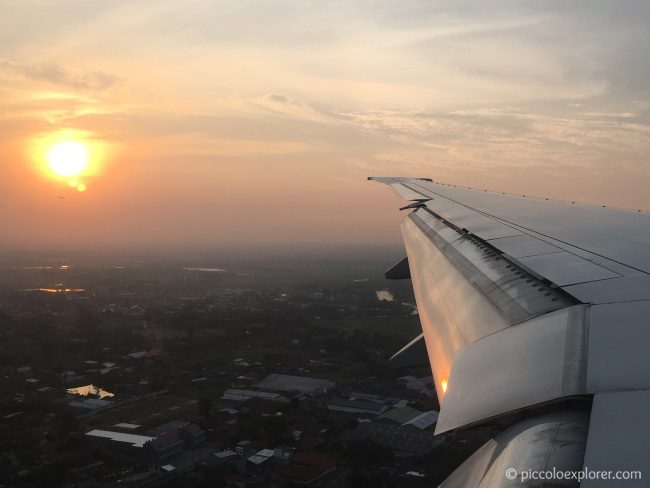 Overall, we were very pleased with our first experience flying with Garuda Indonesia. I can see why the airline has won World's Best Airline Cabin Crew in Skytrax's World Airline Awards three years in a row – the crews on each flight were always pleasant, courteous and helpful. Little T received a gift at the end of each flight, mostly little stuffed toys and on one flight a messenger bag with a finger puppet. Read more about our experience in our Flying Garuda Indonesia with Kids post.
Bali with Kids Guide
I hope you found this post helpful for ideas on fun activities in Bali for toddlers. Read on for more tips and reviews for planning a family holiday in Bali;
Magical Dinner for Two at Tirtha Dining
Pin for Later – Fun Activities in Bali for Toddlers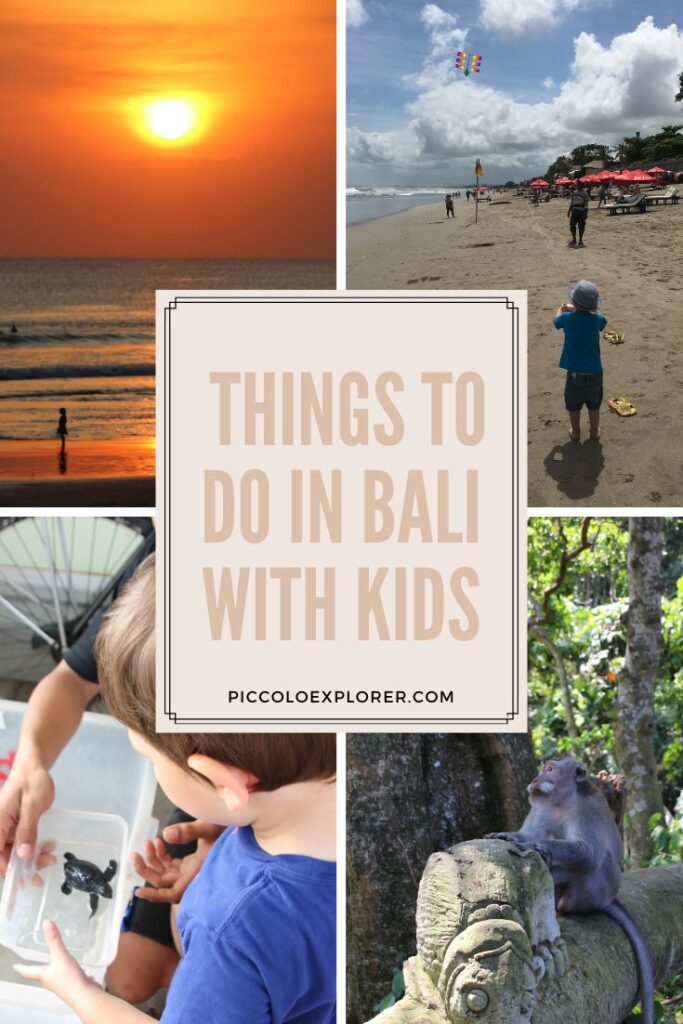 Save
Save
Save
Save
Save
Save
Save
Save
Save
Save
Save
Save
Save
Save
Save
Save
Save
Save
Save
Save
Save
Save
Save
Save
Save
Save
Save
Save
Save
Save
Save
Save
Save
Save
Save
Save
Save
Save
Save