Many restaurants in San Diego are very kid friendly, offering a kids' menu, high chairs and often crayons and colouring sheets to keep children busy while waiting for the food. In this list I'll be sharing our favorite family friendly San Diego restaurants from our trips to San Diego, organized by neighborhood. Since we live abroad in London, visits to my hometown are also our chance to enjoy all the Mexican food we've been missing, so you'll also find some of the best Mexican restaurants in San Diego on this list!
Mission Beach
The Mission Restaurant
3795 Mission Boulevard, San Diego, CA 92109 | https://www.themissionsd.com/
The Mission Restaurant has three locations in San Diego: Mission Beach, North Park and Soma East Village. We have been to the Mission Beach restaurant several times through the years after it first came highly recommended by a hotel's concierge. The Mission Restaurant is one of the best San Diego restaurants for brunch and is definitely worth visiting. The pancakes are fluffy and scrumptious – and a beautifully plated, generous portion!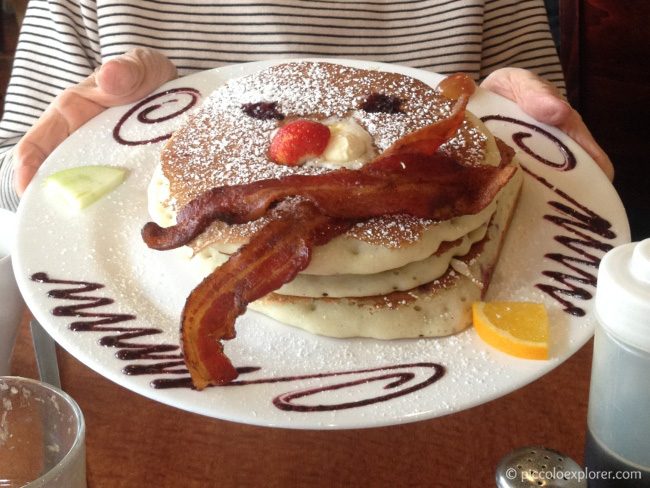 My favorite brunch dish at the Mission Restaurant is the Papas Loco plate off the Latino breakfast menu. It is absolutely delicious and bursting with flavor, a heaping plate of rosemary potatoes, grilled jalapenos, black beans, cheese, avocado slices and sour cream, served with salsa, tortillas and two scrambled eggs. Little T meanwhile had a Mission cinnamon toast and fresh fruit. The food is always top notch at the Mission Restaurant and it's become one of our favorite places to eat in San Diego!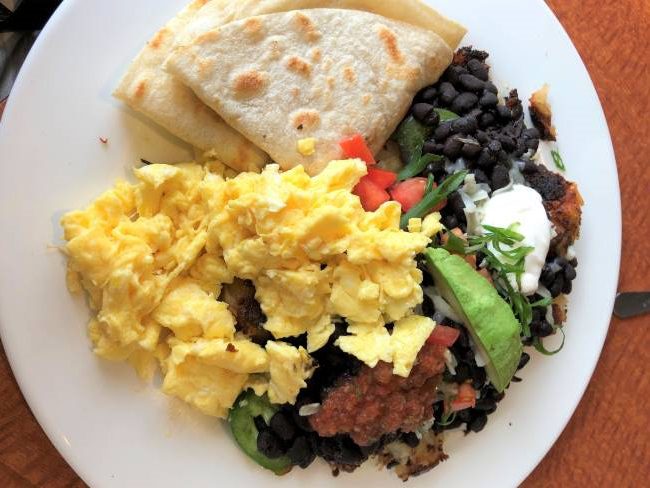 Related: Fun Things to do in San Diego with Kids
Balboa Park
The Prado at Balboa Park
One of the best kid friendly restaurants in San Diego is the Prado in Balboa Park. This is a great restaurant to enjoy a meal on a day out exploring the park and museums. I had the grilled chile-lime marinated steak tacos with charro beans, Spanish rice, cabbage slaw, flour tortillas and extra avocado.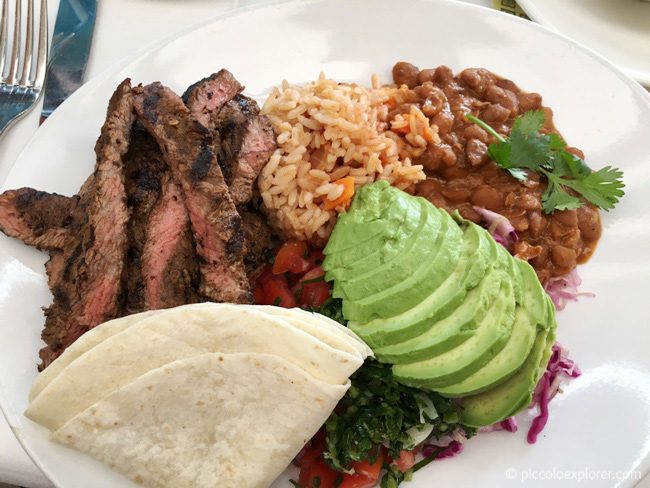 And Little T had the kid's fish taco with rice and charro beans, plus a cup of berries, which turned out to be one of his favorite meals during that trip to San Diego.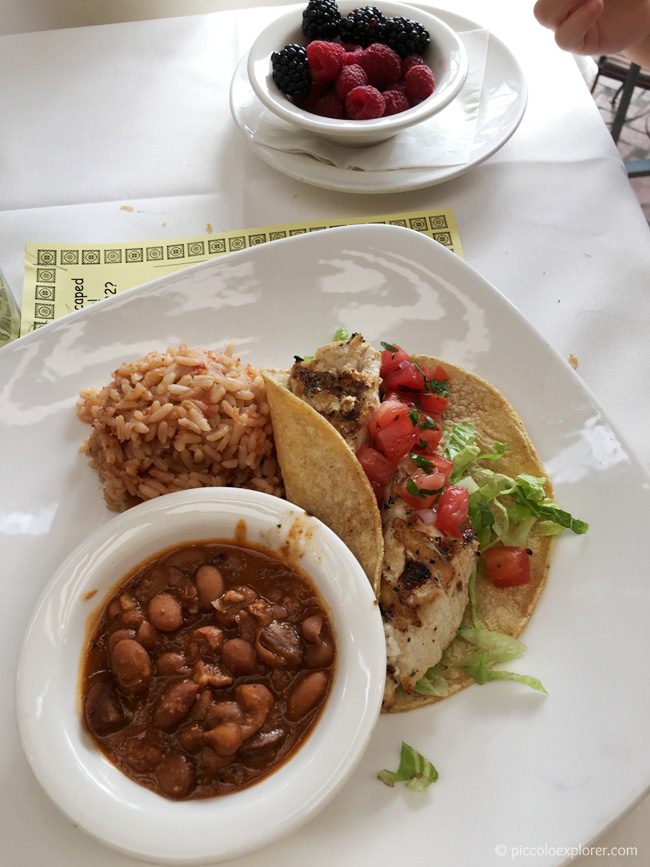 Old Town
Casa Guadalajara
4105 Taylor St, San Diego, CA 92110 | http://www.casaguadalajara.com/
Casa Guadalajara in Old Town San Diego was voted the Most Kid Friendly Restaurant in San Diego. This Mexican restaurant came highly recommended to us during one of our family holidays in San Diego and we have enjoyed the lively atmosphere and great food at this restaurant several times since when we are in Old Town.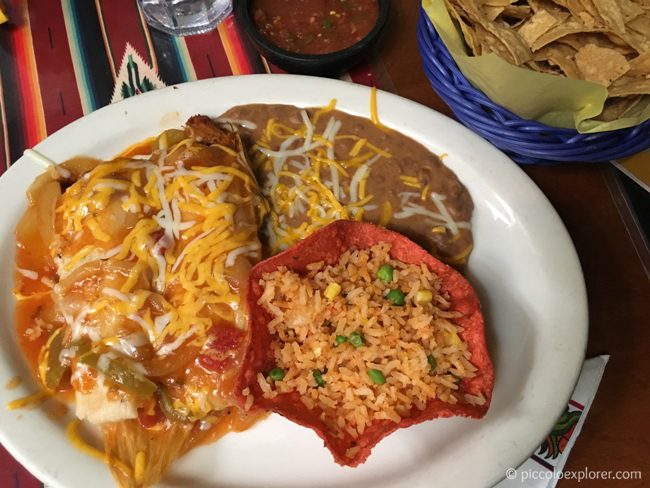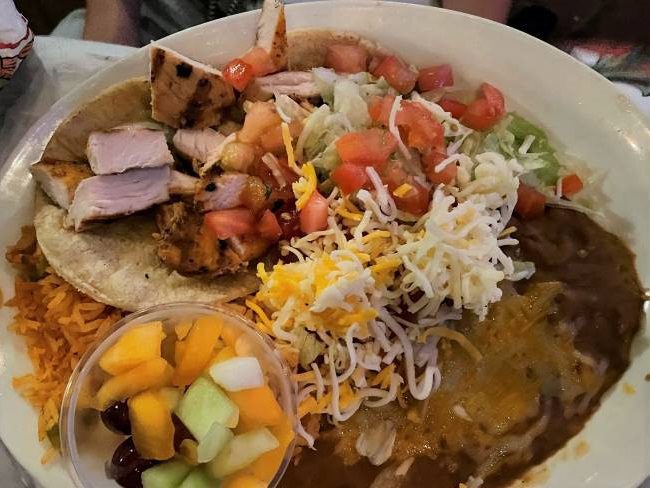 Old Town Mexican Café
2489 San Diego Avenue, San Diego, CA 92110 | http://oldtownmexcafe.com/
Old Town Mexican Café is one of the best Mexican restaurants in San Diego's historic Old Town. The restaurant has an extensive menu, with plenty to choose from, and Old Town Mexican Café makes the tortillas in house, right by the entrance. I went with  a pork tamale and one of their house specialties, the pork carnitas.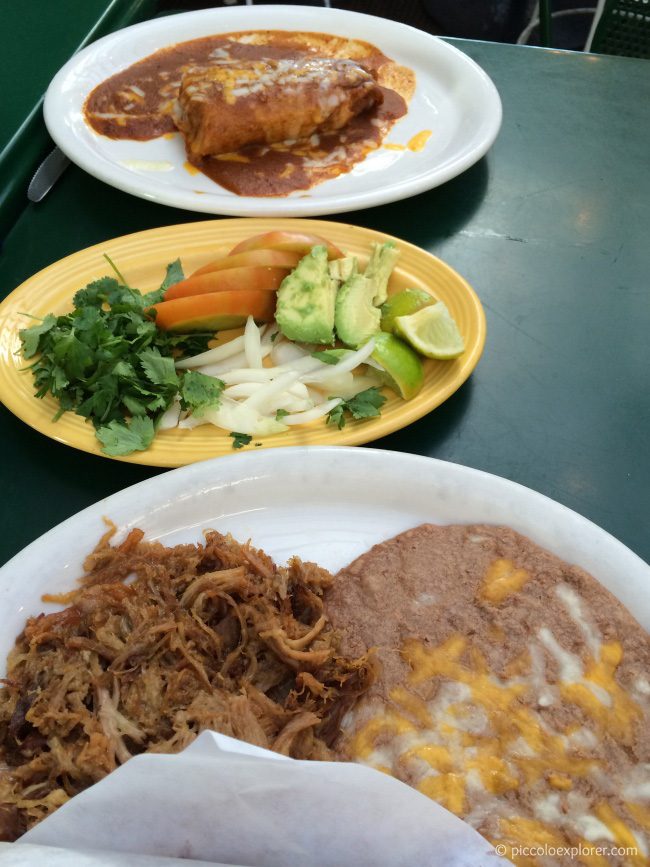 Little T had the chicken quesadilla off the kid's menu and also enjoyed picking at my pork carnitas, the avocados and tomatoes.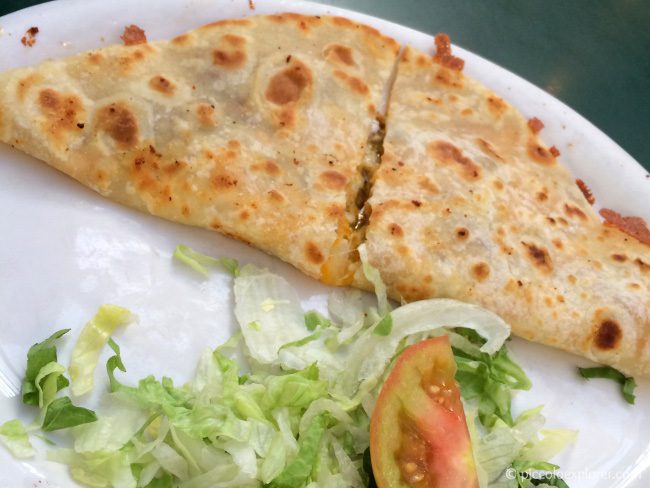 We went back for a late lunch at the Old Town Mexican Café on another visit to San Diego shared a plate of tacos – pollo asado, carnitas and steak asado, which came with beans and rice.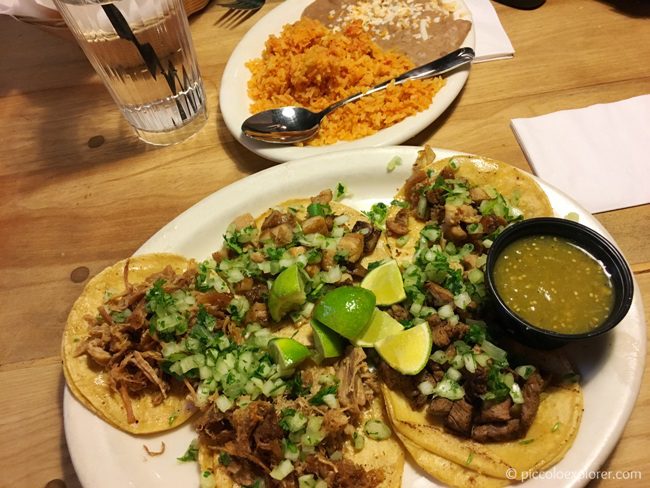 Café Coyote
2461 San Diego Ave, San Diego, CA 92110 | https://www.cafecoyoteoldtown.com/
Another one of the best family friendly San Diego restaurants for Mexican food is Café Coyote located in Old Town. Cafe Coyote make everything from scratch on their premises every day. We have been here twice and always eat well here. Café Coyota has a great lively atmosphere and an indoor courtyard for outdoor dining which was decorated at the time for the Día de los Muertos celebrations.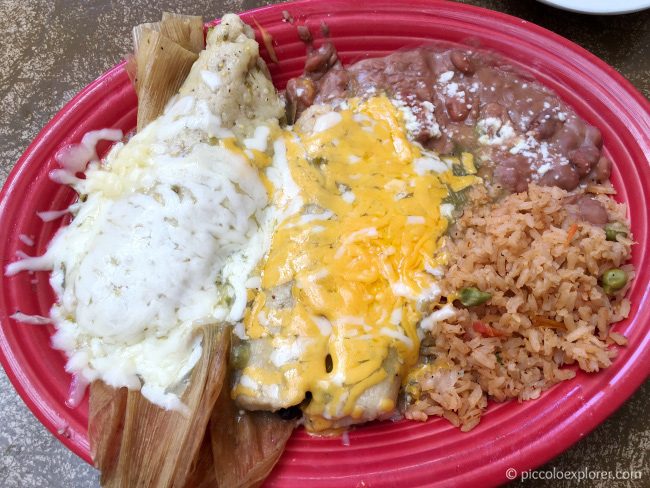 For a starter I had a tortilla soup, simple but very tasty, and I also ordered one "Verdes" pork tamale with tomatillo sauce, and one "Santa Fe", made with black beans and chiles with tomatillo sauce. The Santa Fe was my favorite and the tastier of the two.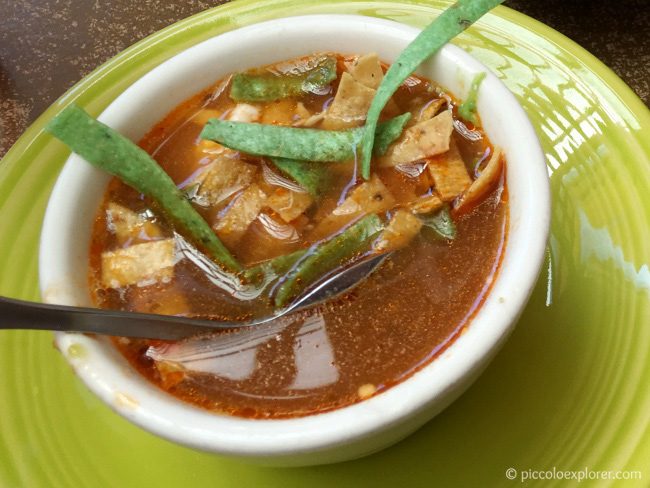 La Jolla
Puesto La Jolla Village
1026 Wall Street, La Jolla, CA 92037  | https://www.eatpuesto.com
Puesto have three locations in San Diego: Downtown (West Harbor Drive), Mission Valley and La Jolla. Puesto are known for their delicious dishes with a modern twist and a great menu that celebrates Mexican street food with artisan tacos.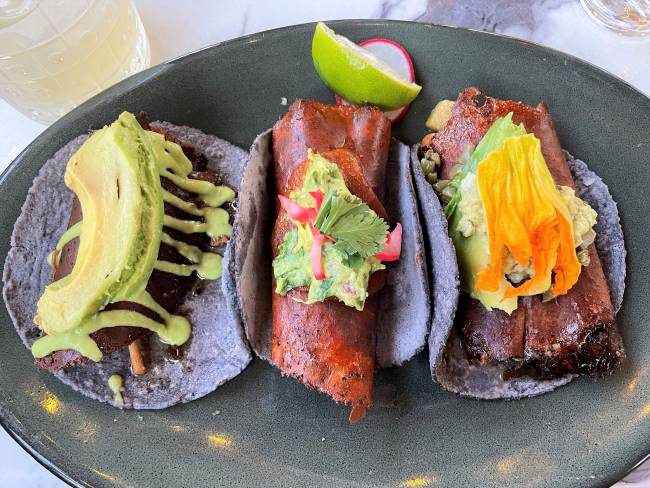 We have had dinner at their location in the heart of the La Jolla Village a few times. I can highly recommend the pork carnitas tacos!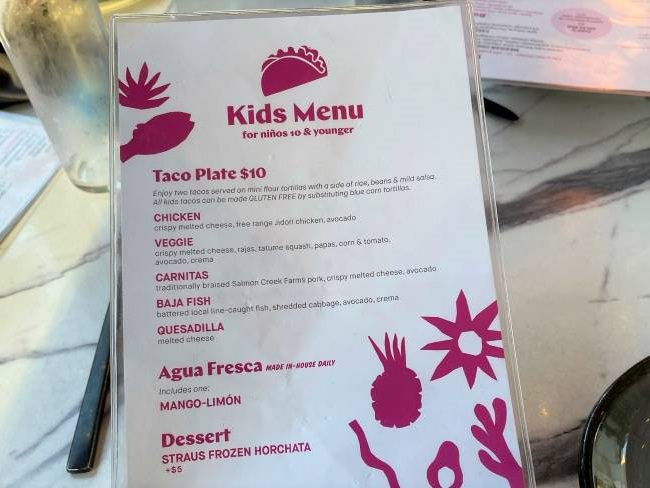 Little T and Miss A enjoyed the Agua Fresca drinks and the chicken and Baja fish taco plates off the Puesto kids menu, which come with a side of rice and beans.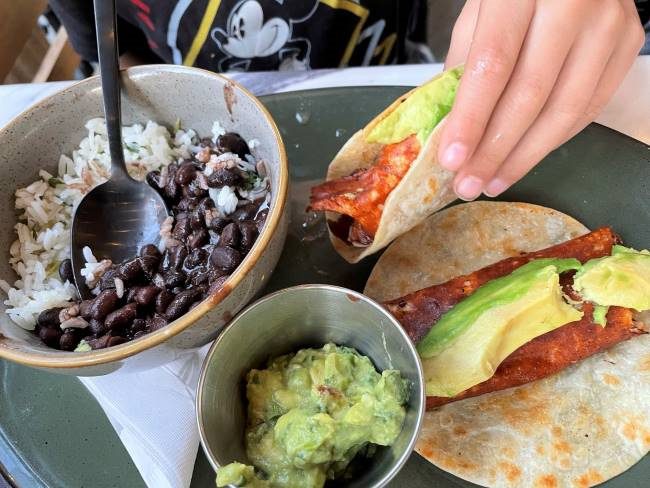 Related: Birch Aquarium La Jolla with Kids
The Cottage La Jolla
7702 Fay Avenue, La Jolla, CA 92037 | https://cottagelajolla.com/
The Cottage is a popular spot for brunch in La Jolla Village, offering scrumptious pancake and French toast dishes and a wide range of egg dishes from hearty omelettes to chilaquiles and benedicts.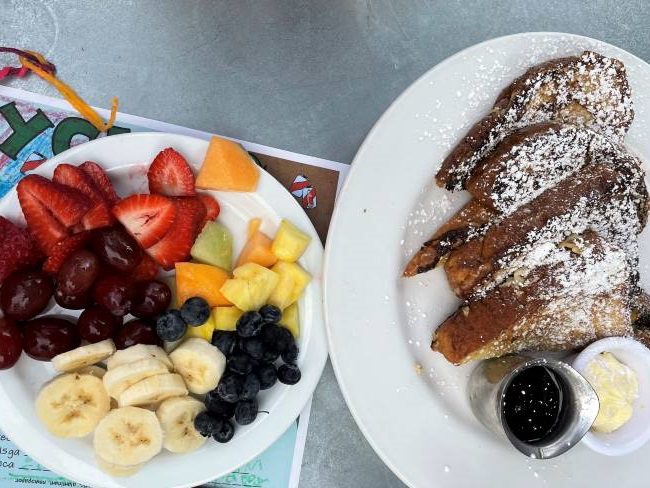 The Cottage La Jolla also have a kids menu and offered our children an activity sheet, crayons and fun creative toys, which were a great family friendly touch. The kids enjoyed the fruit plate and French toast from the Cottage kids menu.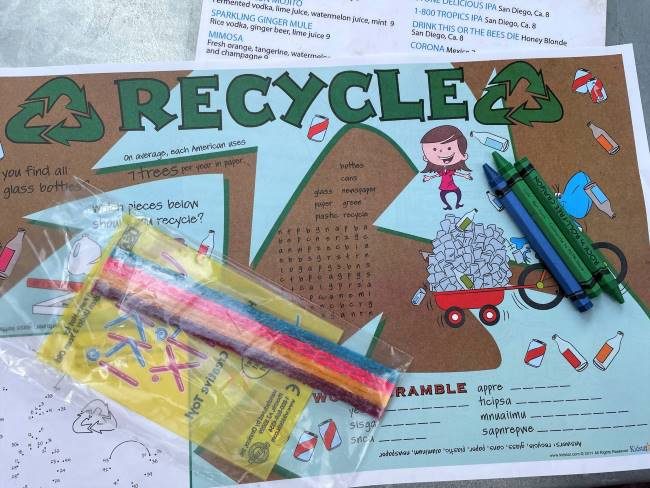 I ordered the Monterrey scramble, which comes with bacon, cheddar cheese, green chilies, pico de gallo, black beans, served with cottage potatoes and a side of corn tortillas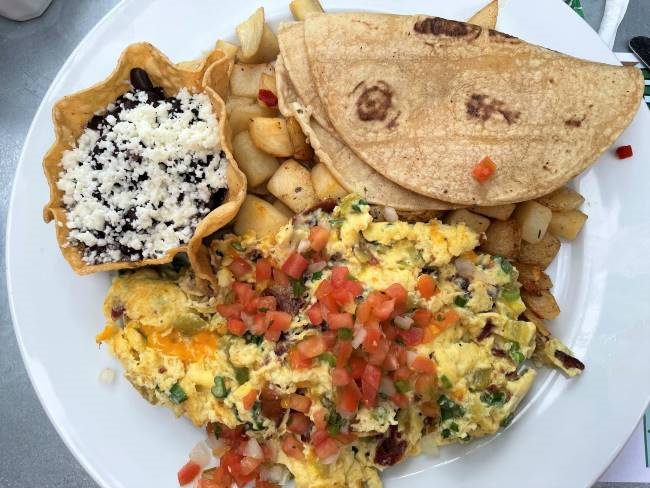 Taco Stand La Jolla
621 Pearl St, La Jolla, CA 92037 | https://letstaco.com/
While Taco Stand is more for a quick bite than a proper sit down meal, I have included it on this list since Taco Stand La Jolla is one of our favourite places to eat in San Diego. I highly recommend the tacos al pastor, which are made with marinated pork cooked on a vertical rotisserie spit and served with pineapple, cilantro, onions and cilantro sauce.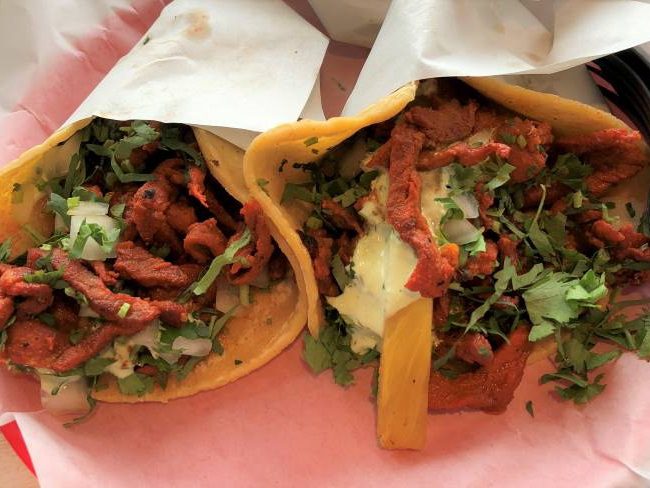 Taco Stand has several other locations around San Diego, in Encintas, Downtown and North Park.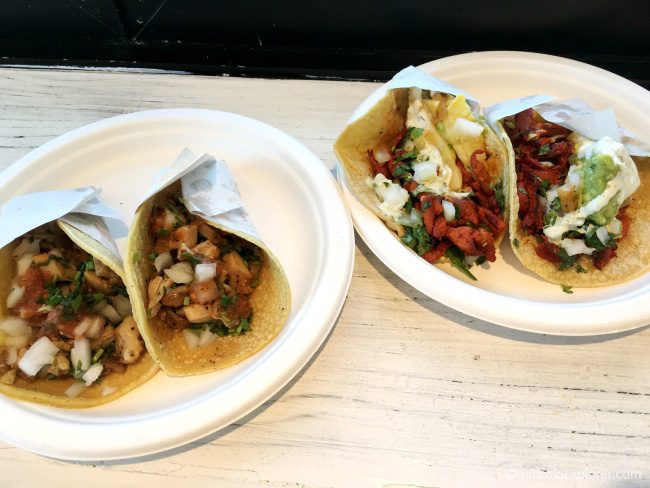 Coronado
Lil' Piggy's Bar-B-Q Coronado
1201 1st St, Coronado, CA 92118 | https://lilpiggyscoronado.com/
This was a great BBQ place at the Coronado Ferry Landing Marketplace, steps away from the San Diego Bay and sweeping views of Downtown San Diego. Our waitress was lovely and brought over a doodle pad that Little T enjoyed using while we waited for our meal.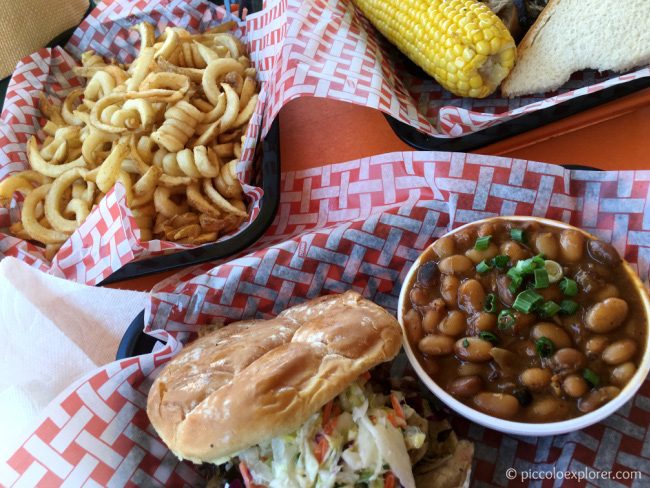 Related: USS Midway Museum San Diego with Kids
I ordered a pulled pork sandwich with baked beans and curly fries. And from the Lil' Piggy's BBQ kid's menu, Little T had BBQ pulled pork and corn on the cob, two of his favorite foods so this was one of our favorite kid friendly restaurants.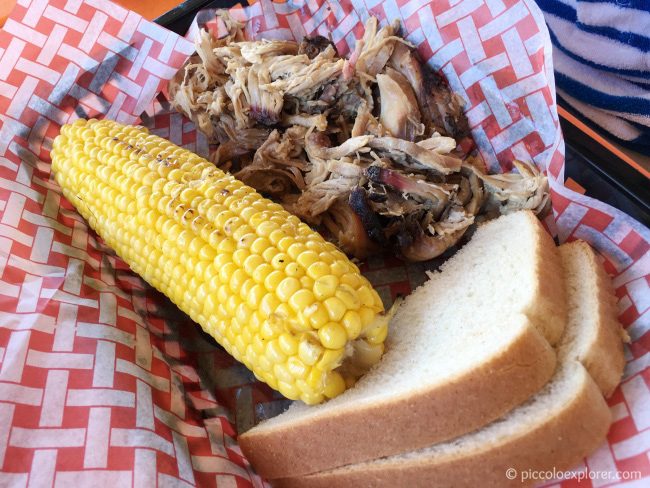 Point Loma
Phil's BBQ Point Loma
3750 Sports Arena Boulevard, San Diego, CA 92110 | philsbbq.com
Phil's BBQ has also been featured on Food Network, on the "Man vs Food" show with Adam Richman, and is another popular spot for locals and out-of-towners for its great BBQ mesquite baby back and beef ribs, chicken and pulled pork sandwiches.
Related: The New Children's Museum San Diego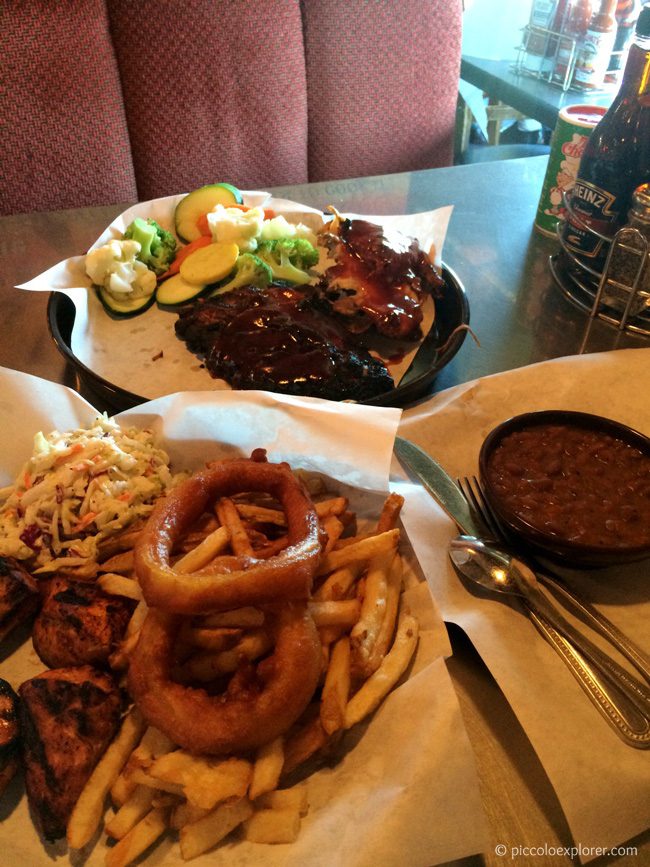 The baby back rib and chicken dinner was fantastic, tender and tasty and the baked beans were delicious. For Little T, I ordered the "Phil's Ticklers" BBQ chicken chunks which came with 2 onion rings, slaw and fries and was a pretty large portion, so I packed away some of the chicken and veggies for the next day's lunch.
Mission Valley
Broken Yolk Café
1760 Camino Del Rio N, San Diego, CA 92108 | https://www.thebrokenyolkcafe.com/location/broken-yolk-cafe-mission-valley/
If you're staying in the Mission Valley area and looking for a great breakfast spot for families, I can recommend the conveniently located Broken Yolk Café. Little T had pancakes with scrambled eggs and fruit, while I went with Baja breakfast tacos with beef chorizo sausage, scrambled eggs and fresh avocado served with rice and black beans.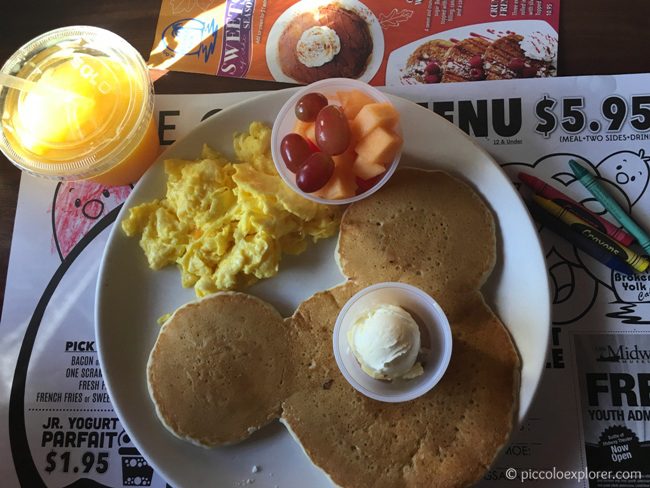 Encinitas
Las Olas Cardiff
2655 S. Coast Highway 101, Cardiff-by-the-Sea, Encinitas CA 92007 | https://www.lasolasmex.com/
One of our all-time favourite family restaurants in San Diego is Las Olas Mexican Restaurant in Cardiff-by-the-Sea, North County, right on Highway 101 and across from the beach. Las Olas also has a location in Carlsbad, also in North County San Diego.
My favorite dish that I've been ordering for years at Las Olas is the classic combo, with a chicken taco, a chicken enchilada and a side of rice and beans.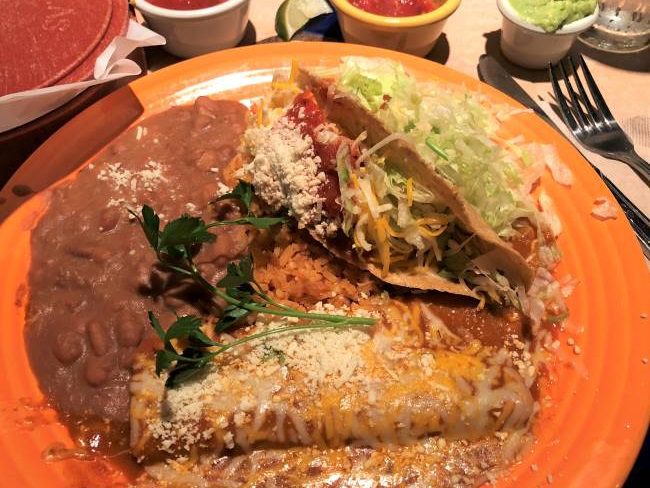 Little T enjoyed the Baja-style fish goujons with rice, beans and a yogurt salsa.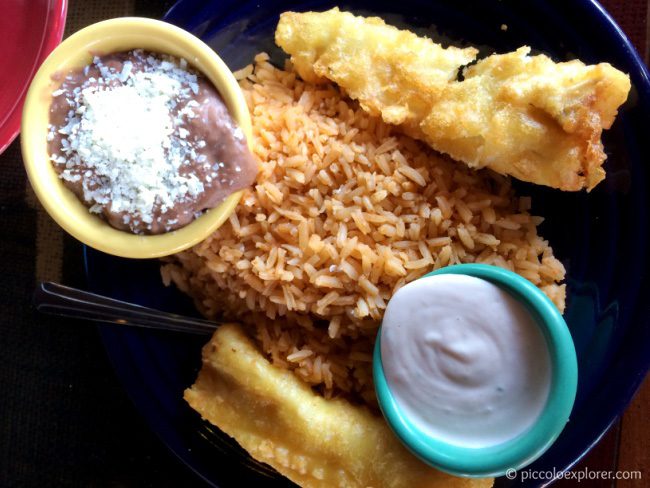 We came back to Las Olas Cardiff-by-the Sea on another vacation in San Diego and Little T had a plate of grilled chicken with rice and beans.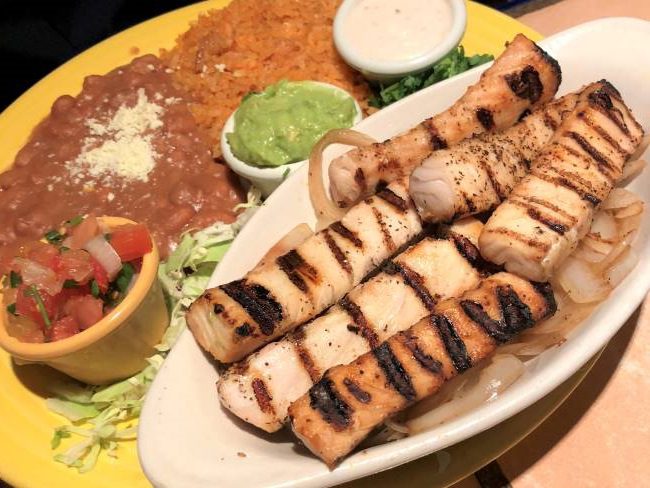 San Diego with Kids Guide
I hope you found this list of family friendly San Diego restaurants helpful. I will continue to add more great restaurants from our trips to San Diego. Please feel free to get in touch if you have any family friendly San Diego restaurant recommendations. Read on for more tips and reviews for planning a family trip to San Diego, California;
Best Things to Do in San Diego with Kids
The New Children's Museum San Diego
This post was updated on 3 August 2023 with more photos and updated San Diego restaurant information.
Pin for Later – Top Family Friendly San Diego Restaurants