There are a number of pick your own farms near London where you enjoy a family day out picking a wide range of fruit, vegetables and flowers during summer and autumn. In this quick guide, discover the top pick your own farms near London.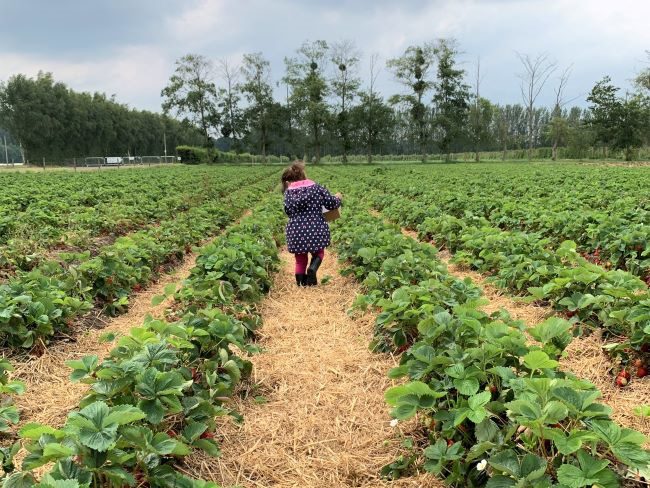 Some pick your own farms start to open in late spring for rhubarb and asparagus picking, while others open in early June for strawberry picking season. More crops become available from late June onwards, including raspberries, cherries, green beans, apples and much more. We enjoy heading back in late summer to pick sunflowers and sweetcorn, and it's an annual tradition to visit a pumpkin patch in autumn.
Related: Pumpkin Patches near London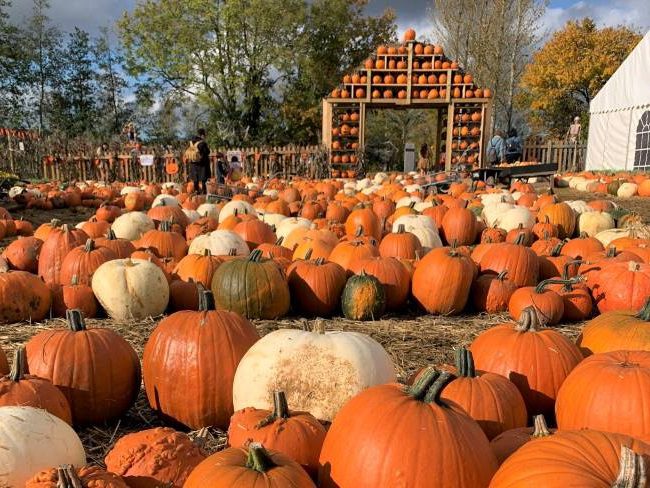 Keep in mind that most pick your own farms near London require booking a time slot which are typically released a week or so in advance.
Garsons Farm
Open from June to October, Garsons Farm in Esher, Surrey, has one of the best pick your own fruit and vegetable farms near London. It is also one of the UK's largest, with 28 crops of fruit, vegetable and flower crops across 150 acres. Garsons Esher PYO farm will open in early June 2023.
The first crop will be strawberries and you will need to book a Farm Pass to enter the PYO Farm at https://www.garsons.co.uk/pyo-farm
Read more: Garsons Farm Pick Your Own Farm Surrey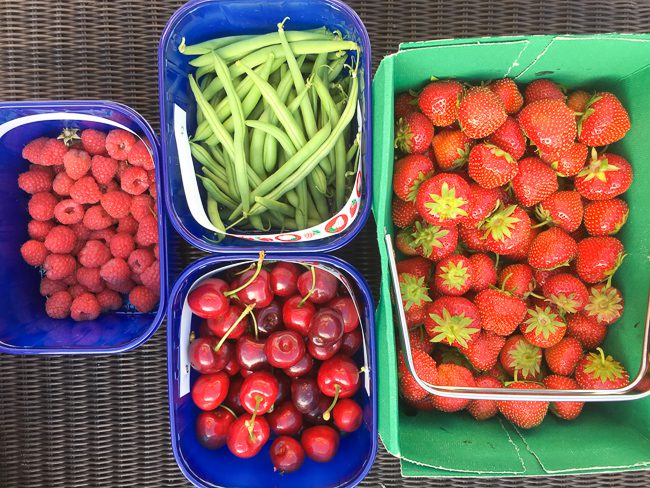 Address: Winterdown Road, Esher, Surrey, KT10 8LS
Opening Hours: Monday to Saturday 9am – 6pm; Sunday 11am – 5pm [open from early June]
Farm Pass: Book a Farm Pass and choose a time slot in advance at https://www.garsons.co.uk/pyo-farm. Each individual, including children and infants, will need to have a Farm Pass which typically cost £4 per adult and £1 for child. The cost of the Farm Pass(es) will be deducted from your PYO purchases at the farm exit.
To see the latest crop availability list once the PYO farm is open, visit https://www.garsons.co.uk/pyo-farm
Crockford Bridge Farm
Crockford Bridge Farm in Addlestone, Surrey is another popular PYO farm in Surrey for strawberry picking from early June. The PYO farm is one of the earliest to open and is currently open with limited hours for rhubarb and asparagus picking.
This is a great pick your own farm to visit with little children because it's easy to walk around and there's a small playground, ice cream stand and bee house to look at near the farm entrance.
Read more: Crockford Bridge Farm Pick Your Own Surrey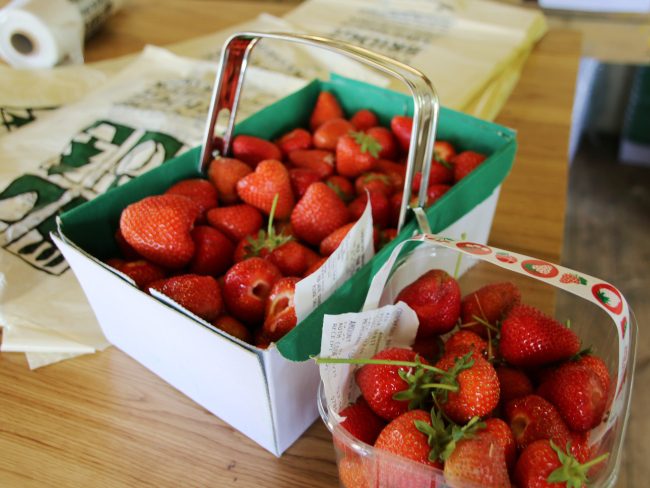 During the summer season, you can also pick raspberries, marrow, beetroot, sunflowers and much more. In October, Crockford Bridge Farm opens for pumpkin picking and also sells a wide range of pumpkins and gourds at their Pumpkin Market. Check the latest crop availability at https://www.crockfordbridgefarm.co.uk/farm-pyo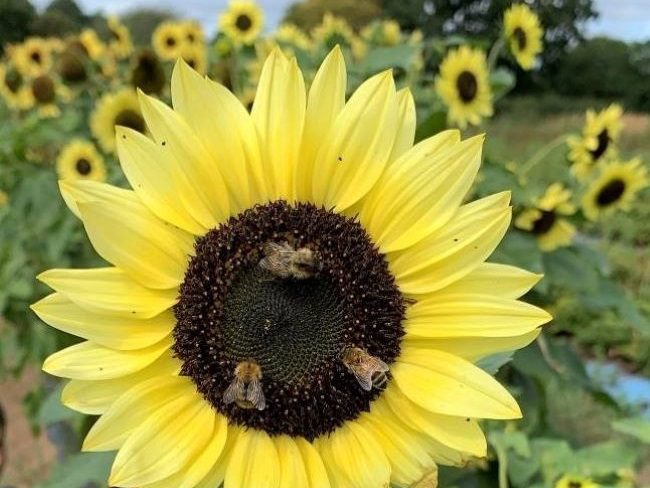 Address: New Haw Road, Addlestone, Nr. Weybridge, Surrey KT15 2BU
Opening Hours: Closed Monday and Tuesday. Wednesday to Saturday 1000 to 1800; Sunday 1000 to 1630. Last entry to the fields is 30 minutes before closing.
Farm Pass: Adults (over 14) £3; children ages 1-14, £2; ages 1 and under no charge. Farm Passes are redeemed against the value of your crop purchases. Purchasing a Farm Pass in advance is required to visit Crockford Bridge Farm. You cannot turn up on the day without a booking.
Check crop availability and book your PYO Voucher at https://www.crockfordbridgefarm.co.uk/farm-pyo
Cammas Hall Farm
Located on the Hertfordshire / Essex border, Cammas Hall Farm opens for strawberry picking season from early June. During the summer, there are a wide range of crops to pick including gooseberries, raspberries, cherries and blueberries. Check crop availability at https://www.cammashall.co.uk/pyo/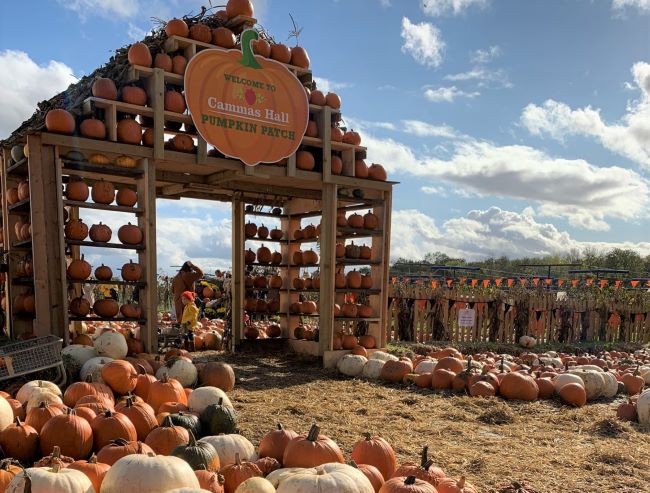 Read more: Pumpkin Patches near London
In October, Cammas Hall Farm have a fantastic selection of pumpkins and squash of all types and sizes. The farm also sets up brilliant pumpkin displays and photo opportunities, plus a maize maze and other family activities. There's a farm shop, tea barn and BBQ kiosk on site, along with a playground.
Address: Cammas Hall Farm Needham Green, Hatfield Broad Oak CM22 7JT
Opening Hours: 9am to 5pm [open from early June]
Fruit Voucher: £3 per person (plus a 25p booking charge per person). The £3 value can be redeemed against the fruit you have picked. Slots will only be made available a few days in advance at https://www.cammashall.co.uk/pyo-booking/
For latest crop availability and to book tickets, check their What's Picking page at https://www.cammashall.co.uk/pyo/
Parkside Farm
Located in the countryside north of Enfield, Parkside Farm covers 50 acres, with around 20 different crops grown. Parkside Farm is one of the best pick your own farms near London for strawberry picking and will be opening for the season in June 2023.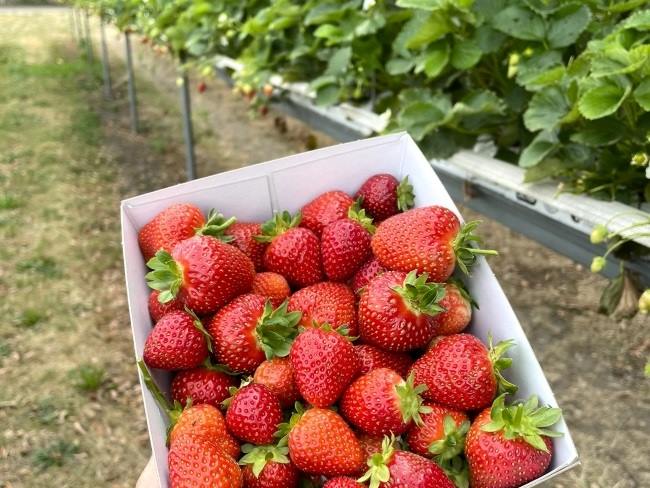 Address: Hadley Road, Enfield, Middlesex EN2 8LA
Opening Hours: Details TBD. Opening for picking season in late June 2023
Fruit Voucher: £4 per adult or child. The value of the fruit voucher will be fully refunded, provided you spend above that amount on PYO produce.
To buy your fruit vouchers and book a 15 minute entry timeslot in advance, or to check the latest crop updates at Parkside Farm, visit https://www.parksidefarmpyo.co.uk/
The Pop-Up Farm
The Pop-Up Farm is located in Hertfordshire, 30 miles north of London and near the ZSL Whipsnade Zoo Dunstable. This pick your own farm regularly runs pop-up farming festivals for picking pumpkins, squash, sweetcorn and sunflowers with family-friendly activities for a fun day out in summer and autumn.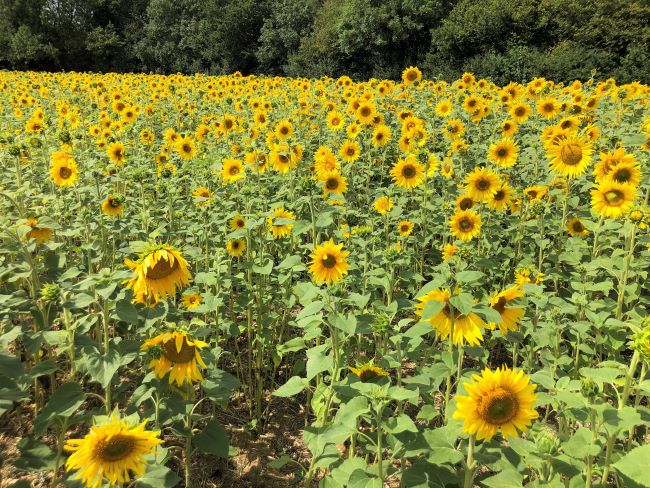 The next pick your own event at the Pop-Up Farm will be in late summer for picking sunflowers.
Address: M1 junction 9 Flamstead, next to the Harvester. Use postcode AL3 8HT for sat nav.
Opening Hours: TBD [open from late Summer]
PIN FOR LATER – Pick Up Farms near London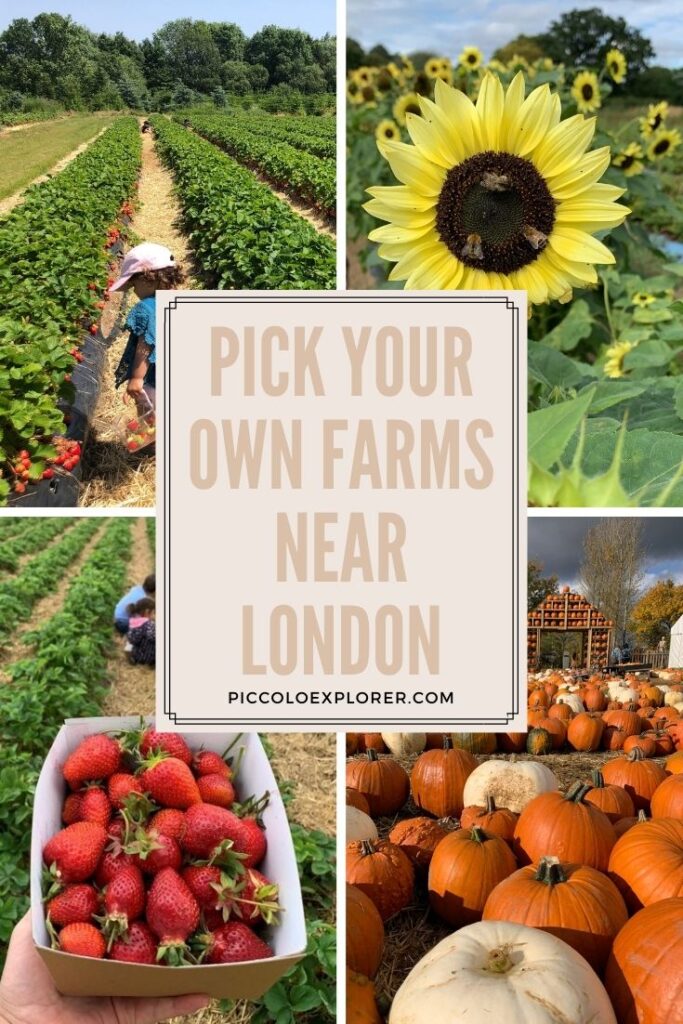 This post was updated on 29 July 2023 with the upcoming fruit and vegetable picking season.