With over 14,000 trees from around the world, Kew Gardens is a wonderful place to enjoy nature year-round. The Royal Botanic Gardens at Kew is also one of the best places in London to see the changing autumn leaves. In this post, I'll share photos from our autumn visits through the years and several of the best spots to enjoy autumn in Kew Gardens.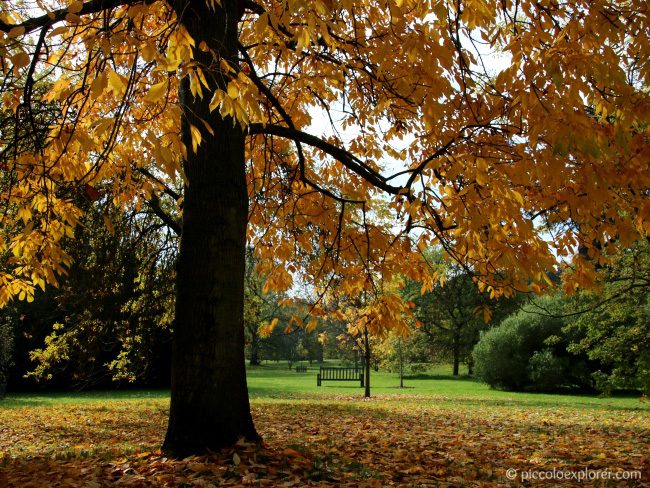 Related: Best Places to See Autumn Leaves in London
Autumn in Kew Gardens Arboretum
The Arboretum stretches across two-thirds of the Gardens, and is home to 14,000 trees representing more than 2,000 species, including rare and ancient varieties.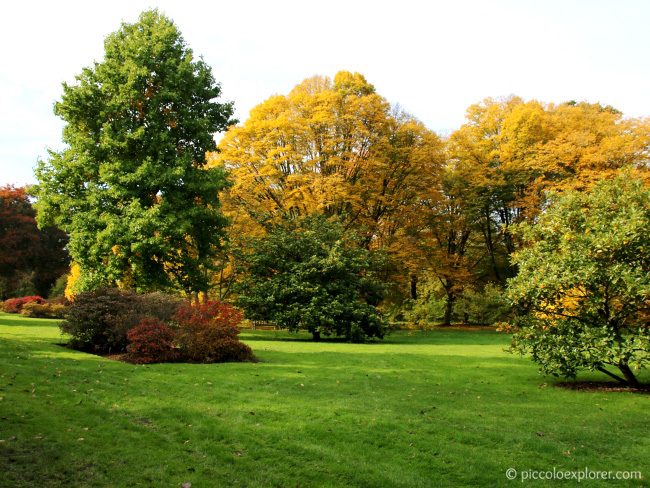 View this post on Instagram
Autumn in Kew Gardens is a spectacular display of vibrant reds, yellows and oranges. The vast collection contains trees as old as the Gardens, which date back to the earth 18th century and many of the trees in the Arboretum cannot be found anywhere else in Britain.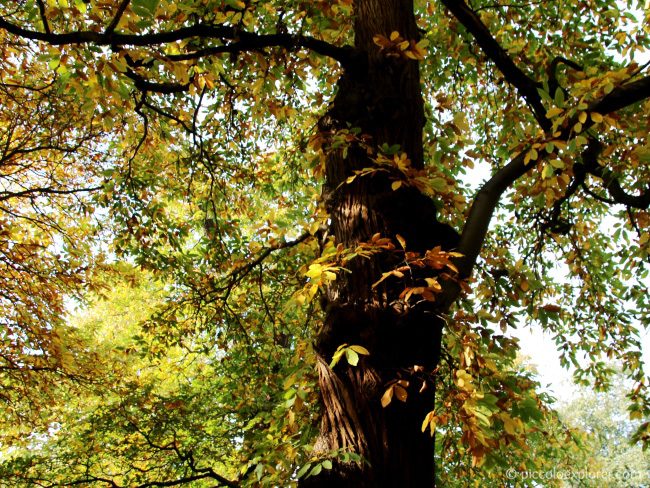 Keep reading for some of the best spots to see autumn colours and where to find the Kew Gardens pumpkin display.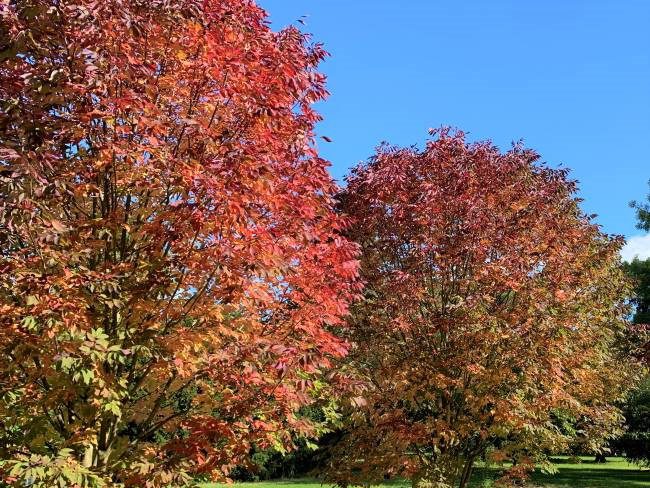 Temple of Bellona
One of the best spots to see autumn leaves in Kew Gardens is by the Temple of Bellona in front of the Victoria gate. The stunning American smoketree frames the temple with vibrant autumn colours.
View this post on Instagram
Treetop Walkway
The Treetop Walkway is a 18-meter high, 200 meter long walkway that stands in the Arboretum and is one of the best spots to take in the autumn colours, offering a bird's eye view of the Gardens from the tree canopy.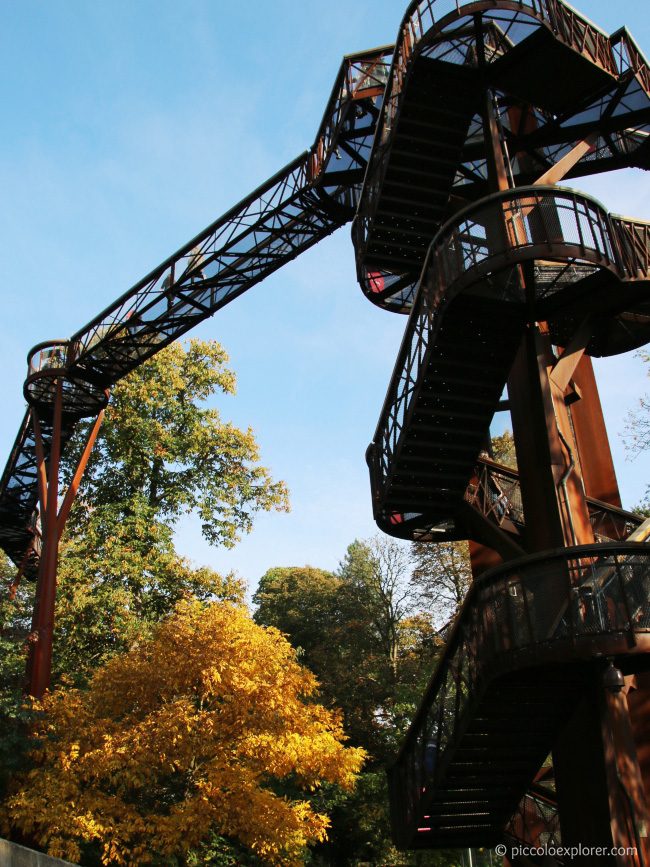 There are 118 steps up to the walkway, and once you're at the treetops, you'll be passing through branches of the sweet chestnut, beech, horse chestnut and different oak species that border the Treetop Walkway.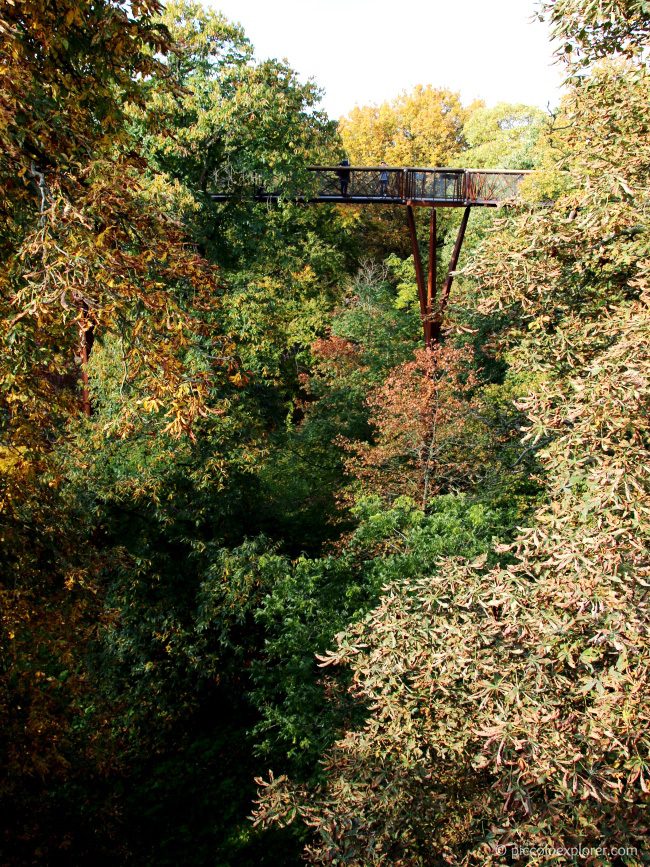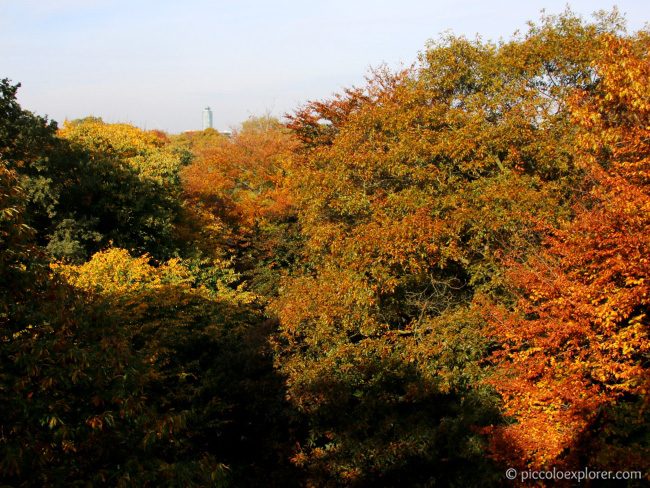 The Treetop Walkway was designed by Marks Barfield Architects, who also designed the London Eye, and it is supported by rusted steel columns that blend in with the natural environment.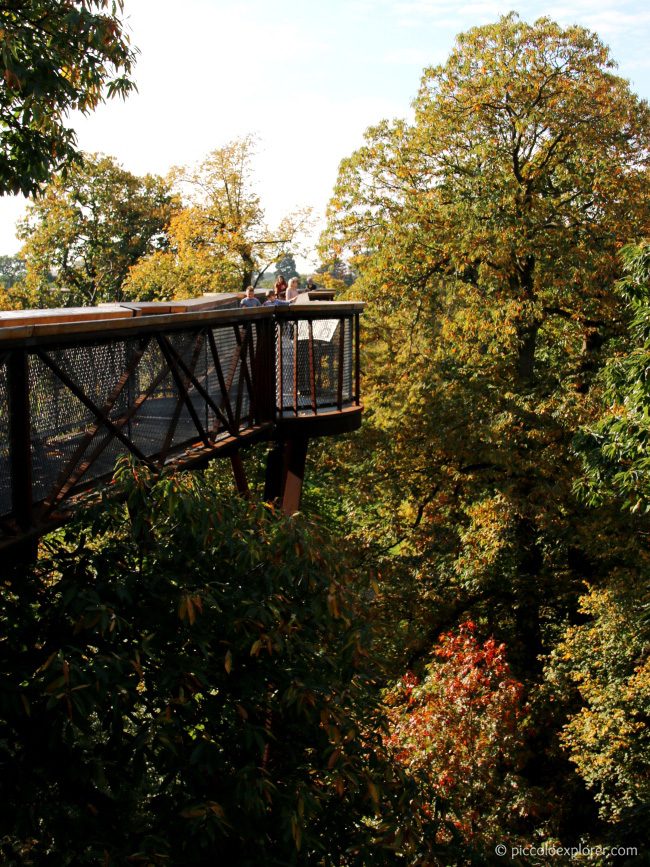 Kitchen Gardens
Another great spot to visit during autumn in Kew Gardens is the Kitchen Garden, where edible plants are grown to learn more about producing healthy and sustainable food. It's a pleasure to visit throughout summer and autumn to see the fruits and vegetables growing on the plants and then harvested.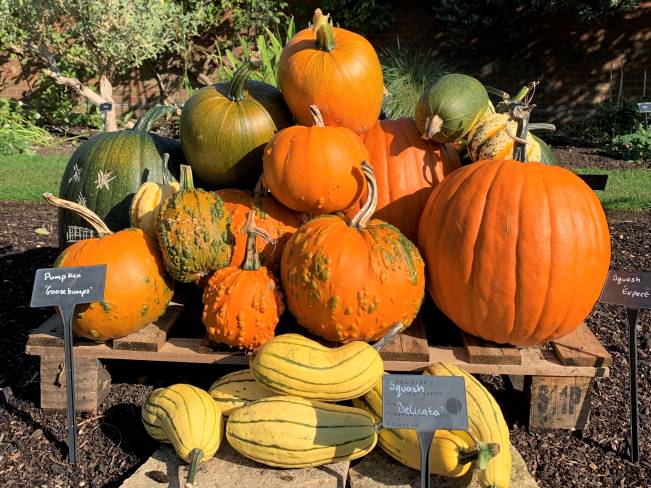 Kew Gardens grow different varieties of common fruits and vegetables, from carrots and apples to pumpkins and chili peppers. They also grow heritage varieties and experiment with more unusual crops. Stop by the Kitchen Gardens during October to see the different varieties of pumpkins and squash in their display.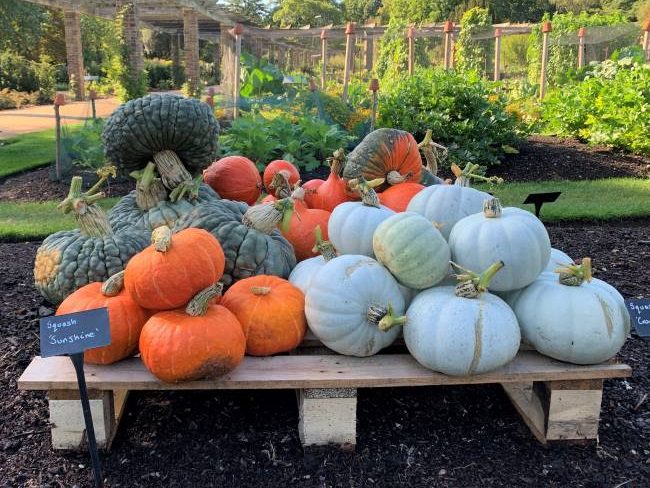 The Lake and Sackler Crossing
The area by the Lake and Sackler Crossing is another beautiful spot in Kew Gardens to enjoy the autumn colours. The Lake at Kew Gardens covers five acres of water, studded with four islands that provide vibrant colours. This is a beautiful spot to take reflection shots!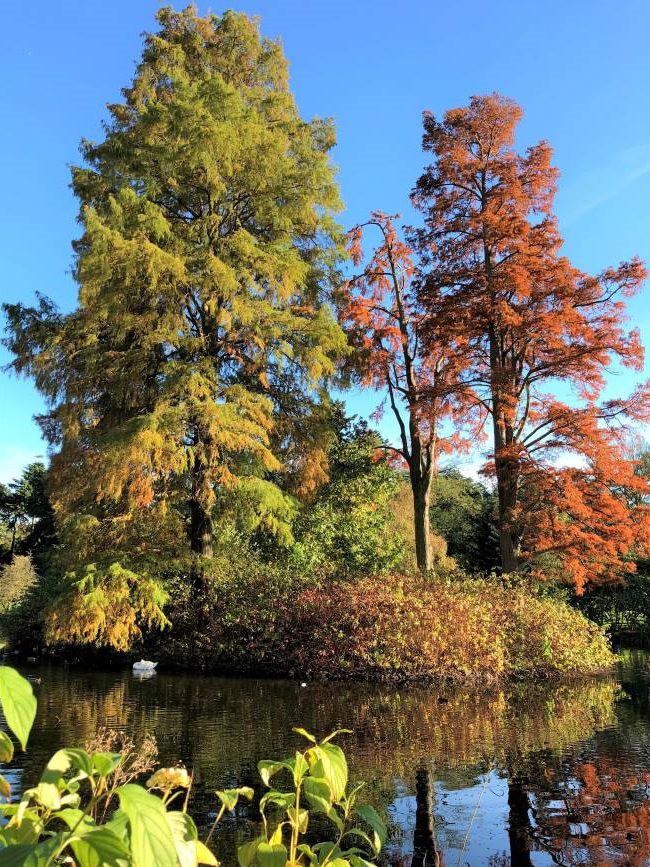 Particularly stunning in autumn, Chinese tupelo trees (Nyssa sinensis) turn deep red, while black tupelo trees (N. sylvatica) glow red, orange and yellow.
The Sackler Crossing was installed in 2006 and is a black granite walkway leading you over the water along a curving path that mimics the Lake's rounded banks.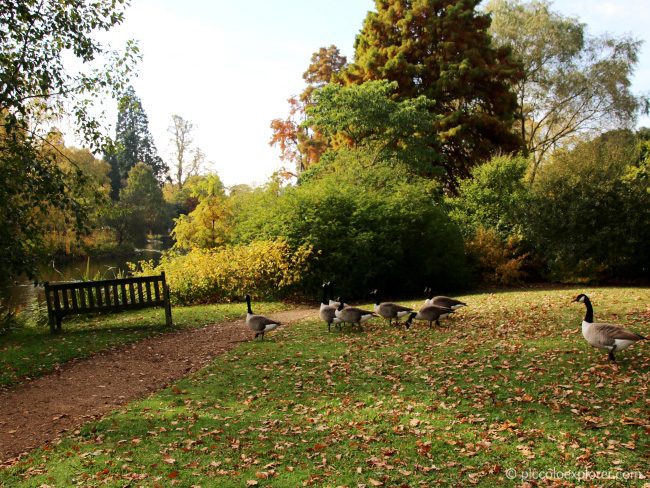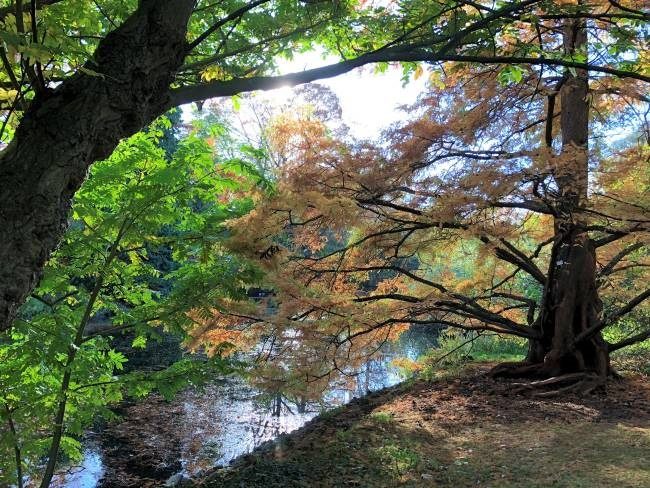 Autumn in Kew Gardens London
Kew Gardens is one of the best places in London to enjoy autumn walks and see the changing of the leaves. With over 14,000 trees spread out over the Gardens, there is plenty to explore when visiting Kew Gardens. I hope you have found this guide helpful for finding where to go when visiting Kew Gardens in autumn.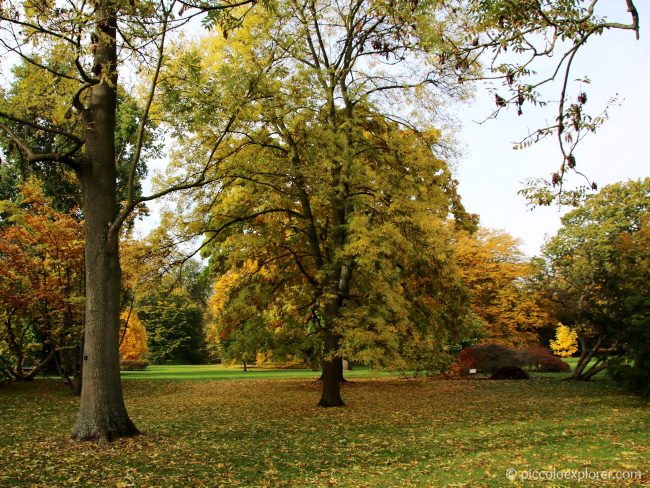 Kew Gardens by Season
Since there is always something new and unique to see throughout the year, I have been sharing advice on what to do and where to go when visiting Kew Gardens by season. Read on for more photos and information on visiting Kew Gardens at other times of the year;
Kew Gardens Address
Address: Royal Botanic Gardens, Kew, Richmond, Surrey TW8 3AB
2023 Opening Hours: From 1 September, the opening times are the same throughout the week. 10am to 7pm (last entry 6pm) 1 – 30 September; 10am to 6pm (last entry 5pm) 1 – 28 October; 10am to 4pm (last entry 3pm) 29 October – 13 November; 10am to 3pm (last entry 2pm) 14 November – 7 January 2024.
Kew Gardens is closed on 24 and 25 December.
Tickets: Peak (1 February – 31 October) Standard tickets paid at the door are £21.50 for Adults, £9 for Young person and students (16 to 29 years old) and £5 for children (4 to 15 years old). Children under 4 years go free.
Tickets purchased online are cheaper for Young Person / Student (£8.50) and Adult (£17.00). You can pay an optional 10% donation which goes towards Kew Gardens' conservation work. By agreeing to pay the donation, Kew Gardens can claim Gift Aid on the full ticket price if you are UK tax payer.
Closest Tube Station: Kew Gardens [District – Richmond branch and Overground services]
Parking: There is limited Ringgo parking around Kew Green (make sure to check for permit parking spots). Parking costs £7.00 for the day at the Kew Gardens Brentford Gate car park (TW8 3AF) which is accessed by Ferry Lane, a narrow turning off Kew Green.
Food and Drink: There are several restaurants at Kew Gardens, including the Orangery for coffee, cakes and light meals; the Pavilion Bar and Grill serving burgers and Mediterranean dishes; and the Botanical Brasserie for formal dining. Right next to the Children's Garden, you'll find the new Family Kitchen & Shop which has a stone-baked pizza oven, salad bar, artisan sandwich station, ice cream servery and more.
http://www.kew.org/visit-kew-gardens
Pin for Later – Autumn Leaves in Kew Gardens London