Dukes Meadows Park is located on the riverside in Chiswick, West London, and a popular spot for locals to play sports or visit the Sunday farmer's market. There are several sports and recreational facilities in the Dukes Meadows area, ranging from cricket, football, rugby, rowing, golf and health clubs. There's also an excellent children's adventure playground and a paddling pool which is now open for Summer 2023!
Dukes Meadows Adventure Playground
The Dukes Meadows Trust commissioned and raised funds to build adventure playground and paddling pool at Dukes Meadows Chiswick. The Dukes Meadows Adventure Playground was designed to meet the needs of older children and work with the natural environment. The playground features landscaped dry riverbeds, slides, tire swings, wooden climbing frames, a zip line and earth mounds.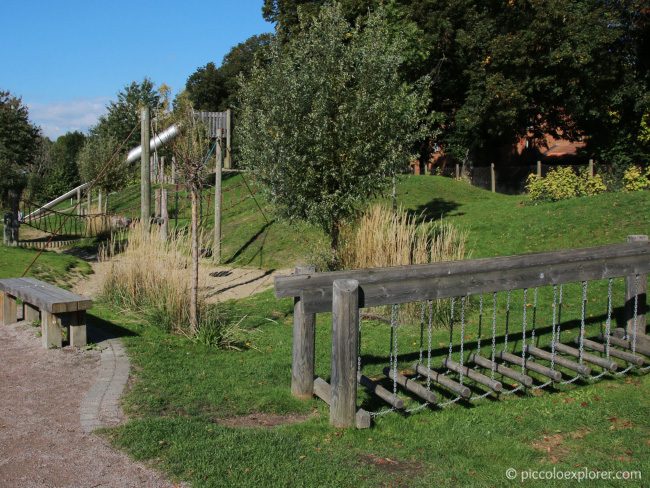 I found it interesting that the play area was designed with input from children of Cavendish Primary School, who are now 18 or older. The students provided the ideas and inspiration and continued to be involved in its creation with visits to the architect's office and to the construction site. That must have been a great experience to exchange ideas and see how it all came together!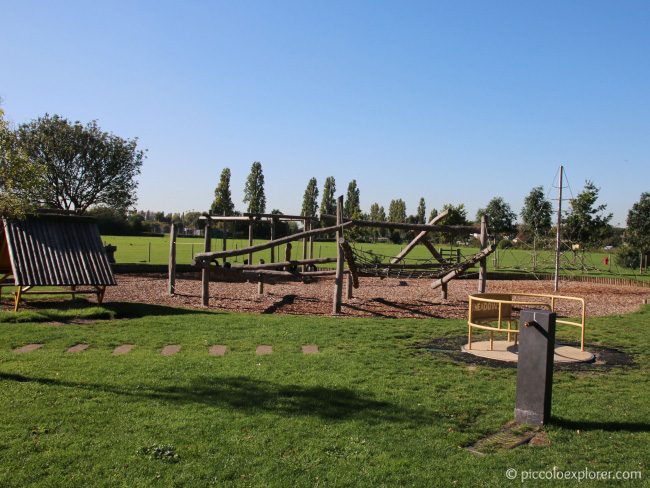 It's a fun place to explore and, again, it is geared more towards older children, but that didn't stop Little T from wanting to keep going on that extremely tall slide!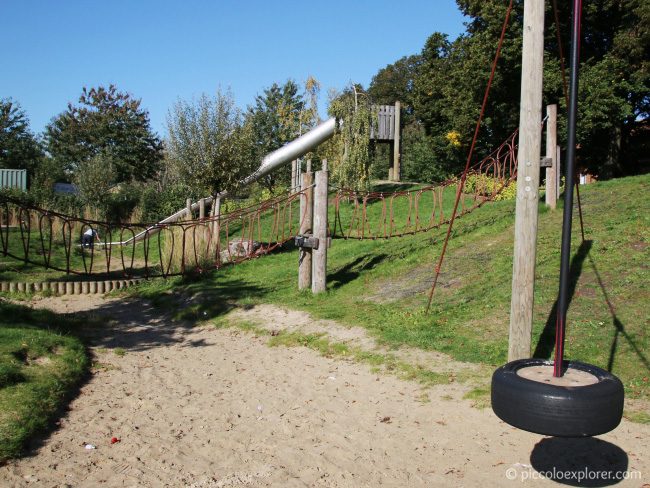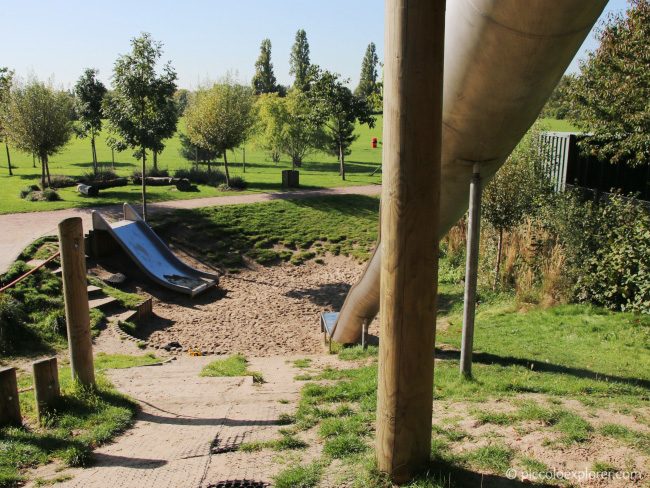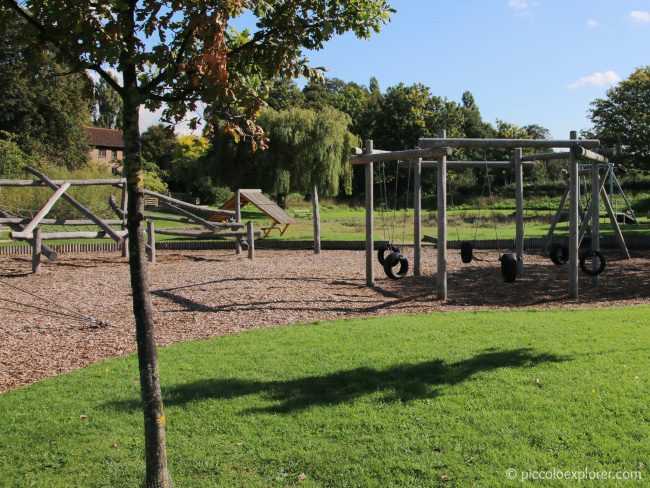 Related: Things to Do in Summer Holidays in London
Dukes Meadows Paddling Pool
Next to the playground is a splash park area that was created with younger children in mind. The Dukes Meadows pool area features a shallow paddling pool with a fountain, a sandpit and a snack kiosk with a picnic area.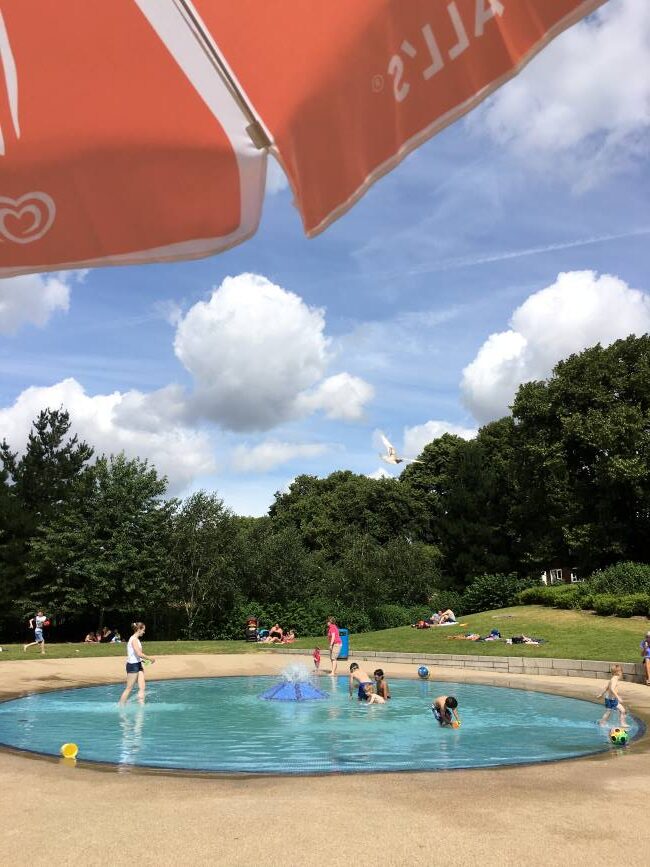 Summer 2023 Update: The Dukes Meadows paddling pool is now open! For the latest updates about the Dukes Meadows play areas, visit the Dukes Meadows Trust website.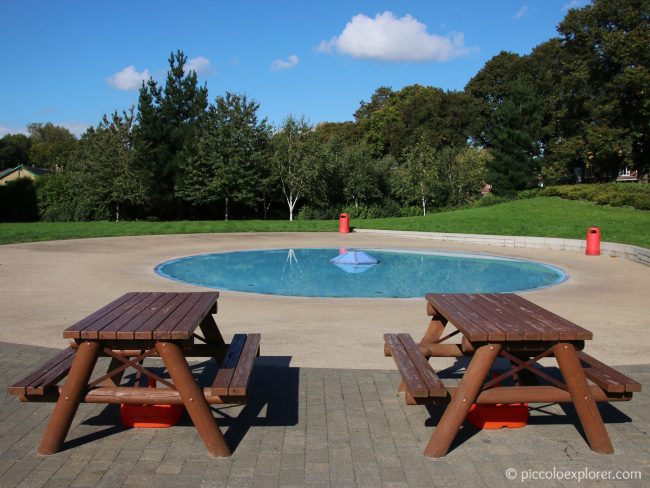 Dukes Meadows Paddling Pool opening times are 10.30am to 6pm daily.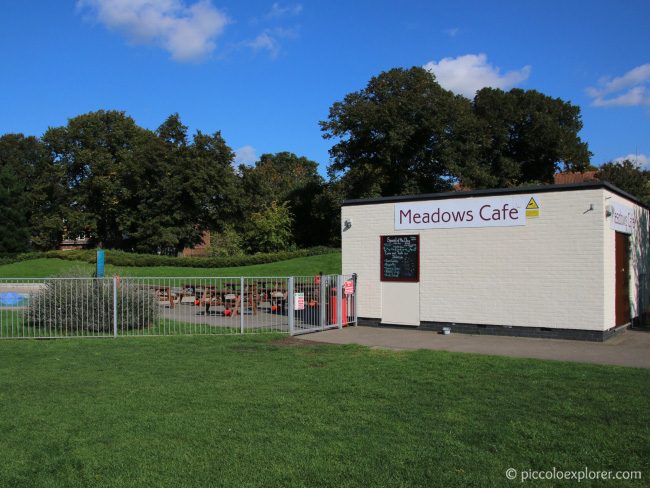 The Meadows Café next to the Dukes Meadows Splash Park sells sandwiches, cold drinks, coffee and tea, ice cream. The café also serves several hot food options such as pizza, hamburgers, toasted sandwiches and jacket potatoes.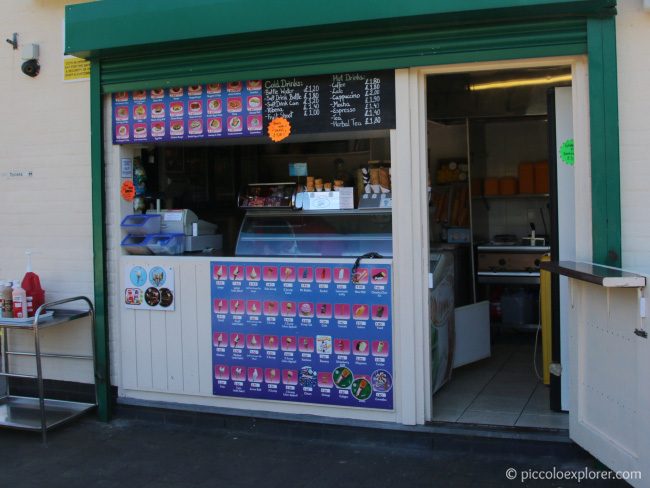 Related: Best Play Fountains in London
Sports Fields
Next to the playground area is a huge open green space, popular for playing sports, picnicking and rolling down the hill.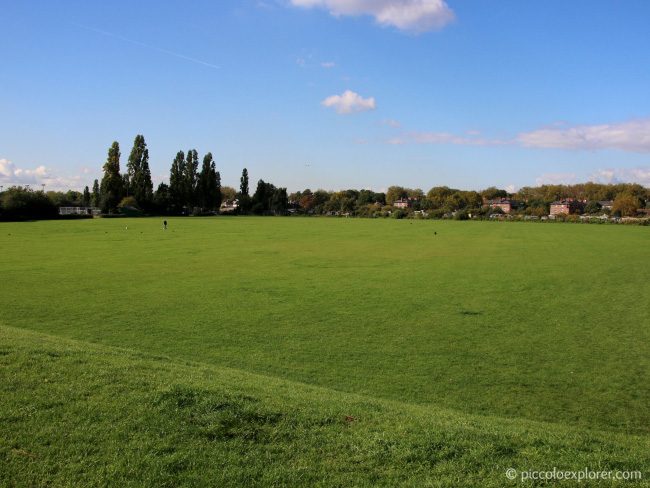 The Corney Reach entrance to Dukes Meadows Park features two sculptures by artist Ricky Grimes.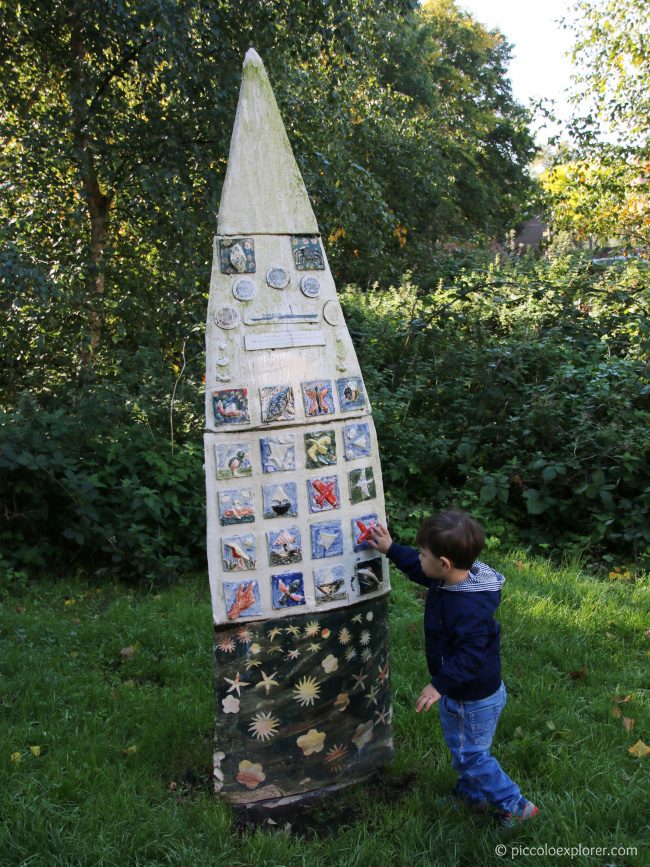 Near the playground is where you'll find the Farmers & Fine Foods Market that is held here every Sunday. There's a good selection of hot food, fresh produce, cheese and olive oil, along with some home decor and seasonal items.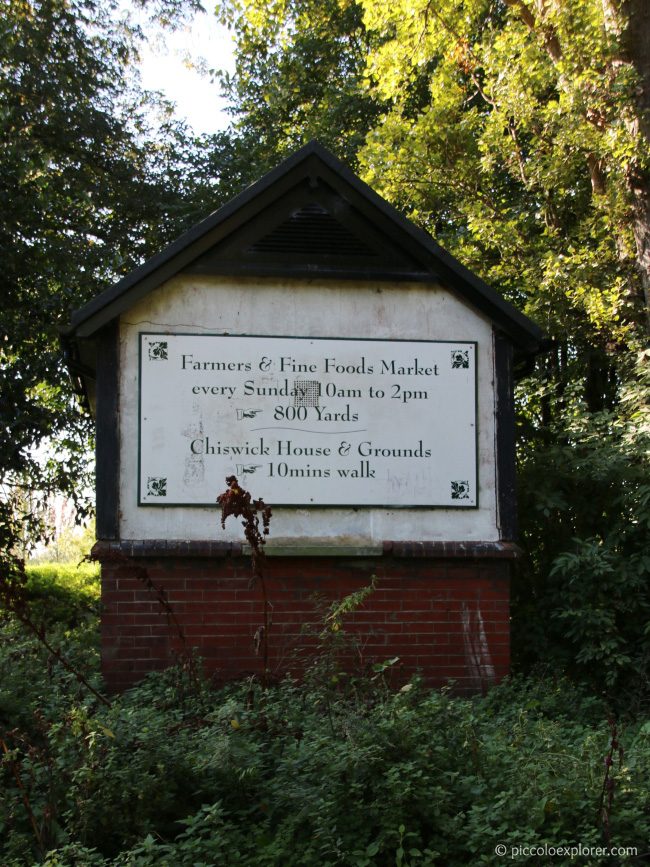 Chiswick Thames Path
The walk along the Chiswick Thames Path towards Chiswick Pier is lovely for watching the boats and the scenery. There are quaint riverboats teeming with plants and flowers, kayaks ready to be rented out and often rowers swiftly sliding through the water.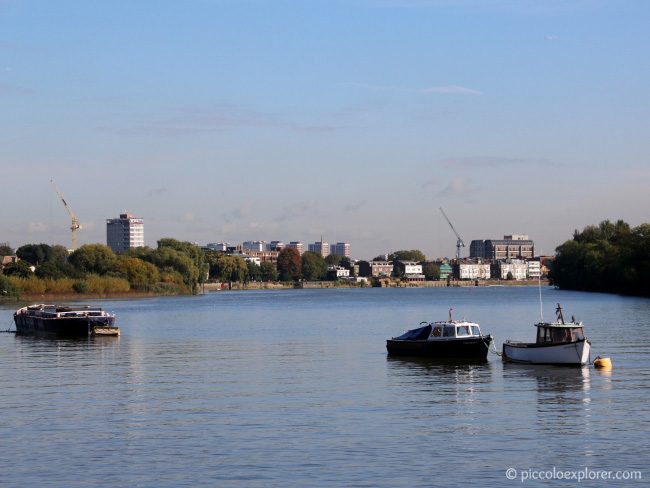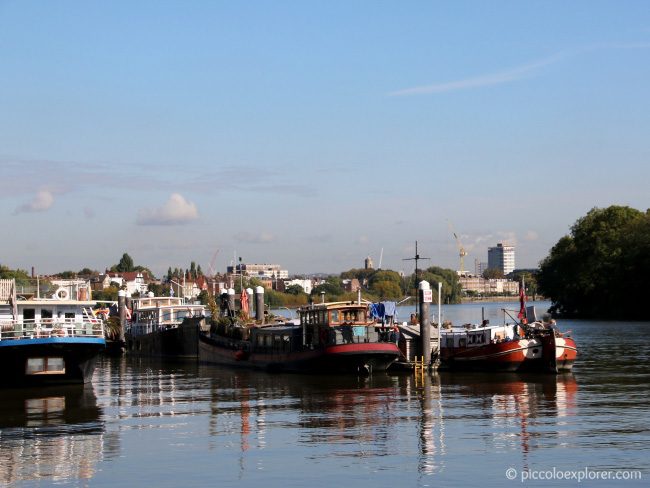 It's a calm, tranquil place, with the occasional runner or dog walker passing by.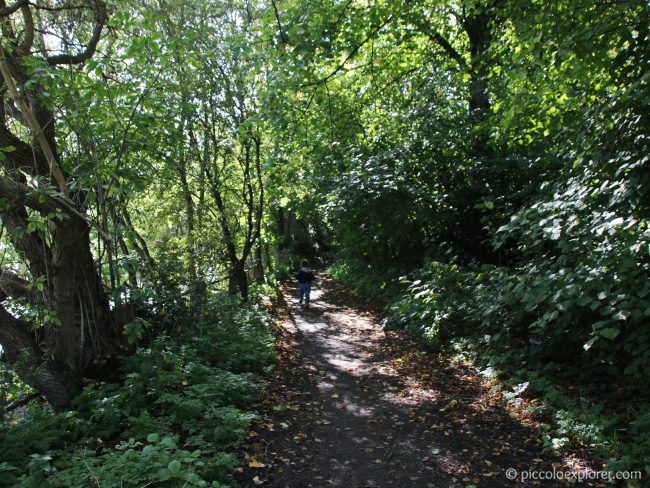 Heading in the opposite direction towards Barnes Bridge, you'll find a bandstand along The Promenade. The Chiswick bandstand is often mentioned in boat racing commentary, that was built in 1926 and used up until the '80s.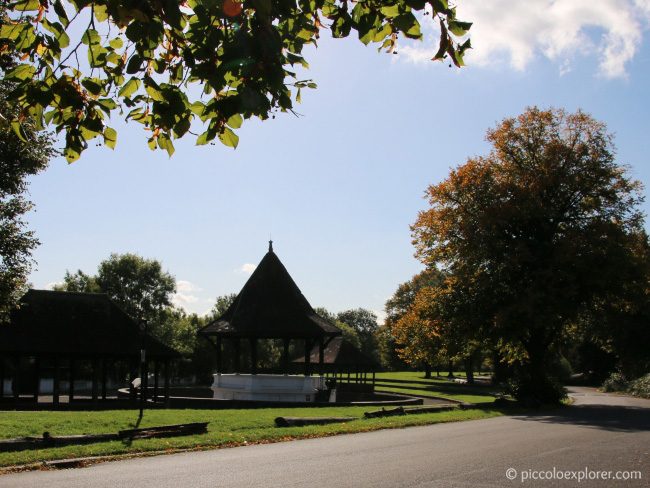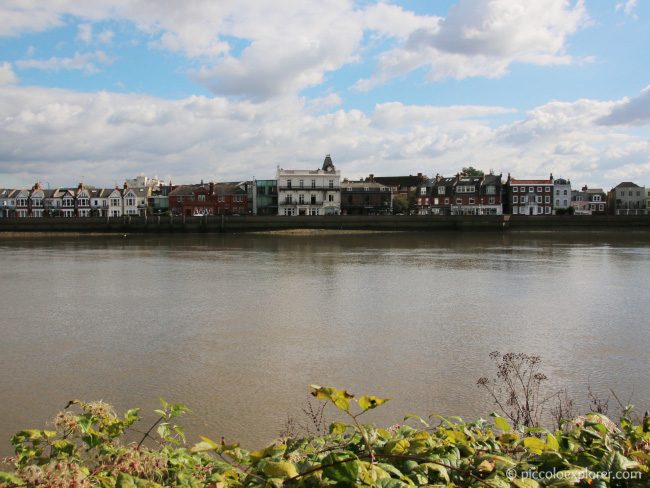 Find more inspiration for things to do this summer in the latest round-up post: Summer Holidays in London 2023
Dukes Meadows Chiswick
Dukes Meadows Park is a beautiful wide open space and has so much to offer for outdoor activities and sports year round. The adventure playground is unique, well designed and impressive. The water play area for younger children is fantastic and very popular over the summer.
Dukes Meadows Park, The Pavilion, Market Drive, Chiswick, London W4 2RX
Parking: There are parking bays on Riverside Drive and informal parking opposite the riverfront on The Promenade.
Good to Know:
There is a toilet at the Meadows Café near the Dukes Meadows paddling pool.
The adventure playground is open all year round. If you'd like to go straight to the playground, the pedestrian entrance from Edensor Road is called Promenade Approach Road.
For latest updates about the Dukes Meadows play areas and paddling pool, visit the Dukes Meadows Trust website
https://dukesmeadowstrust.org/
This post was updated on 12 June 2023 with more photos and new link for more information on the Dukes Meadows paddling pool.