The New Children's Museum San Diego is an interactive museum in Downtown offering immersive art activities and installations for children of all ages, from toddler to tween. One of the top places to visit in San Diego with kids,  there are many great opportunities for fun and creativity at the New Children's Museum. We have visited the museum twice on family holidays in San Diego, and in this post, I will share more about what to expect and tips for visiting this brilliant children's museum.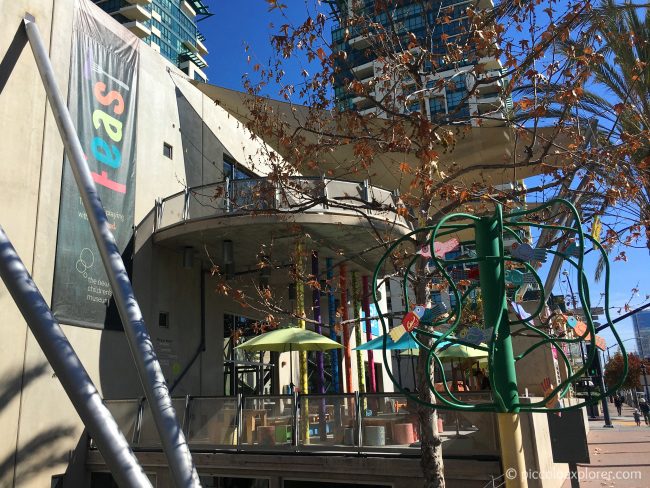 Note: Masks are currently required for all guests (ages 2+) inside the New Children's Museum, regardless of vaccination status. Masks are not required in outdoor spaces. Photos shown in this review are from pre-Covid times.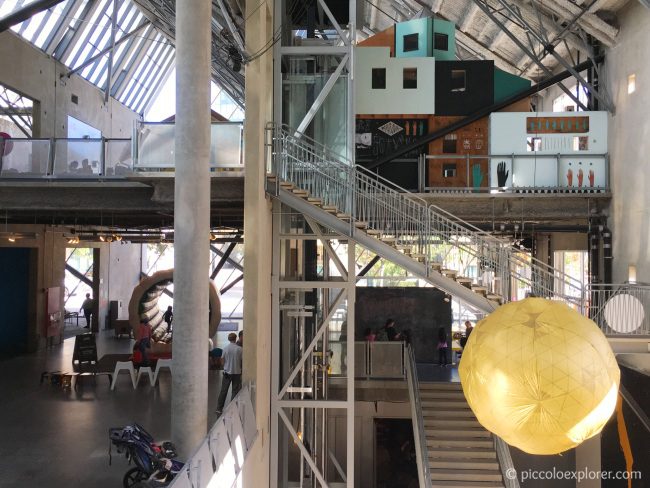 The New Children's Museum is spread out across three open floors with several interactive art installations and hands-on family activities. There is an outdoor patio with areas for enjoying painting and creating with clay, along with a new outdoor experience in the Museum Park offering more activities and opportunities to make art.
Missing Link
The Missing Link is a 30-foot inflatable rainbow-striped tunnel that kids will enjoy running, bouncing or rolling through! This colourful project was created by artist Felipe Dulzaides for Animal Art, the New Children's Museum's 2009 exhibition.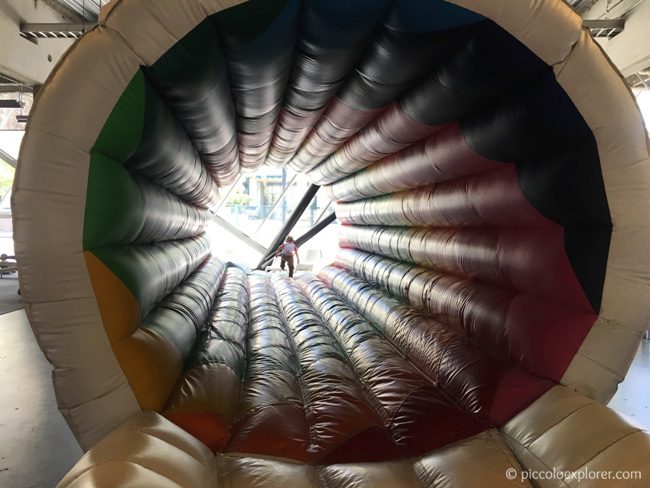 Wobbleland
The New Children's Museum is a great place to visit with young children, offering fun, hands-on activities for toddlers and dedicated play spaces for babies. Wobbleland is a beautifully designed, active space for children age 4 and under, and designed to be a giant kitchen sink with soft sculptures of food to be stacked, sorted or rocked.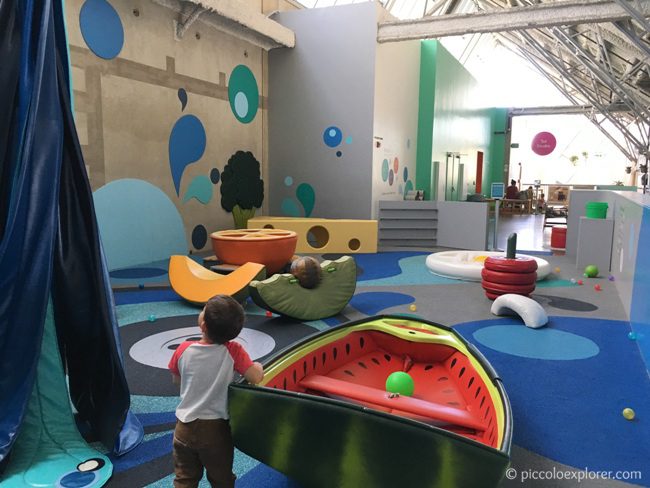 Paint Studio
The outdoor patio of the children's museum features a fantastic paint studio. When we visited, there was a covered wagon, cacti and fence to be painted with the colour of the day! Now the Paint Studio features a 1950s Dodge truck. The paint, of course, washes off very easily and there's a row of sinks nearby.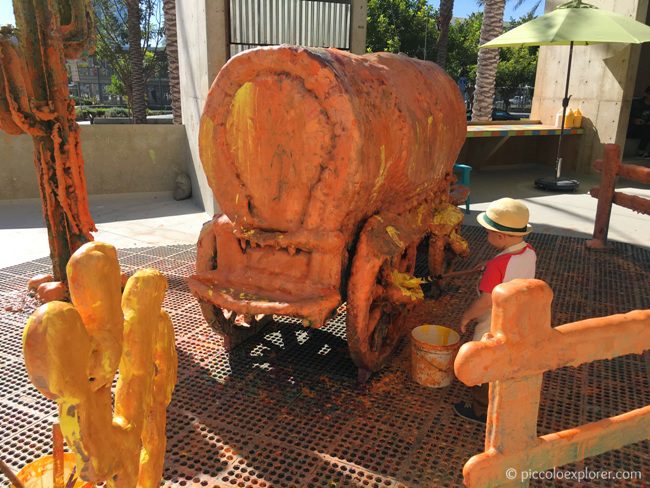 Clay Studio
The Clay Studio is located on the other side of the outdoor patio at the New Children's Museum San Diego, with plenty of tools and moulds to create art and an area to dry clay sculptures in the sun.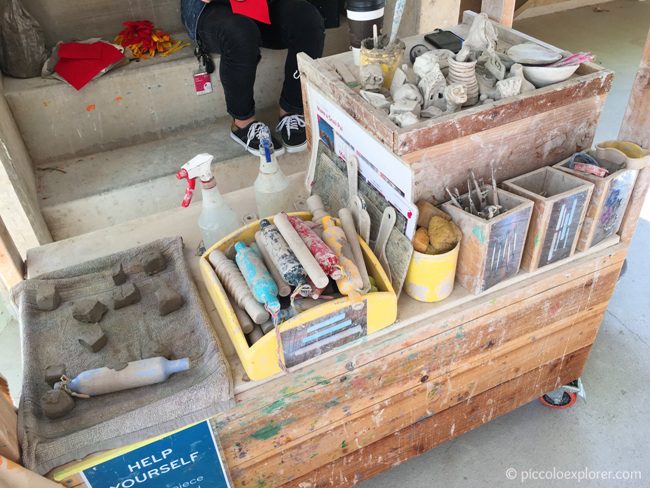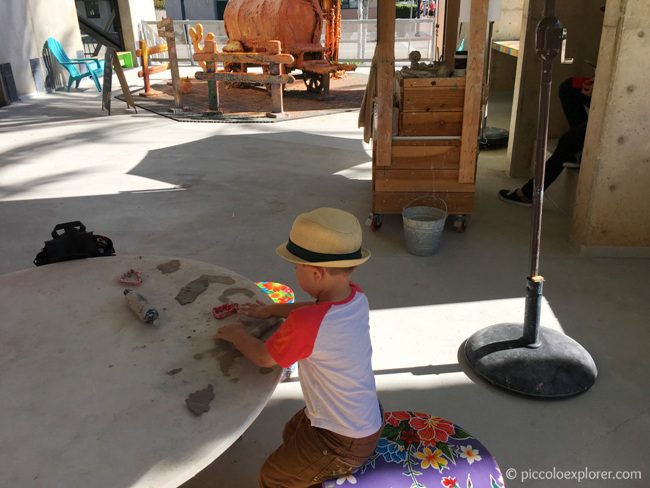 Innovators Lab
The Innovators Lab at the New Children's Museum is geared towards families with children aged 7-13. The children museum's Creative Team works with local artists and experts from various fields – including architects and engineers – to create skill-building projects that explore real world issues.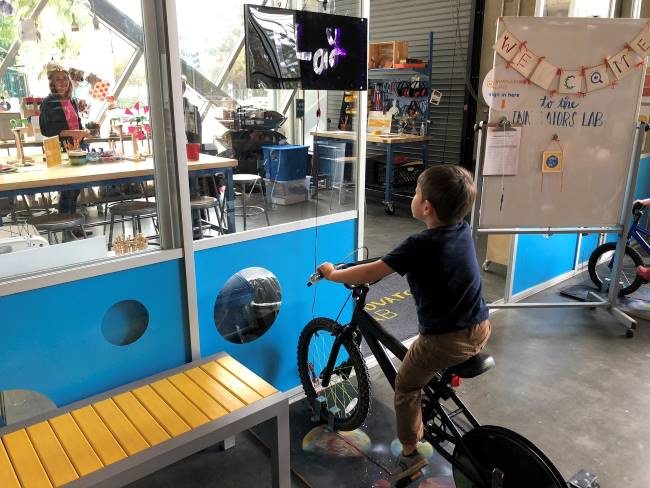 Topics have included buoyancy and electricity, and a current project explores balance and involves developing and sculpting your own spinning top out of wax.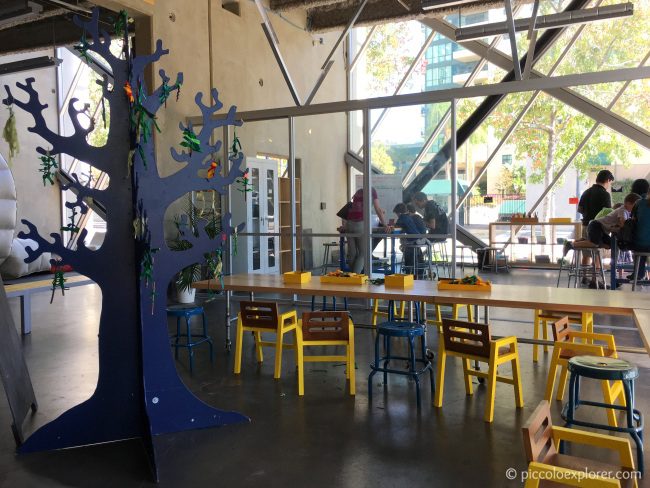 The Rain House
The vibrant Rain House is a creative space where children can explore and play like they might on a rainy day at home – complete with the gentle sounds of raindrops in the room.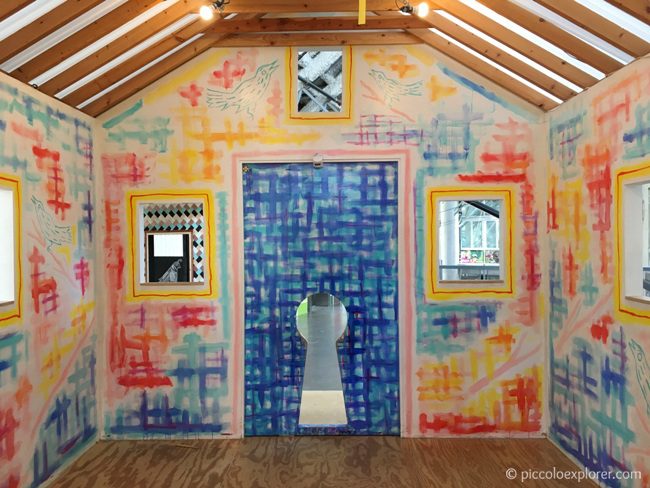 The Wonder Sound
The Wonder Sound is an amazing playhouse made with 18,000 hand-cut wooden shapes, a labyrinth of rooms and passageways, covered with beautiful paintings and inspiring messages.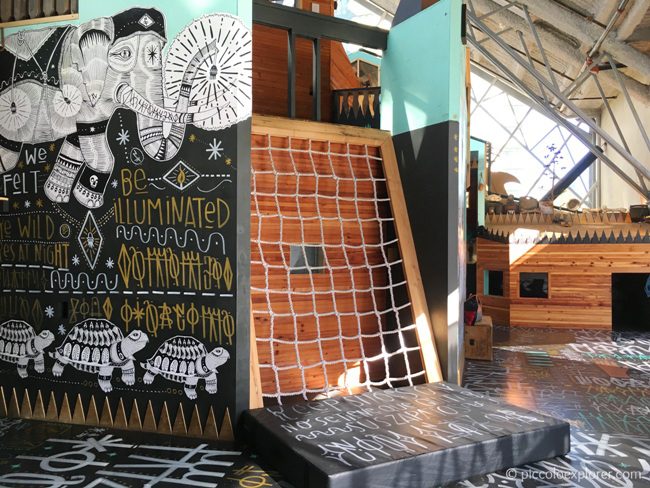 During both of our family museum visits, Little T had a blast climbing around here and ducking into the various rooms with other kids.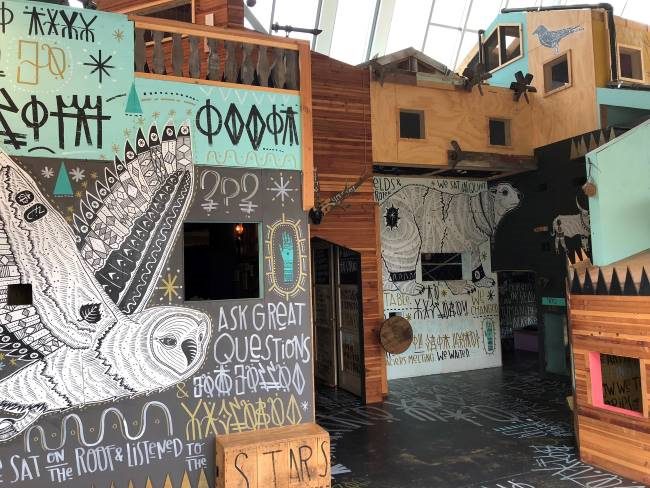 Past Art Installations
The space at the museum is always changing, and New Children's Museum regularly updates the details of their current art installations, workshops and programs on their website. In this section, I will share past art installations at the children's museum that we enjoyed seeing and taking part in during our visits.
Car-a-0ake
The Car-a-oake sculpture – a replica of the artist's 1984 Mercedes Benz he bought when he moved to California – has a radio and microphone inside to bring out your inner dashboard superstar, belting out tunes like no one is watching. This installation questioned the effect that the car has on Californians, who each spend an average of 90 hours a year in traffic.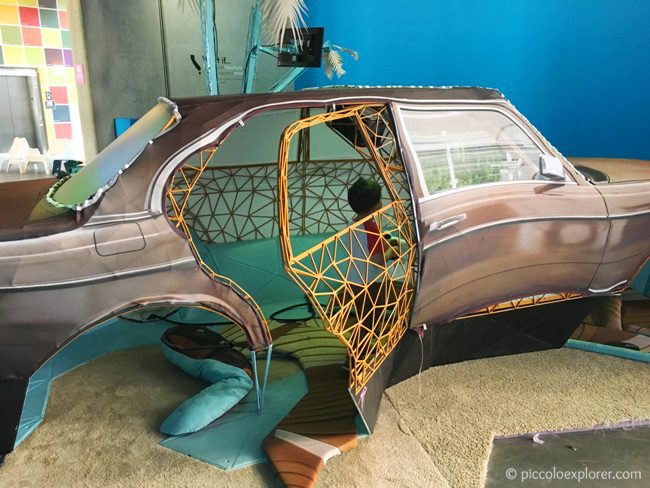 Cardboard Chaos
Exactly what it says on the tin! Basically loads of cardboard and fabric which were perfect for building forts and much more.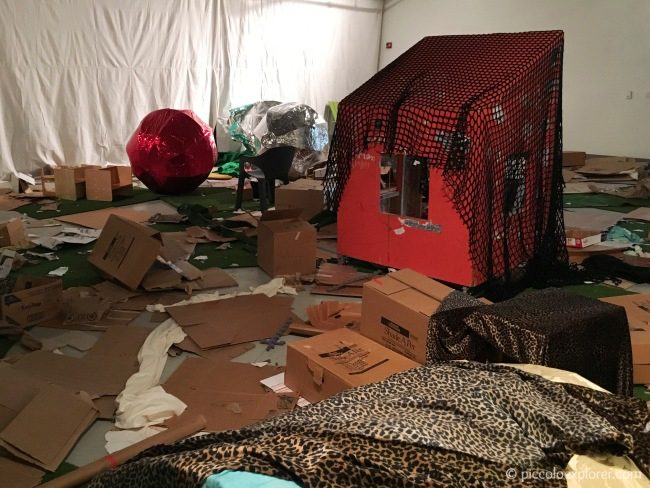 Desert Derby
Cars with a curvy track to move around on – the Desert Derby was particularly popular and an area we spent a lot of time in! I was interested to learn that the art installation was inspired by the California aqueduct, a 700-mile-long pipe and engineering feat that delivers water from Northern to Southern California. The blue shape in the center, blocked in with the dam, represents a reservoir to store water.
Although Southern California's natural water supply can support only 2 million people, over 23 million people can live there thanks to the California aqueduct. It's truly an engineering phenomenon, however, Southern Californians know more about the area's freeways than their waterways.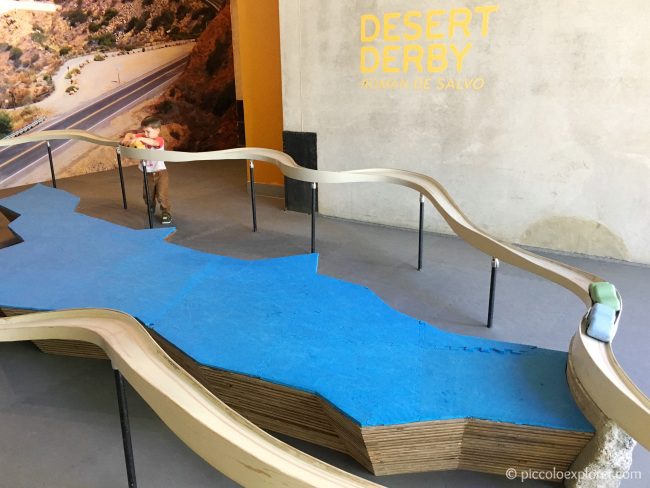 There were several more studios and installations I haven't covered here, along with a library and dress up box downstairs. It's worth having a look at the New Children's Museum's website ahead of your visit to see the latest workshops and installations available, but you're guaranteed to have a wonderful time exploring this unique, creative space. It's an excellent museum that caters so well to the whole family – and it's no wonder all the local mothers I met are annual members. It's a place we would certainly return to on our next family holiday in San Diego!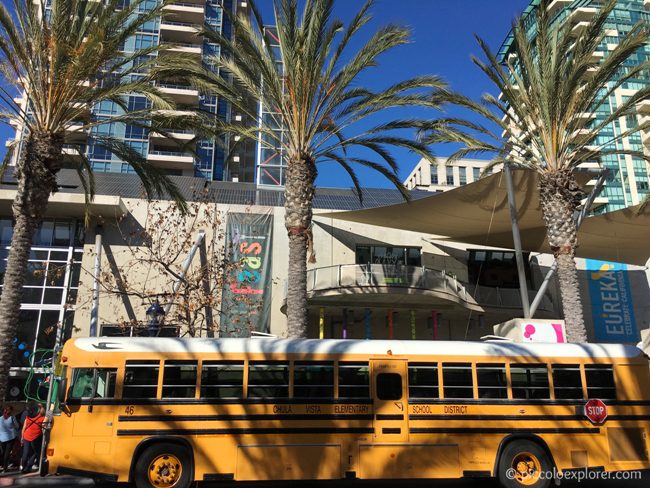 Address & Ticket Info
[2021 Update] The New Children's Museum San Diego is now open 5 days a week (Thursday to Monday) with two sessions per day: morning (9am-12pm) and afternoon (1-4pm). The children museum has a "Clean Between" period from 12 to 1pm, during which all guests will be asked to leave the building but can enjoy the outside park activities for free.
Address: 200 West Island Avenue, San Diego, CA 92101
Opening Hours: Thursday to Monday – two sessions per day: morning (9am-12pm) and afternoon (1-4pm)
Advance reservations are not required. Tickets can be purchased as a walk-up or online for any day the New Children's Museum San Diego is open.
Tickets: Adult and children 2+ tickets are $15.00; children under 2 go free; seniors (65+) $10 and military w/ ID $10.
Closest Trolley Stop: Convention Center Station
Parking: Street parking in the Downtown area is scarce and most spots are for 2 hour stay only. The New Children's Museum has limited parking in its garage (accessed from Union Street) for $10 for non-members and $5 for members. It is worth checking the kids museum parking lot first since other parking lots in Downtown San Diego often charge a flat day rate of $15-$20.
PIN FOR LATER – Visiting the New Children's Museum in Downtown San Diego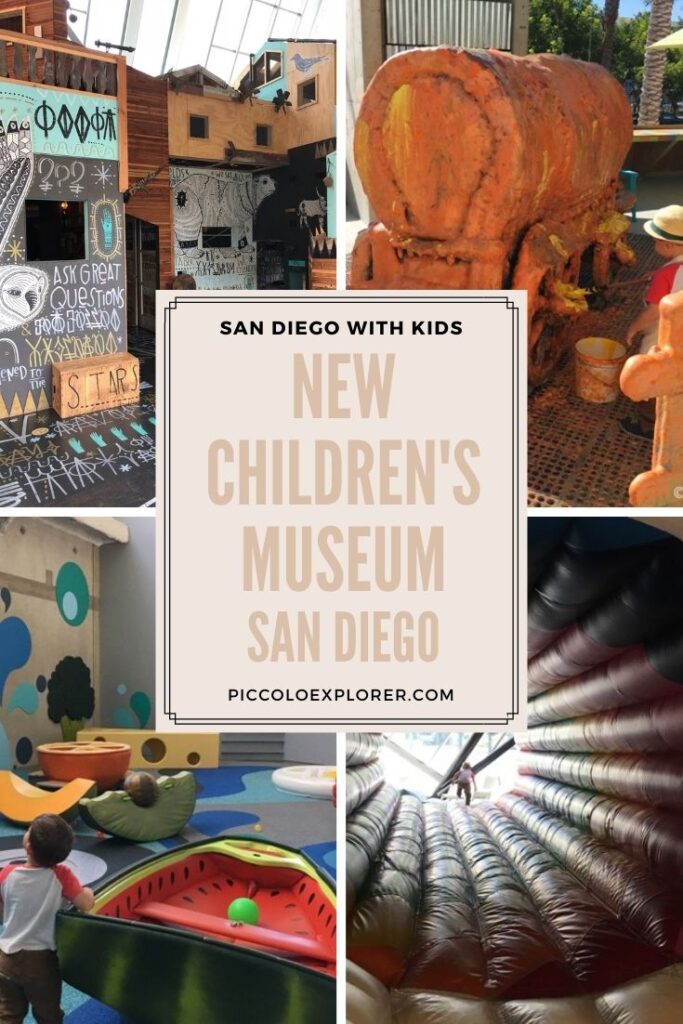 Save