The Birch Aquarium at Scripps Institution of Oceanography is a fantastic, family-friendly aquarium and oceanographic museum on a hilltop in La Jolla. There's plenty to see and do for all ages at the aquarium, with various exhibits showcasing the diverse Pacific marine life, hands-on displays to learn about cutting-edge research discoveries and three outdoor interactive tide pool areas to get up close, touch and learn about San Diego's local tide pool animals. Read more about what to expect visiting the Birch Aquarium La Jolla with kids in this review.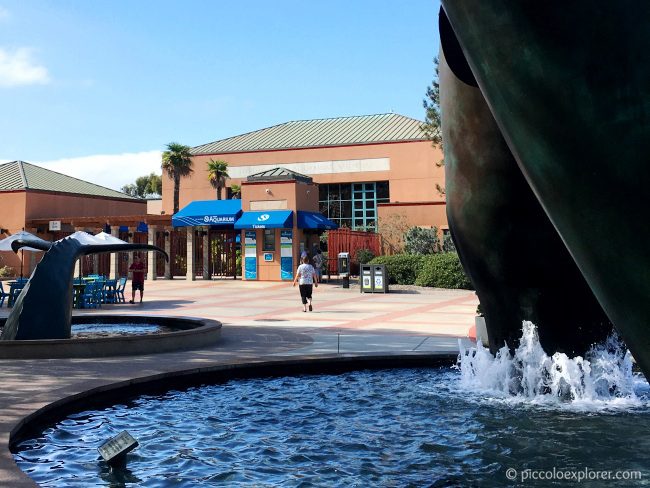 Birch Aquarium at Scripps La Jolla
The Birch Aquarium at Scripps is the public outreach center for the world-renowned Scripps Institution of Oceanography at UC San Diego, which, founded in 1903, is one of the oldest and largest centers for ocean and Earth science research and undergraduate and graduate training in the world. Part of the Birch Aquarium's mission is to interpret the institution's research, while providing ocean science education and promoting marine conservation.
On our last visit to the Birch Aquarium, the Feeling the Heat: The Climate Challenge exhibit was on, showing how climate change is affecting the world's oceans and presents the latest research findings by the Scripps Institution of Oceanography. One display went through various ideas for reducing global carbon emissions, outlining the pros and cons and providing a great resource especially for older children and teens to get them thinking about possible solutions.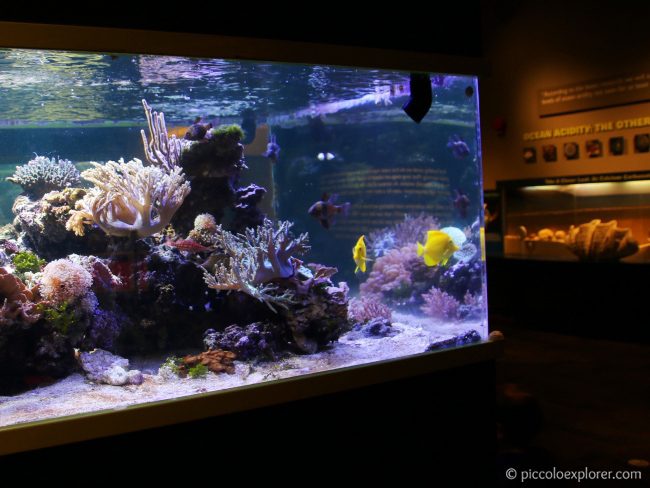 "When the temperature rises, corals expel the colorful algae, exposing their white skeletons and transparent tissues. If the current warming trend continues, more than half of all tropical reefs — and the abundance of life they support — may be lost in the next 25 years"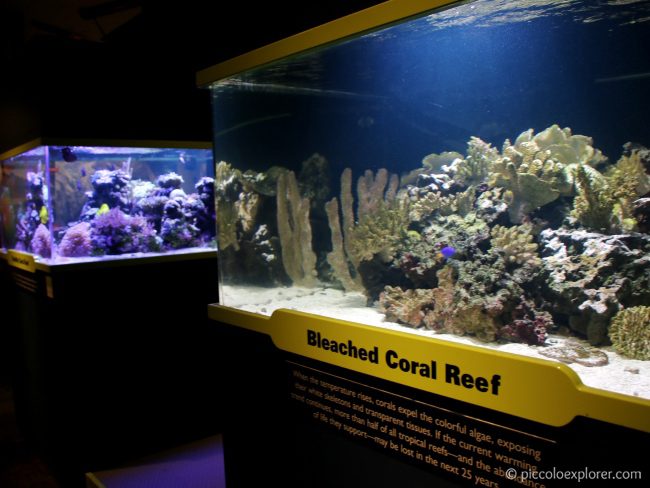 Seadragons & Seahorses Exhibit
The Birch Aquarium has a new permanent Seadragons & Seahorses exhibition that brings seadragon conservation to the forefront. One of the most expansive seadragon habitats in the world, the 18-foot-wide, 9-foot-tall exhibit at the aquarium holds 5,375 gallons of water and is designed to create the ideal environment to breed seadragons. We enjoyed seeing the seadragons when we last visited and look forward to seeing their new habitat next time!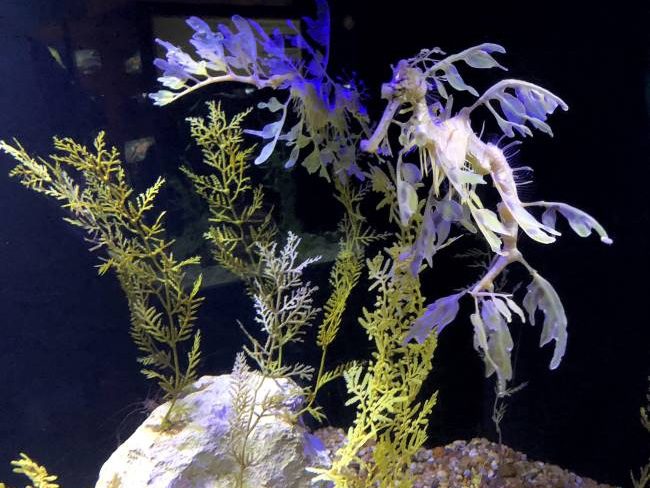 The Birch Aquarium exhibit also features more than a dozen seahorse species and offers an inside look into their lives and habitats – plus you can view seahorse babies in a special nursery!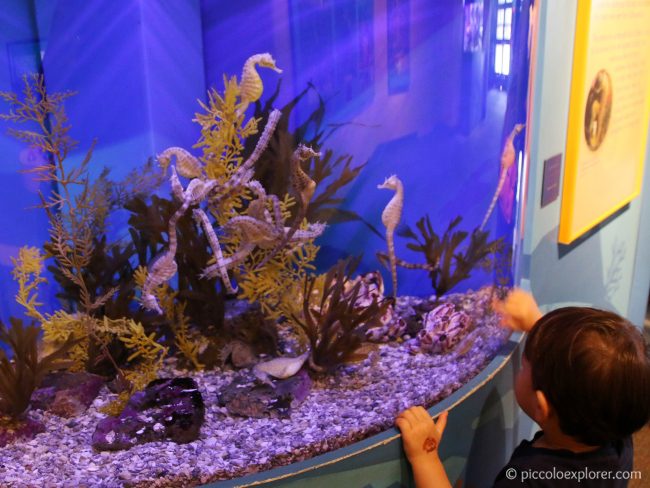 Giant Kelp Tank
The centerpiece of the Birch Aquarium La Jolla is the fantastic two-story, 70000 gallon kelp forest tank that houses a wide array of local marine life, including giant sea bass, leopard sharks, eels and garibaldi damselfish. The tank is completely open on top and illuminated by sunlight.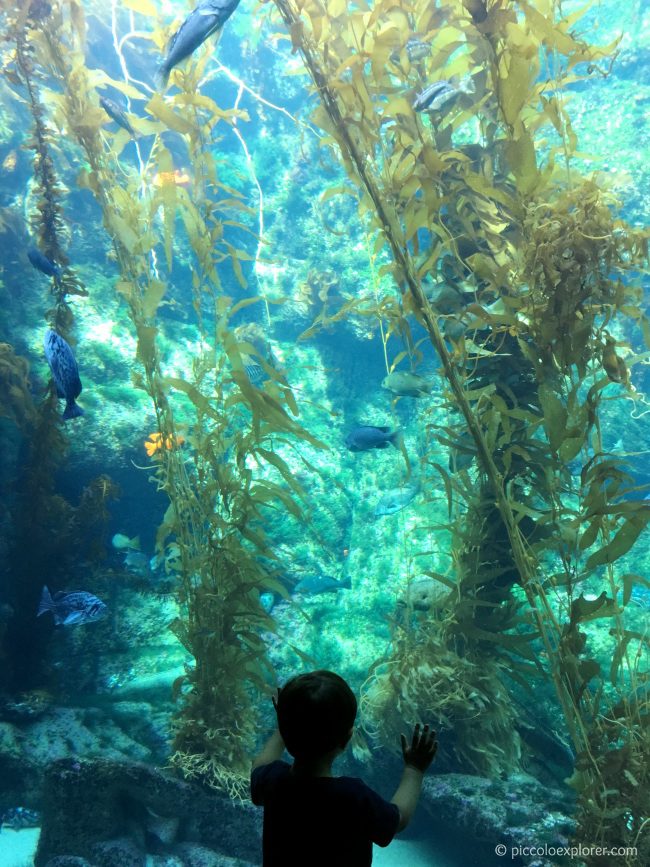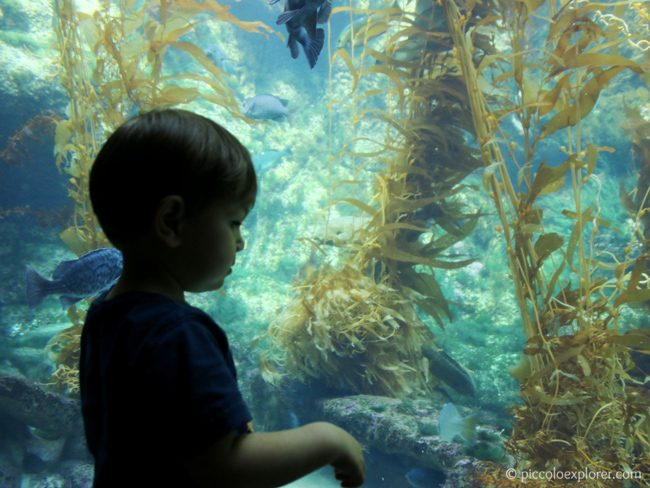 Hall of Fishes
The Hall of Fishes at the Birch Aquarium showcases marine life from more than 60 habitats, from the Pacific Northwest to Mexico and the Caribbean.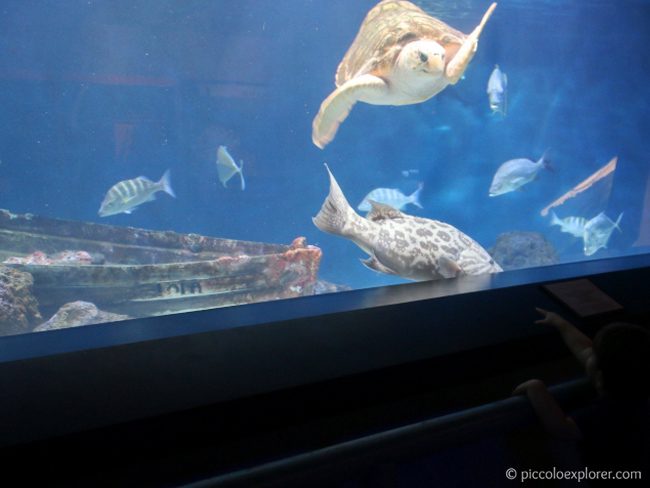 The Hall of Fishes is home to their rescued loggerhead sea turtle, which was found injured in a cooling canal for a New Jersey power plant and after undergoing treatment and care, she was deemed non-releasable due to her extensive injuries and is now housed at the Birch Aquarium.
Tide Pool Plaza
One of the highlights of visiting the Birch Aquarium La Jolla with kids is heading out to their Tide Pool Plaza, which overlooks La Jolla and the Pacific Ocean. The plaza features three living tide-pool displays with volunteers assisting visitors to touch and learn about San Diego's local tide pool animals, including seastars, hermit crabs and sea cucumbers.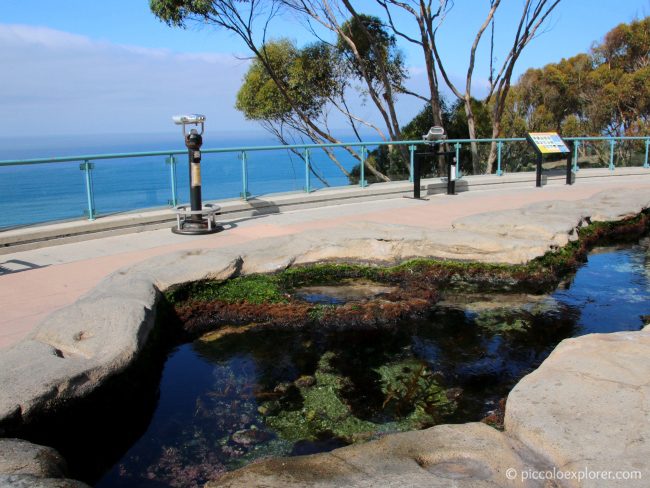 The tide pools are fascinating to explore and the aquarium staff were very friendly and helpful, bringing over a sea cucumber in a tub for Little T.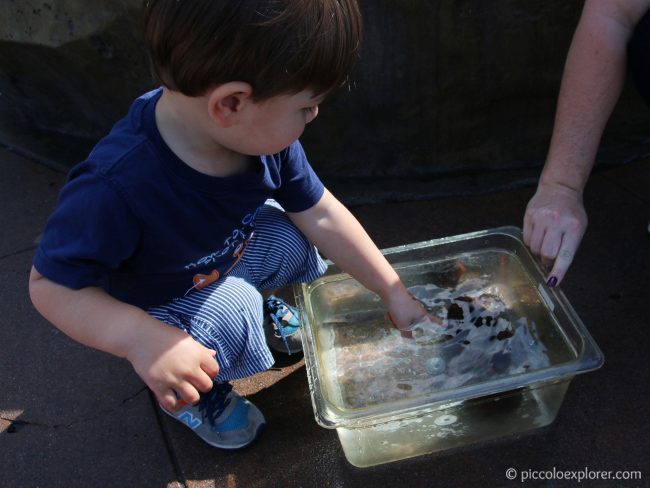 View of Scripps Pier
Along with sweeping views of La Jolla, the Birch Aquarium overlooks the Scripps Institute of Oceanography and Scripps Pier, a private research pier used by the institute for marine research expeditions and for pumping out fresh sea water that is used in laboratories and aquariums.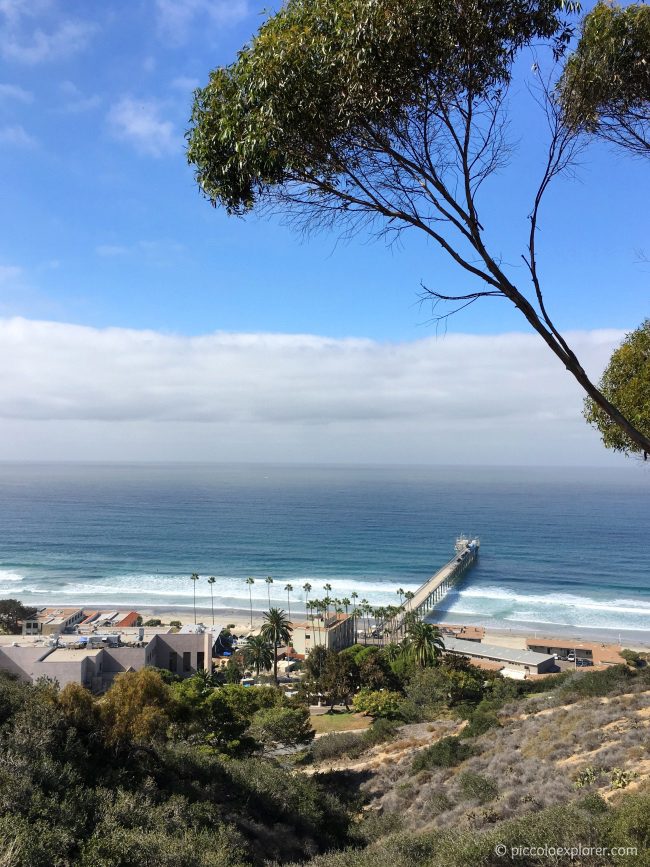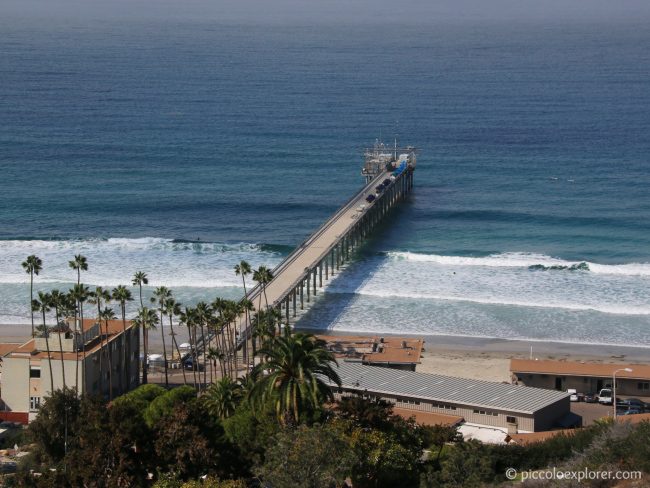 The Birch Aquarium at Scripps is a fascinating place to visit for families, from the interactive exhibits to the fantastic displays of marine life to the hands-on tide pool experience. The two-story kelp forest tank in particular is truly captivating. The aquarium and museum offers a great educational day out for families with children of all ages, including some interactive displays for toddlers and preschoolers along with more challenging, thought-provoking ones for older children and teenagers – all the while promoting the importance of respecting and conserving the marine environment.
Address & Ticket Information
Birch Aquarium at Scripps
Birch Aquarium Address: 2300 Expedition Way, La Jolla CA 92037
Opening Hours: 9am to 5pm daily. Closed Thanksgiving, Christmas and New Years days.
Admission Tickets: Adult tickets are $19.50; child tickets (ages 3 to 17) are $15; children age 2 and under go free. Walk up sales are not currently available and admission tickets must be booked online in advance at https://aquarium.ucsd.edu/visit/buy-tickets
Parking: There's a large parking lot on site with free 3 hour parking
Food & Drink: There's a café right before the entrance, offering hot and cold beverages, sandwiches and snacks.
San Diego with Kids Guide
I hope you found this post on visiting the Birch Aquarium La Jolla with kids helpful! San Diego is a great family destination offering plenty to see and do year round. Read on for more tips and reviews for planning a family trip to San Diego, California;
Family Friendly San Diego Restaurants
The New Children's Museum San Diego Day Out
Best Things to Do in San Diego with Kids
Pin for Later – Visiting Birch Aquarium La Jolla with Kids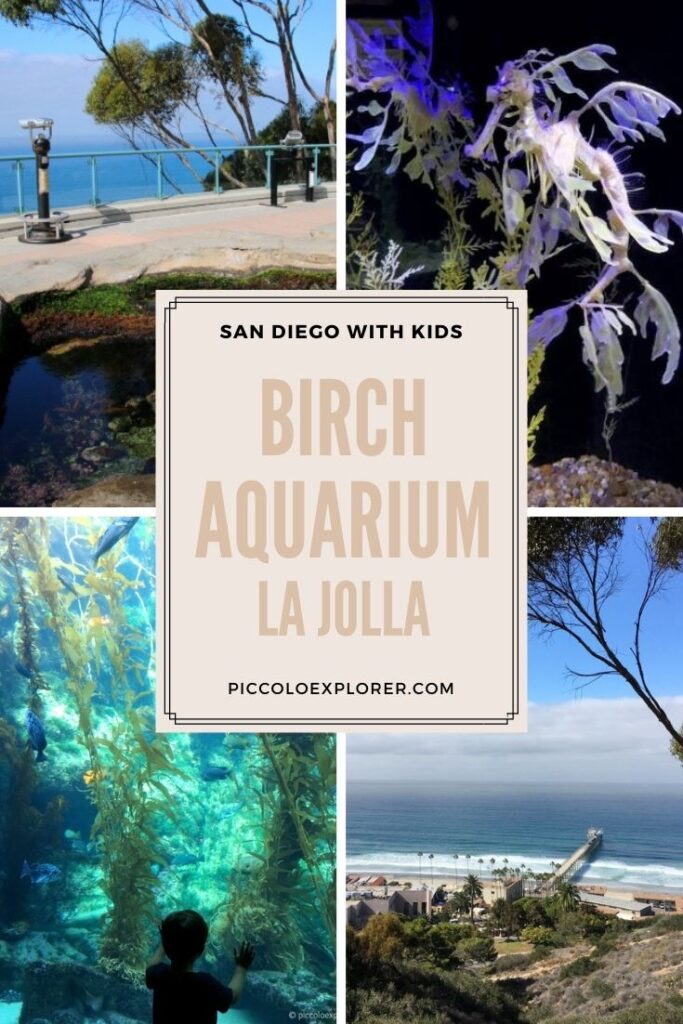 Save
Save
Save
Save
Save
Save
Save
Save