St Ives, the charming seaside town in Cornwall, has been on my bucket list for some time and was our first choice for a summer staycation in mid-June. We took the car for the 300 mile trip – our first road trip with 3 1/2 year old Little T – and had great weather to enjoy a sunny weekend exploring the beautiful beaches of St Ives over our weekend visit.
Where We Stayed
We found St Ives a pleasure to walk around and I would recommend choosing a hotel close to town to make the most of it. Our hotel was steps away from Porthminster Beach and only a short walking distance to the town centre, shops and restaurants, the harbour and even Porthmeor Beach.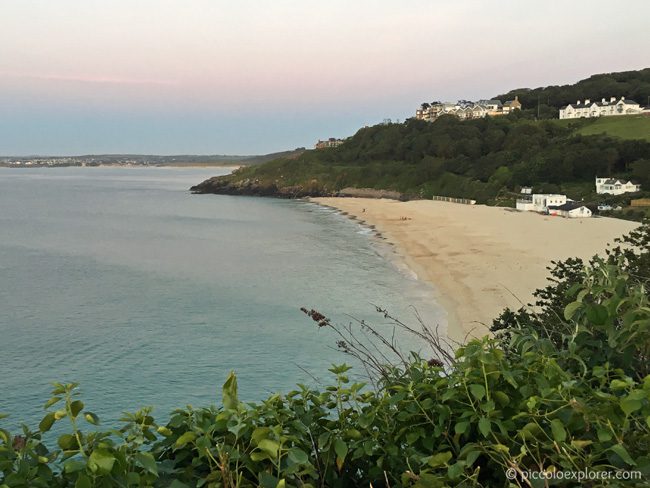 We stayed at the St Ives Harbour Hotel & Spa, and while the hotel has a fantastic location, we were very disappointed and I honestly wouldn't recommend the hotel. In short, our room was overpriced for what it was (very small and dated) and the breakfast experience was simply awful. I've written an extensive TripAdvisor review if you're interested in reading more about it.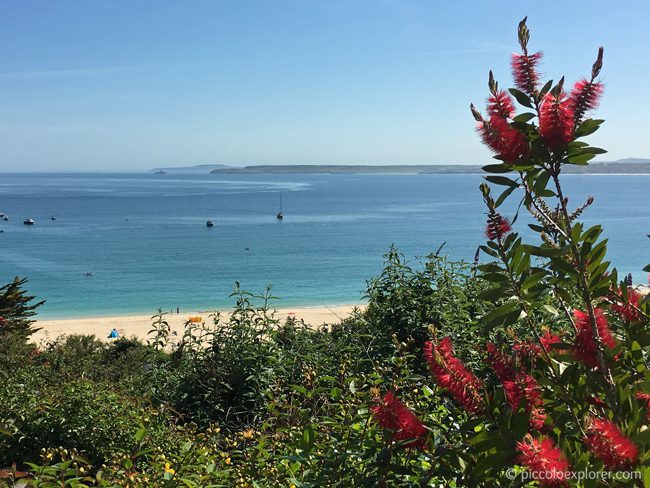 What We Did
We lucked out with sunny weather and clear skies to enjoy St Ives's gorgeous coastline. Again, the town is a pleasure to explore by foot, and when we weren't lounging at the beaches, we were browsing the shops at the town centre or enjoying the lively atmosphere at the harbor.
Porthmeor Beach
If I had to pick a favorite beach at St Ives, it would be beautiful Porthmeor Beach, a popular surfing spot where you'll also find the Tate St Ives.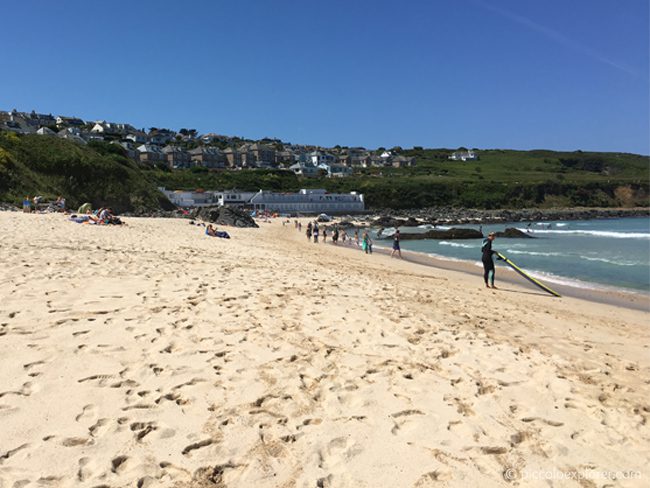 Porthmeor Beach has plenty of facilities that include a café, surf school, restrooms and beach rentals.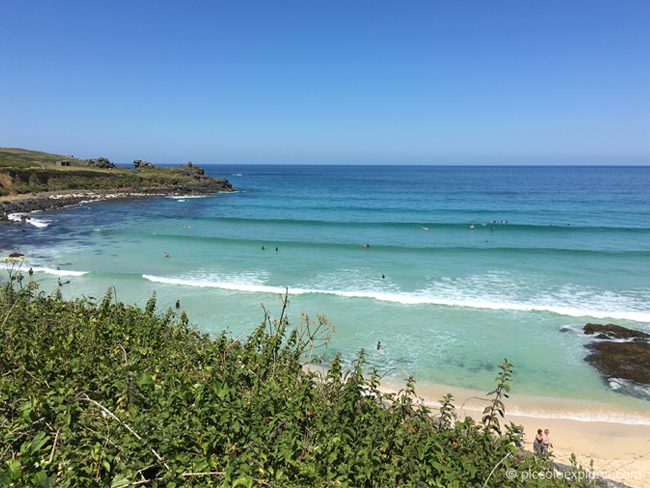 The water looks very inviting, but it is freezing and wetsuits (which can be rented at the beach) are highly recommended!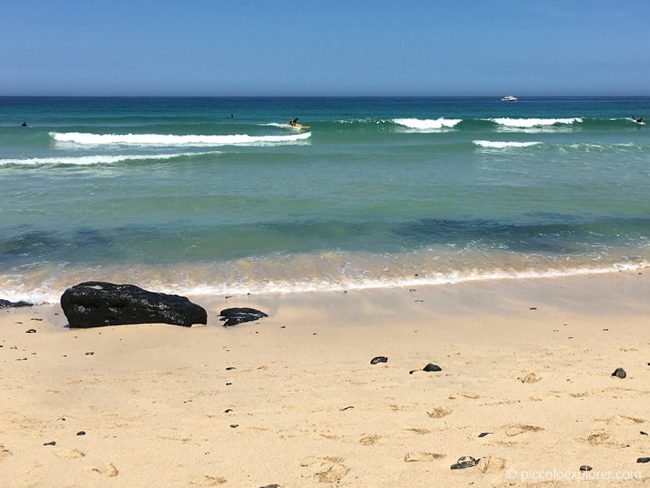 Porthminster Beach
For families with young children, I'd recommend Porthminster Beach for its calm, protected waters.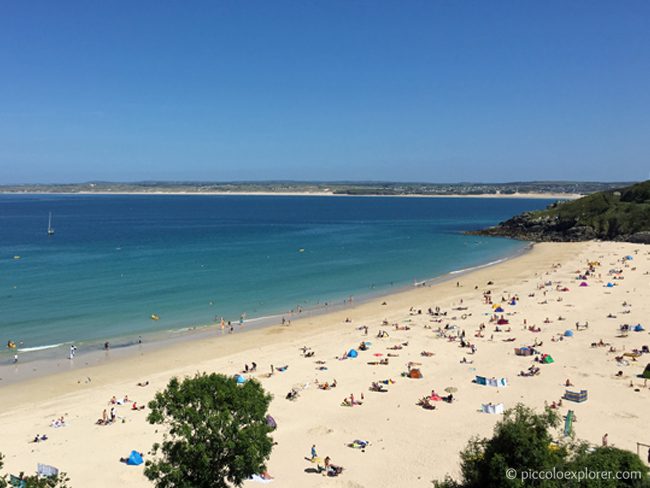 It's very conveniently located, with a train stop and a car park nearby and only a ten minute walk from the town centre.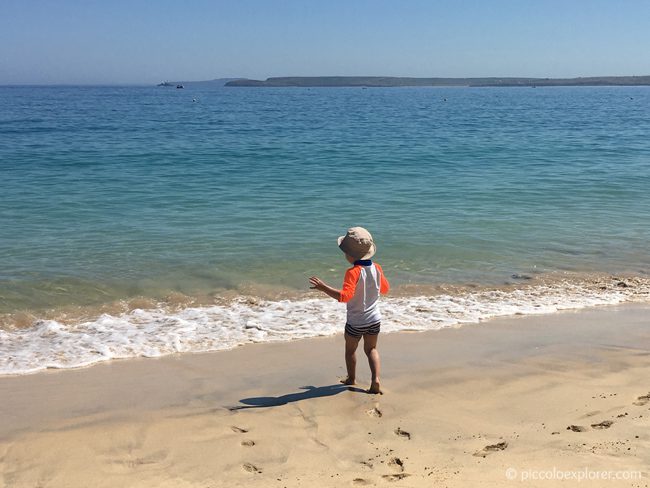 There are a number of facilities here too, including a beach bar and café, restaurant, ice cream parlour and chalets to rent. We had dinner at Porthminster Beach Café (see below for photos) and can highly recommend the restaurant.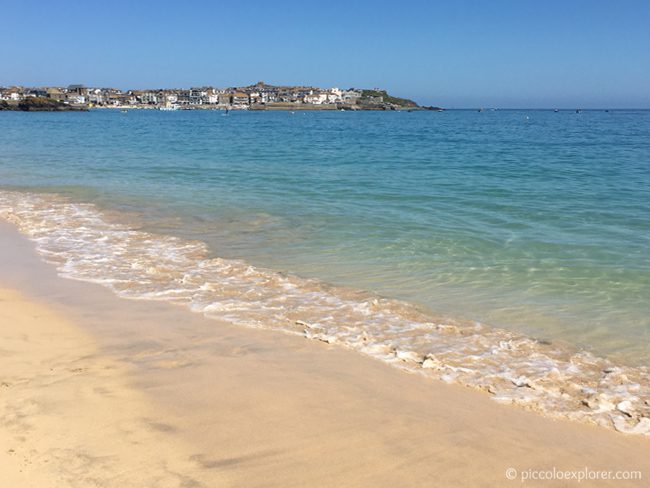 St Ives Harbour
We'd always stop at this lookout point between Porthminster Beach and the town centre for this fantastic view of the St. Ives Harbour. Along the coastline of St Ives are these bright, beautiful gardens.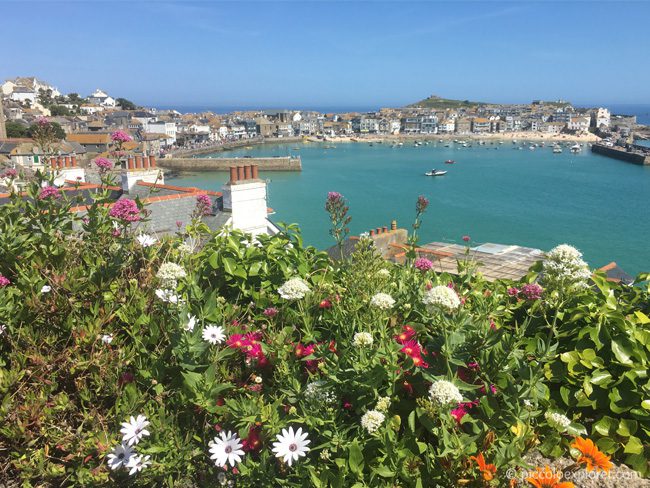 We visited St Ives Harbour in the evening, to walk along the street bustling with activity and enjoy an ice cream from Moo Maid, and during the day when its beach area was crowded with families. There are shops, cafes, restaurants, an arcade and art galleries along the harbour – and beautiful views of the coast, looking towards Porthminster Beach.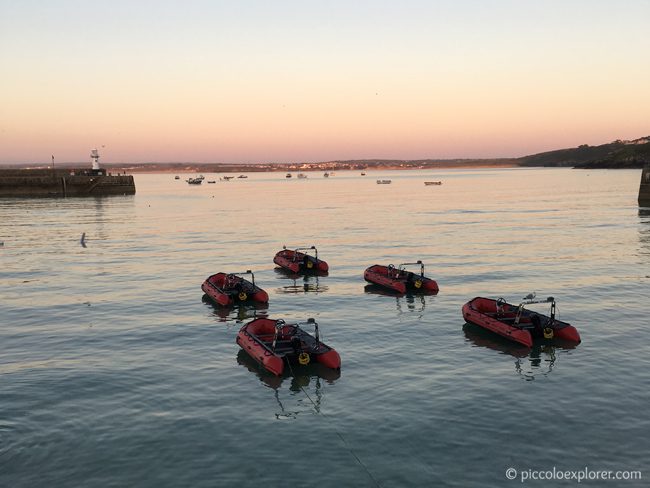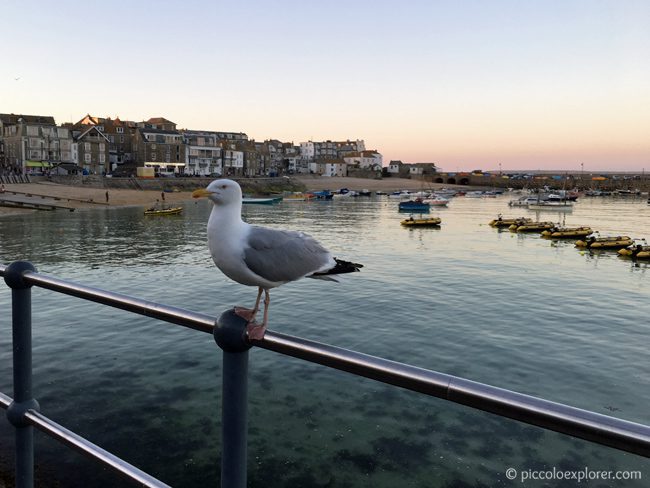 The Town Centre
I highly recommend exploring the town's shops. We picked up some great souvenirs, including a children's book based in St Ives, The Little Sea Dragon's Wild Adventure by Helen Dunmore and some beautiful handmade glass bowls by local artist Jo Downs.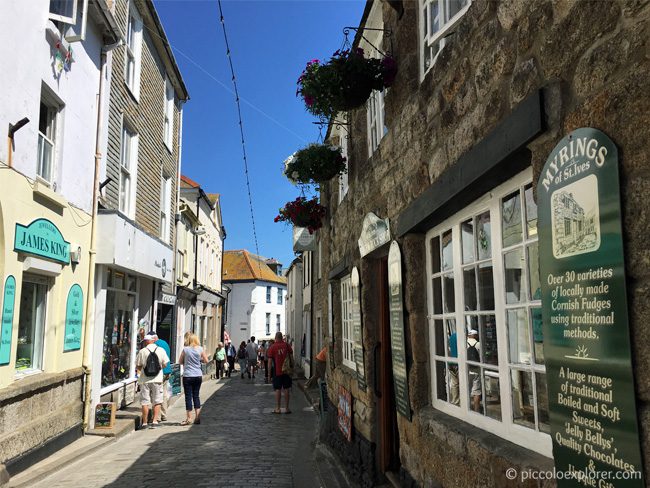 Where We Ate
Porthminster Beach Café
One restaurant that came up consistently in people's recommendations for St. Ives was Porthminster Beach Café. Excellent food there, great atmosphere, very family friendly and lovely views overlooking Porthminster Beach.
Mr. G ordered the whole baked Dover sole, served with roasted garlic butter, fresh lemon, tiger prawns and baby leeks – he was very happy with his meal!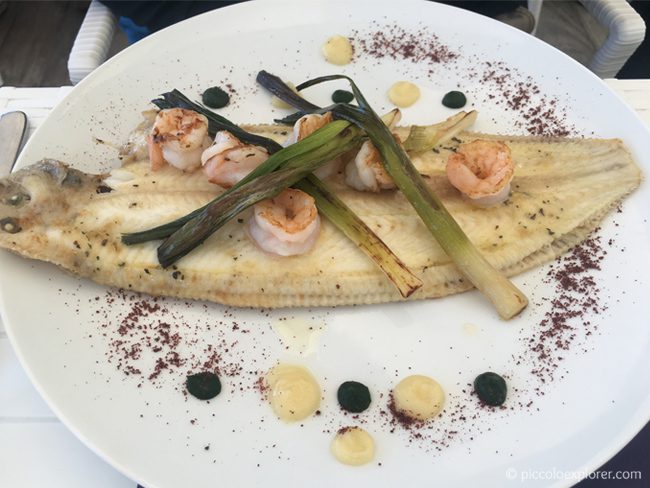 Meanwhile, I had the Cornish prime beef fillet and rib, which is not pictured, it arrived shortly afterwards on a separate plate because the chef was not happy with how the first one came out. This was served with a tasty oxtail hash, burnt onion, Bordelaise sauce, ripped Yorkshire and fried turnip. Little T had a plate of fish and chips off the kid's menu.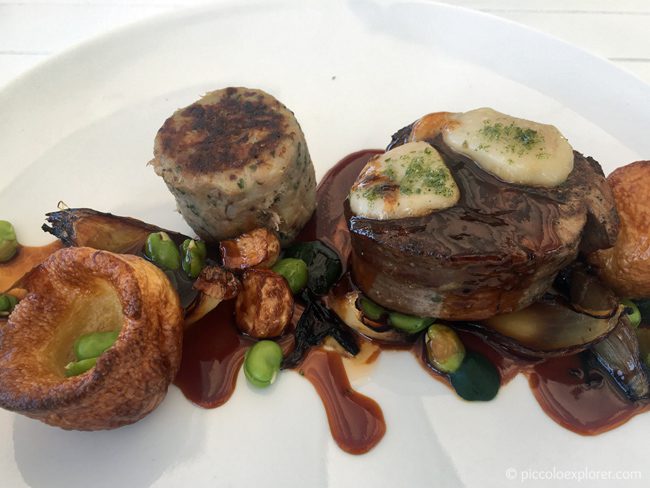 Seafood Café
This was another great restaurant for fresh seafood, located in the St. Ives town centre. Little T had fish and chips off the kid's menu, a bit of a theme during our trip…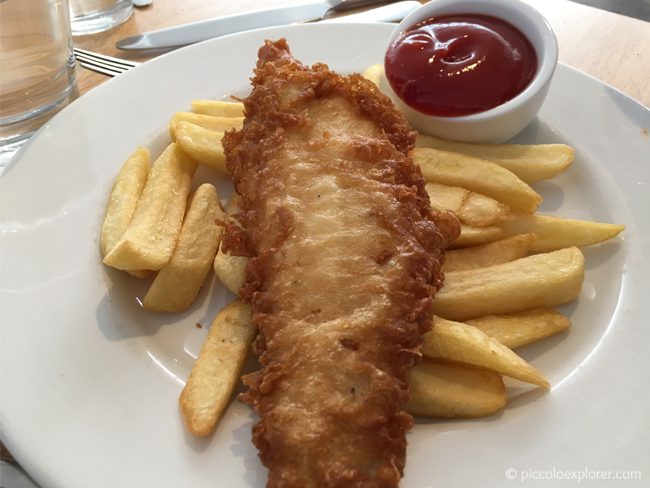 And Mr. G had a plate of grilled fish (halibut?) with potatoes. Simple dish with great flavour!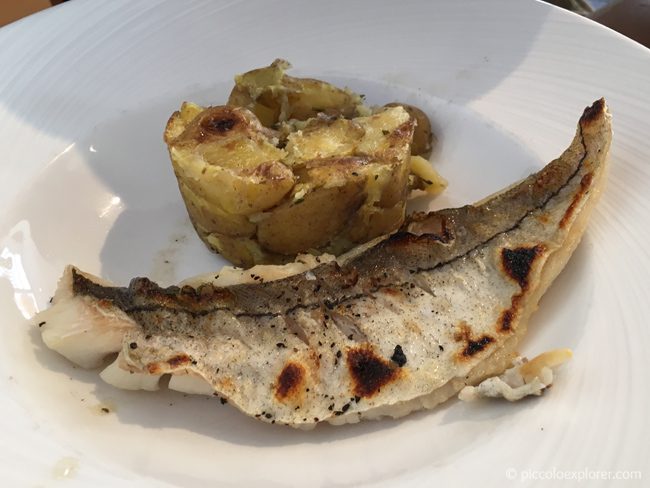 I don't eat seafood so just had a plate of Buffalo chicken strips. For all you seafood lovers, this is an excellent place to stop at for fresh fish!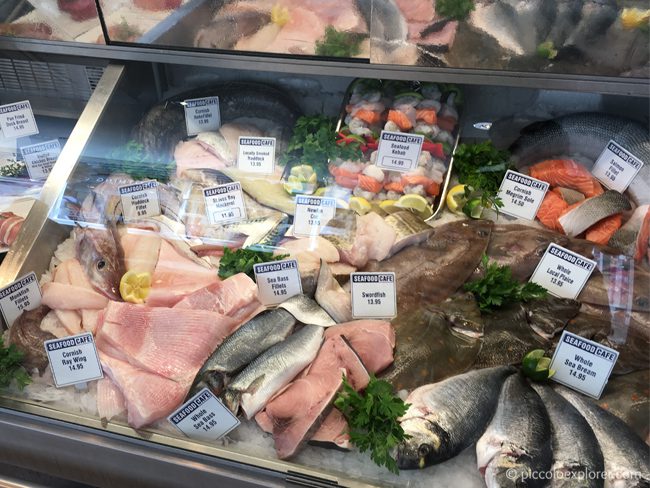 Pengenna Pasties
For our road trip back home, we picked up some Cornish pasties from Pengenna, which has a great selection of beef, lamb and vegetarian options.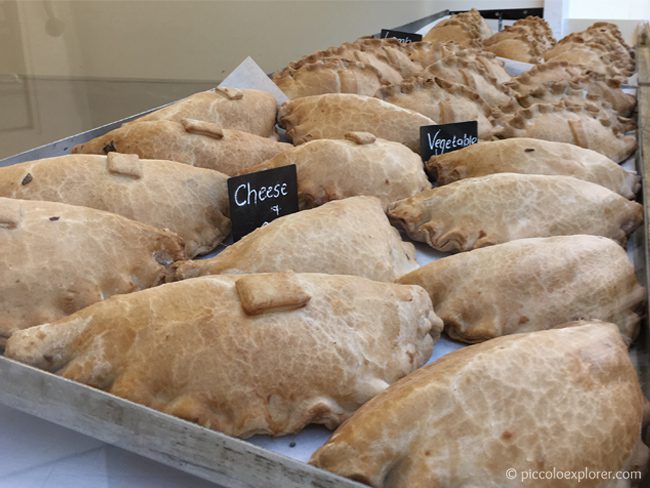 Moomaid of Zennor
During our evening stroll along the St Ives Harbour, we picked up some delicious Cornish ice cream at Moomaid. I had a seagull chasing after me the moment after I took this photo – to the point that I had to go back and get a new ice cream. Do stop by Moomaid for scrumptious ice cream and keep an eye out for greedy, relentless seagulls!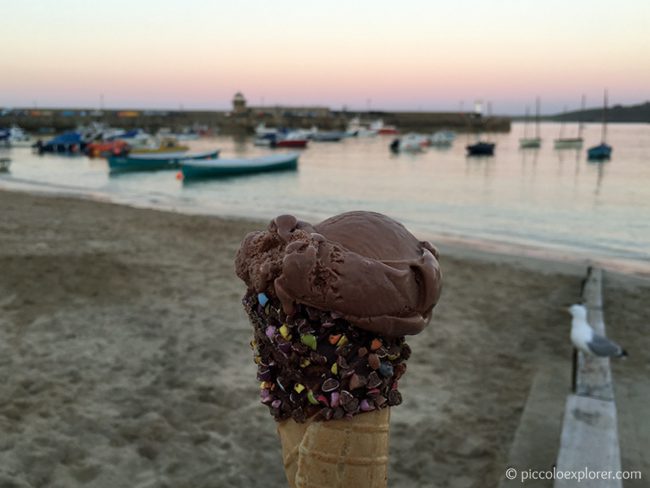 Overall, we had a wonderful time in St. Ives and fell in love with the beautiful town, sandy beaches and picturesque coastline. We're already talking about when we'd go back!
To give you an idea about the road trip, it was about a 7 hour drive from London on Friday afternoon. Google Maps had us driving through Bristol, and we kept getting stuck in traffic and arrived much later than we expected – nearly all restaurants were closed at that point (around 9.30/10pm)! Heading back on Sunday, we stuck to freeways and avoided driving through Bristol and it was a much easier 5 hour drive with hardly any traffic along the way.
Pin for Later