Located in West Sussex, West Wittering Beach is less than a two hours' drive from London and a great place for a seaside day trip from London. Beach facilities include food and drink kiosks, water sport equipment rentals, a lifeguard station and toilets with showers. In this post, I'll share tips for planning a day trip to West Wittering Beach.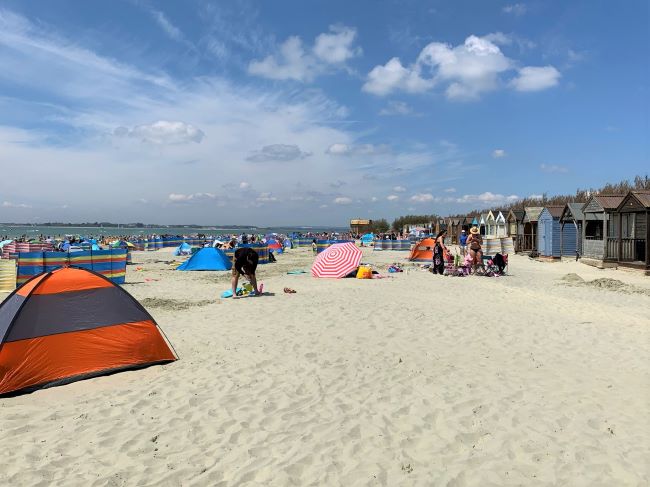 West Wittering West Sussex
West Wittering Beach is recognised as one of the best beaches in West Sussex. This beautiful beach has achieved Blue Flag status, the international symbol that tells the public a beach is clean, safe and meets the highest environmental standards, as well as the international bathing water quality standards. The beautiful beach is lined with grassy sand dunes and charming, colourful beach huts.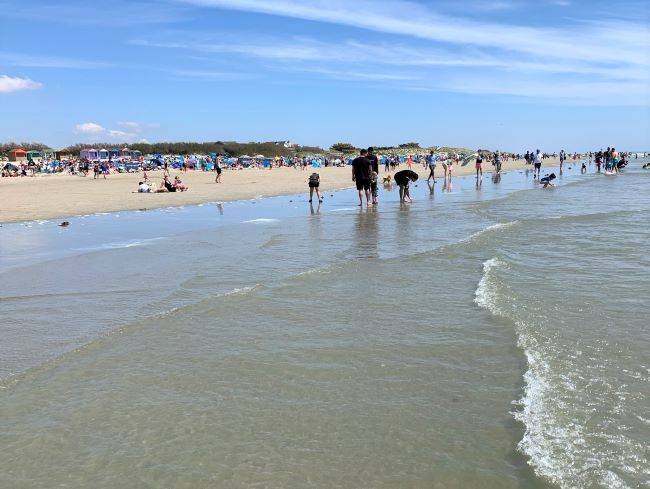 Things to Do at West Wittering Beach
A great location for a beach day trip from London, West Wittering is a huge, well kept sandy beach with on-site facilities. It was, of course, busy when we visited during the bank holiday, but restricting numbers for the car park has noticeably reduced crowding.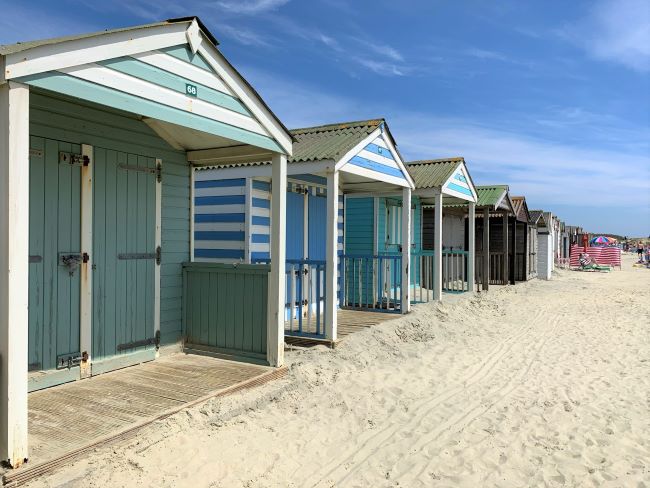 West Wittering Beach is located to the east of the entrance to Chichester Harbour and is a popular spot for surfing, kite surfing, windsurfing and stand up paddle boarding. 2XS Hire is right on the beach and offers a wide range of water sports equipment for hire by the hour, by 2 or 3 hour periods or for the full day at West Wittering.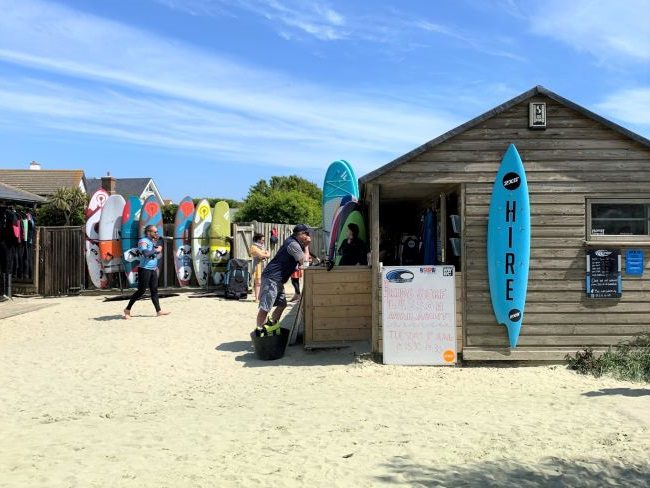 2XS also offer a variety of lessons for windsurfing and surfing. Look at their website for pricing on courses or to rent everything from wetsuits and buoyancy aids to surfboards and kayaks to equipment for windsurfing and kite surfing – https://www.2xs.co.uk/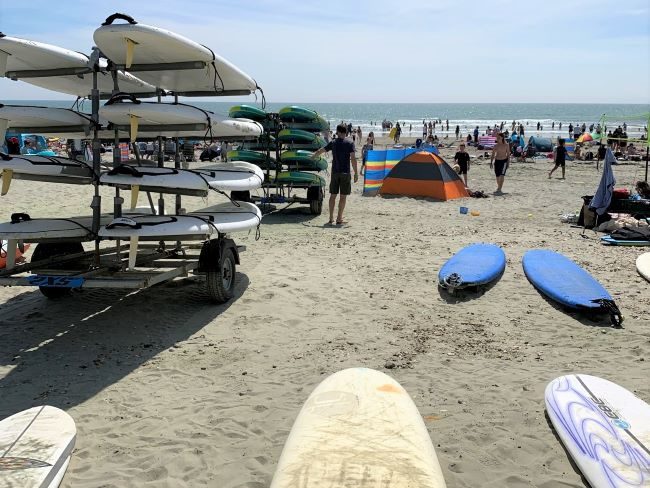 Food and Drink Facilities
While there are food and drink kiosks at the beach, the queues were very long when we visited, with waits possibly an hour long. I would recommend packing your own water, snacks and picnic lunch or dinner. (Note that disposable BBQs are not allowed on the beach.)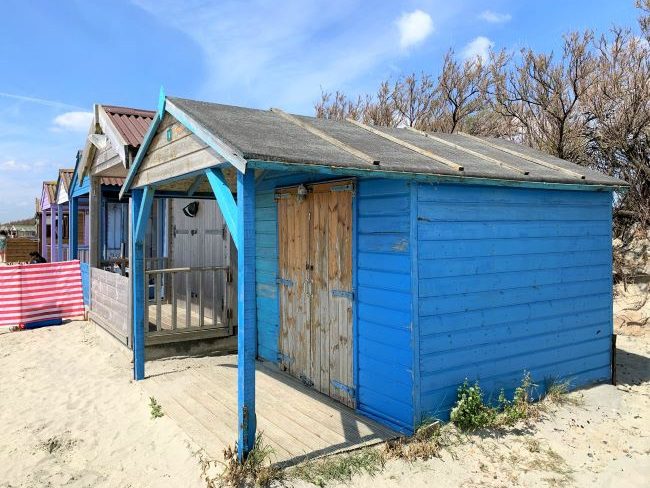 The car park is very close and easy to get to from the beach. In the photo below, the car park is just on the other side of the sand dunes.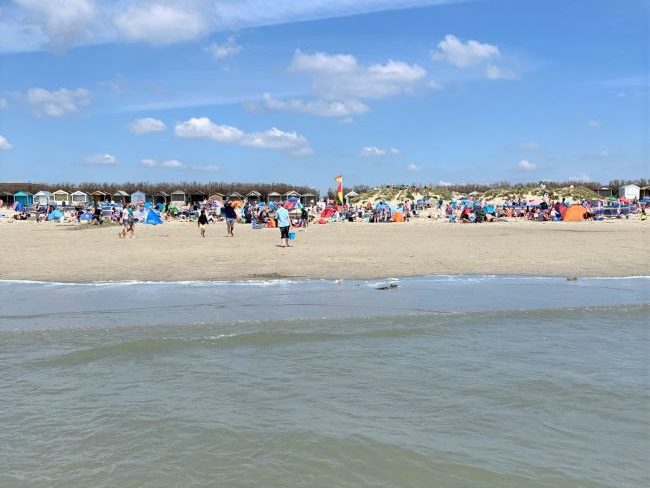 Related: Beach Day Trips from London
Beach Windbreaks and Tents
It's a great spot for windsurfing and kite surfing but that also means a windbreak is highly recommended for a day at West Wittering Beach. It was very windy at times when we visited and I would bring a windbreak or pop-up beach tent next time.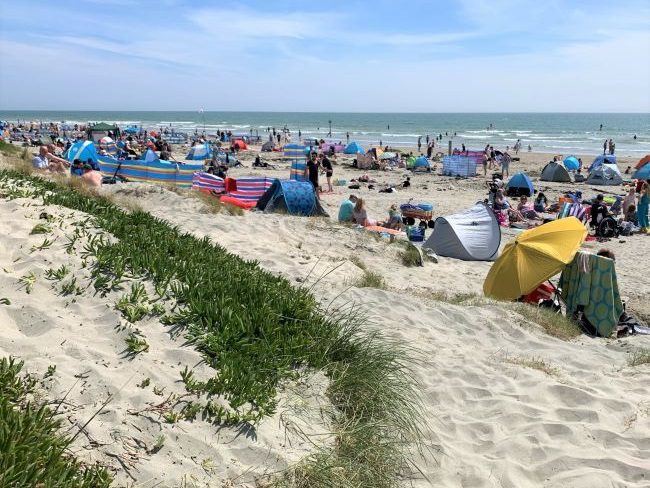 I've included several options for windbreaks or pop up tents from Amazon below, which are handy to have when going to most of the beaches in England, including another windy spot, Camber Sands.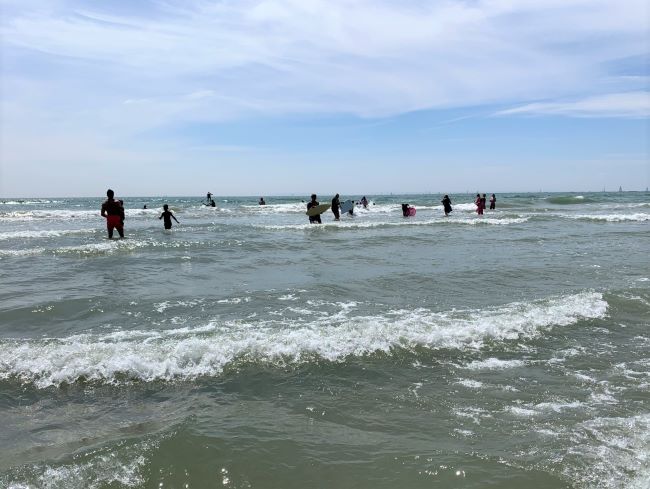 Read on for more details on how to book a space at the West Wittering Beach car park.
West Wittering Beach Car Park
As of Summer 2023, West Wittering Beach has changed its car park booking system from Just Park. You can now pre-book a parking space – and save up to 25% off parking costs – at West Wittering Estate.
During high season at West Wittering Beach, it is highly recommended to pre-book a space at the car park. You will be refused entry at the car park if there are no spaces available. There are no other car parks near the West Wittering beaches.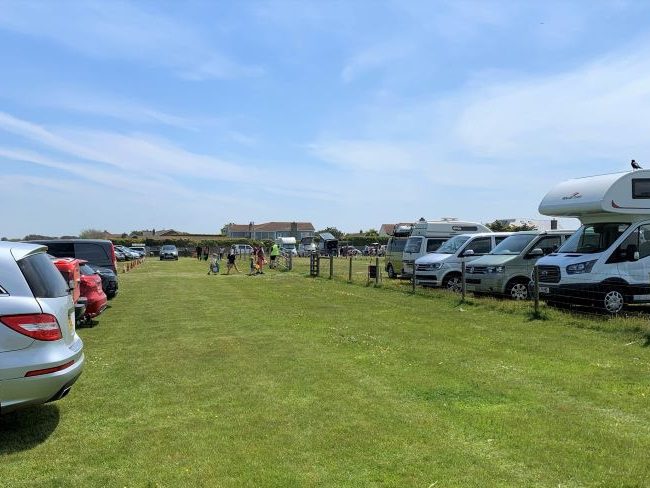 The two sessions available to book for West Wittering parking are Day Sessions (6:30am to 8pm) and Afternoon Sessions (3pm to 8pm). Make sure to enter your number plate correctly when booking online, otherwise you will receive a penalty charge notice.
West Wittering Beach Parking Sessions
Weekdays: Day Session parking  costs £9.30 for pre-booked (£12.40 for unbooked) on weekdays. Afternoon Session parking costs £5.50 for pre-booked (£7.30 for unbooked) on weekdays.
Weekends: Day Session parking costs £10.50 for pre-booked (£14 for unbooked) on weekends. Afternoon Session parking costs £6.60 for pre-booked (£8.80 for unbooked) on weekends. Bank holidays are charged at the weekend rate.
Check the arrival and depature dates, and the total price, of your parking if you have pre-booked online. The online form tends to default to the next day as the departure date. If the total price exceeds £10.50, you are being charged for more than one day.
If you do not pre-book your parking at West Wittering Beach and there are spaces available, you have three options to pay on the day or within 48 hours. There is a payment machine where you can pay by card at the Estate Office and Beach Café. You can also pay online by scanning the QR code displayed at West Wittering Beach, or on the West Wittering Estate website within 48 hours.
Book your West Wittering Beach parking session at https://www.westwitteringestate.co.uk/bookparkinginfo
West Wittering Beach Directions
Address: Pound Road, West Wittering, Chichester PO20 8AJ
Opening Hours: 0700 to 2030 during high season, 1st May to 30ths September. 0700 to to 2030 during mid season, April and October. 0700-1800 during low season, 1st November to 31st March
Food & Drink: The Beach Café consists of a coffee shop, takeaway and ice cream stand. The café is located between West Witting Beach and the car park. Opening hours are 09:00 to 17:00 daily (summer) and 10:00 to 16:00 daily (winter)
Facilities: There are three toilet locations: at the car park entrance, in the middle of the car park opposite the café (includes showers) and at the far end of the car park (includes showers). A lifeguard station for first aid and emergencies is located on West Wittering Beach. You will also find a windsurfing and kitesurfing club for hiring water sport equipment. Check the West Wittering estate map for locations of their facilities.
http://westwitteringestate.co.uk/
Click the map below for directions to West Wittering Beach
Day Trips from London Inspiration
Looking for more inspiration for the summer holidays? Find ideas for day trips from London with these round-up posts and days out reviews;
Pick Your Own Farms near London
Disclosure: This post contains affiliate links, so if you do click through and make a purchase I may receive a small amount at no extra cost to you. Thanks for your support! This post was updated on 28/06/2023 with latest visitor information. New West Wittering Beach car park booking details added for the summer 2023 season.
PIN FOR LATER – Day trip to West Wittering Beach