Visiting the lavender fields near London has become a summer tradition for us and one of our favourite day trips. The views across the lavender farms are stunning, the scent is absolutely amazing, you can buy fresh lavender to bring home and you have the chance to take some fantastic photos.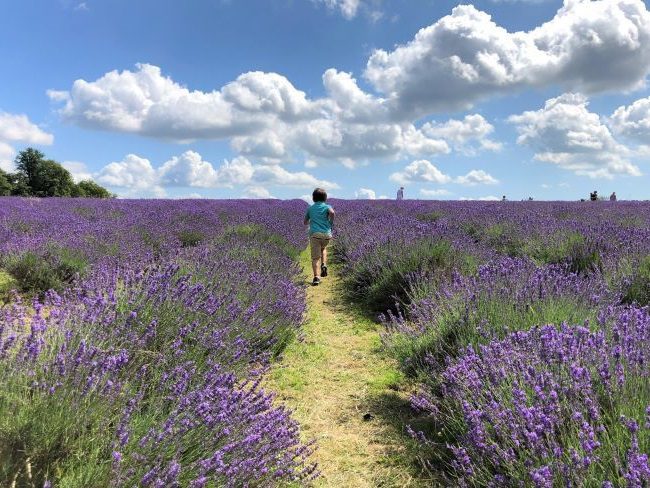 Remember that some lavender farms will require a booking in advance to help manage numbers, so do check their website before visiting. Rules also vary slightly, such as whether or not you can pick the lavender or bring a picnic. In this post, I'll be sharing the top lavender fields near London, along with details and tips on visiting.
When to Visit the Lavender Fields near London
The lavender fields in England usually post seasonal updates on their websites to help you plan your visit. The lavender flowers tend to bloom between the middle to end of June and the middle to end of August, depending on the weather.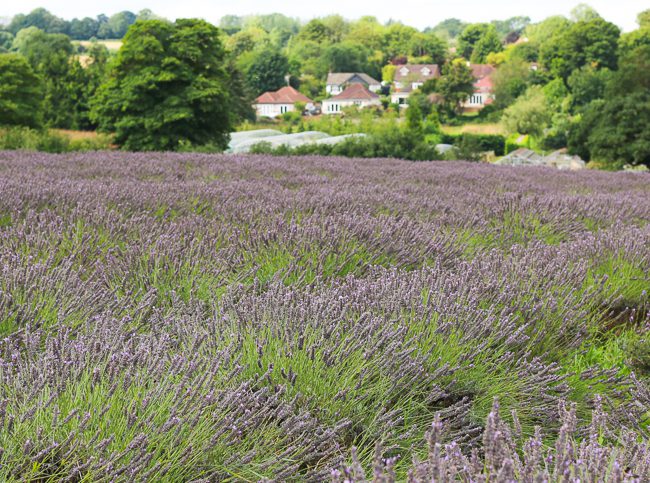 Lavender farms near London start harvesting in August, so always check first if you're visiting late in the season.
Mayfield Lavender Farm
2022 update: Mayfield Lavender Farm will be open for the 2022 season from 11 June to 31 August.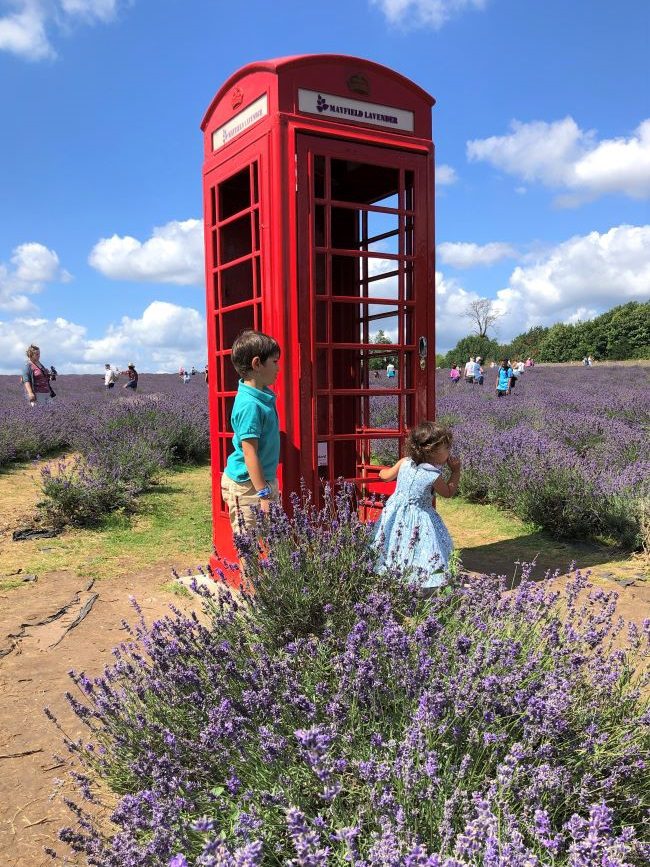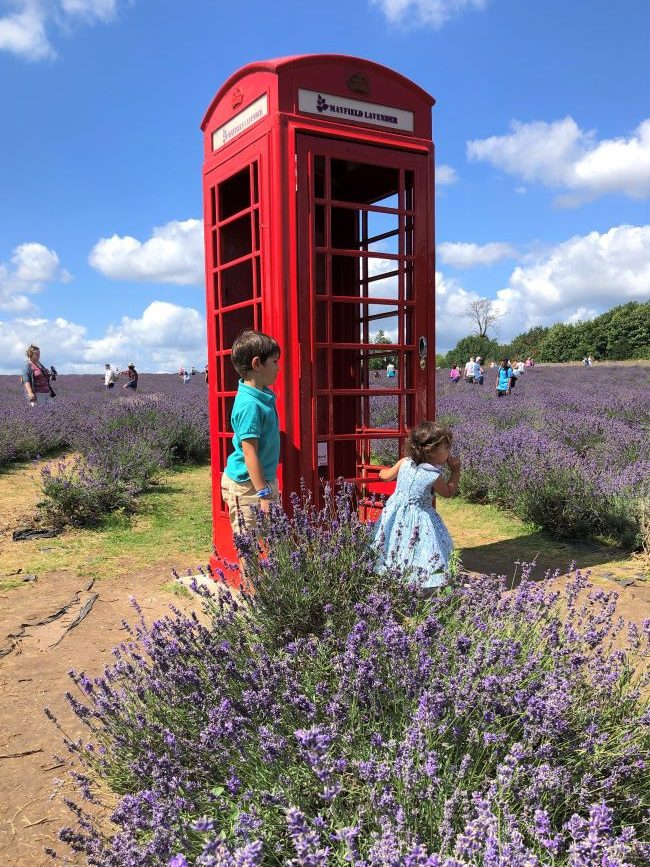 The closest lavender field to London is Mayfield, a 25 acre lavender farm with a café and shop located in Banstead (Woodmansterne), Surrey, approximately 15 miles from Central London.
Mayfield Lavender Farm is on an original Victorian lavender site in the North Surrey Downs, and was set up in 2006 to help revive the historic lavender industry in the area, which boomed during the eighteenth and nineteenth centuries.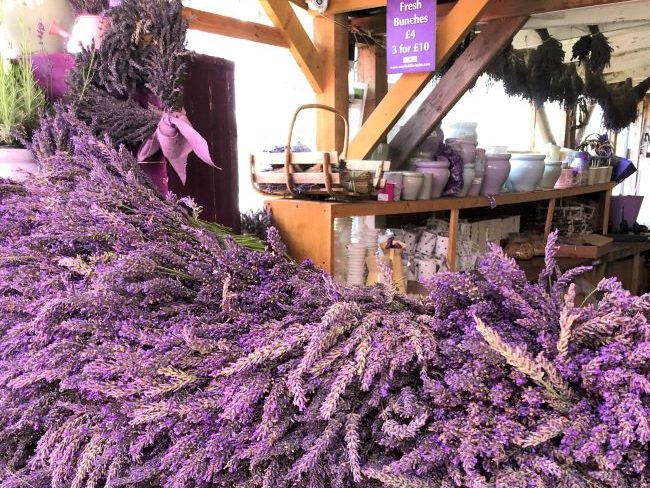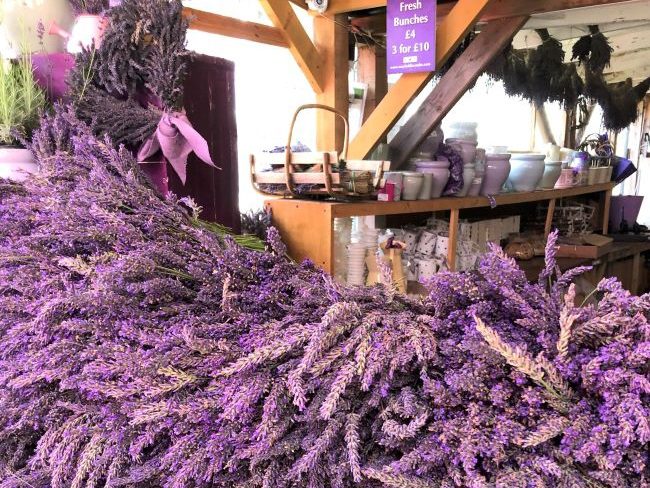 Tip: Buy lavender bunches at the shop before heading into the lavender fields to take photos
Mayfield Lavender Farm will be open from 11 June to 31 August 2022. Mayfield Lavender Farm is a popular place and gets very busy on the weekends, especially during the peak of the season. I highly recommend visiting during the week and either first thing in the morning or in the late afternoon. It will be much quieter than the middle of the day, easier to find parking and both times of day are ideal for photography.
Food and Drink
Picnics are not allowed at Mayfield Lavender Farm. There is a café serving hot food, sandwiches and ice cream (including lavender flavour), along with picnic tables in a covered area. Lavender cream tea is available during July and August.
Mayfield Lavender Farm Address
Use the SM7 3JA postcode to plan your journey by car. If travelling by public transport, the fastest way to get to Mayfield Lavender Farm from London is to take a train from London Victoria to Sutton or Cheam and take a cab/minicab to the farm. Another popular option is to take the train from London Victoria to West Croydon and then take the 166 bus to the farm gate.
Address: 1 Carshalton Rd, Banstead SM7 3JA
Tickets: There is no need to pre-book a ticket. Entry is £4.50 per person. FREE entry for Children 14 years and under.
Opening Hours: 7 days per week from 9am to 6pm (Last entry for cars is 5.45pm)
Dogs are allowed at Mayfield Lavender Farm and must be on a lead at all times.
Website: https://www.mayfieldlavender.com/mayfield-lavender-farm/
Castle Farm Lavender Fields
2022 update: Access to the Castle Farm Lavender Fields is only possible with a pre booked ticket. Tickets will go on sale in late June.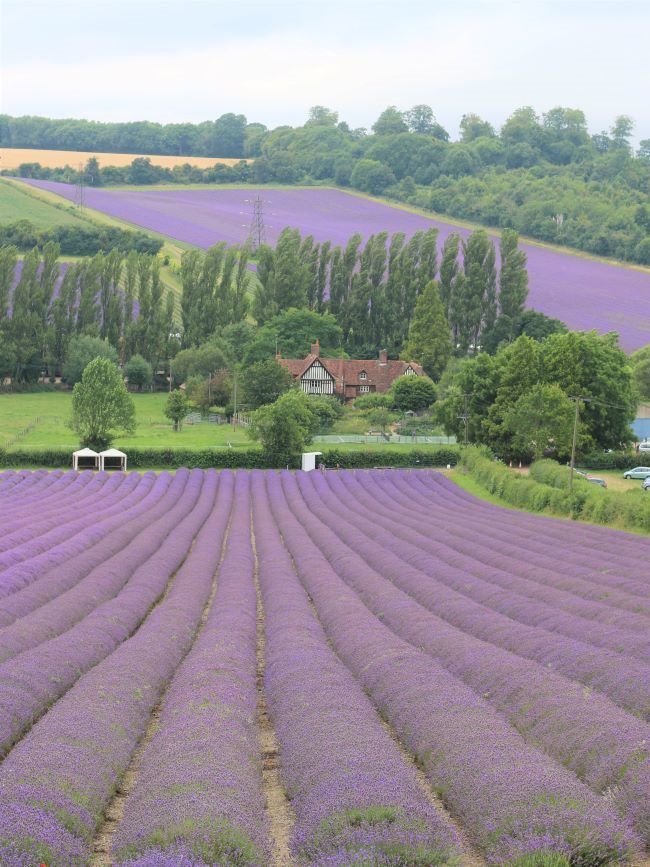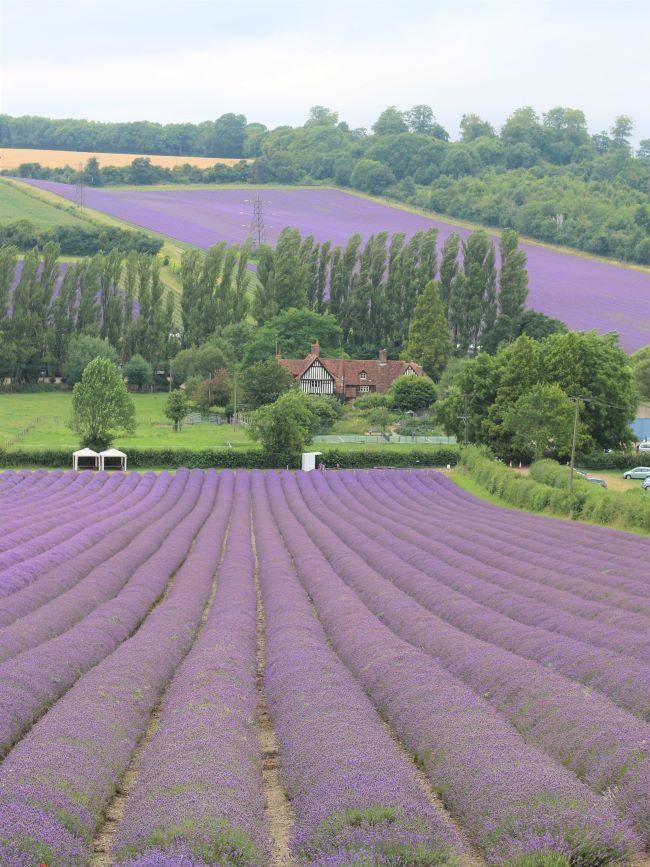 Castle Farm Lavender Fields is a 300 acre lavender farm, the largest in the UK, located just over an hour from Central London in the stunning countryside of Sevenoaks, Kent. In total, Castle Farm is a working farm made up of 1,100 acres also consisting of crops of wheat, barley, rapeseed, hops, apples and pumpkins, along with a grass-fed herd of beef cattle.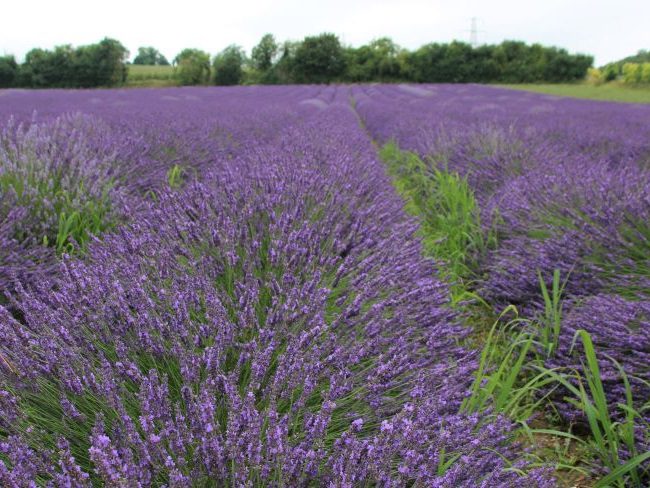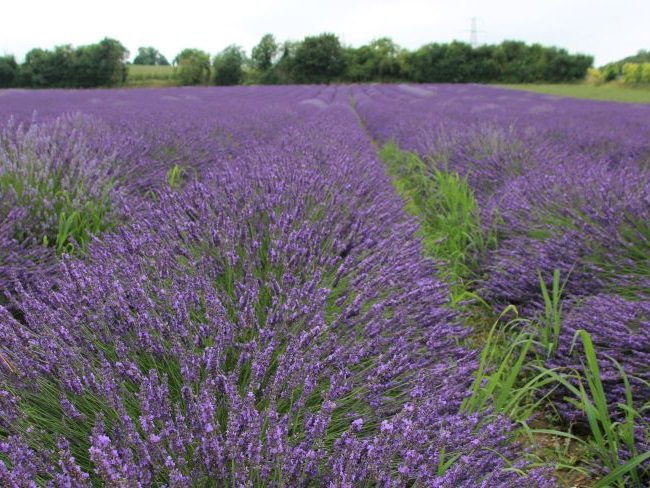 The lavender at Castle Farm starts to bloom in late June, and is harvested for oil in late July. Experiences to visit the lavender fields will be available for June and July and include a Lavender Walk and a BYO Lavender Picnic which must be pre-booked on their website.
You can book the Lavender Walk for a 45 minute stroll in their most iconic lavender field, enjoying the valley views and taking photos at a picturesque bench surrounded by lavender. The BYO Lavender Picnic will be available throughout July. Bring your own picnic and enjoy two hours in their Ladybird Lavender field with over 60,000 lavender plants.
Food and Drink
Picnics are only allowed when booking the BYO Lavender Picnic experience which will be available throughout July in allocated field spaces. There is a Farm Shop on site, which offers local farm foods, spring decorations and an array of lavender gifts. The nearest café and toilet facilities are located at the nearby Lullingstone Country Park Visitor Centre on Redmans Lane.
When visiting in June and July, you'll find a food kiosk serving cold drinks, ice creams and a limited selection of snacks on the Darenth Valley footpath behind Castle Farm.
Castle Farm Address
The entrance to the Hop Shop at Castle Farm is down a private drive directly off the A225, halfway between the villages of Shoreham and Eynsford, or via Redmans Lane. The postcode of TN14 7UB can be inaccurate, so it is recommended to use this link via Google Maps. If travelling by train, the closest stations are Eynsford and Shoreham, both of which are 1.5 miles from the farm (note that there are no taxi ranks at these stations; the closest taxi ranks are at Swanley, Sevenoaks or Orpington).
Address: Redmans Lane, Shoreham, Sevenoaks, Kent, TN14 7UB
Tickets: Tickets will be released in June. I will update this with pricing when available. The website to book tickets is https://www.castlefarmkent.co.uk/pages/this-season-at-castle-farm
Opening Hours: Only the Castle Farm Shop is currently open – Tuesday – Saturday from 9am – 5pm, Sundays 10am-5pm. (I'll update this when the Lavender Fields are open)
Dogs are not allowed in the Castle Farm Lavender Fields.
Website: https://www.castlefarmkent.co.uk/
Hitchen Lavender Fields
2022 update: Hitchen Lavender will be open in June. Bookings will be required in advance and tickets will be available soon.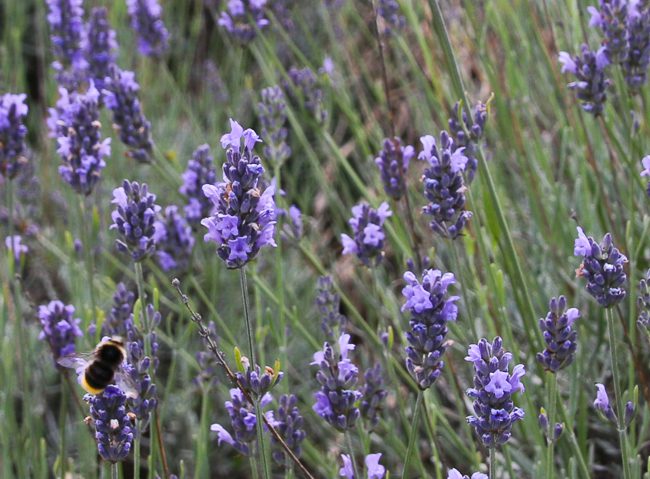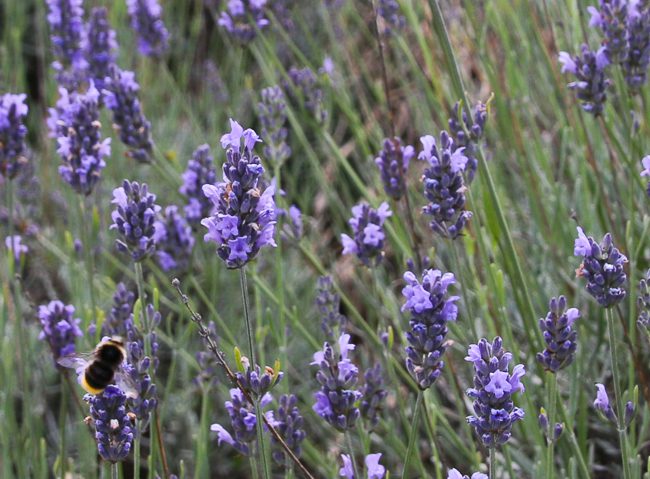 Another popular lavender field to visit is the 30 acre Hitchin Lavender located north of London in the village of Ickleford, Hertfordshire. You can walk through the rows of lavender and pre-Covid you could also cut the lavender, but this has not permitted in recent years to help with the flow around the fields. I will update the post when the guidance is released for the 2022 season.
Hitchin Lavender will re-open in June. The flowering season is between mid-June to the middle of August, with the main part of the field blooming around mid-July. There is a beautiful display area, which looks at its best in late June to mid-July, where you can see over 60 different varieties of lavender. Hitchin Lavender is also a beautiful place to visit for the sunflower fields which bloom in August.
Food and Drink
You are allowed to bring a picnic to Hitchin Lavender and use the picnic tables in their main field. There is a Tea Room, which is an outdoor undercover waited service, along with a kiosk in the field offering outdoor refreshments.
Hitchin Lavender Address
Hitchin Lavender is located 2 miles north of Hitchin in the village of Ickleford. If travelling by train from London, take King's Cross to Hitchin Station (service towards Peterborough) then take a taxi or Uber.
Address: Cadwell Farm, Ickleford, Hitchin, Hertfordshire SG5 3UA
Tickets: £6 (off peak) or £7 (peak). Free for under 4s.
Dogs are allowed only in the main field, not up the rows of lavender, and they must always be kept on a lead.
Website: https://www.hitchinlavender.com/
Pin for Later – Lavender Fields near London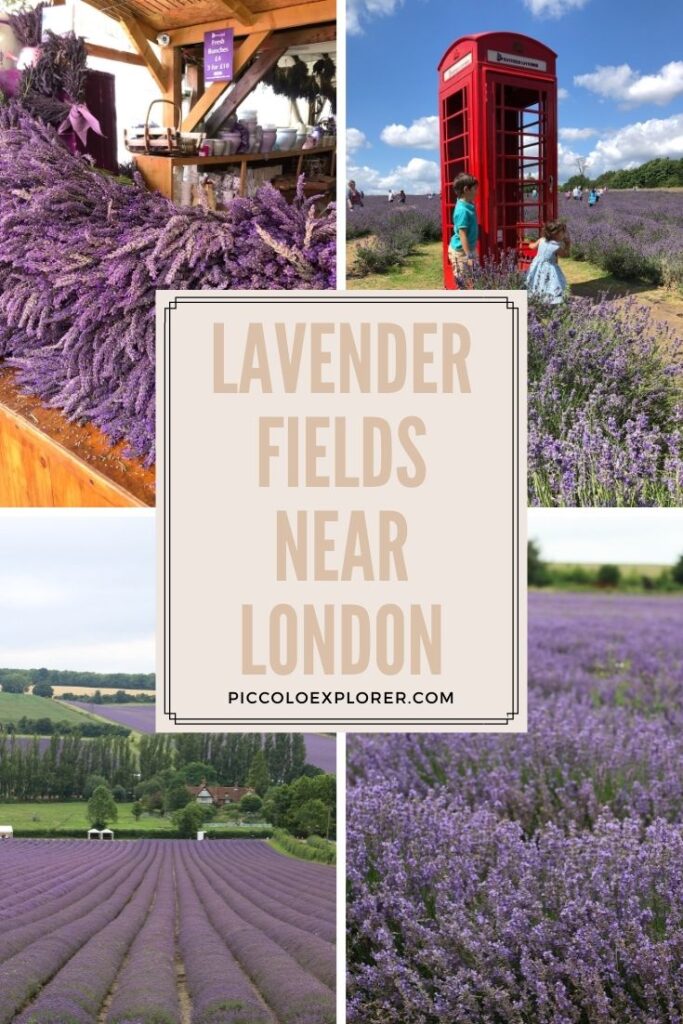 Please follow and like us: