In honor of Valentine's Day, I'm sharing one of our most memorable travel experiences: an intimate sunset dinner for two at Tirtha Dining, Uluwatu, Bali. It was an experience we won't soon forget, having a table on a glass stage perched on a cliff, with a view overlooking the Indian Ocean and the place practically to ourselves. It's the perfect setting to celebrate special occasions or in our case, to enjoy a rare date night while on holiday.
Tirtha's excellent customer service started well ahead of our dinner, from organising the details of the evening, to arranging round trip transport from our hotel, to tailoring the menus with our requests. From beginning to end, this was a wonderful, one-of-a-kind experience thanks to the well-organised, attentive staff and the stunning, oceanview clifftop venue.
Magical Dinner for Two Experience
The Tirtha resort is primarily a wedding venue with several beautifully designed buildings to host weddings and offer planning services, facilities and accommodation for wedding couples and their guests. The venue, its magnificent views of the Indian Ocean and the surrounding tropical gardens are absolutely beautiful.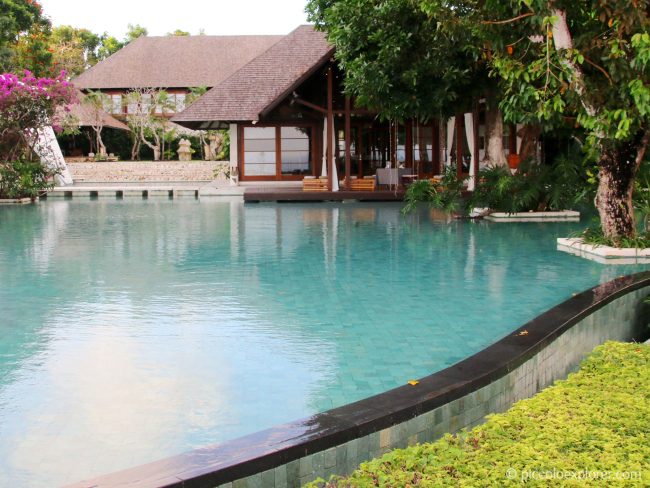 After a welcome drink, we were given a tour of the venue by our server, who would be exclusively serving our table for the evening. The beach shown at the bottom of the cliff is difficult to access so it's almost always completely empty – something very rare on Bali that also added to the tranquility of this beautiful setting.
Related: Snapshots from Bali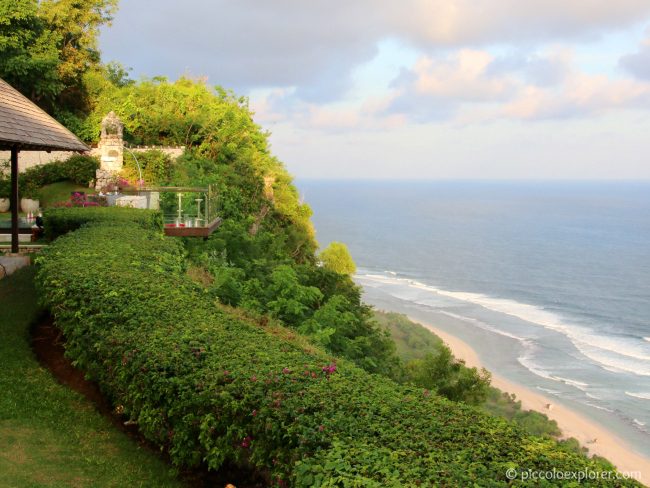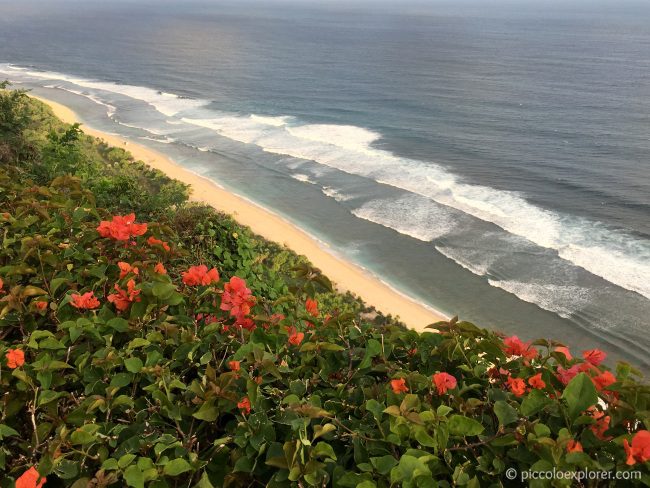 We took our seats at our table just as the sun was starting to set. The candle-lit table and glass stage were wonderfully arranged, with a rose bouquet and individual roses on the table and rose petals strewn about the glass stage.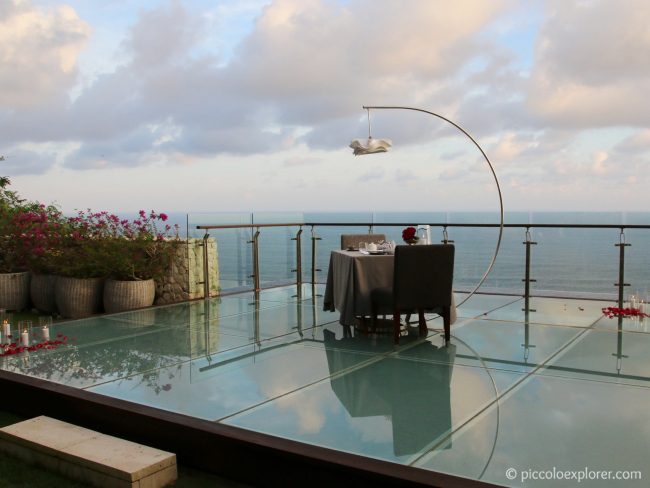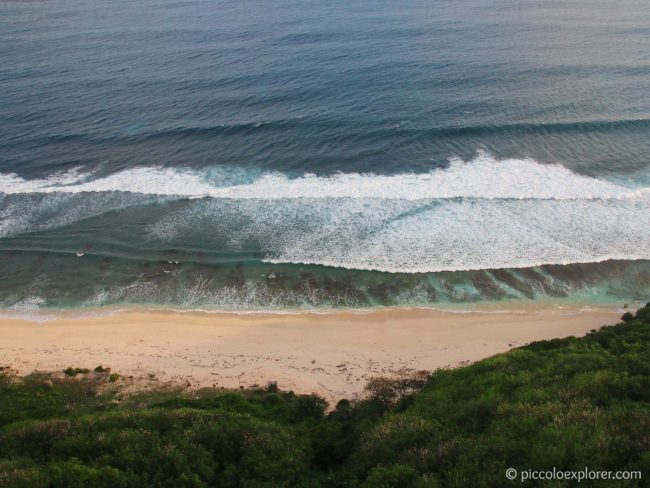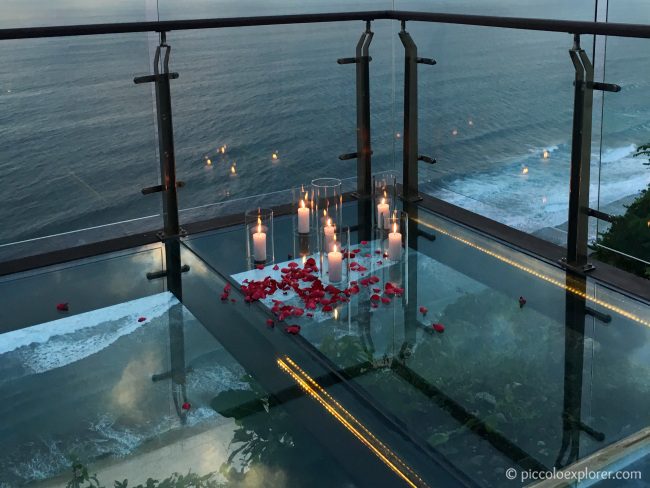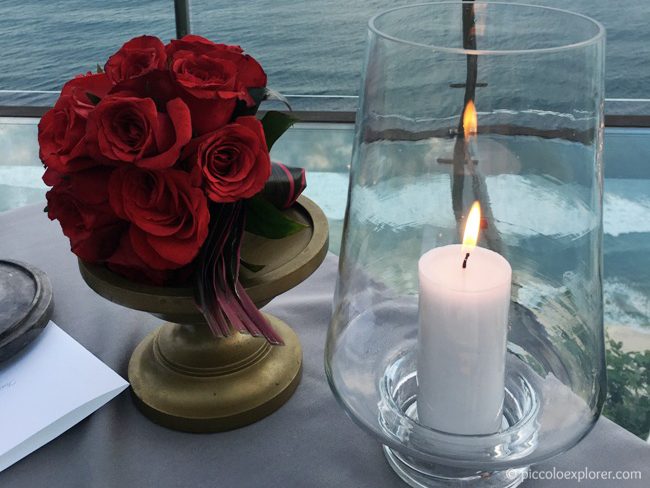 6 Course Romantic Dinner
We had a 6 course dinner, French cuisine with a twist of Japanese flair, that was prepared by Tirtha's acclaimed Japanese chef, Ryoichi Kano. When booking our reservation, I requested a non-seafood menu for me, while Mr. G had all seafood. Tirtha Dining were very accommodating to our requests and sent us updated menus for our confirmation well ahead of the evening.
The dedicated service for our table was on point throughout the meal and our server was excellent – attentive but not intrusive, pleasant to speak with and always standing just off to the side, ready to help with any queries.
I took some quick photos of what I had with the non-seafood menu – apologies as I have no photos of my husband's dinner, but I hope this gives an idea of the beautifully presented food. The highlights for me were the pumpkin soup and 48 hour cooked beef rendang, while my husband enjoyed both courses with the Jimbaran catch of the day.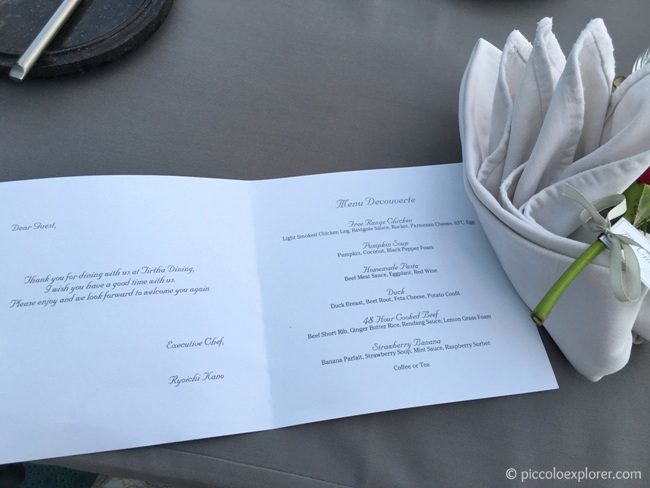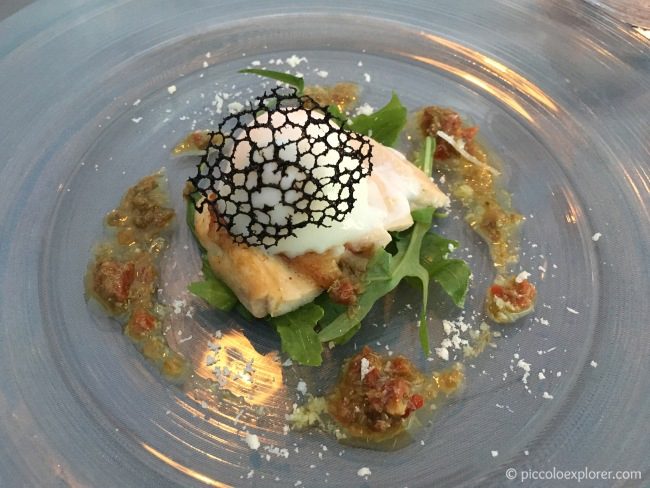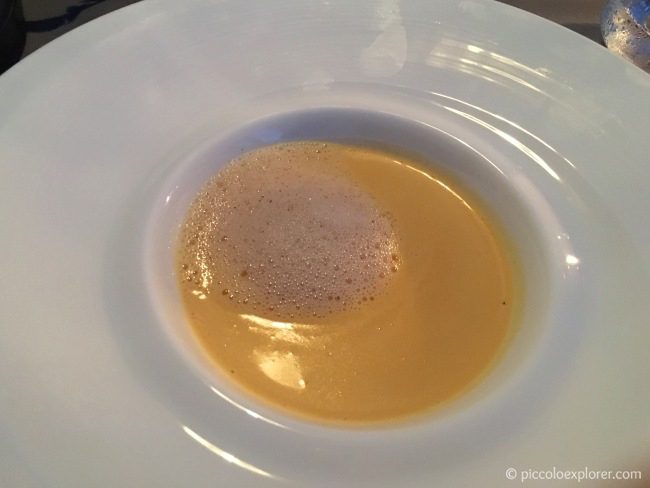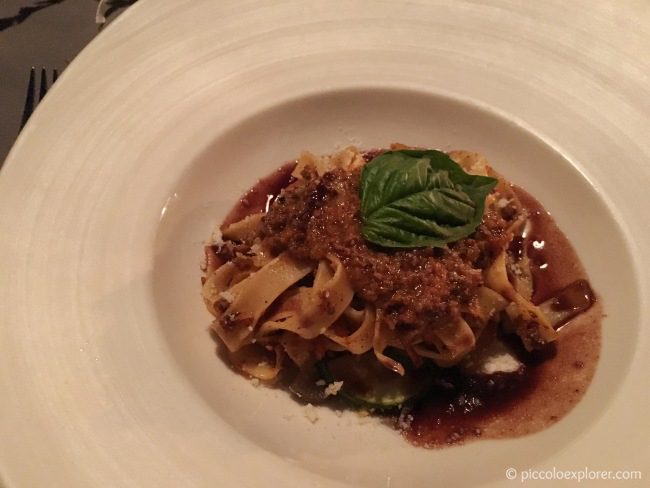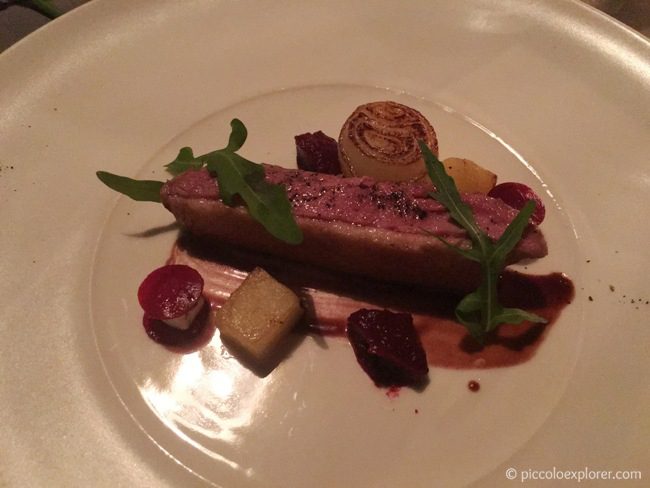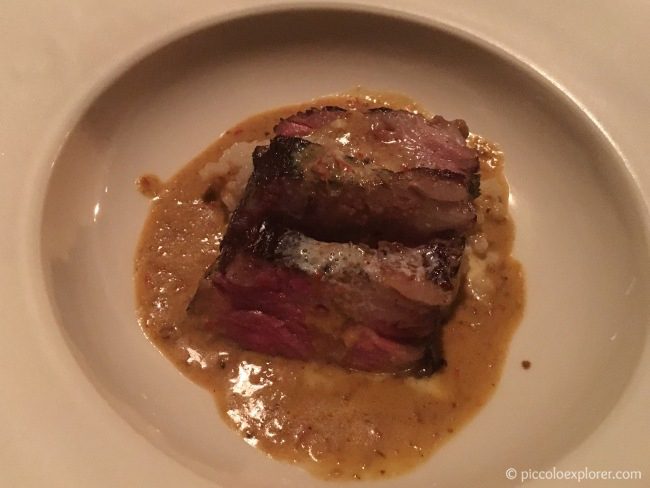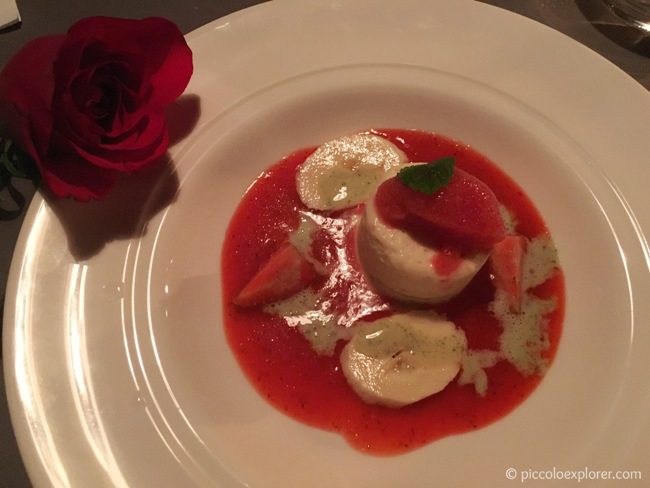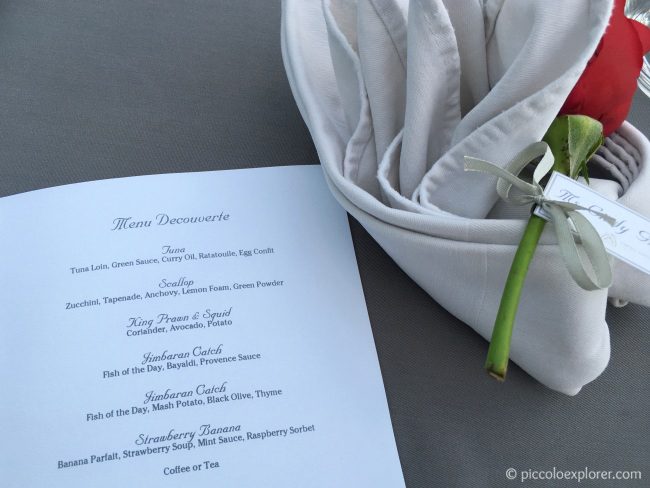 The Magical Dinner for Two at Tirtha Uluwatu was a wonderful, one-of-a-kind experience thanks to the impeccable customer service and a truly amazing clifftop venue. While the food was good, what really blew us away was the whole experience. I would highly recommend it, especially for a special occasion.
Tirtha Dining
Jl. Uluwatu Br. Dinas Karang Boma Desa Pecatu, Bali
PIN IT FOR LATER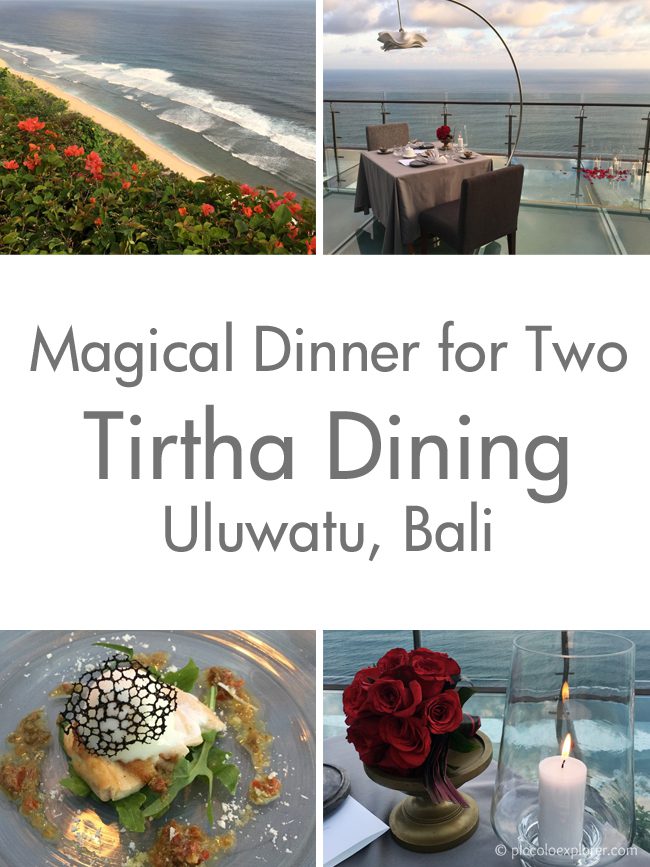 Save
Save
Save
Save
Save
Save
Save
Save
Save
Save
Save
Save
Save
Save
Save
Save
Save
Save
Save