Located across the Badung Strait from Bali's southeast coast, the tranquil island of Nusa Lembongan truly feels a world away from the bustling traffic and crowds of Bali's beach areas. Only a 30 minute fast boat ride away from the town of Sanur, Nusa Lembongan is an ideal destination for a day trip and one of our top things to do in Bali with kids. Read on to learn more about planning a day trip to Nusa Lembongan from Bali, for a fun family adventure exploring the island's stunning coastline and picturesque beaches.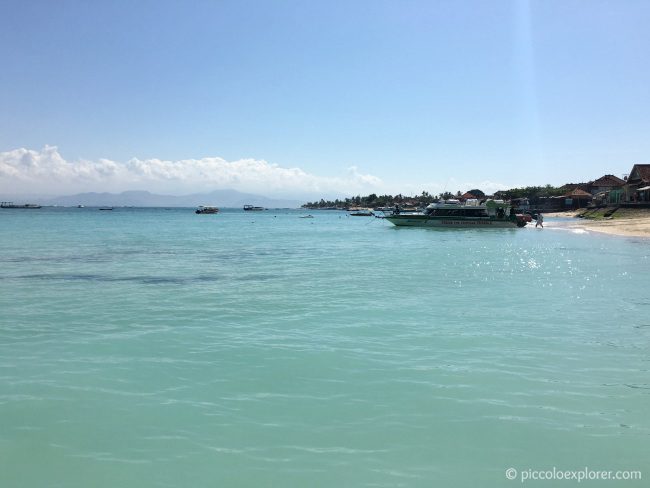 Fast Boat Cruise to Nusa Lembongan from Bali
It takes 30 minutes to travel by fast boat to Nusa Lembongan from Sanur, on Bali's east coast. We booked tickets for a 10am departure with Rocky Fast Cruises, which I would highly recommend especially for families as I found them very helpful, professional and accommodating. Check-in is at the Rocky Fast Cruise office in Sanur and afterwards you are brought to the beach where the boat is anchored.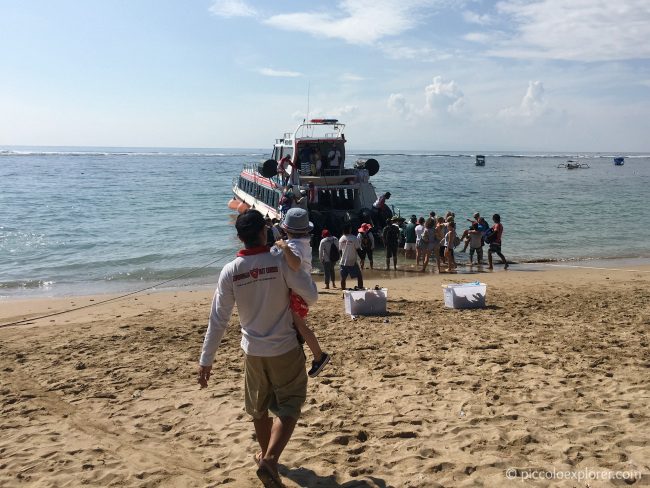 At the time, we paid for our tickets in person when we checked in, however, you can now save time by booking online in advance on the Rocky Fast Cruise website. There is no dock so you put your shoes in the large buckets and wade in the water a few feet from the shore to get onto the boat. The staff were very helpful giving an extra hand to parents carrying kids on and off the boat.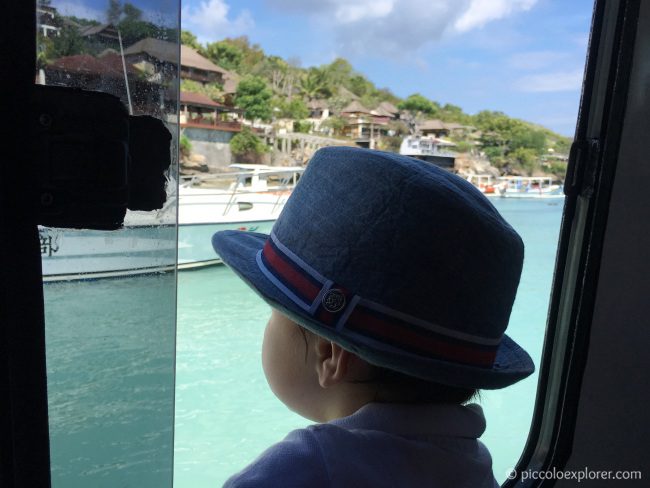 The boat is enclosed with windows and bench style seating and the life jackets (young children's sizes included) are kept under the seats if required. At only 30 minutes, the ride goes by very quickly and soon enough, we were watching as the boat pulled into the gorgeous turquoise waters of Jungut Batu bay.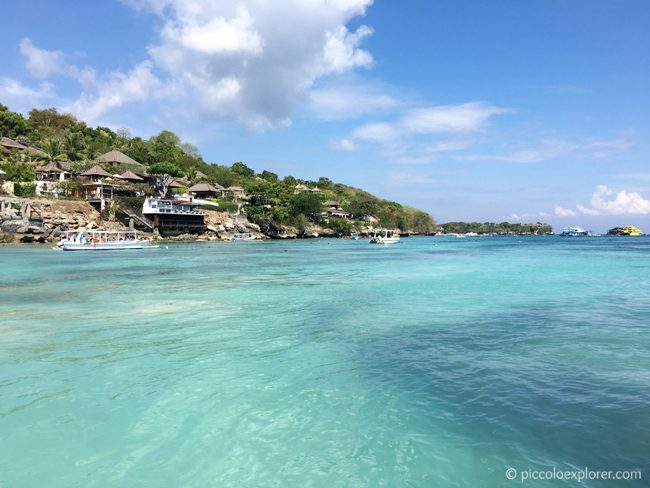 Jungut Batu Beach
The coastline of the village of Jungut Batu on Nusa Lembongan is lined with hotels and restaurants overlooking the stunning, crystal clear water.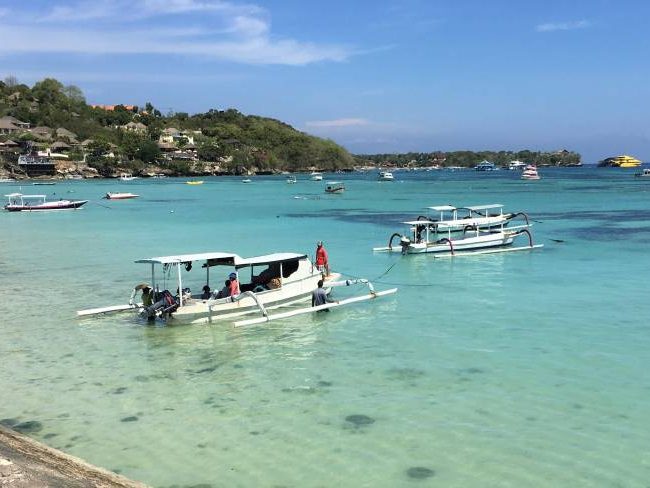 Jungut Batu is one of the main arrival and departure points for boats at Nusa Lembongan. We came off the boat to a similar setup as Sanur, stepping into the water a few feet away from shore, retrieving our shoes and making our way to the row of offices along the beach to rent a golf buggy.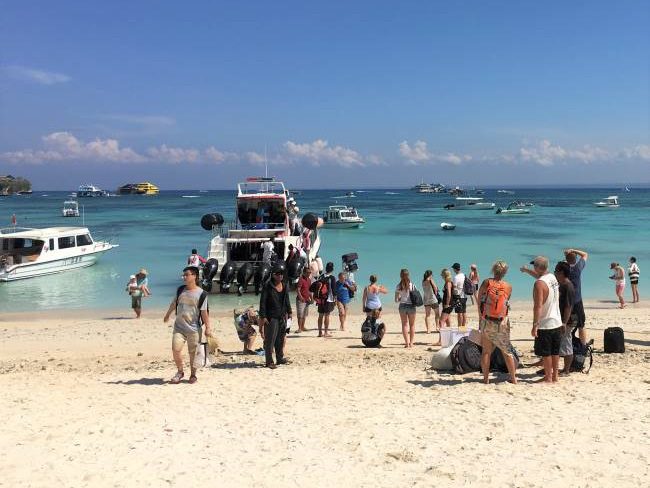 There are several shops selling fruit, drinks and snacks along the beach and sidewalk at Jungut Batu.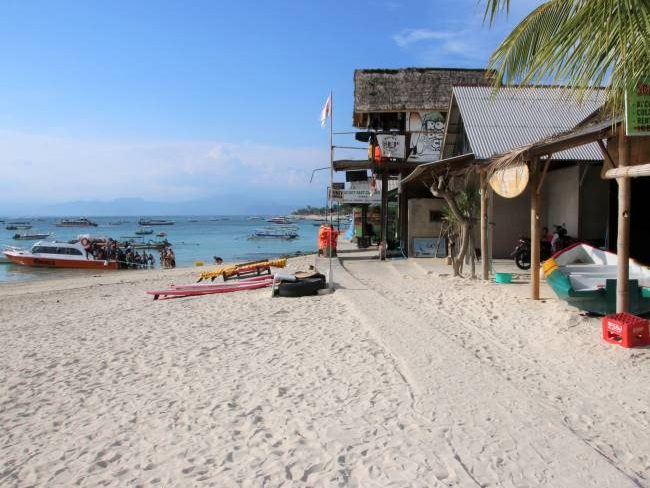 We stocked up on some bananas, peanuts and water at a small stand before renting a golf buggy to head south to visit some of Nusa Lembongan's picturesque beaches.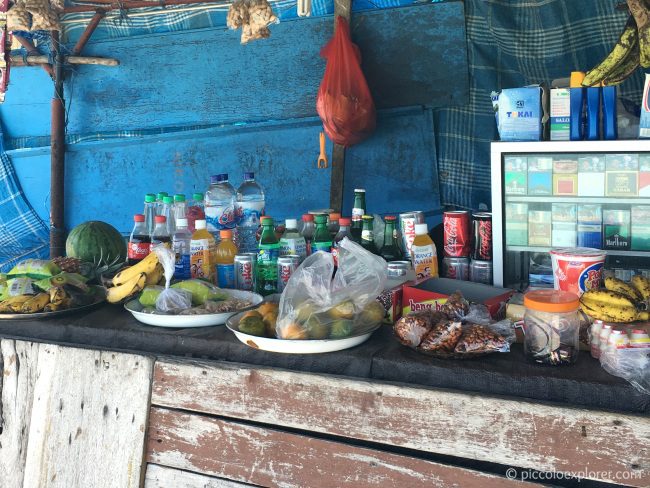 How to Get Around Nusa Lembongan
There are no rental cars or taxis on Nusa Lembongan and the hilly terrain is not ideal for leisure cycling. Most people get around Nusa Lembongan on scooters or, for larger groups, on covered pickup trucks with a tour guide. For the three of us, hiring a golf buggy was the best solution to explore the island on our own.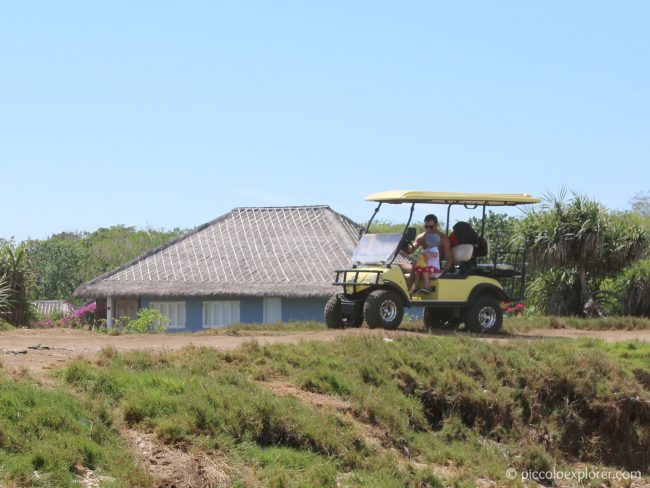 Visitors can book an Island Buggy in advance for a full day hire with prices starting at 800,000 IDR – more details here. The offices to pick up the golf buggies are a short walk from where you will disembark from the fast boat at Jungut Batu beach. There is a steep hill heading out of Jungut Batu, so do keep that in mind and strap your bags down very well if you're taking a golf cart!
Dream Beach Nusa Lembongan
Dream Beach is one of the most famous beaches on Nusa Lembongan and a popular area for surfing. There are several resorts and restaurants nearby, some perched on the dramatic limestone cliffs, overlooking the beautiful white sandy beach.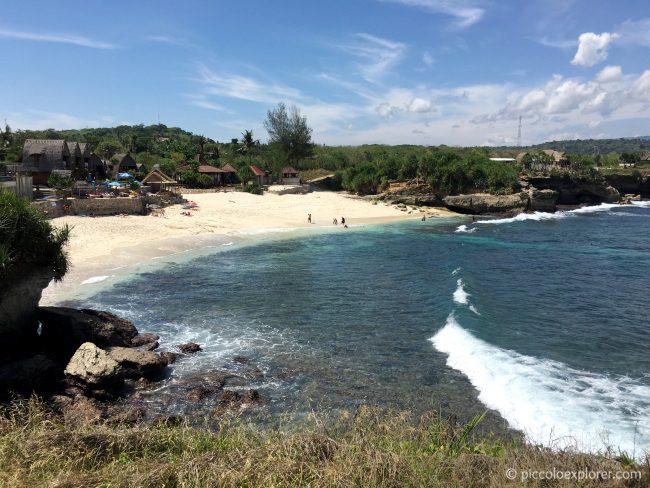 There's a rocky coral floor and the surf is pretty strong at Dream Beach, so not an ideal swimming spot with young children, but it's a beautiful spot to take in the view, watch the surfers and enjoy playing on the sand and along the shore.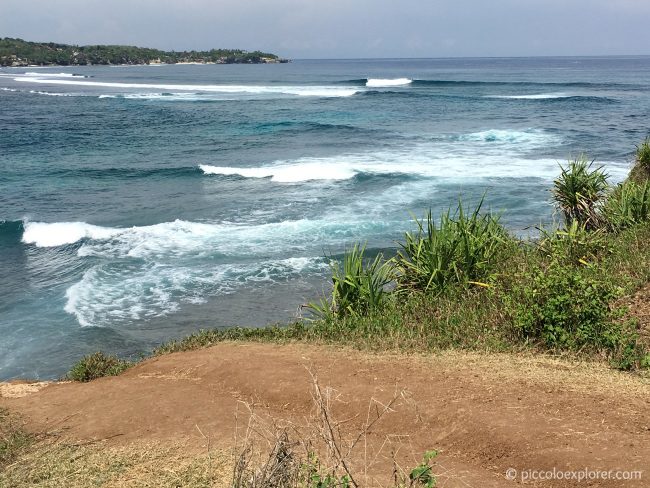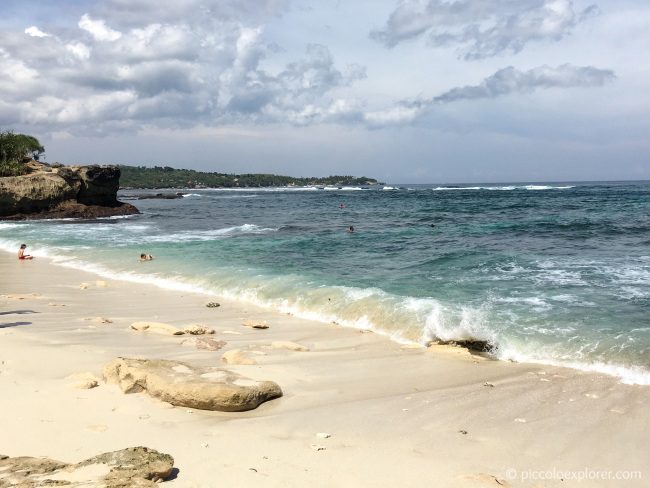 Devil's Tears
Devil's Tears is a set of rocky, dramatic cliffs where huge waves crash against the sides, sending water spraying over the edge. The views at Devil's Tears are stunning and it was amazing to watch the powerful waves crash against the cliffs.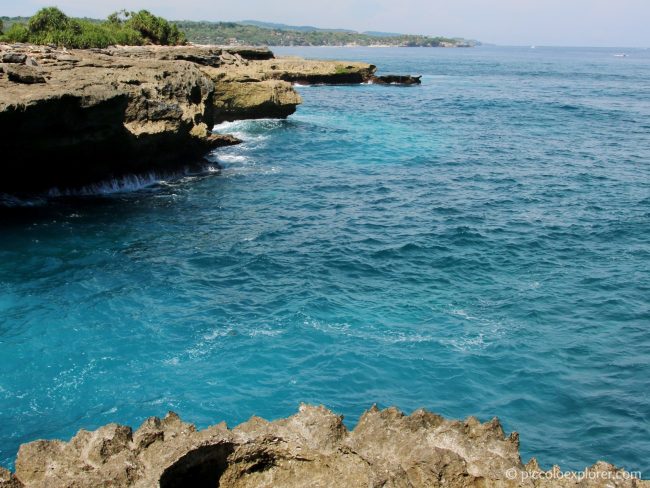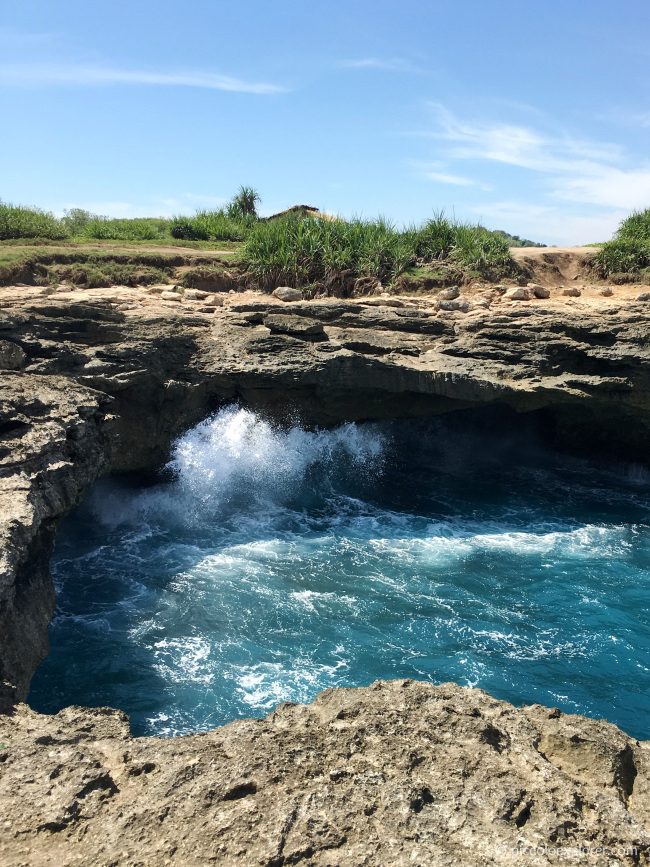 Mushroom Beach
After checking out the island's dramatic coastline, we headed back in the direction of Jungut Batu to spend the rest of our afternoon at the calmer waters of Mushroom Beach.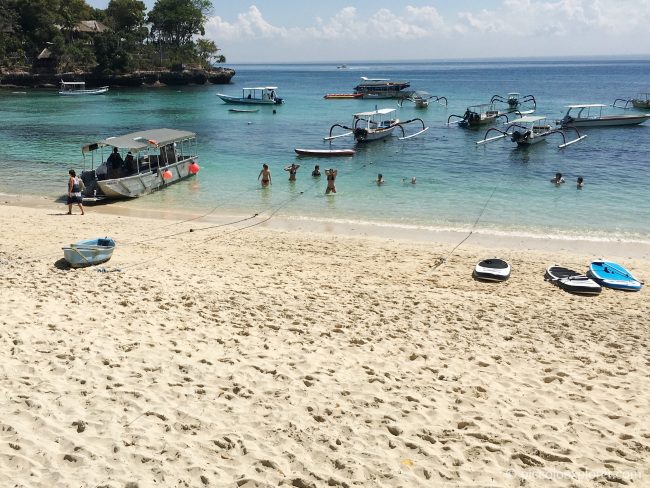 We had lunch at Hai's Beach Bar & Grill which overlooks the beach – perfect for Little T to play while we waited for the food. The food was really good and overall I found the restaurant and resort to be a great place to take a break during our day of exploring.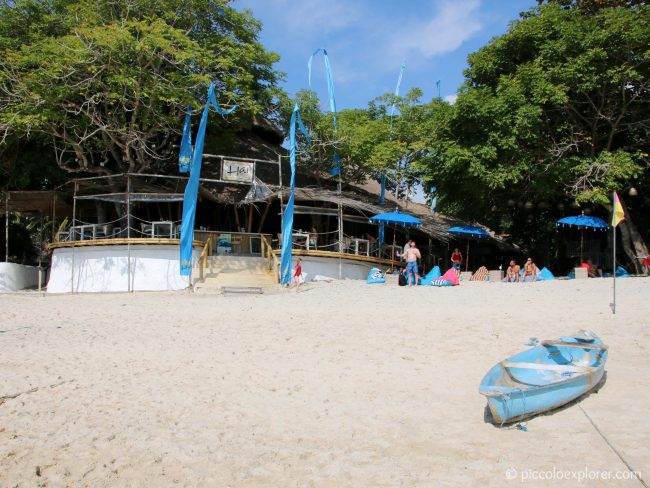 Mushroom Beach is the calmest beach in the area for swimming and snorkelling with young children. There's an area fit for swimming between one side of the beach with a very rocky floor and the other with boat traffic. Water shoes are must for swimming at Mushroom Beach to protect your feet from the broken coral pieces and rocky seafloor.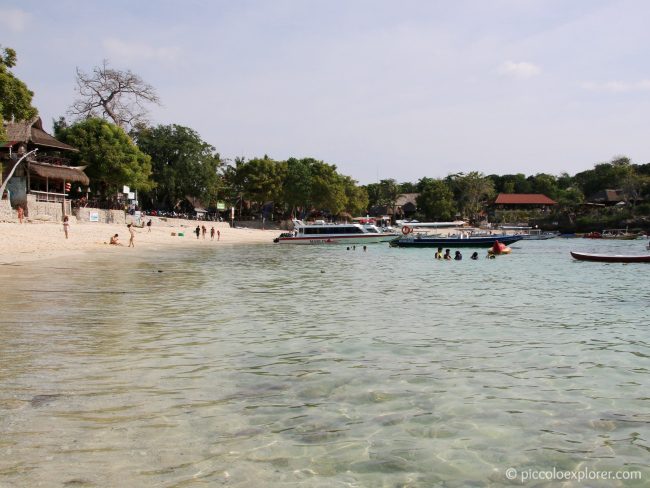 On the other side of Mushroom Beach are these amazing rock formations along the shore.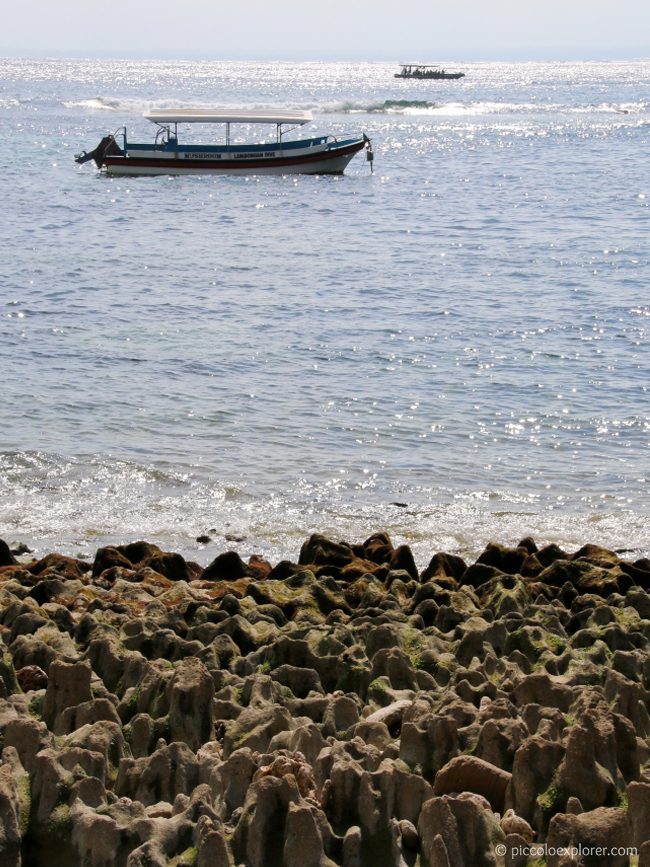 Fast Boat Cruise from Nusa Lembongan to Bali
After a wonderful day on Nusa Lembongan that went by way too quickly, we headed back to Jungut Batu to return the golf cart and take the 4.30pm fast boat back to Sanur. Little T chose a beautiful wooden turtle at a little souvenir shop next to the boat office which has been a lovely souvenir from our day trip to Nusa Lembongan.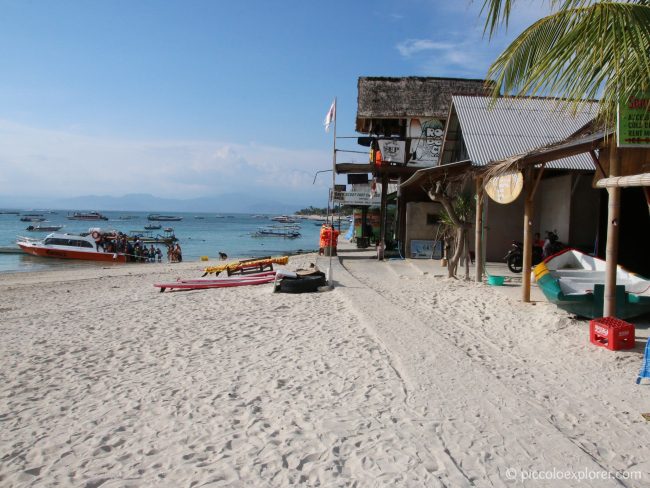 As with the departure from Sanur, everything ran very efficiently with Rocky Fast Cruise and the staff were always helpful with the passengers getting on and and off the boat.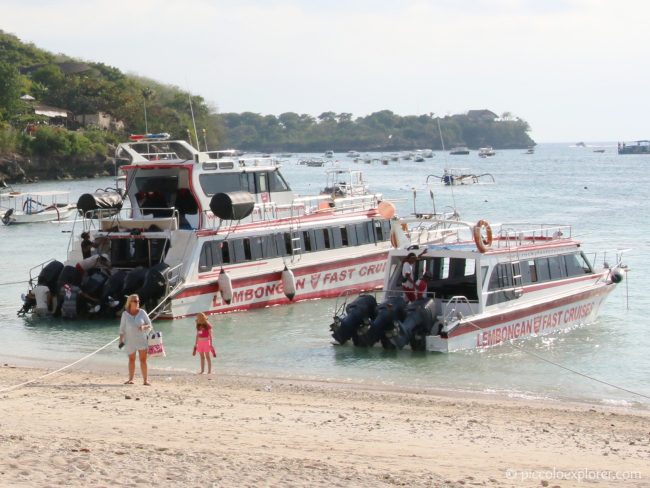 A storm was approaching that evening, so while the ride to Nusa Lembongan was relatively calm, we had rough seas heading back to Sanur. Remember to bring motion sickness tablets or wristbands if you suffer from sea sickness!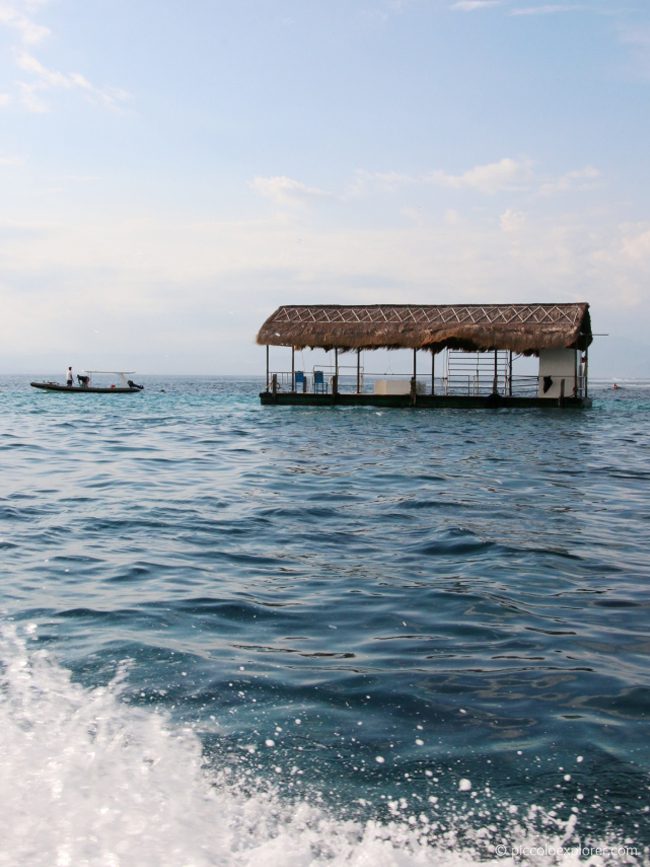 A day trip to Nusa Lembongan from Bali is an amazing experience, offering breath-taking scenery from calm, turquoise waters to rocky, dramatic cliffs. There are plenty of outdoor adventures and water activities for the whole family to enjoy around the island, including going out to the famous snorkelling or scuba diving sites and visiting the seaweed farms. I'd highly recommend making the trip out there to visit during a Bali family holiday.
Day Trip Nusa Lembongan Tips
The only ATM / cash machine on the island is at Jungut Batu, near the Segara Temple and only a few minutes away from the boat offices. I would, however, recommend arriving on the island with cash – the ATM has been known to run out of money halfway through the day and the queue was over half an hour long.
Another reason to bring cash: the credit card terminals aren't very reliable and can take an extremely long time to process your debit/credit card after several attempts. To save yourself time, withdraw cash on Bali to bring on your trip.
Remember to pack along water shoes or other protective shoes for the beach. Mushroom Beach in particular is rocky and covered with small bits of coral along the shoreline.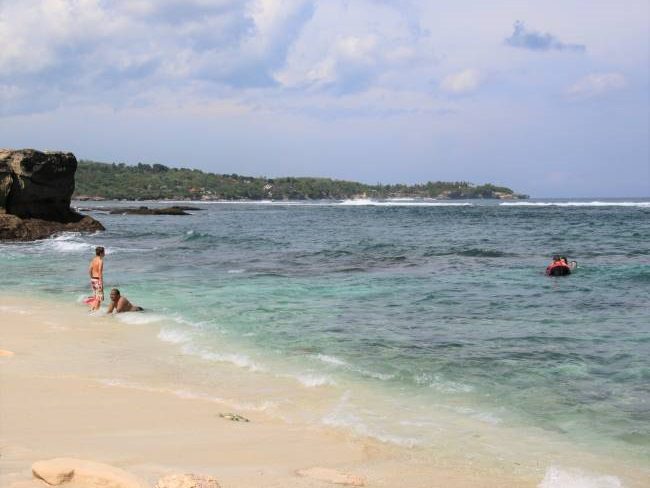 [Updated December 2021] Rocky Fast Cruise departure times from Sanur are currently 10am and 1pm; return times from Lembongan are 11am and 4pm. Due to Covid-19, there is currently a reduced "pandemic" rate of 350000 IDR (approx US $25) for an adult return ticket and 100000 IDR (approx US $14) for a child return ticket. (Pre-Covid prices were typically US $50 per adult for return (US $30 for one way), children 3-11 years old US $30 for return ($20 one way) and children under 3 years old travel free.)
Prices include insurance and bottled water, as well as free pick up and drop off from the airport, Jimbaran, Kuta, Seminyak, Legian and Sanur. Other areas are quoted upon request. Up to date schedule, ticket prices and other details here.
You can also book a golf buggy in advance for a full day hire with prices starting at 800,000 IDR – more details here. Note that you cannot cross the suspension bridge between Nusa Lembongan and the nearby smaller island of Nusa Ceningan with the golf buggy – only scooters are allowed to cross that bridge.
Bali with Kids Guide
I hope you found this post helpful for ideas on things to do in Bali with a toddler. Read on for more tips and reviews for planning a family holiday in Bali;
Fun Activities in Bali for Toddlers
Magical Dinner for Two at Tirtha Dining
PIN IT FOR LATER – Day Trip Nusa Lembongan from Bali