Garuda Indonesia is the country's national airline and is part of the SkyTeam Alliance, which also consists of Alitalia, Air France, Delta, KLM and Saudia. This was our first time flying with Garuda Indonesia, and I was looking forward to checking out this acclaimed airline that won World's Best Cabin Staff at the Skytrax World Airline Awards two years in the row. In this Garuda Indonesia review, I'll be covering our experience flying with Garuda Indonesia from London to Bali with our nearly three old son.
Booking the Flight
I searched SkyScanner to compare flights across airlines to Bali's Ngurah Rai International Airport, or Densapar International Airport (DPS), and narrowed it down from there. Singapore Airlines and Garuda Indonesia offered the best prices and the shortest trip durations, i.e. shortest layover at the first stop as there are no direct flights between London and Bali. At the time of booking our flights in early June, Garuda Indonesia had very competitive prices with a promotion on flights from London Heathrow to Indonesia, with return ticket prices per person starting at £495 to Densapar (Bali) and £489 to Jakarta.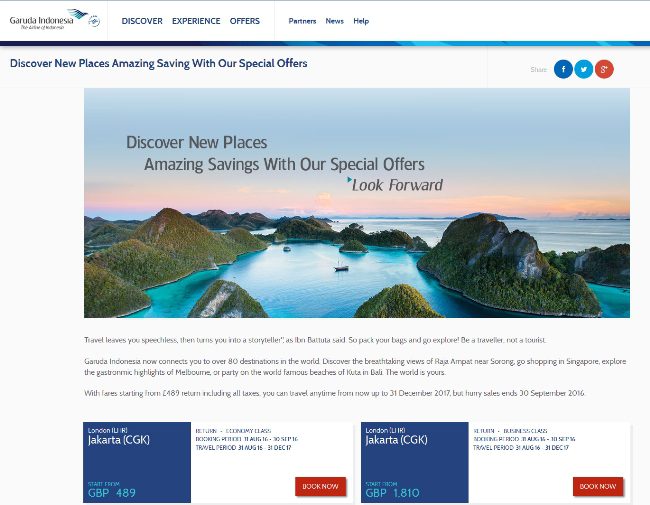 The Garuda Indonesia iPhone application is mostly user friendly and straightforward to use. We found the flight times that worked best for us and booked our flights through the app. It all went through smoothly and within minutes I received email confirmations with a PDF itinerary for each of us.
The flight times we booked heading to Bali were as follows;
(1) Flight from London Heathrow to Jakarta. Approximate flight time: 13 hours 30 minutes
(2) Layover in Jakarta: 1 hour (due to delayed landing)
(3) Flight from Jakarta to Bali: Approximate flight time: 1 hour 30 minutes
Then, for our trip heading back to London;
(1) Flight from Bali to Singapore. Approximate flight time: 2 hours 15 minutes
(2) Overnight layover in Singapore: 18 hours
(3) Flight from Singapore to London Heathrow. Approximate flight time: 13 hours
Garuda Indonesia Customer Service
I closed out of the application right after purchasing the tickets, and then I could no longer access our booking to make changes either on the website or through the application. Fortunately, Garuda Indonesia have excellent customer service by phone – details for your local office can be found in their website's Help section.
I found the customer service team to be very quick and responsive in helping out with a couple of small tweaks to our reservation, i.e. adding a Child's Meal to Little T's ticket and a Vegetarian Meal to mine. I also had made an error entering in Mr. G's birthday, and that was quickly resolved.
There is an additional charge to book your seats in advance if you're flying economy and there isn't an option to check-in online. We left the seat booking for when we checked in at the airport and didn't have any issues but it's something to keep in mind if you would prefer to choose your seats in advance, and you could do so with the telephone customer service.
At the Airports
In this part of the Garuda Indonesia review, I will go through our experience with the airline checking in and transferring for our flights at London Heathrow, Jakarta Soekarno–Hatta International Airport, Bali Ngurah Rai International Airport and Singapore Changi Airport.
London Heathrow Airport, Terminal 3
At London Heathrow, we were eventually ushered to the front of the queue at the check-in counter since we had a little one with us. I found Garuda Indonesia's customer service consistently efficient and pleasant throughout our journey, starting with the ground staff. Do note that your passport must be valid for 6 months from your departure and this will be checked at the counter.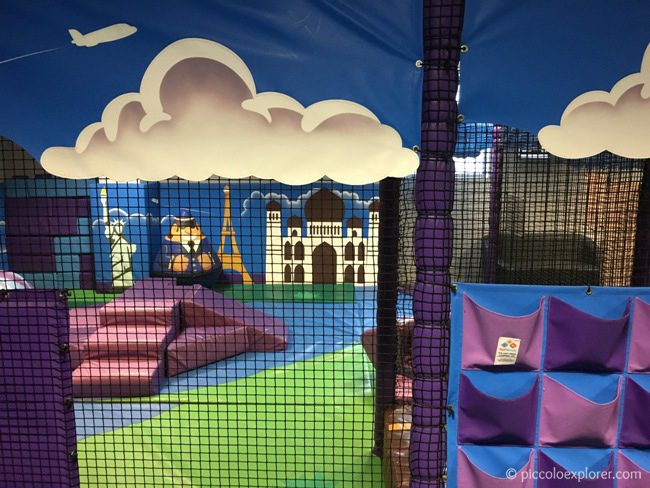 Heathrow's Terminal 3 has a fantastic Family Lounge that is tucked away behind Duty Free and up an elevator – it's about a 15-20 minute walk from the gates so do keep that in mind and allow yourself plenty of time to get to your departure gate. It's definitely worth visiting to let your little one blow off steam ahead of the flight. You can find more details on all of Heathrow's play areas on the airport's Family Facilities page.
Our flight out of London was pretty late (9pm) so before boarding our flight, we headed to the airport early to grab a bite to eat which ended up being some sandwiches and salads from Pret a Manger. It was soon time to head to the gate where we checked in the stroller and boarded our flight.
Jakarta Soekarno–Hatta International Airport, Terminal 2

We arrived in Jakarta about half an hour late, which meant our layover was only one hour long. We boarded buses that brought us to the terminal, where upon arrival, everyone including transit passengers, must go through immigration. The queue was painfully slow and took nearly 45 minutes. The airport attendants were unfazed when we told them our flight was leaving rather soon and most of the people surrounding us were actually connecting on our same flight to Bali, so it appeared that airline would be waiting for us but it was still nerve-wracking. Once we did get to the counter, the immigration officer was prompt to go through our documents, probably noticing at that point we were cutting it very close.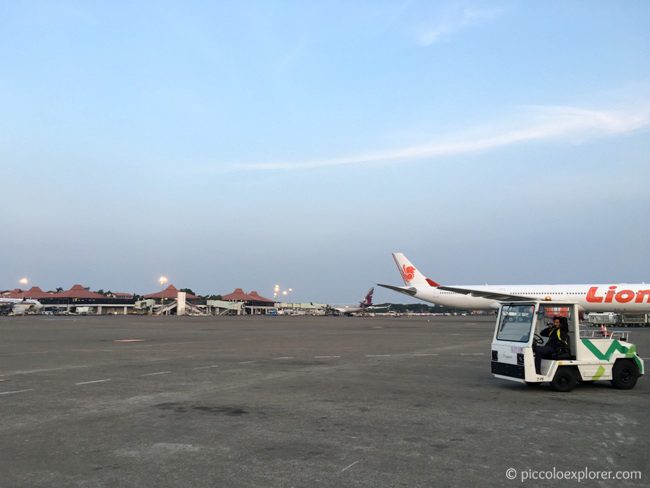 We sprinted from immigration to the departure gate, asking people along the way who fortunately were familiar with where we needed to go. Our bags were passed through security and soon enough we were handing our boarding passes over and on a bus to the airplane. Once on the plane, we eventually had to wait for the rest of the passengers making their way through immigration, so the flight's departure was nearly an hour delayed, but we were very relieved to settle down in our seats and take a deep breath after a somewhat stressful connection!
Bali Ngurah Rai International Airport, Terminal 1
Check-in was quick and efficient for our flight from Bali to Singapore and we were soon on our way to the departure lounge.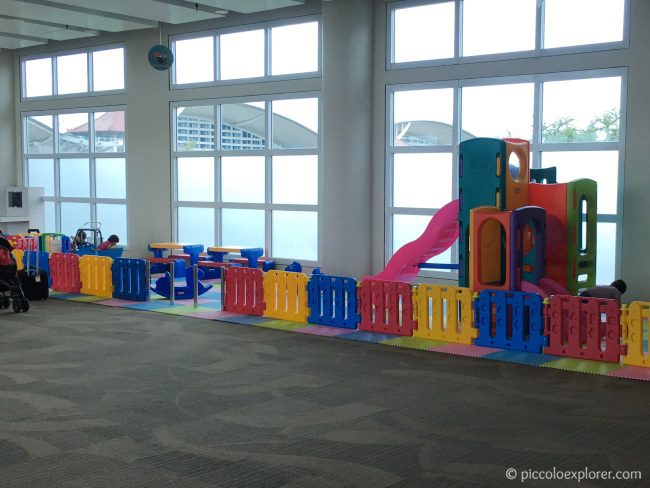 Bali's international airport has a wide array of shops and restaurants, tidy restrooms and a small play area by the departure gates. We had a late lunch at one of the restaurants and stopped by the play area before boarding our flight.
Singapore Changi Airport, Terminal 3
We stayed overnight in Singapore at the Mandarin Oriental, with our flight the following day at 12pm and again, that day we had a quick and easy check-in at the airport counter for our flight to London. At the Singapore Changi Airport, security screening is done directly at your gate, so after check-in, you head straight to the main departure area and then go through security right before your flight. Each gate or group of gates is separated as its own secure area and 'closes' either 10 or 20 minutes before departure, depending on the particular flight and airline.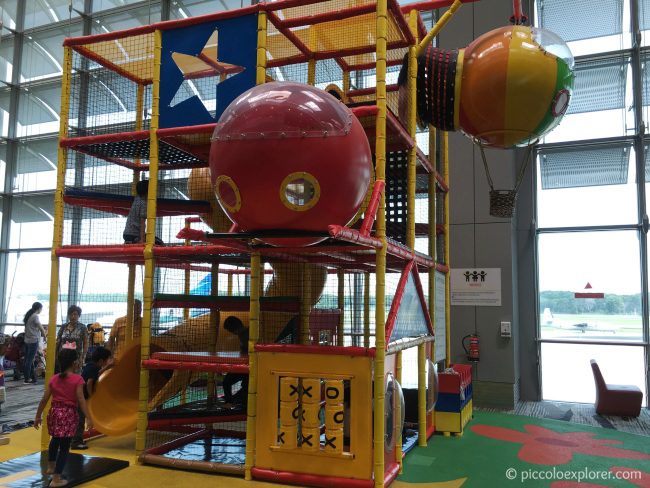 We enjoyed wandering around the Butterfly Garden at Changi Airport, home to over a thousand butterflies, which also features a fascinating "emergence enclosure" where you can see the butterflies in various stages of emerging from their cocoons. After wandering around the shops, I brought Little T to the play area, where he had a blast climbing around and going down the slide.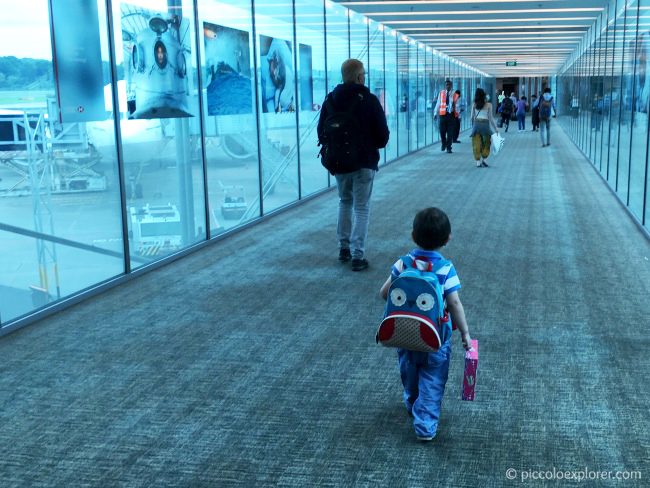 On the Plane
In this part of the Garuda Indonesia review, I will go through our experience flying with the airline. The crews on each flight were pleasant and accommodating and the cabin was always tidy and well kept. The seat back entertainment had a good selection – I have no complaints at all about the level of comfort during our flights. Garuda Indonesia delivered excellent customer service and a great product each time.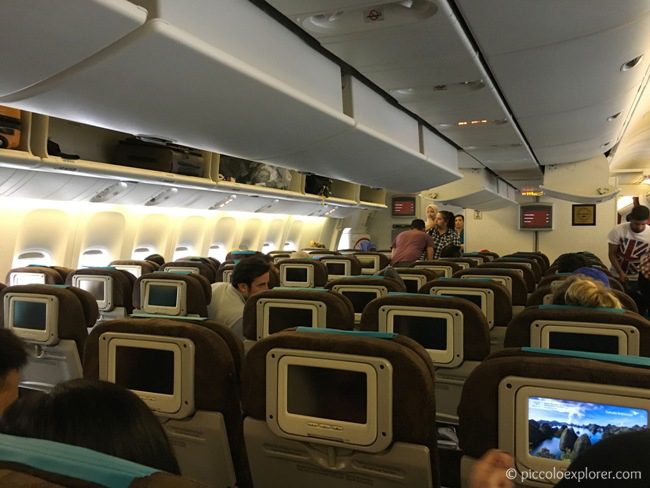 There was a wide selection of movies and TV shows in the inflight entertainment, a variety of classics and recent releases and, including several Indonesian films, a mix of international movies. You can set up your little one's TV with the kid's section showing only the selection of movies, TV shows and games for children.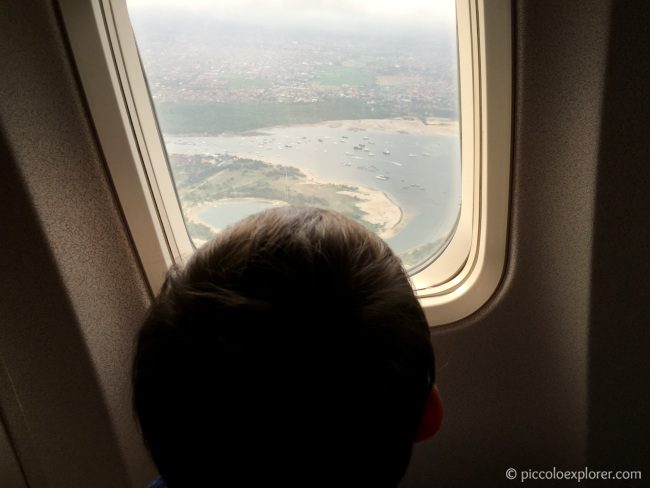 Little T received a gift at the end of each flight, mostly little stuffed toys and on one flight a messenger bag with a finger puppet.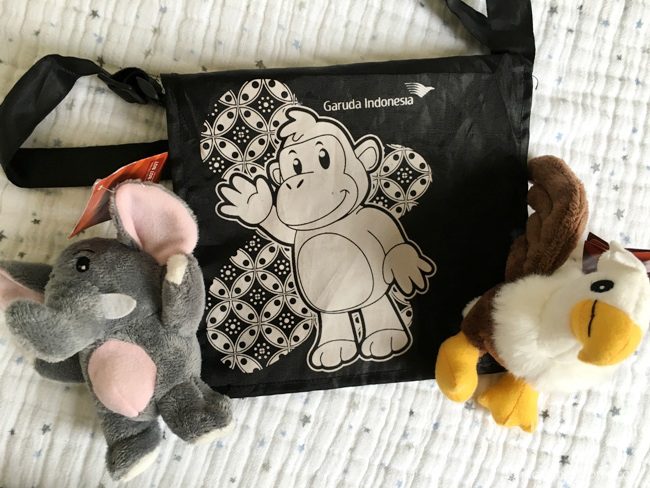 Garuda Indonesia Meal Service
In this part of the Garuda Indonesia review, I will go over the meal service during our flights. I took some photos during the trip of what we had during our flights, and I've split the photos up into what was offered for the Child's, Vegetarian and Standard Meals. Our first flight, from London to Jakarta, was the only flight during which Little T was not served his child's meal, which was odd as I still received my vegetarian meal which I had booked at the same time.
Like any of the specially requested meals, the child's meals are served ahead of the standard service – always welcome for getting little ones started on their meals as soon as possible.
Child's Meals
Little T was served the cheesy pasta, mixed with chicken and peas, on two of the flights. We always had fruit on our trays, usually fresh fruit and one time dried apricots and prunes, and I think the child's meals could have used fruit as an option too.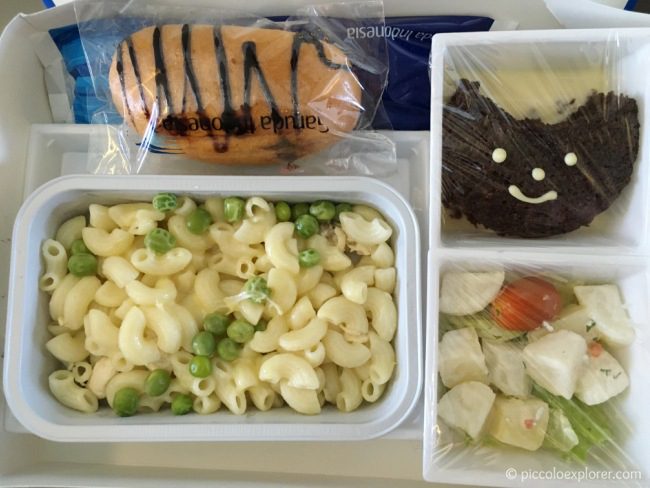 Little T wasn't a fan of the pasta and meatballs, and only picked at the peas and corn from this dish. This was an instance when he would mostly eat something from our dishes – rice or chicken, other vegetables, fruit etc. I had a similar linguine dish, without meatballs of course, and I found it to be pretty good.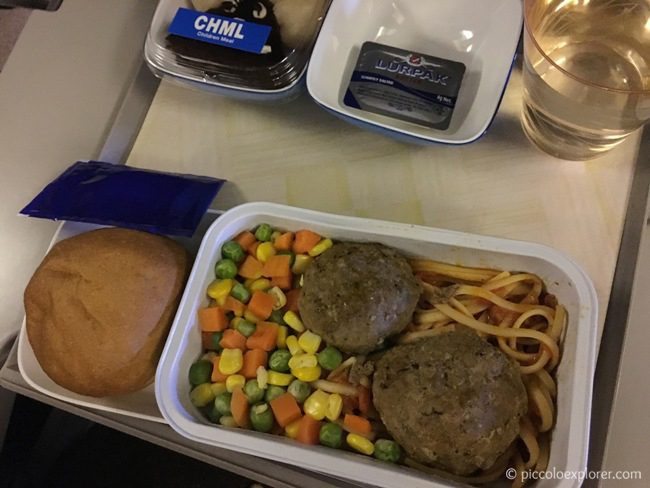 Vegetarian Meals
Little T had the yogurt, fruit and croissant from my tray while I had the chickpea and vegetable curry which turned out to be my favourite of the meals offered.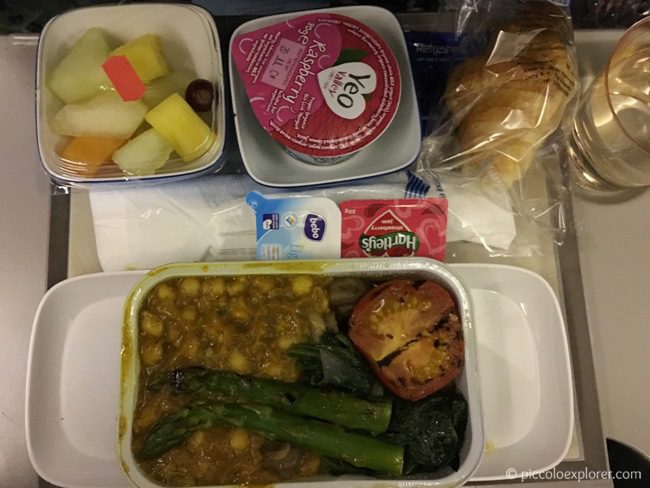 To be completely honest, this was my least favorite vegetarian meal. The pasta looked unappetizing and was tasteless.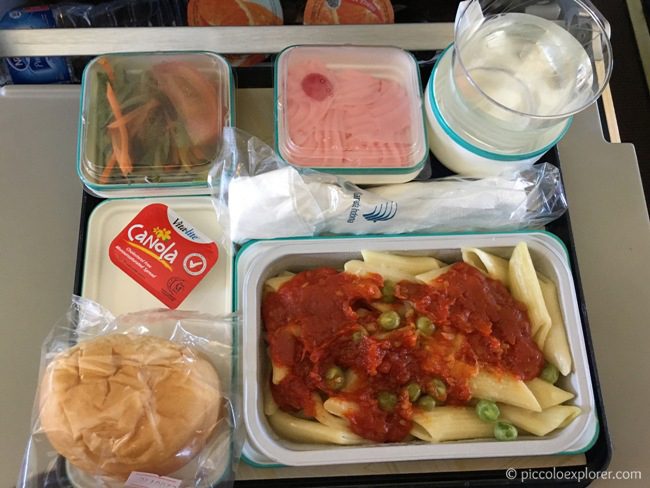 Aside from the tomato sauce dish, the other pasta dishes I was served during the trip were pretty good – a vegetarian lasagne…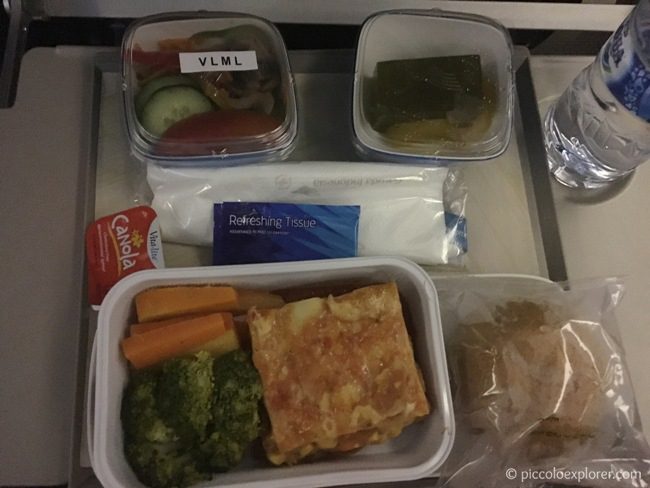 and linguine with plenty of vegetables…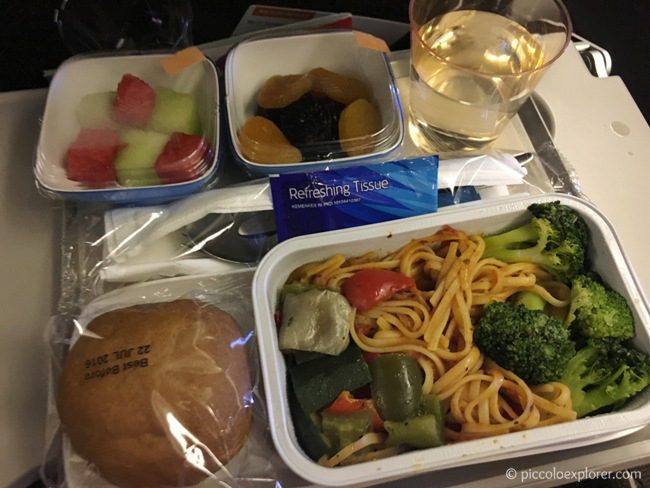 Standard Meals
Mr. G meanwhile had the standard meals, such as this is baked fish with vegetables and rice.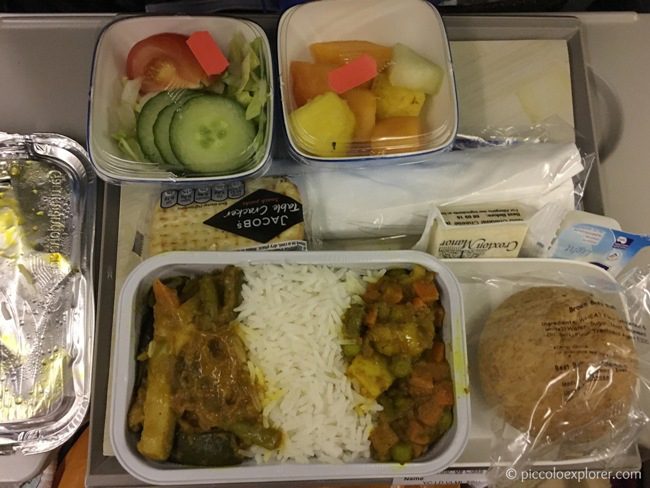 This chicken dish with rice and vegetables looked delicious.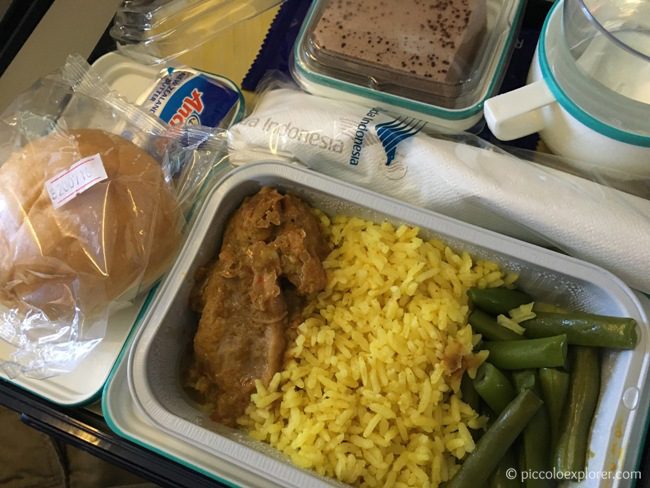 Every now and then on the longer flights, to and from London, we would also pick up some snacks from the galley at the back of the plane: bananas and apples, potato chips and nuts. In addition to the standard refreshment and meal services, cups of water and juices were handed out regularly throughout the long haul flights and at the beginning of each flight we received a small bottle of water.
Garuda Indonesia Review
I hope you found this Garuda Indonesia review helpful! We were very pleased with our first experience flying with Garuda Indonesia and I found it to be a very family-friendly airline. I can see why the airline has won World's Best Airline Cabin Crew in Skytrax's World Airline Awards three years in a row – the flight crews were consistently pleasant, courteous and helpful. Aside from a delay during the first part of our trip that had us arriving in Bali an hour behind, our flights generally made it on time and I found everything running smoothly and efficiently from checking in at the airport, dropping off and receiving our stroller and boarding the flights.

Garuda Indonesia delivered excellent customer service and a great product each time. We always had a comfortable flight and never felt restricted or lacking in space. I would happily travel with Garuda Indonesia again and highly recommend the airline for high quality service at great value. Garuda Indonesia offer flights from London Heathrow and Gatwick airports to Indonesia, China, Singapore, Australia, Japan and South Korea and will be operating flights out of US airports from 2017.
PIN IT FOR LATER – Garuda Indonesia Review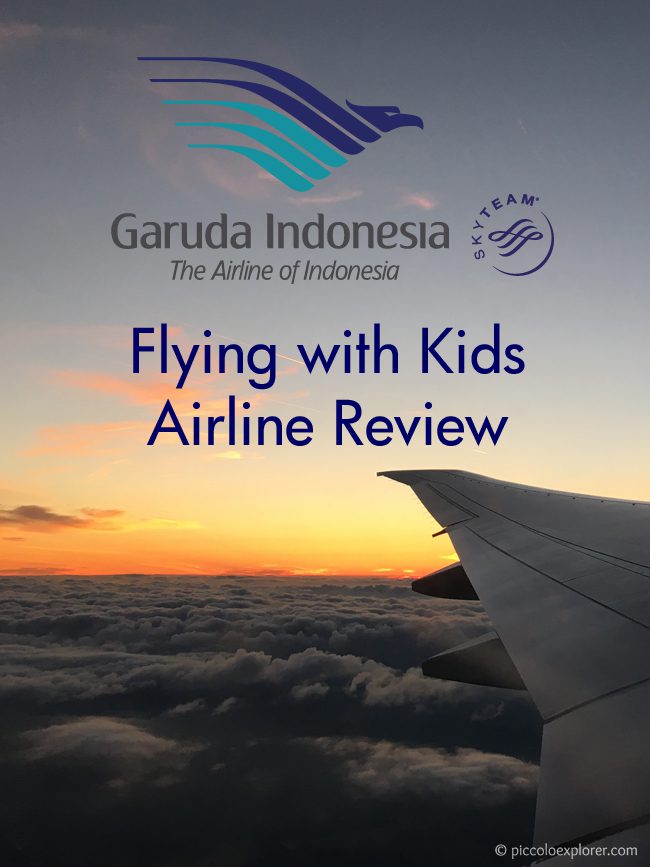 Save
Save
Save
Save
Save
Save
Save
Save
Save
Save
Save
Save
Save
Save
Save
Save
Save
Save
Save
Save
Save
Save
Save
Save
Save