Founded in 1753, the British Museum houses a vast collection of art and antiquities from ancient and living cultures, spanning two million years of human history. In this post, learn top tips for making the most of your visit to the British Museum London with kids.
British Museum London with Kids
One of the best London museums for kids, the British Museum is an intriguing place to explore and learn about objects from human history. World-famous objects children will be fascinated to see on display include the Rosetta Stone and Egyptian mummies. Read on for top tips for planning a family day out at the British Museum.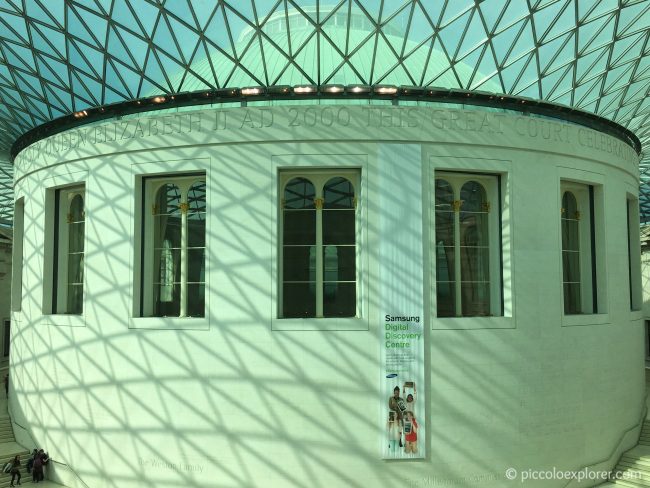 Book a Free Timed Slot
As of summer 2022, visitors are still advised to book a free timed slot in advance to guarantee entry. Walk-up visits are available each day for those who arrive at the British Museum without advance bookings, but this does depend on capacity, as walk-up entry cannot be guaranteed.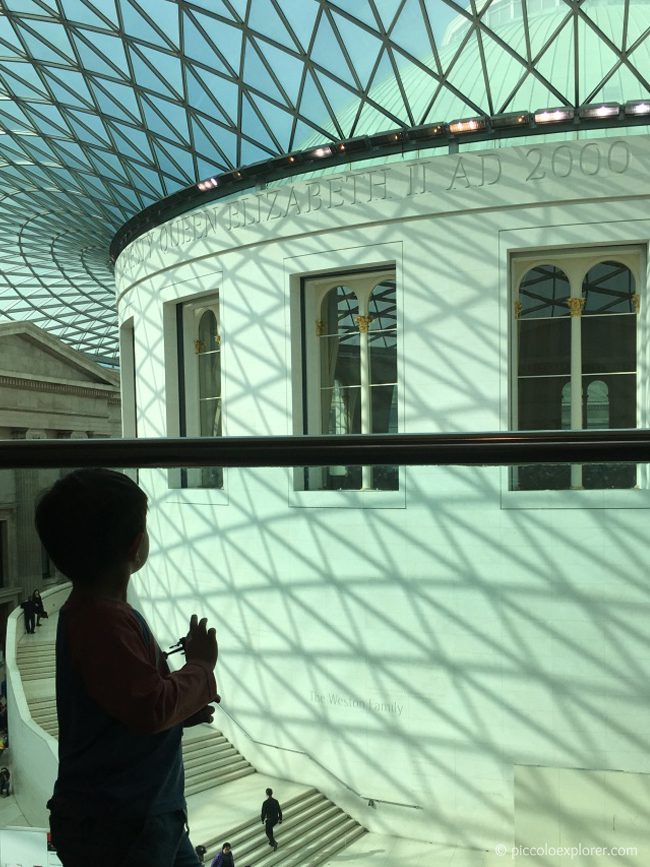 We visited in mid-July 2022 and it was easy to book a timed slot for midday the day before. The e-tickets were not checked when we entered but do still have them ready to show at the entrance either on your smartphone or a printed copy.
Plan Which Galleries to Visit
There are more than 60 galleries to explore at the British Museum. Highlights include the Egyptian sculpture gallery, the treasures of Sutton Hoo and the Parthenon Marbles. With so much to see spread out across the expansive museum, I would recommend browsing the online Museum Galleries to choose which areas to visit when planning to visit British Museum London with kids.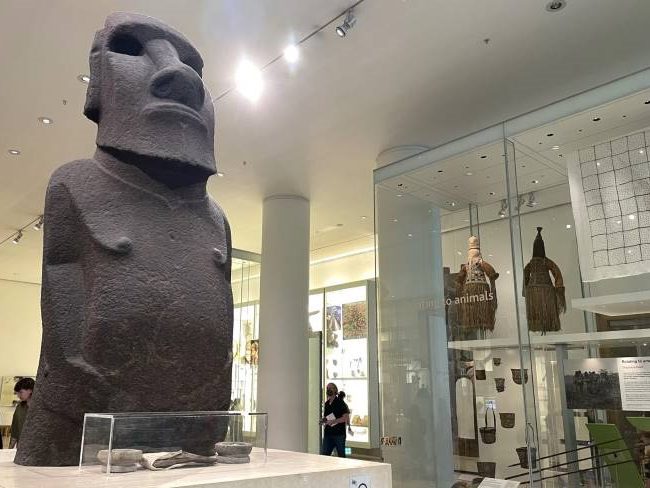 Have a look at the British Museum online map to decide which galleries to explore with your family. Highlights are listed and marked on the map.
Montague Place Entrance
Entry to the British Museum is via the main entrance on Great Russell Street (WC1B 3DG) or the rear entrance on Montague Place (WC1E 7JW). Skip the long queues at the main entrance and head straight to Montague Place. The rear entrance is usually quiet, with hardly any queue even during the busy summer holidays.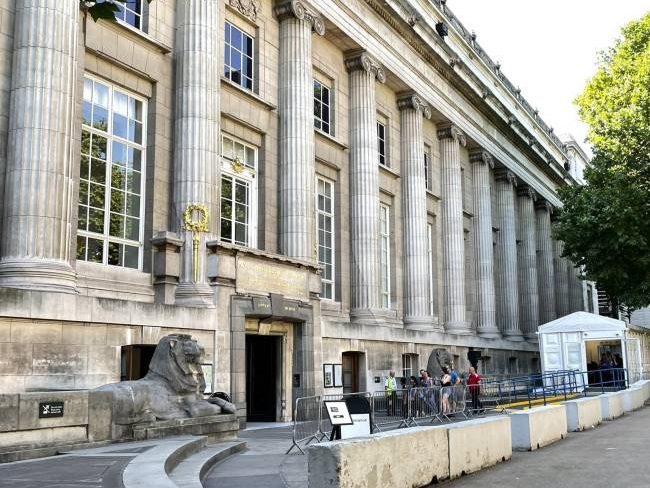 Be prepared for a quick bag search. All visitors must pass through a security check before entering the British Museum.
Museum Explorer Activity Trail
The free Museum Explorer activity trails are a great way to narrow down the focus and explore the expansive British Museum galleries with children. There are seven Museum Explorer trails to choose from and you can also download a copy ahead of your visit.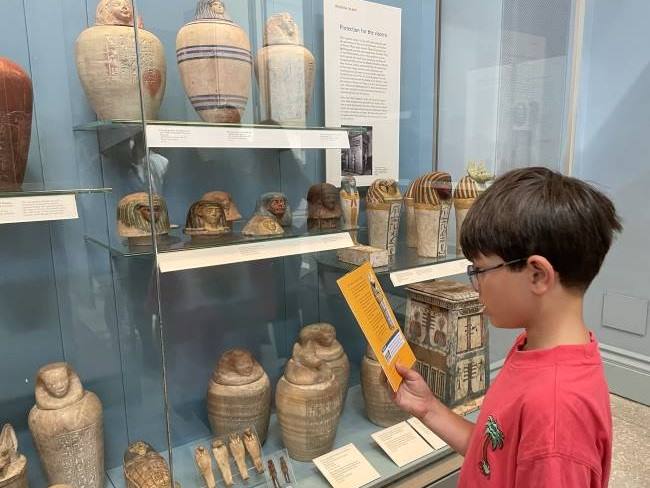 Limited paper copies are available at the Information Desk in the Great Court during term time or at the Families Desk, located across from the Information Desk. The Families Desk is open over the weekends and school holidays.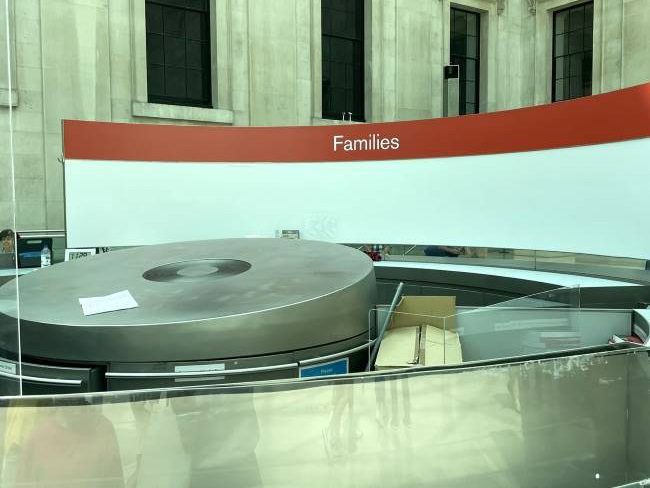 Through the years, we have followed the Colour and Shape and Ancient Egypt activity trails. The "Colour and Shape" Museum Explorer trail for ages 3 to 5 takes you through the Africa gallery to discover wonderful colours, shapes and patterns.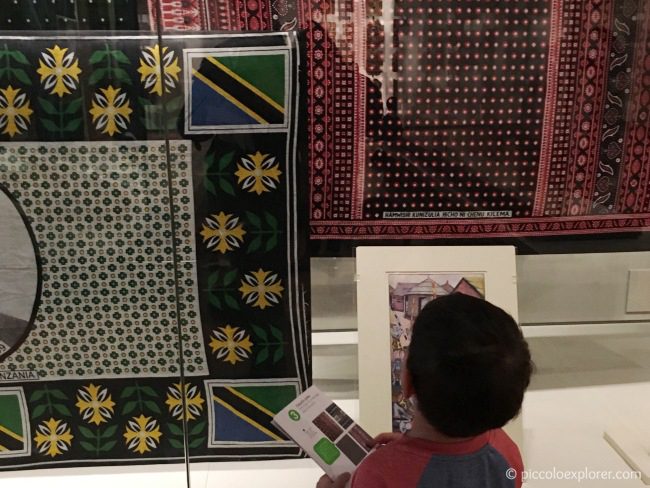 The Africa gallery is located on the lower ground floor, and you access it using the stairs in front of the Hoa Hakananai'a (Easter Island) statue in Room 24. The museum's collection includes archaeological and contemporary material from across the African continent, a wide range of sculptures, brass heads, textiles, weaponry, headdresses and more.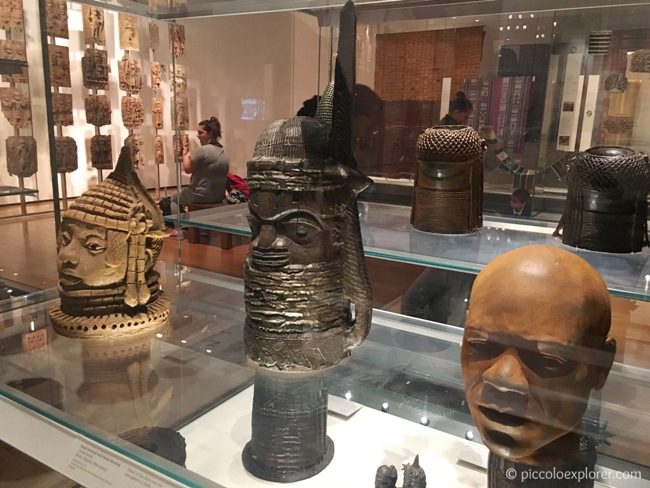 The Museum Explorer family activity trail takes children on a treasure hunt for colourful statues, detailed brass plaques and vibrant patterned textiles.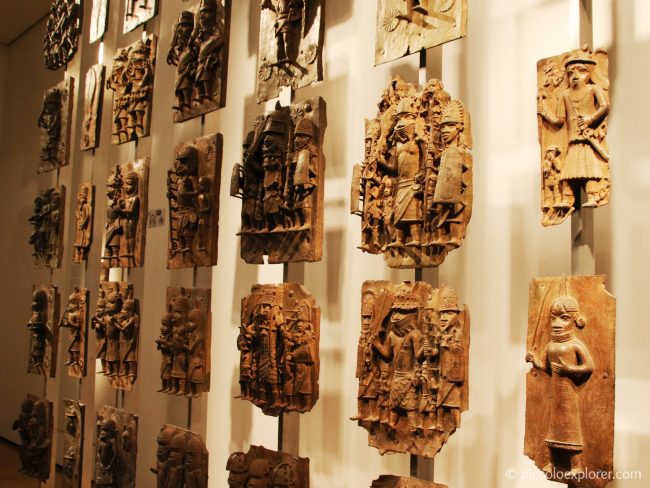 Other Museum Explorer trails available include: Time to Count for ages 3 to 5 (Asia galleries), Journey Across Japan for ages 6+, Africa around the World for ages 6+,  Ancient Greece for ages 6+, Fantastic Creatures for ages 6+ and Ancient Egypt for ages 6+.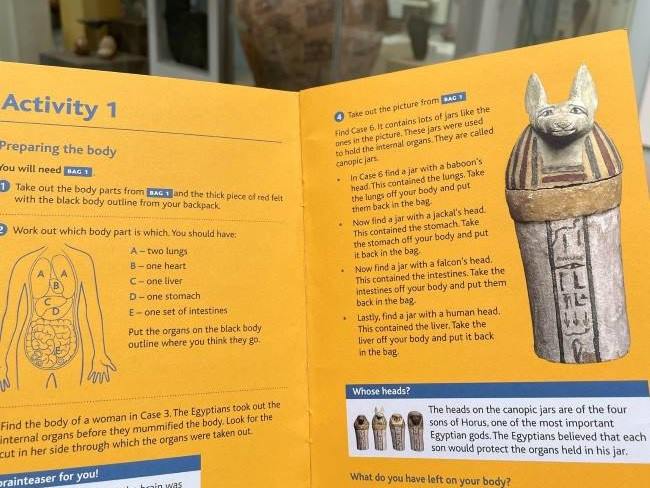 Museum Activity Backpacks
Along with the explorer trails, you can also borrow free activity backpacks filled with activities when the Families desk is open during the weekends and school holidays. You will just need to leave either a £10 deposit or an ID and can borrow a backpack for 90 minutes.
Related: Best London Museums for Kids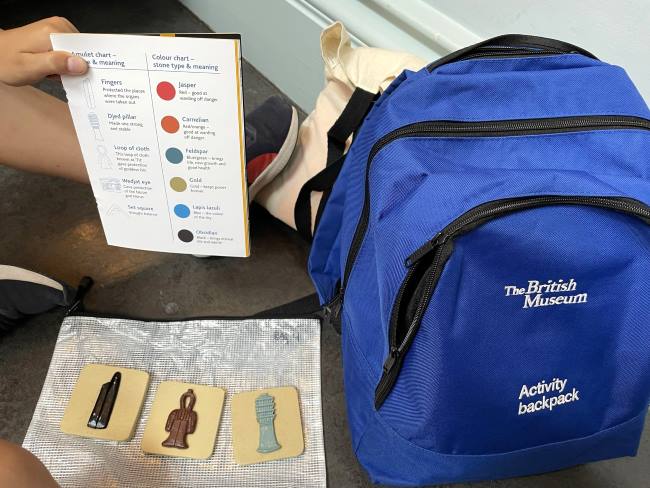 There are eight backpack themes available for collection at the British Museum Families Desk. The Little Feet: Alfred the Explorer backpack is for under 5s, packed with tools and tips to use for exploring any area of the British Museum with young children.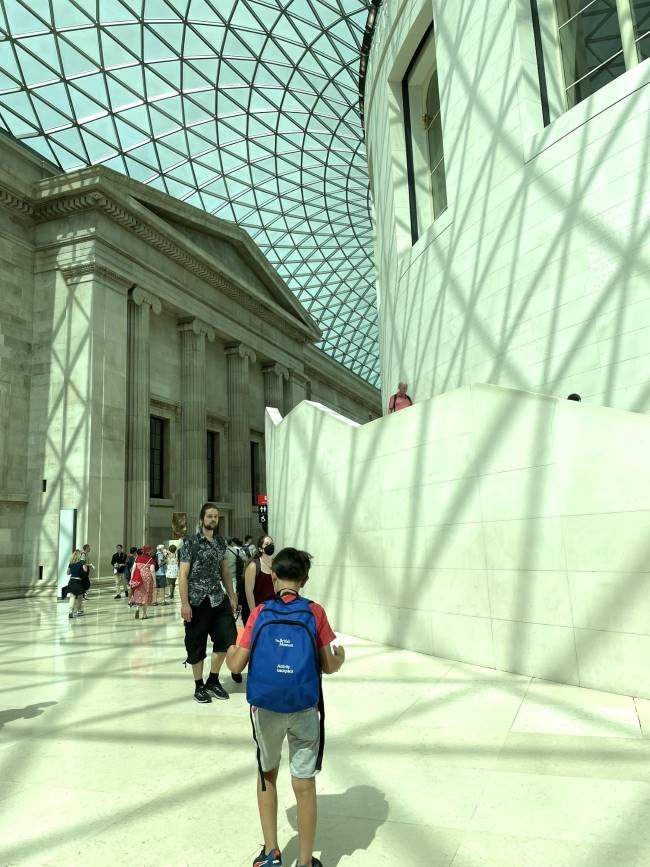 Visitors aged 6+ can explore different cultures through a series of hands-on activities themed on Ancient Greece, Egyptian mummies, African adventure, Marvellous Mexico and more. View the most up-to-date list of British Museum family activity backpacks available to borrow between 10am to 3pm, on weekends and school holidays.
Ancient Egypt Gallery
The British Museum Ancient Egypt gallery, located on the third floor, houses the largest collection of Egyptian objects outside of Egypt.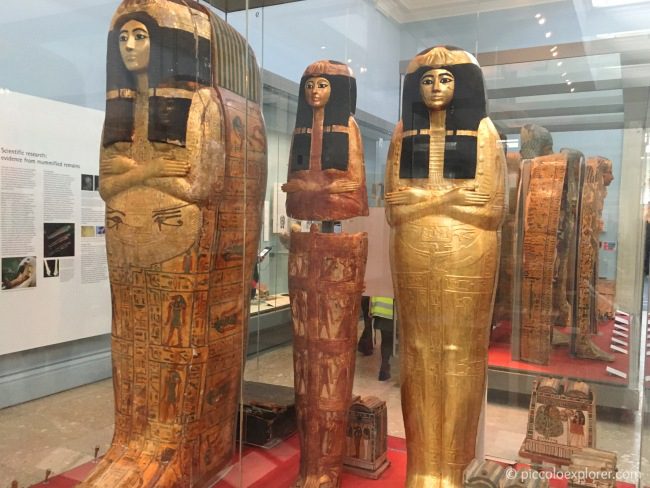 The "Egyptian death and afterlife" section of the collection is where you will find coffins, mummies and items designed to be buried with the deceased.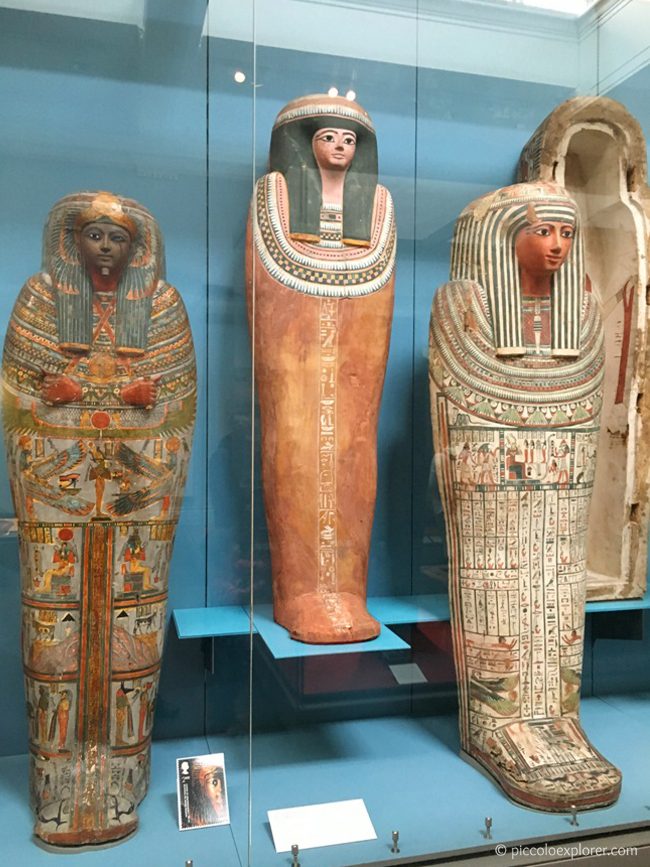 Little T was also captivated by the mummified animals, which were left at temples as presents to the gods. There was a mummified kitten, a baboon, a crocodile, falcons and bulls in the collection.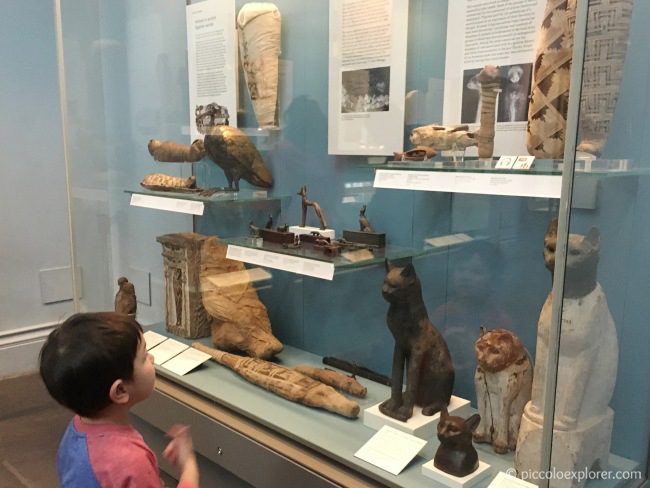 Family Events and Workshops
Have a look at the British Museum Family Visits page for upcoming free events, workshops and drop-in sessions that are organised throughout the year. During term time, the British Museum regularly run Little Feet drop-in creative sessions for Under 5s.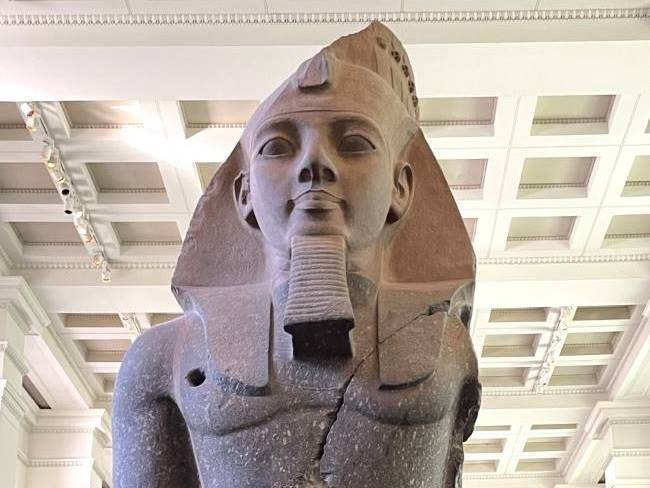 The British Museum regularly organises family events and activities during the school holidays.
Related: Summer Activities in London for Kids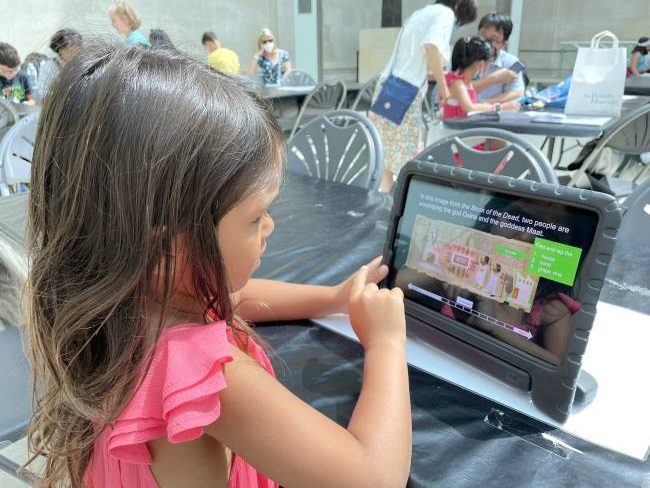 British Museum Address
Address: Great Russell Street, London WC1B 3DG
Opening Hours: 10am – 5.30pm daily; On Fridays most galleries are open until 8.30pm (except Good Friday). The museum is open daily, closed only on 24, 25 and 26 December and 1 January.
Closest Tube Stations: Tottenham Court Road [Central and Northern lines], Holborn [Central and Piccadilly lines], Russell Square [Piccadilly line]
Tickets: Free admission to museum. Some exhibitions require ticket purchase.
British Museum London with Kids – Good to Know: 
Free Museum Explorer trails are available from the Information Desk during the week. Over the weekend and school holidays, you can pick up these trails from the Families Desk, along with backpacks full of activities to use in the galleries.
Have a look at the British Museum Family Visits page for free events, workshops and drop-in sessions that are organised throughout the year – including Little Feet drop-in creative sessions for Under 5s during the week.
There is a Young Friends programme (at last check, membership is £25 a year) that includes special events such as sleepovers to explore the museum after dark.
Accessible toilets and baby changing facilities are available throughout the museum.
You can leave fold-up pushchairs in the cloakroom free of charge.
The Ford Centre for Young Visitors, located on the lower ground floor, is an area for families to picnic during weekends and during school holidays.
There are two feeding rooms, if you'd like privacy while breastfeeding. One is located adjacent to the baby changing space on the east side of the Great Court and another in the Ford Centre for Young Visitors (only open during weekends and school holidays)
There are several dining options – the Court Café that serves sandwiches, salads, baked goods, hot and cold drinks and kid's picnic boxes (sandwich, apple, small water and a treat); the Great Court Restaurant; and the family-friendly Gallery Café (ground floor, through Room 12), where kids eat free with purchase of an adult main meal.
London Museums with Kids
Read on for more family days out inspiration with our reviews on top museums in London for kids;
Wonderlab at the Science Museum London
Day Out at the National Maritime Museum
Dino Snores for Kids at the Natural History Museum
Royal Air Force Museum London with Kids
National Portrait Gallery London with Kids
London Museum of Water and Steam with Kids
Cutty Sark Activities for Kids
Visiting the Horniman Museum and Gardens with Kids
London Transport Museum with Kids
Pin for Later – Tips for Visiting British Museum London for Kids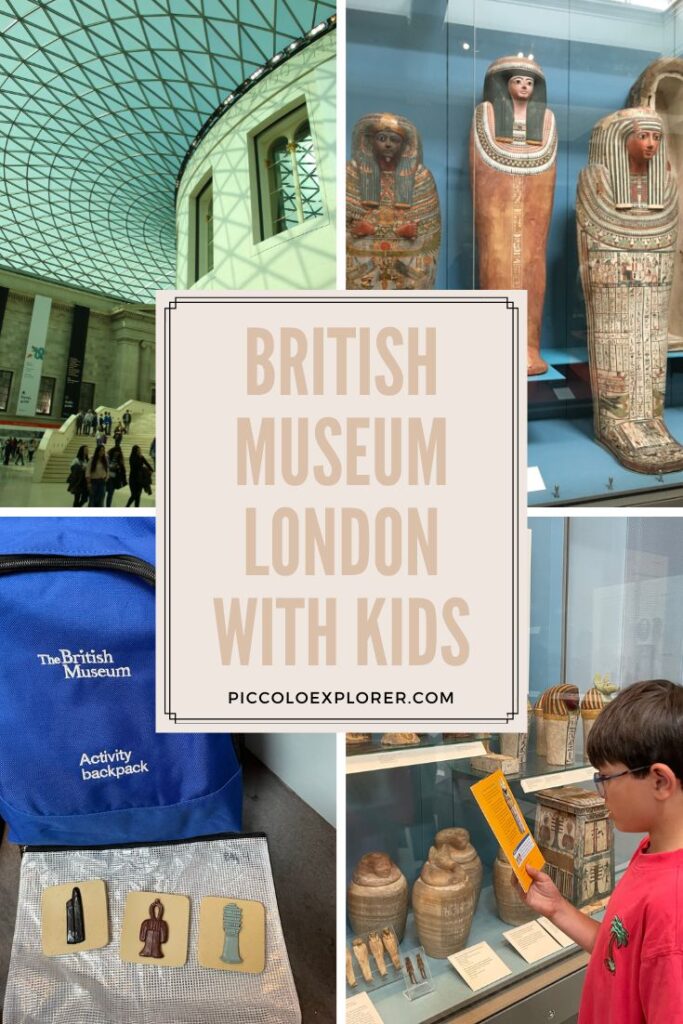 Save
Save
Save
Save
Save