Hobbledown Adventure Farm Park and Zoo in Epsom, Surrey, features an award-winning adventure playground, farm and zoo. One of the best children's farms near London, Hobbledown offers a wide range of activities and experiences for toddlers to early teens. In this post, I'll share more from our experiences and what to expect when visiting Hobbledown Adventure Farm Surrey.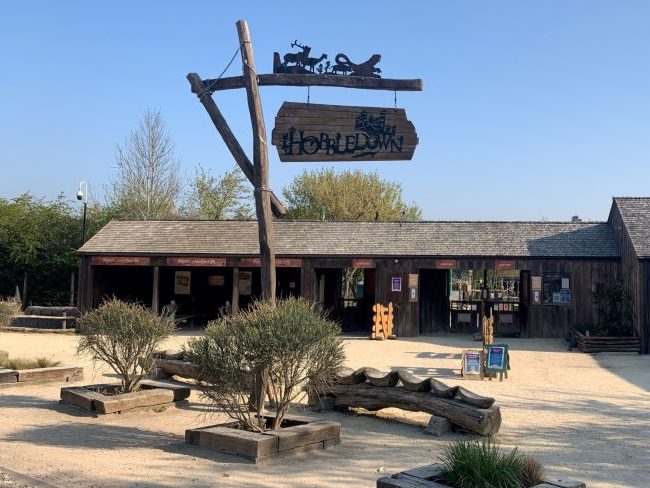 Hobbledown Farm is one of our favourite Surrey farm parks and we visit regularly. Both kids, Miss A (5) and Little T (9) enjoy the play castles, mining village, meeting the animals, outdoor water play and the new indoor Imaginarium play area.
Hobbledown Adventure Playground
There is so much to do at the play areas at Hobbledown, from elaborate play castles to interactive water play to a daring High Ropes Course. Young children will enjoy the role play experiences at the Hobbledown Mining Village, while older kids will have a blast exploring Fern's Castle and the Hobbledown Village.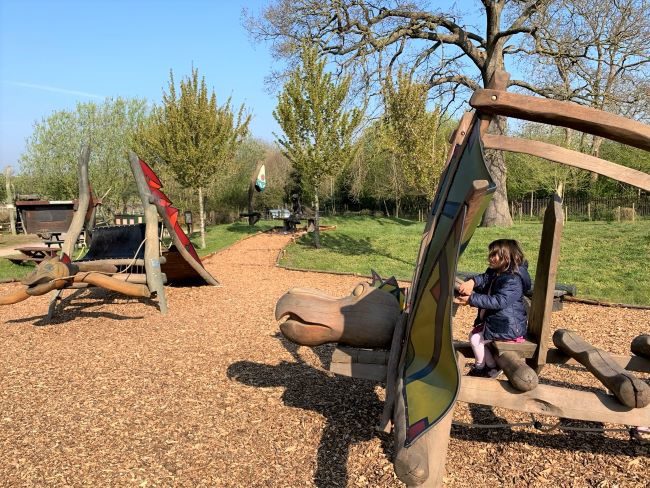 The Mining Village
This imaginative role playing area is perfect for toddlers and pre-schoolers, with so much to enjoy and explore. There's a kitchen, a tool shed, a little shop, pulleys to transport sand and a climbing tower.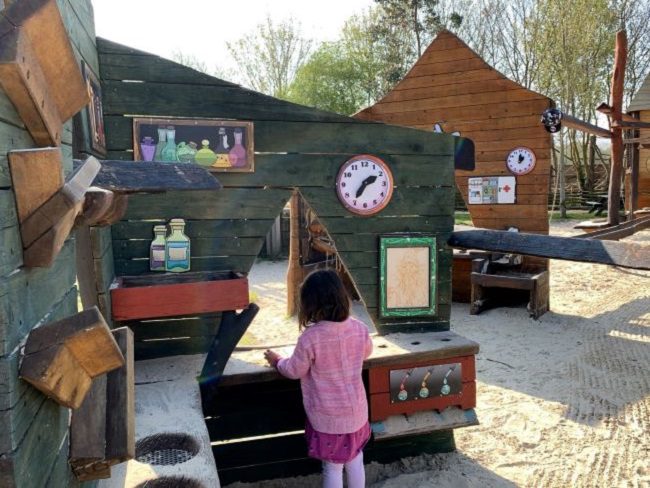 Keep an eye out for pieces of crystallite – kids will enjoy looking out for these little green stones in the sand. Collect some to bring back to the shop to exchange for a lollipop.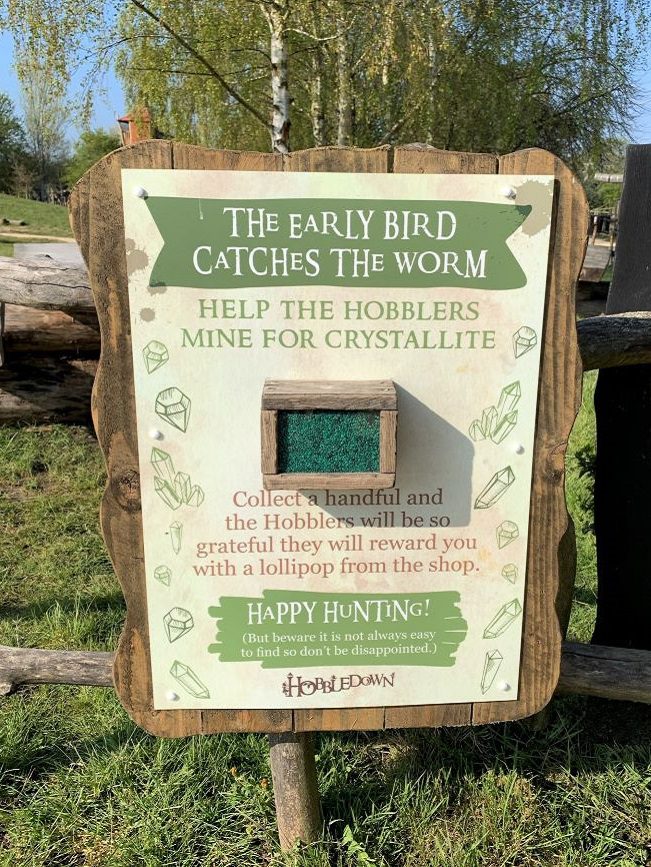 It's a fun idea and nearly 1.5 million pieces of Crystallite have been found by Hobbledown guests since they opened in 2012.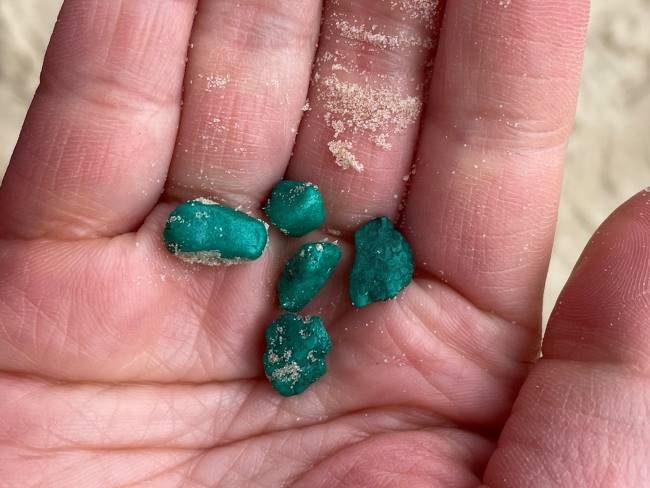 The Hobbledown Mining Village is such a fun area for young children. You'll also find a slide and a small tunnel area, plus there's water play here too during the summer months.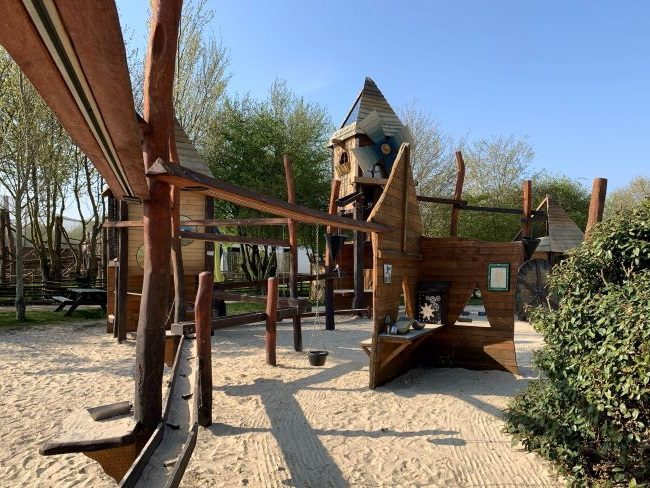 This spot with the small huts is another great area for toddlers and pre-schoolers to play.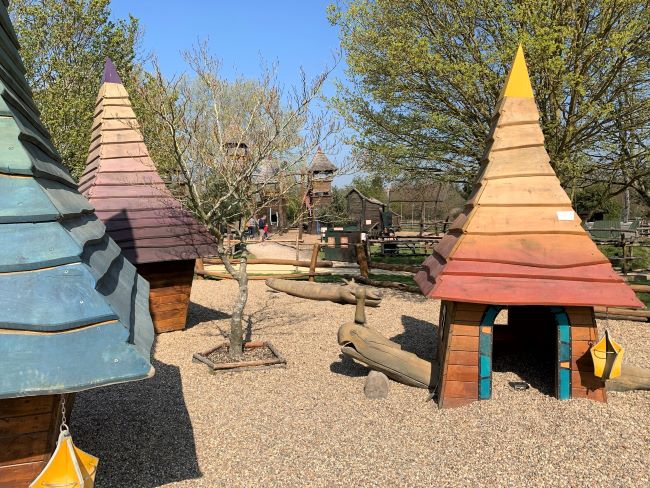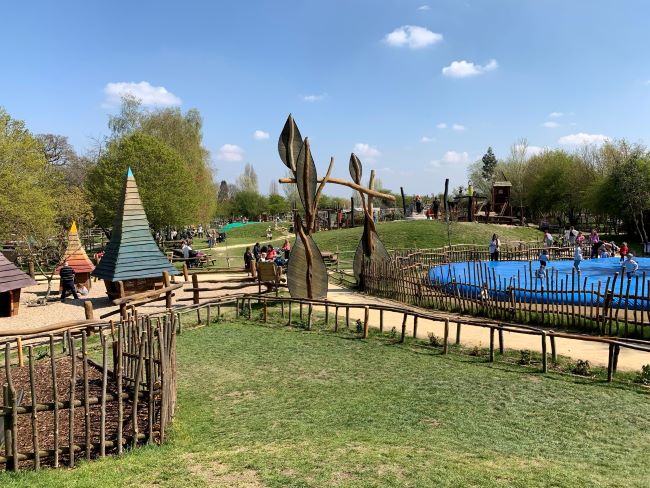 Jumping Pillows
There are three jumping pillows around the playground area, which are suitable for all ages and so much fun for the kids!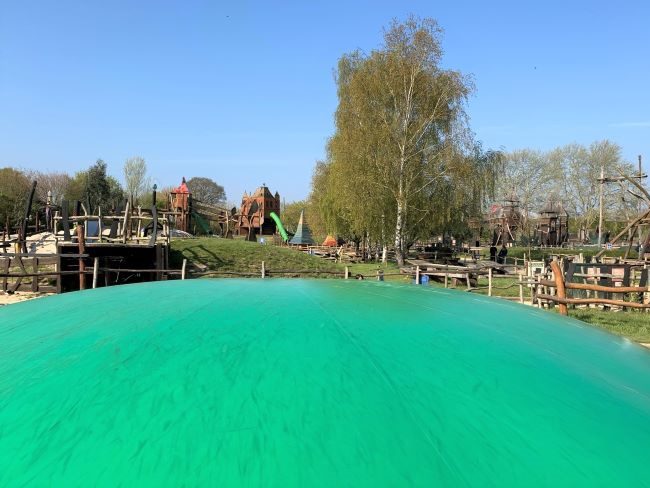 Miss A had a blast running around the Hobbledown water pillow that wobbles as you move around it.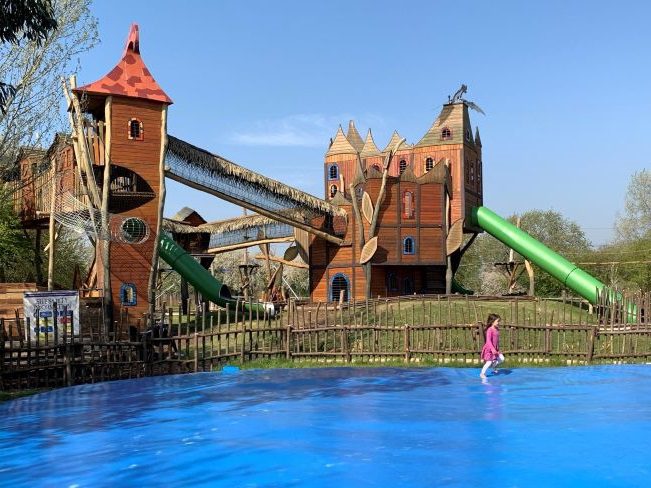 At the other side of Fern's Castle is another large purple jumping pillow.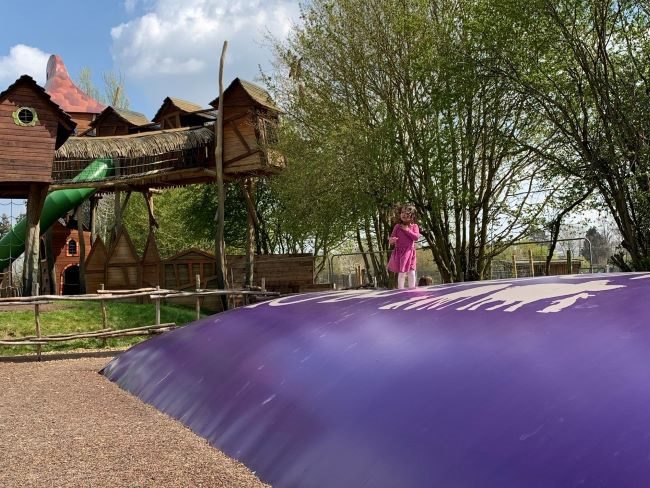 Fern's Castle
The play castles at Hobbledown Adventure Farm are outstanding with loads to explore. They are definitely a highlight for a day out at Hobbledown. Fern's Castle opened in 2020 and is the newest addition to the adventure playground, featuring tunnels, towers and slides.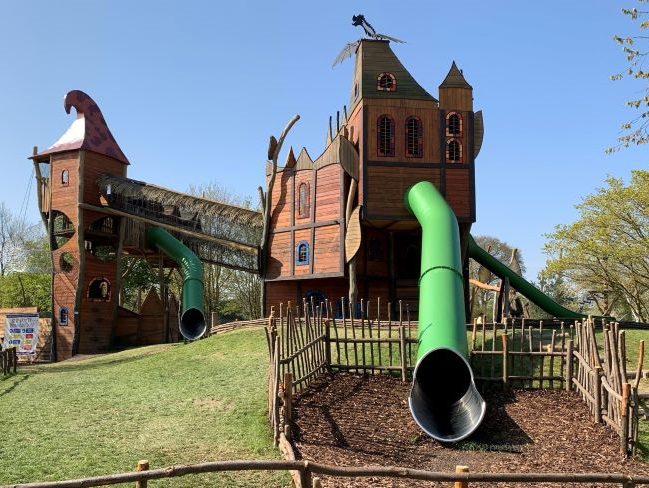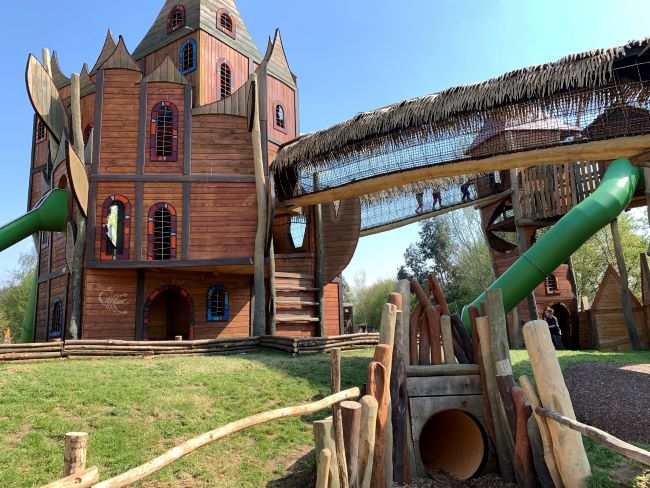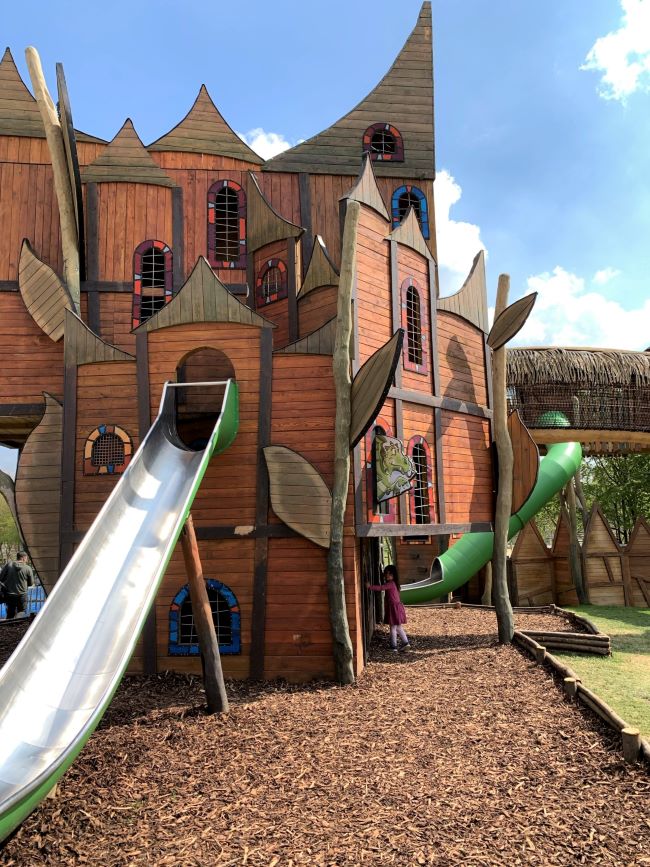 Hobbledown Village
At the Hobbledown Village, children can scale the wooden towers and explore a labyrinth of underground tunnels that has seven entrances and exits.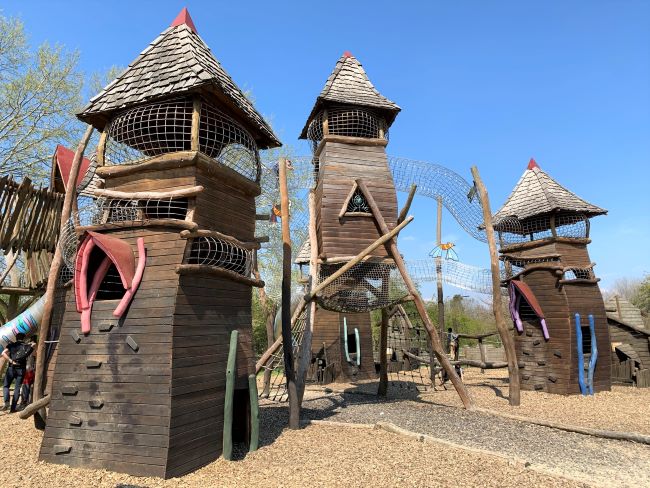 The tunnels at Hobbledown Village are only open on weekends and school holidays. They are also dark inside and not recommended for under 5's unless accompanied by an adult.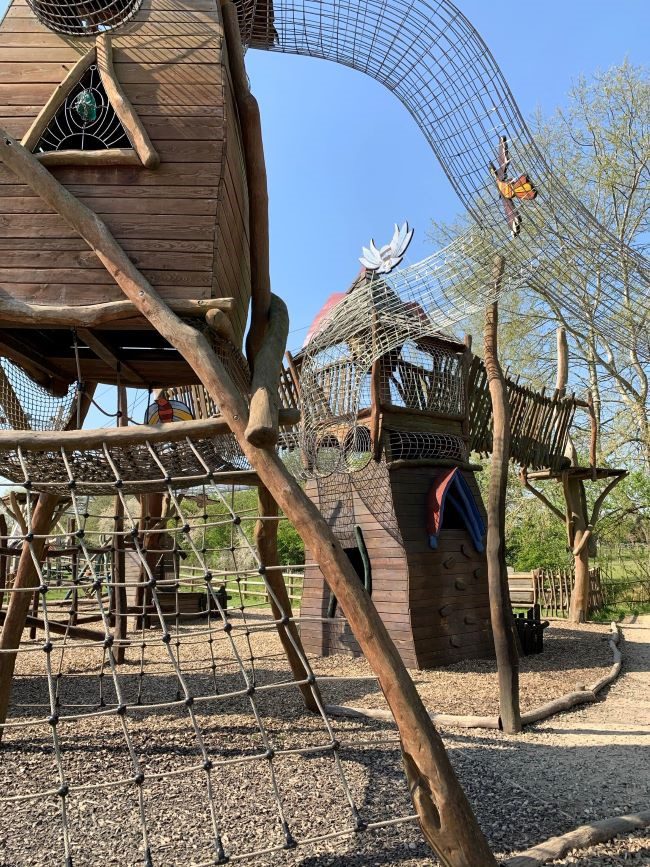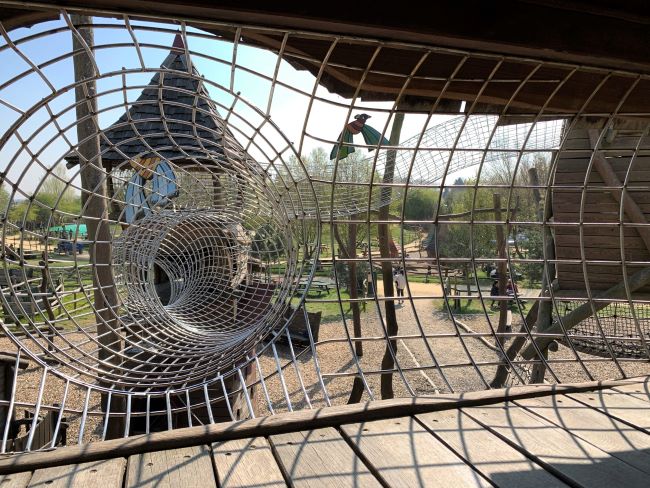 Tip: Open the Hobbledown Epsom app before you visit. This will allow you to order food and drink and book sessions for activities when required.
High Ropes Course
Other activities in the Hobbledown Adventure Farm playground to look out for are the High Ropes Course and Zorbing. Both may require booking a session during you visit so do check the Hobbledown app if you're interested.
The High Ropes Course was one of the highlights for Little T on our most recent day out at Hobbledown! The part at the end looks fun too taking the zipline back down.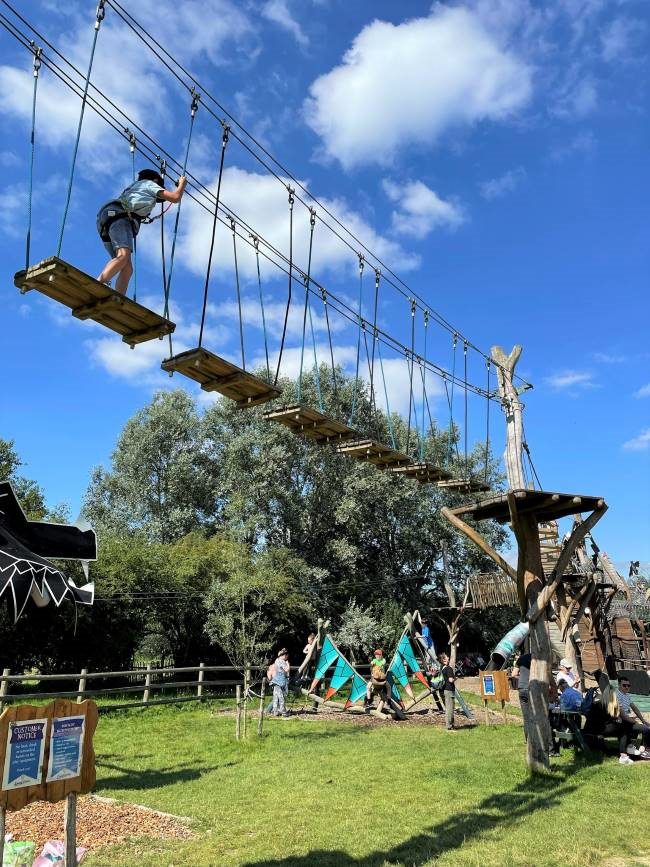 Zorbing
The kids also had a great time Zorbing! The Zorbing activity is in the open field across from the Birds of Prey centre.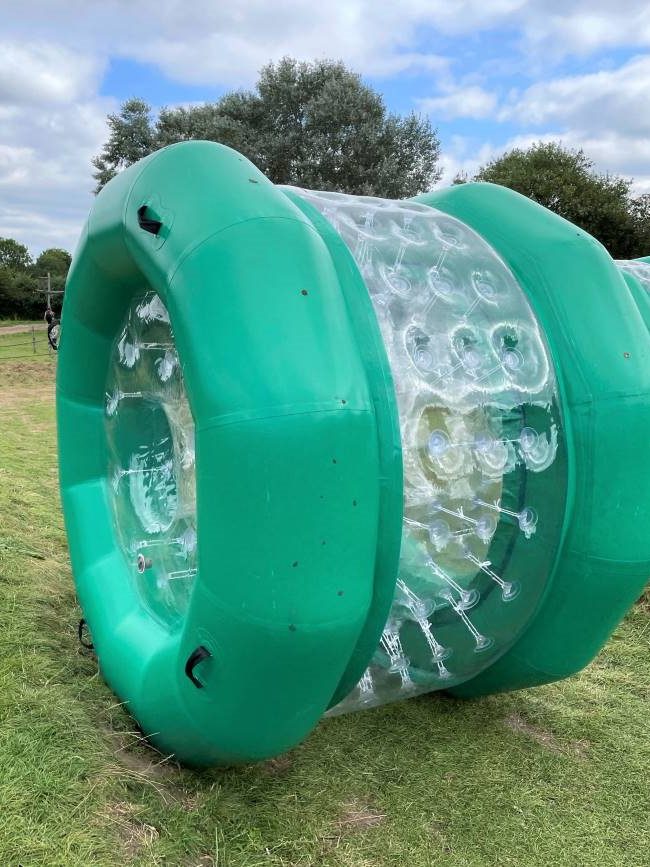 Hobbledown Animals
There are over 200 animals to see at the Hobbledown farm and zoo. There are several walk through enclosures where you can see up close some animals such as lemurs, rabbits, goats and wallabies.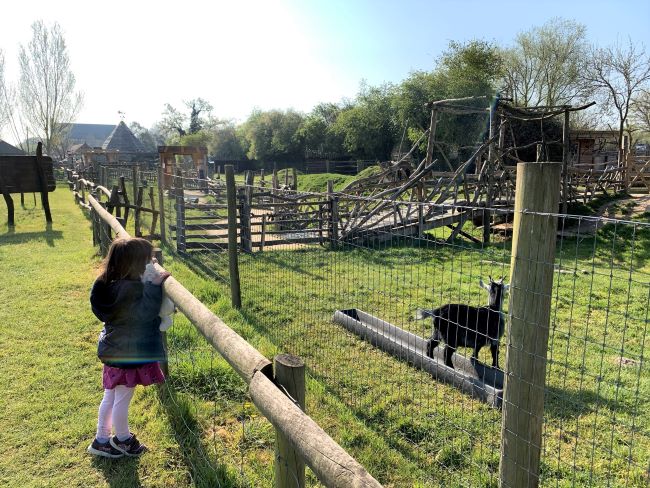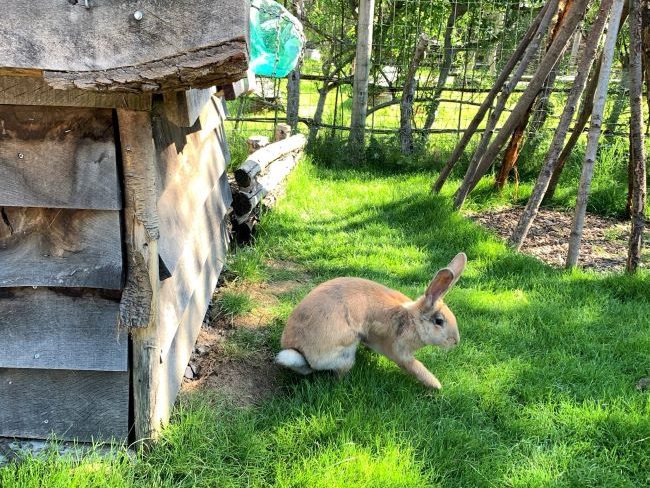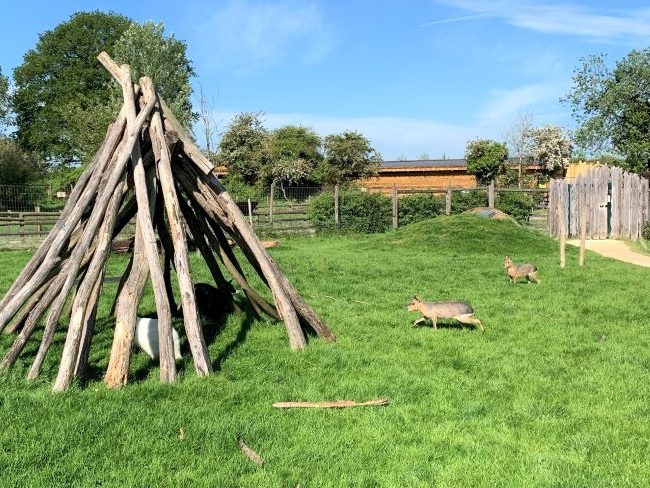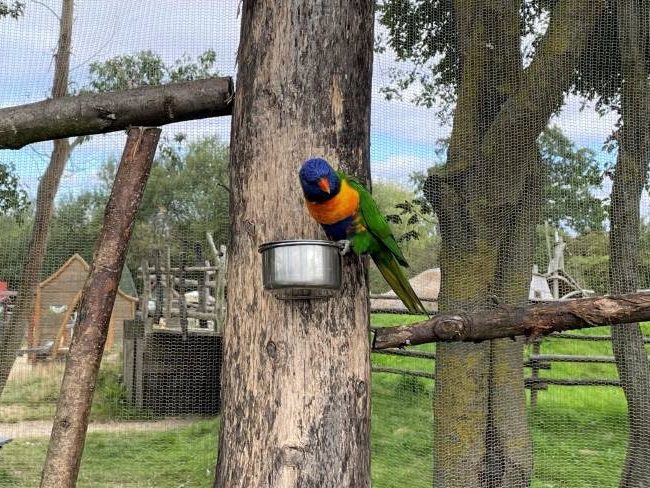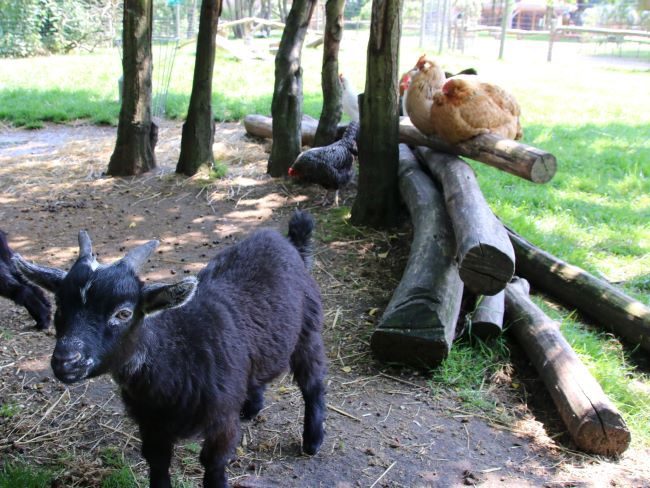 The adorable otters were relaxing in the sun when we passed by.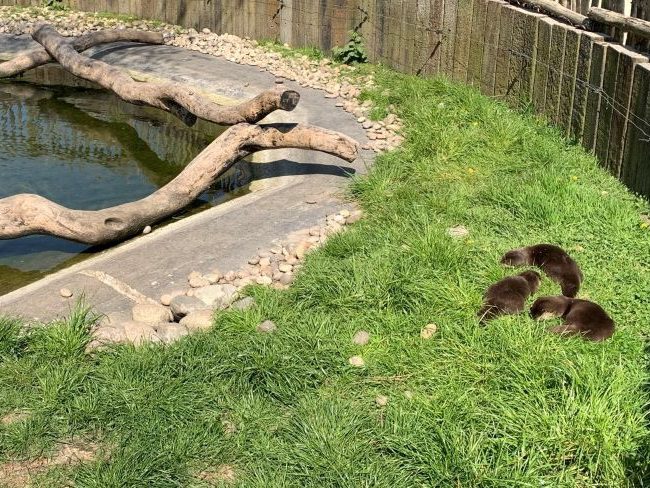 And the meerkats are always a pleasure to see!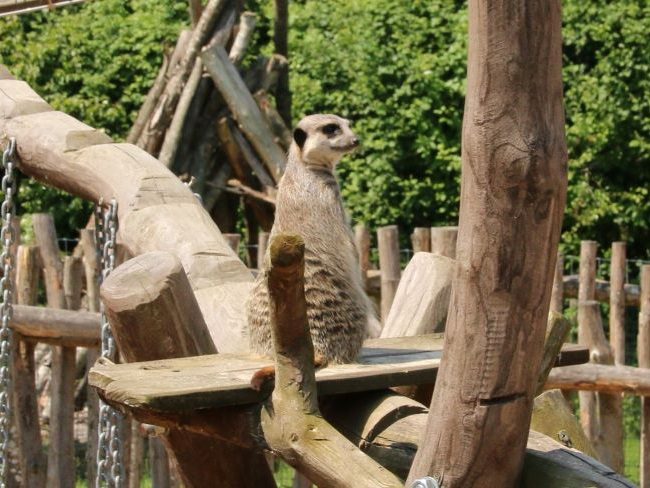 There are more animal experiences and shows coming up later in spring and summer, including opportunities to meet the ponies.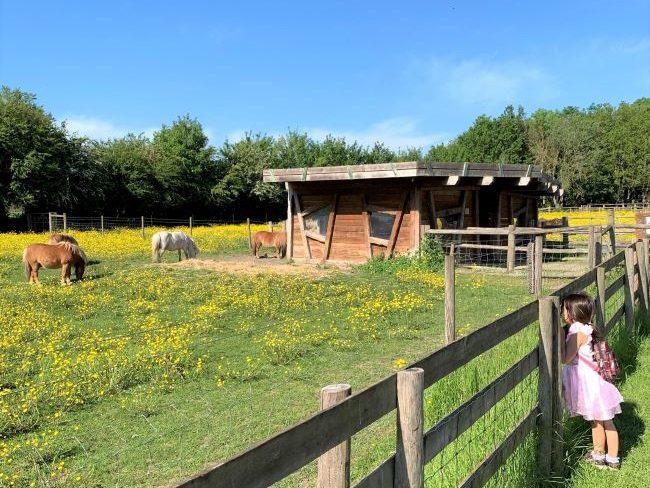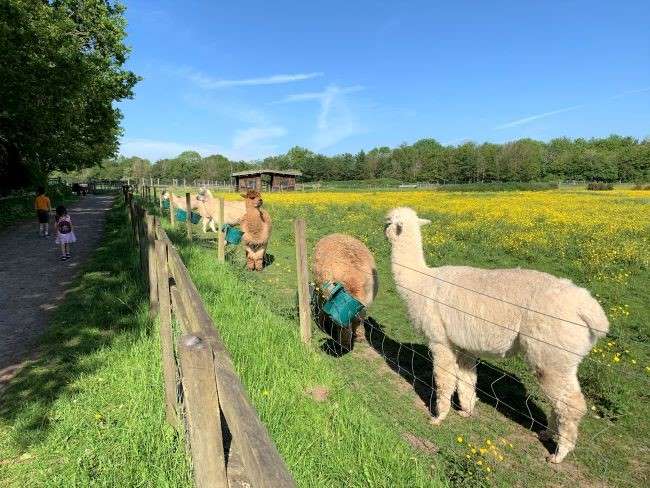 The Courtyard
Located near the entrance, the Courtyard is an area in front of the Hobnosh restaurant and the indoor play barn. You'll find plenty of picnic seating, including a covered area, and a multi-level play village that is great fun for young children.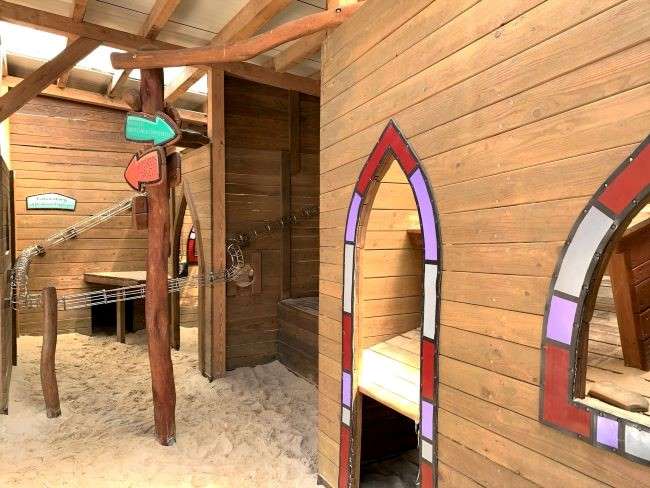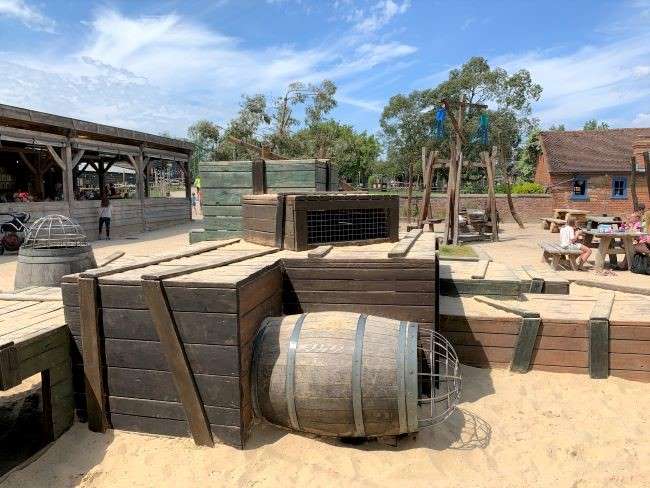 Outdoor Water Play
Over the summer Hobbledown installed this brilliant water play area in the Courtyard. The kids loved working with other children to get the water features to work, using a lever to fill up a bucket and holding ropes to keep the pipes connected.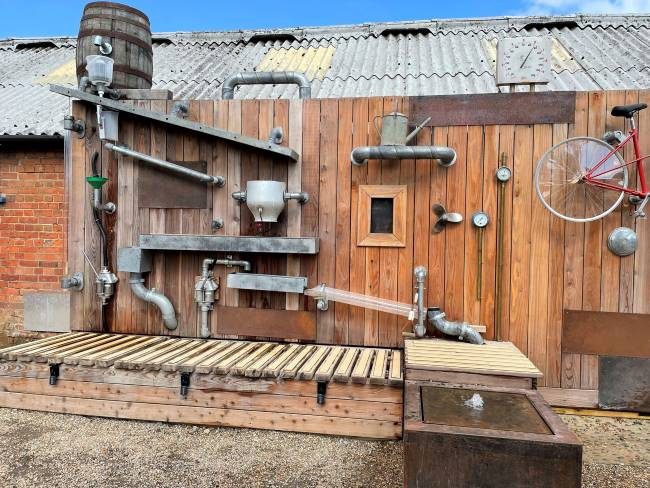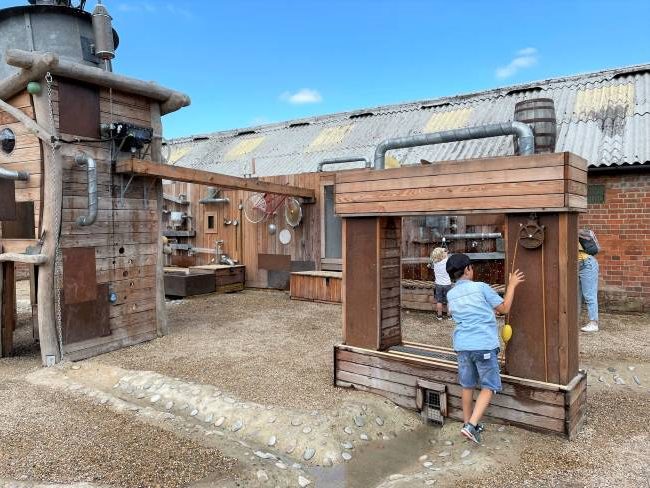 The Imaginarium
Just behind the outdoor water play in Hobbledown's Courtyard area is the new Imaginarium indoor play space for young children. The Imaginarium features a long water table, interactive sandboxes and a network of tunnels and caves to explore.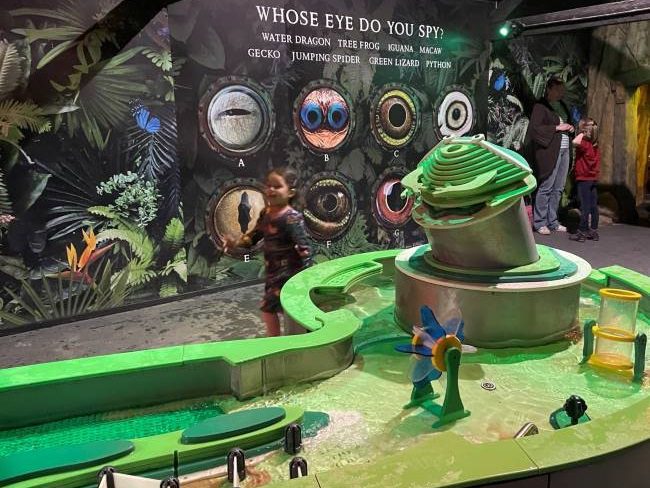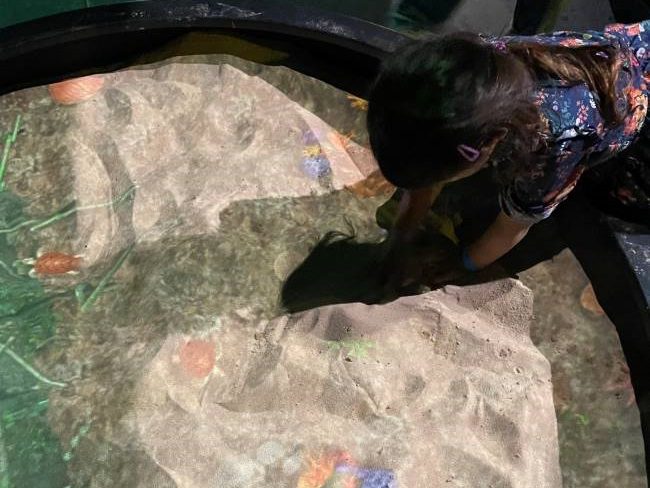 My kids loved making their way through the tunnels and net areas at Imaginarium! There are small enclosures built into the cave walls throughout for children to have an up close look an array of reptiles, insects and frogs.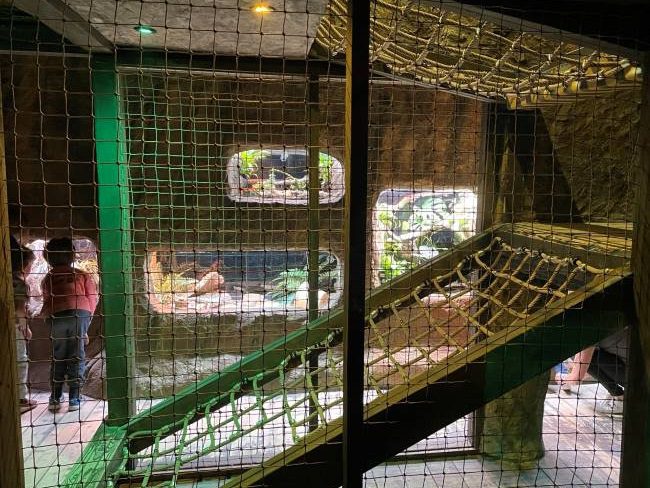 Some of the creepy-crawlies housed within the Imaginarium include Madagascar hissing cockroaches, the iridescent rainbow stag beetle and the green basilisk.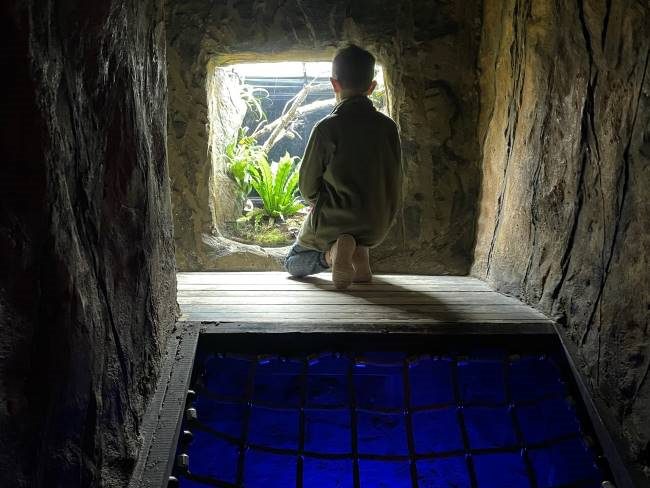 Another fun space that toddlers will enjoy at the Imaginarium is the virtual savannah which uses built-in sensors and touch screens for an interactive experience. Scan in images of animals and watch them appear and move around on the interactive floors.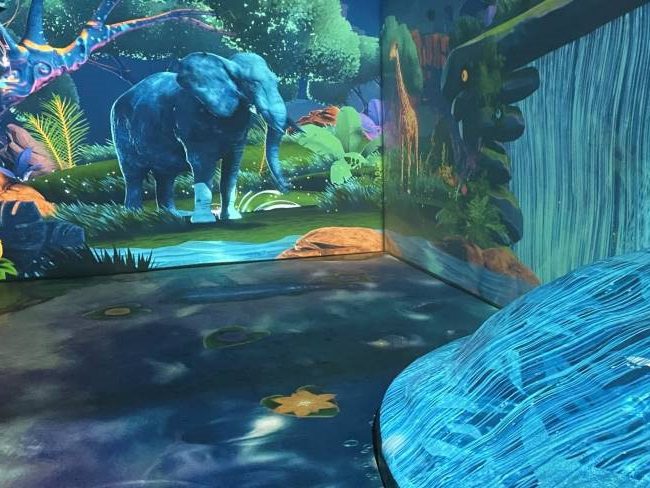 Indoor Playbarn
Hobbledown Adventure Farm also have a 14,000 sq ft indoor playbarn. Time slot tickets include a 45 minute session in the indoor play barn, while anytime tickets include a one hour session at any time during the day.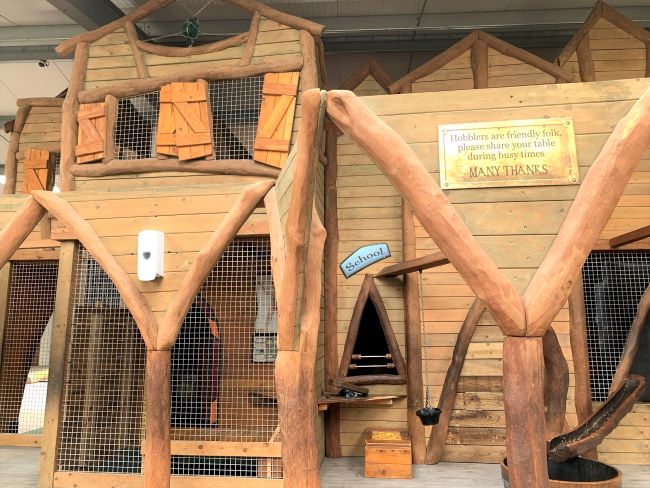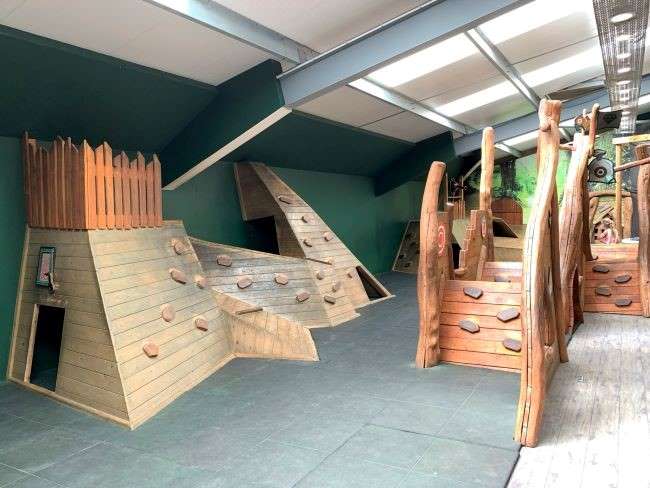 The indoor playbarn is suitable for all ages and features a multi-story themed play castle, a soft play climbing frames with slides, and vertical trampolines. There's a gated toddler area for under 3's with rockers, sensory play area with lights and mirrors and a dedicated mini play-frame.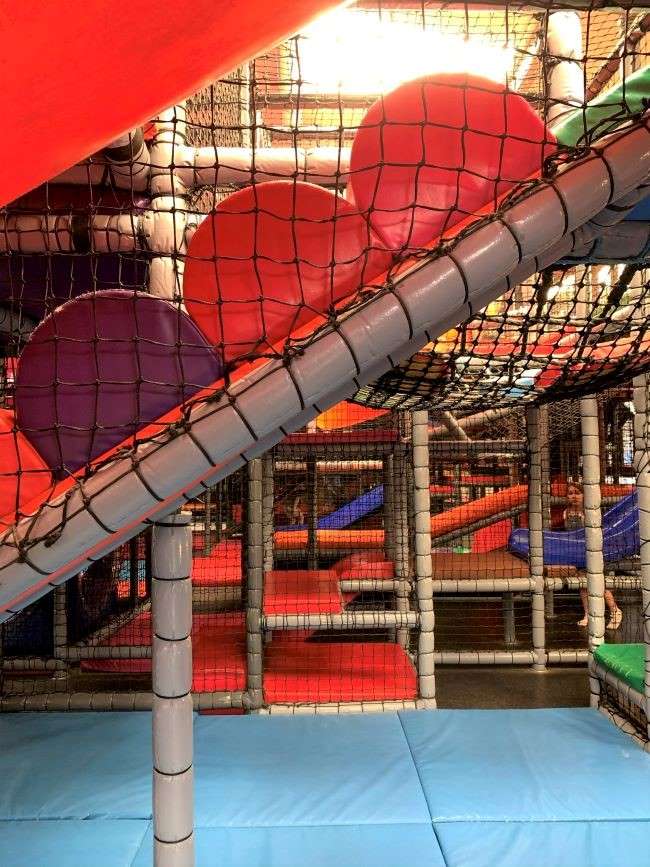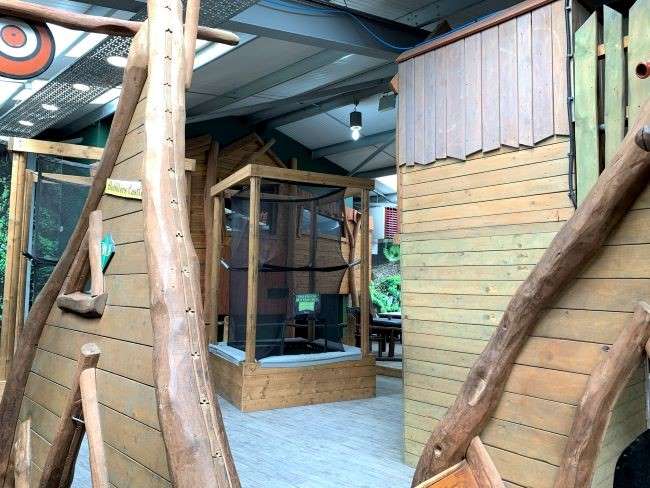 Each session at the Hobbledown Indoor Playbarn will last 45 minutes during the weekends and school holidays and 1 hour at other times.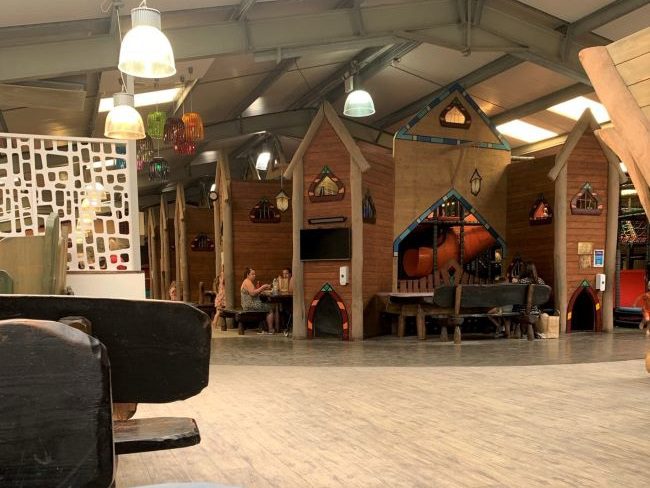 Food and Drink
There are plenty of picnic tables all around Hobbledown Adventure Farm. I usually aim to bring our own picnic lunches, but it always a welcome plus when there are plenty of options for food and drink at the place we're visiting. There is a small café, right before you head into the Courtyard and restaurant area, for hot and cold beverages and lunch box items.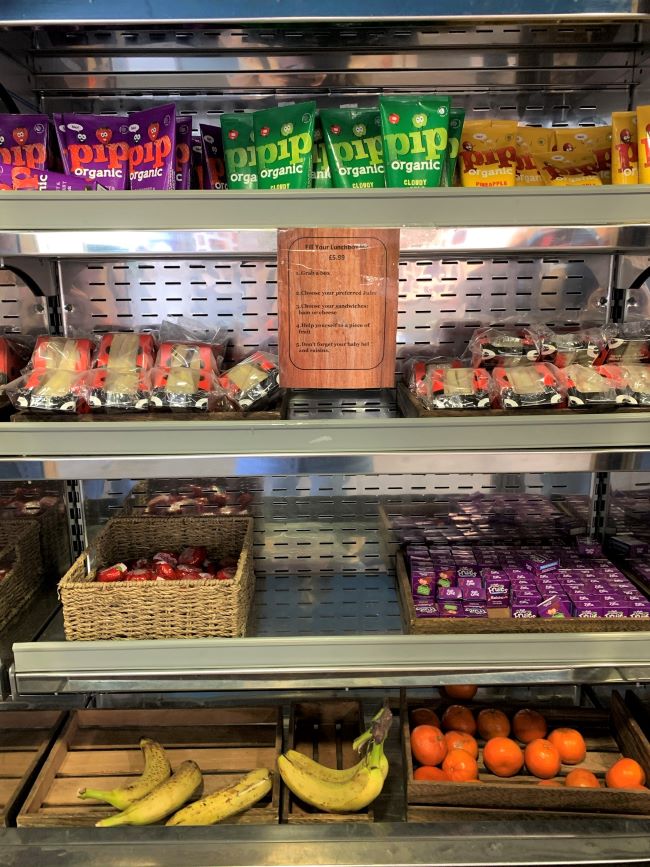 For £5.99, you can fill up a lunch box with a juice, sandwich (ham or cheese), a piece of fruit and a snack (raisins or Babybel). Masks are required for ages 11+ inside the café. You can also just buy individual items.
Hobnosh Restaurant
The Hobnosh restaurant serves hot and cold food. You can order your food and drinks online through the Hobbledown app and request to have your order delivered to your table or be notified when it's ready for collection. View the Hobbledown food and drink menus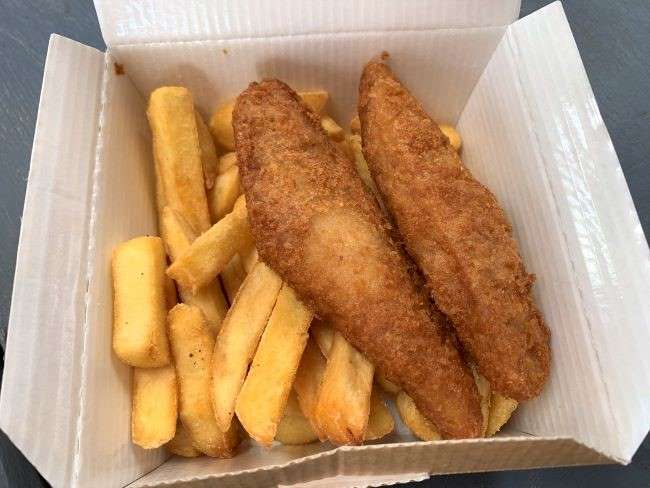 The hot food items are mainly loaded fries with a variety of toppings to choose from including smashed avocado, chorizo, chicken nuggets and fish goujons. Other menu items include avocado on toast, side salads and a bacon brioche bun.  In addition to loaded fries or lunch box options, kids can choose from mac 'n cheese or tomato pasta.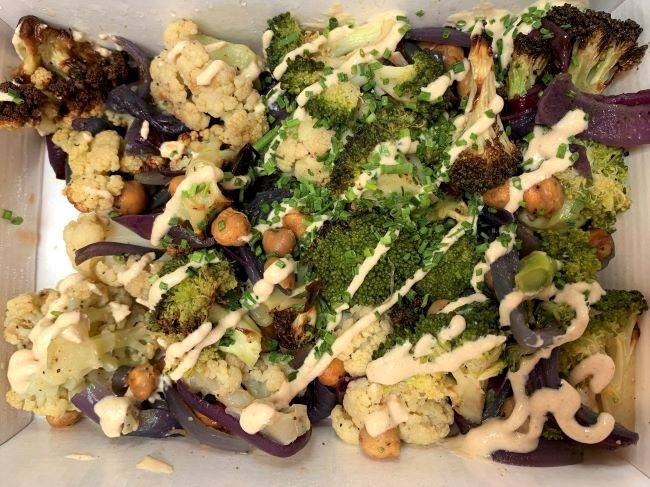 Pizza Cottage
Another option for food is the Pizza Cottage, which is open on peak days, from 11:30am – 5pm (subject to availability). Check the Hobbledown web app for up to date opening times and to place your Pizza Cottage order.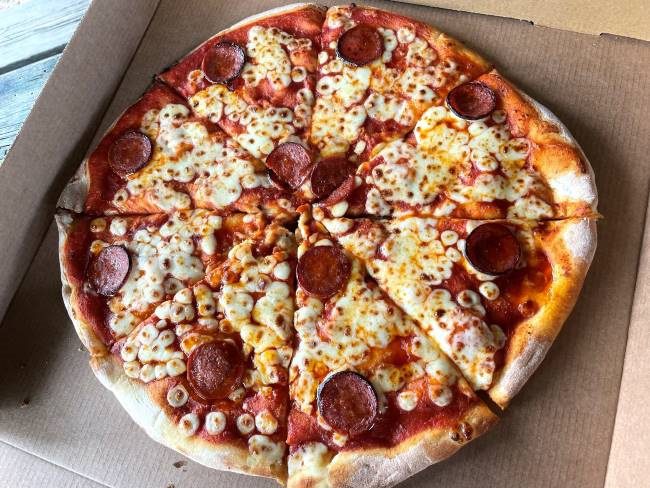 Hobbledown App
As mentioned previously in this post, the Hobbledown web app can be used for ordering food and drink, checking the event timetable and booking activitiy sessions, such as the High Ropes Course and Zorbing, when required. There is no download required – just scan the QR code on the webpage.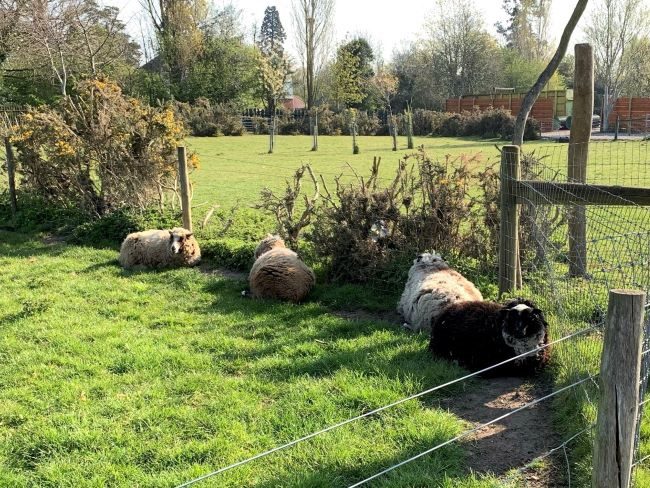 Hobbledown Tickets
You can book your Hobbledown tickets online at https://www.hobbledown.com/epsom/tickets/day-tickets. There are four types of Hobbledown day tickets – timeslot tickets, anytime tickets, afternoon savers and toddler day tickets.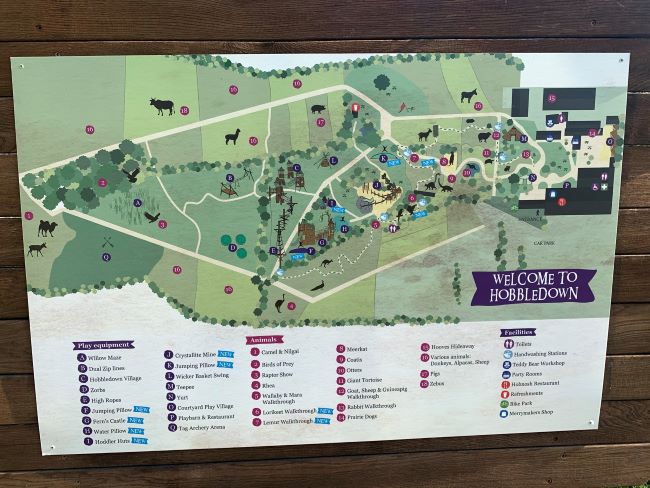 Timeslot ticket prices start from £15, with a choice of 9 timeslots for when you would like to arrive, valid for 4 hours. I would recommend booking a morning time slot to enjoy the play areas when it's a lot less busy.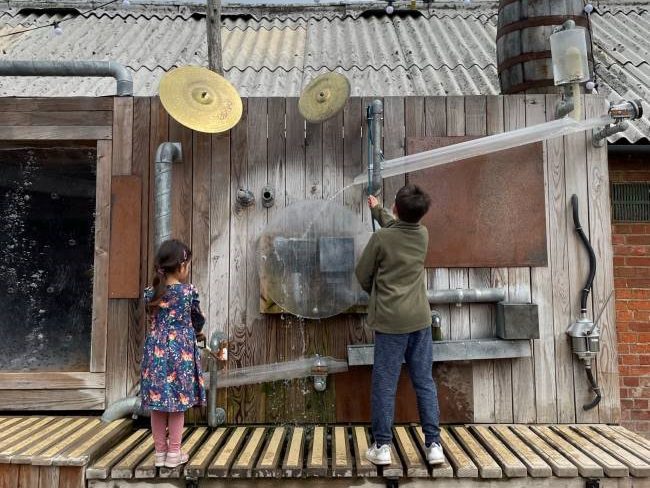 Anytime ticket prices start from £17 and are valid all day – arrive when you want and leave when you want.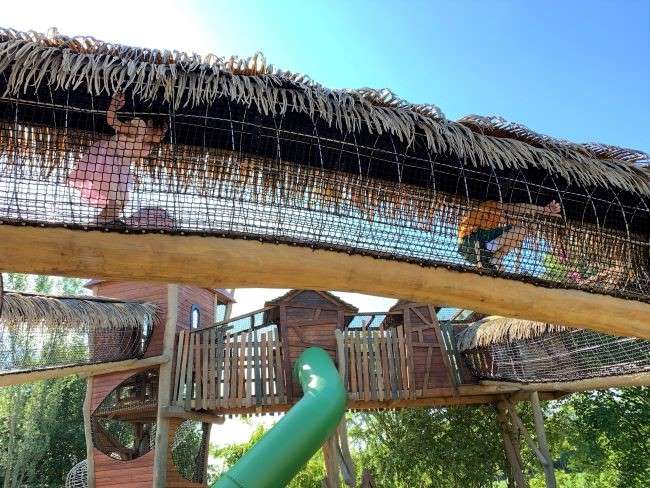 Afternoon Saver tickets are available all week from 3:30pm onwards. Monday to Thursday (during termtime) afternoon saver tickets cost £9 if booked in advance or £11 on the day. Friday (during termtime) afternoon saver tickets cost £11 if booked in advance or £13 on the day. If you are visiting over the weekend or school holidays, the afternoon saver tickets cost £13 if booked in advance or £15 on the day.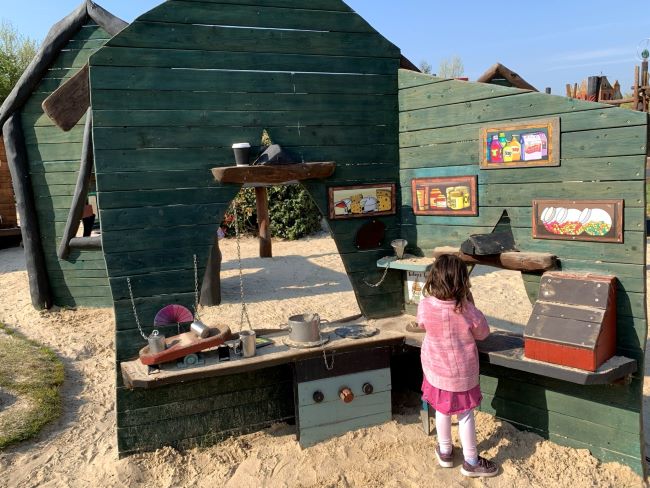 Hobbledown Epsom membership options are available and allow for unlimited visits throughout the year (except for a small number of black out dates). The annual membership costs £95 for adults and £125 for children ages 2+ and can be set up in monthly payments. Once you've set up an annual membership, you can pre-book your entry tickets and manage your bookings through an online account.
Hobbledown Adventure Farm Surrey
Hobbledown offers a unique experience compared to other nearby children's farms with its imaginative play castles and role play villages and the story and characters behind them all. There are a wide variety of animals throughout the 50 acres on the farm park including several that you see up close in walk-through enclosures, such as rabbits, goats, lemurs and wallabies.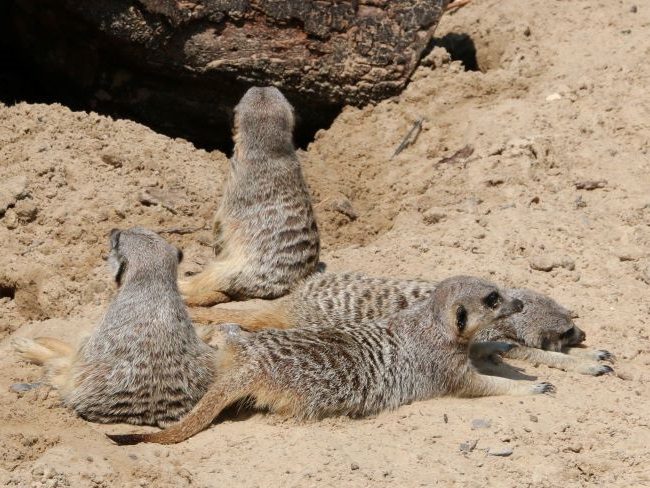 Highlights for the kids are the outdoor water play, the new Imaginarium, the play castles and the High Ropes Course. There are plenty of things to do, animals to see and places to explore for children. I can highly recommend visiting Hobbledown Adventure Farm Park Surrey for a fun day out for the whole family.
Address: Hobbledown Children's Farm, Horton Lane, Epsom, Surrey KT19 8PT
Tickets: Book your tickets and choose a timeslot in advance through the Hobbledown website. Ticket prices start from £15 per person.
This post was updated on 29 July 2023 with updated details about events at Hobbledown Farm Park Surrey.
PIN FOR LATER – Hobbledown Adventure Farm Surrey