If you're looking for a spot within an hour's drive of London for some spectacular leaf peeping this autumn, National Trust Winkworth Arborteum in Surrey is the perfect place with acres of woodland to explore and fantastic vantage points to take in the vibrant foliage. In this post, I'll share photos of the Winkworth Arboretum autumn colours and our days out enjoying the natural playground and crisp autumn walks.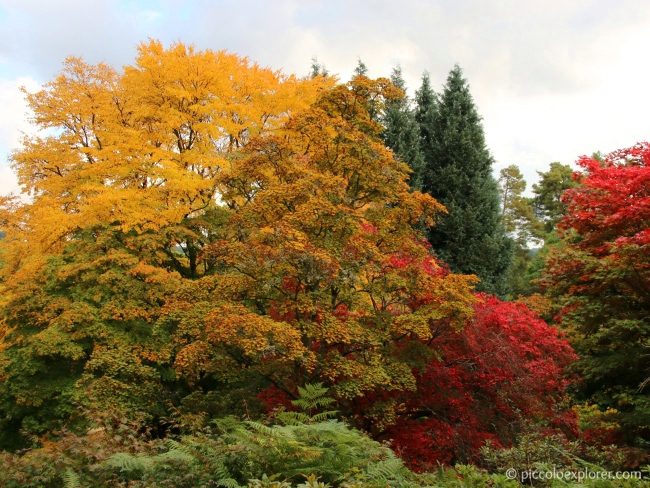 Winkworth Arboretum Autumn Colours
Located in Godalming, Winkworth Arboretum is a wooded valley with an award-winning collection of over 1,000 different shrubs and trees planted by Dr. Wilfrid Fox, who had a vision and passion to "paint a picture" with the scenic landscape.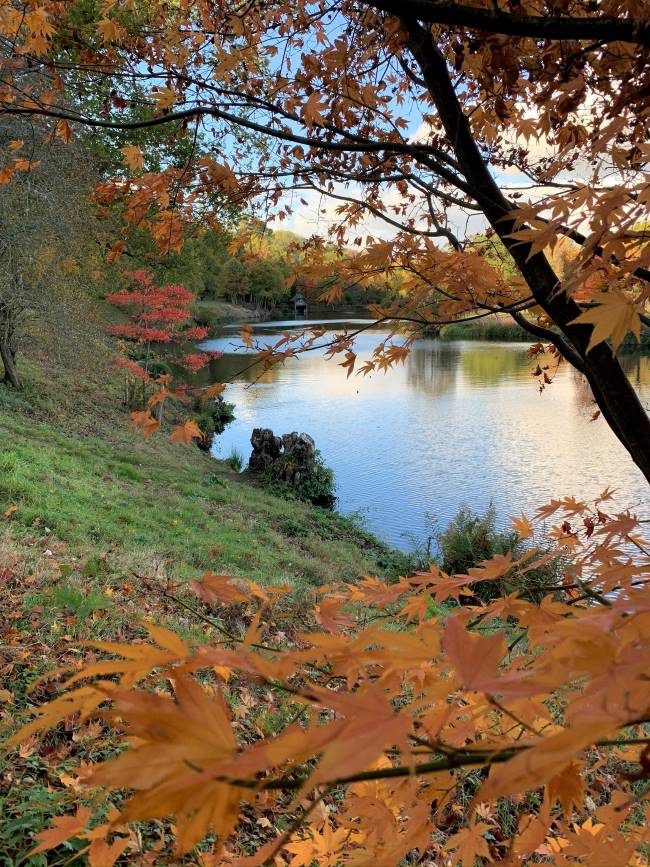 The result is the perfect place for a crisp autumn walk with around 100 acres of woodland bursting with vibrant reds, golds and orange foliage, two lakes with a boathouse and several viewpoints overlooking the rolling Surrey Hills, an Area of Outstanding Natural Beauty.
View this post on Instagram
A dermatologist at two London hospitals, Dr. Wilfred Fox lived near this woodland area and, passionate about trees as a hobby, he founded the Roads Beautifying Association in 1928 to promote ornamental tree planting. In 1937, the land on which Winkworth Arboretum now stands – at the time a neglected corner of farmland – went up for sale and Dr. Fox snapped it up and founded the arboretum.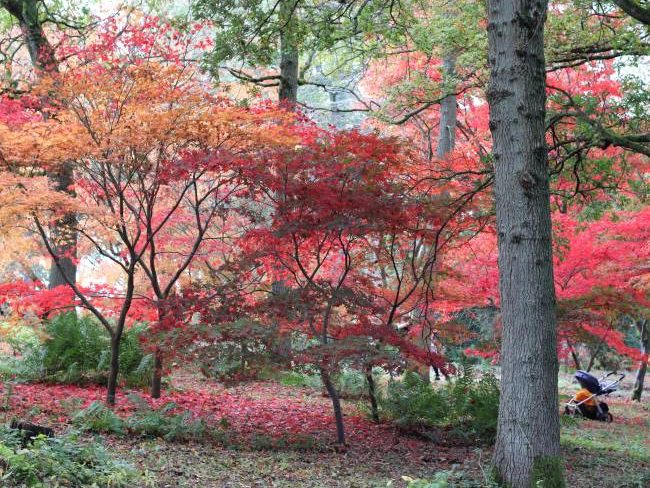 Dr. Fox carefully selected over 1,000 species of shrubs and trees, chosen for their colour, rarity and beauty, and his collection would go on to win awards and prizes from the Royal Horticultural Society, including the Victoria Medal Honour, the RHS's highest honor.
In 1952, Dr. Fox donated 62 acres of the arboretum to the National Trust and chaired the committee until his death in 1962. The National Trust has since procured the remaining 35 acres.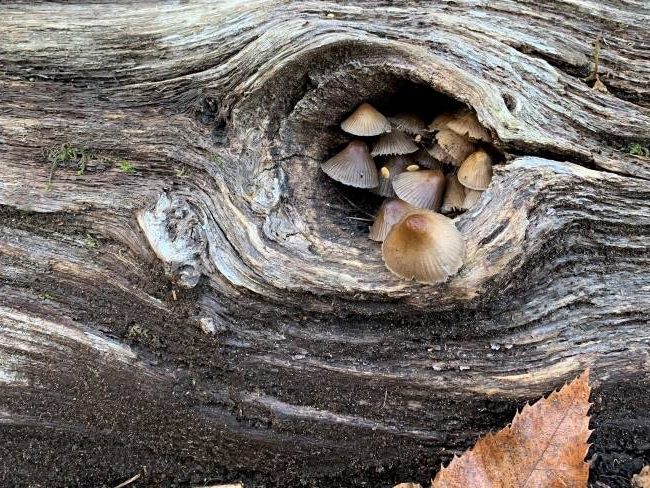 Winkworth Arboretum Booking
Winkworth Arboretum is well known for its gorgeous yellow, orange and red foliage in autumn and stunning bluebell carpets in the spring. For 2021, National Trust is recommending booking in advance for the autumn season.
During the busy autumn season, from 27 September – 21 November, booking is recommended for all entry to the Arboretum, both for members and non members, especially at weekends and during half-term. This is to manage visitor numbers and make everyone's visit more enjoyable.
Tickets for 27 September- 24 October are now live. Tickets for 25 October onwards will go on sale at the end of September. Book your visit on the National Trust Winkworth Arboretum webpage
Winkworth Arboretum Natural Play Area
One of the highlights of visiting a National Trust site is that many offer family-friendly activities and excellent natural play areas. Not far from the entrance, tucked away in the wooded area, there is a great playground at Winkworth Arboretum. The Winkworth Tree Adventure is a fun treehouse for children of all ages, which is made up of two multi layered platforms that are connected with a rope bridge and rope tunnel.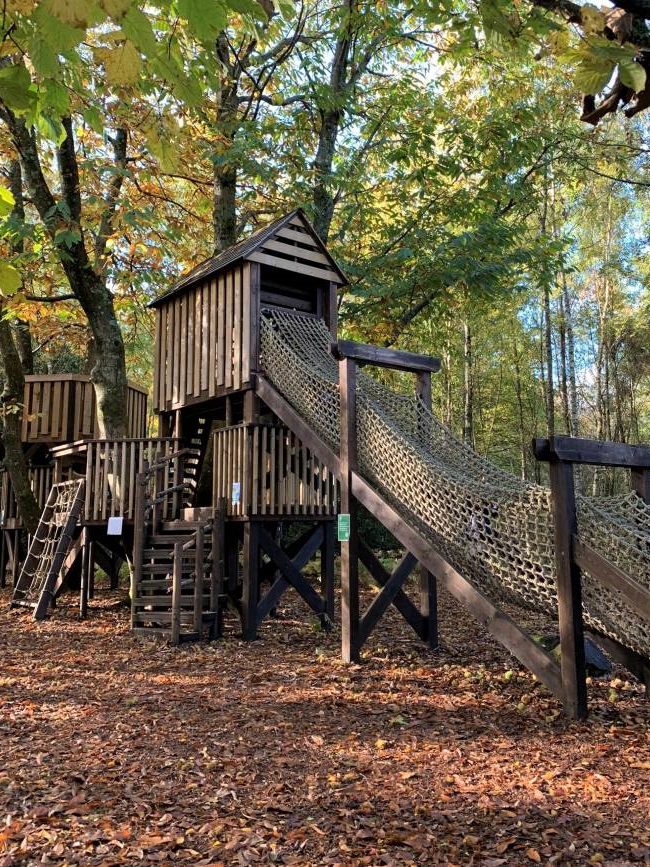 The brilliant natural play area at Winkworth Arboretum was designed by a local scout group. The structures were built using sustainable British oak and robinia, with features that include a chunky branch den, a natural climbing frame, wobbly bridge, balance beam, rope bridge and more to form a varied and adventurous trail.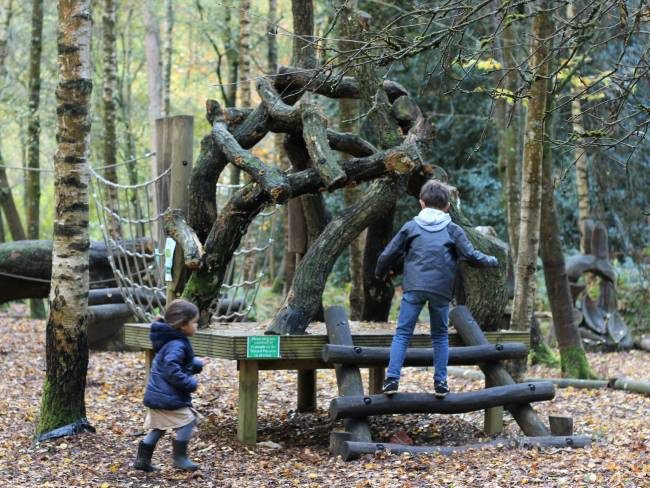 Winkworth Arboretum Map
There are three suggested routes of varying levels of difficulty for walks around Winkworth Arboretum.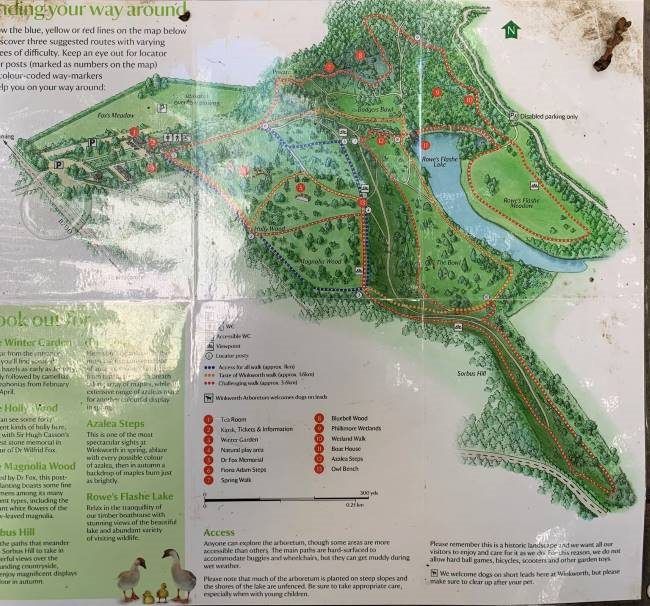 During autumn, there is a recommended walking route (Autumnal Amble) posted at the entrance which takes about 2 hours and takes you through 10 of the most colourful corners of Winkworth Arboretum.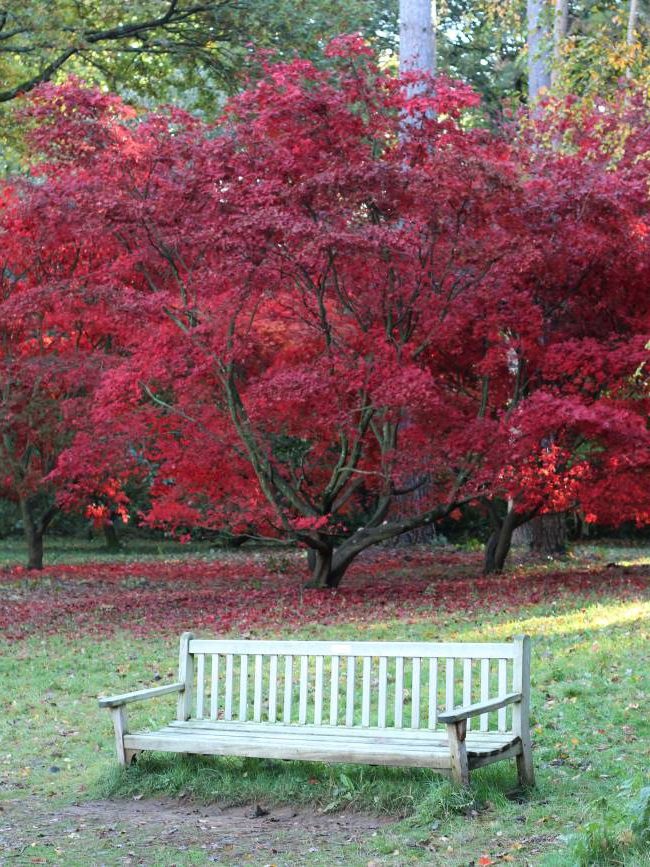 The Autumnal Amble includes steep slopes and starts at the Owl Bench on the Blue Route, where you can take in the view of the valley and admire the red oaks from North America nearby.
View this post on Instagram
We did the first half of the Autumn Amble, taking the set of steep steps towards the lake enjoying the tranquil scenes and autumn views at the boathouse.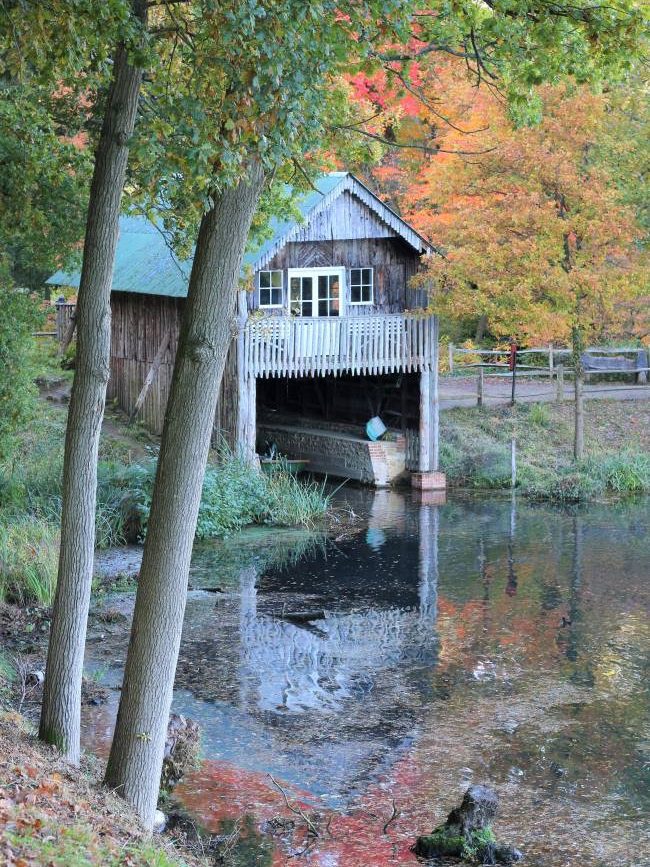 We watched geese and ducks swimming about below us while a man went out on a rowboat, the picture of serenity.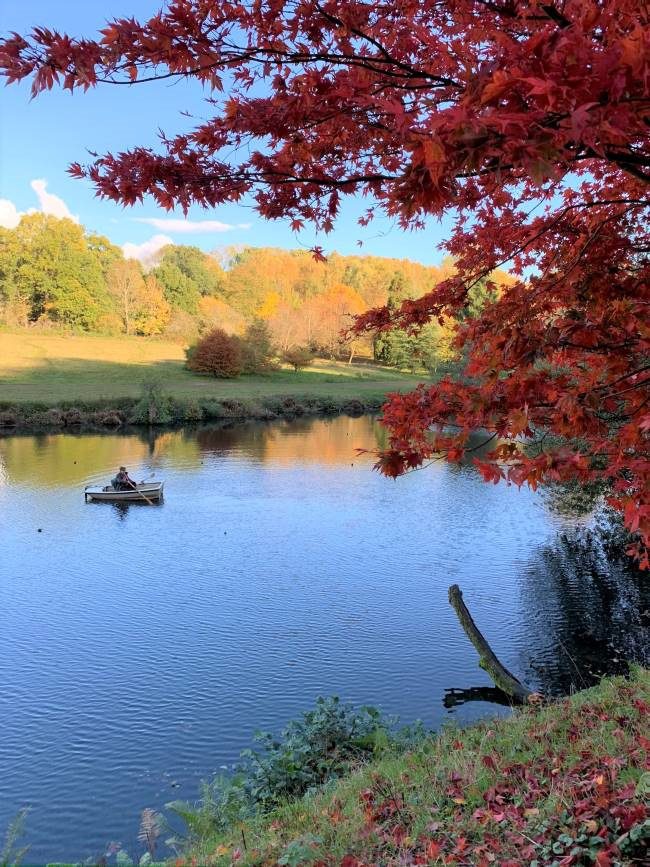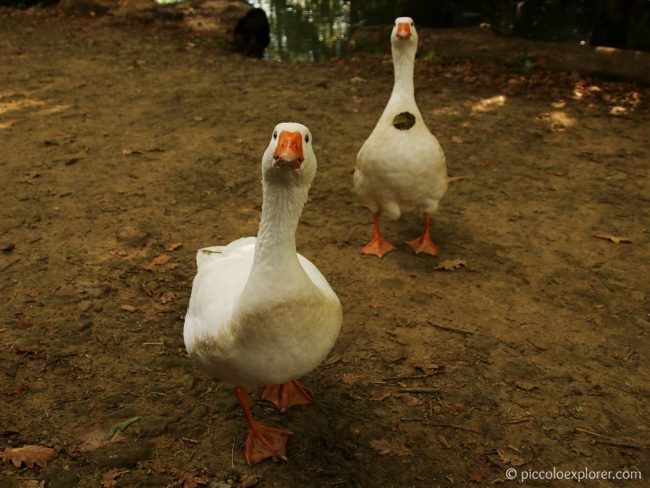 It was soon time for us to make our way home and take a long, winding path back up the slope as the late afternoon shone through the trees. At the top, we found an excellent viewpoint for one last look across the sweeping countryside and the Winkworth Arboretum autumn colours.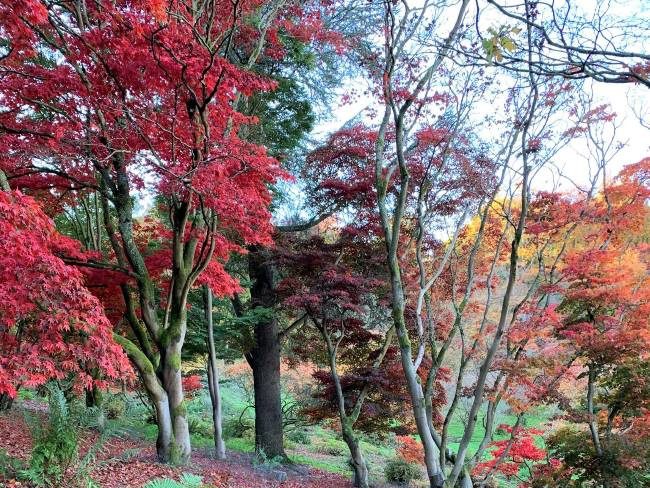 Winkworth Arboretum is wonderful for an autumn walk in Surrey and high on my list to head back for a bluebell walk in spring. It was also interesting to learn the story behind this arboretum and that through his hard work and passion, Dr. Wilfrid Fox has created a landscape of fantastic natural beauty to be appreciated and enjoyed for many years to come. Do remember to book in advance if you're planning to head to Winkworth Arboretum for Autumn 2021 on the National Trust Winkworth Arboretum webpage
National Trust Winkworth Arboretum Surrey
Address: Hascombe Road, Godalming, Surrey GU8 4AD
Opening Hours: Opens at 10am and closing time varies during the year. 1 April to 31 October: closes at 5pm. Rest of the year closes at 4pm or at dusk if earlier, last entry one hour before closing time. Closed 24 and 25 December.
Tickets: from £11 for adults, £5.50 for children aged 5 and up. Entry free for National Trust members and under 5's.
Parking: Free
Good to Know:
There's a small tea-room offering hot and cold beverages, freshly baked goodies, light lunches and kid's picnic boxes.
Restrooms can be found just after the entrance kiosk.
Make sure to pick up a map at the entrance. There are several trails marked on the map showing level of difficulty and access available. There are plenty of picnic spots and park benches throughout the area, including some with great viewpoints.
Keep an eye on their website for details on holiday events.
https://www.nationaltrust.org.uk/winkworth-arboretum
Disclosure: There are some affiliate links in this post. This means that if you choose to make a purchase after clicking on one of the links I may receive a small commission that helps to support this site at no additional cost to you.
Pin for Later – Autumn Colours at Winkworth Arboretum Surrey

Save
Save
Save
Save
Save
Save