In this guide, you'll find things to do in London with toddlers, a mix of fun and interesting places with plenty to explore and discover. I've included outdoor and indoor things to do in London with toddlers, from getting up close with farmyard animals at a city farm to taking the driver's seat of a London bus.
Hyde Park, Kensington Gardens, W2 4RU; Free
Located next to Princess Diana's Kensington Palace Home and inspired by the stories of Peter Pan, this playground fit for an intrepid explorer features a huge wooden pirate ship with a beach, a sensory trail, teepees and other toys and play sculptures. Open from 1000 to 1845 (April to September) with an on-site café.
Review of our visit: Princess Diana Memorial Playground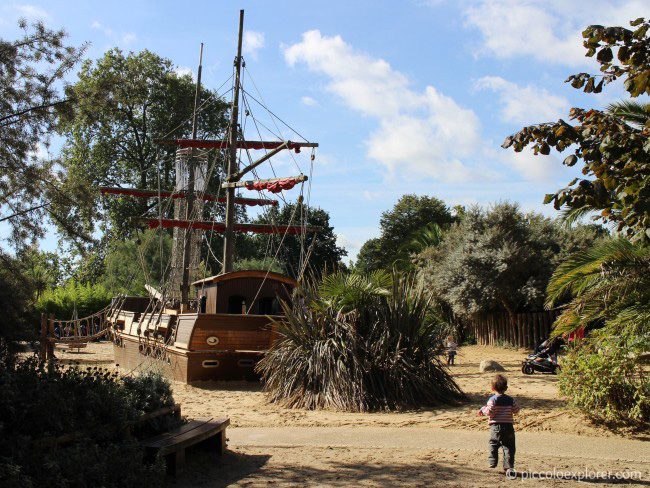 Covent Garden Piazza, London WC2E 7BB; £16.00 adult (unlimited admission for 12 month period from date of purchase), Free for kids
One of our top museums for visiting in London with toddlers is the London Transport Museum in Covent Garden. The highlight for Little T was sitting in the driver's seat of a bus and trying his hand at steering the wheel and pressing the buttons. It's been put together well for everyone to enjoy – it's fun and interactive, easy to get around with a stroller (with lifts and ramps) and it's right in the heart of Covent Garden. They've also just launched a new play zone for children aged 0 to 7 years along with an area specifically for infants that includes an interactive wall and building blocks. Make sure to hold onto your ticket for unlimited admission for 12 months from date of purchase. Open from 1000 to 1800, last entry 1715, with an on-site café and plenty of nearby restaurants in Covent Garden.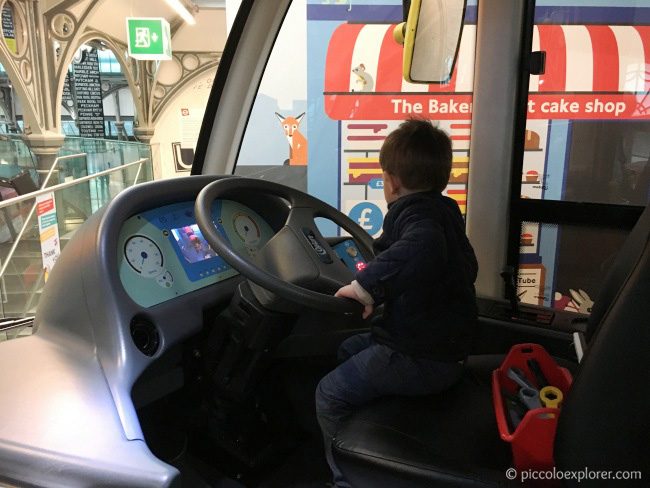 93 Guilford Street, London WC1N 1DN; Free
One of the top playgrounds to visit in central London with toddlers is Coram's Fields, located between King's Cross and Holborn. Covering five acres, Coram's Fields consists of a children's centre, sports programme, city farm (with goats, sheep, pigs and rabbits) and a café. The playground has areas for free play and a mix of equipment for all ages from toddlers to older children. Adults are only allowed in if accompanied by a child. Open from 0900 until dusk, with an on-site café (open from March until October).
Exhibition Road, South Kensington, SW7 2DD; Free
The Science Museum is another top museum to visit London with toddlers. It's a fun experience with two areas in particular with hands-on activities for little ones. At the Garden, young ones discover science through play, with areas covering construction, water, light and sound. Little T spent most of his time listening to his voice being carried through a giant tube, tugging at the tactile display wall that consisted of wellies, springs and stones and moving little tub boats along a large water table (the highlight of the visit!). The Pattern Pod is a multi-sensory area for 5-8 year olds that could also interest toddlers with its interactive exhibits encouraging children to recognise and copy patterns. Open from 1000 to 1900, last entry 1815 with cafés onsite and plenty more dining options near South Kensington tube station.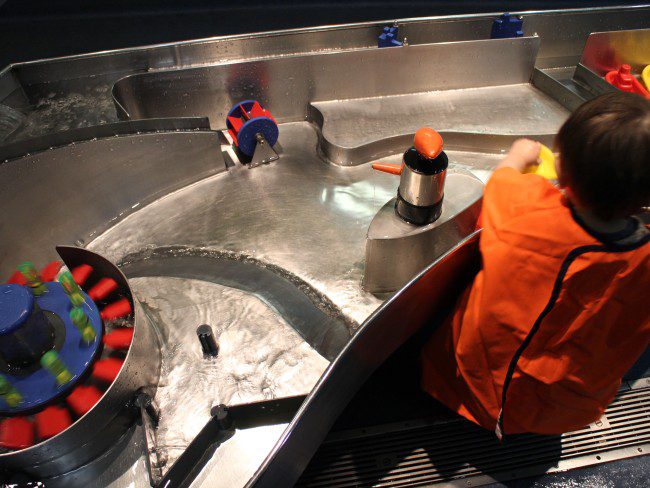 What are your favorite places to explore around London with toddlers? Please let me know in the comments!
[Updated 6 March 2017 with links to our days out reviews]
Save
Save
Save